Welcome to the wacky world of galley kitchens, where space is limited, but creativity knows no bounds! In this article, we'll take you on a whirlwind tour of 50 cool galley kitchen ideas that will make you feel like you are living large, even in the tightest spaces. So tighten your seatbelts, and prepare to be amazed as we dive into this hodgepodge of galley kitchen goodness.
Related articles –
1. Keep It Minimalistic
Image and tutorial by Sarah Hearts
Say goodbye to clutter and hello to Zen-like serenity as you embrace the art of simplicity. Minimalistic galley kitchens are all about decluttering your mind and your countertops, leaving you with a serene space that's perfect for whipping up your favorite meals.
2. Use Natural Wood Finishes For Counter Tops
Image and tutorial by Little Terraced House
Who needs those boring, run-of-the-mill countertops when you can bring the enchantment of the forest right into your cooking domain? Imagine chopping veggies on butcher block countertops that whisper tales of ancient trees and woodland creatures. Plus, it is the best conversation starter for guests who can't resist petting your countertops and asking if you've installed a miniature forest in your kitchen.
3. Paint Your Cabinets
Image and tutorial by Style By Emily Henderson
Wave goodbye to boring old wood tones and say hello to a rainbow of possibilities. Whether you're feeling bold and want to rock a vibrant turquoise or fancy a touch of elegance with a luscious lavender, the power is in your hands.
Read – 50 Amazing Light Wood Floors For Your Home
4. Opt For A Sleek And Modern Design
Image and tutorial by Studio DIY
If you're tired of your kitchen looking like it's stuck in the past, it's time to bring on the sleek and modern vibes! With stainless steel appliances that shine brighter than a disco ball and minimalist designs that scream, "I'm too cool for clutter," this galley kitchen idea is all about embracing your inner futuristic chef.
Read – 30 Brilliant Corner Kitchen Cabinets You Will Love
5. Opt For White Cabinets For A Clean And Bright Look
Image and tutorial by Clark And Aldine
Why settle for a kitchen that's as dull as dishwater when you can have cabinets as white as freshly fallen snow? Opting for white cabinets and dark wood flooring in your galley kitchen will make it shine brighter than a supernova in a sea of darkness. It's like stepping into a cloud made of marshmallows, where every whisk and spatula sparkle with joy.
Read – 35 Stunning Off-White Kitchen Cabinets For A Spacious Look
6. Opt For A Good Backsplash
Image and tutorial by Harriet And Co
If you're tired of staring at boring walls while you cook, it's time to spice things up with a good backsplash. We're not talking about any ordinary backsplash here, folks. Instead, we're talking about a backsplash that will make your guests gasp in awe and envy. Think bold colors, funky patterns, or even a mosaic masterpiece that tells the story of your culinary adventures.
7. Go For A Colourful Flooring

Image and tutorial by Courtney Warren
Who says your galley kitchen has to be boring? Spice things up and go for colorful flooring that will make your kitchen pop like a confetti cannon! Ditch the dull and embrace the vibrant with bold tiles in a rainbow of hues.
Read – 35 Gorgeous Floor to Ceiling Cabinets For Smart Storage
8. Go Vertical With Your Storage
Image and tutorial by Laurysen Kitchens
If you're tired of playing Tetris with your pots and pans whenever you need to cook, it's time to go for vertical space, my friends! We're discussing storage solutions that make your kitchen look like a funky vertical jungle. So grab a ladder and prepare for storage greatness even in narrow space.
9. Choose Two Tone Cabinets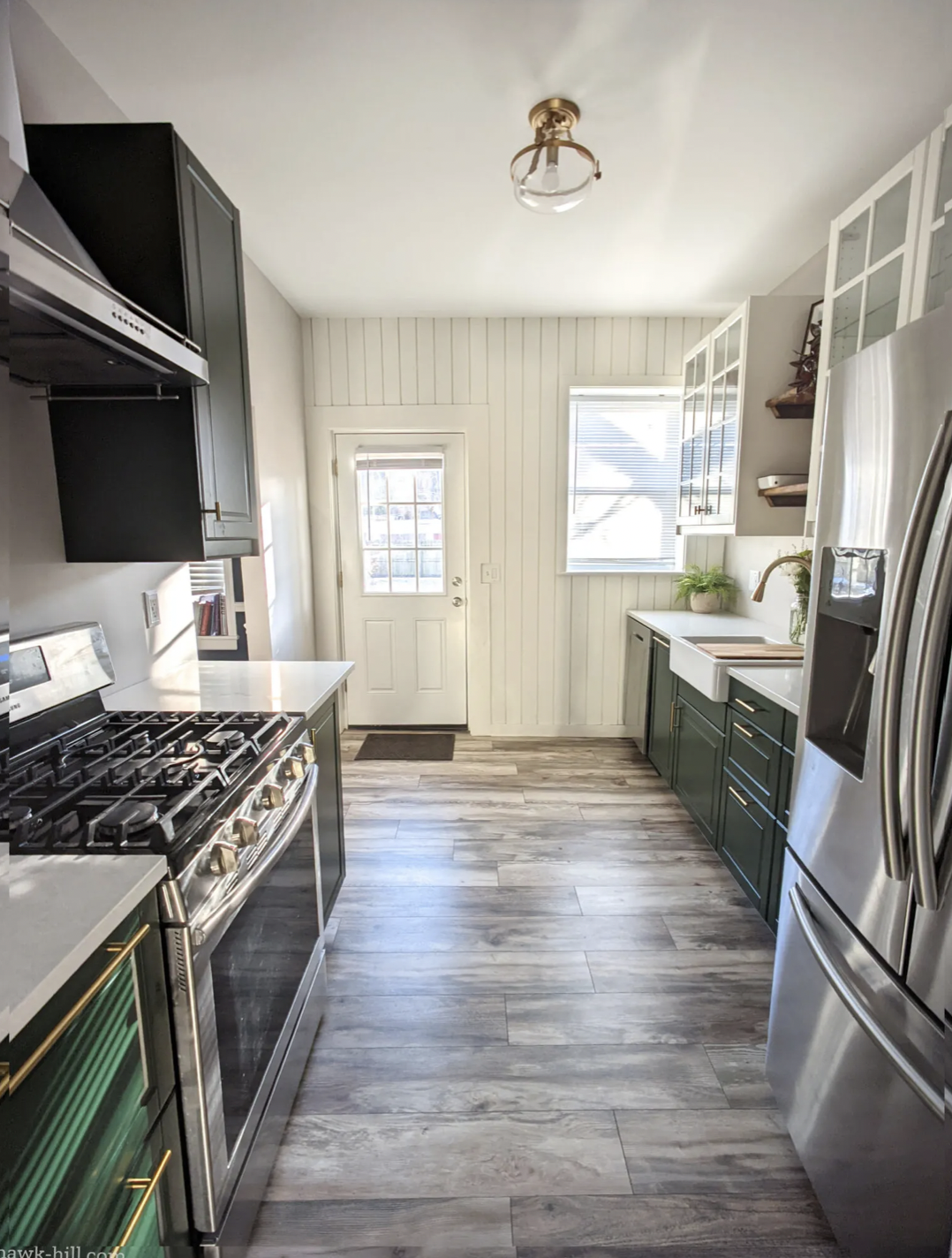 Image and tutorial by Hawk Hill
Get ready to take your galley kitchen from "blah" to "brilliant" with this two-tone cabinet idea! Why settle for one dull color when you can have the best of both worlds? It's like having a trendy fashion show right in your kitchen.
10. Consider Your Color Choices
Image and tutorial by Amanda Katherine
Whether you like to create a calming oasis for your culinary adventures or unleash a riot of color that would make Picasso jealous, this galley kitchen idea will help you choose the perfect palette to ignite your kitchen's personality. So get ready to splash some color on those cabinets, let your creativity run wild, and remember – in galley kitchens, the bolder, the better!
Read – 35 Fantastic Kitchen Window Over Sink Ideas You Will Love
11. Maximize Storage Space With Clever Storage Solutions
Image and tutorial by Ellery Designs
Are you tired of playing Tetris with your pots and pans? Well, fear not because we've got the ultimate weapon to help you win the battle against clutter in your galley kitchen. From sneaky pull-out drawers that reveal hidden compartments to shelves that magically expand with a flick of a finger, there are many storage options out there to use every inch of your kitchen.
12. Consider Marble Countertops
Image and tutorial by Chatfield Court
Prepare to bask in the luxurious glory of these smooth, sleek slabs of pure magnificence. With their mesmerizing swirls and veins, marble countertops bring a touch of sophistication to your culinary kingdom. And let's not forget their practicality – they're perfect for rolling out dough or cooling down that sizzling hot pan.
13. Combine Black And White Cabinets For a Timeless Design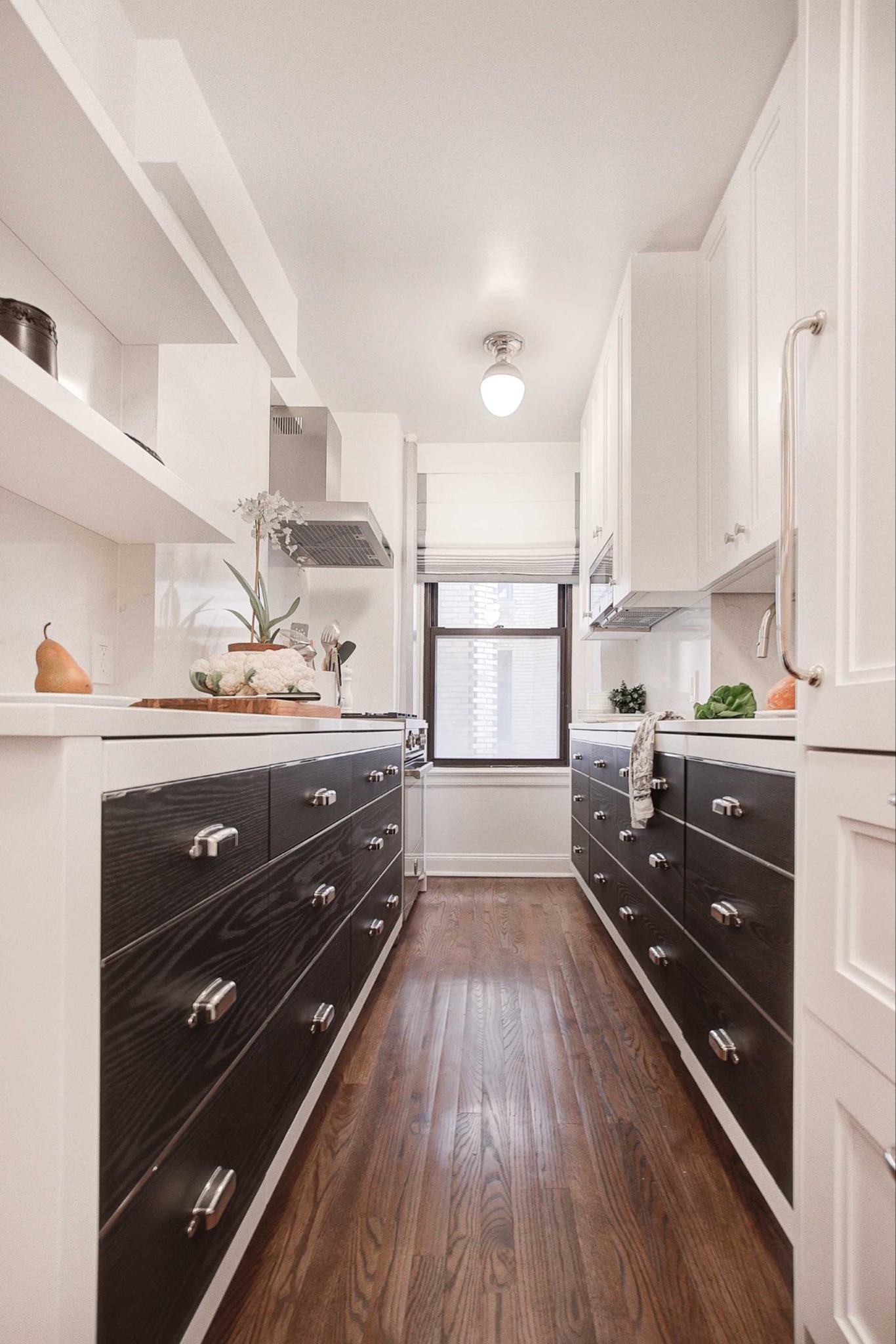 Image and tutorial by Contemporist
We present the galley kitchen idea that defies the sands of time – the combination of black and white cabinets. It's like a classic black-and-white movie but with a delicious twist. The black cabinets bring a dash of boldness and drama, while the white upper cabinets add a touch of elegance and sophistication.
14. Incorporate Colorful patterns
Image and tutorial by Little Victorian
Are you bored of bland kitchens? Spice things up with a galley kitchen that's bursting with personality! Say goodbye to monotonous neutrals and hello to a wild world of colorful patterns.
15. Let It Be Practical And Functional
Image and tutorial by Remodelista
Say goodbye to frantic searches for that elusive spatula or missing spice jar. This galley kitchen idea has your back, keeping everything within arm's reach. The practicality and functionality are wrapped in a deliciously humorous package. Who says you can't have it all?
16. Play With Placement
Image and tutorial by Create And Find
Who says you should stick to the convention? Break free from the shackles of traditional galley layout and embrace the madness of playing with placement in your galley kitchen!
17. Go Bold With Black Cabinets
Image and tutorial by Mimzy And Company
Dark base cabinets ground in a galley kitchen? Oh yes, it's a daring move, my friend. Your kitchen will become the gothic masterpiece that Edgar Allan Poe himself would envy. Embrace the drama, the sophistication, and the undeniable coolness of black cabinets. Remember to bring a flashlight because once you go black, you may never want to find anything again!
18. Get Colorful With A Colorful Wallpaper
Why settle for lacklustre when you can have a kitchen that screams personality? Instead, choose a bold and quirky wallpaper design that will make the kitchen the talk of the town. From whimsical fruits to funky geometric patterns, let your walls talk while you whip up your culinary masterpieces.
19. Get Rustic With Wooden Flooring
Get ready to unleash your inner lumberjack and embrace the rustic charm of wooden flooring in your galley kitchen. This idea takes "bringing the outdoors in" to a whole new level as you chop, sauté, and sizzle your way through a forest of deliciousness.
20. Install Doors To Make It Look Bigger
Tired of feeling like a sardine in your galley kitchen? We've got an out-of-the-box solution for you that allows ample of natural light into the room: install doors to make it look bigger! Yes, you heard that right. So embrace the wacky and wonderful world of galley kitchens, and let those doors do the talking (and the stretching) for you! Your friends might think you hired an interior designer.
Read – 35 Amazing White Cabinets With Gold Hardware For A Luxurious Look
21. Keep It Sleek And Simple
Ah, the "Keep It Sleek and Simple" galley kitchen idea, because who needs to be complicated when you can have effortless elegance? Say goodbye to clutter and hello to sleekness that would make James Bond himself jealous. This galley kitchen idea is the epitome of cool.
22. Get A Colourful Backsplash
Image by Shuttle Worth Projects
Wave goodbye to boring and hello to bold as you transform your kitchen into a kaleidoscope of hues. Whether you choose a mosaic of rainbow tiles or go wild with a mesmerizing pattern, your backsplash will be the show's star. It's like having a party on your walls every day!
23. Antique Hardware For A Vintage Look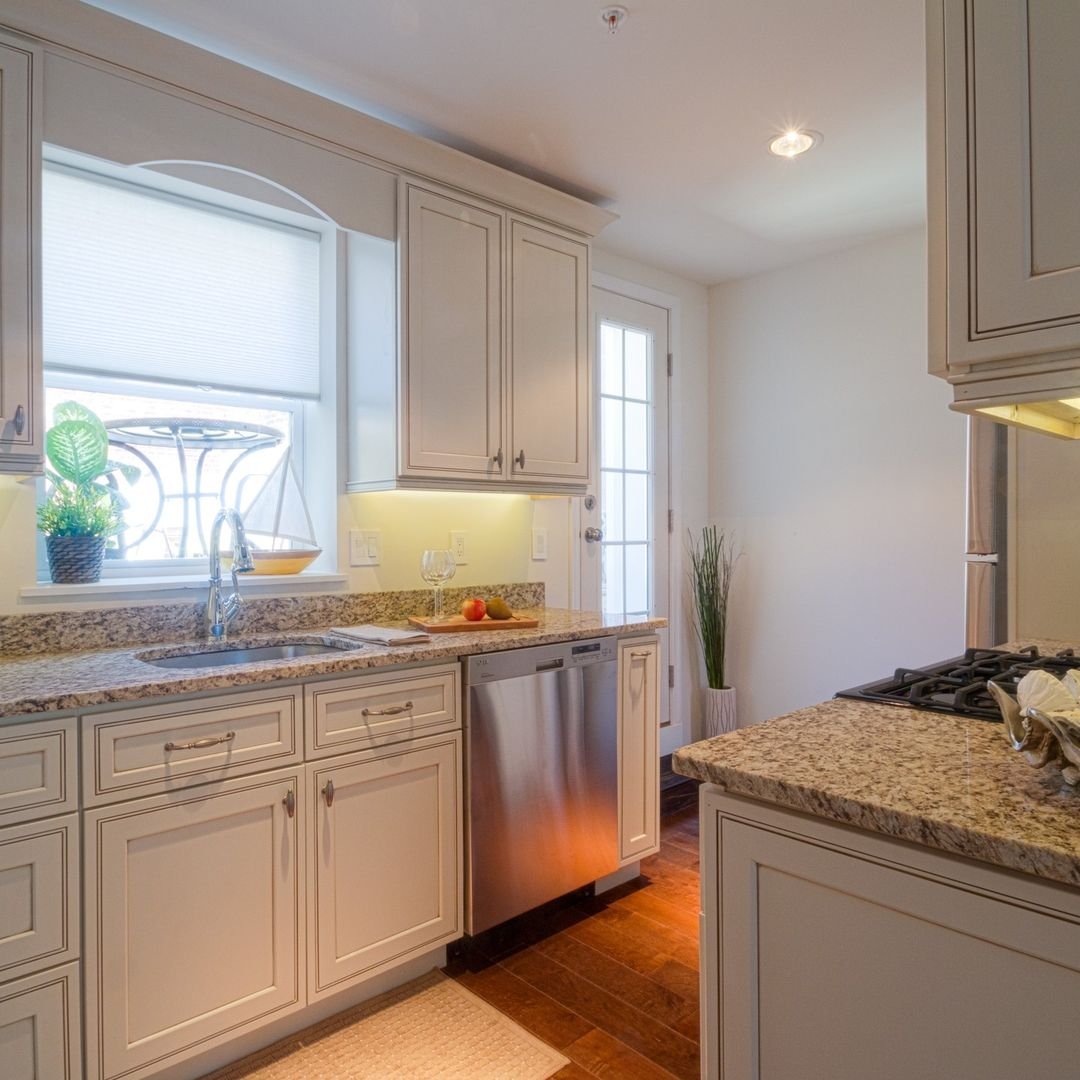 If you're tired of your galley kitchen looking shiny and new, why not give it a vintage makeover? Embrace the quirks and charms of yesteryear with antique hardware that screams, "I've been around the block."
24. Add A Rug
Image by Taylorhilinteriordesign
Who says your kitchen floor can't be as stylish as a runway? Just imagine your guests' faces when they enter your tiny cooking domain and are greeted by a plush, luxurious rug. It's the best way to add a touch of elegance and warmth to your culinary adventures.
25. Play With Textures
Are you tired of your plain, vanilla galley kitchen? Well, it's time to spice things up and play with textures! From rough-hewn wooden countertops that make you feel like a lumberjack chef to velvety smooth marble floors that would make Michelangelo jealous, texture is the name of the game. So get your tactile senses tingling, and turn your galley kitchen into a touchy-feely wonderland!
26. Throw In Some Natural Wood Accents For Warmth and Character
Spice up your galley kitchen with rustic charm and a dash of tree-hugging goodness! Our brilliant idea for today? Throw in some natural wood accents and watch your kitchen transform into a cozy woodland retreat.
27. Go Neutral
Who says neutral has to be boring? Embrace the beige revolution and transform your galley kitchen into a serene oasis of calmness and well, beige. With neutral cabinets, countertops, and backsplash, your kitchen will exude a level of zen that even the most dedicated yogi would envy.
28. Galley Kitchen With Denim Blue Cabinets
image by Bethfisherdesigns
Whether you're cooking up a gourmet feast or just reheating last night's pizza, these cabinets will have you feeling like the hippest chef in town. It's time to rock that kitchen with some severe denim style!
Read – 30 Amazing Farmhouse Blue Kitchen Cabinets To Transform Your Kitchen
29. Cottage-Style Galley Kitchen
This galley kitchen idea brings that delightful rustic charm into your cooking space. With its whimsical floral patterns, vintage-inspired fixtures, and adorable farmhouse sink, it's like stepping into a fairy tale.
30. Gold Accents For A Stylish Look
Image by Denisekottas Realestate
This galley kitchen idea will have you shining brighter than a disco ball at Studio 54. It's like having your little treasure trove right in your kitchen. So channel your inner Midas, and turn that ordinary galley kitchen into a stylish golden oasis.
31. Open Shelving To Create An Open And Airy Feel
Image by Emmauscottagewestport
Get ready to break free from the oppressive tyranny of closed cabinets! In this galley kitchen idea, we're throwing caution to the wind and embracing the wild world of open shelving. It's time to let those dishes breathe and bask in the glory of open spaces. With open shelving, you'll not only create an airy feel, but also have the perfect excuse to buy all those adorable kitchen accessories you've been eyeing. So toss out those cabinet doors and let your kitchen shine in all its unapologetically exposed glory!
32. White Cabinets With Black Hardware
Behold, the yin, and yang of galley kitchen design! In this quirky idea, we bring you the ultimate contrast: white cabinets with black hardware. It's like a stylish dance-off between light and dark, where the cabinets say, "Look at me, I'm pure and pristine!" while the black hardware adds a touch of rebel attitude.
33. Brass faucets For White Cabinets
Prepare yourself for a regal affair where elegance meets practicality. These shiny, golden faucets stand tall, bestowing upon your humble white cabinets a touch of sophistication fit for a king of the culinary realm.
34. White Cabinets And Wooden Flooring Galley Kitchen
Prepare to be blinded by the brilliance of our first galley kitchen idea: White Cabinets and Wooden Flooring Galore! It's a match made in kitchen heaven, where cleanliness meets coziness. Picture yourself gliding across the smooth wooden floors, feeling like a gourmet chef in your own little cooking utopia.
35. Lacquered Blue Galley Kitchen
Get ready to sail on the high seas of kitchen design with our Lacquered Blue Galley Kitchen idea. This nautical-inspired masterpiece will have you feeling like the captain of your own culinary ship.
36. Floating Shelf For Extra Storage
Is your kitchen bursting at the seams with pots, pans, and all things culinary? Fear not, for this ingenious floating shelf is here to save the day! With its magical ability to defy gravity and hang effortlessly on your kitchen walls, it provides the perfect solution for your storage woes. Also, look at that breakfast nook or dining room, it is just amazing.
37. Curtains Instead Of Cabinets For A Country House feel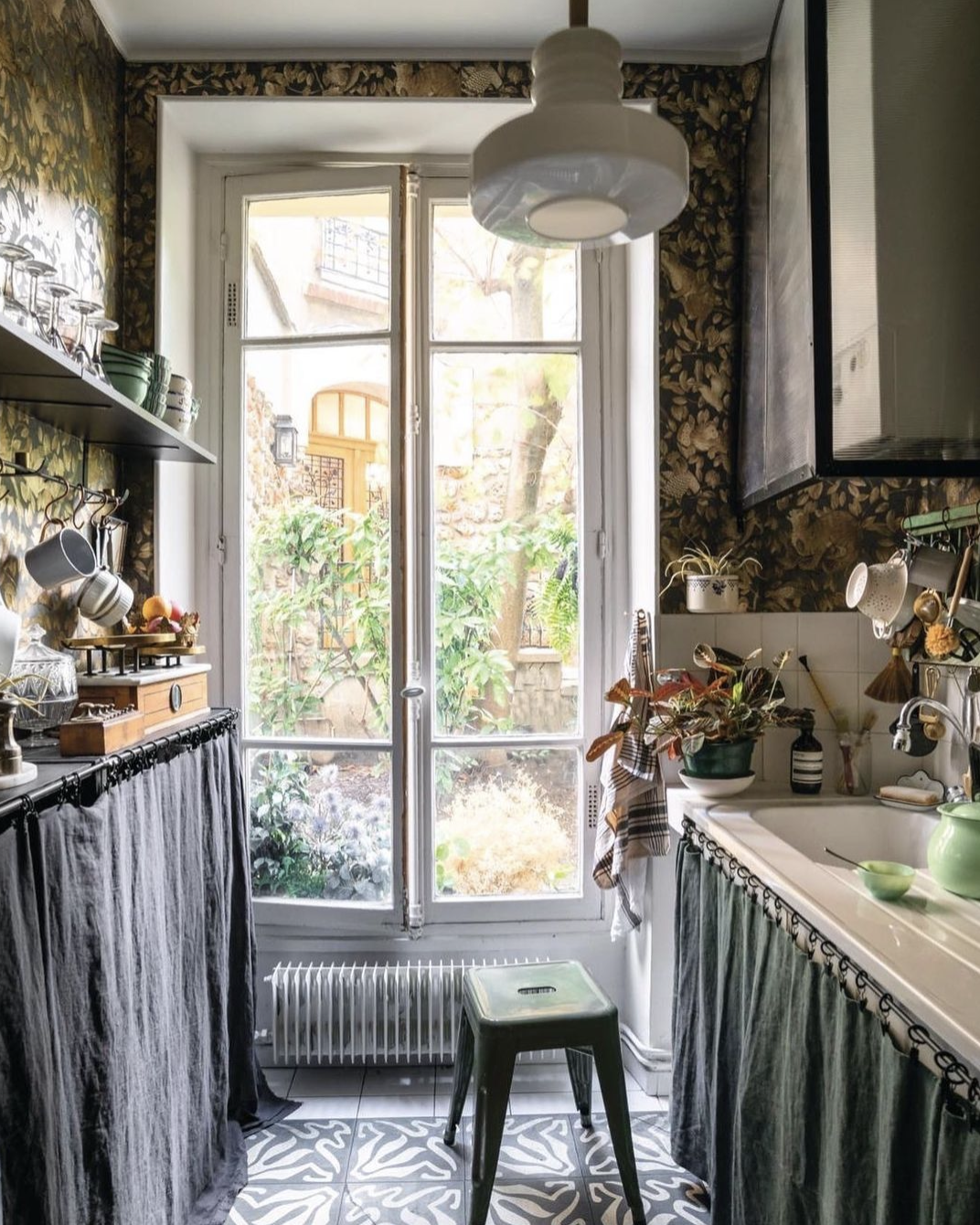 Who needs boring old cabinets when you can have a galley kitchen that's straight out of a charming country house? Introducing the genius idea of using curtains instead of cabinets! It's like a culinary fashion show every time you step foot in the kitchen.
38. Galley Kitchen With Barrel Vault Ceiling
Prepare to have your mind warped and your culinary senses elevated with this galley kitchen idea that's truly out of this world! This architectural marvel will have your guests scratching their heads in awe as they marvel at the unexpected elegance in such a small space.
39. An All-White Galley Kitchen
With cabinets as white as a polar bear's fur and countertops that shine like a thousand suns, this kitchen is a true beacon of cleanliness. You'll feel like a master chef in your own sterile laboratory, where every spill and smudge stands out like a zebra in a snowstorm.
40. Rich Blue Cabinets For A Distinguished Look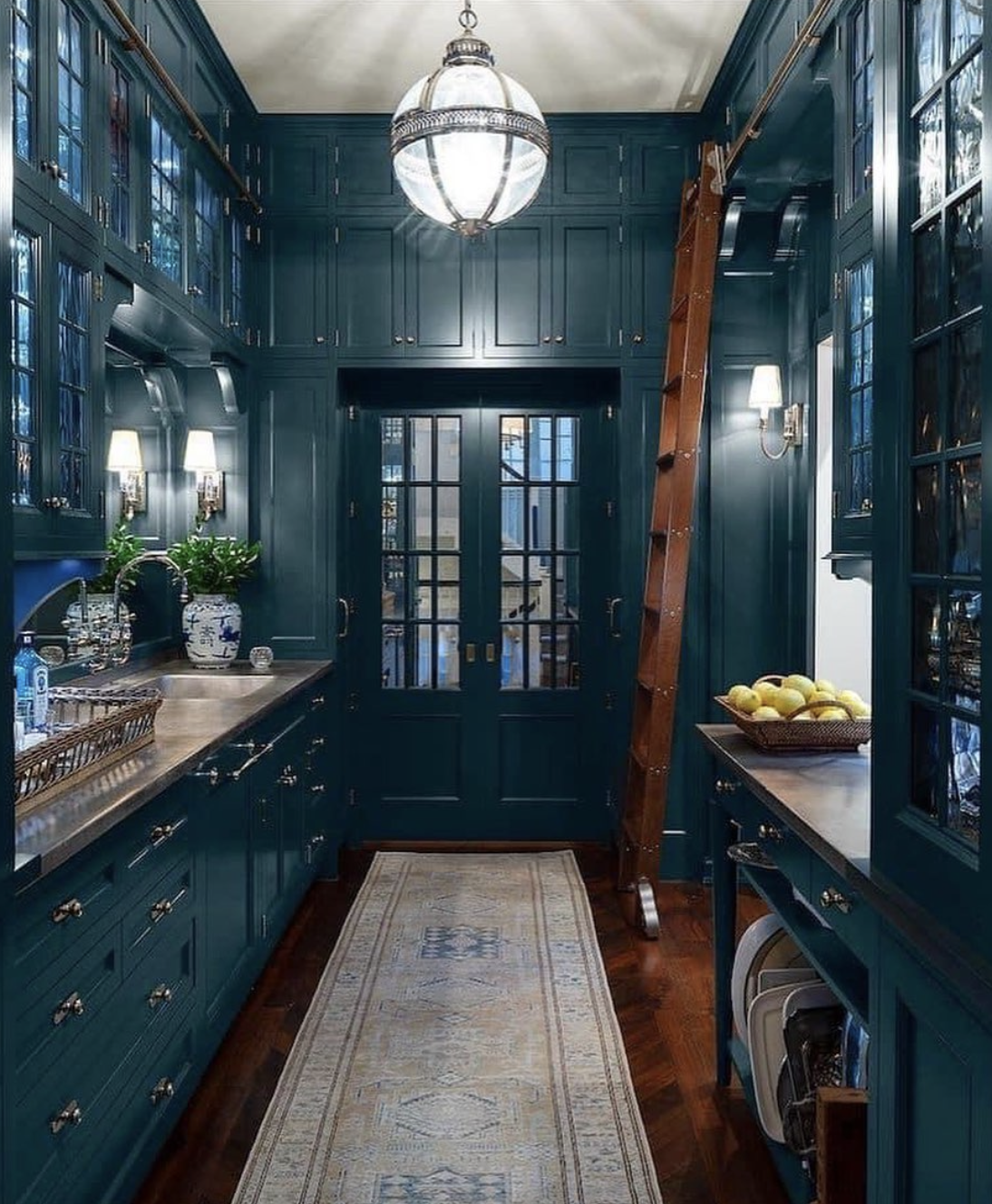 Forget about ordinary white or boring beige—these cabinets are the swashbuckling heroes of the kitchen world! Their deep blue hue commands attention and demands respect, turning your galley kitchen into a regal treasure trove fit for a king (or queen!).
41. A Timeless Backsplash For Modren Galley Kitchen
This idea takes your kitchen straight from the present into the future, all while maintaining a touch of the past. It's like having a magic portal to the past right in the heart of your culinary space. So, get ready to whip up some gastronomic delights on the granite countertops while being surrounded by a touch of timeless charm.
42. Vintage Rug For A Modern Galley Kitchen
Image by timeandplaceinteriors
Revamp your modern galley kitchen with a surprising twist – a vintage rug! Who says you can't mix old and new? So step into the time machine and add a touch of whimsy to your sleek culinary space.
43. Non Symmentrical Design Creates An Illusion Of Space
This kitchen design takes the concept of "thinking outside the box" to a new level. With non-symmetrical countertops, you can create an illusion of a larger space. So say goodbye to boring symmetry and hello to a galley kitchen that will make you question the very fabric of reality!
44. Wood Toned Galley Kitchen
Get ready to bring the warmth of the forest into your galley kitchen with our Wood Toned Galley Kitchen idea! We're talking cabinets that make you feel like you're hugging a majestic oak tree, countertops as smooth as freshly polished mahogany, and flooring that's so cozy you'll want to lay down and take a nap.
45. Install More Lighting
Say goodbye to those shadowy corners and hello to a kitchen that's brighter than a supernova. Install more lighting and watch as your tiny cooking haven turns into a celestial beacon of culinary inspiration. Also have you noticed the work station come eat-in kitchen in the corner?
46. White Galley Kitchen With Silver Accents
Image by Chloeblottman interiors
This narrow galley kitchen is all about bringing the bling to your culinary adventures. With its white cabinets and countertops, this kitchen screams, "I'm so clean, you could perform surgery in here!" And let's not forget the silver hardware and fixtures that add sophistication and make you feel like a culinary superstar.
47. Include Greenery
A compact galley kitchen might be tight on space, but who says you can't bring a little touch of nature into the mix? Not only will plants add a splash of vibrant green to your kitchen, but they'll also provide you with a constant supply of aromatic flavors.
48. Quartz Countertops With Faux Wood Flooring
Image by Pulsar Construction inc
Get ready to indulge in the ultimate kitchen illusion with this galley kitchen idea: Quartz Countertops with Faux Wood Flooring. It's the perfect blend of elegance and rustic charm, fooling your guests into thinking you've got a sprawling farmhouse kitchen.
49. Wooden Flooring And Shiplap Blacksplash
This galley kitchen idea is all about wooden flooring and a shiplap backsplash, bringing you the best of both worlds. It's like a stylish wooden hug for your kitchen, adding texture and character to make your guests swoon with envy.
50. Green Toned Galley Kitchen
Image by Keleighclevelandinteriors
If you've ever dreamed of cooking up a storm in a kitchen that feels like a lush jungle retreat, this is the idea for you. This kitchen is like bringing the great outdoors into your kitchen without the pesky bugs and unpredictable weather.
If you love these ideas, don't forget to pin the above image to your "home and garden" board.