Are you tired of stumbling around your home in the dark, desperately searching for some style? Well, fear not, fellow home dwellers, because I've got just the solution for you! Introducing the "31 Best Dark Wood Floors To Transform Your Home" extravaganza! These floors are so dark you'll think a vampire with an impeccable taste designed them.
So, get ready to embrace the darkness, my friends, because these floors are here to make your home shine… or should I say shadow?
Related articles –
1. Kitchens With Dark Floors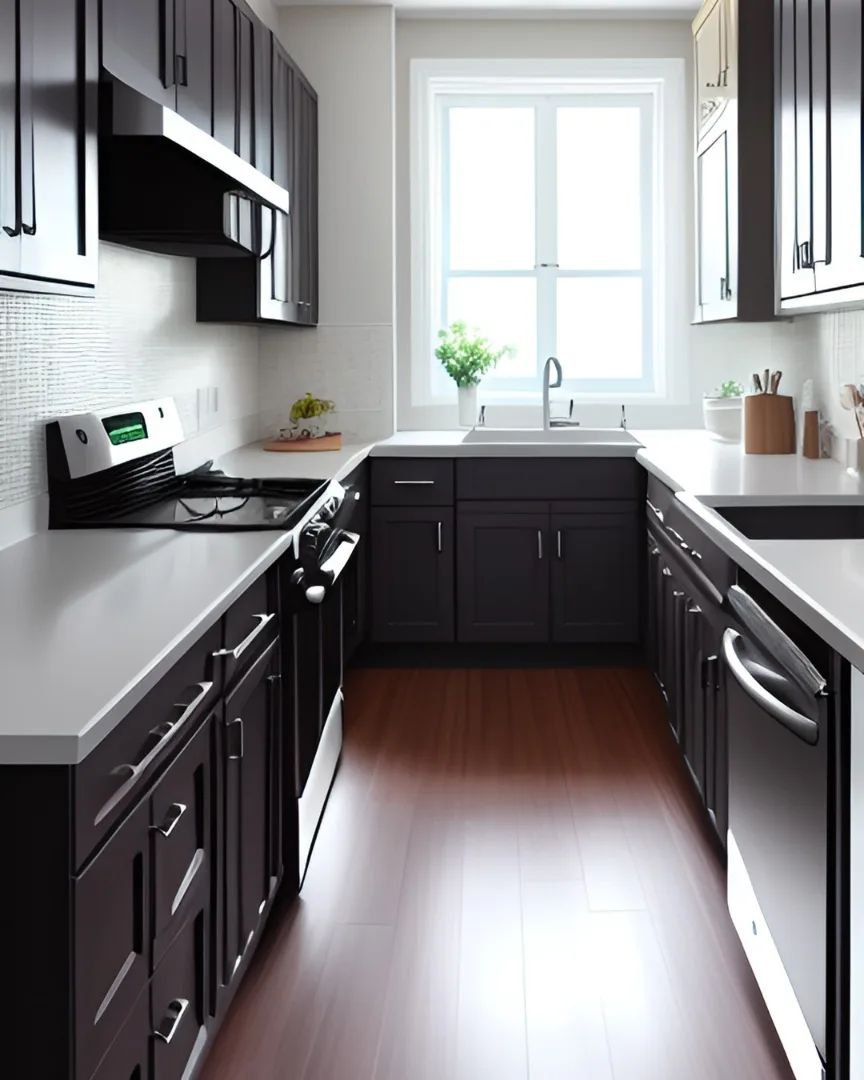 Welcome to the "Kitchens With Dark Floors" realm, where culinary magic meets brooding sophistication! If you're tired of the same old bright and cheery kitchen vibes, step into the dark side and embrace the power of deliciously dramatic flooring.
2. Herringbone Design With Dark Wood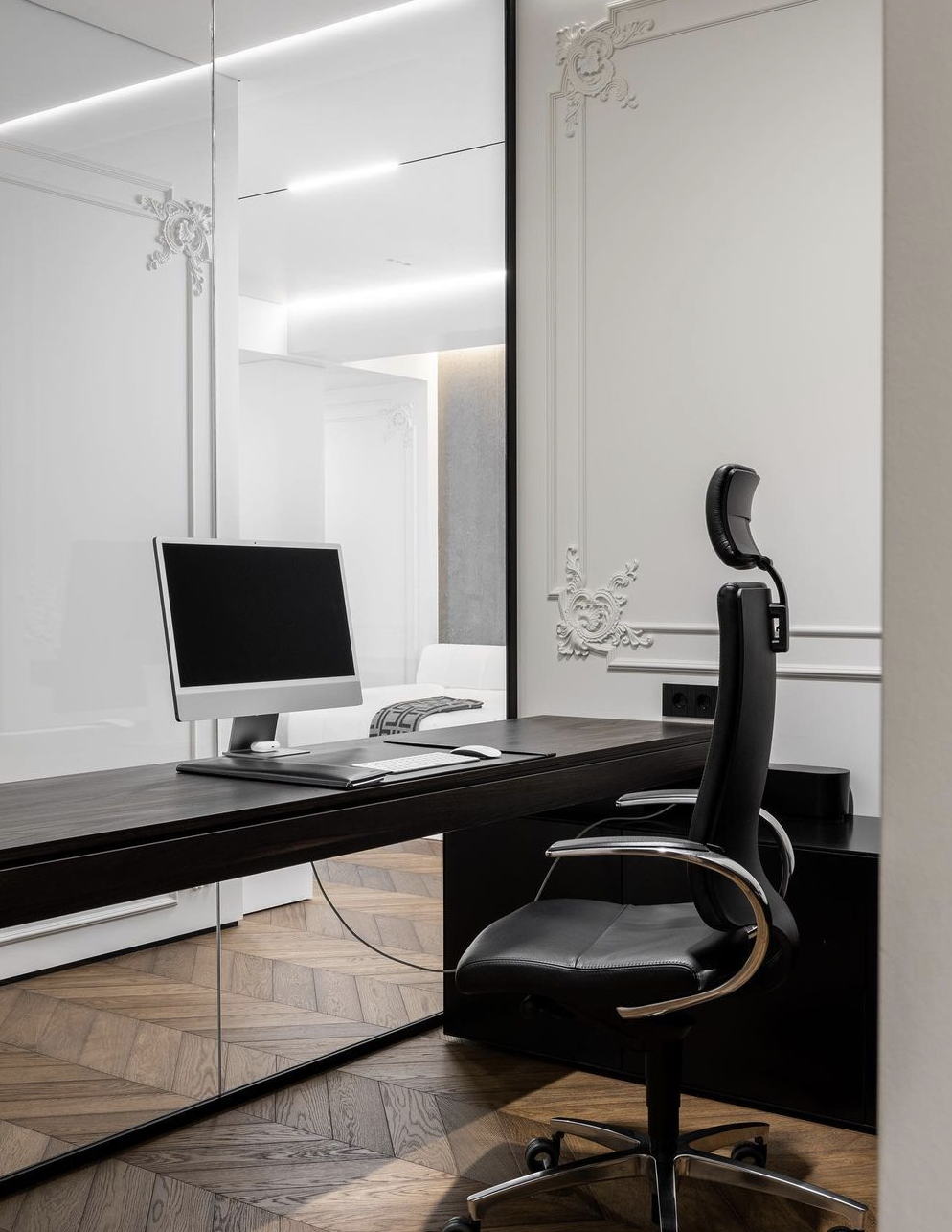 Image by D3 Design International
The herringbone design with dark wood is like a dapper gentleman wearing a tuxedo with a cheeky wink. It's the perfect balance between sophistication and sass. With each step, you'll feel like you're strutting down a runway of elegance, leaving everyone in awe of your impeccable taste.
3. Home Office Renovation With Dark Wood Floors
Say goodbye to dull beige carpets and hello to the allure of dark wood floors that will make you feel like a corporate genius, even if you're just slaving away in your pajamas. These floors are so sleek and sophisticated that you'll find yourself reaching new productivity levels just by stepping into your office space.
Read – 50 Amazing Light Wood Floors For Your Home
4. Dark And Rustic Tones Wooden Flooring
With its deep, earthy hues, this wooden flooring is the perfect backdrop for your wild west fantasies or even just pretending you're a mysterious lumberjack with impeccable taste. So, unleash your inner adventurer and let this dark and rustic flooring transport you to a world of enchantment and timber-filled delight!
5. Dark Green Ceilings And Rustic Wood Floorings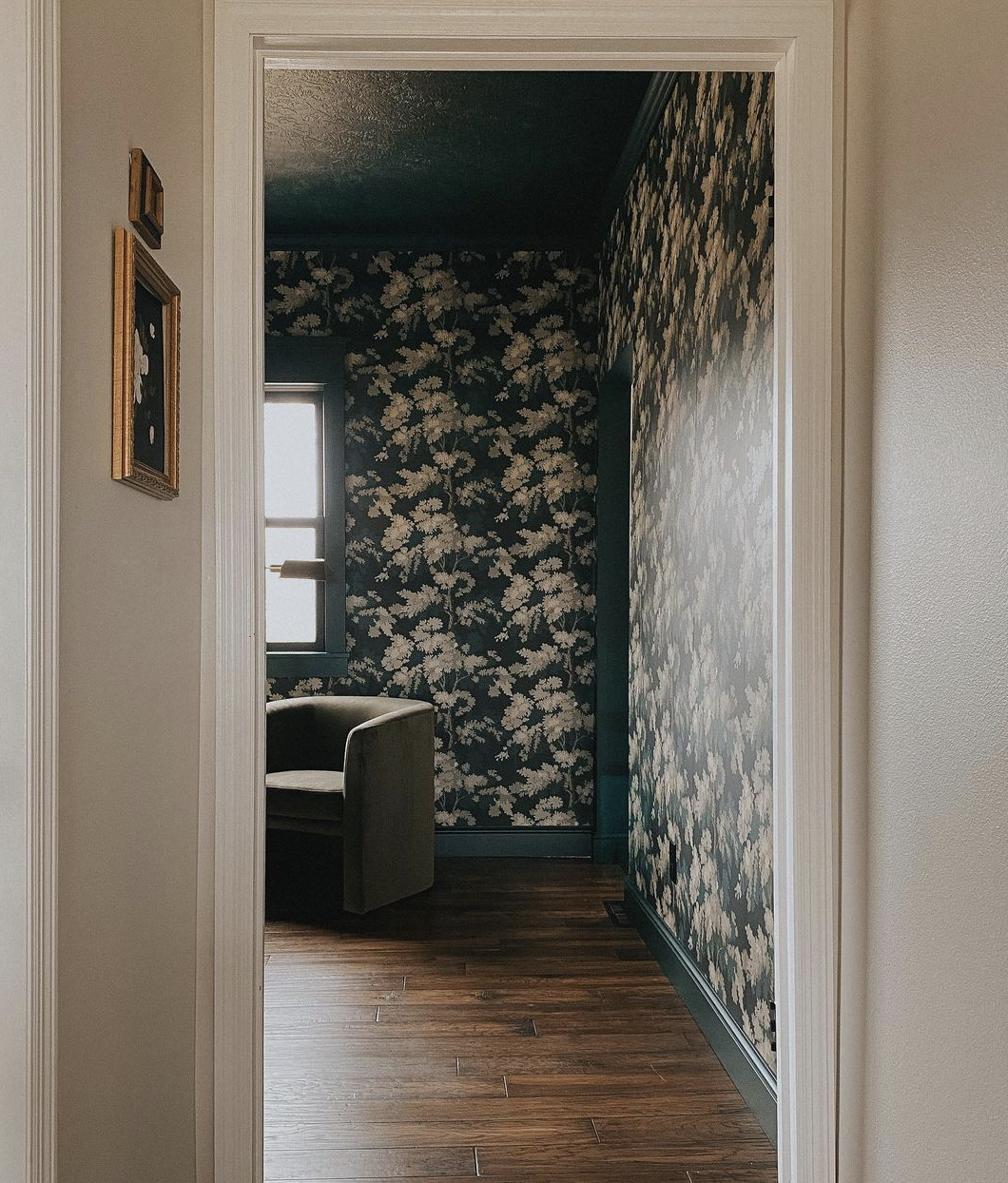 This delightful combination of verdant ceilings and weathered wood will make you feel like you've stumbled into a fairytale. So, grab your boots and get ready for a home that's as magical as it is stylish!
6. Black And Wood Accents For Entry Way
Welcome to the dark side of entryway design! Prepare to be spellbound by the bewitching combination of a black door and dark wooden flooring. This dynamic duo will leave your guests questioning if they've entered a portal to a stylish dimension.
7. Marble Countertops And Dark Wood Floorings For Kitchen
Image by Smith And Smith Kitchens
Get ready to turn your kitchen into the ultimate culinary sanctuary with the perfect combination of elegance and mystique! Marble countertops and dark wood floorings are the dynamic duos that will make your kitchen the envy of all your foodie friends.
8. Beautiful And Elegant Dark Hard Wood Floors
Image by Autenwideplankflooring
With its deep, mysterious hues, this floor exudes a seductive charm that will have you feeling like you're walking on a runway every time you step foot on it. It's the perfect blend of sophistication and rebelliousness, like a James Bond movie set in a Gothic castle.
9. Blue Furniture And Dark Wood Flooring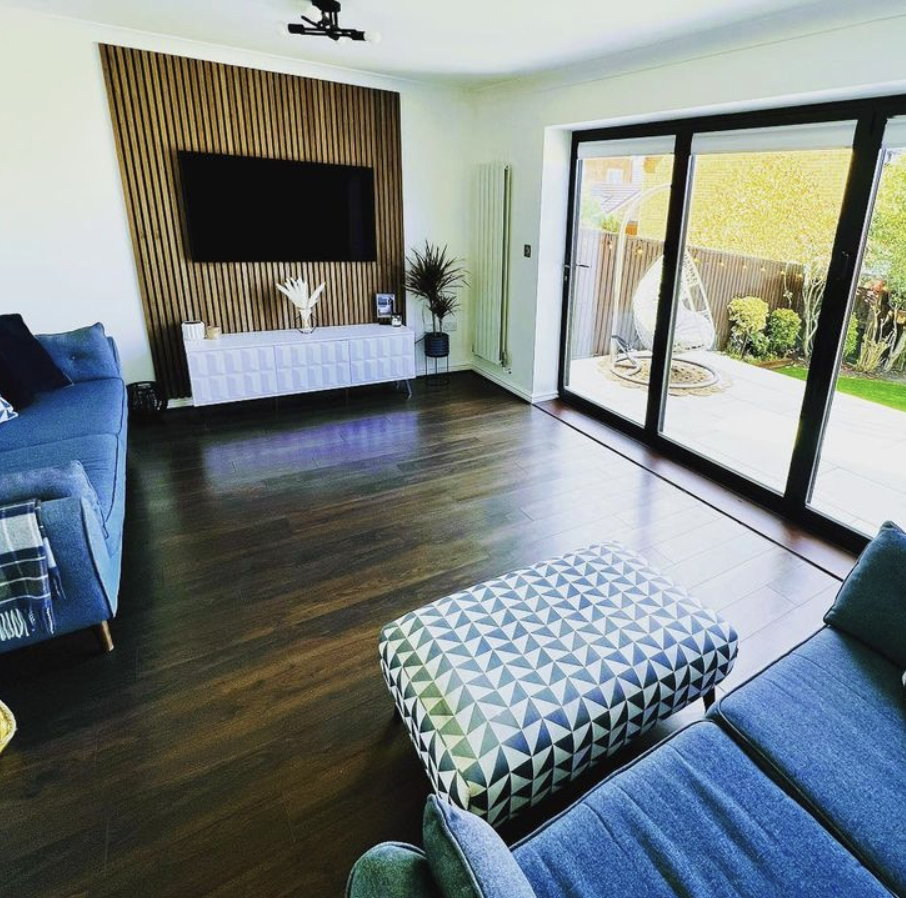 Imagine walking into a room where the blue furniture reigns supreme, commanding attention like a peacock showing off its vibrant plumage. But wait, there's more! Enter the dark wood flooring, a majestic backdrop that adds depth and richness, like the sassy sidekick to the bold blue protagonist.
10. Dark Flooring With Neutral Tone Rug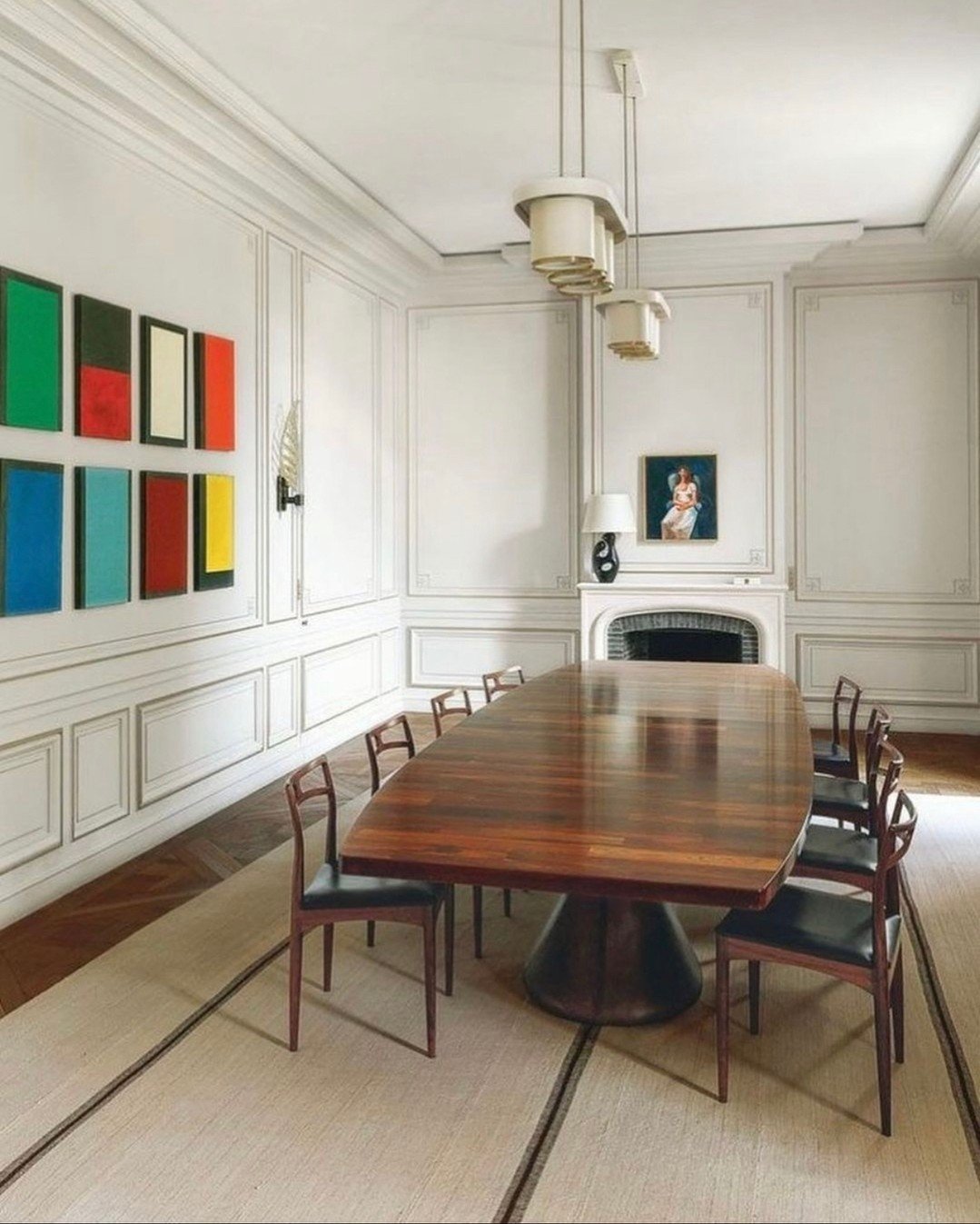 If you're up for a flooring adventure that's equal parts mysterious and cozy, embrace the magic of dark flooring with a neutral-tone rug. It's like a fashion show for your feet!
11. Dark And Edgy Kitchen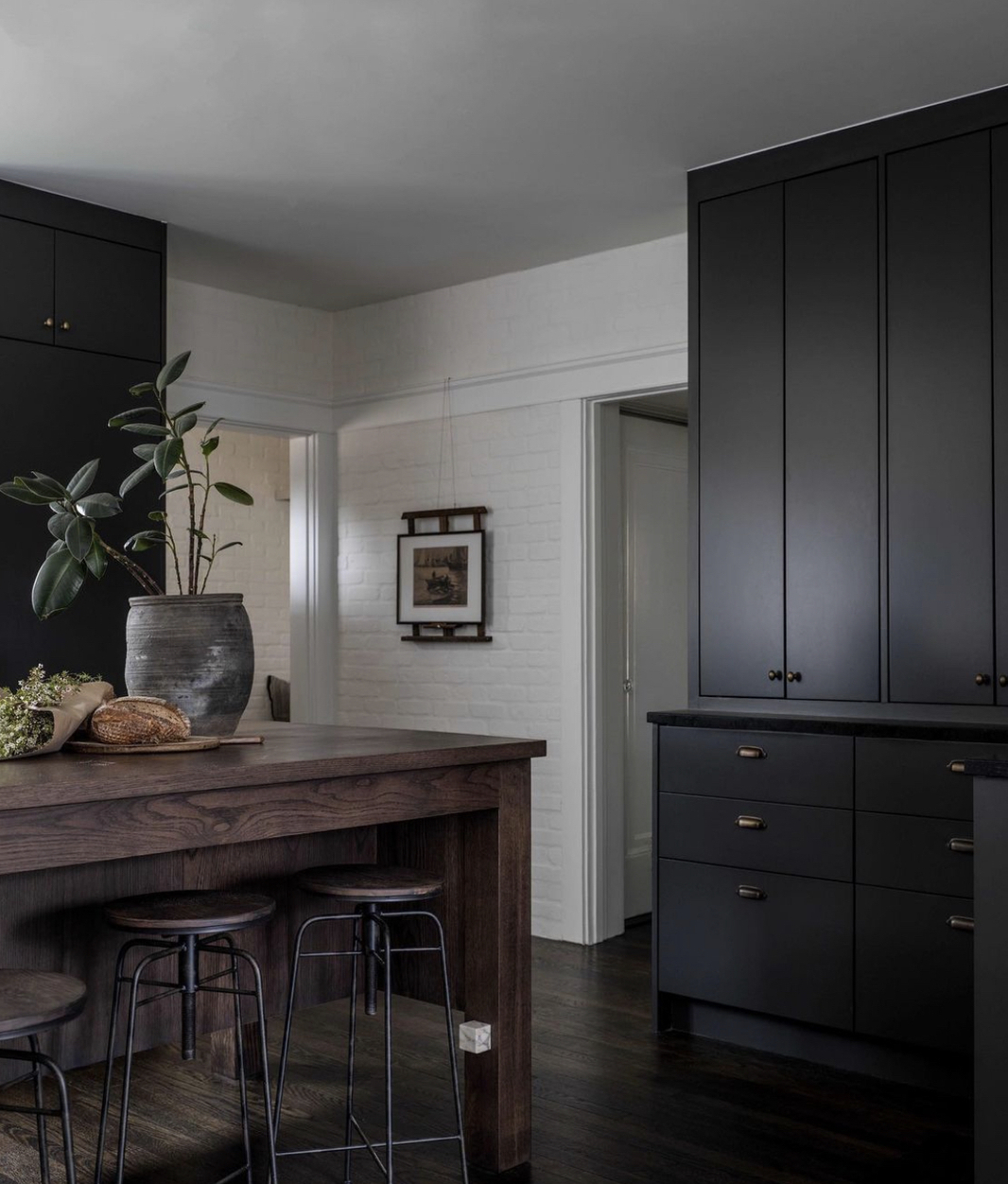 Image by Interiordesignasistantuk
Who said kitchens couldn't have a touch of drama? So buckle up, my brave food adventurers, because this kitchen will take you on a spooky yet delicious journey! Step into culinary darkness with our "Dark And Edgy Kitchen" masterpiece!
12. Dark Stained Floor And A Neutral Hue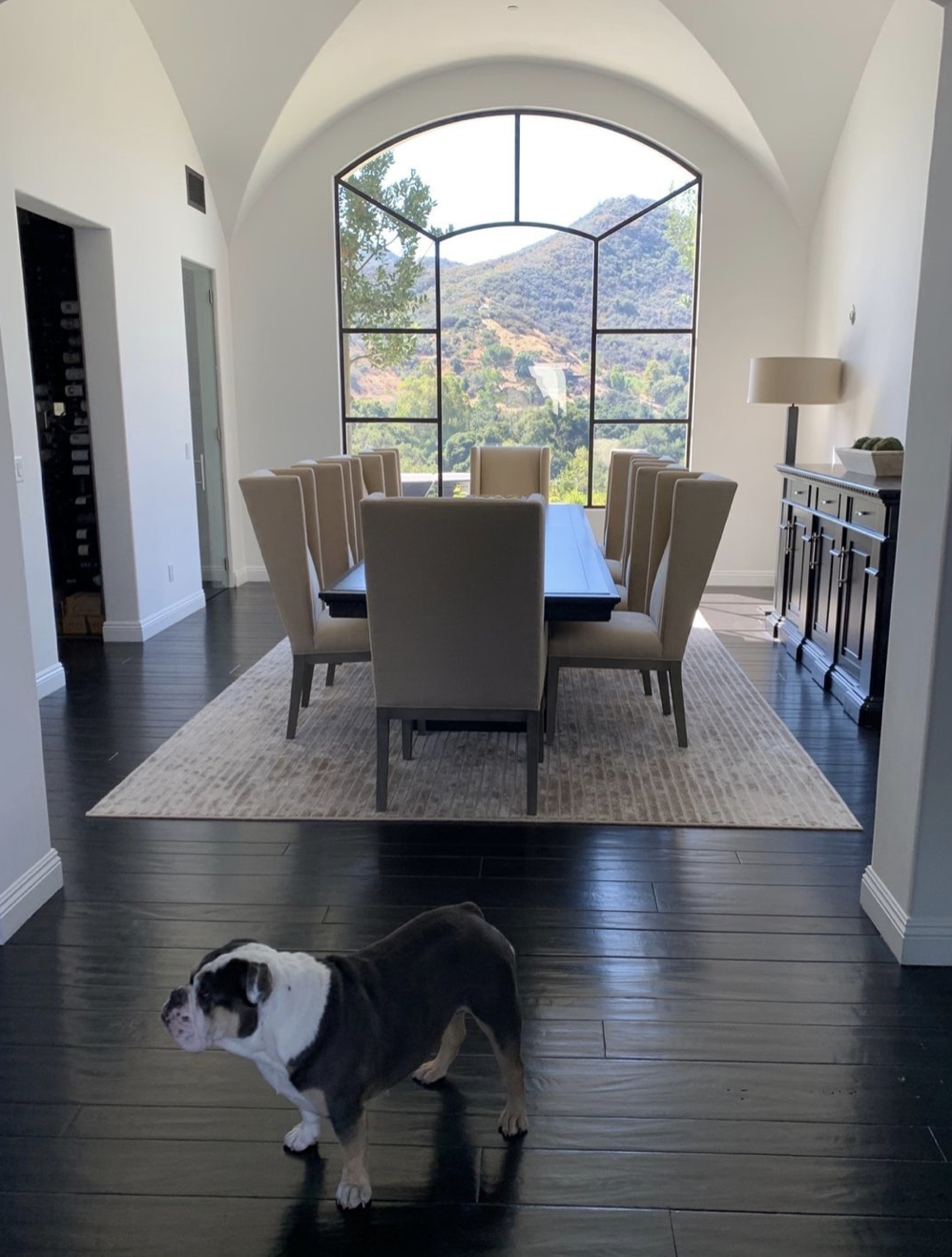 Behold the mesmerizing combination of the "Dark Stained Floor And A Neutral Hue"! This dynamic duo will transform your space into the epitome of understated elegance, where shadows dance and beige reign supreme.
13. Rustic Flooring And White Kitchen Cabinets
This quirky combination brings together the rugged beauty of worn-out wood with the elegance of pristine white. It's like having a rugged lumberjack cook a gourmet meal in a high-end restaurant kitchen.
14. Dark Hardwood Floors For A Vintage Look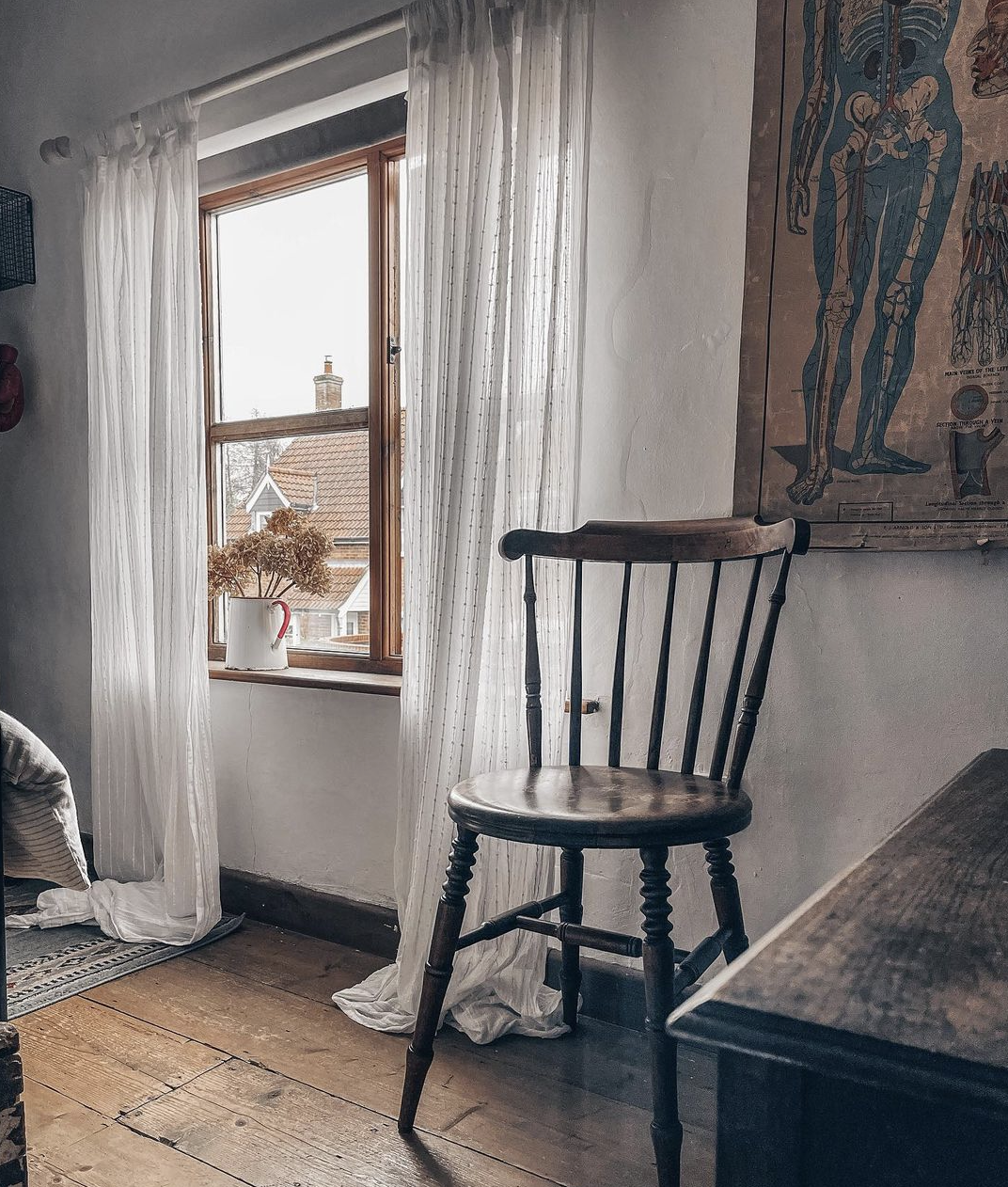 If you're yearning to transform your home into a time capsule of vintage delight, look no further than dark hardwood floors. These beauties are like a time machine for your feet, whisking you back to an era when disco balls reigned supreme and shag carpets were considered the height of fashion.
15. Dark Hardwood Staircase
This staircase masterpiece takes the concept of elegance to a whole new level with the rich, dark wood that's so mysterious it's like the stairway to your own private Batcave.
16. Cozy And Welcoming Dark Toned Flooring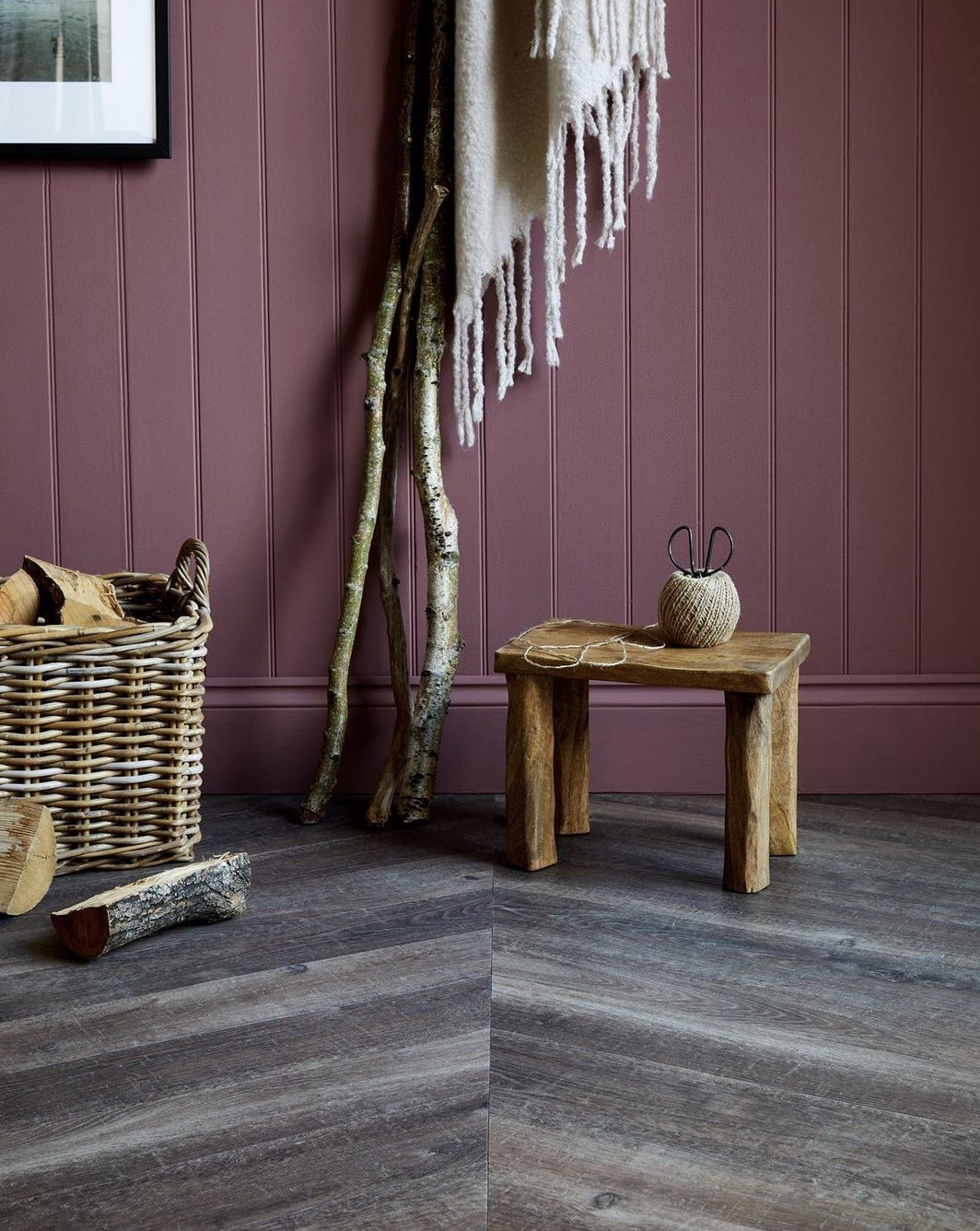 These dark-toned floors will transport you to a realm of comfort and warmth, where you can curl up with a hot cup of cocoa and pretend you're a brooding detective in a film noir. With each step, you'll feel like you're treading on the souls of ancient oak trees infused with charm and style.
17. Dark Oak Floors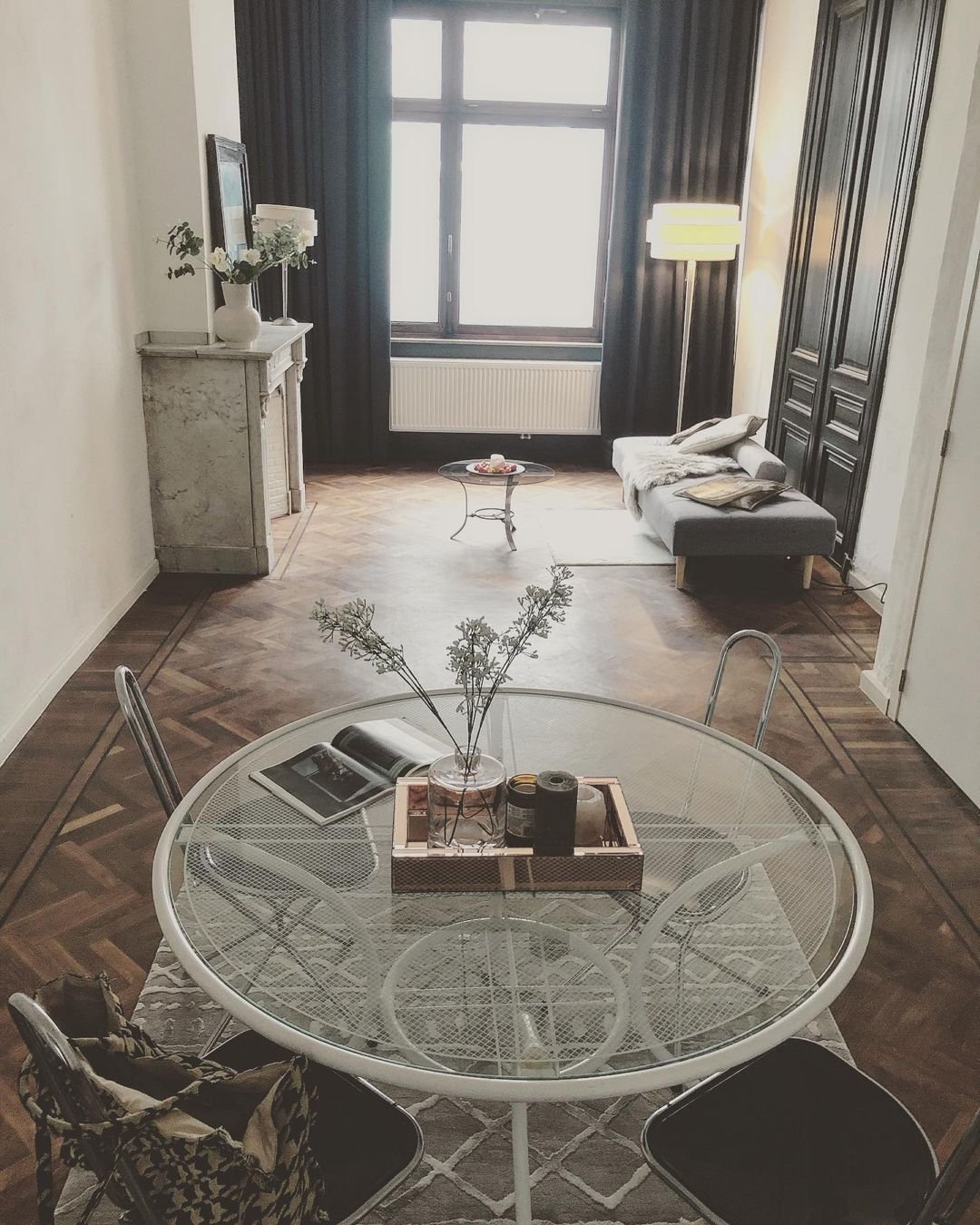 These floors are the dark knights of the hardwood world, bringing a touch of mystery and allure to any space. With their rich, deep hues, they'll make your home look like it's straight out of a Gothic novel, ready for a vampire ball.
18. How To Refinish Dark Hardwood Floor

Image and tutorial by HGTV
This enchanting guide will teach you how to unleash your inner Gandalf and transform those lackluster engineered wood into dazzling works of art. So, grab your toolbox and get ready to make your floors so stunning they'll outshine the moon on a starry night.
19. Strain Your Hardwood Floor in A Dark Color
Image and tutorial by Tadas Wood Flooring
Ready to take your hardwood floor from plain to insanely cool? Buckle up, my DIY enthusiasts, because I've got the perfect tutorial for you: "How To Strain Your lighter floors in A Dark Color." We're not talking about just any ordinary dark color; we're diving deep into the realm of boldness, and sophistication.
20. Dark Hard Wood Floors
Prepare to embark on a hilarious journey as we explore the dark side of home decor. This image will teach you how to summon the dark forces of elegance and sophistication by installing a floor so dark it makes midnight jealous.
21. Dark Wood Flooring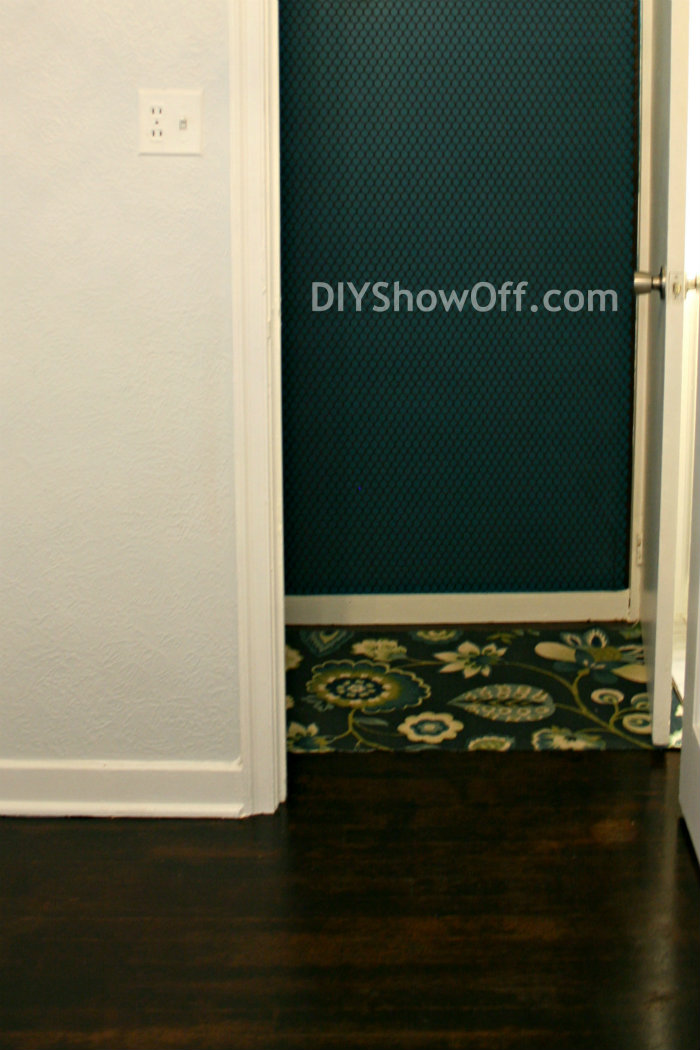 Image and tutorial by DIY Show Off
We've got you covered, from selecting the perfect shade of brooding brown to channeling your inner vampire decorator. So get ready to embrace your inner darkness because, with dark wood flooring, your home will become the hottest spot for enchanted tea parties and bat-themed dance-offs. Let's dive into this mischievous tutorial and conjure up some serious style!
22. Kitchen With Dark Floors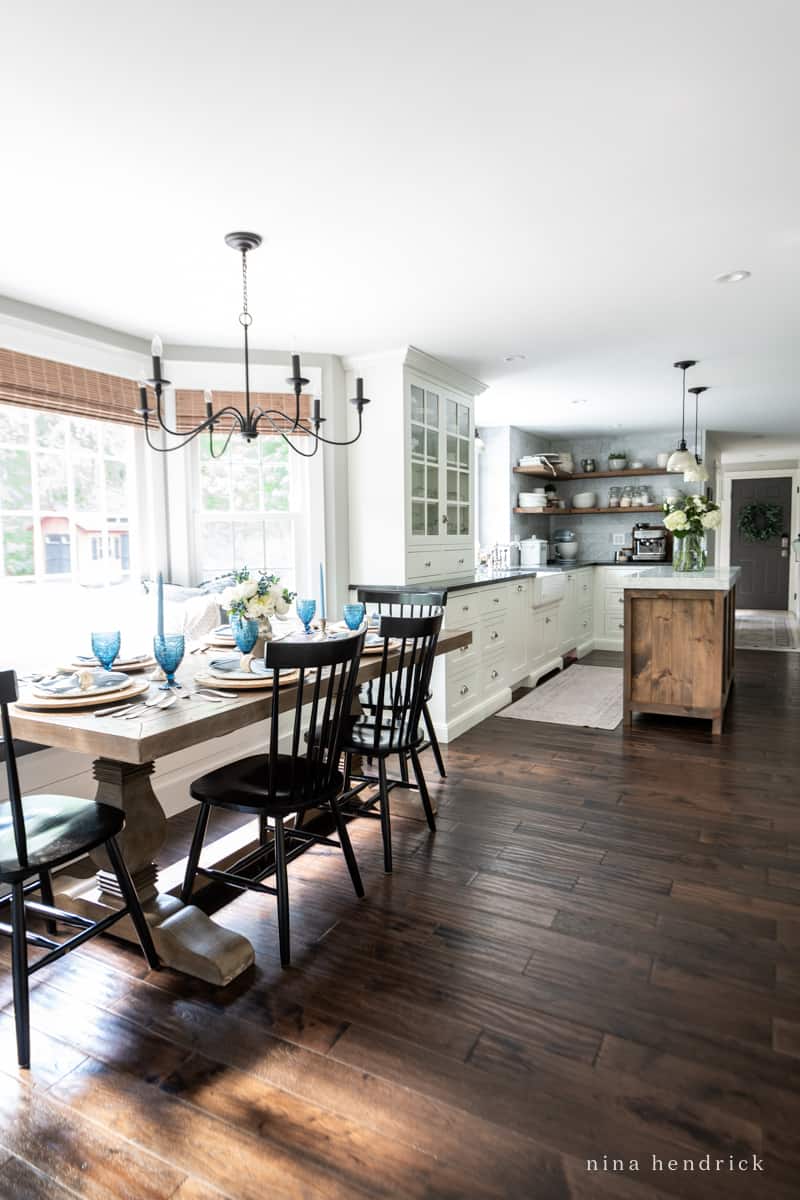 Image and tutorial by Nina Hendrick
Step into a world where culinary creations meet a touch of mystery with our "Kitchen With Dark Floors" enchantment. These floors are so dark they make the night sky jealous.
23. Rustic Engineered Hardwood Floors
Image and tutorial by Rocky Hedge Farm
These floors bring a touch of wilderness into your home, reminding you that life is a wild ride, just like a bear on a unicycle. So, if you're craving that rugged, outdoorsy vibe, these rustic dark hardwoods floors are here to bring the forest magic right to your doorstep.
24. How To Clean Your Dark Wood Floors
Image and tutorial by Dude Mom
Are your dark wood floors looking as gloomy as a haunted house on a stormy night? Fear not, because I've got the ultimate guide on "How To Clean Your Dark Floor" that will have them shining brighter than a full moon on Halloween! So get ready with your power tools and bona hardwood cleaner!
25. Dark Wood Floors For the Living Room
Step into the realm of darkness and sophistication with our collection of "Dark Wood Floors for Living Room." These floors are the epitome of mysterious charm, perfect for those who prefer to live on the edgier side of interior design.
26. Matte Rich Brown Wood Flooring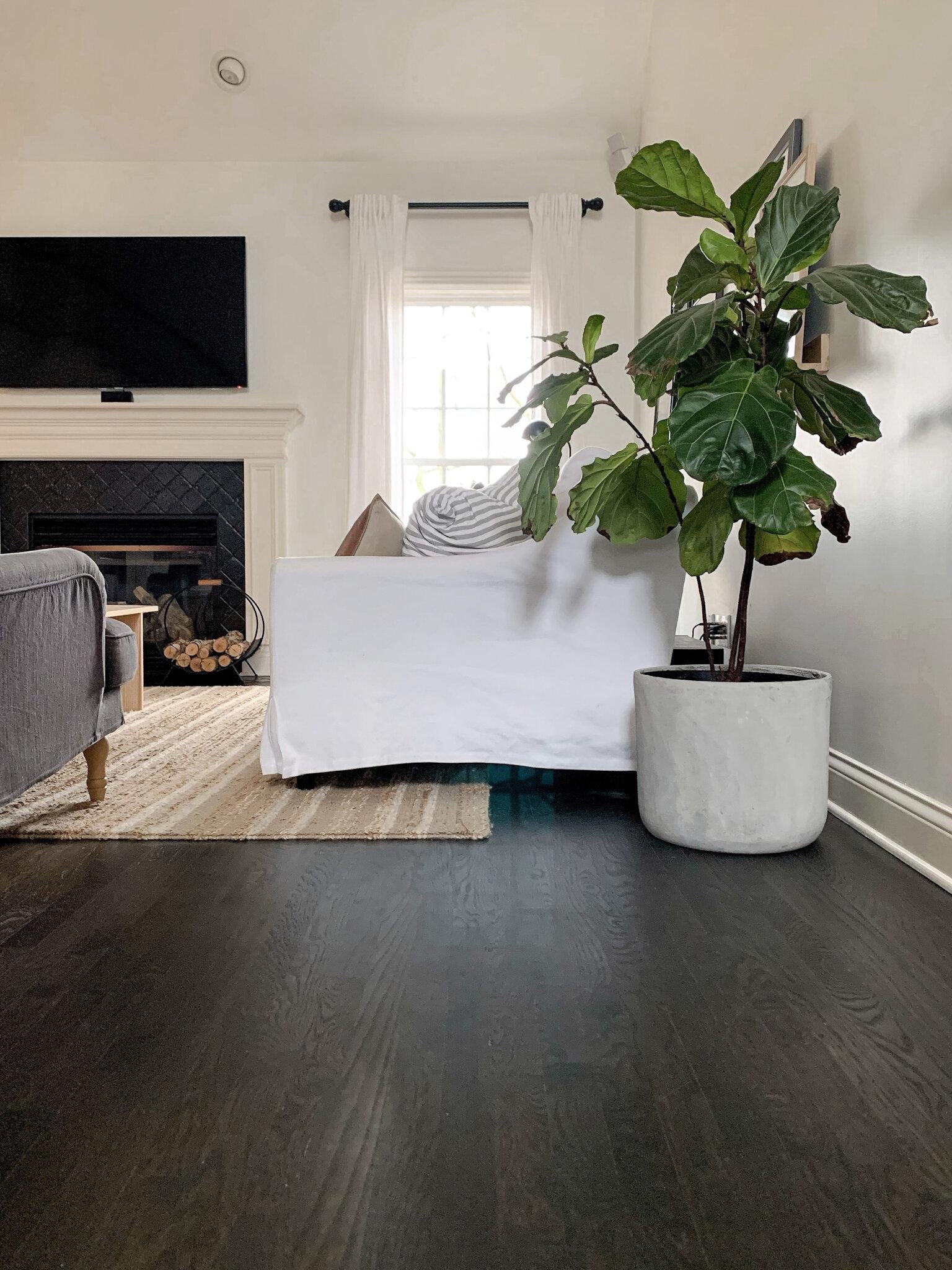 If you want a floor that screams, "I'm too cool for shiny things," this is for you. Just imagine walking on it barefoot, feeling like you're strolling through a forest of pure deliciousness.
27. DIY Dollhouse hard Wood Flooring
Image and tutorial by If You Give A Girl A Needle
This solid hardwood floor upgrade will have your dolls dancing joyfully and your friends green with envy. It's time to doll up those dollhouses, one hardwood plank at a time!
28. DIY Hardwood Dark Floors Under 1.50 / SQ FT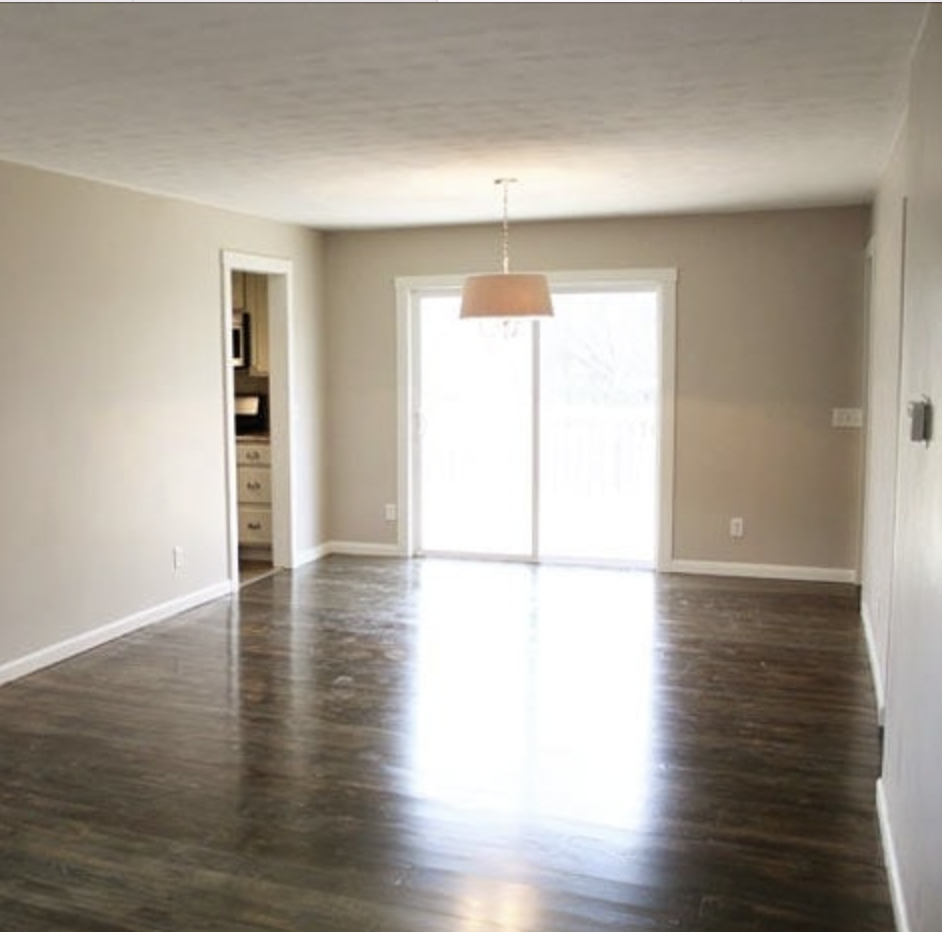 Image and tutorial by The Harper House
Listen up, penny-pinching renovators! We've got a deal that's gonna make your wallets do a happy dance. Presenting: "DIY Solid Hardwood Flooring Under 1.50 / SQ FT"! That's right, folks, you can transform your space into a swanky, stylish abode without breaking the bank or selling your soul to the flooring gods.
29. Inexpensive Dark Wood Flooring
Image and tutorial by Grandma's House DIY
Get ready to unleash your inner carpenter and transform your space with the budget-friendly marvel known as "DIY Inexpensive Dark Wood Floor." This handy guide is here to show you how to turn your humble abode into a swanky haven without breaking the bank.
30. Restored Old Wooden Floors In A Victorian House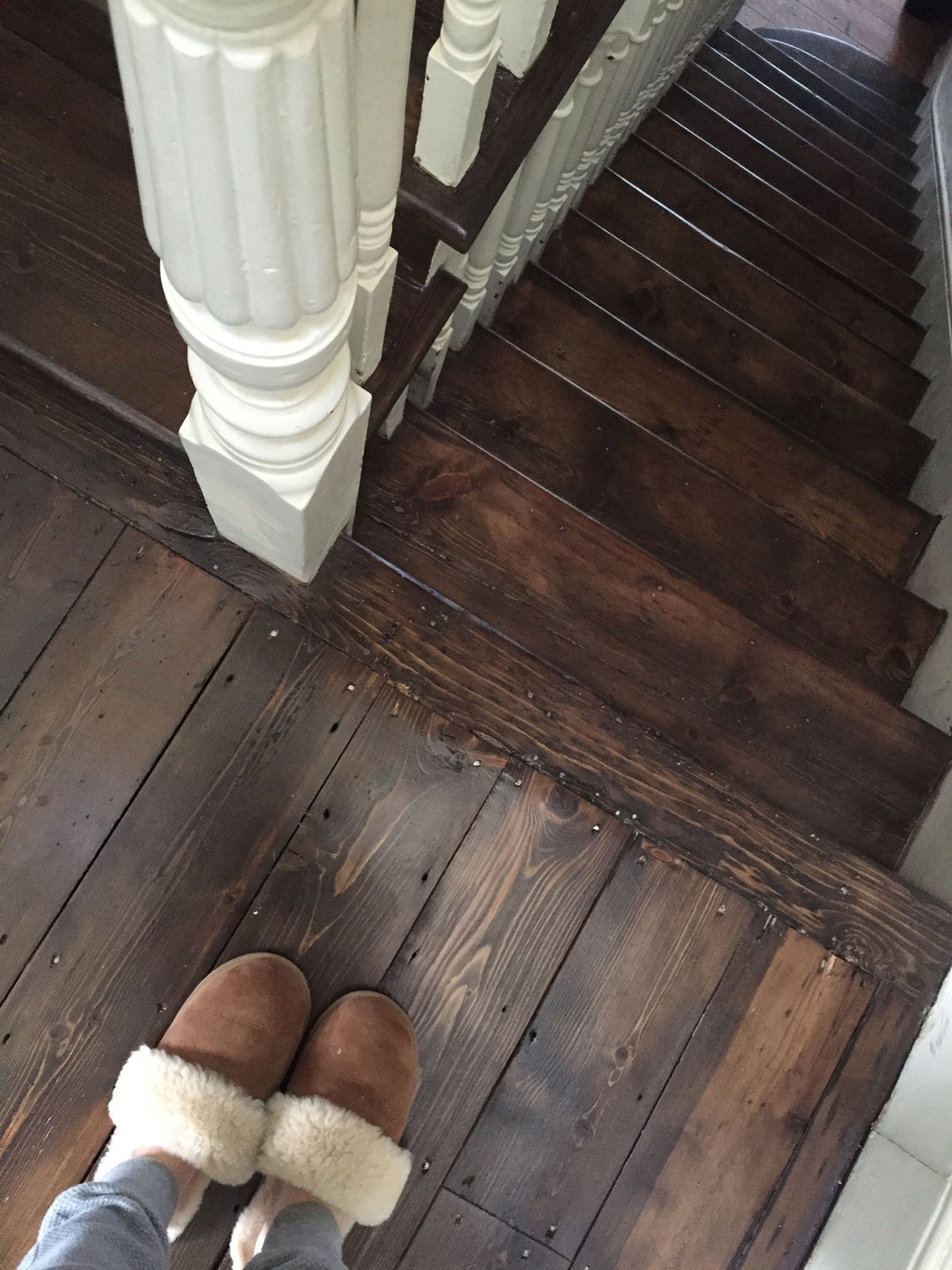 Image and tutorial by Poppy Loves London
Get ready to witness the incredible transformation of creaky, ancient floorboards into the envy of all your friends and neighbors.
31. Beige Walls And Dark Hardwood Flooring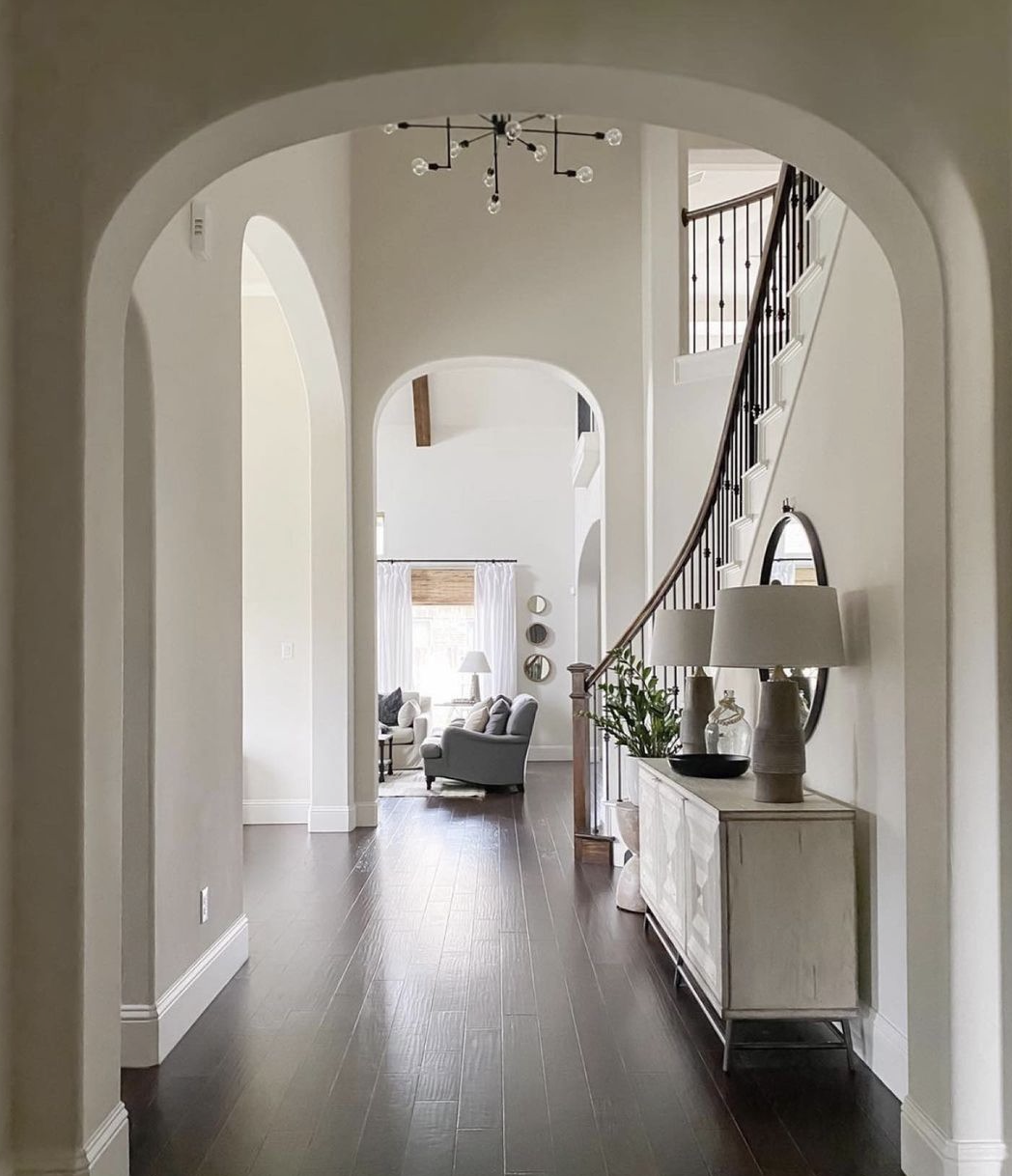 Image and tutorial by Crazy Wonderful Blog
Ah, the timeless combination of beige walls and dark wood floors. It's like a sophisticated game of hide-and-seek between earthy neutrals and mysterious depths.
If you love these ideas, don't forget to pin the above image to your "Home And Garden" board.