There has been a huge change in interior design trends in recent times. If a few years ago, the hot thing was lots of color and bright aesthetics, now the preferred decor style is soft and muted. That is why Japandi style interior design is becoming more and more popular lately.
What is Japandi Style ?
Japandi is an interior decoration trend that blends the design elements of Japanese and Scandinavian aesthetics. It combines functional and minimal with warm and calming decor elements for a seamless blend of cultures.
Despite Japan and Scandinavia being so different in cultures, they do share a lot of the same principles. Both have a desire for minimalism and simplicity with great respect for nature and high quality craftsmanship. Japandi is a style that intertwines the nordic aspect of Hygge – which induces warmth and hominess – with the ancient Eastern principle of Wabi Sabi – which is the acceptance of imperfection.
As such Japandi can work in any room in the house. It is especially easy to incorporate into large open spaces. Some of the key features that make up Japandi decor are as follows:
Use of simple and clean lines
Emphasis on natural materials like oak and light wood
Warm and natural fabrics with soothing textures
Neutral colors splayed with a contrast of light and dark tones.
Furniture that is lower and closer to the earth.
Eco friendly and sustainable materials like bamboo.
Quality of materials with bespoke craftsmanship.
30 Aesthetic Japandi Style Living Room & Interior Design Ideas
Below we have a list of some ideas that will guide you in your journey to creating a serene and modern Japandi style home. Whether it is making subtle changes in the kitchen or remodeling the bathroom, we have a few tips to help you in your journey to minimalist style.
1. Yin Yang Contrast
One of the most important elements of a Japandi style home is incorporating yin yang colors in the space. Yin yang colors include shades of black and white intersped with each other. To balance the contrast of black and white, Japandi principles also allow the addition of wooden furniture to the mix. However, to keep with the mood of the brighter, you can add some natural plants to the decor with lots of sunlight.
2. Well-Curated Furniture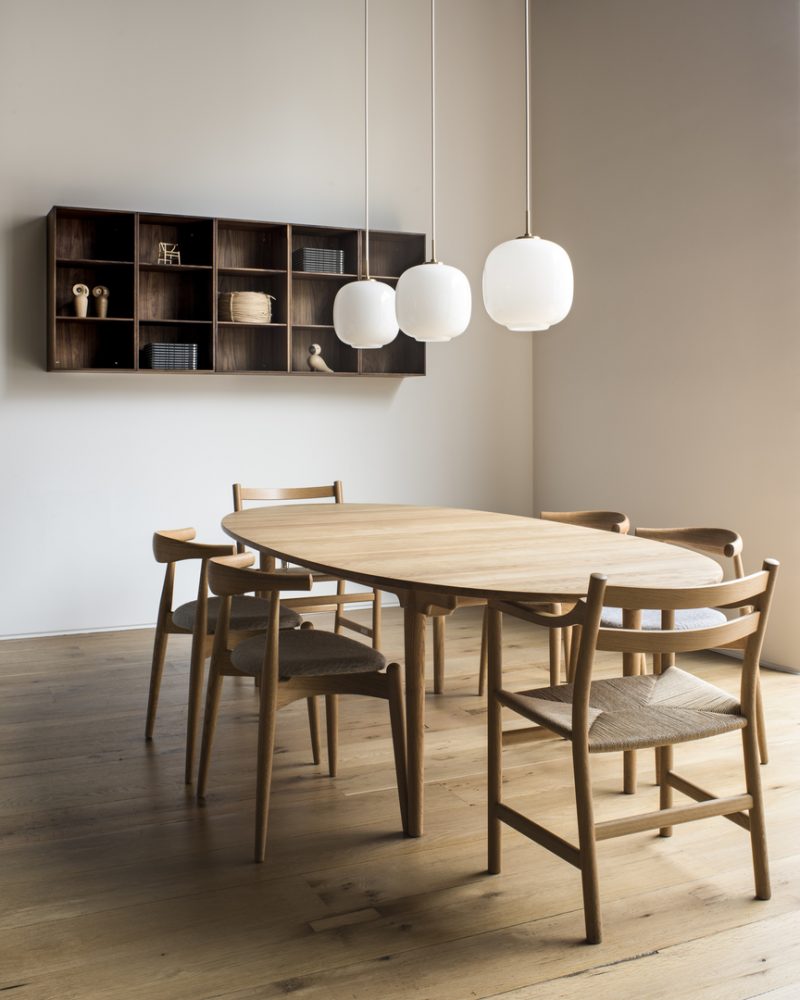 This example shows the hybrid of the soothing natural elements of Japan and the soft minimalism of Scandinavia. Here we can see the highlights of Japandi style furniture. Using natural material like sturdy wood to build your furniture is the first step to Japandi style interior design. Keeping to the Hygge concept, the furniture is void of too many sharp lines and edges, instead curving gently to create a visual treat.
3. Japandi Style Kitchen
Leaving things natural and rustic is also a part of the Japandi design. As we can see in this example, a Japandi style kitchen contains natural untouched elements. By using natural stone instead of drywall, you can incorporate wabi sabi elements into your space.
Along with that, pairing clean lines in the same space provides an almost effortless balance. The sleek yet natural dining table and chairs are a good way to achieve that look.
Also, read – 40 Beautiful Kitchen Windows For An Amazing Kitchen
4. Neutral Color Schemes
One of the first points of Japandi lifestyle is using a neutral color palette. For example in the image you see a simple Japandi style sofa in gray along with lots of wood elements. Scandinavian elements are seen with the light coloured walls and handmade products take center stage. Japandi style interior design encourages us to use sustainable equipment that is simple and minimalist.
5. Japandi in Children's Rooms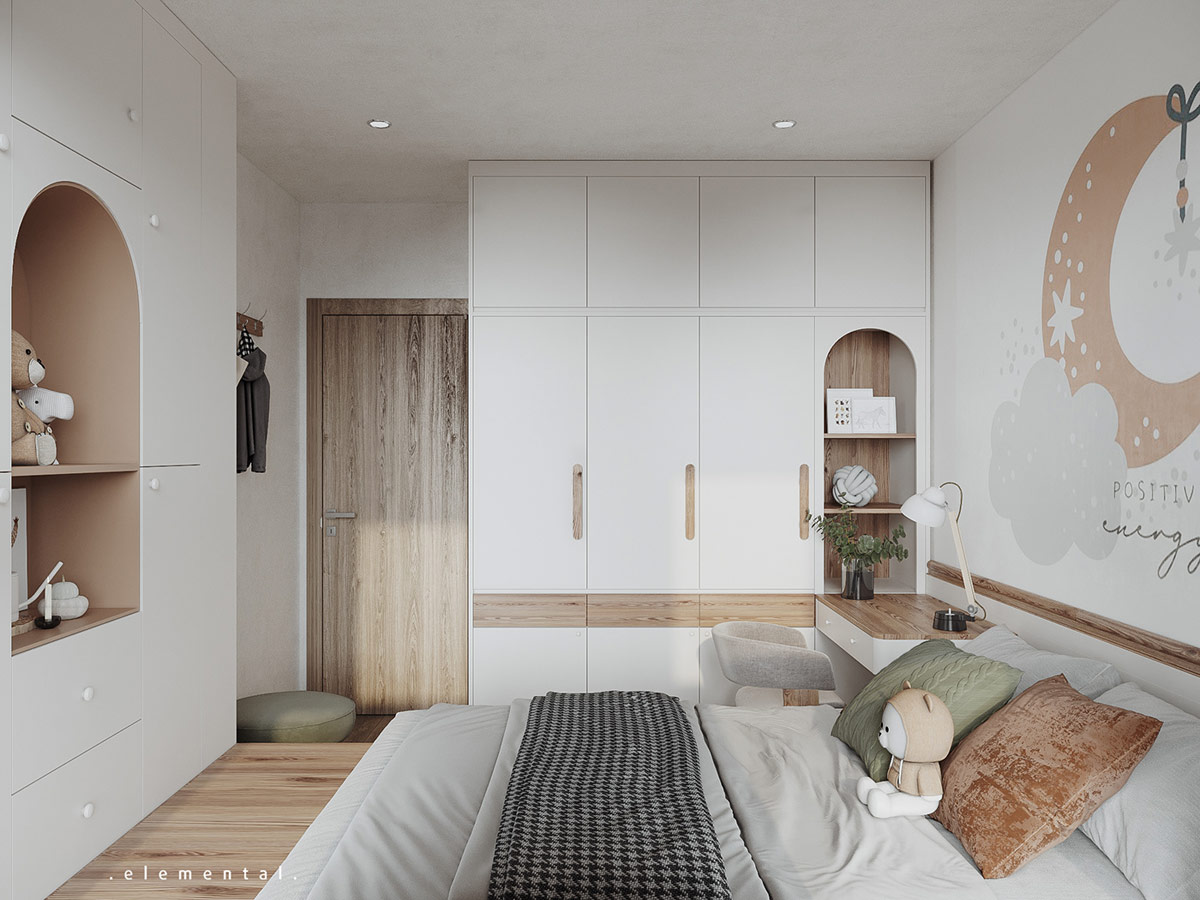 Most people might think that a child's bedroom must be bright and colorful so it cannot have a Japandi style. However, with a little tweaking, you can use Japandi style bedroom ideas for a children's room as well.
Keeping with the neutral color scheme, use wall posters and fabrics that feature a more playful nature. Scandi design encourages minimalism while Japanese elements can be introduced with well crafted furniture. As we can see, the whole room is made in a very light color scheme while being functional yet playful.
Read – 26 Best DIY Bed Frames For Your Bedroom Makeover , 22 Cool Arched Bookcases That You Will Definitely Love
6. Hygge Inspired Living Room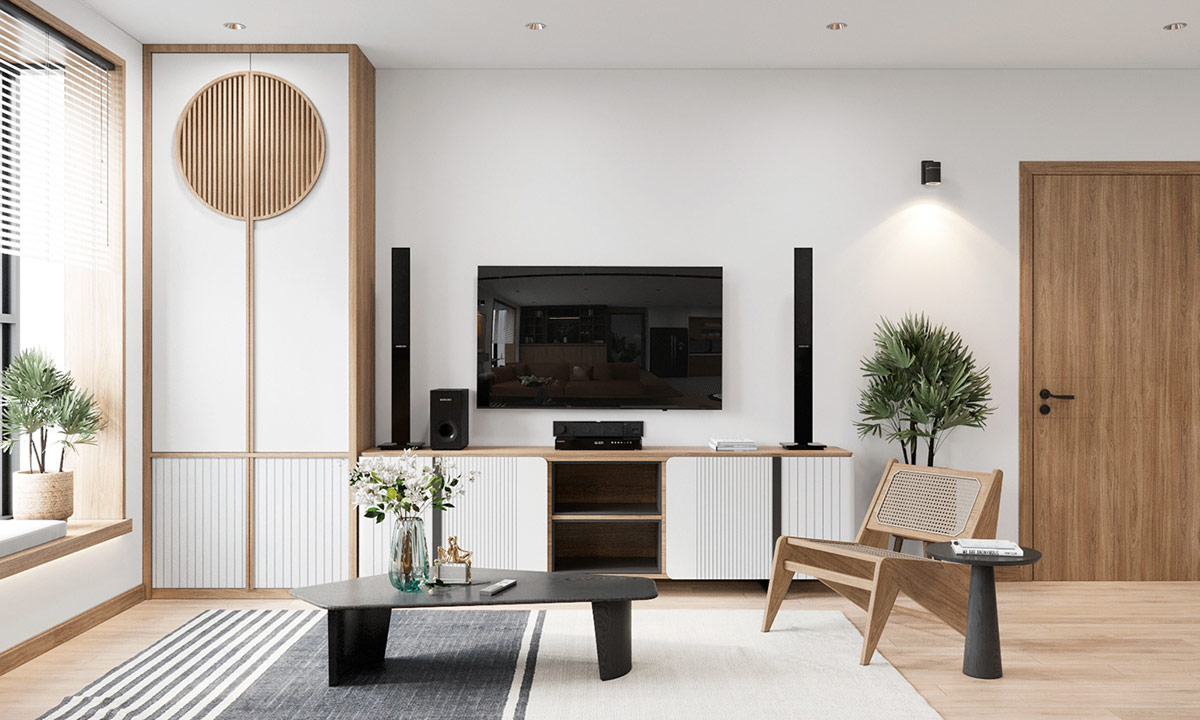 In this sophisticated and clean Japandi style living room we see the clean yet cozy atmosphere that is inspired by Scandinavian Hygge blended with the Asiatic low form beauty of Japan.The muted earthy tones of the furniture also complement well to tell a story.
The walls and cabinets are light yet not stifling or bland in their starkness because of the light in the room. Everything is minimal and uncluttered. To add natural elements, there are plants in planters in open spots. The white is well contrasted with the low set dark wood Japandi style coffee table as well as the sound bars on the cabinet.
Read – 24 Unique & Rustic DIY Coffee Table Ideas
7. Natural and Earthy Bathroom
If you are the kind of person who likes to be peaceful and zen like in the bathroom this is the type of idea you will like. In this Japandi style bathroom, we see a hearty mix of natural earthiness with the timber elements.
The room has a lot of natural lighting as well, thanks to the glass ceiling. The wood panels on the ceiling allow partly diffused light to filter through. All the lines and elements are completely functional from the simple bathtub to the stone wall panels that give a clean and simple look that is calm.
Also, read – 38 Awesome Bathroom Wall Ideas That You Should Try
8. Earthy and Light Kitchen
Neutral colors in a minimalist decor thrive as part of the Japandi style kitchen. If you're looking for appealing designs that are also functional, use as much natural material in your interior design as possible. Neutral colors like gray, beige and white can tie in all the decor. Incorporating wood furniture and slatted designs with white marble also give an opulent effect.
As you can see, the kitchen also has a lot of storage in the upper wall. This can make the room feel a lot more spacious. Large windows overlooking outdoor scenes and letting in light will integrate well with allowing nature into the home.
Read – 25 Fantastic Outdoor Kitchen Ideas for Every Yard
9. Playful Children's Room
Compact spaces are also a hit with Japandi style bedroom ideas. Here we can see that the children's room is playful while being functional. We see the different colors play against each other while still being pleasing to the eye.
This is a good example of how space can be utilized effectively. Crisp and neat lines mold to the softness of the color palette so that it doesn't appear bland. The bookcase is another way to tie in with natural and light elements.
10. Light and Dark Contrasts
When using contrast in Japandi style kitchen ideas, it has to be well thought out. Scandinavian palettes include very light and blonde palettes while traditional Japanese decor is more dark and earthy. If you have a lot of light in your kitchen space, it is good to create a balance with dark elements. Yin with yang remember?
Function is also important to consider when creating Japandi style interior design. Everything that you place in your kitchen should have beauty with reason – exactly like the dark island for the kitchen here. That is why Japandi also heavily emphasizes minimalism. Use natural materials in a complementing color palette to bring everything together.
11. Japandi Style Living Room
This Japandi style living room really showcases the fresh Scandinavian decor while still incorporating nuanced Asian distinction. Aside from the neutral and earthy color scheme with all the tan wood elements. You can see the colors weaving through the white decor to balance out the starkness. The artwork too is muted and minimal in its design. One of the high points of this example is the use of the white patterned Japandi style rug in the seating area.
12. Japandi in the Bathroom
Light colors, airy fabrics and natural materials are all quintessential to the Japandi style bathroom here. Pale wood and cane are really good choices when it comes to fixtures and wall panels. Accessories include rattan strong natural fabrics for bath mats, wooden bath bridges and cozy bath towels.
Keep the storage minimal and use cabinets to keep your toiletries safe. Lighting also plays a vital role in how a space feels. Go for softness and simplicity allowing as much natural light in during the day as possible. If you're looking for some contrast, go for some darker lamp shades in areas that tend to have bright light.
13. Natural Wood Furniture and Accents
Wood is an important part of Japandi style interior design. Whether it is in the living room or bedroom, having wood elements is a way to center the energy and break up monotony. The wood slats are a homage to Japanese architecture as well. Here, the vanity table is positioned in a way to add some partition to the rest of the room. The lights in the closet are a soft neutral instead of harsh fluorescent lighting that is more common. Again to break the monotony and to add some more live nature, you can make use of plants in such spaces to make the atmosphere more calm.
Read – 31 Spectacular & Unique Wood Accent Wall Ideas
14. Wabi Sabi Japandi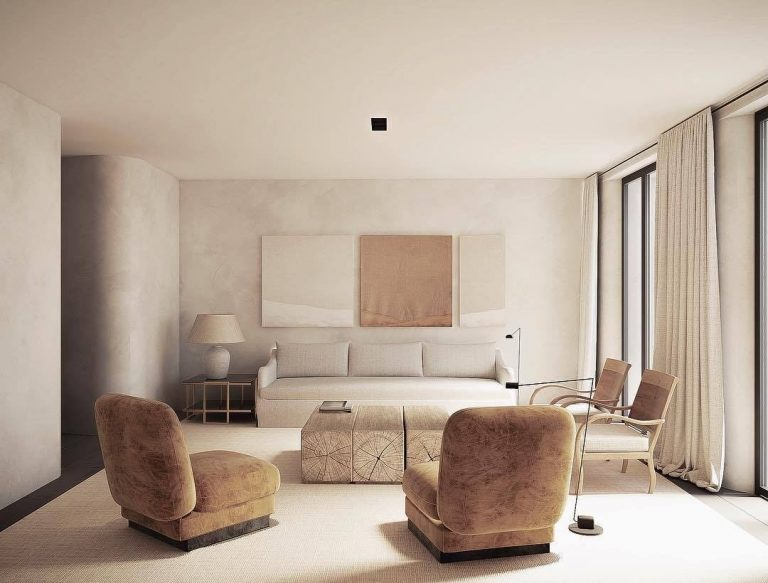 Simplicity, asymmetry and subtle are some of the words used to describe wabi sabi decors. Taking inspiration from the beauty in imperfection, Japandi style living room ideas thrive on being unbridled in different elements existing cohesively.
The Japandi style interior design thrives on the philosophy of slow movement and mindful living. There are no harsh lines or mindless pieces. All the elements in the example exist to serve a purpose and tell a story. Natural textiles and soft shapes complete the picture.
15. Outdoor Japandi
While we're talking about decor, we would be wrong to neglect the outdoor space. Japandi style homes would be missing without the important balance of indoor with outdoor.
To make the patio, balcony and garden shine with Japandi elements, incorporate the same principles used inside. Clean lines, earthy tones and natural materials will be right at home in any outdoor space.
16. Dark Japandi Bathroom
Japandi style bathroom designs more often than not resemble sleek and relaxing spas. While most bathrooms have a white or light decor, experimenting with the dark elements might reveal something truly inspiring.
The slatted wood design in this example is a subtle nod to Japanese decor – although in a dark hue it evokes an aura of mystery. The free form single tone bathtub is another minimalistic design element. All the light stone and earth tile floor make the room feel balanced and centered.
17. Warm and Natural Fabrics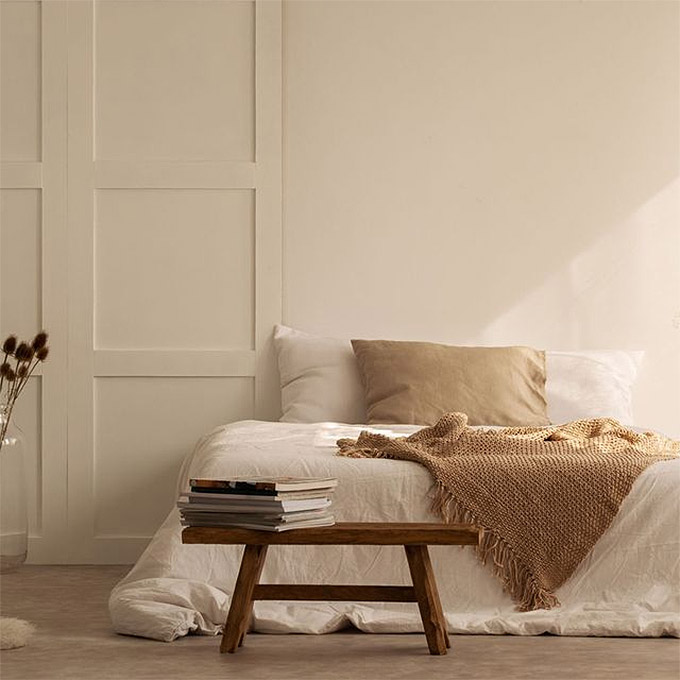 Good Japandi style bedroom designs feature a warm color palette in natural fabrics. The Japandi color scheme also plays into this. As a hybrid between bright and light Scandi elements with dark and rich earth Japanese tones, Japandi is soothing yet stands out well.
Everything in this bedroom example exudes a free flowing energy from the comforter to the woven wool throw. If you want to add a bit more color to your bedroom, you can use soft pastels in blue, pink and greens. This will help balance out the warmth of the earth colors and natural design as well.
18. Light and Natural Materials
Simple clean lines can go a long way when implementing Japandi style kitchen ideas. Here we can see the soft colors play off each other seamlessly. Using light coloured wood and natural light patterned marbles give a simple yet sophisticated vibe.
This example also shows you how to display without the space becoming cluttered which is the essence of Japandi style homes. Instead of having too much, look for the purpose and inner qualities of all the items you do choose to display.
19. Traditional Meets Luxe
One of the important tenets of Japandi style living rooms or just Japandi interior design is blending contrasting elements. Scandi designs are a lot more modern while Japanese decor tends towards traditional. Mixing the two can create a beautiful balance like seen in this example. The rich earthy tones of the decor and accessories complement the seamless luxurious fabrics and textures. At the same time, it is not crowded and allows effortless movement through the space.
20. Handpicked Elements
Japandi style interior design places a lot of importance on hand picked and high skill crafts. So it's only obvious that we give you an example of some of those elements as well. When you choose items for decoration, look for earthy textures and zen style calming pieces. Natural articles are a good choice too. Vases, plates, claypots, cups and glasses in muted tones and color will shine in a Japandi style home.
21. Heritage Japandi Bathroom Decor
This is a classic and true form of Japandi style bathroom. We have a good contrast of white walls with dark flooring – representing the yin yang. The timber floating basin introduces the earthy touch and color with natural materials. The style is harmonious and includes a freestanding bath and vessel basins that again have the blend of black and white to break up monotony.
Also, read – 31 Best Dark Wood Floors To Transform Your Home
22. Modern Low Style Furniture
This is a really good example of a Japandi style coffee table. Most Asian themed furniture is low to the floor. Both the sofa and the coffee table complement each other very wellin height and color scheme. The arching lamp is a nice touch to match the arched wall molding. All the different furniture have a running chicness woven with the earthy color palette that is seen in Japandi style interior design.
23. Minimalist Kitchen Decor
The Japandi style kitchen is sporadic without being bland. Clean lines and elegant countertops pair well with the earthy cabinets that are a real space saver. This concept can really open up the countertop and make it more spacious. The light wood and smooth marble give the kitchen a much more luxurious feel.
24. Low Profile Decor
Japandi style bedroom ideas feature a lot of low profile design elements. This created a more grounded ambience which is what the home style is all about. This allows for natural airiness and shifts focus to different views more cohesively. Bedspreads in natural fibers and neutral colors add to the calmness of the room. You can play around with the type and style of the wood in Japandi style furniture but remember to keep the material as natural as possible
25. Open Layout Spaces
Japandi aesthetics balances the traditional Asian decor with modern Scandinavian tranquility. In this Japandi style kitchen we can see the practical layout that serves to enhance easy movement with crisp functionality. Space is an important part of Japandi living as can be seen in the way the lounge flows into the kitchen and dining area. The two toned design also breaks up monotony and makes the kitchen appear more airy. Addition to natural plants adds the blend of indoors to outdoor elements as well.
26. Bring the Outdoor Indoors
With nature being central to both Scandinavian and Japanese culture, it is only natural that we incorporate it together. Japandi style homes usually blur the line between indoor and outdoor elements with free flowing spaces. The influence of nature on Japanese home design cannot be denied.
To add more of an unbridled access to outdoor spaces, have an easy connection to it. If that is not directly possible, you can always make use of more plants indoors. Bonsai and bamboo are soothing indoor plants that can have a very soothing effect on the aura of the house.
27. Two Toned Decors
Here we see another example of innovation with seamless design that is so true to Japandi style interior design. The dining room features storage units that fit well with the affixed dining table. This creates a lovely space saving layout.
Other design elements include the macrame wall hanging – a tribute to using natural fibers and elements. Alos, the dining chairs are natural light wood and rattan which ties in well with the rest of the decor design. For a modern addition to all these, the decor also includes the JH4 pendant lights which exude a warm glow when lit.
Read – 50 DIY Macrame Wall Hanging Patterns with Tutorials
28. Japandi on Walls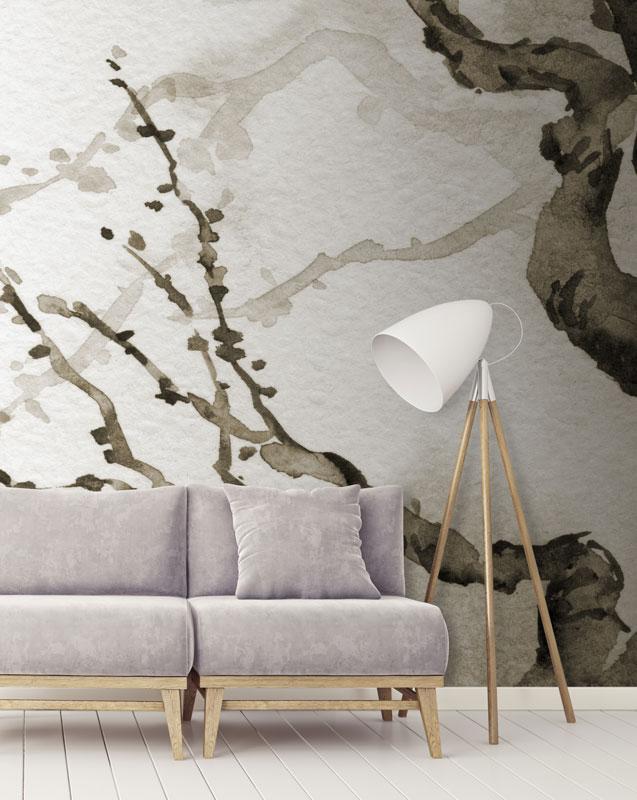 One of the easiest ways to include some texture and element to your Japandi style living room is the use of minimalist wallpaper. It is a perfect way to introduce serene atistic style to your interiors. This wall features an ink blossom mural which takes inspiration from the traditional Japanese ink calligraphy.
The rest of the living room is also very true to Japandi style interior design – from the plain white flooring and stark white lamp stand on natural bamboo wood pairs with low furniture that is very true to classic Japanese furniture. The cushion and upholstery of the furniture too is airy and muted to look cohesive with the rest of the decor.
29. Quality Craftsmanship
Like it has been mentioned before, Japandi style furniture focuses a lot on natural material and high quality craftsmanship. This example again brings to the front various Scandinavian elements like the large white storage case.
Uncluttered and organized decor is at the forefront. The black and neutral chairs are a complement as well as contrast to the round wood table. For dimension the pendant lamp is a really nice touch along with the black tableware. All these highlight the yin yang energy that is important to Japanese decor as well.
30. Light Drapes for Natural Light
The sunny, airy natural light is quite synonymous with Japandi style homes. If you're looking for a way to be sparse without having your room look bland, ditch the heavy drapes. Instead go for Roman shades, light curtains or neutral blinds. The natural toned walls allow more lively space within your room and will also save unnecessary costs on window treatments and drapes.
If you loved these ideas, you can use the Pin image below and save this article on your 'Home Decor DIY Projects and Crafts' Pinterest board.