During the autumn season, the days are smaller and nights bigger, thus reducing the time that you can bask in the sunlight. There is a simple solution to this – spend more time in the areas in your home that receive ample sunlight. One of these areas is your front porch. Having an amazing fall decor for the front porch will help you spend more time outdoors!

Since you are going to spend so much time on the porch, why not make the area to your liking. Also, the front porch of your house is the first place that your guests notice when they visit. So investing in the decor for the front porch is as necessary as the interior of the house. In this blog, we have compiled the ideas for front porch decor in the fall season.
1. Autumn Elements Decor
Image and idea by Boxwood Avenue
This decor contains the basic elements of autumn decoration. These include simple Wreaths and Garlands drenched in greenery. Also, some greenery is always a lively addition to any decor may it be inside or outside. The beautiful color palette is neutral with the addition of Royal Black highlights. The garland is the main attraction to this autumn-themed decor and you can easily thrift beautiful garlands at a reasonable price if you shop during the off-season.
2. Pumpkins and Flowers
Image and idea by Sugar and Charm
This decoration for your front porch, screams fall decor. Since the fall is also called the harvest season, this decor is designed in a way to incorporate that feeling. The major highlights to this are pumpkins and flowers. You can pick different varieties of pumpkins in different colors to better express the theme in a diverse color palette.
Read – 18 Halloween Pumpkin Home Decor Ideas For A Spooky Celebration
3. Neutral Fall Porch Decor
Pumpkins and cornstalks are the major elements of this decor. Accompanied with the neutral color palette, this look is very minimalist and beautiful as well. The colors in pumpkins chosen are also toned down hues and perfectly go with this front porch fall decor idea. Throw in some string lights to this decor and then gawk at the beauty of your house exterior.
4. Hoop Wreath Decor
This decor is for DIY lovers. You can make a DIY hoop wreath with flowers and greenery. The flowers that you should preferably use are Dahlia and mums. A combination of sunflowers and hydrangeas can also be used. This project goes perfectly with the fall season decor and you can hang the wreath on your door to make it even more beautiful with some plant pots around.
5. Peach and Blue Fall Decor
Image and idea by Home Stories Atoz

This decor has a color palette set to blue and peach. The pumpkins that are used are also in the colors blue and peach. The colors are subtle and not into your face with extravagant hues. The door also has a subtly decorated wreath hung up made with dried hydrangea stems and dry roses.
6. Greenery inspired decor
Image and idea by CraftBerry Bush
The design palette of this decor is inspired by greenery and the focus is on adding lots of plants and vines on the steps leading to your home. Colorful splashes are made with the addition of pumpkins and the door has a green-themed wreath on each side.
Read – 20+ Fall Crafts for Kids – Easy Fall Project Ideas for Kids 2022
7. Small Porch Step decor
Image and idea by Jenna Kate at Home
If you have a small front porch, then this idea is for you. The steps leading up to your heavenly abode can be paved with beautiful pumpkin and harvest flower pieces. This makes the small front porch of yours holiday-ready in the fall. This decor has warm and inviting colors and it gives your house a very festive and inviting feel.
8. Quirky Sideboard Decor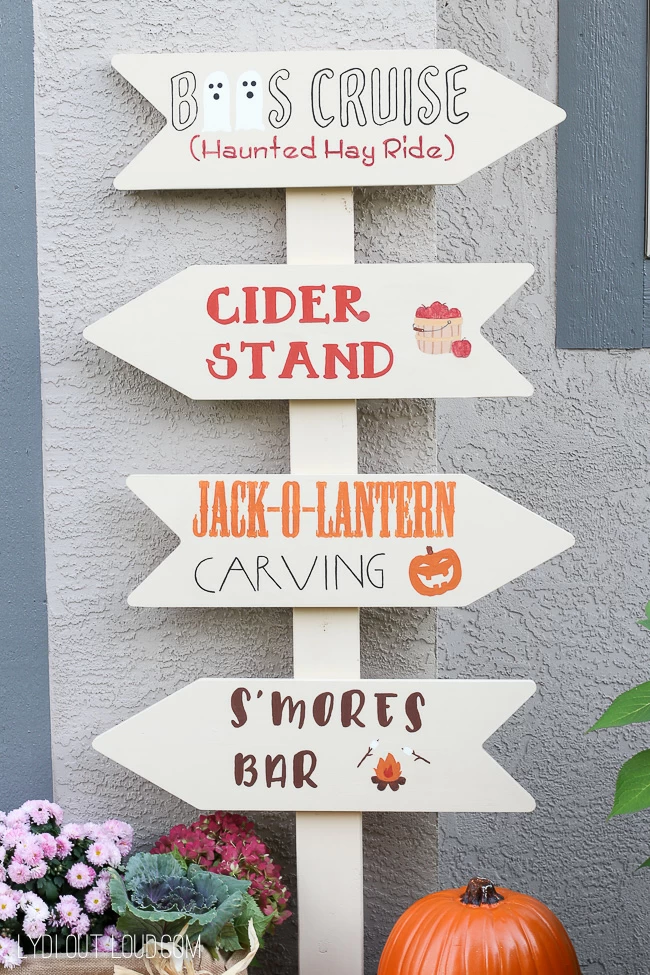 Image and idea by Lydi out Low
This is a wood sign project that you can customize according to your needs and place at the beginning of your steps leading up to the porch, or place it on the porch leading up to your door. You get the basic idea. On the sign board, you can add some quirky details and also add basic names depending on how creative you want the sign to be. This DIY project makes for cheap front porch decor for fall.
Read – 30 DIY Wood Sign Ideas To Add Rustic Charm To Your Home
9. Quirky Design With Lanterns
Image and idea by Hip and Humble Style
Whenever we talk about design or decor, the importance of ample lighting is extremely important. In this front porch decor, there has been made use of lanterns with the subtle tones of pumpkin decor. You can add plants for texture. This design also focuses on the importance of adding your own quirky doormat.
10. Neutral Palette Decor
Image and idea by House By Hoff
If you want your porch to have a subtle and clean look, you can opt for this decor in subtle pastel tones. The decor does not look so busy and still looks fully prepared for fall decor. The blue door in pastel tone is decorated with yellow mums and all the other decors also suit the same theme.
11. Grey and Yellow Color Play
If you are okay with playing color games, then this decor fits your design temperament. There is a hint of pastel grey with yellow. There is a cozy corner with a rustic chair added with throw pillows and of course pumpkins accentuating the harvest season decor. There is also an amazing chalkboard on which you can write quirky notes.
12. Classic Pink and White
Image and idea by Nesting with Grace
There is a grace in pastel colors that everyone is acknowledging these days. And therefore the centrepiece in our front porch decor is a pink color door and everything in the decor is complemented to suit that. There is a green touch added to the pink door with the addition of plant hanging. The pumpkins added are also in the color tones of white. There is the addition of beautiful flowers to add the touch of extra beauty on the front porch steps.
Read – 18 Halloween Decor Ideas for a Fang-Tastic Celebration
13. Elegant Muted Fall Entry
Image and idea by Finding Silver Pennies
Fresh corn stalks and pumpkins are added to the traditional pumpkin decor to create an elegant entryway for your house. Subtle hints of greenery with the added small plants are also special parts of this decor. The wreath on the subtle pastel-painted door is also green, perfectly complimenting the color palette.
14. Royal Themed Fall Decor
Image and idea by Rachel Parcell
If you have the luxury of a huge space as your front porch, you should decorate it with royal hues and play with colors. Rugs, when added to any space, make the space look royal whether they are expensive or not. If we are talking about fall decor, we inarguably add pumpkins and a wreath on the door. Also, add a hanging lantern to make the lighting inevitably better.
15. Rustic Front Porch Fall Decor
Image and idea by The Ponds Farmhouse
This is our official entry for the rustic front porch fall decor. This has all the neutral colors in the palette. Brown with accents of subtle orange, an added rug, two wreaths complimenting the color palette, and two very cozy chairs to enjoy a book during the sunset. You can add major decoration centrepieces in the form of lighting lanterns.
Read – 23 Apple Pie Recipes to Fulfill your Fall Cravings
16. Subtle Hues
Image and idea by Worthing Court Blog
If you dont want to spend a bomb on some temporary decor on your porch and want to invest in something more versatile, you can choose this decor that can be easily tweaked after the holiday season to accommodate your routine decor. You will need some very beautiful fall flowers to add on your wreath and two huge flower pots that you will place near your door. After the fall season, you can change the flowers to something more suitable for that season.
17. Neutral Toned Decor
Image and idea by Taryn Whiteaker
This is the front porch fall decorating on a budget. If you do not want to spend a bomb on your annual fall front porch decor, this is the perfect idea. You can just add a quirky signboard and use white pumpkins to accentuate the decor. After all, the white pumpkins always make great additions to any decor.
18. Cozy Autumn Front Fall Porch
Image and idea by A blissful nest
If you have a cozy entryway, you can make use of this minimal, rustic decor idea. There is a wreath made out of autumn flowers added to the brown colored door and some more fresh flowers added in two separate flower pots on each side of the door. Since, there is already a brick themed wall accent, a neutral color palette seems the most complimenting option for decor.
19. String Light Magic
If you are a fan of symmetry as well, you are going to love this idea. This has an equal balance of elements on both sides of the door. Decorated with real pumpkins and mums. The highlight though, is the copper string lights that add the extra magic needed to amp up this decor. This is also highly time-efficient decor and will not take you more than 15 minutes to actually decorate if you have all the supplies at hand.
20. Pop of Colour
Image and idea by Craft Berry Bush
For those who do not want to go all neural with their porch theme, there is a lot of colour thrown in this idea. Various colourful flowers in even more colourful yet contrasting planters, give this decor its soul. You can add a neutral doormat to balance the color flow and you have yourself a very beautiful porch decor.
21. Colorful Pumpkin and Flower Magic
If you have your front porch made to look like an unpainted brick wall, you have what is the decor base of my dreams. There are so many options available to pair colors with a brick wall. In this idea, there is an experimentation with colorful pumpkins in the shade of orange and white. Also, added are some beautiful yellow and pink flowers. Heavenly, don't you think?
22. Different Textures of Pumpkin
Image and idea by Duke Manor Farm
This decor for your front fall porch includes all different kinds of pumpkins. There is a blue plush pumpkin, some real painted white pumpkins, orange pumpkins, rattan pumpkins. Basically, this decor screams pumpkin. To complete the look, add some plush throw pillows and rattan baskets with fall flowers, and a wreath on the door.
Every year in fall, many people think of decorating their front porches, some of them back out just because it is a lot of work for them, and for some, this temporary decor is not worth burning a hole in their pockets.
However, good decor gets you in the festive mood and also makes the entrance of your house more welcoming for the guests that visit you every holiday season. We have included all kinds of low and high-effort ideas for fall front porch decor so that there is something for everyone.
We hope you enjoy decorating your porch on the holidays and have fun.