Oh, to be from the nation called the Emerald Isle. Beautiful history and beautiful traditions originate from this green land. Mostly, Ireland is known for a Patron saint who went by the name of Saint Patrick. It's in his memory that we create St. Patrick Day Crafts.
He was born in Britain but was sent as a slave to work in Ireland. When he became particularly interested in Christianity, he propagated the teachings to many people in Ireland who went on to become his ardent followers in the years to come.

There are many different popular stories about the saint that you will hear on the commemoration of his work on his death anniversary, that is 17 March. Legends say that he used Shamrock to explain the trinity and he drove all the snakes out of Ireland.

This may or may not be true but since then, the Shamrocks and four-leaf clovers are seen as good luck charms. Leprechauns, the green fairies are also associated with the colorful holiday that comprises parades, special foods, music, dances, drinking, and wearing a whole lot of green colour.
32 Best St Patrick Day Crafts To Get You In The Holiday Mood
On this day of celebration of Irish culture, there are some crafts and DIYs that help you get into the spirit of this holiday. Decorate your house with some crazy collection of St. Patrick's day crafts and lay back to celebrate with corned beef and cabbage recipes to celebrate with your artwork.
1. St. Patrick's Day Wreath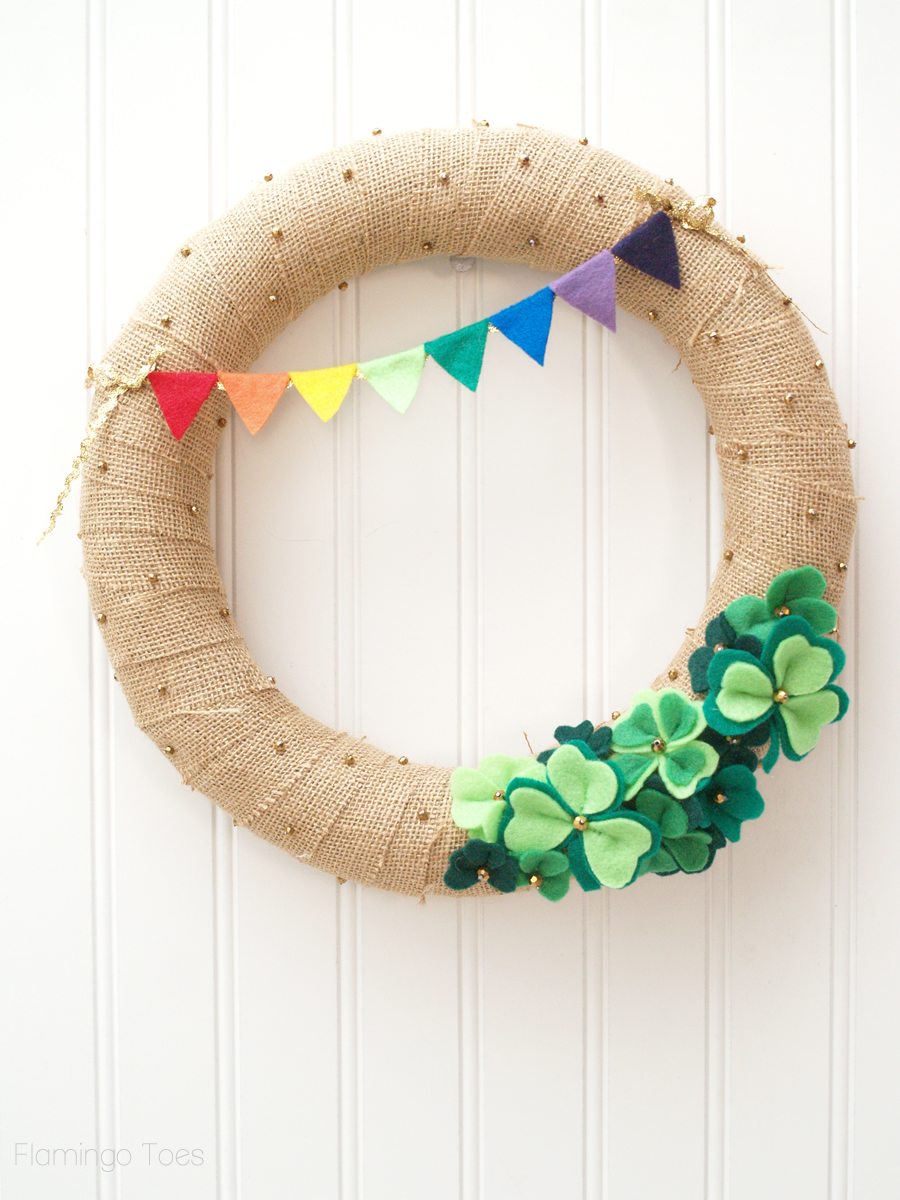 Image and Craft by Flamingo Toes
This is a combination of both rustic and colorful in the same art piece. The jute wreath is covered in small, dainty pearls to give a mature look and then you add the St. Patrick's Day staples like Shamrocks on the bottom right and a rainbow to celebrate the colorful spirit of the holiday.
2. Shadow Box
Image and Craft by House of Handmade
This is a small decor piece for your side table or mantle. This can also be turned into a fun game by including a four-leaf clover in a field of three-leaf clovers inside the shadow box. The one who finds the good luck charm is the winner.
To be honest, if you have such beautiful decor on your side table, you are already a winner. (Wink Wink)
3. Painted Rocks
Image and Craft by Sustain My Craft Habit
If you want to enjoy some DIY with your kids on this colorful holiday, this St.Patrick's Day kid's craft idea is for your family. You need really small rocks comparable to nuggets for the golden nuggets and some bigger ones for painting shamrocks. Spread a piece of paper and sit with your whole family for bonding over rock painting. It's a party!
Read – 40+ Spectacular Rock Painting Ideas For You To Experiment With
4. Rainbow Paper Sun
Holidays and bored children with extra stored energy is a problem that every household has to face. Why not channelize their energy into some crafts that can also make your house look beautiful in the process? This is also the perfect project for kindergarten or preschoolers.
5. Leprechaun Handprint Craft For kids
Image and Craft by Simple Everyday Mom
Another entry for St. Patrick's day crafts for kids, this one is a cute rendition of the Leprechaun associated with the holiday. There is not a lot of use of artistic abilities and you can help your kids create something to decorate their room with on the green holiday. Don't forget to add little green hats to the Leprechauns. This is the touch that makes it extra festive.
6. Pot of gold
Image and Craft by Simple Everyday Mom
Leprechauns are even more relatable when they carry pots of gold. So, how is it possible that we look at St. Patrick's day crafts and forget the pot of gold? After all, it is a classic good luck and wealth charm. A quick and easy addition to your list of crafts.
7. Gold Shamrock Flowerpot
Image and Craft by Handmade in the Heartland
If you do not have a lot of time for decoration but still need your house to look holiday-ready, you can make small additions of holiday-related symbols on the already existing decor you own. This craft is super easy to do as it only requires you to have gold paint and a stencil for a four-leaf clover and you are all set to decorate your flower or plant pot.
8. Shamrock hoop
Image and Craft by Sugarbee Crafts
In the series of cute, mini art pieces, this one is a gem. If you are a fan of embroidery, this one is the perfect decoration for you on St. Patrick's Day. Now you can hang this art on the house entrance, sprinkling holiday love on all the people who come to visit.
9. Magic Vases
Image and Craft by Yesterday on Tuesday
Have some baby food jars or mason jars handy, this project is so easy for you here on. Now you can draw on the jars with puffy paint. To make the craft more appropriate for St. Patrick's day decor, we will paint Shamrocks and on some, you can write good luck words. Cover all of it in green paint and you have magical vases for a magical holiday.
Read – 30+ Effortless Mason Jars Crafts Ideas For Your Home
10. Clay Pot Planters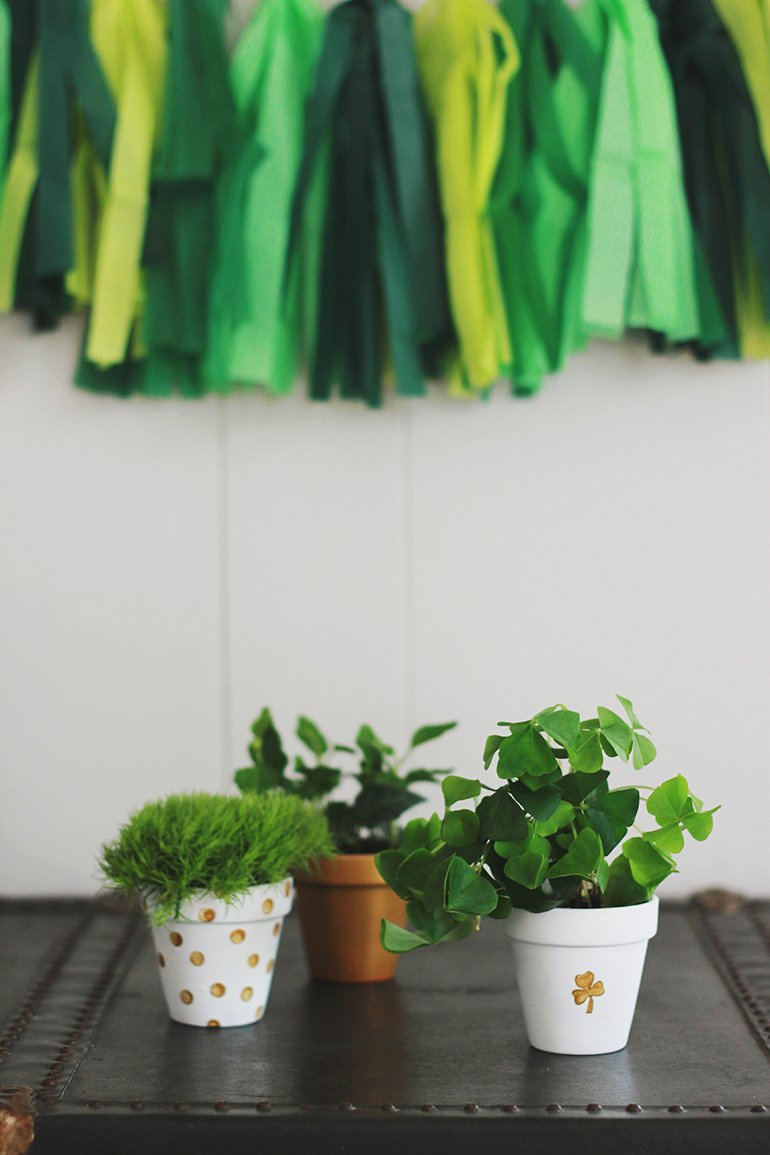 Image and Craft by The Merrythought
Want some cheap St. Patrick's day DIYs? You stumbled on the right place in your search. This is an easy project. Just paint the planters you already have at home with a white base coat and then make patterns like four-leaf clovers and gold polka dots.
This will give your house a new fresh vibe and will also get you in the holiday mood. Add green plants in the planters for the color contrast and the green tradition of this emerald isle holiday.
Read – 40 Fun & Easy DIY Clay Pot Crafts for Beginners
11. Shamrock Patchwork Applique pillow
Image and Craft by Aubree Originals
Have some green fabric scraps that you are confused about where to use? This craft is the one that will use all of that and create a beautiful St. Patrick's day decor in the process.
The people who like decorating with throw pillows know the importance of new themes every holiday. This shamrock patchwork applique goes perfectly with the green decor on this day.
12. Boxwood Topiary
Image and Craft by Made in a Day
Want your decor to look expensive but on a budget, look no further. This boxwood topiary project gives your house a very expensive decor feel and you can make the garland and the topiary yourself in minimal time.
It is certainly not the most traditional decor item for St.Patrick's day but it will go perfectly with the other green decor that you set up. You can even leave this one up after you are done with the holiday.
13. Felt Pocket Tissue Holder
Image and Craft by Sparkles of sunshine
If you are one of those who like to go overboard with even small details with your holiday decoration, try this craft. It is a way to make an unconventional tissue holder made up of green felt. Impress the guests that come over on the holiday with your attention to detail.
14. St. Patrick's day Place-card
Image and Craft by Life in Wonderland
Easy place-card recipe with the existing flower pot that you have. Just paint the flower pot green to make a leprechaun's hat. Add a belt buckle and turn this beautiful hat craft into a place card. Isn't this one just perfect?
15. Cupcake Liner Trees
Image and craft by Little Miss Celebration
The leprechauns need a forest to dwell in. Don't they? We should make them one. Super-duper easy to make these trees are so cute. Use green and white cupcake liners and stack them on each other to make trees. Decorate with a green bow and a felt shamrock each. You have got yourself a leprechaun forest. Voila!!
16. Leprechaun Mask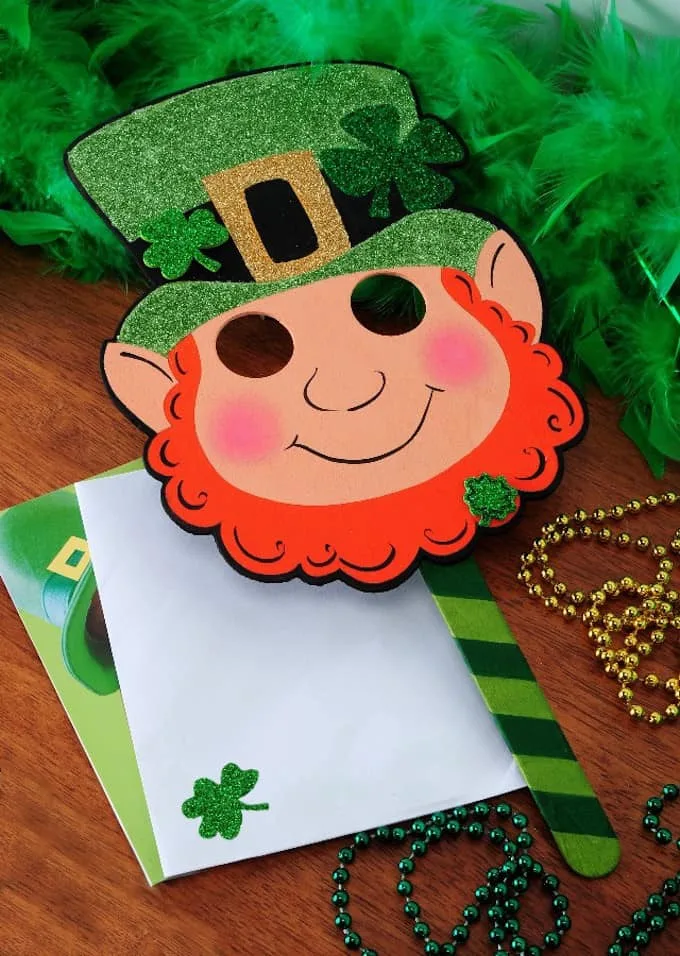 Image and Craft by Mod Podge Rocks
Glitter, mod podge, and some very cheap craft supplies. Throw them all together and with the help of leprechaun magic, they will transform into this leprechaun mask. Okay Okay, your effort is needed but you can certainly tell your kids that it was leprechaun magic. 😉
17. Printable Bingo
Image and Craft by Pre-K Pages
One form of holiday fun is to play games. You can be a stay-at-home parent or a preschool teacher, you will always be amazed at how much energy these small children carry. This is a printable sheet of St.Patrick's day theme bingo. Print and play with the kids to teach them about the holiday in the process.
18. Printable Photobooth Props
Image and craft by In the Playroom
You are missing out on memories if you skip taking photos during celebrations. What can make photos more fun though? Photo Booth props. In the spirit of St. Patrick's day why not make some props that scream Feast day? A pot of gold, a rainbow, a leprechaun hat, a green bow, shamrocks, there are so many ideas for green photo booth props for you to enjoy this Irish holiday.
19. Shamrock Clover sun catchers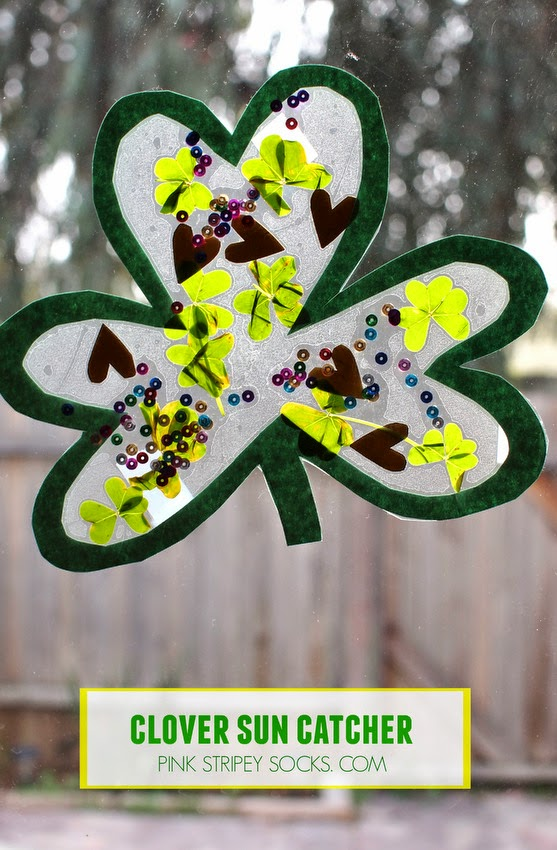 Image and Craft by Pink Stripey Socks
Need something to decorate your windows this St. Patrick's day? How about this beautiful and easy sun-catcher craft? You will need to collect and dry some clover leaves to attach them to the contact paper. Cover with a green border and you are good to go to hang this on your window.
20. Shamrock Craft for Kids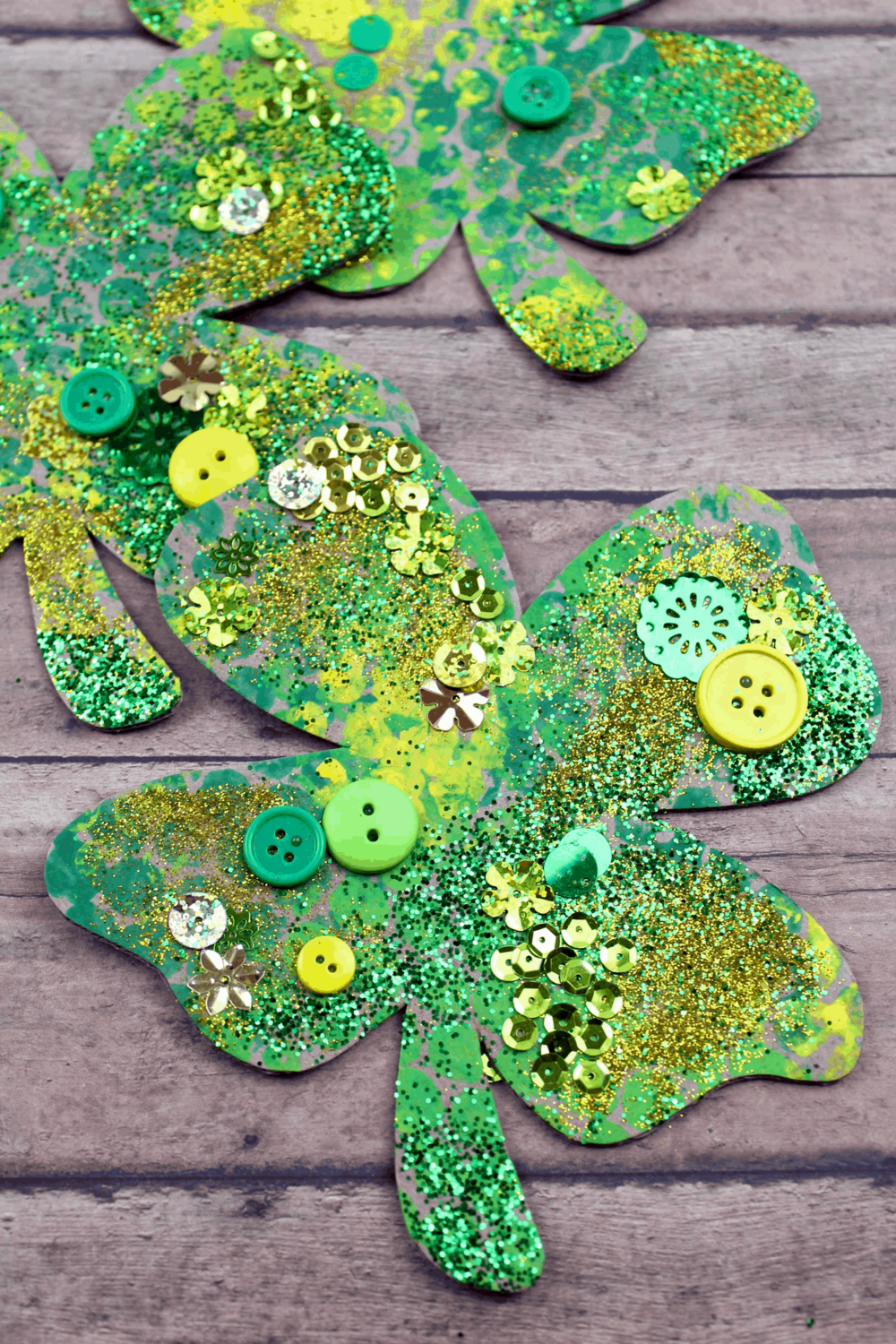 Image and Craft by The Inspiration Edit
Holidays are a great time to encourage creativity in your kids. This is the time when they learn to let their creative juices flow without the worry of creating something magnificent. This craft is really easy and only needs a shamrock cutout and random craft supplies. Let the kids use their imagination to sprinkle glitter, color, and buttons on the cutout. The result is always lovely.
21. Shamrock Suncatcher
Image and Craft by Sarah in the Suburbs
You will not need to make a trip to the craft store for this craft as if you have school-going kids in your house, you will have all the supplies already in your craft drawer. Use construction paper and tissue paper to cut a shamrock shape to stick to the windows in your kid's rooms. Now they have a great art display that they created themselves.
22. Lucky Clover Specimen
Image and craft by Flamingo Toes
Everybody needs an extra stroke of luck in their lives and what better timing to add a good luck charm to your decor than the Green lucky charm holiday? Cut out the shamrock pieces from a green fabric of your choice to add it to a bed of another fabric. Frame it and use it as a wall hanging all year long if you want.
23. Button Hair Clip
Image and Craft from This Mama Loves
A fun craft to do with your girls, adding to their innocent beauty is this DIY button hair clip. Also, this will give them a sense of accomplishment to make something on their own and be able to use it as well. When everyone likes to dress in green on this particular holiday, this hair clip will be a great addition to their green dresses as well.
24. Leprechaun Bottle Craft
Image and Craft by Everyday best
Do you want to invite gold-hiding leprechauns to your house this St. Patrick's day? Well, it is a stupid question. We don't happen to know anyone who will refuse this offer. This easy craft using bottles can get you some magical creatures to place in your garden unless the real ones arrive.
25. Leprechaun Handprint Craft

Image and Craft by The toddler Lab
Want to try some St.Patrick's day crafts for toddlers? Start with something easy. This will keep the toddlers interested and happy. Let them contribute and feel like they are doing this project on their own. Helping only when needed.
You can just outline the toddler hand on a craft paper and add a green hat to make it into a leprechaun. Yes, it is that easy. Being for toddlers, it is supposed to be.
26. Leprechaun Paper Plate

Image and Craft by The Best ideas for kids
Childhood is truly the most magical time of life. Small, simple things give immense joy and it is easy to please children. They have a whole lot of energy though and can easily learn what you teach them. Combine the experience of this truly magical holiday with magical crafts like this one with a paper plate turned into a leprechaun. This craft is easy but a great deal of fun.
27. Rainbow Shamrocks
Image and craft by The Twitchetts
You will need rainbow-colored construction paper and voila! You have with you a very beautiful rendition of the shamrock, the popular traditional good luck charm of this holiday. Not a traditional green leaf clover but a combination of a rainbow and shamrock. You can call this idea a two in one.
28. Rainbow Chain
Image and Craft from Crafty Morning
Hang your pot of gold charm with the rainbow chain made with craft paper. This is a great charm to hang at the entrance to shower blessings at the holiday visitors. Great craft to try with your kids. Very easy to make.
29. Leprechaun Peg Dolls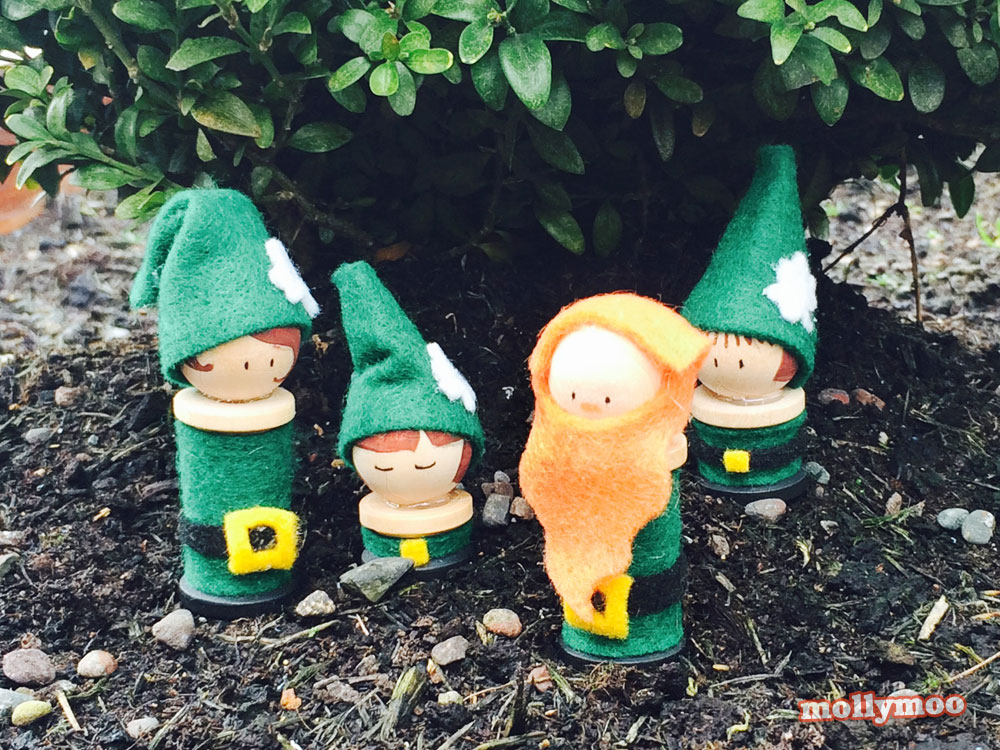 Image and craft from Molly Moo
Little leprechaun peg dolls are great magical creatures to have in your garden during the magical Irish holiday. Paint the hairlines on your peg dolls made from wooden spools and beads. Design their clothes with green felt to keep them in the spirits of the green holiday.
30. St. Patrick's Day Votive
Image and craft by Mess for Less
You are at the right place if you are looking for subtle decor instead of the immaculate rainbows and glitter-covered leprechauns. This craft will make sure that you still have green-colored decor but without it just being in your face, it will be subtle.
31. Mini Sound Shakers
Image and Craft by Buggy and Buddy
These tiny decor pieces will make the perfect decor items as well as educational pieces for your kids to teach them about this holiday. You can use many different materials to create different sounds and cover them in different craft paper may it be glitter or green. It's a great unconventional project for the holiday.
32. Windsocks

Image and Craft by I Heart Crafty Things
This one is a great craft idea for your kids to feel like they are in control as they can get to decide out of the three windsock ideas displayed here. They can choose to make a leprechaun, a pot of gold or a shamrock one. The craft is really simple and affordable and a great idea for St. Patrick's day decor for kids.
When we think of art and crafts, we generally equate it to simple ideas that kids try in their pre-school classes but what we fail to acknowledge is that craft is an expression of art and can be as easy or complex as we want it to be.
In this blog, we have covered a range of St. Patrick's day crafts that can be made with simple tools to bond with your kids or can use complex tools to make your house ready for the secular Irish holiday laced with the spirit of green.