When added with wood and plastic for support, cork makes a great material for sticking up stuff with thumb pins. In recent times, however, corkboard ideas have gained popularity as aesthetic decor items. They can be simply framed for a natural rustic look, or can go through some significant makeovers to create a different appeal.

There is a huge list of DIY projects that you can make with corkboard and we have combined some of them in this blog. The corkboard is a highly versatile material when it comes to creating wall hangings. These can serve some particular purpose like sticking up notes or timetables in your dorm room or can be just painted to hang up as decor.
Also read –
20 Best Corkboard Decor Ideas For A Creative Inspiration
If you are going for neutral and rustic themes in your house, you can hang the corkboard without any significant decor effort and still it will match your theme. Read on to find out some amazing crafts you can make with the versatile and resilient corkboard.
1. DIY Corkboard makeover
Image and tutorial from Moms and Crafters
There are several corkboard frame ideas that you can use for decor on a budget and this is one of them. You can get creative with anything when you have an artist mindset and have a boring note sticking on your brown corkboard when you can paint it to better match your decor? You just need your favorite stencils and paint that match your decor.
2. Styled Corkboard wall
Image and tutorial from House Mix Blog
You can make a whole corkboard wall. This is great for the major upgrade in your kids' room or your own home office if you are constantly scrambling to find a place to put up your sticky notes and schedules. You can also use this one to put up paintings and art projects made by your kids. After all, those are precious.
3. Corkboard Office wall
Image and tutorial from Four generations one roof
Offices are always in the need of planning and that is best done by making schedules and a to-do list.
This project covers an entire office wall with small pieces of corkboard put together and it is the best way to stick up the schedules for the day, to-do lists, and even employee of the month.
4. Mini Corkboard
Image and tutorial from DIY Candy
This is a very small decor item made from the wine corks that you might already have in your house and it takes the least bit of effort.
You just need to paint the wine corks to best suit your home decor and hot glue them together.
Hardly takes any time and you have a fancy decor piece on your hands in no time.
5. Large Corkboard wall
Image and tutorial from Hey There Home
It is very irritating to see tiny bits of paper just hanging on the walls with a lousy piece of tape which when removed, will also take a piece of your beloved wall paint.
The simple solution to this problem is, to create a giant corkboard wall and put an entire box of thumb pins at your disposal to stick up any random bits of paper that you were earlier sticking on the wall.
6. Geometric Corkboard
Image and tutorial from Remodel and Ola casa
You are a huge fan of hanging artwork on your walls but do not want to splurge huge amounts of money on them?
Voila! Corkboard to the rescue. We know that corkboard handles paint well so why not make an artsy piece. In this project, beginning with some inspiration from geometric patterns, the corkboard is painted with different colors. The result is a super expensive-looking decor item and it is not expensive at all.
7. Fabric covered Corkboard
Image and tutorial from My semi designed life
We understand that some people are not a fan of the natural colors of the corkboard or maybe it just does not go well with your decor. This is an easy-to-fix problem in which you can cover your corkboard with the fabric of your choice.
The fabric used should be preferably linen or some other open weave though, as it will mask the holes left behind from using push pins.
8. DIY Memo board from Ikea Trivets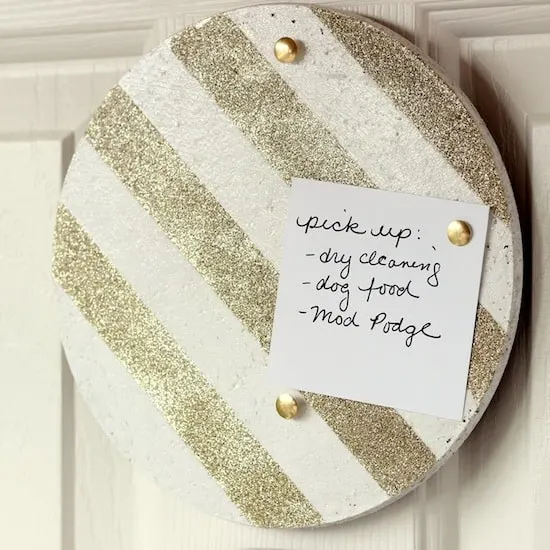 Image and tutorial from Mod Podger Rocks Blog
Everyone is not as extravagant to convert a whole wall into a corkboard modification decor. Some people like things to be minimalistic. For such people, this small memo board made with thrifted Ikea trivets is the ideal decor. Bonus points are that it can be used for sticking small notes. Also, a little glitter makes everything better. Don't you think?
9. Vertical Wine-Cork Corkboard
Image and tutorial from Texas Craft House
In another corkboard display idea, we have this minimalistic decor piece made up of vertically stacked wine corks. You can place it near your fridge in the kitchen or one of your bedrooms. Also great to stick up random notes for your family.
10. Colorblock Corkboard
Image and tutorial from Alice and Lois
This is one of the large cork board ideas decorated with splashes of color in geometric patterns. You can use any three colors of your choice but they should preferably go with the corkboard natural hue as we are not covering the entire corkboard in color and some of it will be visible in the pattern. Treat the corkboard color as the fourth color in your decor and that shall make the process easier for you.
11. Corkboard With An Attached Basket
Image and tutorial from Home Road
This is an amazing and innovative idea when we talk about corkboard decor. This piece is highly functional in storing your documents as well as looks elegant. There is a framed corkboard with an attached basket in the same color as the corkboard frame and you can choose to store the documents in the basket below or stick the important ones on the corkboard above. Minimal yet multi-functional, don't you think?
12. Chalkboard with Cork Board frame
Image and tutorial from Thistle wood Farms
This one most definitely features in the corkboard decor ideas for kids. It is perfect to put up in your child's room. This project entails the use of a chalkboard covered with a frame of corkboard. Now it can be used to write your ideas in chalk and the references that you used for the ideas can be stuck up on the corkboard frame. Ah well! I wish I was this creative on my own.
13. Oversized Corkboard
Image and tutorial from Live Pretty on a Penny
Amazing, inexpensive decor piece yet again on the list. The corkboard might just be added to the decor savior list. For this project, you will need an oversized corkboard and a fabric of your choice.
Endless possibilities right there in the fabric you decide to choose for this amazing DIY. After that, you can choose to stick up decorations or notes on the corkboard, or even leave it just like that to look pretty by itself. Our tips say to hang this at your house entrance wall to give your house a more welcoming vibe with this amazing home decor corkboard idea.
14. Mini framed Corkboards
Image and tutorial from Cotton and curls
The best part about corkboard is that it is so versatile that you can decide to cut it into any shape and put it in any frame and it will never cease to amaze you that it looks good in each form. These mini renditions of pretty framed corkboards are so beautiful to add to your decor and they truly give your house a very expensive look.This idea is definitely worth a try.
15. Easy Fabric Corkboard
Image and tutorial from Homemaking Rebel
Fabric-covered corkboard ideas might look very time-consuming but in reality, they are the easiest ones. You can use this for your home on your nightstand as well as office decor and you can match the color palette in no time because you just need to find a matching fabric and cover the corkboard with it. The patterns on fabrics are endless and can also be dyed in any color.
Fabric-covered corkboards thus make for very easy but flawless art pieces.
16. Stencil Framed Corkboard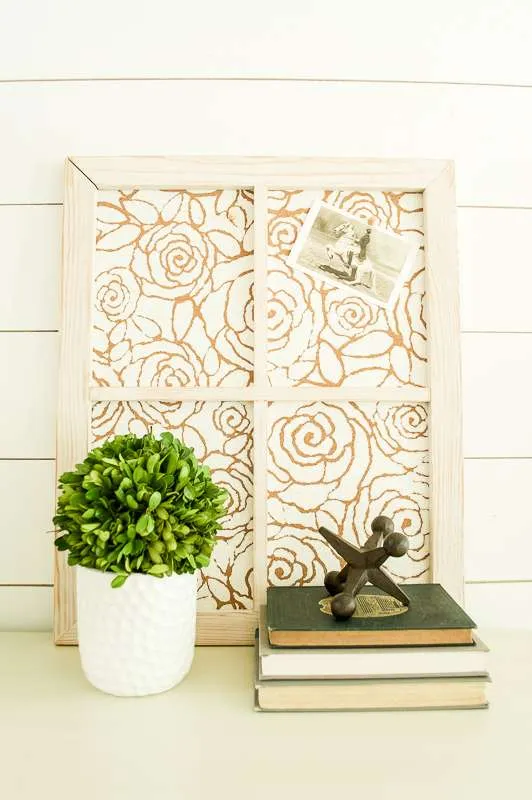 Image and tutorial from Little Red Brick House
If you are not interested in covering your corkboard in pre-designed fabric because your artistic creativity demands more, you can try this project.
It has a stripped mirror frame covered with a corkboard now grab some paint that will look good in a neutral tone. Place your stencil and paint over it.
This is a classic design piece. You will not want to stick many notes on it but you will love hanging it somewhere as an expression of your artistic creativity.
17. DIY Corkboard Wall
Image and tutorial from Chrissy Marie Blog
Installing a huge cork board wall in your house does not need to be an extensive, time-consuming process. You can also choose to do something easily, and this project is the inspiration for the same. Choose a wall that you will like the corkboard to go on and then cover the entire wall with the corkboard without the addition of any frames or paint.
Just cut it into shape and stick it on the wall. Yes, it is that easy.
18. DIY Herringbone Corkboard
Image and tutorial from Oriental Trading
If you want to be extra creative, you can choose to use an old shadow box frame and arrange wine corks in it to make a beautiful bulletin board. You can choose to paint the wine corks in any color or just leave it the way they originally look.
It might take an extra amount of your time than when you use a simple corkboard but it will be so much worth it. The wine corks especially give it a grown-up vibe that goes with your bedroom or living room decor.
19. DIY Geometric Corkboard
Image and tutorial from Oriental Trading
Geometric patterns are all the hype these days. The corkboard can be painted to adjust to the geometric patterns or you can cut up the corkboard in various shapes and adjust according to a set pattern. You can choose to replicate the same design or now that you know what to do, you can take inspiration and create your idea.
20. DIY Easy Corkboard
Image and tutorial from Living Well Mom
This is another one on the list of fabric-covered corkboard ideas but we cannot blame them for being so popular when they can amp up your space on a budget and with no extra significant toiling. The difference in this project initially made for a home office is that you use upholstery tacks to decorate the end product by arranging them in a pattern on the edges.
21. DIY Corkboard Map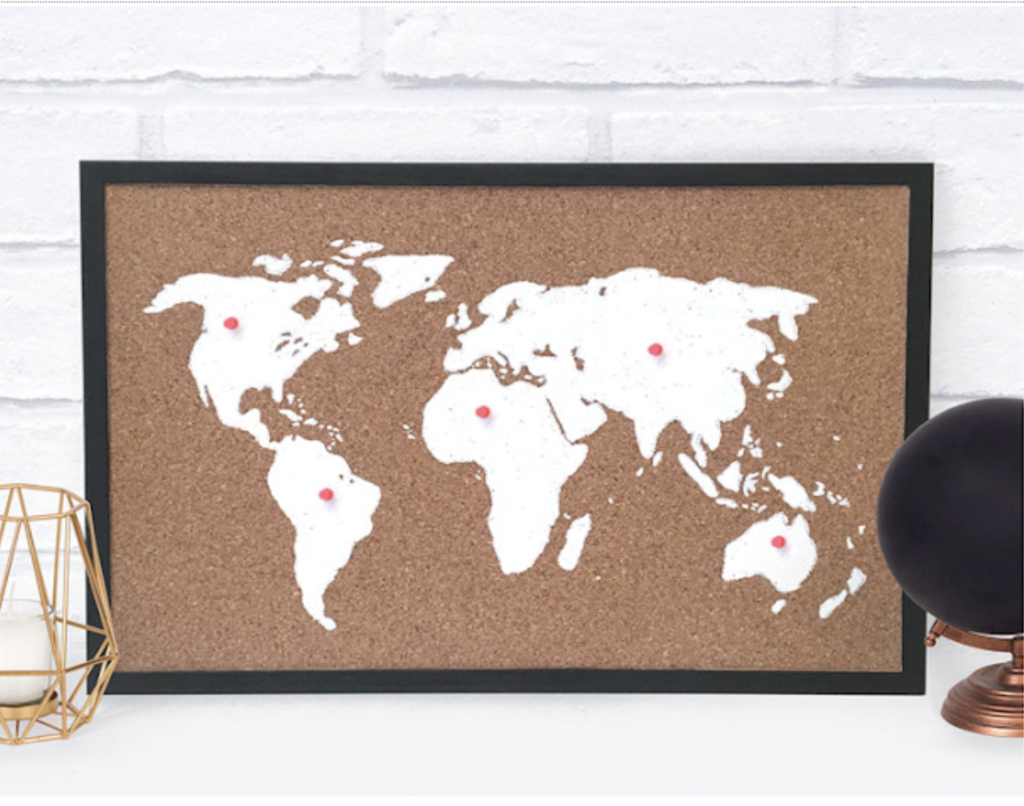 Image and tutorial from Doodle and Stitch
This one is our favorite of the lot when it comes to corkboard DIY. This project can be used in kids' rooms for the geometry effect or can be used in your living room as decor.
This has the contrast of colors in the frame, corkboard, and the actual map colors and just makes for great neutral decor. We don't suggest you stick up notes on this beauty because why would you want to hide even a small part of the beautiful map design.
22. Corkboard with Golden Stripes
Image and tutorial from Decoist
Tired of painting geometric patterns on the corkboard, but do not want a boring, no-paint corkboard either. This idea is an easy to do project on your existing corkboard. Just choose a color and paint stripes on the corkboard. In this project, the golden hue is added to give this a more royal and expensive look, but you can choose any color that goes with your decor.
All of us love a flexible material to work with when it comes to DIYs.The corkboard is one such material. Whether you live in a dorm room or a rented house where you do not have the luxury of painting your walls to your liking, you can choose to paint beautiful cork board projects and hang them on the wall to give it a new look.
Since originally corkboards are used to make bulletin boards to put up notes, you can customize it with decor to suit the office decor or the decor of the room you are sticking it on.
Do try some of these, they will surely amplify your decor without burning a hole in your pocket.
If you loved these ideas, you can use the Pin image below and save this article on your 'Home Decor DIY Projects and Crafts' Pinterest board.