Looking for a fun and practical DIY project for your home library? Look no further than DIY bookends for heavy books! Not only do homemade bookends help keep your book collection organized and upright, but they also offer a great opportunity to get creative and showcase your unique style.
Wondering what to use as bookends or how to make a bookend? With a little bit of imagination and some basic materials, the possibilities for bookend ideas are endless. From repurposing household items to crafting your own designs, making do-it-yourself bookends is a fun and rewarding way to add a personal touch to your bookshelf.
Read –
37 Best DIY Bookshelf Ideas & Designs for Every Budget
27 Ridiculously Easy DIY Bookends For Your Shelves
1. Pineapple DIY Bookends
Image and Tutorial by diycandy
How ornamental do these DIY pineapple bookends look! I love how the golden color gives it a luxurious look. You can easily make these with the help of this simple tutorial. For this craftwork, you will need a block of wood, faux pineapple, a glue gun, and spray paint.
2. Simple Bookend DIY Project
Image and Tutorial by thespruce
Making bookends has never been this easy before. With just two steps you can accomplish this masterpiece. You will need two clear glass vases, decorative papers, scissors, pencils, glue, paintbrush, and pebbles as fillers. The tutorial is detailed with pictures. If you are an avid reader, this one is a classy option for you.
3. Mountain DIY Bookends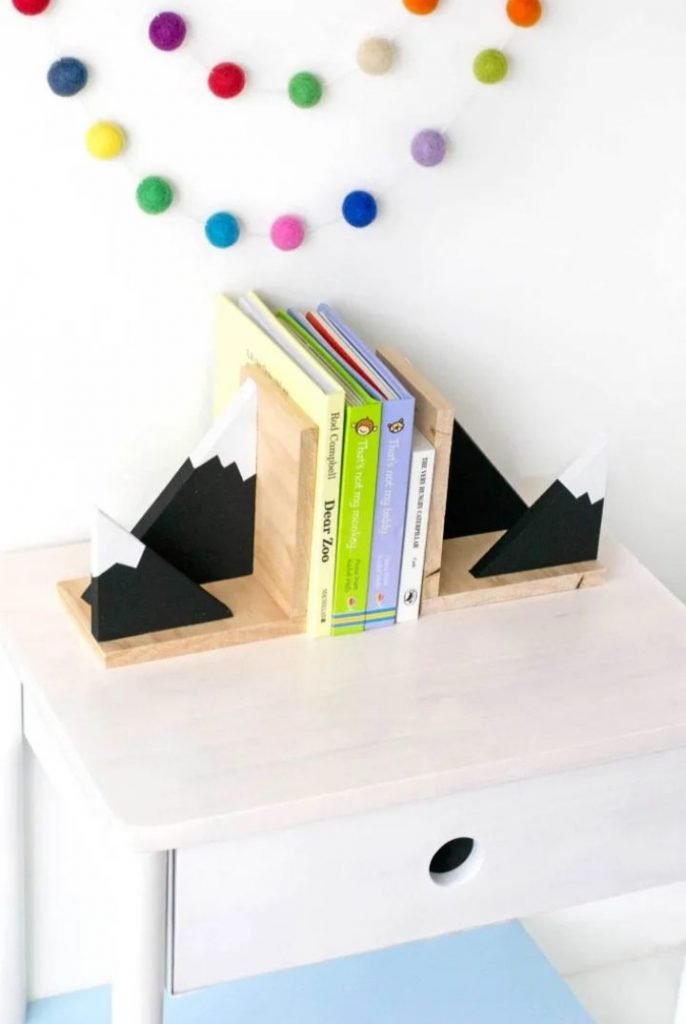 With this house arrest and pandemic, I have got time to indulge in some craftwork. So, I decided to make this one for my books. It is super easy and super cool! This one is perfect for stacking up those few extra books that have failed to find a place in your bookshelf. I love the black and white combination. And the best part is the easy tutorial.
4. DIY Boho Bookends
Image and Tutorial by nikkifridy
If you are into boho stuff, then this one is going to flatter your taste. These are rope-wrapped DIY bookends. You will need metal bookends, jute rope, cotton rope, a glue gun, glue sticks, scissors, and construction papers.
5. Terrazzo Concrete DIY Bookends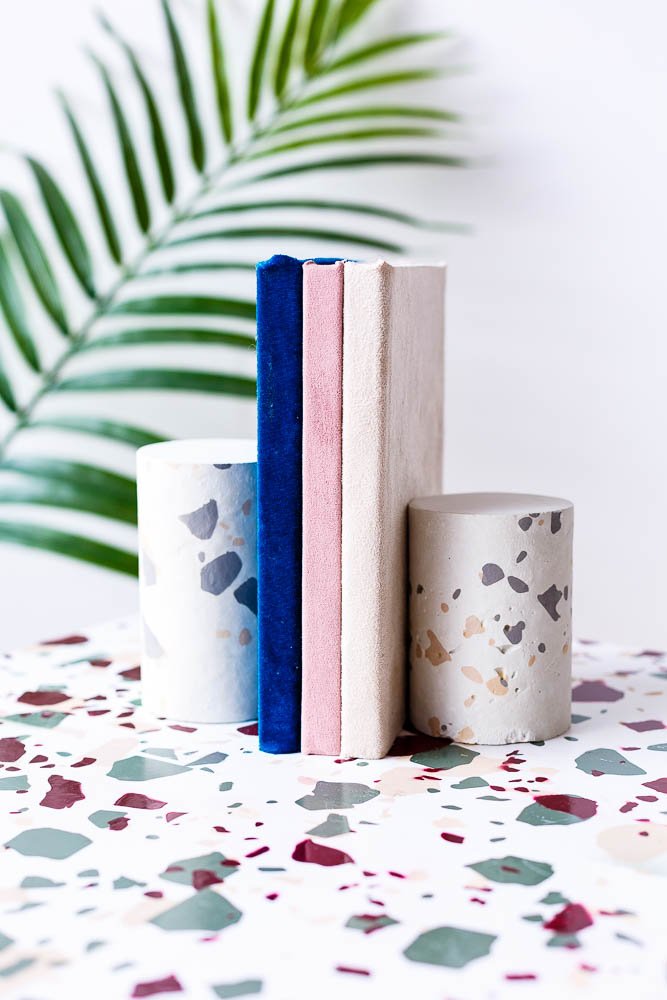 Image and Tutorial by fallfordiy
Terrazzo prints are in trend. They are rustic, chic, and super cool. I love how these DIY bookends have turned out. The tutorial for this one is certainly elaborate, but not that hard to follow. So, go ahead and make these bookends; they will enhance the beauty of your indoor decor.
6. Little House Bookends
Image and Tutorial by lovecreatecelebrate
I love this idea. Whether you are a book lover or not, these will certainly take your home decor to another level. They are sophisticated and classy. I love how easy the tutorial is to follow. You can buy these houses from a store, paint them black, attach a clamp to support the books, and there you have your DIY bookends.
7. Invisible DIY Bookends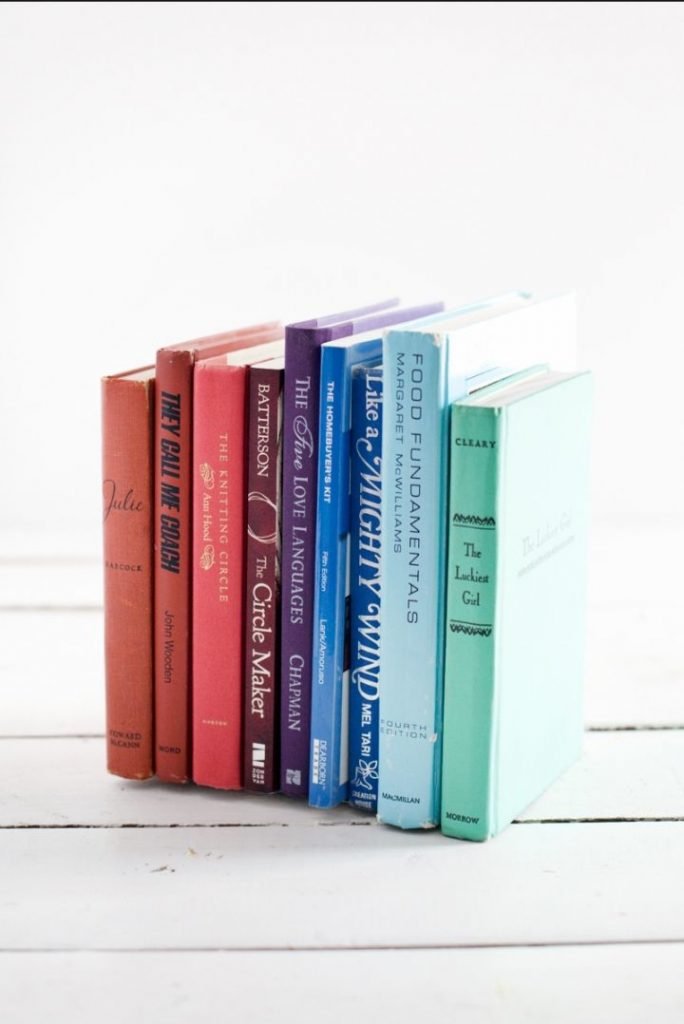 Image and Tutorial by abeautifulmess
These DIY invisible bookends are perfect for keeping your shelves organized. Honestly, no matter how much I try my books always end up unorganized, but these bookends are perfect for keeping the books decluttered. For this tutorial, you will need two book spines, two thin metal bookends, a board to fit the dimension of your books, super glue, clamps, and a craft blade.
8. Ceramic Animal Bookends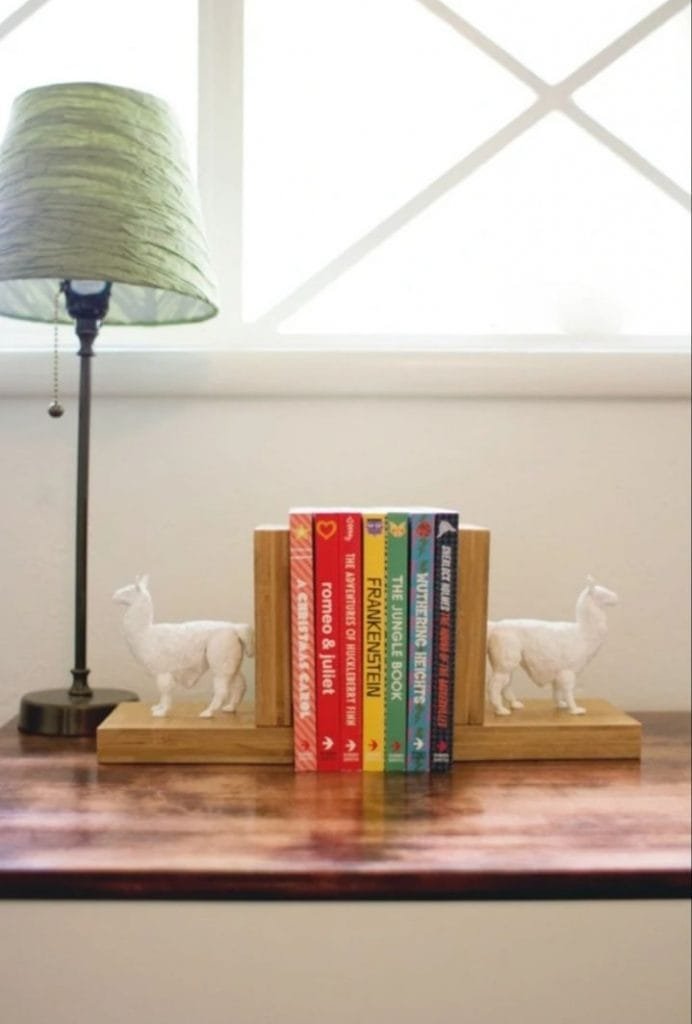 Image and Tutorial by lovelyindeed
I love the white ceramic faux animals and the contrasting wooden base. The combination is classy. You might need a few hours to accomplish this task, but the tutorial is specific, and you can easily follow it. With supplies like sturdy plastic animals, wood scraps, saw, drill, screws, sandpaper, paintbrush, white paint, and wood sealer, you can easily make this masterpiece.
9. Planter Box DIY Bookends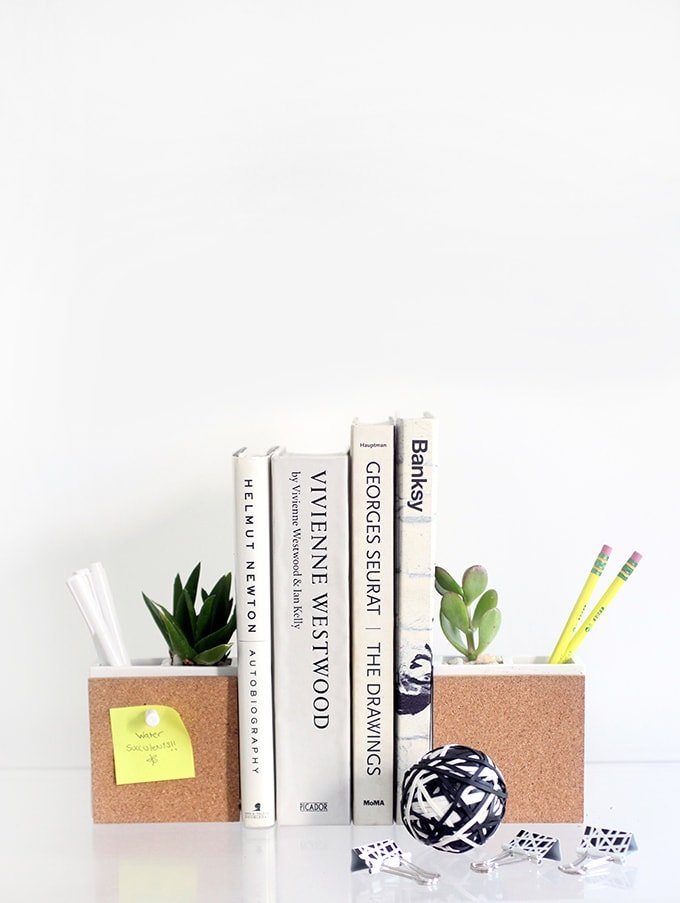 I love multi-purpose DIY projects like this one. Planter boxes are very fashionable and a smart way to add some green to the indoor of your house. These DIY project tutorial has used basic house supplies like toothbrush holders, cork coasters, glue, pebbles, and succulents. If you are looking for some more planter box ideas for home decor, then here are some inspirations for you- 28 Beautiful & Unique DIY Planter Box Ideas.
10. DIY Guitar Scrap Wood Bookends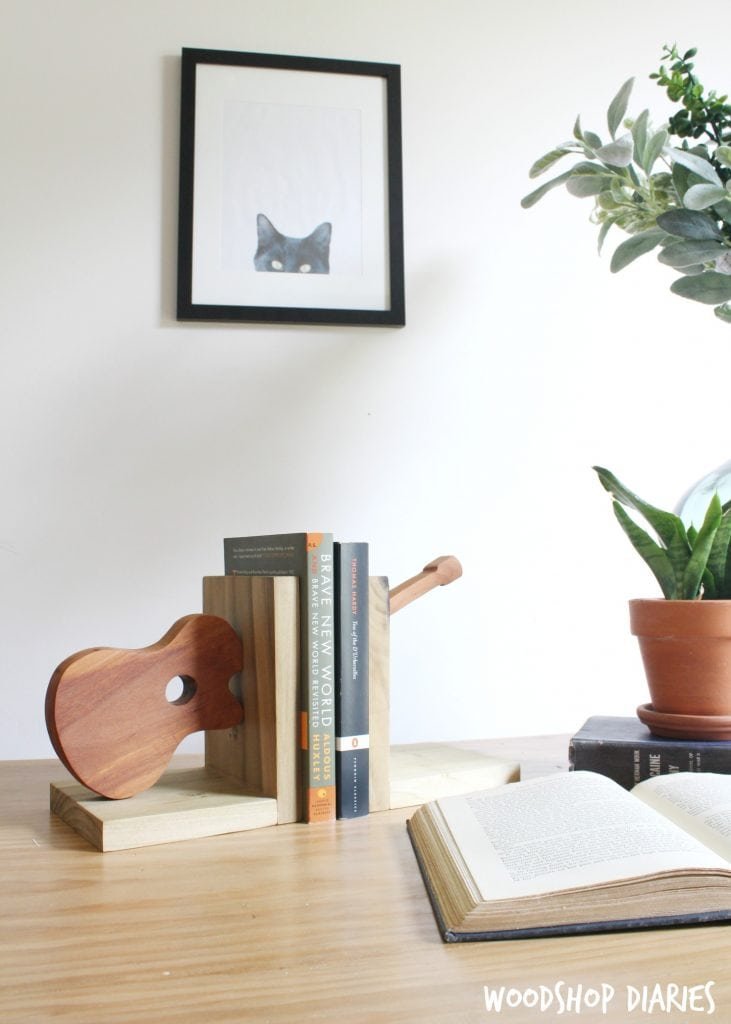 Image and Tutorial by woodshopdiaries
If you are looking for a break from adulting, then how about crafting these guitar DIY bookends? They are super easy and fun. The tutorial is well detailed; the only time-consuming thing is the drying of the glue, otherwise, this is a 15-minute craft project.
11. DIY Striped Bookends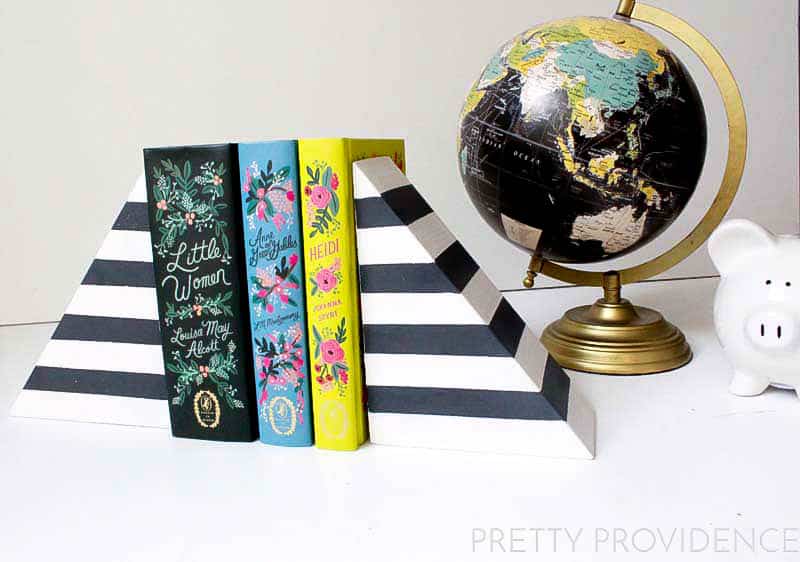 Image and Tutorial by prettyprovidence
Whether you want to decorate your indoors or want to keep the books sorted, these bookends are perfect. These black and white blocks are simple, easy to make, and fun to look at! Try your hands at these by following the simple tutorial.
12. DIY Amethyst Bookends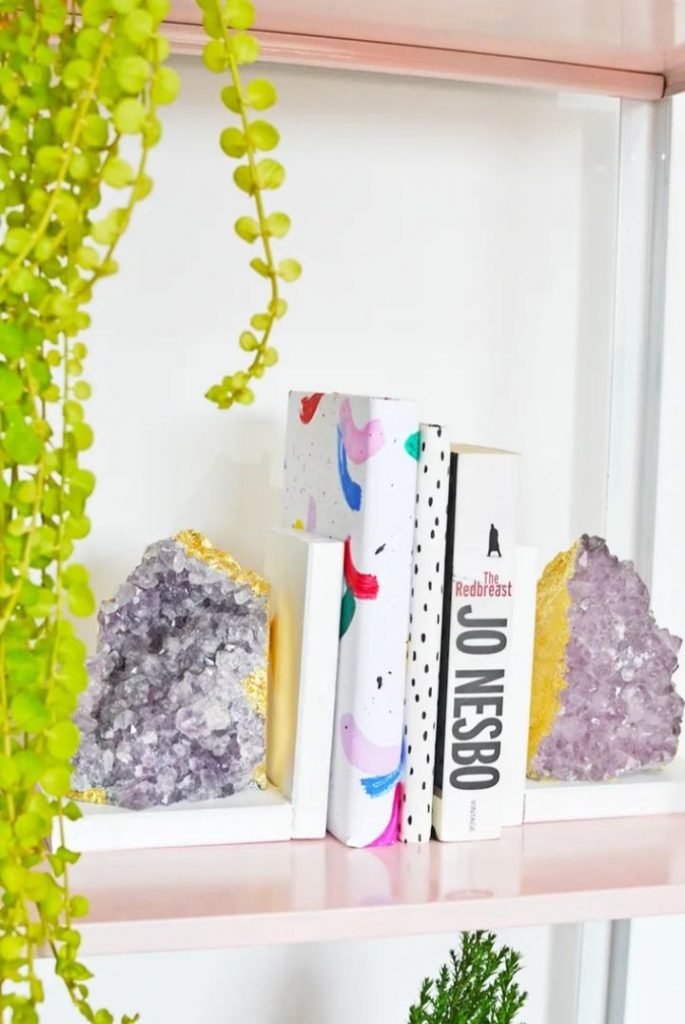 I love these gorgeous and glam DIY bookends. Amethyst crystal bookends are pretty pricey. So if you want an inexpensive version of the same, then this tutorial is the easiest way to do that. This is a chic idea, and you will love the new look that it will bring to your bookshelf.
13. DIY Bookends for Kids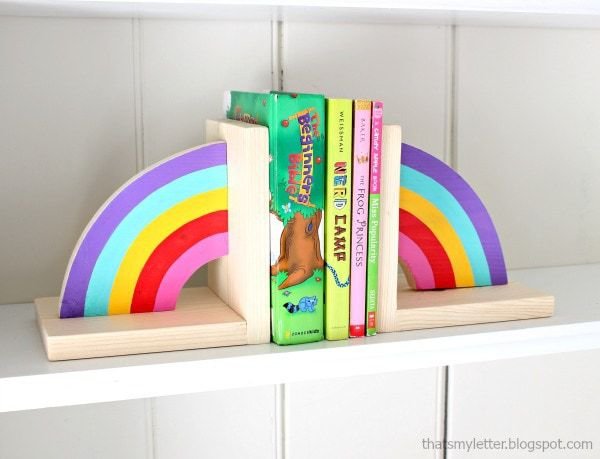 Image and Tutorial by thatsmyletter
This is a perfect gift for kids. These bookends will bring a bright smile to their faces just like this rainbow. It is an extremely colorful addition to the bookshelf. Follow the tutorial and surprise your kids with some crafty rainbow bookends.
14. Number Bookends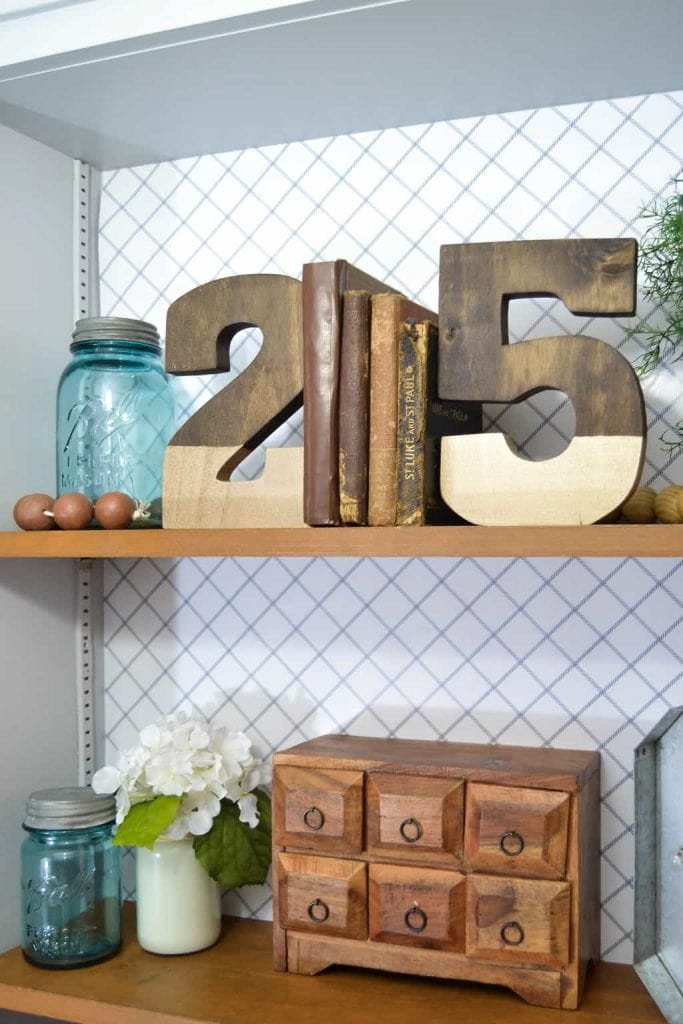 Image and Tutorial by mycreativedays.porch
Okay, if you are a lover of wood crafts then this is a great option for you. All you will need for this one are wood numbers, gold paint, and few more tools and you will have your own DIY gold dipped bookends.
15. Wine Rack Bookends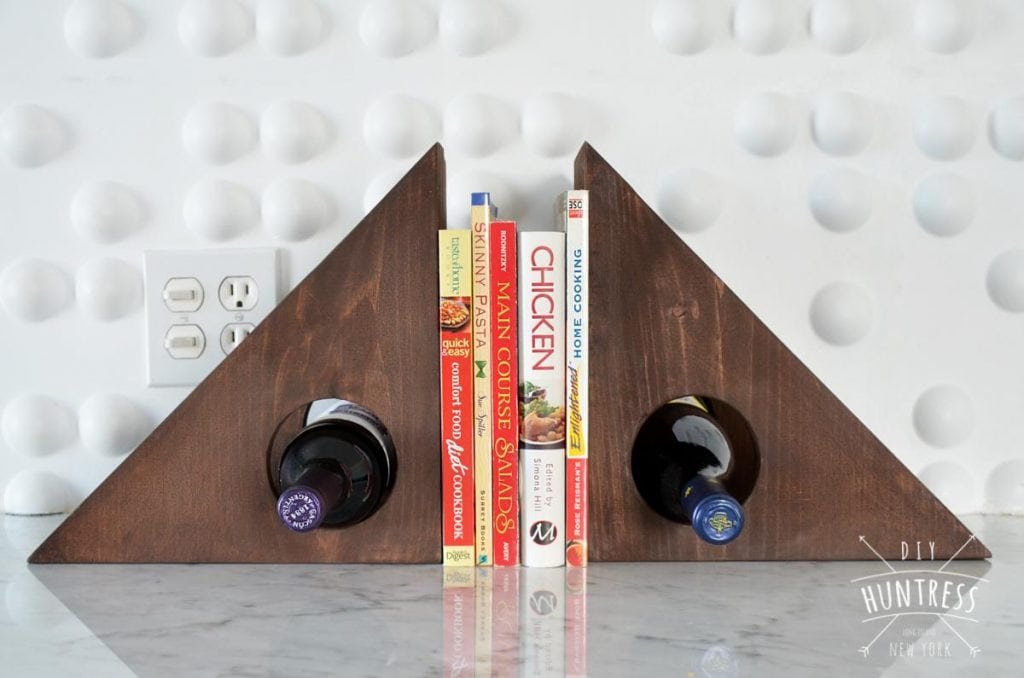 Image and Tutorial by learn.kregtool
Yet another multi-purpose bookends idea. Wine and books are a great combination. This is an interesting idea that will let you keep your books and wine bottles close together. Give it a try!
16. Concrete Colorblock Bookends
Image and Tutorial by calyxncorolla
If you are looking for bookends that will also decorate your shelf then this one is for you. These are super cool and have an easy peasy tutorial. I love how colorful these turned out to be!
17. Succulent and Cactus Planters Bookends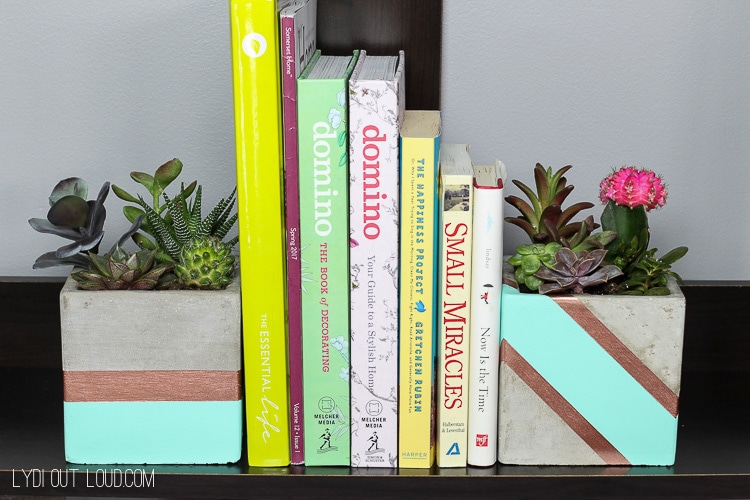 Image and Tutorial by lydioutloud
How amazing it will be if you can have planters that are bookends. These are aesthetically pleasing. And I am an ardent lover of indoor plants. If you feel the same way, these are perfect for you.
18. Unicorn Bookends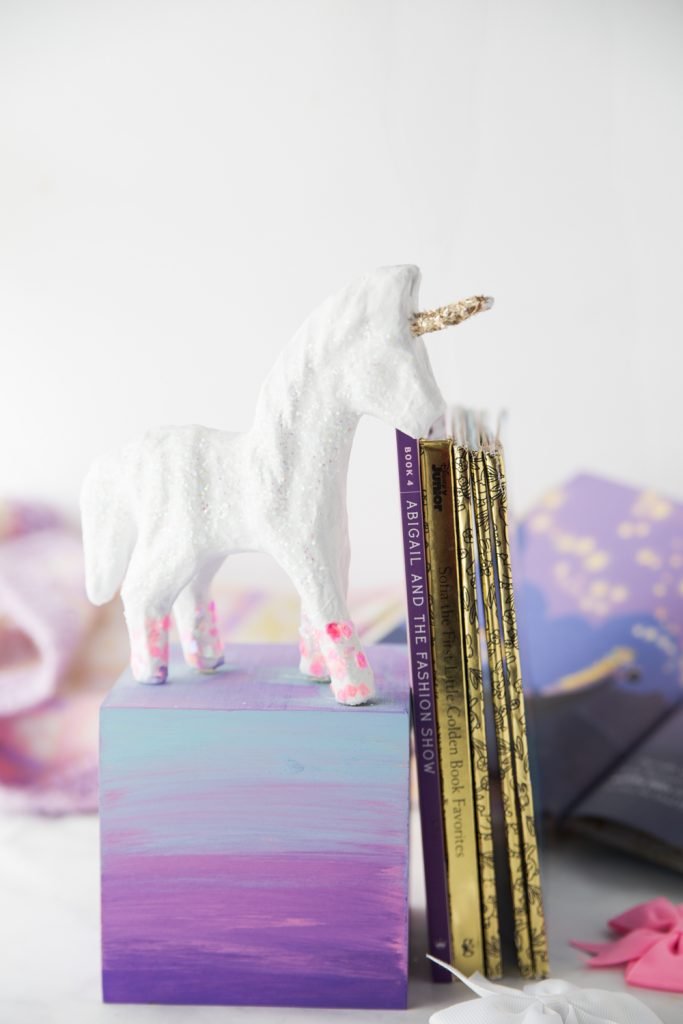 Image and Tutorial by madetobeamomma
The best part about these bookends is that they are customizable. Your little girl will love these magical bookends. So follow the tutorial and make some fancy bookends.
19. Fabric Pyramid Bookends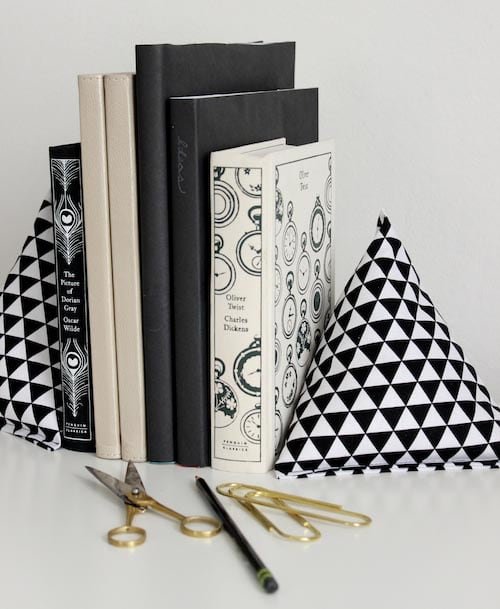 Image and Tutorial by designsponge
If you have an insatiable love for fabric then this one is for you. You can choose the fabric and pattern of your choice, fill it with rice, and you have your own personalized bookends. You can follow this easy tutorial to accomplish this crafted piece.
20. DIY Wood Triangle Bookends
Image and Tutorial by makeandtell
If you have some timber pieces laying around, then how about trying out this tutorial? You can make these triangular bookends with basic supplies. I love how easy these are!
For more wood craft ideas, click here.
21. Glass Jar Bookends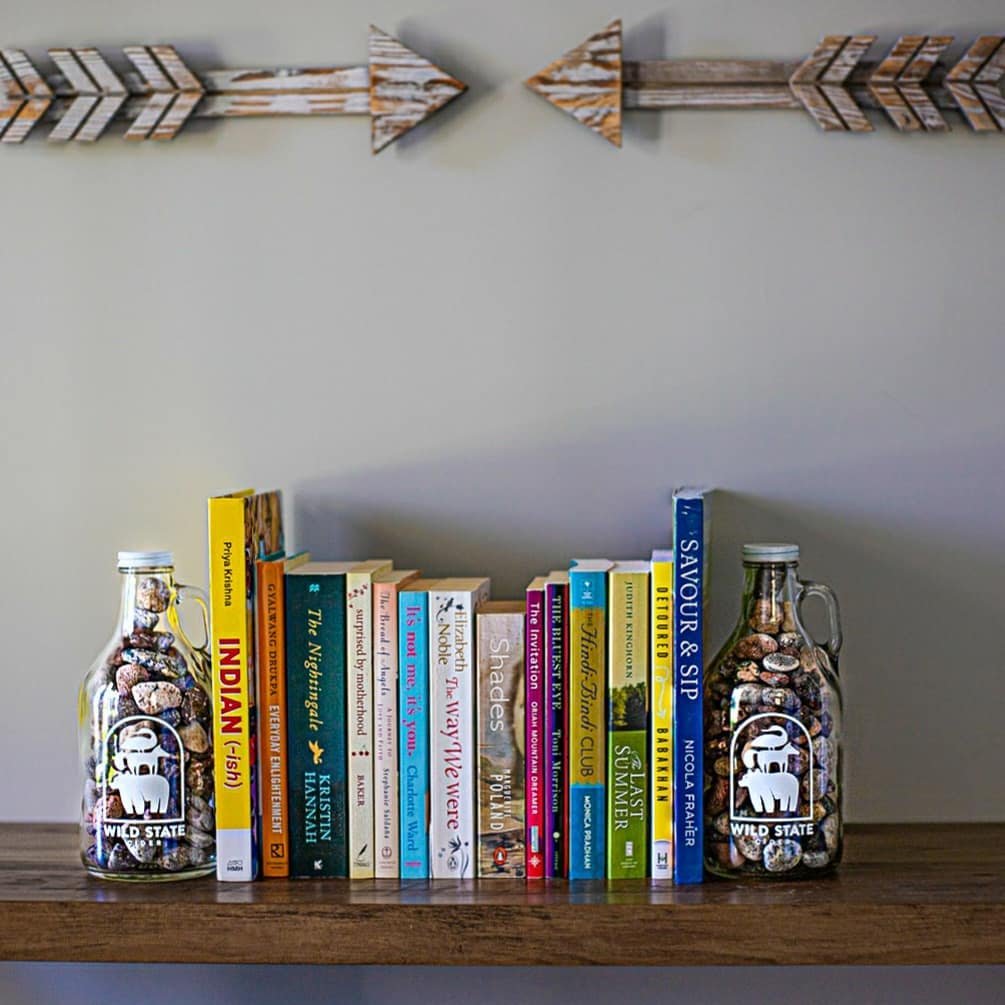 Image and tutorial by af_erican_adventures
These glass growlers are excellent craftwork. It an easy peasy. All you have to do is some pebbles and rocks to fill these growlers. And voila! You have your DIY bookends.
22. DIY Triangular Bookends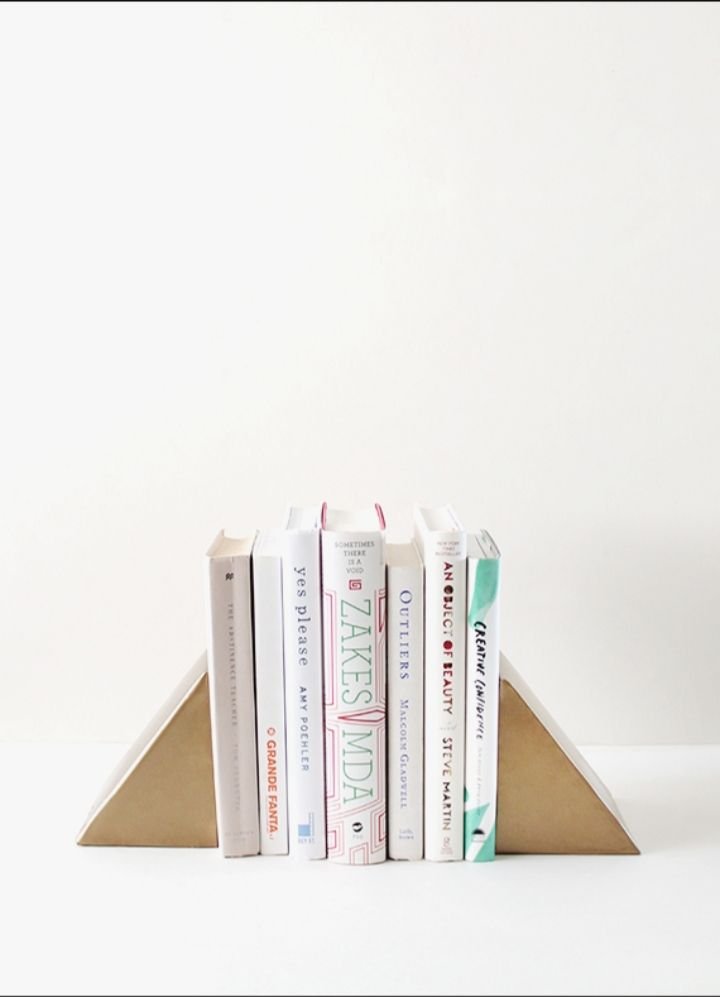 Image and Tutorial by almostmakesperfect
Geometric shapes are so trendy when it comes to home decor. So if you are looking for a funky and super cool, then this is it for you! These will keep your books straight in a line. Follow the tutorial if you want to deck up your house a little.
23. DIY Cement Bookends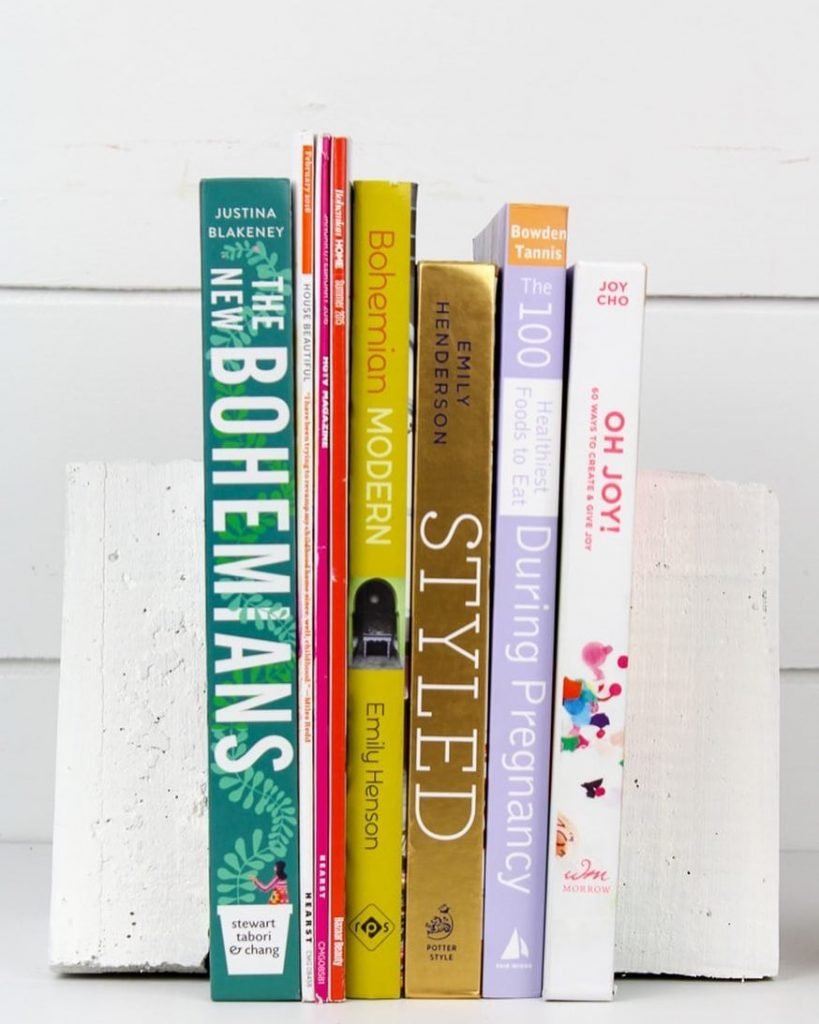 Image and Tutorial by prettyprovidence
These cement bookends are rustic and chic. It is an excellent option for you. You can make these cement bookends following this tutorial. This will add an edge to your bookshelf.
24. Beautiful Wooden Bookends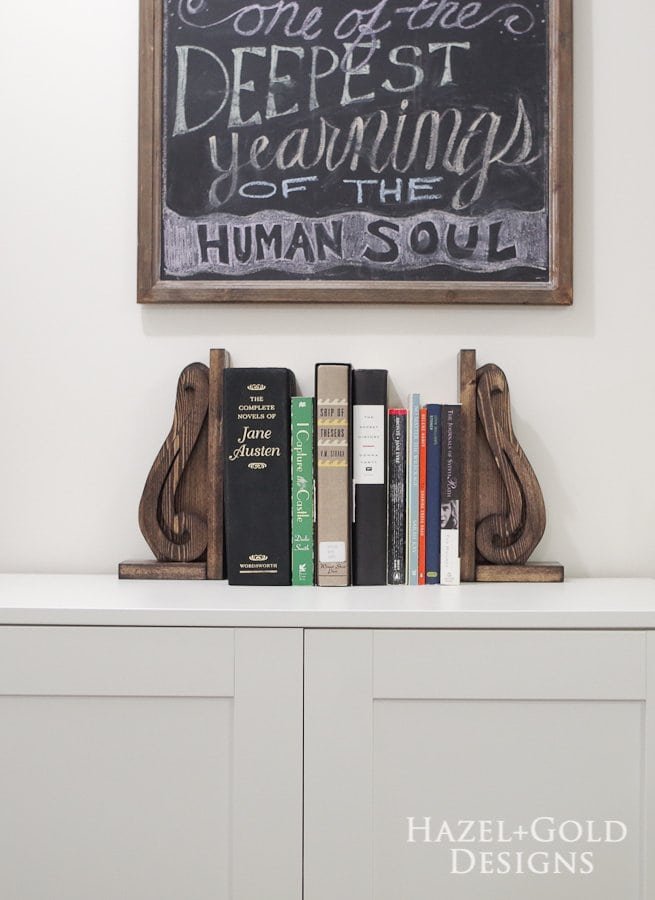 Image and Tutorial by hazelandgolddesigns
These beautiful wooden bookends are classic. Look at that texture, the color, and that shape. Everything about this DIY project is so chic. This wooden craftwork will certainly have a lot of admirers. You also have an easy tutoria for it.
25. Block Letter Bookends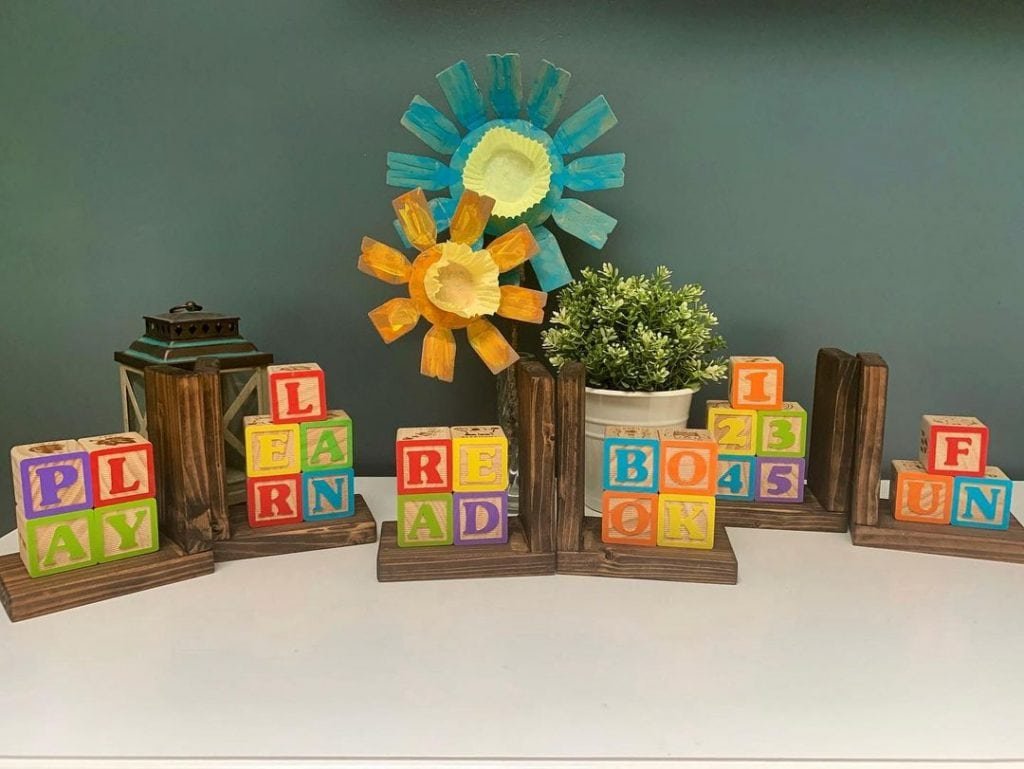 Oh! I am in love with these bookends! They are small, cute, and smart. And the best part is that they will always encourage you to read more!
26. Rock Bookends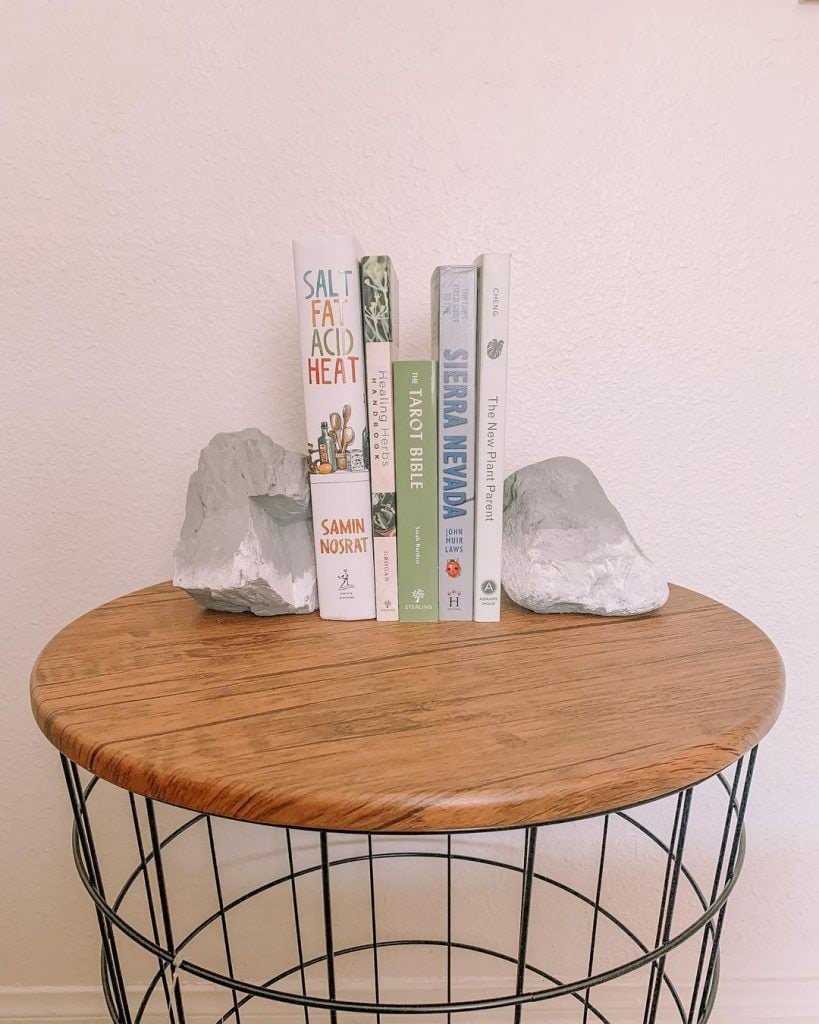 Source : hasharificway
It can't get any simpler than this! If you are feeling a little lazy and not looking for something too crafty, then this one is for you. All you have to do is find some good rocks, and that's it!
27. Happy Endings
Source : letscraftitevanston
If you have some square wooden pen stands, you can easily make these bookends. Paint them white, write the words, add some star stickers, and you will have perfect DIY bookends.
28. Telephone Bookends
Who knew that giving your old phone a second chance could also give your bookshelf a stylish new look? Upcycling at its finest with a DIY telephone bookend!
There you go, people! We have exhausted the list of ideas for your DIY bookends. These ideas are simple, easy, and inspiring. You can easily craft a few of these to keep your books decluttered. Let us know, your favorite one in the comment section below. Happy crafting!
If you loved these ideas, you can use the Pin image below and save this article on your 'Home Decor DIY Projects and Crafts' Pinterest board.