If you are thinking of ways to revamp your garden or any other outdoor space, these DIY pond ideas are perfect for you! DIY ponds are a gorgeous way of making any space naturally appealing. These ideas are very easy to recreate and are extremely pocket-friendly.
They are not too large, making them very easy to maintain. All you need is your creative and DIY skills along with some planning to recreate your own customized pond that makes your backyard a whole lot more pleasant!
Here are some other ideas that you will like –
DIY Raised Garden Ideas
DIY Trellis Ideas
Small Backyard Ideas
How to Make your DIY Pond?
Source: thewildlifetrusts
Here is a list of things you should keep in mind while DIYing your custom garden pond.
1. Selecting the Right Container
Try selecting as large a vessel as you can find. It can be a tub, bowl, container, or any other ceramic and plastic container of around 15-25 gallons. You can also reuse old washtubs, wine boxes, porcelain containers, or a whiskey barrel (check for leakage). Select a container that has a dark interior, this makes your garden pond look deeper and spacious. Try going for a container that is more than 10 inches deep and 16 inches wide.
2. Pick out the Location for your DIY Pond
There are certain things to keep in mind while deciding the spot of the garden pond. First, whether the water source is close or not. Second, whether the spot receives enough sunlight and sufficient shade as well. If you want to make it a focal point of attraction in your garden, check how the pond looks from different angles. You can place it in a corner as well!
3. Deciding what to plant
You can select three to five plants depending on the size of your container. You can choose different types of aquatic plants such as floating plants or broadleaf plants or erect plants. If your container size is even larger than the suggested size, you can opt for deep-rooted water plants such as water-lily or lotus. Remember, these plants need a minimum of 10 inches of water over their roots to grow comfortably.
4. Assembling your DIY Container Pond
Once you have completed the above steps, you are ready to assemble your DIY pond. Fill up the select container with tap water and place the potted plants you have chosen. Place different plants at different depths of the containers. Use bricks to adjust the heights and create a picturesque arrangement. You can additionally install a water fountain and add fish to this lovely pond.
5. Maintaining your DIY Pond
A DIY pond is easier to maintain than in-ground plants: no stress of overwatering, weeds, or soil. Moderate temperature and partial shade are optimum for aquatic plants. Keep restoring water every couple of days. Algae is a common problem and to prevent the same, paint the interior dark and drain the water occasionally when decomposed matter collects at the bottom. Mosquitos are another issue and to prevent larvae from thriving, install a fountain, bubbler, or add goldfishes.
Additional Tips
To maintain it during winters, keep the pond indoors.
Use diverse plants, but not too many. Don't crowd your patio pond.
If you are adding fish, de-chlorinate the water using chlorine-removal tablets.
DIY Pond Ideas
Whether you're dreaming of a peaceful water feature to relax by or a stunning koi pond to admire, there are plenty of DIY pond ideas to help you create the perfect oasis. From above ground pond ideas to incorporating water lilies and choosing the right pond liner, these DIY projects are sure to provide endless enjoyment for you and your family.
1. Water Lily Aluminium Patio Garden Pond
Source: midwestliving.com
Here is vintage and lovely backyard pond idea that is super affordable and even easier to assemble. The best part is, you can grow water lilies in it! They add a bright and colorful touch to your container pond making it super appealing. You can use any old container, whiskey barrel, etc. for recreating this idea. All you have to do is follow a few quick steps and your DIY pond is ready!
2. Mini Indoor Planter DIY Pond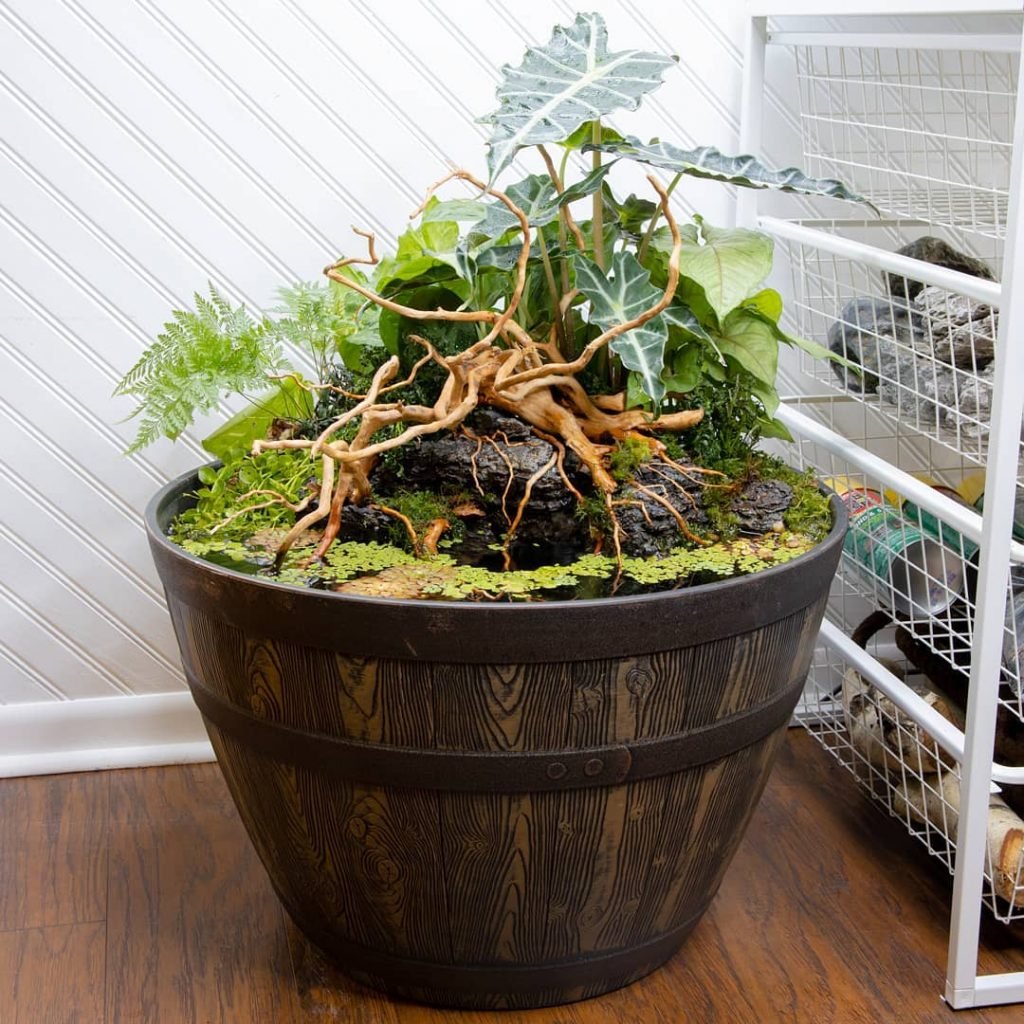 Source: serpadesign
If you have been thinking of making a patio pond for quite a while now, this idea is the right way to start. This idea is an excellent way to have some fresh aquatic plants indoors without worrying about watering them. The system installed also filters the pond on its own. You can use any container for this idea including a large planter. Add some fish to your DIY pond to finish off this beautiful living piece of art! Here is the complete tutorial.
3. How To Make A Pond Out Of A Plastic Tub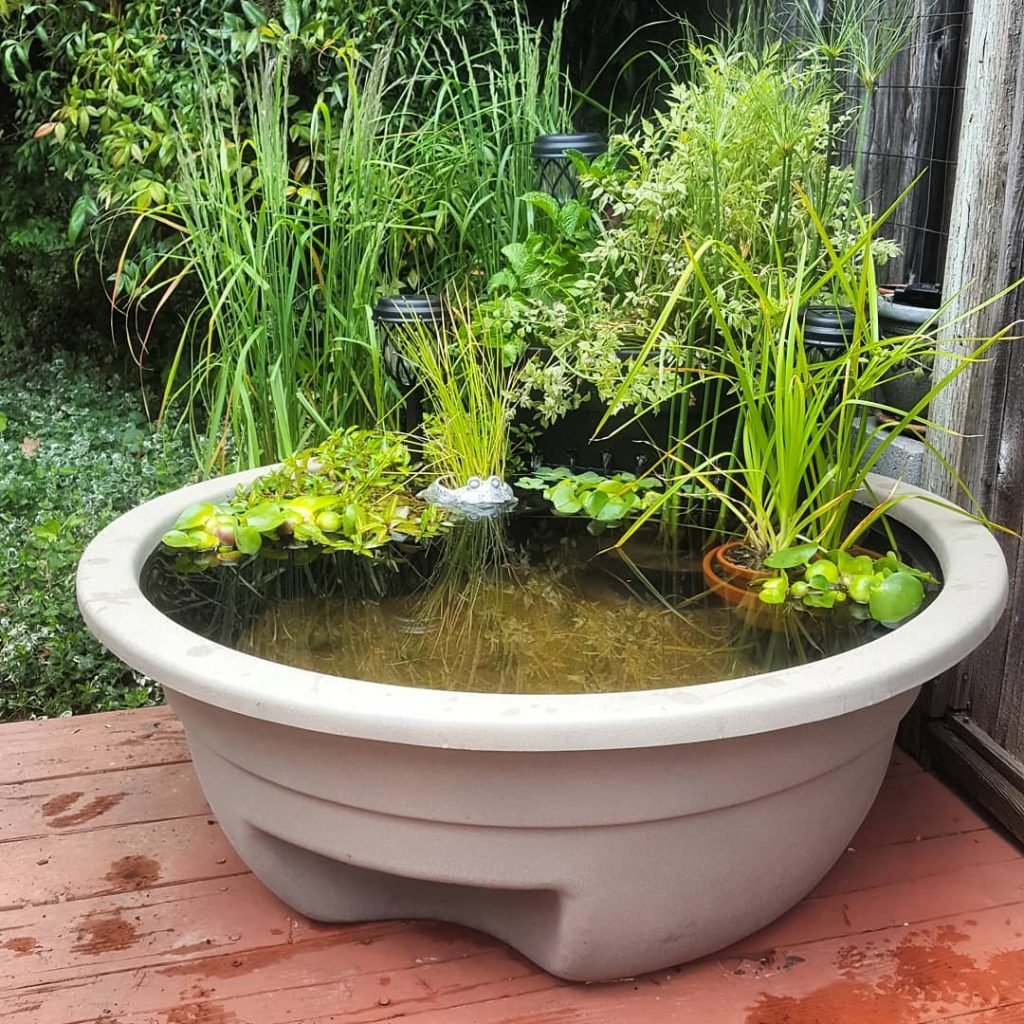 Source: diyaquapros
I love how this idea transforms a simple plastic container into a lovely DIY pond. You can place this 3 feet by 15 inches pond on your deck, patio, and even indoors. The space in the pond allows you to plant a lot of aquatic plants, but remember not to crowd it. The shelves in the container allow you to place your plants at different depths without any extra effort! It is one of the easiest customizable backyard pond ideas that is very pocket-friendly.
4. Galvanized Water Garden DIY Container Pond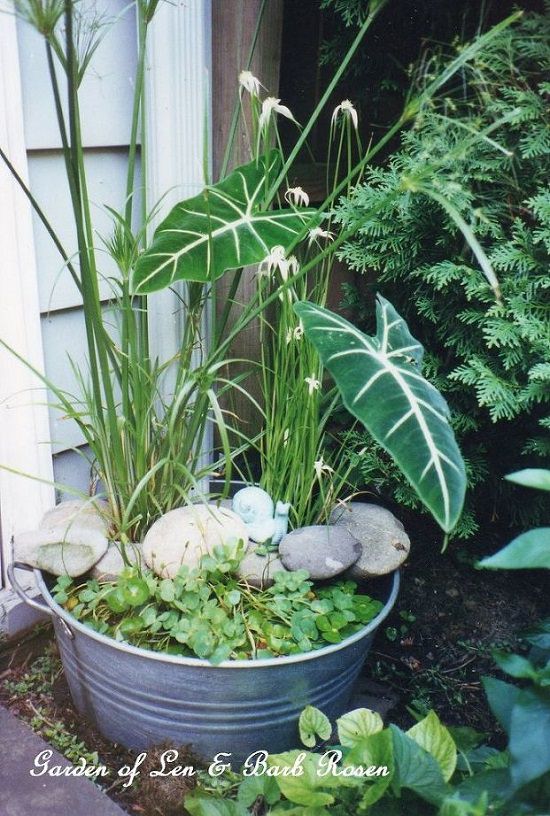 Source: ourfairfieldhomeandgarden.com
Water gardening in a container is a very easy DIY project that is easily customizable. This idea allows you to choose how wide or deep you want your garden pond to be and where you want to place it! The pond is made using a galvanized container with tons of floating and potted plants. These added plants are perfect for a fresh and appealing touch to your patio pond.
5. Minimal & Appealing DIY Water Garden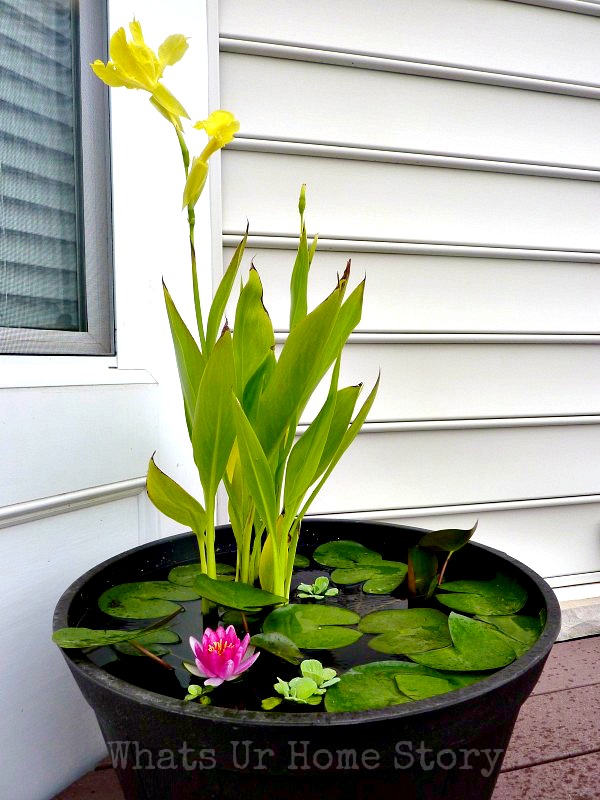 Source: whatsurhomestory.com
If you are a nature admirer who loves to have a garden pond in the house but can't due to a space crunch. This DIY water garden tutorial is the perfect solution for you. It is simple to make, super affordable, and looks very appealing and soothing. You can add your favorite plants and it's deep enough to grow water lilies! With a budget of under 40 dollars and a few quick instructions, you too can recreate such easy backyard pond ideas. Here is a video tutorial!
6. Repurposed Stock Tank DIY Pond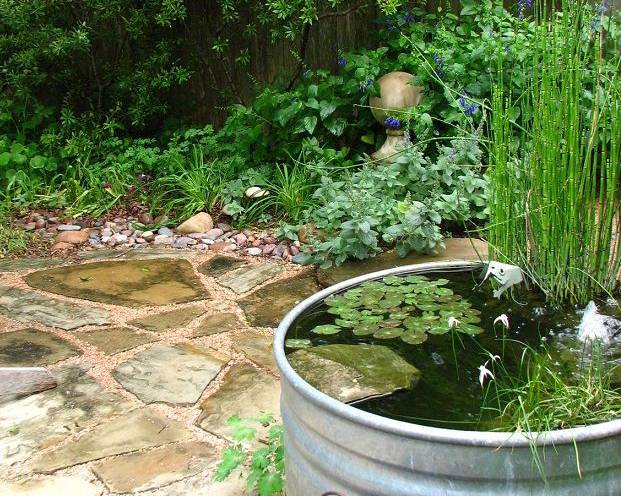 Source: candidegardening.com
All you need for making a garden pond is a large container that can hold water. An old stock tank like the one makes it an excellent choice. This backyard pond idea is so easy that you can set it up in just a few hours. You can either bury the tank to have a ground-level pond or set it up on the ground and add water. Add some plants and rocks in it and you have an easy and quick DIY pond that costs nothing compared to a professionally designed one!
7. Tranquil Container DIY Patio Pond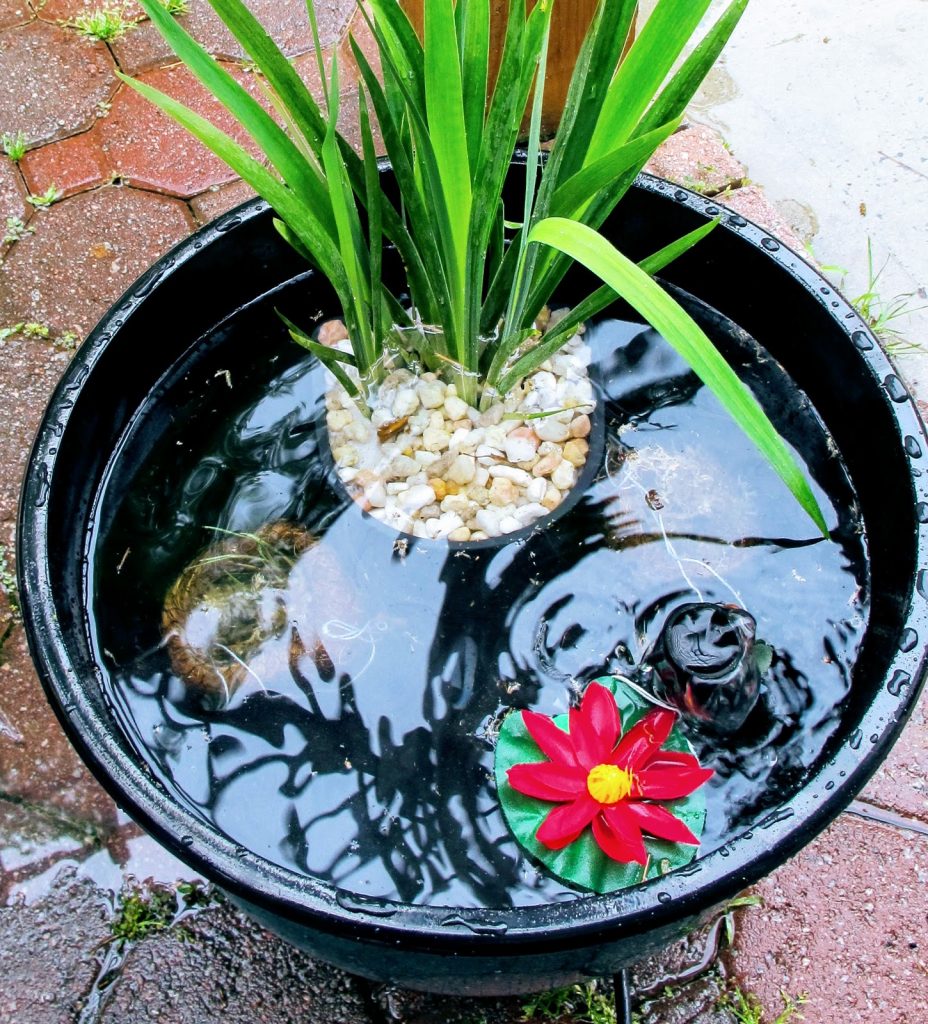 Source: housetipster.com
Now you can make an amazing DIY pond in less than 70 dollars! To recreate this idea, you won't have to dig up your lawn or buy super expensive equipment and yet you'll have stunning results in the end. Most of the materials on the list can easily be found in and around your house and the assembling of the garden pond is even easier. Just follow these six simple steps and you are good to go!
8. Modern Pallet Deck DIY Pond
Source: thegardenglove.com
Grab some old wooden pallets and recycle them to recreate this stylish DIY pond idea. The garden pond comes with a deck that not only highlights your pond but also gives you a comfortable space to sit and enjoy the water. This project is very easy to make and you can complete it in a day. It's a lovely twist to the traditional round container ponds. So, if you have a little extra space in your garden, do give this idea a try!
9. Pond Ideas On A Budget
Source: thesweetescape.ca
If you love the sound of pouring water, this DIY pond is the perfect display piece for your patio. All you need is a large plant pot, a water pump, some plants of your choice, and rocks. Assemble all of these materials in a few easy steps and voila! Your soothing and equally appealing mini patio pond is ready! This idea is customizable according to your space and is super budget-friendly.
10. Repurposed DIY Bathtub Garden Pond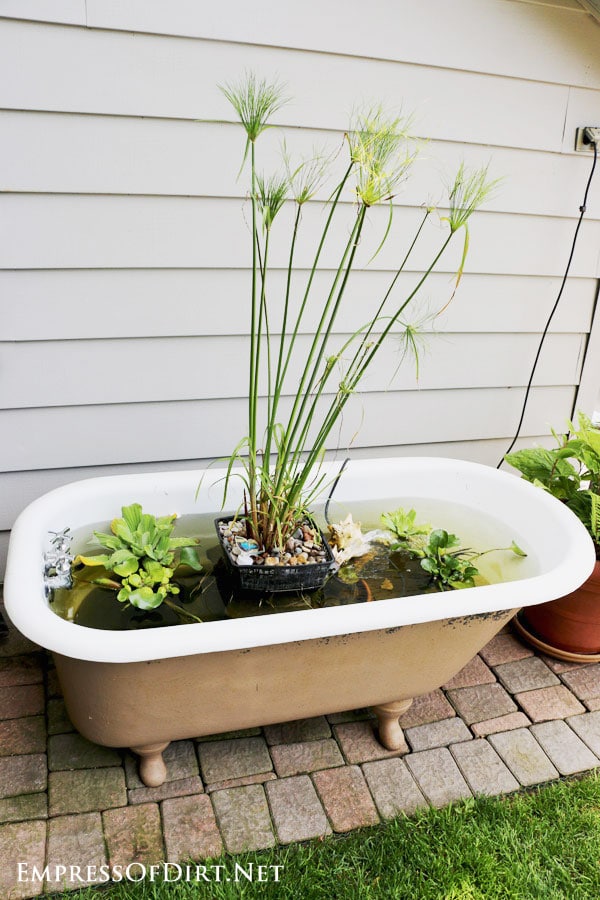 Source: empressofdirt.net
Old claw foot bathtubs are the perfect containers for your container water pond. All you need to recreate this unique idea is an old bathtub, a recirculating pond pump, plugs to close up drains, some plants, and bricks for leveling. Using this material and following some quick steps, your spacious, appealing, and perfectly functional DIY pond will be ready!
11. DIY Bubble Fountain Container Pond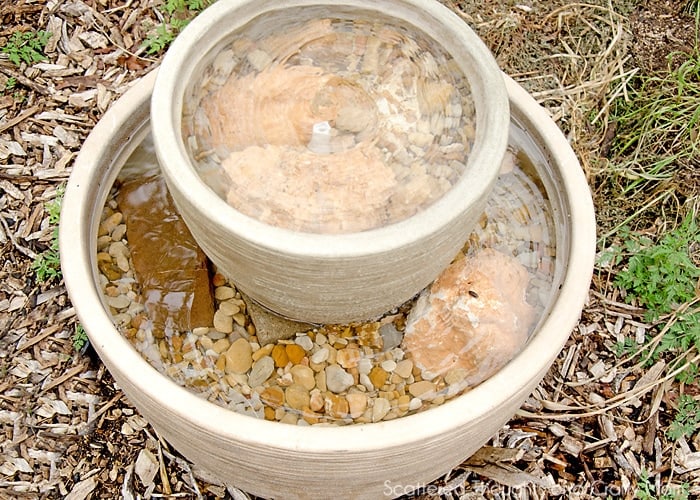 Source: scatteredthoughtsofacraftymom.com
Here is another unique and attractive container pond that is perfect for adding a stylish touch to your garden. You need a few containers for this project which can be found for cheap. The fountain bubbles over the pond giving it a relaxing sound and a romantic feel. You can easily complete this one in a few hours.
12. DIY Outdoor Pond in a Box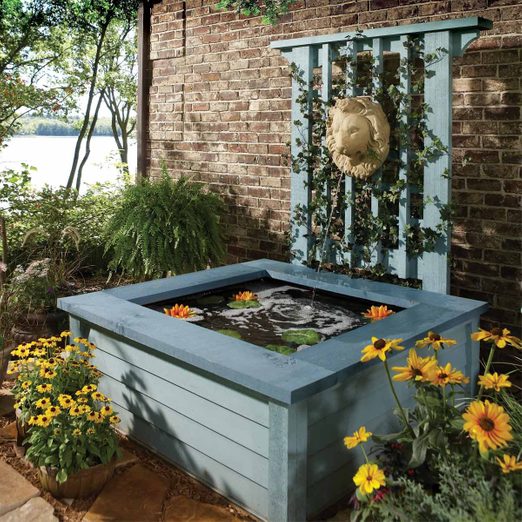 Source: familyhandyman.com
Looking for raised garden pond ideas? This versatile DIY backyard pond comes with a trellis and a fountain. You don't have to dig, no worries about a huge pile of dirt, and it will be ready in just a weekend. Build the walls and trellis in the morning and set up the garden pond in the afternoon, add the trim the next day and go buy some fish! Also, this above-the-ground design reduces the risk of your pets or toddlers drowning.
13. Easy Stone Garden Fish DIY Pond
Source: learningasigotips.wordpress.com
If you want to add Koi or goldfish to your garden pond, try this amazing DIY pond. It is super easy: dig it out, add your pond liner, place some rocks and add your favorite plants. This is a lovely option to keep your tiny fish and you can add a waterfall as well! Just remember to block the pump with mesh to prevent the wish from being sucked into the waterfall. Here is the complete video tutorial.
14. River Rock Covered DIY Pond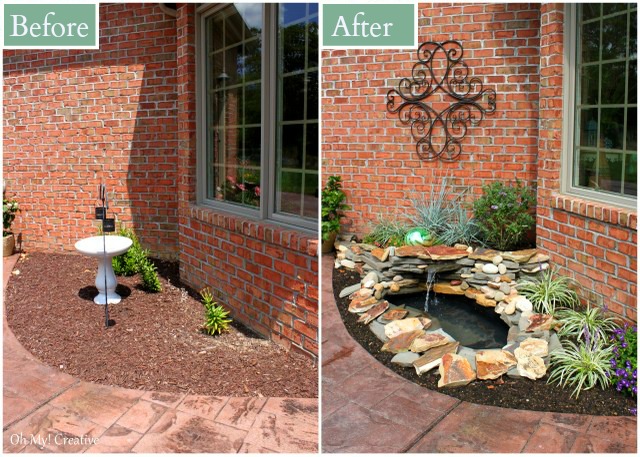 Source: ohmy-creative.com
All you need to recreate this naturally stunning DIY pond is a pond liner—set it in-ground and build your custom pond by adding some beautiful river rocks or slate. River rocks are easily available and if you have enough near your home, they'll cost you zero bucks! The rocks add a unique and scenic touch to this backyard pond idea and make it even more appealing. You can also add fish to this garden pond if you like!
15. DIY Scenic Koi Pond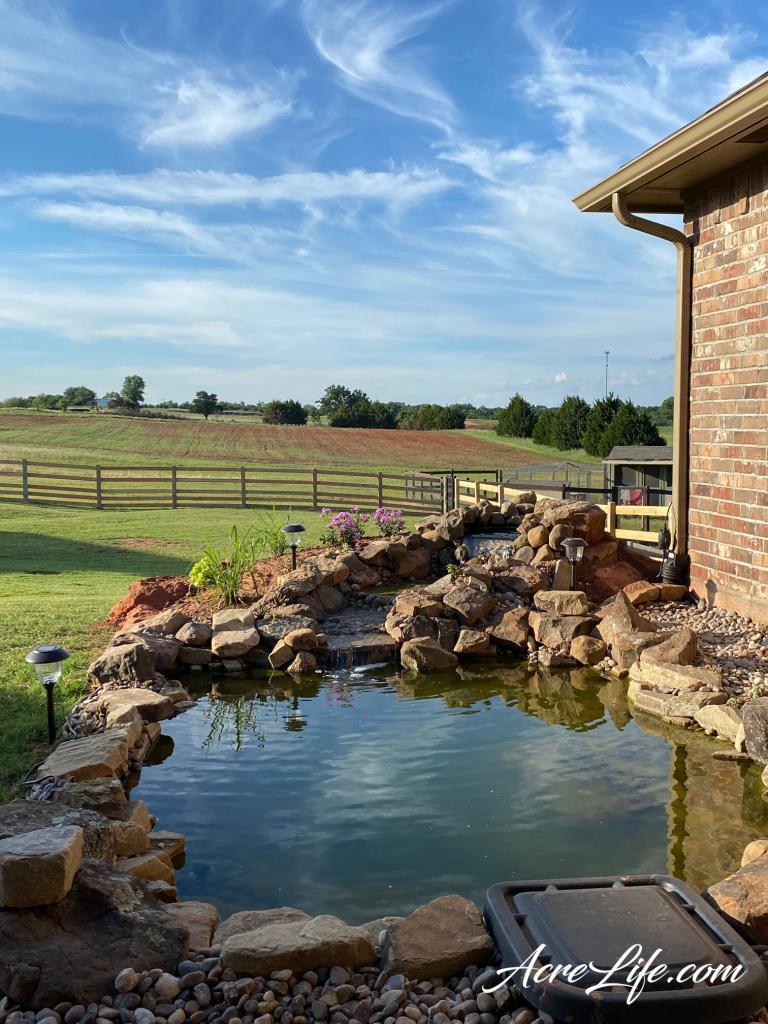 Source: acrelife.com
Add this stunning focal point to your backyard or garden by building the most scenic DIY pond out there. This backyard pond idea requires a lot of space but you can adjust the size according to the area. The detailed guide provides you information about building the waterfall, making your pond more stable, and tips on when to add the fish. You can also add some lights to the pond to enjoy the flowers and landscaping in the dark.
16. Minimal DIY Pond in a Pot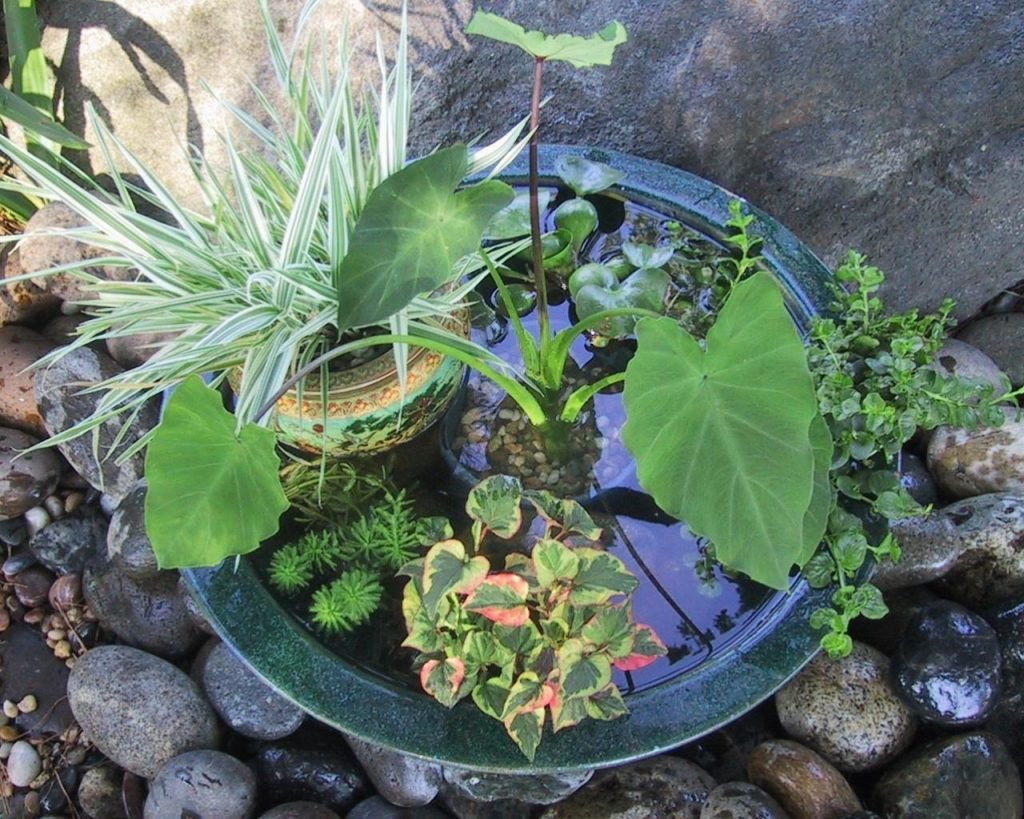 Source: hgtv.com
This backyard pond idea by is a low-maintenance, budget-friendly option that can be easily customized to suit your needs. All you add is a lot of water to the pot and that's pretty much all it takes for it to become a successful water garden. Just make sure you keep adding fresh water from time to time. The plants derive most of the nutrients from the soil they are planted in. Well, I can't think of an easier way of gardening. Follow some easy and detailed steps to recreate this DIY garden pond.
We hope these DIY pond ideas inspire you to add a fresh, soothing touch to your garden, patio, deck, or backyard. These backyard pond ideas are super affordable and make for a fun DIY project that you can enjoy over the weekend with your family!
If you loved these ideas, you can use the Pin image below and save this article on your 'Garden Ideas And Projects' Pinterest board.