Bookshelves are a great way to show off your wonderful book collection and to display your good organization skills. People use bookshelves for decor purposes, to display not just books but other decor items, and even to keep plants and mementos. A DIY bookshelf can really change the look of your room for the better.

Bookshelves don't need to be permanently in a corner. With changing times, the design and feel of a bookshelf are changing and there are so many different kinds to choose from.
With DIY projects gaining so much popularity lately, it seems only logical that there are also ideas for creating your own DIY bookshelves. Not only is it a budget-friendly alternative to your store-bought bookshelf. Building one yourself can really make you feel very satisfied with the end result.
Also check –
37 Best DIY Bookshelf Ideas With Plans & Tutorials
We've compiled a very extensive list of some of the best DIY bookshelf ideas for you to try out. These are all easily done at home and you will be able to do them for at least half the price of their store-bought counterparts. So don't wait to try out an idea that suits your fancy and transform your space for the better.
1. Wood and Brick DIY Bookshelf
Image and tutorial by amazinginteriordesign
A DIY rustic bookshelf is a great way to change the look of your room. This idea incorporates both wood and brick elements, which really play up to the whole farmhouse bookshelf vibe very well. If you're looking for something different, this is one you should definitely try.
2. Wooden Angled Bookshelf
Image and tutorial by brepurposed.porch
There is something about an authentic DIY wood bookshelf that really can brighten up a room. This angled DIY modern bookshelf is unique in its design. There are many ways that you can customize the articles and books you keep here. Isn't that what we all want?
3. Simple Ladder Bookshelf
Image and tutorial by fishandbull
A leaning bookshelf or a DIY ladder bookshelf is a really unique addition to your modern home. The ability to customize your shelves and space optimization is reason enough for the growing popularity of easy DIY bookshelves. This is one of the many examples of that.
Click here for standing desk plans.
4. Free Standing Bookshelf
Image and tutorial by simplifiedbuilding
This DIY bookshelf idea is great for those who don't want to do too much-advanced woodworking. Made with Kee lite fittings and wood, this unique bookshelf DIY is a nice way to add some contrast and shapes to your room.
5. DIY Rolling Bookshelf
Image and tutorial by cherishedbliss
This DIY farmhouse bookshelf is one for the keeping. Being both innovative and space-saving, this really blends in well with farmhouse decor and is laid back. You can customize it if you so wish. However, the selling point of this one is that you can take it wherever you want with you.
Also, read – 50 Amazing Shelf Decor Ideas For A Stylish Home , 25 Amazing Wooden Crate Shelf Ideas You Should Try
6. DIY Wood Crate Bookshelf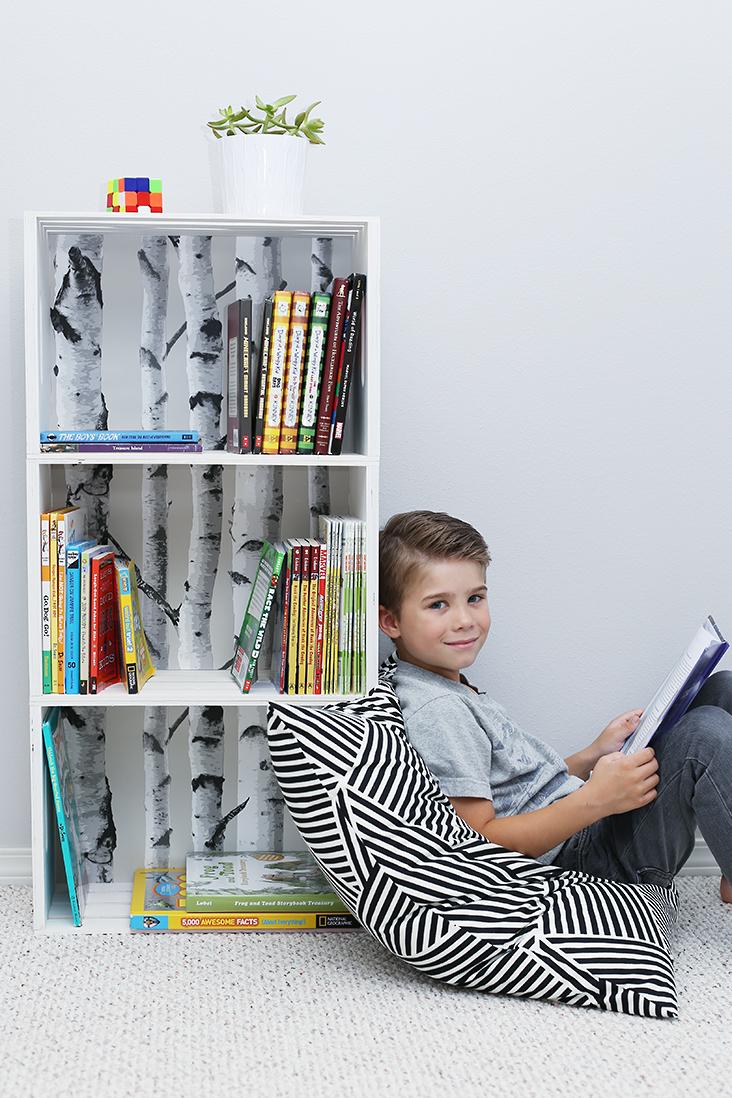 Image and tutorial by swemuchado
If you have a love for books and want to find a cute way of organizing them, we suggest this crate bookshelf. It might be the simplest DIY bookcase idea here because of how easy it is to execute.
7. Wall Tree Bookshelf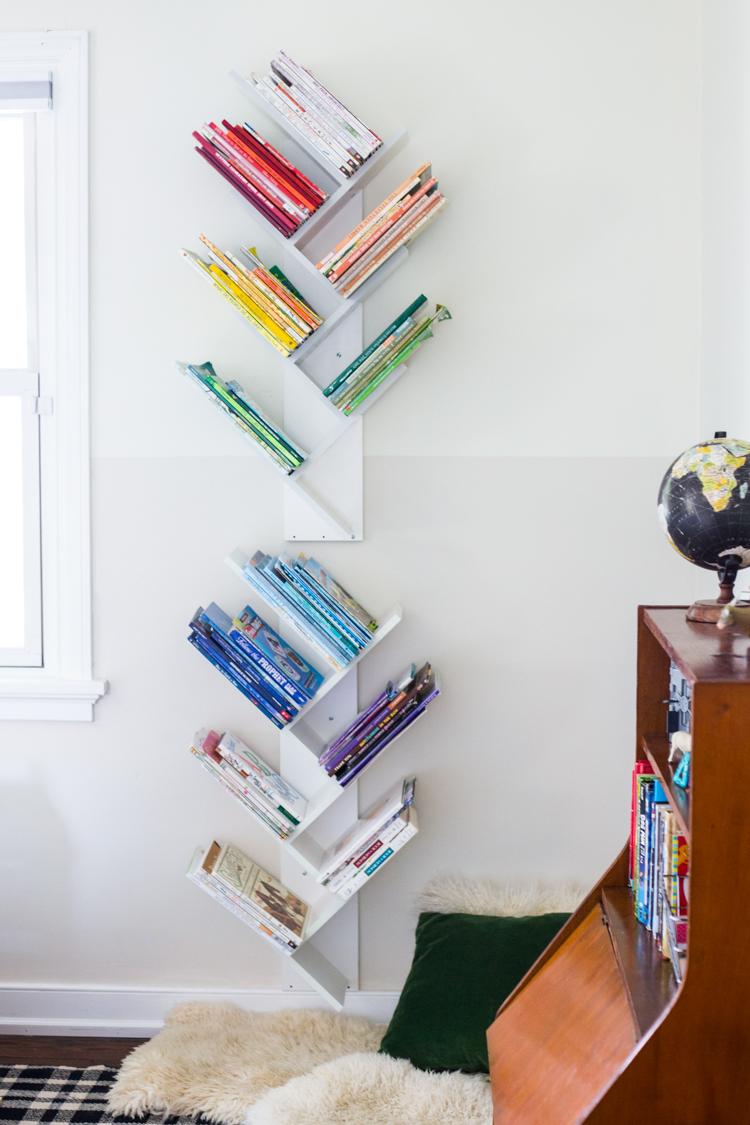 Image and tutorial by livefreecreative
This is a fun and imaginative DIY tree bookshelf idea that is rather easy to implement. These are DIY wall-mounted bookshelves and thus are space-saving too. Plus the aesthetic structure is so pleasing to look at.
8. DIY Industrial Pipe Bookshelf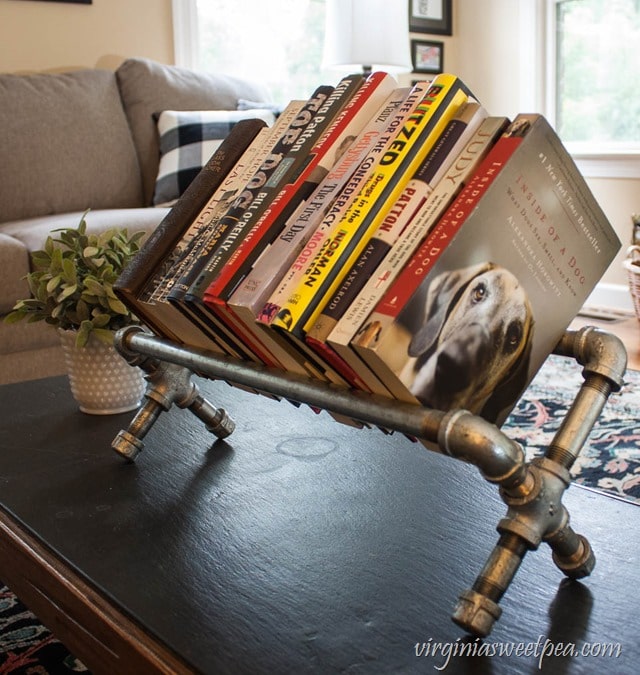 Image and tutorial by virginiasweetpea
Looking for an unconventional DIY industrial bookshelf idea? This is a great one for that purpose. Industrial designs are really great to break up the monotony of the decor and add an interesting element. Since it is a small bookshelf, you can place it on your coffee table to organize your books neatly. Now isn't that clever?
9. Reclaimed Wood Bookshelf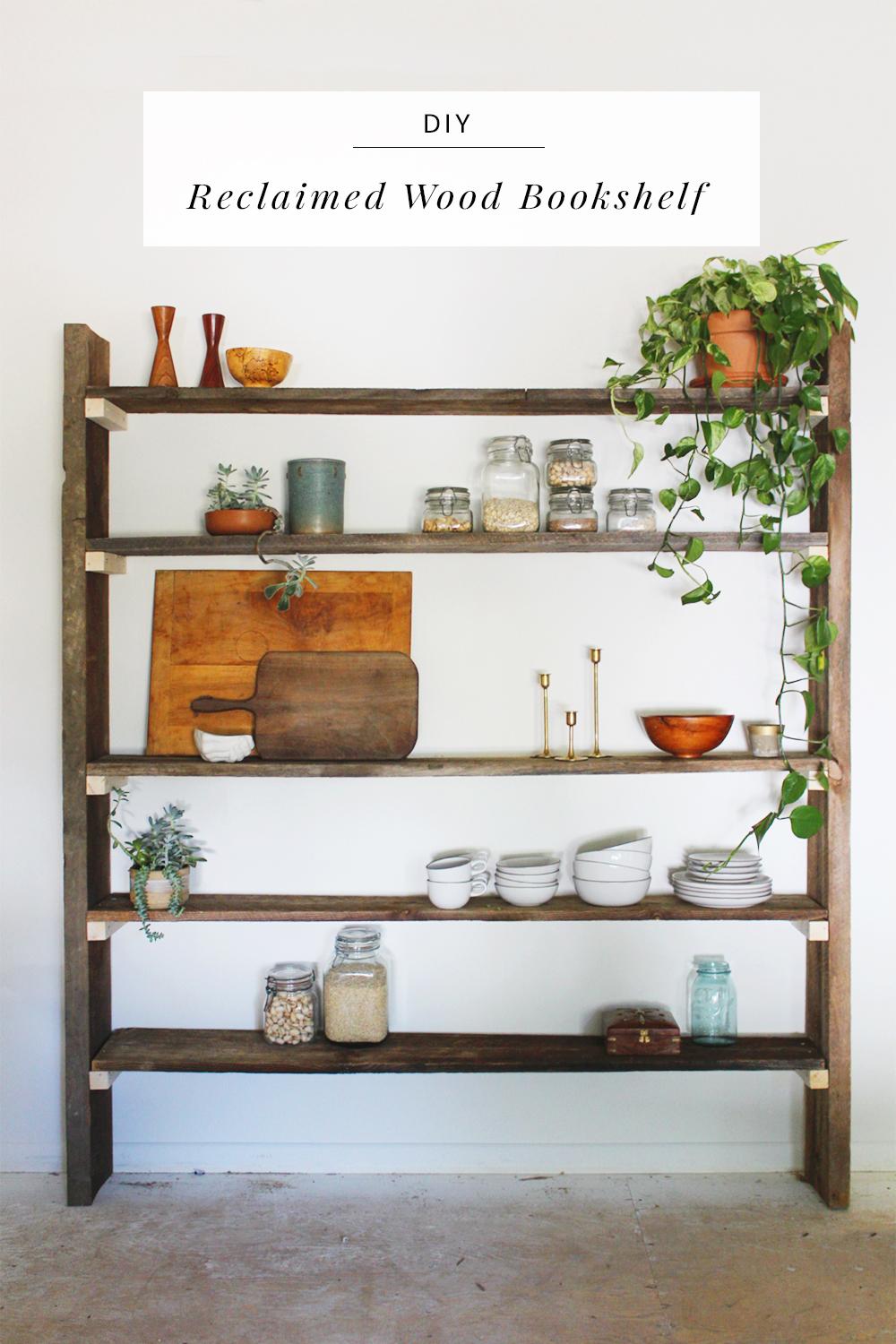 Image and tutorial by homemadebycarmona
Reclaimed wood furniture can look amazing when done well. And this beautiful easy DIY wood bookshelf is no exception. All you will need are wood planks and some tools. This can be done in no time and with instructions as simple as this, you'll quickly have your DIY bookshelf ready.
10. Modular Wood Crate Bookshelf
Image and tutorial by makeanddocrew
Ever thought that you could use the crates to make a bookcase? No? Well, now you know that you can! This DIY modern bookshelf is straightforward and easy to make with a few tools. Plus it's adjustable to your liking. So what are you waiting for? Try this crate bookshelf DIY today.
11. DIY Pallet Bookcase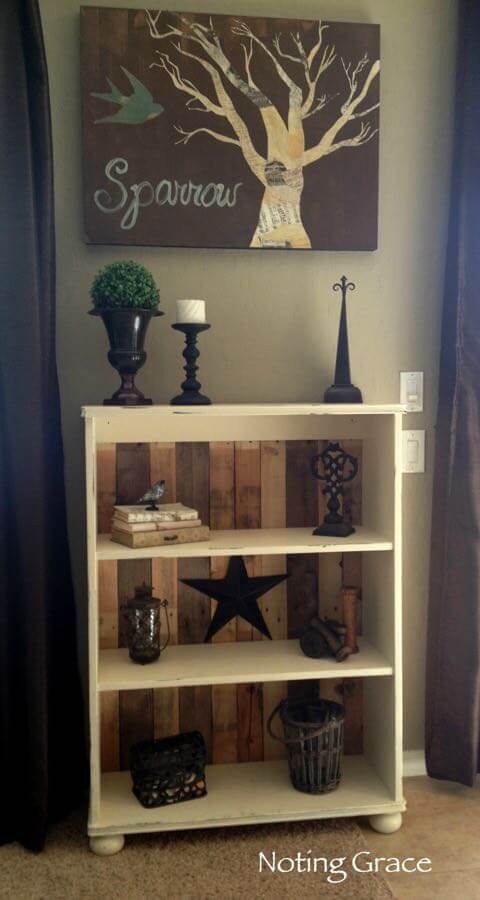 Image and tutorial by notinggrace
Bookshelf DIY makes most people excited like no other. Especially when it is easily done with the old furniture you already have available. This easy DIY bookshelf idea is simple enough to execute with a few pallet boards and tools.
12. Modern DIY Bookshelf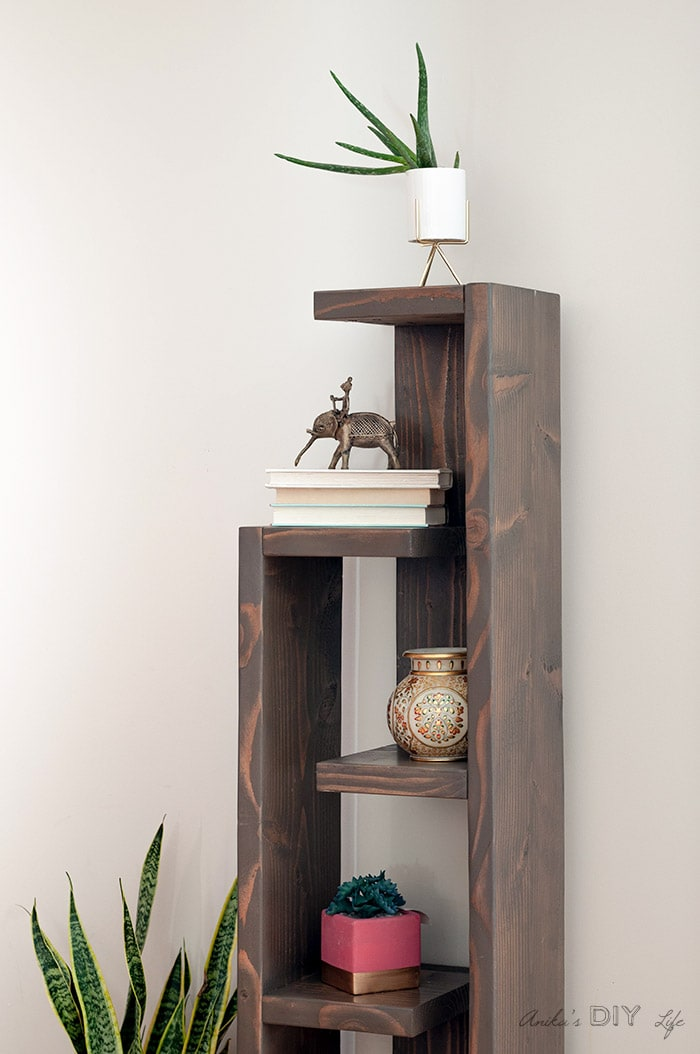 Image and tutorial by ankiasdiylife
A modern DIY bookshelf can really transform the look of your room, right? This DIY wood bookshelf has an eclectic air that really is a great display in itself. Plus the whole thing is done in 5 steps so you know that it's an easy DIY bookshelf.
13. Crates and Pallet Bookshelf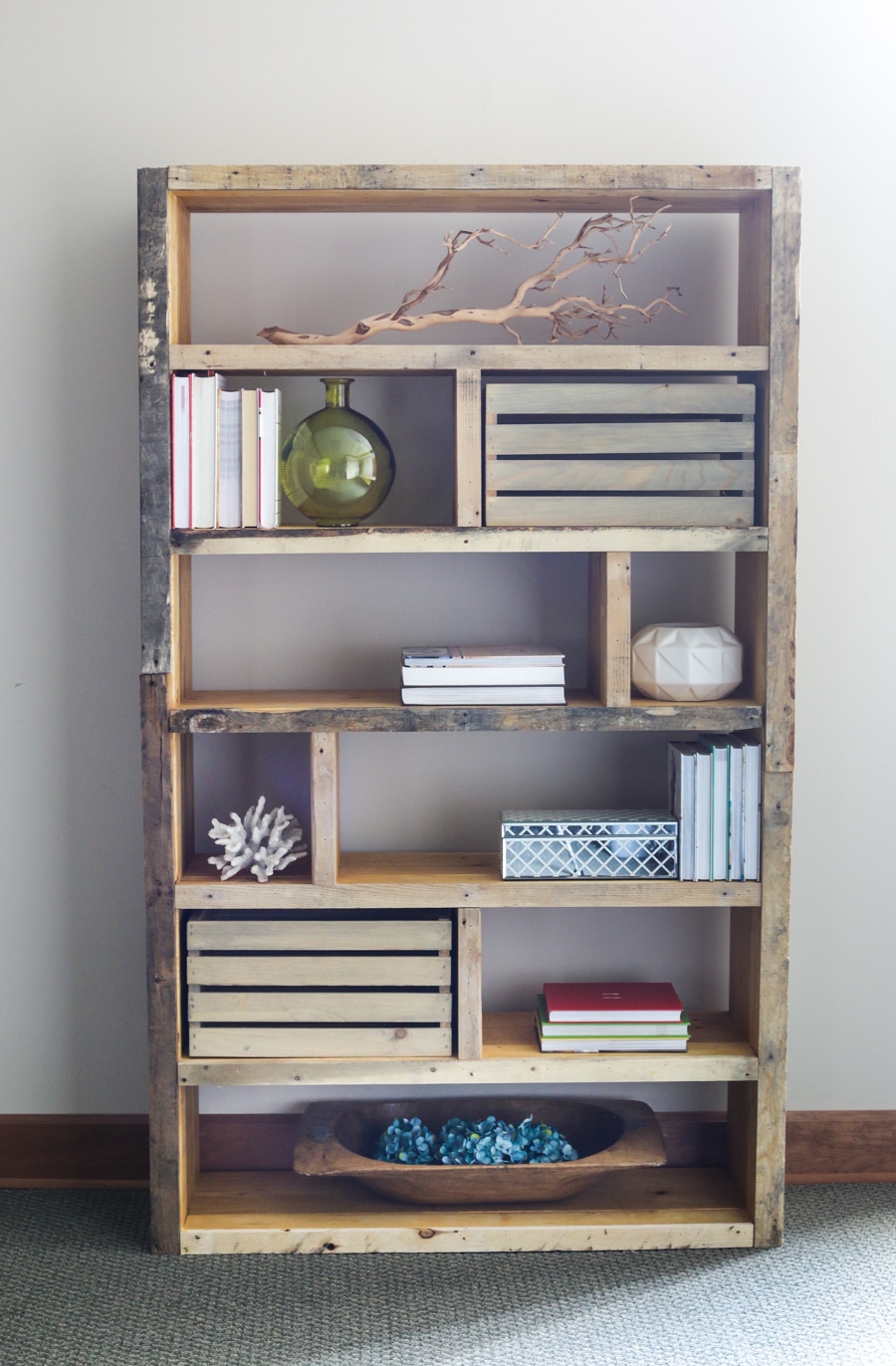 Image and tutorial by jenwoodhouse
If you're searching for a DIY rustic bookshelf tutorial look no further. This one is ingenious and really easy to do at the same time. As a DIY wall bookshelf idea, you can be sure that it will not disappoint your expectations.
Click here for L-shaped desk plans.
14. DIY Geometric Bookcase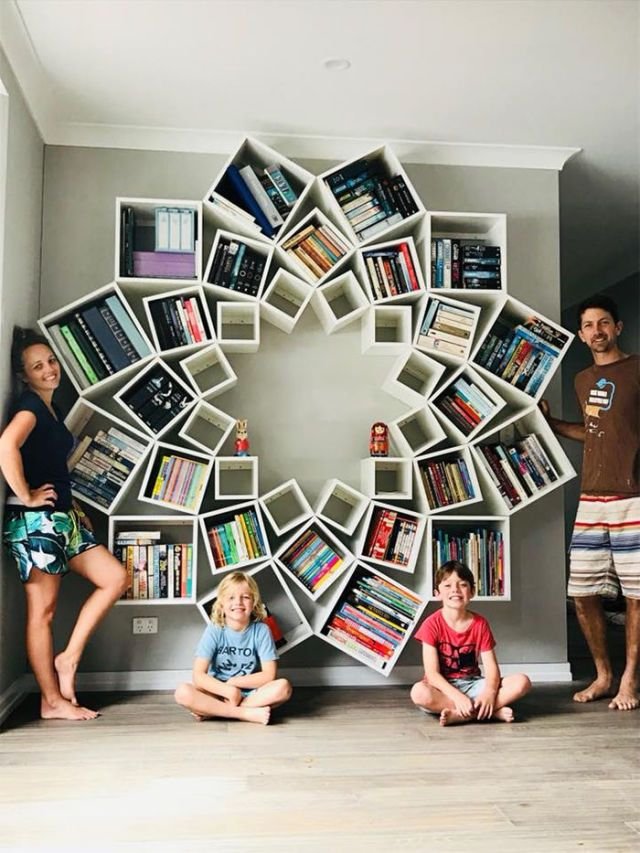 Image and tutorial by countryliving
Although it is a little wacky, getting a DIY wall-mounted bookshelf like this one completed will be very satisfying. You will need a lot of planning, but it is a rewarding experience to have a DIY modern bookshelf like this in your home.
15. Narnia Wardrobe Themed Bookshelf
Image and tutorial by theblesserhouse
If you have an old wardrobe you were planning to throw out, hold on for a second. This beautiful kids' bookshelf DIY idea is really creative and clever. Narnia themes are timeless and so is this DIY bookshelf idea.
Also, read – 22 Cool Arched Bookcases That You Will Definitely Love
16. Modern Rustic Bookshelf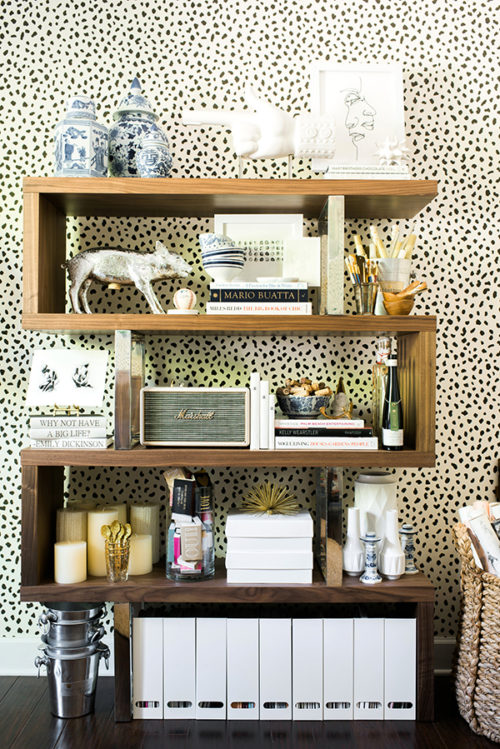 Image and tutorial by rainonatinroof
DIY bookshelf ideas can help you save a lot of money that will be better spent elsewhere. If you like working with wood and love the way it can add to the decor of your room, this classic DIY rustic bookshelf will not disappoint. Combining different elements is at the core of this one's appeal.
Read – 30 Floating Shelves Around Fireplace Ideas for Your Home
17. DIY Floating Bookshelf
Image and tutorial by toolboxdivas
Bookshelves make great storage spaces. If you're looking for new ways to make cute kids bookshelf DIY then stick around. This is a space-saving idea and as a DIY wall-mounted bookcase, it can be customized to your liking endlessly.
18. DIY Easy Rope Shelf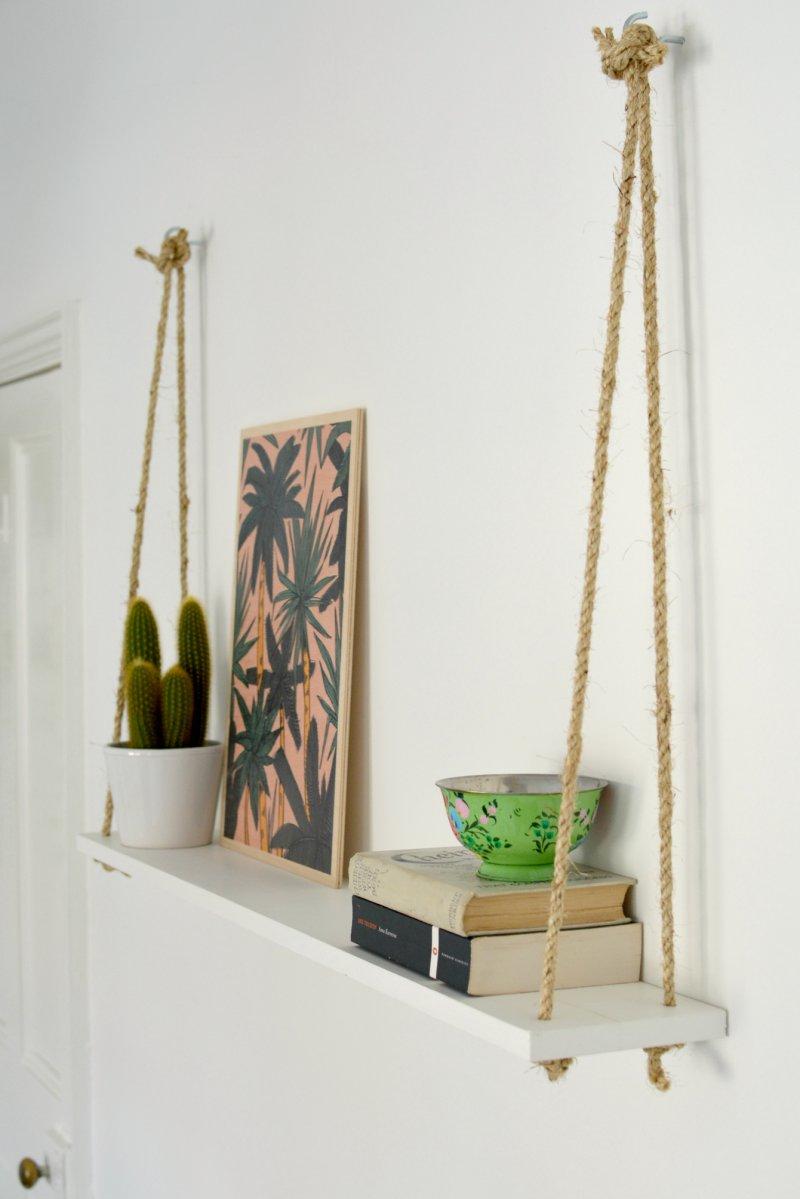 Image and tutorial by burkatron
DIY wall bookshelves are probably the easiest and most satisfying type of shelving options you can try. This one is really cute and attractive – adding them to a bare wall will be a really nice touch to your home space.
19. Natural Tree Bookshelf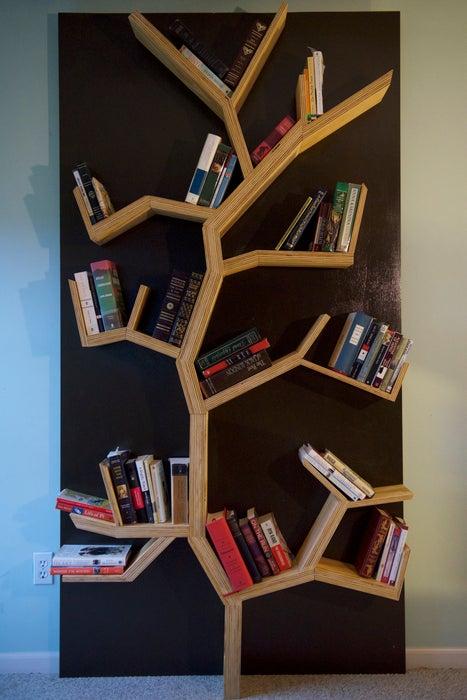 Image and tutorial by instructables
You will be able to have a really nice and calming ambiance with this DIY tree bookshelf. It has a natural tree structure and if you like an adventure, you'll really like to do this. This one will store all your books well and show them off in an edgy yet natural way.
20. DIY Spine Bookshelf
Image and tutorial by shadesofblueinteriors
DIY wall-mounted bookshelves are really the best. They can make the space look natural yet edgy while saving space. This DIY wall bookshelf idea will be good to fill an empty spot by the door and their visual height adds a nice balance to the room.
21. DIY Invisible Bookshelf
Image and tutorial by instructables
Do you like some magic in your lives? With this DIY wall bookshelf that is invisible in all its glory, you can really have a slice of magic right in your home. diy bookcase ideas like these are very easy to do, and they will not hurt your books in any way, because we all know how dear our books are to us.
22. Mid Century Modern Bookshelf for Kids
Image and tutorial by jaimecostiglio
This is a great modern yet classic kids bookshelf DIY that will be great for the children's room. With the perfect height for most kids to reach completion, you can be guaranteed that they will really like and appreciate it.
23. Corner Floating Bookshelves.
Image and tutorial by 4men1lady
Making a floating DIY wall-mounted bookshelf doesn't have to be as difficult as it looks. With a few pointers, you can get this DIY corner bookshelf done in no time. It's great for space-saving storage and smaller shelves that can really make the room look so much bigger.
24. Copper Pipe Bookshelf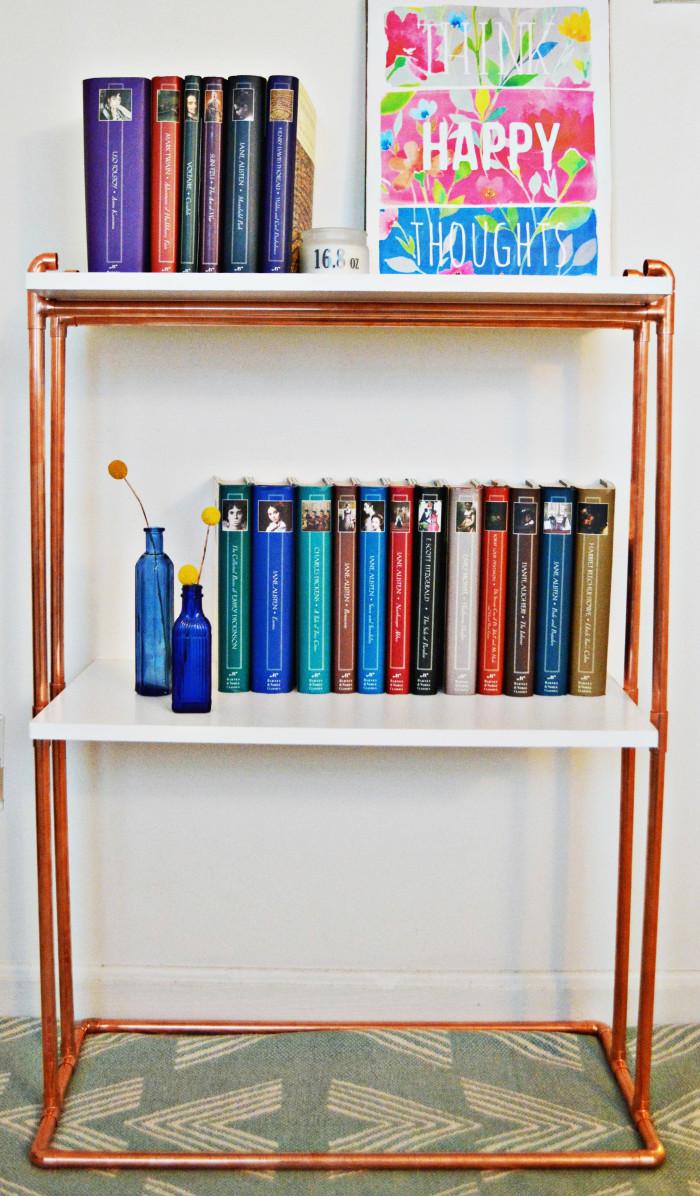 Image and tutorial by ajoyfulriot
You will never say that you have too much space to store all your books. With this copper DIY pipe bookshelf tutorial, you can add to the industrial decor of your home. As per the bookshelf tutorial, this can be completed with 5 supply items. So try this easy one soon.
25. DIY Corner Bookshelf
Image and tutorial by abeautifulmess
You want the perfect corner bookshelf for your rustic farmhouse, don't you? Fret not, this DIY farmhouse bookshelf tutorial is here to the rescue. You will never want to spend an exorbitant amount of money on store-bought shelves once you get the knack of DIY bookcases.
26. Corner Bookshelf Nook
Image and tutorial by sunshineontheinside
This DIY wall bookshelf tutorial uses vinyl gutters to make it the best possible reading experience for your kid's corner. A kids bookshelf DIY doesn't need to be extra fancy and should focus on making it as accessible as possible. Hence, this simple bookshelf is one for the books.
27. Rustic Corner Wood Bookshelf
Image and tutorial by kleinworthco
We all want our space to look clean and organized so that it motivates us to be productive as well. This DIY corner bookshelf is a great example of how something simple can help you organize not only your space but also your thoughts.
Also, read – 45 Unique Bedroom Organization Ideas To Declutter Your Space
28. DIY Leather Belt Bookshelf
Image and tutorial by blueistyleblog
Who would have thought that leather belts could make such a good DIY wall bookshelf idea? Using some inexpensive belts and sturdy wood planks, you can finish this easy DIY bookshelf in no time. Plus it's so innovative and will surely have other people admiring your creativity.
29. DIY Mounted Bookshelf
Image and tutorial by almostmakesperfect
For those of you who have a large plain empty wall in your room and want to fill it with nice decor, this DIY wall bookshelf is really going to be a boon. This tutorial is surely a mixture of both rustic and modern blended into one so it can fit into almost every type of room. The best part is the flexibility of being able to customize the size and shape of each different shelf so yes, this is a great one.
30. DIY Floating Bookshelf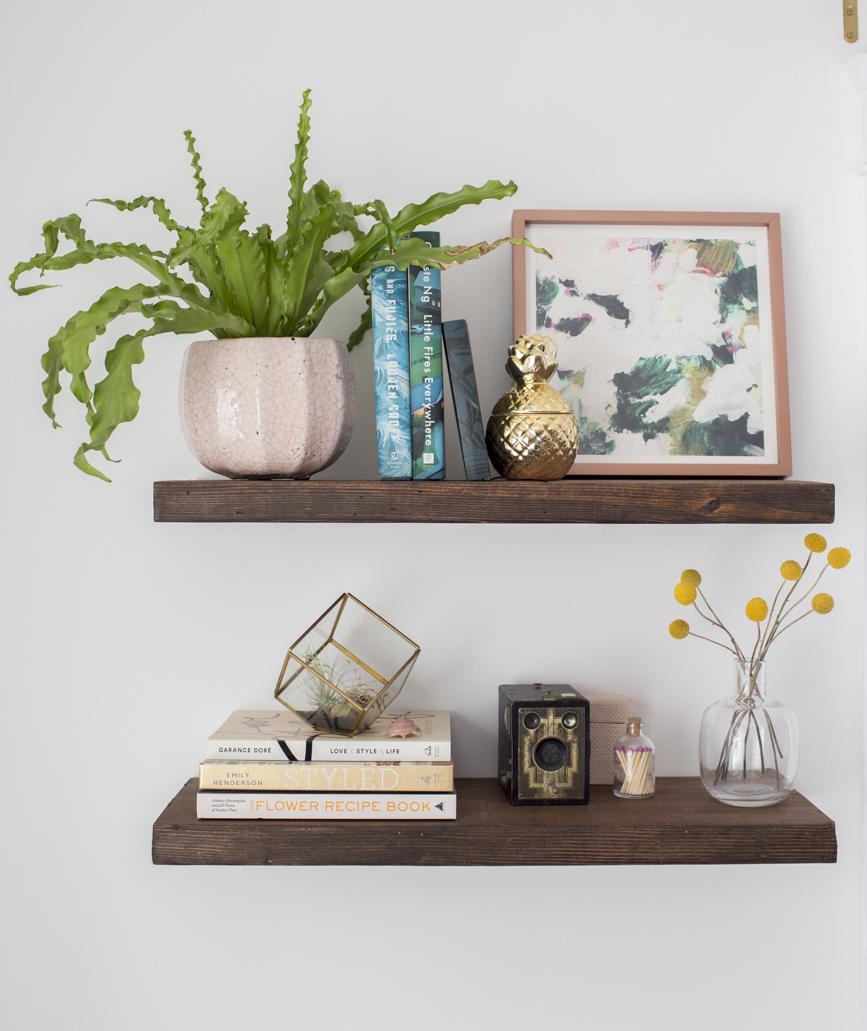 Image and tutorial by realsimple
This is a stylish and budget-friendly small DIY bookshelf that will surely make your room so much more chic and eye-catching. Floating shelves look really great and are also great storage spaces. Having enough space for your books and other items can really be a blessing in refining your decor.
31. Honeycomb Hexagon Bookshelf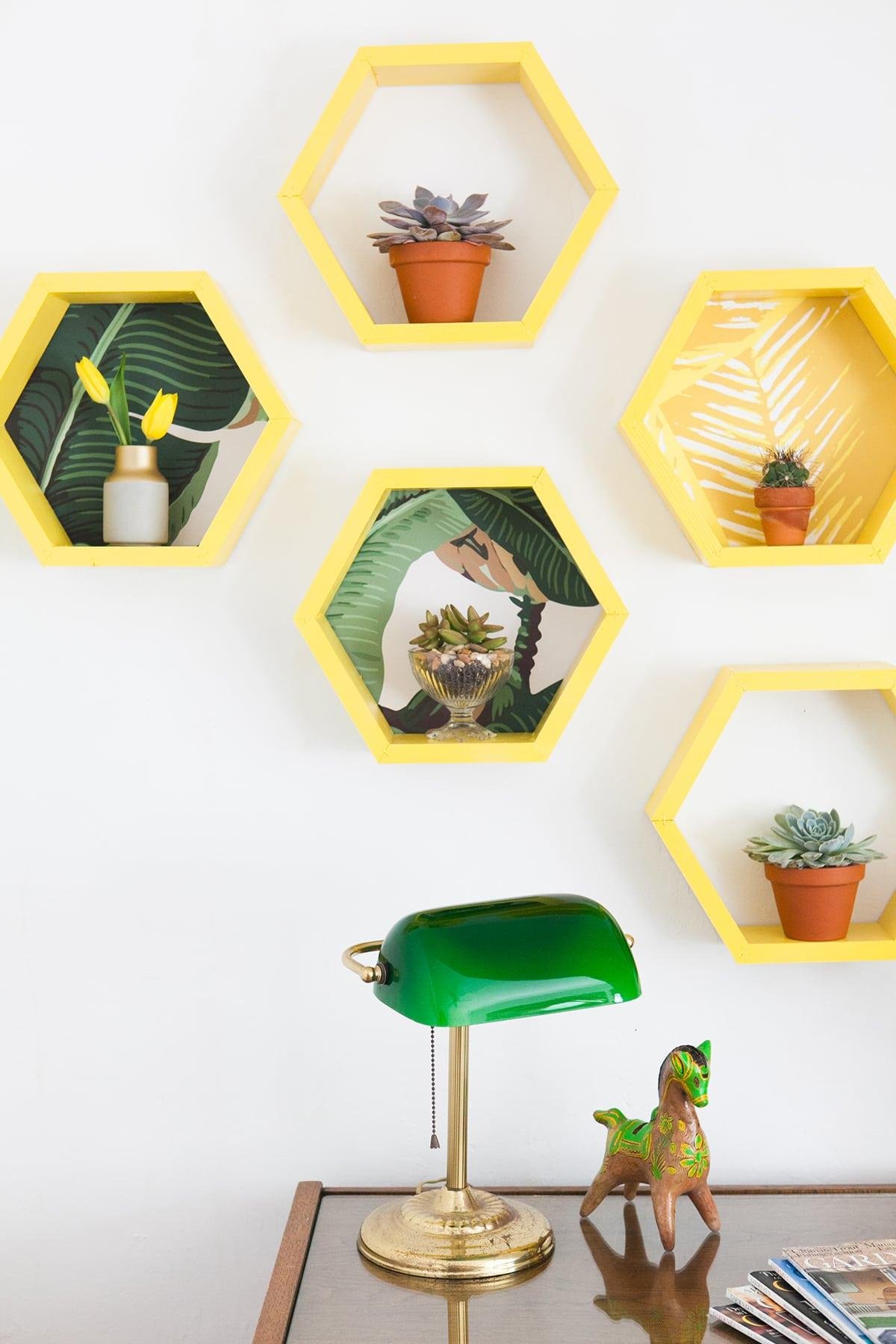 Image and tutorial by jessicabrigham
If you want some unique eye-catching floating shelves, then this is a pretty great tutorial. This simple DIY wall bookshelf is stylish, easy, and super affordable to do. Small bookshelf DIY like these can really brighten up a room and make your space look quirky yet chic.
32. Metal Basket Bookshelf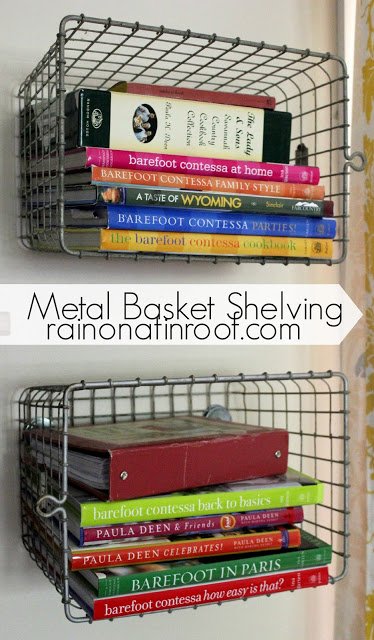 Image and tutorial by rainonatinroof
Galvanised metal being used in easy DIY bookshelf projects? Sign us up, please. Although this can look like a mixture between a DIY industrial bookshelf and a DIY rustic bookshelf, there is no denying that it's unique. This is a really handy idea if you're looking to store your cookbooks in the kitchen or even smaller shelves in other rooms.
33. DIY Cardboard Bookshelves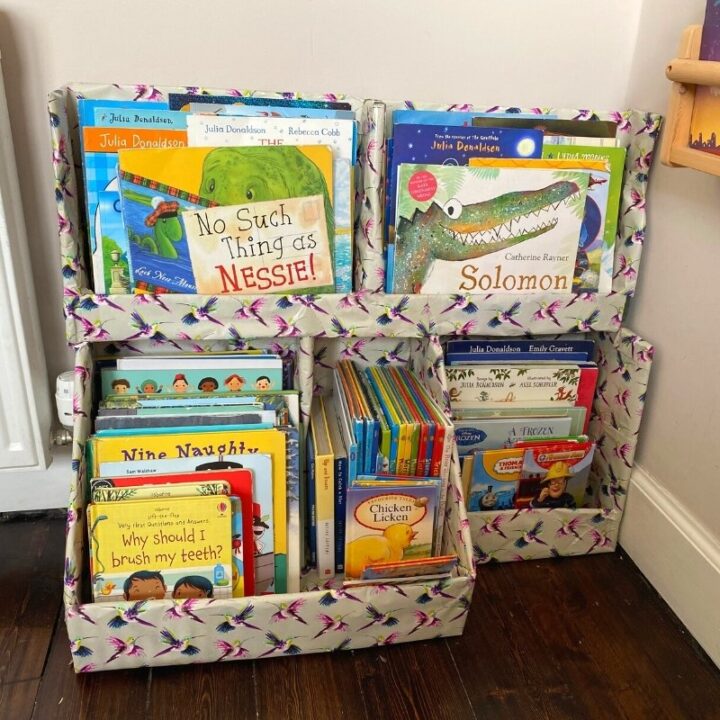 Image and tutorial by upcyclemystuff
Kids bookshelves DIY projects are really the most creative and easy bookcase DIY ideas available. They can be done in a variety of designs and can be customized so well. This cardboard DIY bookshelf can be done using supplies that are easily available in your house. It'll be ready in one afternoon so seriously, give it a try.
34. Industrial Piping Bookshelf
Image and tutorial by tarynwhiteaker
A DIY pipe bookshelf goes great with modern industrial decor. It can even be used to cut the seamless decor of your modern-style room without looking out of place. The layout of this DIY industrial bookshelf is very straightforward and the tutorial does make it easy to replicate.
35. DIY Ombre Bookshelf
Looking for a low-budget small bookshelf that can be carted anywhere? You're lucky that you came across this. You need a pegboard, some paints, and the will to do this and you'll have a very elegant DIY bookshelf with no tools required in no time.
36. Triangular Bookshelf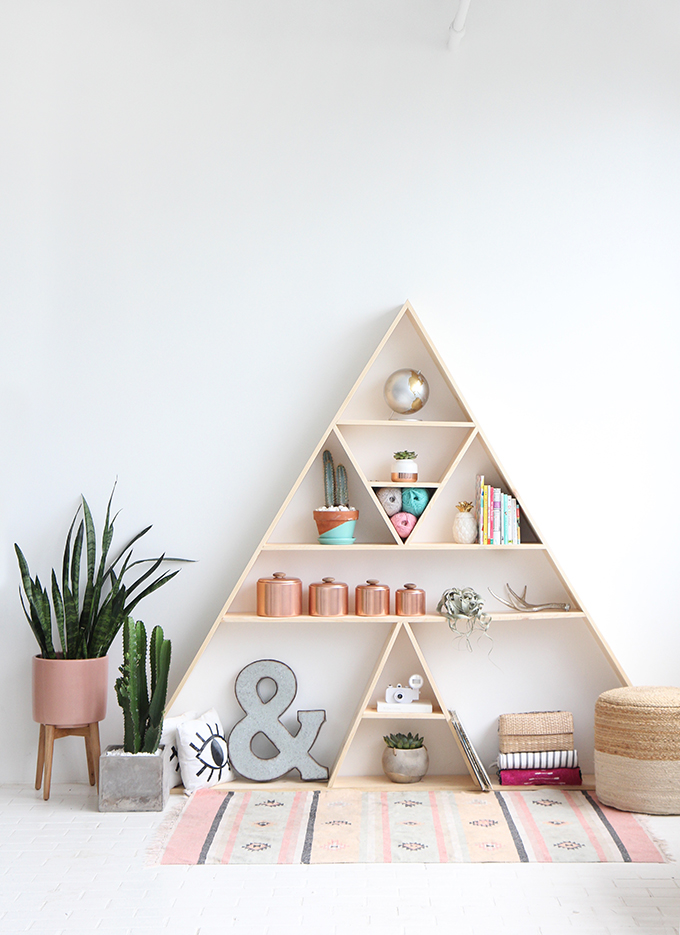 This is such an adorable DIY modern bookshelf idea. Everything from the shape to the color will change your room into something so much cozier than it was before. Like most DIY wall bookshelves this has dimension and geometry. You can customize how to design it as well.
37. DIY Crate Bookshelf for Kids
Image and tutorial by justcallmechris
If you're looking for a cute and easy crate bookshelf DIY. These crates are really handy and inexpensive. From there, you can build your kid's bookshelf in less than 5 steps. Have your children help you if you like. They will surely love the experience.
If you loved these ideas, you can use the Pin image below and save this article on your 'Home Decor DIY Projects and Crafts' Pinterest board.