Welcome to the ultimate guide on transforming your messy, cluttered bedroom into a serene sanctuary of organization! We get it – your bedroom has become a tangled web of mismatched socks, rogue charging cables, and piles of clothes that could easily double as Mount Everest. But don't worry, dear reader, for we have rounded up 45 genuinely unique bedroom organization ideas that will make Marie Kondo herself squeal with delight. So, grab a snack, put on your decluttering pants, and get ready to organize like never before!
Related articles –
1. Add In Hooks For Vertical Storage
Introducing the genius bedroom organization hack: adding hooks on wall space for vertical storage. It's like giving your room a high-five, but instead of hands, it's hooks! These versatile little superheroes can hang everything from your favorite hats to that vast collection of necklaces you've hoarded since the '90s.
2. Little Cubbies For Organizing Clothes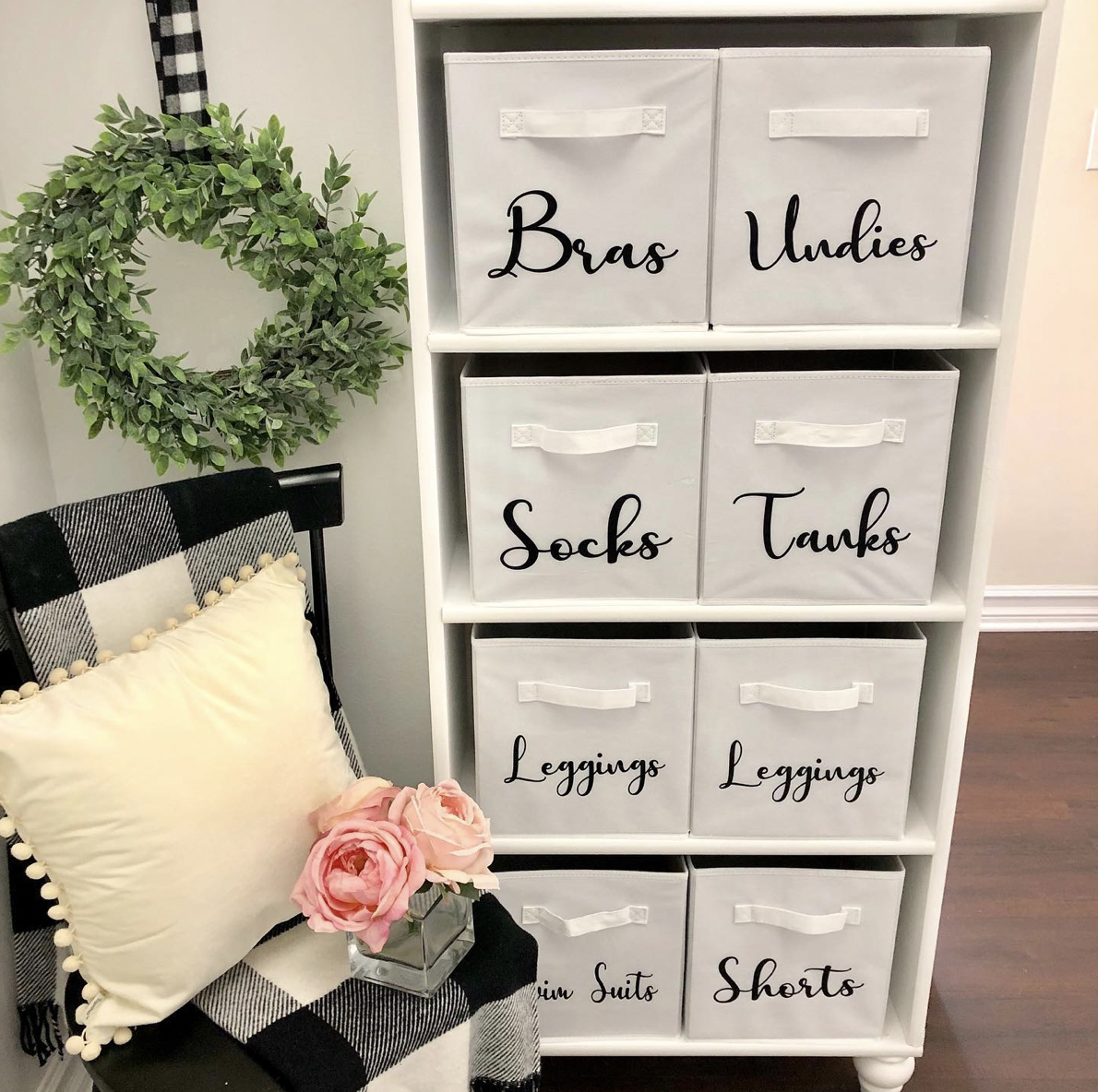 Say goodbye to the days of frantically rummaging through a massive heap of garments to find a pair of matching socks. Instead, with these color coordinated storage boxes, your clothes will have cozy little homes.
3. Utilize A Bookcase To Organize Handbags And Purses
Image and tutorial by Bloglovin
Say hello to the superhero of the organization: the humble bookcase. Yes, you heard it right. This versatile piece of furniture is not just for displaying your favorite novels; it's also a master of handbag harmony. Transform those empty shelves into a handbag haven, where each purse can strike a pose and shine like the superstar it is.
4. Bedside Storage For A Clutter-free Night Stand
Image and tutorial by Decoholic
No more wrestling with tangled chargers or digging through piles of books just to find your reading glasses. Get ready to reclaim your nightstand and enjoy the sweet, clutter-free storage solutions you deserve!
5. DIY Fabric Drawer Dividers
Image and tutorial by Organized-ish
No more rummaging through the abyss of unmentionables to find a matching pair. With our ingenious dividers, you can assign sections for each category, from undies to gym socks and even those pesky single gloves looking for their soulmates. It's time to reclaim your closet space and bid farewell to the days of unruly undergarments!
6. Turn A Ikea Bookcase Into A Storage Bench
Image and tutorial by Mommy Vignettes
Tired of your books hogging all the attention and leaving your poor backside longing for a cozy seat? Fear not, my cluttered comrades, for we have uncovered a brilliant solution to your storage and seating woes: the IKEA bookcase turned storage ottoman! It's like a magical metamorphosis, where the humble bookcase sheds its shelves to reveal a spacious storage area while sprouting a plush cushion for your tired tush to rest upon.
7. Use A Shoe Organizer To Store Makeup
Image and tutorial by Organization Junkie
Forget about those tiny, overpriced makeup organizers that barely hold lipstick. Instead, with a shoe organizer, you can turn your own space into a glamorous makeup haven. Each shoe pocket becomes a spacious makeup compartment, housing your vast collection of eyeshadows, blushes, and even those mysterious beauty tools, you never knew what to do with.
8. A Peg Board For Work Space Organization
Image and tutorial by Fabric Paper Glue
Say goodbye to tangled cables, lost pens, and that pesky keyboard that always seems to go MIA. This ingenious bedroom organization idea will turn your snooze zone into a productivity powerhouse.
9. DIY Basket Shelving
Image and tutorial by Hey Let's Make Stuff
Tired of stumbling over stacks of books or tripping on a pile of shoes? Fear not, for this ingenious solution will have you wondering why you didn't think of it sooner. You'll transform your bedroom into a storage paradise with just a few simple baskets, some sturdy brackets, and a sprinkle of DIY magic.
10. Wide Mouth Plastic Jars For Kid Proof Storage
Image and tutorial by Style And Dwell
Introducing the ultimate weapon in the battle against kid-induced chaos: wide-mouth plastic jars for kid-proof storage. These magical vessels are like the Mary Poppins of organization – they can fit everything from tiny action figures to rainbow-colored rubber bands with room to spare. With their wide openings, your little ones can effortlessly toss their toys in without any excuses for the mess.
11. Laundry baskets To Collect Larger Items
Image and tutorial by Six Clever Sisters
With these bad boys, you can now corral your king-sized comforters, super-sized sweaters, and even your pet elephant's favorite snuggly blanket. So why wait? Get your hands on these roomy wonders and transform your bedroom into a spacious, organized oasis.
12. Ikea Bed Slats To Organize Personal Stuff
Image and tutorial by Brit + Co
Are you tired of cramming your personal stuff into every nook and cranny of your bedroom? Well, say hello to the hero of bedroom organization: Ikea bed slats! These magical wooden wonders not only keep your mattress in place but also double as a storage solution for all your personal belongings.
13. Little Diamond Organizers For Desk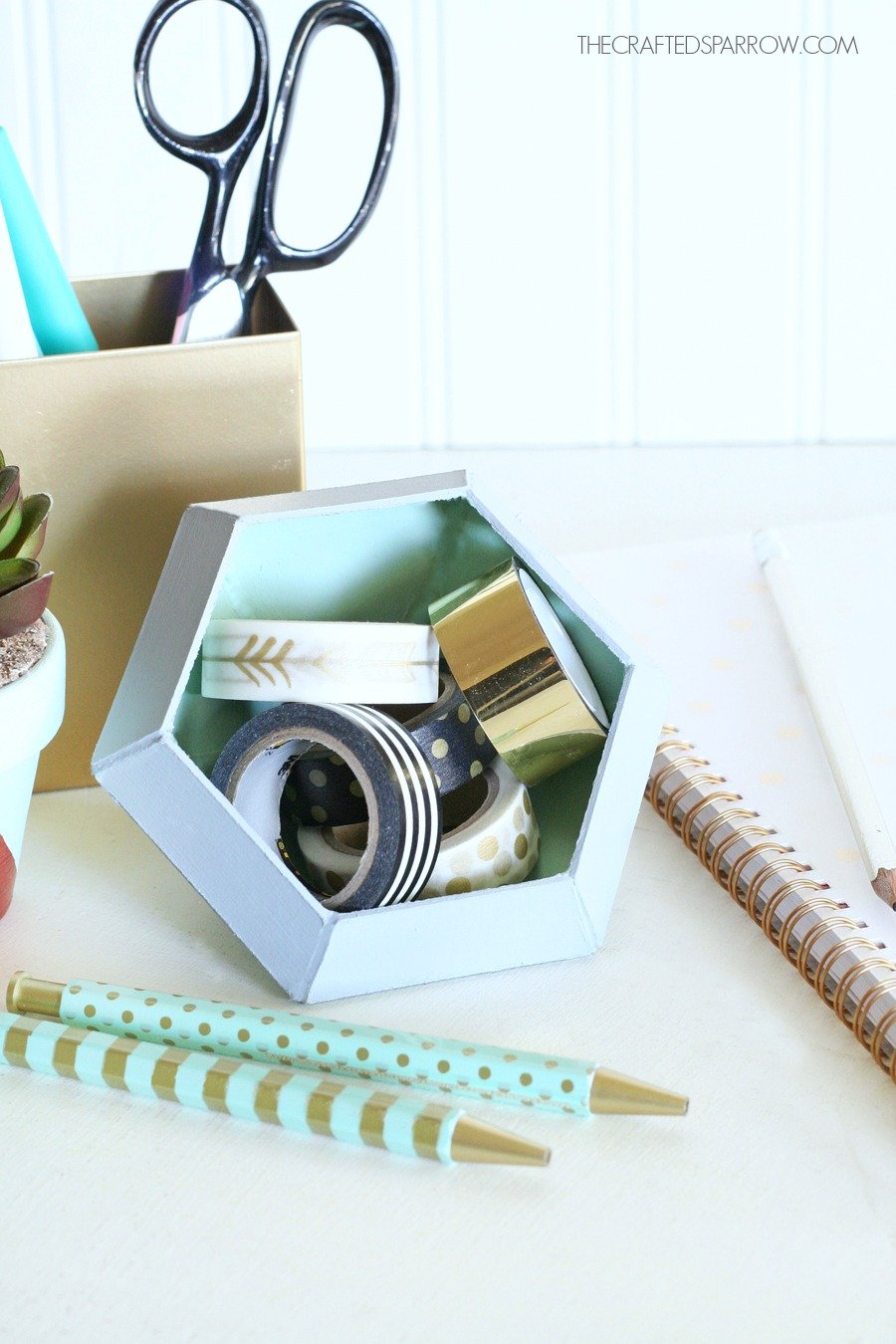 Image and tutorial by The Crafted Sparrow
Get ready to add some sparkle and joy to your desk organization game with our DIY Little Diamond Organizers! These nifty little gems will not only keep your desk clutter-free, but they'll also make you feel like a certified diamond smuggler.
14. Tin Can Caddy For Organizing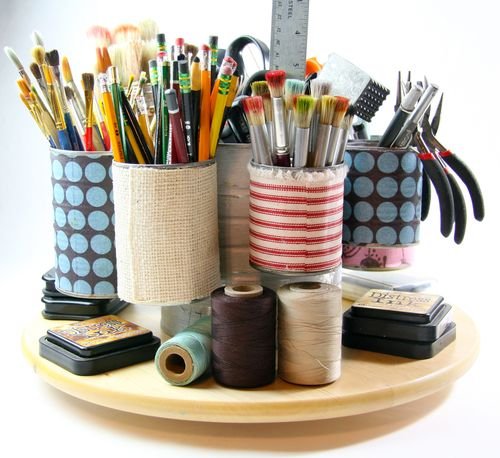 Image and tutorial by Cynthia Shaffer
This crafty creation combines the elegance of a tin can with the finesse of a Swiss army knife. So simply gather those empty soup cans (extra points for tomato soup stains) and unleash your inner Picasso with colorful paint or funky patterns. Voila! Now you have a caddy that can hold everything from hair accessories to rogue paperclips.
15. Kitchen Pantry Organizer As A Night Stand
Image and tutorial by Jessica Slaughter
Picture this: You're cozily tucked into bed, suddenly craving a sweet treat strikes. Instead of stumbling through a maze of junk food wrappers and empty chip bags, reach over to your trusty nightstand – or, should we say, your mini kitchen pantry!
16. Drift Wood Hanger
Image and tutorial by Effortlessly Chic
Introducing the "Drift Wood Hanger," the ultimate solution for organizing your wardrobe and unleashing your inner beach bum vibes. This nautical wonder combines the power of a hanger with the whimsy of Mother Nature herself. Made from authentic, handpicked driftwood, this hanger is a unique masterpiece that will have your clothes swaying like palm trees in the breeze.
17. Hanging Buckets Organizer
Wave goodbye to the days of rummaging through piles of random stuff on your nightstand. With this gravity-defying marvel, you can effortlessly suspend buckets from your ceiling, giving your room a whimsical charm.
18. A Shoe Organizer For Bra Storage
Image and tutorial by Owl Be Fine
Introducing the revolutionary solution to all your bra storage woes: the shoe organizer for bras?! That's right, folks; say goodbye to those tangled straps and crushed cups because your undergarments are about to get a serious upgrade. This ingenious contraption not only keeps your bras neatly organized but also gives them the VIP treatment they deserve.
19. DIY Plastic Underbed Storage
Image and tutorial by Pins And Procastination
With this ingenious idea, you'll transform your under-bed space into a well-organized kingdom. Simply grab some plastic bins, unleash your inner Picasso with some colorful duct tape if you are feeling fancy, and voila! You've got yourself a storage solution fit for a clutter-free champion.
20. Make A Hidden Cabinet For Discrete Storage
Image and tutorial by Handmade Haven
Tired of your bedroom looking like a crime scene of clutter? Well, fret no more because we've got a sneaky solution that even Sherlock Holmes would approve of! Introducing the "Make A Hidden Cabinet For Discrete Storage" idea. It's like having your own secret spy lair right in your bedroom!
21. Simple And Easy Bookcase Using Crates
Image and tutorial by Family Handyman
Say goodbye to those teetering stacks of books that take up permanent residence on your nightstand. This ingenious solution involves repurposing humble wooden crates into the bookcase of your dreams. It's like giving your beloved books their chic and rustic vacation home.
22. Mid-Century Modern Side Table
Image and tutorial by Jenwood House
This sleek, stylish piece of furniture is here to save the day and banish clutter to the dark depths of obscurity. With its clean lines and retro charm, it not only serves as a fashionable accent to your room but also boasts a secret storage compartment that can swallow up all your bedtime essentials like a hungry Pac-Man.
23. Wine Crate Night Stand
Image and tutorial by Lark And Linen
Are you tired of knocking over your water in the middle of the night because of your cluttered nighstand? Fear not, my friend, for this ingenious idea combines the elegance of a wine crate with the functionality of a nightstand. It's like having your sommelier beside you as you drift to dreamland.
24. Floating Shelves To Organize Skincare
Image and tutorial by kevi and amanda
Introducing: floating shelves for your skincare stash! These magical shelves defy gravity like your favorite face cream defies aging. Say goodbye to cluttered countertops and hello to a skincare display worthy of a beauty guru.
25. DIY Framed Jewelry And Earring Organizer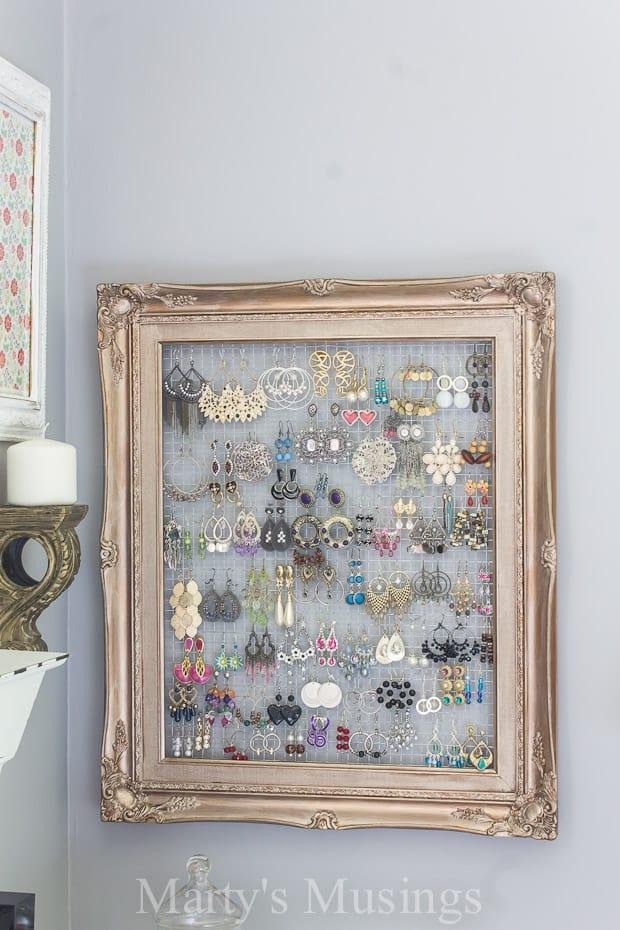 Image and tutorial by Marty's Musings
Are your precious baubles and earrings tangled in a mess that rivals a spaghetti disaster? Say no more! Introducing our latest bedroom organization gem – the DIY Framed Jewelry and Earring Organizer. With this nifty creation, you'll finally bid farewell to the days of frantic untangling sessions and missing earrings.
26. S-Hooks For Organizing Pants
Image and tutorial by Simply Spaced
Are you tired of your pants playing hide-and-seek in your bedroom? Say hello to the unsung heroes of the organization: S-hooks! These magical little wonders will revolutionize how you store your pants and bring order to your chaotic wardrobe.
27. Old Cardboard Boxes For Under The Bed Storage
Image and tutorial by The Sara Miller
Tired of your bedroom resembling a storage unit? Well, hold onto your socks (which you'll be able to find now) because we have a genius solution that will transform those dusty old cardboard boxes into the unsung heroes of under-the-bed storage! So say goodbye to tripping over forgotten shoes and hello to a bedroom floor, you can see!
28. Accessory Dividers On The Wall To Hang Nail Polishes
Image and tutorial by DIY Showoff
Tired of searching through a sea of nail polishes that have mysteriously multiplied overnight? Say hello to your new BFF in bedroom organization: the accessory dividers on the wall! No more frantic rummaging through drawers or risking a polishes avalanche. With these nifty dividers, you can proudly display your colorful nail polish collection like a work of art.
29. Pop Bottle Top For Double Hanging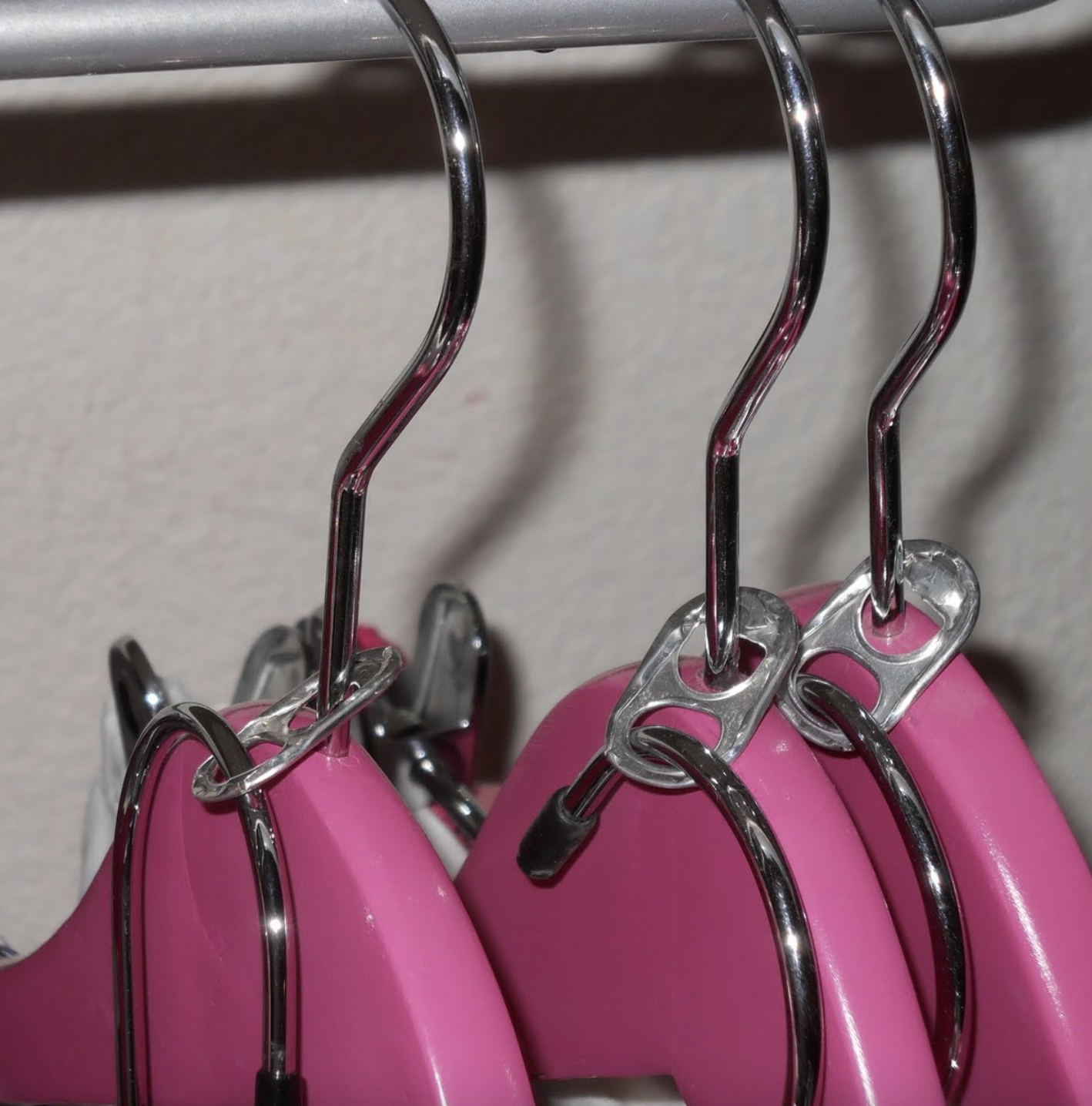 Image and tutorial by Idea Bottle
Say goodbye to cramped closets and hello to double the hanging space with our ingenious bedroom organization idea: the Pop Bottle Top for Double Hanging! You might be wondering, "Wait, what? Bottles in my bedroom?" Oh yes, dear reader, but not just any bottles. We're talking about those trusty plastic soda bottle tops that magically transform into space-saving wonders.
30. Hanging Night Stand To Save Space
Are you tired of your traditional, space-hogging nightstand cramping your style? Introducing the superhero of bedroom organization: the Hanging Night Stand! This gravity-defying wonder will have you saying goodbye to bulky furniture and hello to floating storage bliss.
31. DIY Mirror With Storage
Image and tutorial by Tattoed Martha
Tired of staring at your reflection while desperately searching for your favorite hairbrush? Fear not, because this ingenious creation will revolutionize your morning routine. It's like having a spy hideout right in your guest room! So say goodbye to the days of rummaging through drawers and hello to a glamorous mirror that keeps your treasures safe and your vanity clutter-free.
32. DIY Nerf Gun Storage For Kids Bedroom
Image and tutorial by Inspiration Made simple
Say goodbye to tripping over foam bullets and stepping on rogue darts in the middle of the night. With this genius organizational hack, your little warriors can proudly display their arsenal while keeping it neatly tucked away.
33. Toddler Closet Organization
Image and tutorial by Polished Habitat
Discover how to corral those tiny clothes with color-coded hangers that rival the rainbow or how to transform a shoe organizer into a treasure trove of neatly folded onesies. Say goodbye to the never-ending hunt for matching socks and hello to a closet that would make even Marie Kondo raise an impressed eyebrow.
34. DIY Underbed Lego Storage Cart
Image and tutorial by The Happy Housie
This ingenious creation will turn the space beneath your bed into a colorful, brick-tastic haven for all those tiny building blocks. You can construct the ultimate Lego storage system that would make even Batman jealous with a few simple materials, a dash of creativity, and a splash of imagination.
35. Closet Organzation Under The bed
Image and tutorial by Shades Of Blue Interiors
Introducing the genius concept of "Closet Organization Under The Bed"! Say goodbye to cramped closets and hello to the uncharted territory beneath your mattress. With a dash of creativity and a sprinkle of magic, you can transform that unused space into a secret storage haven for your stylish treasures.
36. Bedside Storage For Stuffed Animals
Image and tutorial by Shades Of Blue Interiors
Tired of waking up in a bed full of stuffed animals that seem to multiply overnight? Say goodbye to the plush invasion with our ingenious DIY Bedside Storage for Stuffed Animals! This nifty solution not only keeps those furry friends in check but also adds a touch of whimsy to your bedroom decor.
37. Decorative Wall Hooks As Jewelry Storage
Image and tutorial by Girl In The Garage
These magical little hooks are not your ordinary storage solution. Oh no, they're practically jewelry fashionistas dressed in quirky shapes and colors.
38. Get A basket For Extra Storage
Say hello to the magical basket – your ultimate secret weapon for extra storage. This humble yet mighty solution will gobble up all your random trinkets, rogue socks, and even that embarrassing collection of mismatched Tupperware lids. It's like having a hungry monster in your room, but one that helps you stay organized and empty space!
39. DIY Vintage Trunk To Eliminate Clutter
Image and tutorial by Pink Fortitude
This ingenious idea will not only bring a touch of nostalgia to your small space but also provide a stylish storage solution. Totally in with the idea!
40. Repurposed Craft For Organizing Accessories
Image and tutorial by Organized 31
Are you looking to organize your bedroom accessories in a creative and budget-friendly way? Look no further! We have a collection of DIY repurposed craft ideas that will have your accessories organized and your wallet doing a little happy dance.
41. DIY Nightstand Organization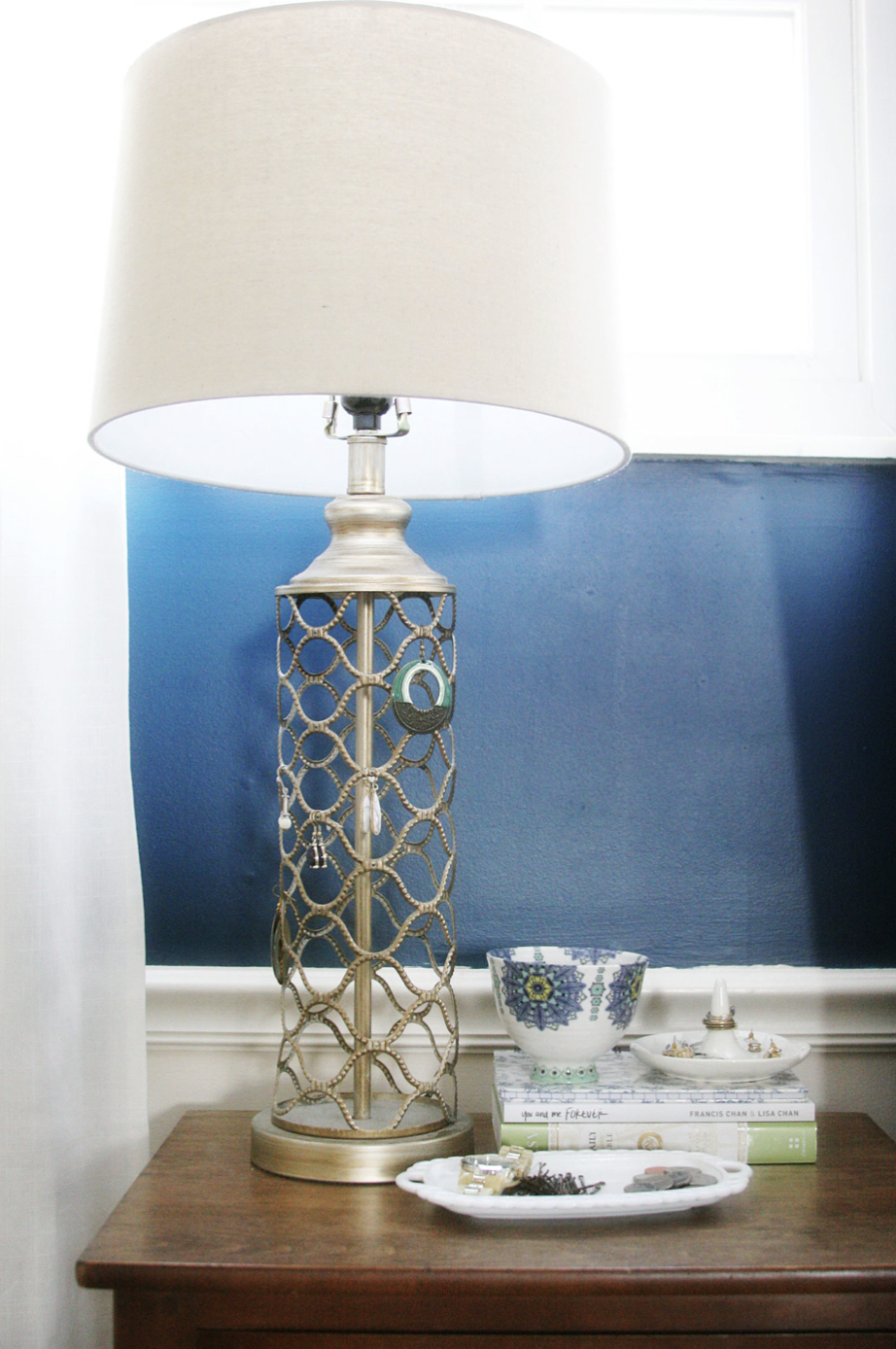 Image and tutorial by Creativity Designs
We all know the struggle of fumbling in the dark, desperately searching for that elusive phone charger or a wayward chapstick. But fear not, fellow disorganized souls, because here we've got some ingenious ideas that will turn your nightstand into a clutter-busting masterpiece.
42. DIY Belt Organizer
Are you tired of your belts going on wild adventures through the depths of your bedroom? Fear not, fellow fashionista, for we have the perfect solution to keep those waist-cinching wonders in line. Introducing the DIY Belt Organizer – a stroke of organizational genius that will have your belts standing at attention, ready to complement your outfits like well-behaved accessories.
43. DIY Wooden Clothing Rack For Better Organization
Image and tutorial by The Merry Thought
Wave goodbye to the days of digging through piles of crumpled clothes like a treasure hunter in search of the Holy Grail. With this ingenious creation, you can proudly display your wardrobe in all its organized glory. Crafted from the finest wooden planks and a sprinkle of your own sweat and tears, this walk in closet will make you feel like the Michelangelo of organization.
44. Industrial Pipe Selving Built-In
Image and tutorial by Instructables
Introducing the Industrial Pipe Shelving Built-In – the perfect blend of rugged charm and organizational prowess. Not only will it hold your books, but it'll also hold your dreams, aspirations, and that collection of limited-edition action figures.
45. DIY Bed Risers To Create Storage Under The Bed
Image and tutorial by DIY Passion
Introducing DIY Bed Risers! These genius gadgets will boost your bed's style while creating a secret storage haven underneath. So say goodbye to those dusty monsters lurking beneath your mattress and hello to a treasure trove of ample storage space.
If you love these bedroom organization tips, don't forget to pin the above image to your "Home organization" board.