Are you searching for inspiring bedroom ideas for women that combine feminine charm with modern style? Look no further! In this article, we'll explore a range of bedroom decor ideas to help you create a stylish and comfortable space that reflects your unique taste and personality.

From rustic decor to linen curtains, muted tones, and blush pink accents, we'll cover all the latest trends and classic design elements to help you achieve the stylish bedroom of your dreams. Whether you prefer a minimalist, modern look or a cozy, rustic vibe, we've got you covered with plenty of interior design tips and ideas to help you create a space that feels like home.

So, let's dive in and discover the best bedroom ideas for women that will elevate your space to the next level.

Also read –
1. Neon Headboard Sign For Retro Bedroom
Source – esrakazmircimimarlik
Neon signs are a popular design trend that can add a touch of retro style and personality to any room, and they come in a variety of shapes, sizes, and colors to suit your taste.

Some popular designs for neon signs for women's bedrooms include inspirational quotes, personalized names or initials, abstract shapes and patterns, and playful symbols or images. Neon signs can be hung directly above the bed, on a nearby wall or shelf, or even mounted on the ceiling for a dramatic effect.
2. Elegant Furnishings To Create A Luxe Bedroom
Source – dillaria_design
A luxe bedroom is a glamorous bedroom that exudes sophistication, elegance, and comfort. It is a space that has been carefully curated with high-quality materials, high-end finishes, and exquisite details, such as plush bedding, soft lighting, and designer furniture.
3. Statement Wallpaper With Large Florals
Source – girlpower.jk
Floral wallpaper is a popular choice for creating a statement wall in a woman's bedroom because it can add a touch of feminine beauty and elegance to the space. The delicate, intricate patterns of flowers and foliage can create a soft and inviting atmosphere, making the bedroom feel more relaxing and inviting.
4. Boho Elements For A Cozy Boho Bedroom

Source – girlpower.jk
Boho style embraces cozy and comfortable elements, such as textured fabrics, layered rugs, and plush pillows, macrame wall hangings, rattan furniture making the bedroom a warm and inviting space.
5. Neutral Decor Elements For Calmness
A neutral wall in a bedroom refers to a wall that is painted or covered with a wallpaper in a muted, subdued color palette consisting of whites, grays, beiges, and other earth tones. Neutral walls are a popular choice for women's bedrooms because they create a calm and relaxing atmosphere that is conducive to sleep and relaxation. They make a space feel larger and more open.
6. Colorful Elements For Vibrant Energy
Source – ___duundich__
Colors can have a significant impact on our mood and emotions. Bright and vibrant colors such as pink, purple, orange, and yellow can help create a positive and energetic atmosphere. For example, adding colorful throw pillows, blankets, rugs, furniture and even light can help create a vibrant and visually appealing bedroom.
7. Rattan Mirror Frame For Boho Vibe
Source – urban_decor_101
If you're looking to add some natural and organic elements to your bedroom decor, a rattan mirror frame is a great choice. Rattan is a type of palm plant that is often used in furniture and decor because of its durability and flexibility. A rattan DIY mirror frame can add a touch of bohemian style to your bedroom, while also creating a warm and inviting atmosphere.
8. Colorful Aesthetics With Pastel Walls
Source – aloralighting
Using different color pastel walls in a woman's bedroom can create a playful atmosphere, while using patterns on walls can add depth and dimension to the space.
9. Choose A Colour Palette
Source – pic2tina
Consider using color theory to guide your choices for the right colour palette. For example, you could choose one dominant color and then use accent colors that complement it. Alternatively, you could choose colors that have the same intensity or brightness level.
If you have existing artworks in your bedroom, use them as a starting point for coordinating colors. Look for colors in the artwork that you can pull out and use in your pillows. You could also choose pillows that have similar patterns or textures to your artworks.
10. Add Mandala Elements For Serenity
Source – bohemian_mandalas
If you're looking to add a touch of spirituality, serenity, and intricate design to your bedroom, mandala elements are a great choice. Mandalas are geometric designs that represent the universe, and they are often used in spiritual practices such as meditation and yoga. 
11. Dark Wall With Bright Florals
Source – Artist_kukunine9
Using a dark wall with bright florals is a bold and unique choice for a women's bedroom. This design trend has become increasingly popular in recent years and for good reason. The dark background adds depth and drama to the space, while the bright florals add a pop of color and femininity.
12. Plants To Bring In The Nature
Source – puerilismus
When selecting plants for your bedroom, it's important to consider the amount of light your room receives. Look for plants that thrive in low to medium light conditions, such as snake plants, pothos, or ZZ plants. These plants are also relatively easy to care for, making them perfect for beginners.
13. Poufs and Ottomans For More Comfort
Source – hart.huset
Poufs are perfect for resting your feet after a long day. Consider placing a pouf at the end of your bed or in a corner of the room where you can easily put up your feet and relax. Poufs and ottomans can also add a pop of color and pattern to your bedroom. Consider choosing pieces in bright colors or bold patterns that complement your existing decor.
14. Cherry Blossoms Wall
Source – debutantedesign
The delicate and graceful appearance of cherry blossoms can add a touch of serenity to your space.
15. Bring In The Sunshine
Source – debutantedesign
Sunshine themed elements in a woman's bedroom can add a warm and cheerful touch, creating a bright and uplifting atmosphere.
16. Macrame Everywhere
Source – howluxe
Incorporating elements such as macrame wall hanging and macrame plant hangers into a woman's bedroom can add a bohemian and cozy vibe to the space.
17. A Boss Woman Workspace
Incorporating macrame elements into a woman's bedroom can add a bohemian and cozy vibe to the space.
Source – Fashion_reboot_1991
Creating the perfect workspace in the bedroom can enhance productivity and comfort, providing a dedicated area for studying, working, or pursuing hobbies.
18. An All Floral Theme Bedroom
Source – enna.davydenko
An all-floral theme bedroom with floral wallpaper, floral lamps, and other floral accents can create a cohesive and enchanting design, bringing the beauty of nature indoors.
19. Add A Colourful Rug
Source – elramlahamranl
Adding a colourful rug to your bedroom can instantly transform a bland space into a vibrant oasis of comfort and style.
20. Canopy Bed For The Ultimate Coziness
Source – littleleaf_organic
Transform your bedroom into a luxurious oasis fit for a queen with a canopy bed – because every woman deserves to feel like royalty while drifting off to dreamland!
21. Attic Bedroom Decorating Ideas

Source- mybohoabode
An attic bedroom with string lights and boho vibe can be a dreamy and cozy space that feels like a private retreat. With its sloping ceilings and unique architectural details, an attic can be the perfect canvas for creating a boho-inspired bedroom that reflects your personality and style.
22. Luxurious Bedding For Princess Feels
Source – twinscollection469
Upgrade your bedroom game with luxurious, elegant bedding that will make you feel like you're sleeping on a cloud – because a good night's sleep is the ultimate form of self-care for every fabulous and fierce woman out there!
23. Gallery Wall In Your Bedroom
Source – interior__designs405
Who needs a boring blank wall when you can create your own masterpiece with a gorgeous gallery wall in your bedroom – because your style and creativity should never be confined to just your closet!
24. Black and White Feminine Bedroom
Source – cozyhavenn
A black and white bedroom is like a classic movie – timeless, stylish, and always in vogue, it's the perfect backdrop for your dreams to take center stage!
25. Statement Wall Art Behind Bed
Source – charlotte_collins_design
Putting a statement floral art piece behind your bed is like sleeping in a blooming garden, where the sweet scent of inspiration and beauty lulls you into a restful slumber!
26. Princess Bed For Royal Vibes
Source – the.picturesque.studio
A princess-like bedroom is every girl's dream come true – with its magical aura, sparkling decor, and a touch of royal elegance, it's like living in a fairytale that never ends!
27. Violet Lighting For Mystical Vibes
Source – vibechecklighting
Violet lighting in your bedroom is like a mystical potion, casting a spell of calmness and serenity that transforms your sleeping space into a dreamy sanctuary of relaxation.
28. Pastel Theme Modern Bedroom Decor
Source – martinispagesandfurbabies
A pastel theme bedroom is like a canvas of serenity, where the soft hues and gentle shades blend together to create a peaceful haven that soothes your soul and uplifts your spirits. To create a pastel theme bedroom, think of it as a sweet, delicate recipe – a cup of soft pinks, a dash of minty greens, a sprinkle of lavender, and a pinch of creamy yellows, all blended together with cozy throws and fluffy pillows for a dreamy, pastel paradise.
29. Artwork Wall Behind Bed 
Source – merrier_interior
Adding an artwork wall to a woman's bedroom is like sprinkling fairy dust on a blank canvas – it transforms a space into a magical wonderland of beauty and inspiration!
30. A Moodboard Wall Full Of Posters
Source – texturesoul_
Nothing sets the mood for a fabulous day like waking up to a wall full of your favorite posters, inspiring quotes, and colorful imagery – it's like a visual hug for your soul.
31. Mirror Wall With Bright Floral Wallpaper
Source – kate_rose_morgan
Who needs a fairy godmother when you can sprinkle your room with bright, blooming flowers and a magical mirror that reflects your inner beauty every time you walk by.
32. A Tapestry That Matches Your Decor Theme
Source – kate_rose_morgan
Adding a tapestry to your bedroom is like putting the cherry on top of a sundae – it's the perfect finishing touch that ties your decor theme together and adds a touch of flair that'll make you feel like a free-spirited goddess!
33. A Special Sitting Corner
Source – boost_your_home

Every fabulous queen needs a throne to rule from, and a cozy sitting corner in your bedroom is the perfect spot to sip tea, read a book, or simply bask in your own awesomeness!
34. Pillow With Favorite Quote
Source – integrityandgracemc
Sometimes you just need a gentle reminder of how amazing you are, and what better way to do that than with a fluffy pillow emblazoned with your favorite quote – it's like a daily dose of inspiration, delivered straight to your dreams!
35. Colour Coordinated Pastel Walls
Source – bohohomedecoboutique
Let's face it, life is messy and unpredictable – so why not add some abstract art to your bedroom to remind you that beauty can be found in chaos, and that even the most abstract ideas can come together to create something truly amazing
36. Mirrors On Both Sides Of The Bed
Source – saybrookhome
Having a mirror on both sides of your bed means you can wake up, strike a pose, and start your day with twice the confidence and twice the glamour – it's like having your own personal runway right in your bedroom
37. Dresser With Fancy Lights
Source – cozyhavenn
Who says getting dressed has to be a mundane task? With a dresser decked out in fancy lights, you can add a touch of Hollywood glam to your daily routine – it's like being a starlet getting ready for her big moment, every single day.
38. Leaf Print Ceiling
Source – ourlayeredhome
You don't need  a trip to the tropics when you can have a leaf print ceiling in your bedroom, transporting you to a lush jungle paradise every time you close your eyes – it's like having your own secret hideaway, high above the rest of the world.
39. Small Bedroom Decorating Ideas For Women
If you have a small bedroom and want to maximize the space, consider adding a sofa cum bed. This functional piece of furniture can serve as a comfortable place to sit during the day and a cozy bed at night.
40. Place Bed Against The Window
Source – bohemian_heaven
With a window behind your bed, you can watch the sunrise, gaze at the stars, or simply enjoy the beauty of nature from the comfort of your own cozy oasis – it's like a dream come true, one windowpane at a time.
41. Farmhouse Style Decor
Source – ownkoti_official

With a farmhouse-style bedroom, you can bring the rustic beauty of the countryside into your urban abode, creating a warm and inviting retreat that's perfect for snuggling up with a good book or some hot cocoa – it's like a little slice of heaven in the heart of the city.
42. A Rattan Daybed
Source – julieshomeinspo
Lounge in the luxurious comfort of a rattan daybed, surrounded by plush pillows and your favorite books – it's like a fairytale come true, with a touch of tropical charm with plans that create an urban jungle vibe. 
43. Framed Poster Wall
Source – bluemoodphotography
Whether you're a fan of classic movies, inspiring quotes, or quirky illustrations, a poster wall in your bedroom is the perfect way to showcase your personality and add some pizzazz to your decor – it's like having your own private art gallery. 
44. LED Strip Light
Source – thats_wow__
Use led strip lights to transform your bedroom into a groovy wonderland. Whether you're in the mood to dance, relax, or set the mood, these versatile lights can help you create any ambiance you desire – it's like having your own personal DJ booth, with a touch of neon glam
45. Curtains Around Bed For Rustic Charm
Source – curatedhomedecor
With billowing fabric and a touch of elegance, this simple yet stunning decor hack can turn your bedroom into a luxurious oasis fit for a queen – it's like having your own private palace, with a touch of whimsical charm!
46. A Circular Bed
Source – circu_magical_furniture
Why sleep in squares when you can dream in circles? A circular bed is the perfect way to add a touch of uniqueness and whimsy to your bedroom, allowing you to sleep in style and wake up feeling refreshed and rejuvenated – it's like being wrapped in a cozy, circular hug every night!
47. A Statement Chandelier
Source – mood_designstudio.ae
Whether you prefer crystal, chrome, or colored glass, a statement chandelier can add a touch of drama and elegance to your decor, creating the perfect ambiance for a luxurious night's sleep – it's like having your own personal starry night, right above your head.
48. A Starry Ceiling
A starry ceiling is the perfect way to create a dreamy and romantic atmosphere, allowing you to relax and unwind under the twinkling lights of the night sky – it's like having a galaxy of your own, right above your head.
49. A Decorative Bench At The Foot Of The Bed
Source – retwiggdstylist
Whether you prefer plush velvet, rustic wood, or chic leather, a foot-of-the-bed bench can tie your entire bedroom together and make it feel like a luxurious and cohesive space.
50. White And Neutral Shades To Add Space
Source – home.thirtyfour
With a color scheme of white and neutral shades, you can create the illusion of a spacious and airy bedroom without having to knock down any walls. These light and bright tones can open up your room and make it feel more inviting. 
51. Bring On The Colours
Source – florisinaforest
From vibrant throw pillows to eye-catching artwork, these pops of color can help express your individuality and create a space that's uniquely you – it's like giving your bedroom a vibrant personality that matches your own.
52. Mattress On Floor For A Different Look
Source – mycradleofdreams

A mattress on the floor may seem unconventional, but it can create a cozy and inviting atmosphere that's perfect for snuggling up and sleeping in. Plus, without the need for a bulky bed frame, you can save on space and give your room a minimalist and modern look. With the right bedding and decor, a mattress on the floor can be just as stylish and comfortable as a traditional bed – it's like having a cozy nest that you never want to leave
53. Tassel Garlands For Bohemian Look
Source – theneonteaparty
Whether you go for earthy neutrals or bold and bright colors, a tassel garland can be the perfect finishing touch to your bedroom decor – it's like giving your room a playful and carefree spirit that can make every day feel like a celebration.
54. Colorful Mosaic Side Table
Add a pop of color and a touch of whimsy to your bedroom with a colorful mosaic side table! This unique and eye-catching piece can serve as both a functional and decorative accent, providing a spot for your books, candles, or morning cup of coffee, while also adding a vibrant and playful touch to your decor.
55. A Birdcage With Flowers
Source – chandellederusa
This whimsical and charming decor piece can add a touch of vintage elegance to your space, while also bringing the fresh scent and vibrant colors of nature into your room. Whether you go for classic roses or colorful wildflowers, a birdcage with flowers can be a unique and delightful addition to your bedroom decor – it's like having a little piece of the outdoors right in your own private sanctuary
56. Tassel Curtains
Colourful tassel curtains are a trendy and stylish way to add a touch of bohemian flair to your bed. They can be hung from a canopy bed frame or simply draped over a regular bed frame to create a soft and flowing effect.
57. A Stylish Fan
Adding a stylish, modern, and designer-looking fan to your bedroom can instantly elevate the overall look and feel of your space. Not only does it provide functionality by keeping you cool and comfortable, but it can also serve as a statement piece that enhances the aesthetic appeal of the room.
58. Cane Lamp Shade For A Natural Look
Bring the warm glow of nature into your home with a cane lamp shade, adding an organic touch to your interior decor.
59. An All-White Bedroom
Transform your bedroom into a peaceful sanctuary with an all-white color scheme, where every element radiates pure elegance and tranquility.
60. A Moroccan Style Rug 
Infuse exotic charm and plush comfort into your bedroom with a Moroccan rug, creating a cozy oasis that reflects your worldly tastes.
61. Coastal Bedroom For Beachy Vibes
Source – sandandsisal
Drift away to a dreamy seaside escape every night with a coastal bedroom, where oceanic hues and natural textures evoke a serene and refreshing ambiance.
62. Burst Of Colors
Source – akailochiclife
Experience a vibrant and eclectic dreamland with a kaleidoscope-inspired bedroom, where playful patterns and bold colors merge to create a truly mesmerizing visual feast.
62. Scandinavian Minimalist Bedroom
Source – homeyohmy
Find peace in simplicity and understated elegance with a Scandinavian minimalist bedroom, where every element serves a purpose and harmonizes to create a serene and functional retreat.
63. French Farmhouse Style Bedroom
Unleash your inner Francophile and create a charming French farmhouse style bedroom by incorporating vintage accents, natural materials, and a soft color palette that exudes timeless elegance.
64. Royal Parisian Bedroom
Source – adoreyou_pl
Indulge in opulence and grandeur fit for royalty with a Parisian bedroom, where luxurious fabrics, ornate details, and a regal color scheme combine to create a lavish and unforgettable sleeping space.
65. Exquisite Whimsical Bed
Source – theglampad
Nature inspired foliage and birds wallpaper and the perfect canopy bed to transport you to the mystical fairyland, this bedroom is for the dreamers. 
66. Vintage Bedroom
Source – viets_brook_farm
Take a step back in time and create a nostalgic and charming vintage style bedroom by combining antique pieces, soft fabrics, and pastel hues that evoke a cozy and romantic ambiance.
67. Gold Theme Romantic Bedroom
Source – andrewsuvalskydesigns
This bedroom was transformed into a dreamy haven with a plush brocade headboard, complemented by a Venetian-style mirror featuring a golden frame. The soft lavender glow from the glazed ceramic lamp bases adds a romantic touch.

The use of sand, toffee, and fur accents in the bedding evokes a sense of warmth and comfort, making this space the perfect retreat for rest and relaxation.
68. Add A Fireplace
Source – 4cuorie1casa
Adding a fireplace to a woman's bedroom is like adding a warm and cozy hug to your decor – it instantly elevates the ambiance and provides the perfect spot to curl up with a good book and a glass of wine.
69. Vintage Farmhouse Style Decor
Source – our1897vintagefarmhouse
Transport your home back in time with the rustic charm of vintage farmhouse style decor, by incorporating reclaimed wood, distressed finishes, and cozy textiles.
70. A Japanese Style Bedroom
Source – my_homey_room
A low platform bed, made from wood or tatami mats, is a classic element of Japanese style bedrooms. Soft lighting, such as paper lanterns or dimmer switches, will create a calm and relaxing atmosphere. Incorporate the artful simplicity of Japanese style decor, where minimalism meets tranquility through soothing colors, natural materials, and a touch of Zen.

72. Zen Bedroom Energy
Declutter the space and remove any unnecessary items that may cause visual distraction. A minimalist approach is key to creating a Zen-inspired bedroom. Choose comfortable, high-quality bedding in calming colors and soft fabrics to create a cozy and inviting feel.
73. Travel Inspired Bedroom
Source – lifewithbecca_
One way to create a travel-inspired bedroom is to use maps and globes as decorative elements. Hang a large map on the wall, or use a globe as a centerpiece on a dresser or DIY nightstand. You can also use vintage suitcases or trunks as storage or decorative pieces.
74. Hand Painted Furniture For Royal Look
Source – stylebeatblog

Rather than buying mass-produced furniture, using hand-painted pieces can give a new life to old or thrifted furniture. This can also be a budget-friendly option, as you can often find old pieces at a fraction of the cost of buying new.
Flowers, intricate designs, and soft color palettes are commonly used in hand-painted furniture, and can create a feminine and romantic feel.
75. Paint Your Walls A Different Colour
Source – jonathany_official
Orange is a color that is often associated with energy, enthusiasm, and creativity. Burnt orange, in particular, can evoke feelings of warmth, comfort, and excitement. Using this color on your walls can help create a positive and uplifting atmosphere in your home.
76. An Eclectic Chic Side Table
Source – global_home_interiors
A bedside table is not only a decorative element, but it is also a functional piece of furniture. It provides a convenient place to store your bedside essentials, such as books, glasses, or a glass of water. An eclectic table can offer both style and practicality, adding both function and beauty to your space. Allows for creativity and flexibility.
77. Chic Small Bedroom Decor
Source – case.devis
From the soft, plush bedding to the statement lighting fixtures and unique decor, a chic bedroom is a space that is designed to be both functional and beautiful. Decorative accents like unique wall art, stylish lanterns, soft rugs add the finishing touches to the space, creating a look that is both timeless and on-trend.
78. Urban Jungle Bedroom
Source – blivinguae
An urban jungle bedroom is a lush and vibrant space that brings the beauty of nature indoors. It is a fusion of modern, urban style and the wild, untamed energy of the jungle. The indoor plants add a sense of life and energy to the space, while also purifying the air and promoting relaxation and well-being.
79. Rustic Vintage Decor
The centerpiece of a rustic vintage bedroom is the distressed wood furniture. Pieces like a wooden four-poster bed, a distressed dresser, and a vintage vanity all add character and charm to the space. The worn and weathered look of the wood creates a sense of history and adds to the overall vintage aesthetic. 
To complement the distressed wood furniture, an elegant chandelier is often added to the space. This creates a stunning contrast between the rough and rustic wood and the delicate and ornate crystal or wrought-iron chandelier. The chandelier adds a touch of glamor and sophistication to the space, elevating the rustic vintage look to new heights.
80. Whimsical Botanical Garden Bed
Source – starkcarpet_morristown
A whimsical botanical garden bed in a bedroom is a dreamy and enchanting space that transports you to a lush and verdant garden oasis. It is a bed that is designed to resemble a natural garden, complete with vines, flowers, and leaves that seem to be growing up and around the bed.

The bed itself is a work of art, with a custom-made frame that is designed to look like the branches of a tree. Vines and flowers are carefully woven around the frame, creating a natural and organic feel. The bedding is made of soft, luxurious fabrics in shades of green, white, and pink, adding to the overall garden-inspired aesthetic.
81. A Dreamy Oasis
Source – brighteyesanddreamyspaces
The focal point of a whimsical bedroom is often the bed, which is adorned with colorful, patterned bedding and a mix of decorative pillows in various shapes and sizes. In this case, the patterned rug perfectly compliments the bed to create an ambient look. 
82. Half Wood Slat Accent Wall
Source – designmomdiaries
The wood slats are carefully installed to cover one half of the wall, adding a sense of depth and dimension to the room. The other half features a bright floral wallpaper. The wood slat accent wall is often paired with minimalist decor, like a simple bed to create a modern and sophisticated look.
Read – 26 Modern Bedroom Accent Wall Ideas Trending in 2023
83. Tribal Prints Inspired Room Decor
Source – 1stdibs
The walls of a room with tribal prints inspired decor are often painted in warm and earthy tones, like terracotta, sand, or ochre, to create a rustic and natural feel. The walls may also be adorned with wallpaper featuring traditional tribal patterns, like chevron or geometric designs.
A tribal prints inspired room decor is a bold and vibrant style that draws inspiration from the traditional patterns and motifs of various indigenous cultures around the world. It is a perfect choice for those who love to infuse their space with an eclectic and exotic vibe.
84. Personalized Decor With Your Name
Source – lifewithsonnyjade
There are many ways to incorporate personalized decor with a name into your space. One popular option is to hang a custom name sign on the wall, which can be made from a variety of materials, such as wood, metal, or acrylic. These signs can be designed to match the style of your room, with various fonts, colors, and graphics to choose from. 
Another option is to use personalized bedding or throw pillows, which feature your name or initials embroidered or printed on them. This adds a cozy and intimate feel to your space, and is a great way to make your bed a focal point in the room.
85. Lights To Guide You Home
Source – cabin.by.vero
String lights are an easy and affordable way to add soft, ambient lighting to a space. Unlike harsh overhead lighting or bright lamps, string lights create a warm and cozy atmosphere that is perfect for relaxing and unwinding.
86. Vase Of Fresh Flowers
Source – elle_the_home_bird
Fresh flowers are a natural and beautiful way to add color, texture, and visual interest to a room. They can instantly brighten up a space and create a sense of beauty and warmth.
87. Use Bookshelf As A Divider
Source – ena_inaday
A bookshelf can act as a functional divider, allowing you to separate your bedroom into different areas without taking up too much space. This is particularly useful in a small bedroom where space is limited, as it can create the illusion of a larger room and make it feel less cramped.
88. Incorporate Natural Light
Source – desainkamar
Exposure to natural light can improve mood and promote a sense of well-being. Sunlight triggers the release of serotonin, a neurotransmitter that is associated with feelings of happiness and calmness.
89. Cute Bedroom Ideas For Women
Source – charliescottageludlow
If you're looking for cute blue-themed bedroom ideas for women, consider incorporating shades of blue that complement each other. For instance, a combination of light blue and cobalt blue can create a calming and sophisticated atmosphere. Opt for bedding with patterns or prints that incorporate different shades of blue, such as stripes or florals.
90. Androgynous Art For Empowerment
Source – around.robyn
Androgynous art can challenge traditional gender roles and stereotypes, which can be empowering for women who may feel limited by societal expectations.
91. Black Accent Wall
Source – lisa_loves_vintage
A black accent wall can add a dramatic and eye-catching element to a bedroom. It can create contrast against lighter-colored walls and make other design elements in the room stand out.
92. Brick Wall For Natural Feel
Source – charlesprogersbeds

Brick walls are durable and low-maintenance, making them a great option for a bedroom. They can withstand wear and tear over time and require minimal upkeep compared to other wall materials.
93. Vintage Farmhouse Cottage Style White Bedroom
Source – putheartinhome
A vintage farmhouse cottage style white bedroom is a beautiful and charming space that exudes warmth, coziness, and simplicity. This style incorporates elements of traditional farmhouse design, with a focus on natural materials and rustic finishes. The use of a soft white color palette creates a tranquil and relaxing atmosphere that is perfect for a bedroom.
94. Bedroom Ideas For Women In Their 30s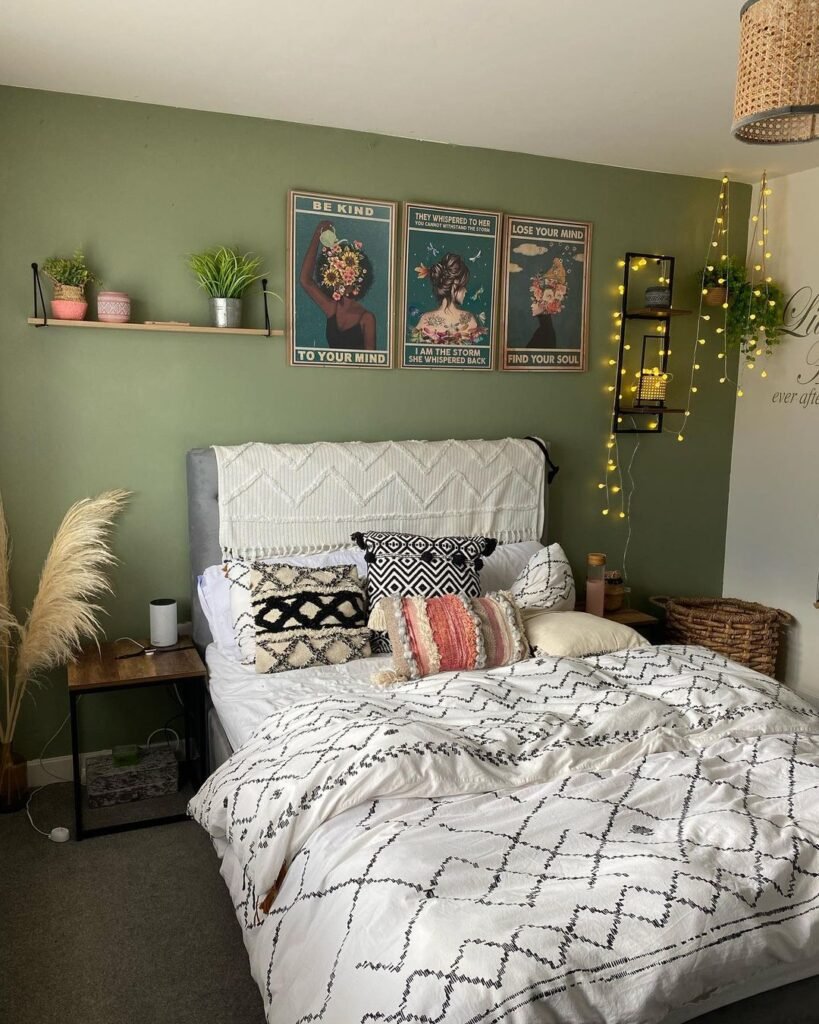 Incorporating meaningful artwork or personal mementos can add a touch of sentimental value to the space. With these design elements in mind, a woman in her 30s can create a bedroom that showcases her personality. I personally love the inspirational quotes artworks in this bedroom that define the personal values.
95. An Extravagant Headboard
Source –  nostalgia_rag
A type of extravagant headboard is the metal headboard. These headboards can be made from wrought iron, brass, or other metals. They can feature intricate scrollwork, geometric designs, or other decorative elements. Metal headboards can be finished with a range of different techniques, including patinas, distressing, or even gold or silver leafing.
96. Vintage Bed For Elegance
Source – luxuristays
Wooden beds have been popular for centuries due to their durability, versatility, and natural beauty, and a vintage wood bed can add a touch of old-world charm and sophistication to any bedroom.
97. Add a DIY Bookshelf
Source – kristisnarsky
You can repurpose an old piece of furniture, such as a dresser or a set of shelves, and turn it into a DIY bookshelf. This can be a fun and creative way to give new life to an old piece, and can add a unique and eclectic element to your bedroom decor.
98. Small Bedroom Ideas For Women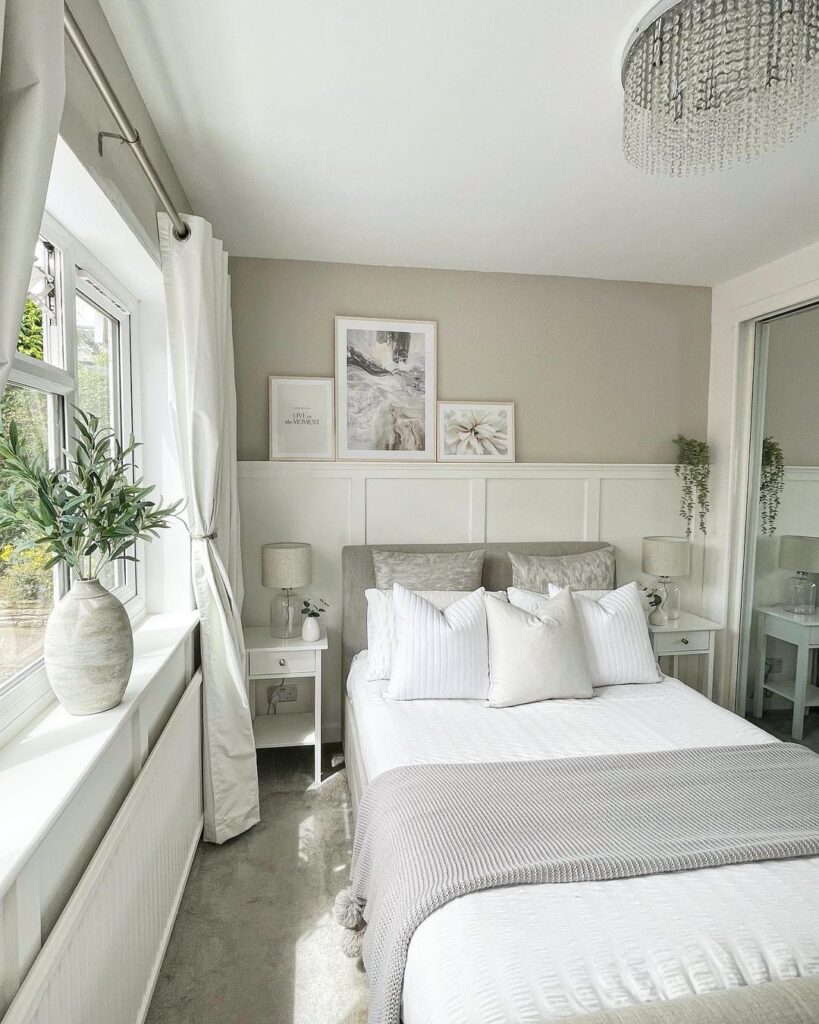 99. Elegant Side Table
Source – Nostalgia_rag
If your bedroom has a vintage or antique theme, you might opt for a side table with a more ornate and intricate design, such as a table with carved wood or metal accents. You can also create your own DIY sidetable.
100. Comfy Sleeping Nook
Source – ninivinterior
Creating a comfy sleeping nook in your bedroom next to a window can be a great way to maximize space and create a cozy and inviting atmosphere. With a few simple design tips, you can transform an underutilized area of your bedroom into a relaxing retreat perfect for reading, napping, or simply enjoying the view. 
To create a comfy sleeping nook next to a window, start by selecting a comfortable mattress or cushion to use as a base. You can also add additional lighting, such as a reading lamp or string lights, to create a warm and inviting atmosphere in the evening.