Are you looking for a comfortable set up where you can sit and work every day? Well, you can create one yourself using these amazing DIY Desk Plans that are quick and pocket-friendly. These plans are super diverse and you can pick out the one that suits best for your needs.
DIY desks can be super easy and beginner-friendly to an intermediate, elaborate project. No matter what design you choose, these DIY desk plans have step-by-step instructions, diagrams, and material lists clearly laid for you! So, keep reading to shortlist the perfect desk for yourself!
If you like these ideas do try these DIY floating shelves projects to save some space and DIY coffee bar ideas for a relaxing break during work!
DIY Studio Desk Plans
Give your studio space an organized makeover by trying out these creative and easy-to-follow DIY studio desk blueprints.
1. Minimalist Bedroom Studio Desk Plan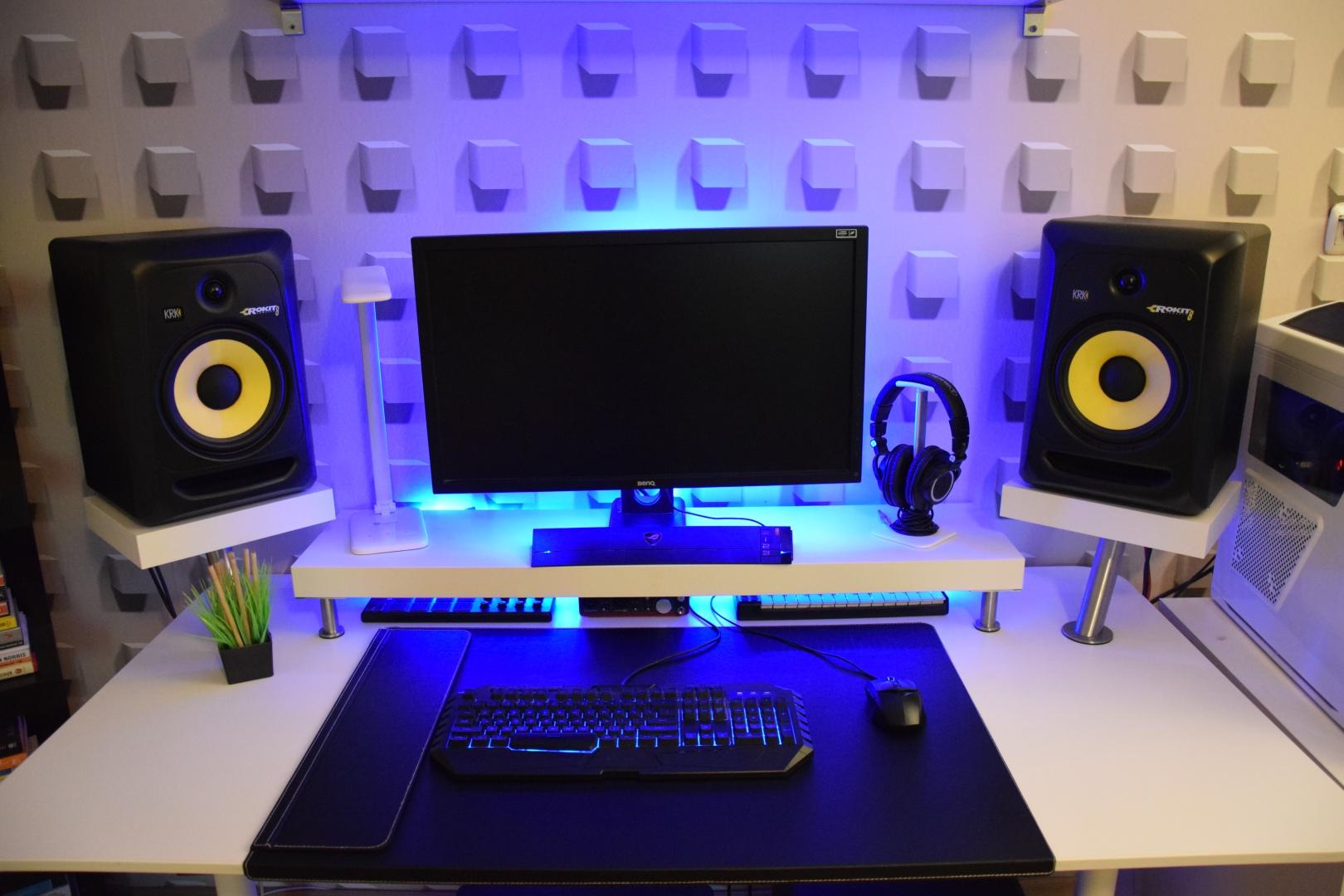 Source: promusicproducers.com
If you are looking for a desk space that can hold your elaborate tech setup as well as provide sufficient space to work? This DIY studio desk plan by promusicproducers.com is a perfect choice! It is creatively designed with elevated shelves to place your desktop, speakers, headphones, etc.
The table has a bright blue LED installed for an attractive appeal. Overall, it is a comfortable and organized plan for you working, creating, or gaming!
2. Reclaimed Wood DIY Studio Desk Plan
Source: simplifiedbuilding.com
How about turning an old wooden door into a sturdy DIY studio desk? This creative and detailed DIY modern desk plan will help you make a well-organized desk designed in a two-tier style. The desktops and speakers are placed at a higher level to provide you with plenty of working space at the lower level.
Two racks of drawers are also added to the plan for additional storage. It is an easy, affordable, and super functional DIY studio desk plan!
Also, read – 50 Game Room Ideas That You Will Love
3. DIY Studio Desk
Source: rockscience.net
DIY Computer Desk Plans
Adding a computer desk to your bedroom or any other room can increase your productivity a lot! These DIY computer desk plans are modern and appealing designs that will surely motivate you to work.
4. Farmhouse Style DIY Computer Desk
Source: shanty-2-chic.com
I love how chic and modern this DIY computer table plan looks. The dark stained wood gives the table a sophisticated look. It is a long rectangular table with x-shaped legs making it very spacious and sturdy. You can place it along a wall and hang some frames like the image above. Also, you can customize this super simple diy desk plan to fit the dimensions of your room!
Read – 28 Best DIY Standing Desk Ideas For Your WFH Set-Up
5. DIY Industrial Computer Desk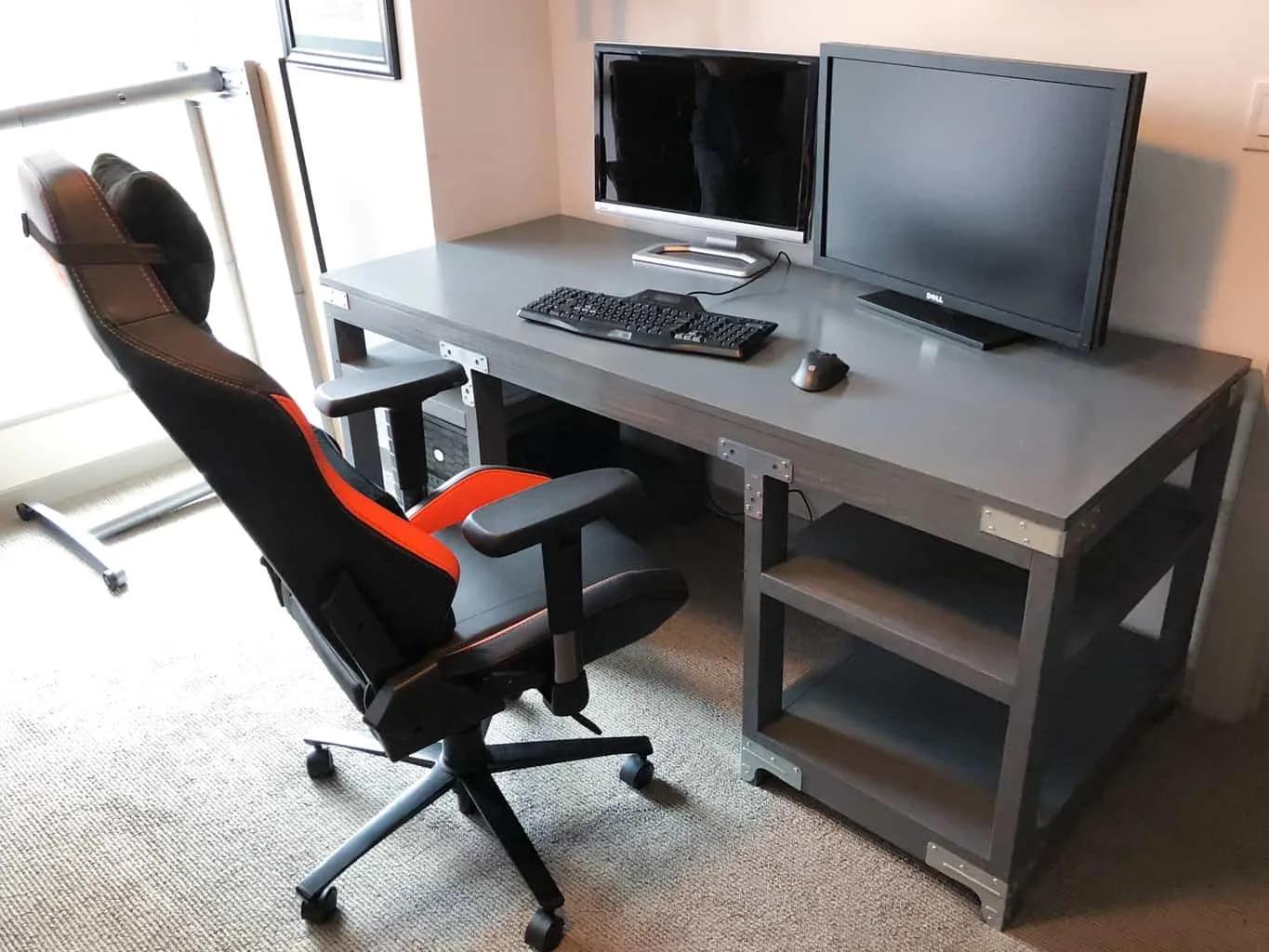 Source: thehandymansdaughter.com
Industrial decor has a very sturdy and real appeal to it. This DIY computer desk plan features plenty of surface area for your computer as well as other work items. The table also comes with extra storage shelves which is really neat.
The whole table is painted a steel gray which mimics iron which is so satisfying. If you've been looking for an industrial work desk, you should try this easy DIY desk plan for sure.
Read – 50 Amazing Built In Desks For Home Offices
6. Minimal Wood Computer Desk with Shelves
Source: welivedhappilyeverafter.com
These are beautiful muted wooden DIY computer desk plans that make for the perfect work area accompaniment. It is a nice long table so two people could easily work at the same time if they want. That's honestly a great thing if you ask me.
The wood is finished in a natural stain which is so pleasing to the eye. The desk is also built with shelf space for extra storage. You can never say no to storage right? Of course, the simple DIY desk plans are customizable to fit your home space and feel.
Click here for DIY Chair Plans.
DIY Farmhouse Desk Plans
Get ready to plow through your work with style! Build your own farmhouse desk with these DIY plans and enjoy the perfect blend of rustic charm and modern functionality.
7. DIY Industrial Farmhouse Desk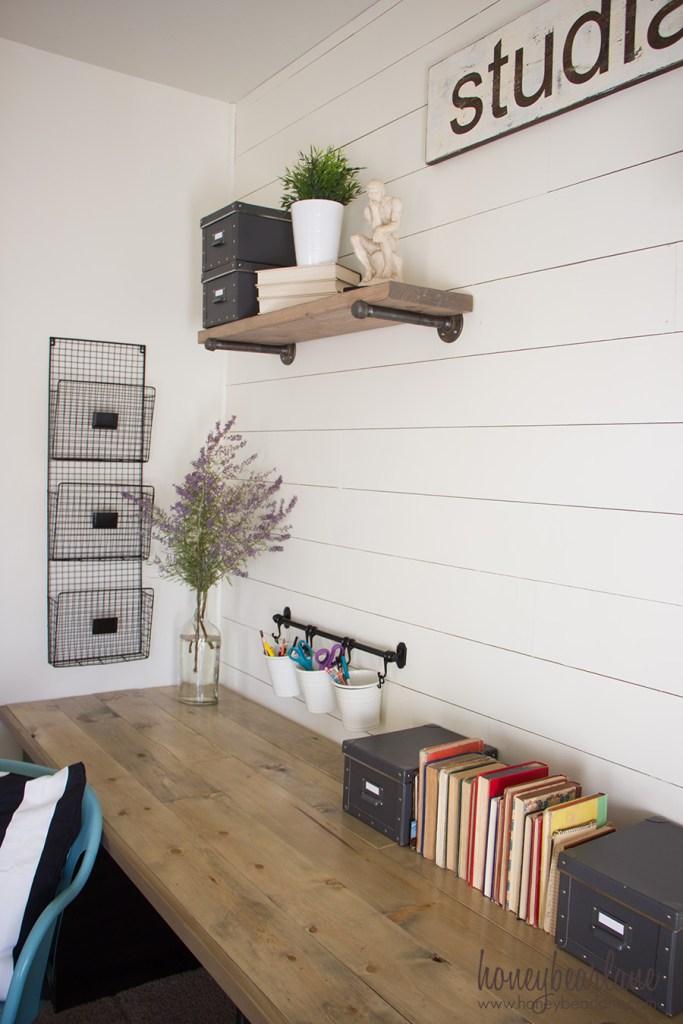 Source: honeybearlane.com
If you have been looking for DIY farmhouse desk plans this one is pretty much perfection. It will fit nicely into a corner of the room. The top is designed to be a sturdy butcher block so you can select the wood accordingly.
The finished desk has a very industrial farmhouse feel which is great. The multipurpose easy DIY modern desk plans are easy to follow so you should surely look into this one. You can add some DIY desk organisers for a neat look.
8. DIY Farmhouse Office Desk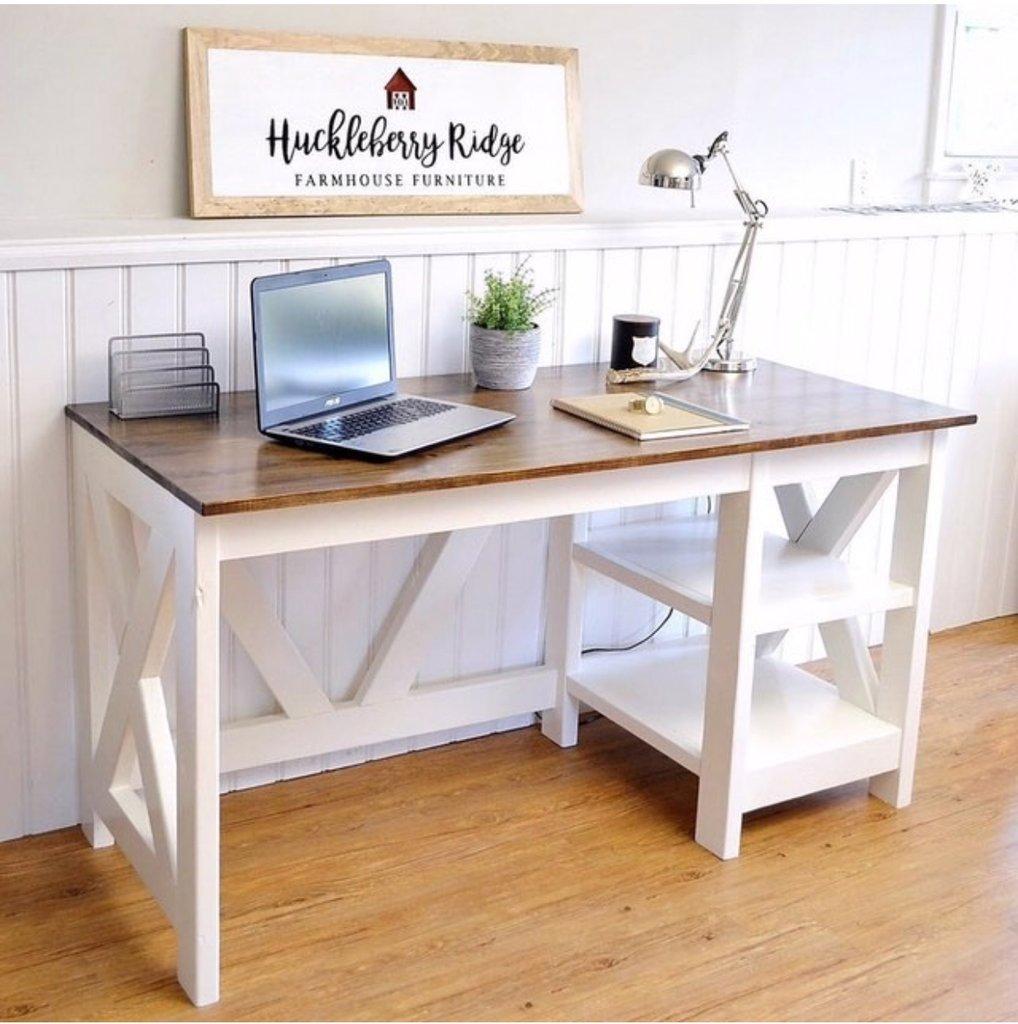 Source: handmade-haven.com
For those of you who have a farmhouse themed house, these lovely DIY farmhouse desk plans will be a hit. Now you can spice up your home office with a rustic farm feel that is both useful and pretty to look at.
The X based support on both sides offer good stability. Also the contrast of the white support with the wood grain finish top is a really nice touch.
9. Compact Solid Farmhouse Desk
Source: chiselandfork.com
We love these DIY farmhouse desk plans for how simple and easy they are to follow. Not to mention this table looks really classy and would make a great addition to your home office.
You can customize the shelves and drawers by making them sliding and open. Now that's a neat trick if you ask me. If you like compact solid wood furniture, you will love these easy DIY desk design plans.
DIY Pipe Desk Plans
Get ready to turn your workspace into an industrial powerhouse with these DIY pipe desk plans! With just a few pipes, fittings, and a dash of creativity, you can build a custom desk that's as sturdy as it is stylish.
10. DIY Easy Pipe Desk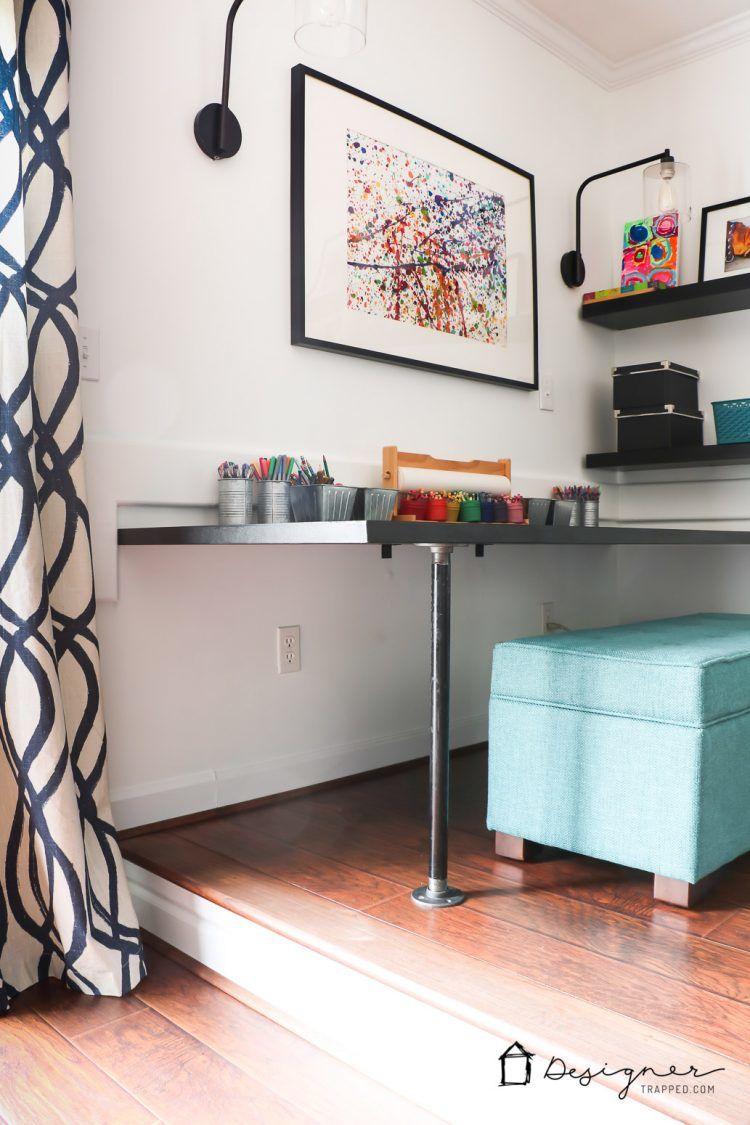 Source: designertrapped.com
I honestly never thought I would see DIY standing desk plans that were made using a door, but here we are. This one is easy to make, it looks different from most other DIY desks and it is really economical. Make something a little different for your home with this cute pipe desk. Since the table top is a door, you know you have a lot of surface area as well.
11. Industrial Pipe Desk
Source: houseandhammer.com
If you're up for a sturdy industrial look, then you should try these DIY office desk plans. Made with industrial pipes and reclaimed wood, this table is almost completely recycled. It even comes with open shelf storage. Storage space can be customized according to your liking. These easy DIY writing desk plans have a sleek sturdiness which can be assembled quickly.
12. Versatile Pipe Desk
Source: homedit.com
If there is one thing that is almost a staple in every home around the world, it is a desk. And here are the perfect easy DIY desk ideas that will suit every household. If you've been looking at embracing the industrial chicness of pipe desks, then this tutorial has everything for you.
Anyone who likes solving puzzles will like making a DIY desk with pipes and wood. So if you're looking for good DIY standing desk plans, you should check out this tutorial.
13. DIY Adjustable Standing Desk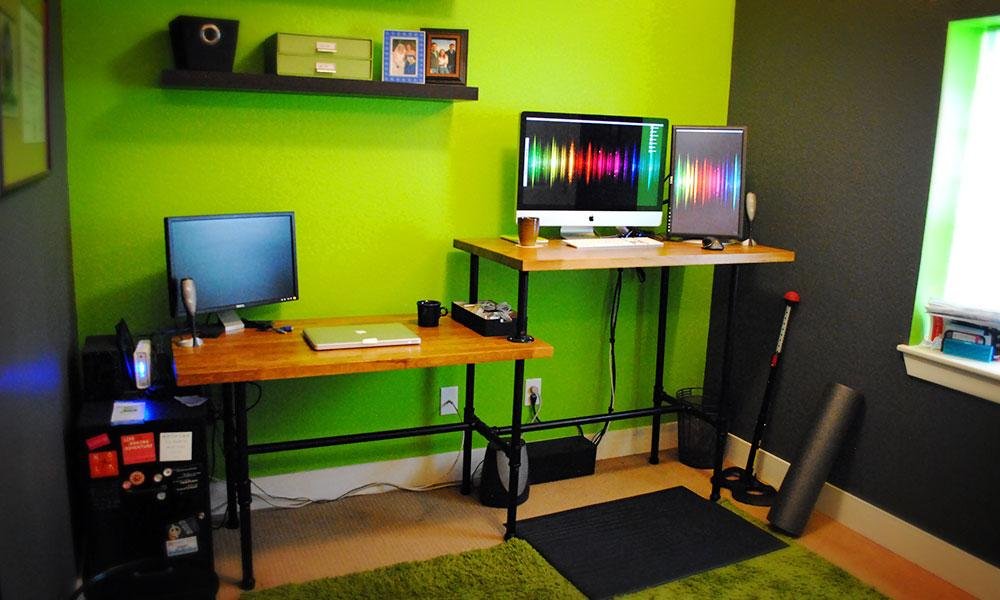 Source: sparksight.com
If there is something more intriguing than an easy DIY desk plan, it is these DIY standing desk plans. It is customizable, so you can sit for some time and easily stretch your legs when necessary too.

Pipe desks have the advantage of being extendable which is great for those who work long hours. These free and simple DIY desk plans will help you make that a reality.
DIY L Shaped Desk Plans
Shape up your home office game with an L-shaped desk that's built just for you! With these fun and easy DIY plans, you can create the ultimate workspace that fits your unique needs and personal style
14. Rustic L Shaped Desk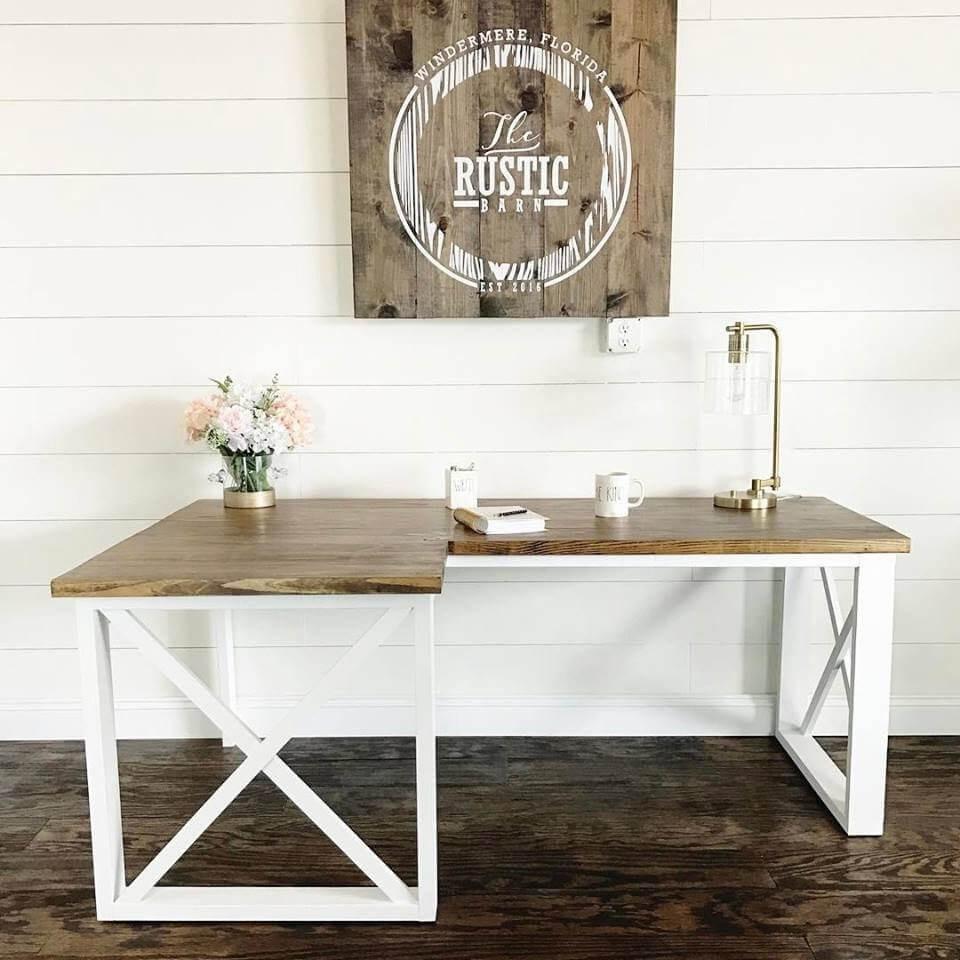 Source: handmade-haven.com
These free DIY L shaped desk plans are a boon for anyone who wants to have some funky table designs. The beauty of the L shape is that you can maximize the corner space for more utility. This type of desk works really well in a home office too.

For this design, the plans use a beautiful X trim detail. This adds a nice visual aspect as well as provides the desk more stability. The classic white base with the wood grain top is also very pleasing.
15. Compact L Shaped Desk
Source: shanty-2-chic.com
DIY L shaped desk plans are great for a corner to maximize the space. The design mentioned here is really simple and easy to make. Making the table out of plywood ensures that it is lightweight and easy to move when necessary. Most L shaped desks are used as kids study tables and home offices. So it makes sense to have some drawers or open storage space, like with this one.
Also, read – 45 Unique Bedroom Organization Ideas To Declutter Your Space
16. Standing L Shaped Desk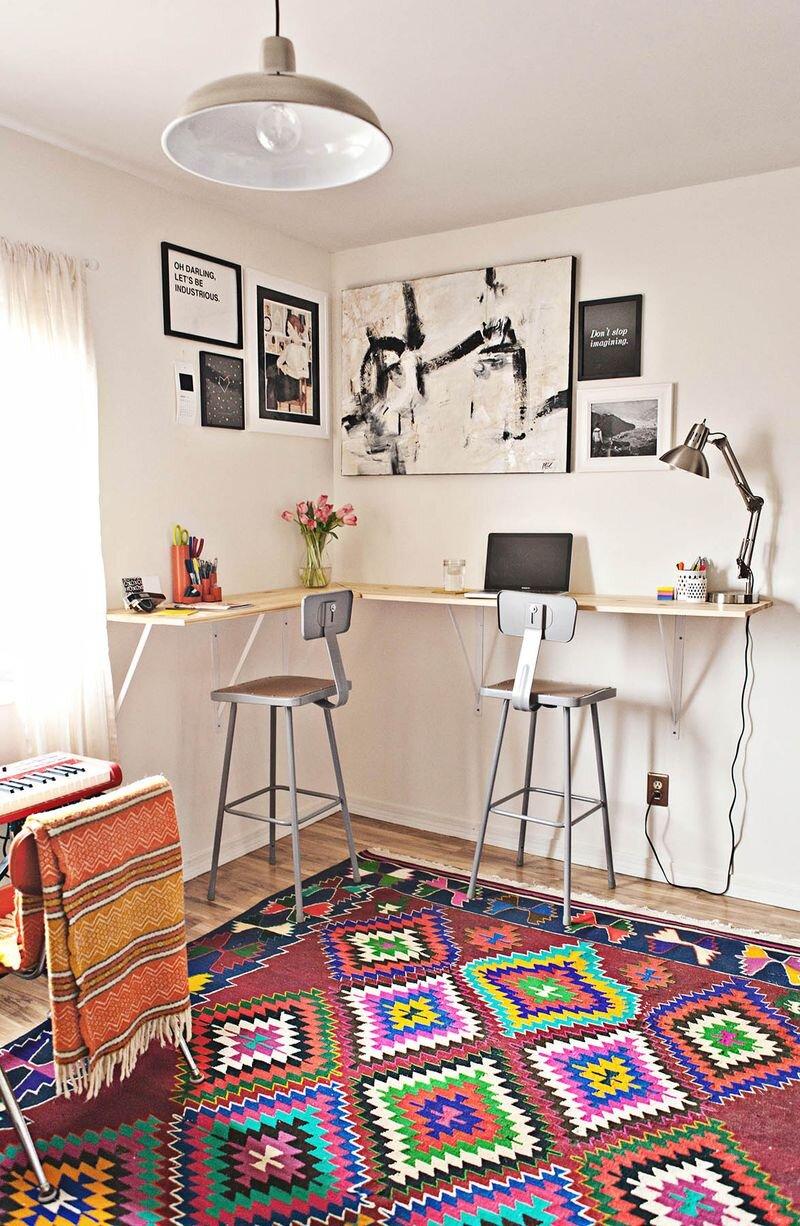 Source: abeautifulmess.com
These are perfect DIY standing desk plans for those of you who don't want a giant desk taking up space in the room. A few advantages to this virtually floating desk are – it allows plenty of work area and frees up most of the room. Bonus is that it is really easy to make. You can easily customize these easy DIY desk ideas to fit the dimensions of your room.
17. DIY Corner Desk
Source: chalkingupsuccess.com
If you've been looking for DIY L shaped desk plans to maximize your workspace it cannot get better than this. This desk utilizes the perimeter of your room leaving plenty of free space in between.

You can use this as a computer desk, a workstation and display area all in one. Neat isn't it? Using strong and sturdy wood, you can use these DIY office desk plans yourself.
DIY Desk Plans with Drawers
From pens and pencils to paper clips and post-it notes, keep your workspace organized and clutter-free with these DIY desk ideas that come with drawers built-in. Get ready to stash your stuff in style and get down to business like a boss!
18. DIY Desk with Drawers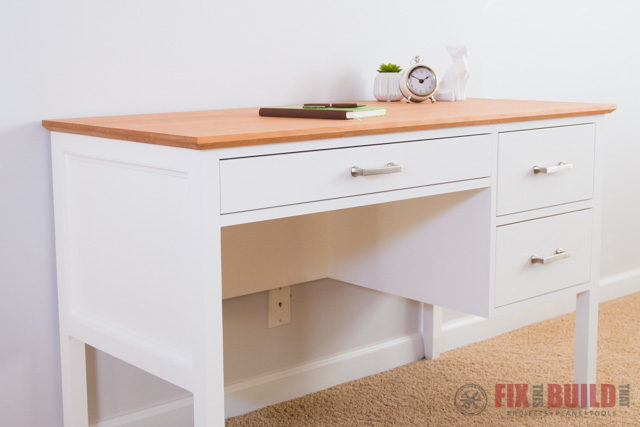 Source: fixthisbuildthat.com
When working from home, it is really essential to have a good work space. That is why these DIY writing desk plans with drawers are a really handy piece of furniture to build for yourself.

Drawers in your desk can help you get organized and reach for things easily. You can use them as storage. And most of all, it can really complete the look of your desk. The DIY studio desk plans are strong and sturdy for you to work in small spaces.
19. Traditional DIY Storage Desk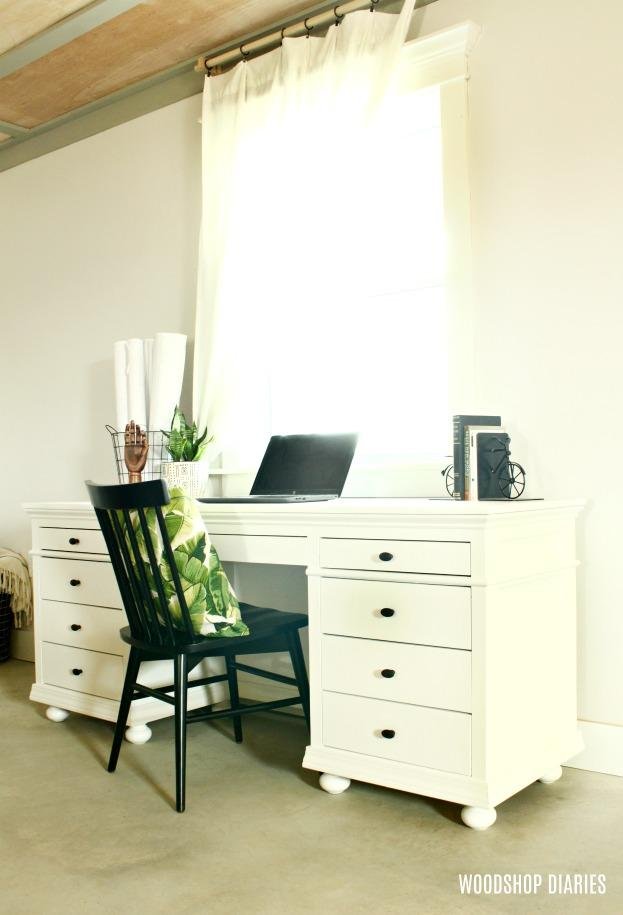 Source: woodshopdiaries.com
When it comes to looks, very few come close to this class desk design. These DIY desk plans with drawers have a simple yet modern feel. The multiple drawers are a blessing for organization too. The antique style legs also offer a novel feel to the table, although you can choose any style you want.
20. X Frame Drawer Desk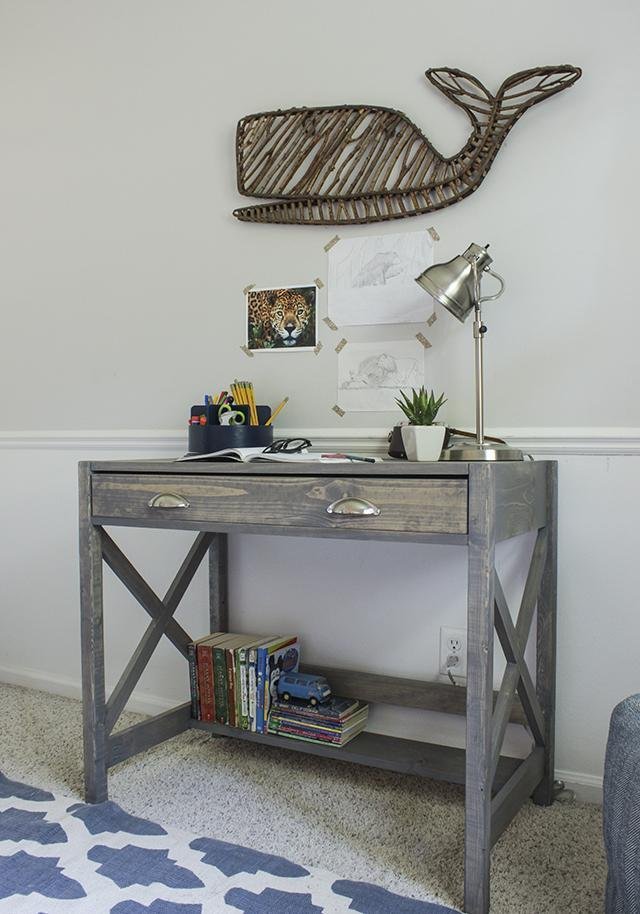 Source: shadesofblueinteriors.com
This table is the perfect workspace for a dorm room or small corner office. The DIY desk plans with drawers come complete with an attractive X frame. The desk has a nice airy feel to it and even has a shelf at the bottom for books. The drawers have pretty silver cup pulls that elevate the look of the desk.
21. Pottery Barn Style Desk
Source: theborrowedabode.com
Custom made furniture will fit into your space according to your needs and save you a lot of money at the same time. Use these homemade DIY desk ideas to make your own pottery barn inspired desk. The top rests on really sturdy antique style legs which elevate the desk's design. The desk also has some really nice drawers which are easy to build. All in all, all the effort you put into this table will be worth it.
DIY Home Office Desk Plans
Ready to turn your home into a productivity powerhouse? Build the ultimate home office desk with these DIY plans that will have you working from home like a pro, surrounded by the perfect blend of style and functionality.
22. DIY Butcher Block Desk
Source: modishandmain.com
Modern DIY office desk plans feature a lot of designs with hairpin legs. They make the desk lightweight which is welcome in this case. The butcher block tabletop can be really heavy but these sturdy legs do a good job holding it up.
This desk still has a slightly raw rustic feel to it, because of the type and stain of the wood. Such DIY executive desk plans and can be assembled in 4-5 steps once you have all the supplies ready.
23. DIY Live Edge Wood Desk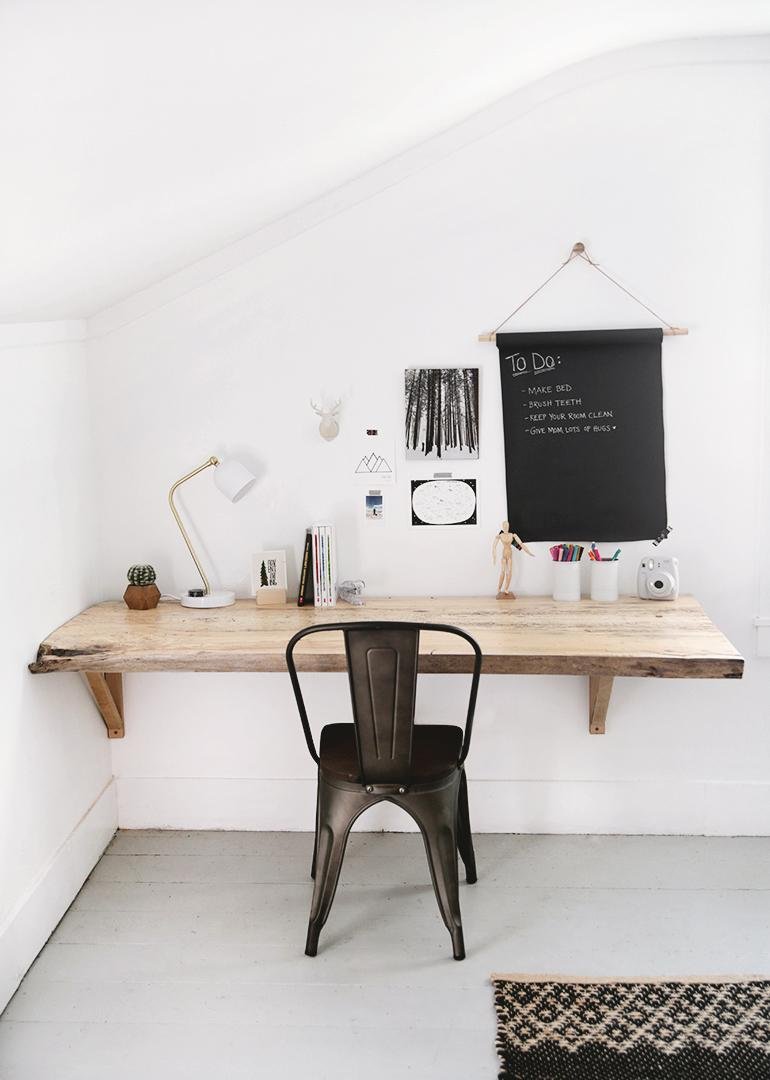 Source: themerrythought.com
Looking for plans for wood desk? Use multiple smaller wood slabs – to reduce costs – while trying these DIY corner desk plans. Having your desk in the corner is a good way to maximize the space in your room. This ledge style desk is great if you want a fixed work space.
Most of this desk will be made in a single day, it really is that easy. Depending on the decor of your room, you can choose a stain or paint colour accordingly.
24. DIY Minimalist Desk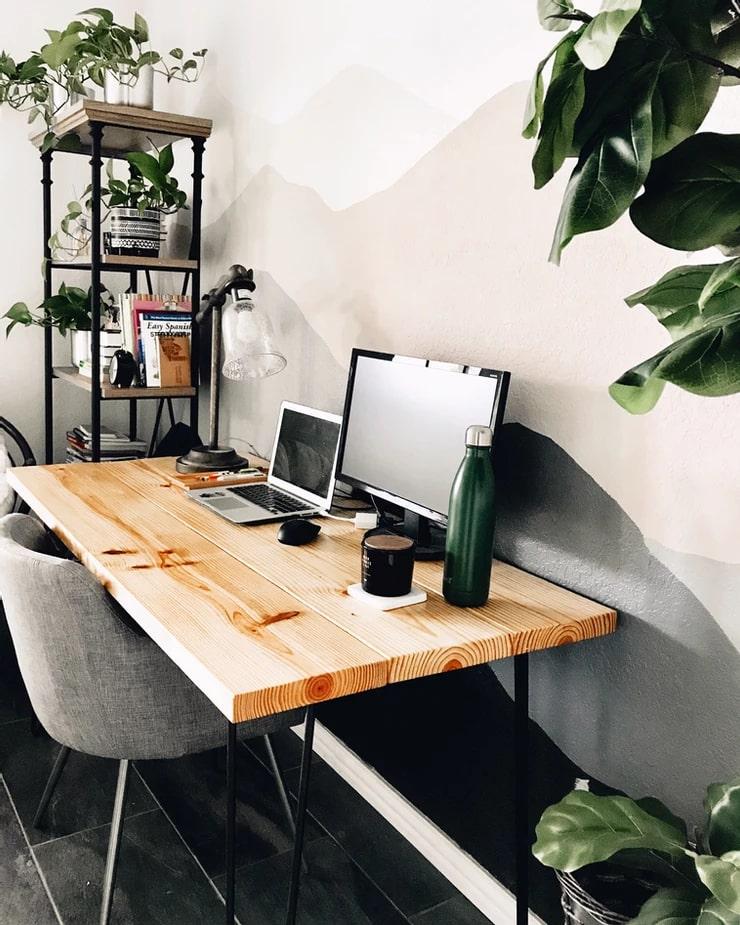 Source: thekiwihome.com
Solid, lightweight and unique. These words sound about right while describing this desk. Head to the tutorial to find the simple DIY desk plans for this table. It is supported by strong hairpin legs – a great visual interest for any room, if you ask me.
This desk will work really well with a bohemian or minimal decor. It is customizable in size and you can change the dimensions to fit the space you require as well.
Other Creative Desk Plans
Looking to level up your workspace game? Get ready to let your creativity flow with these DIY modern desk plans that will help you design and build the ultimate work surface that's as unique and imaginative as you are!
25. DIY Truss Desk
Source: shanty-2-chic.com
If there is one thing that is painful while moving a desk, it's how heavy and cumbersome it can be. Which is where the concept of truss desks come in. These are simple and well engineered pieces of furniture – easy to assemble and disassemble.
These simple DIY computer desk plans offer all of that. If you're ready to try your hand at something different, you should try this one for sure.
26. DIY Large Modern Desk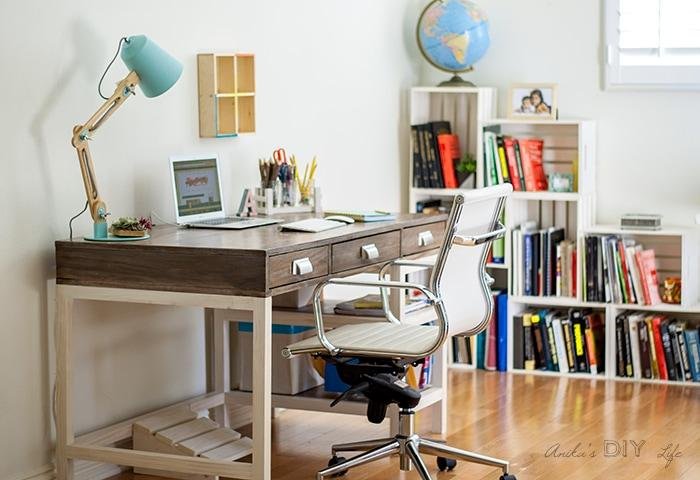 Source: anikasdiylife.com
If you're a beginner but really want to get started with your own DIY desk ideas with drawers, you should check this one out. There is tons of storage space available in this desk which is great for office work.
The DIY office desk plans are very flexible and customizable so you can build your desk according to your preferences with a guide in hand.
27. DIY Dresser Desk with Pullout Storage Seat
Source: woodshopdiaries.com
Is it a fresser? Is it a desk? Is it a dresser desk? These DIY studio desk plans might seem confusing at first but if you need a dresser that doubles up as a work desk, then we have you covered.
The pullout storage feature is handy because of it's mobility of course. And for when you just need some leg room while working. And since storage is much needed in all cases, the idea of a dresser desk isn't that bad.
28. Kids Farmhouse Study Desk
Source: thecreativemom.com
For children, it is always wise to have a functional desk with enough storage space. These DIY farmhouse desk plans have a modern yet rustic vibe to them. And isn't that what children find interesting?
The table is built with open shelves and stacked with crates. You can do the same or leave open shelves as well. In either case, the extra storage is a blessing.
Read – 35 brilliant DIY loft bed plans to inspire you.
29. DIY Mid-Century Modern Desk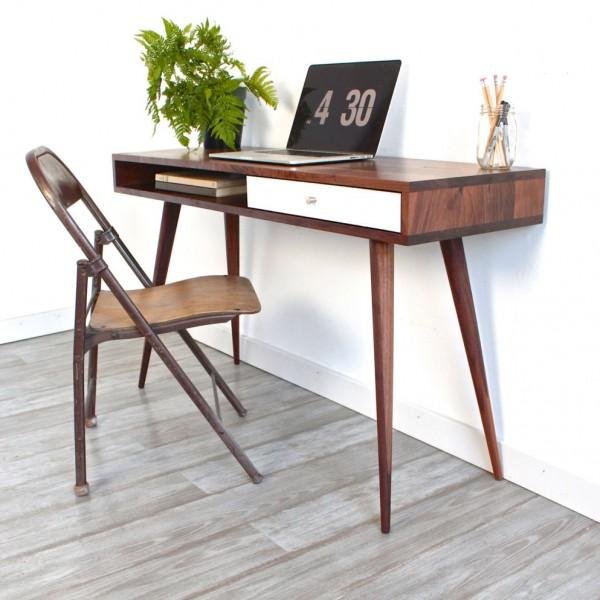 Source: remodelaholic.com
Mid century style furniture is very popular thanks to it's sleek look and functional appeal. These easy DIY desk plans come with stylish splayed legs that add to the visual interest of this table. There is also some sleep storage space available in case you need something while working. All in all, you cannot go wrong in style with a work desk like this.
30. Chic Modern X-Shaped Desk
Source: inbetweenchaos.com
If you have a lot of light and neutral coloured decor, a white desk is a classic option to make everything look cohesive. Here is a brilliant DIY office desk plan for you to work on. The X shaped support gives structural stability to the table base. Since the desk is made with really light but sturdy wood, it can be moved easily. If instead of while, you would prefer to stain the wood, that is also great.
31. DIY Metal & Wood Corner Desk
Source: diyhuntress.com
Need a mini desk for an empty corner of your room? Try these homemade DIY corner desk plans. Metal and wood are a classic combination and this small triangular desk is a great example of that. It is really functional for those who like keeping plants or some nick nacks in the room.
You can also build this big enough to seat one person while working. Following the steps, you'll be able to build your own DIY corner desk in no time
32. DIY U-Legged Wooden Desk
Source: houseonlongwoodlane.com
Who needs simple DIY desk ideas but can't figure out where to start? This modern wooden desk design has come to the rescue. This is an easy build for those who want a larger work area desk. It is modelled after a small dining table so you know it can hold a lot of stuff. The U shaped legs are also a nice structural addition. It gives extra support and also looks visually interesting.
33. Lightly-Stained DIY Standing Desk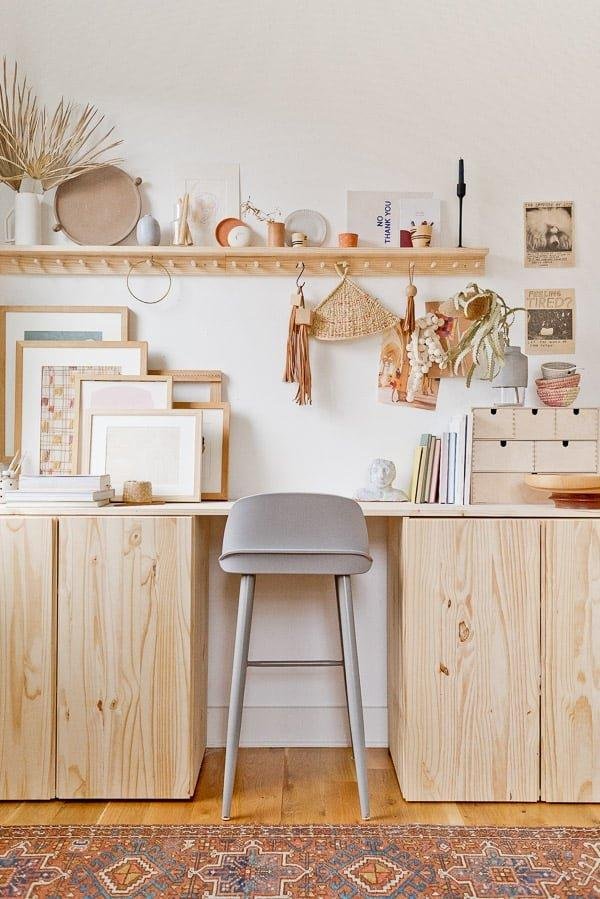 Source: papernstitchblog.com
With everything we hear about needing to stand and move around more in this age of sedentary lifestyle, these DIY standing desk plans are pretty much a boon. Plus we always appreciate a desk with storage, given how easy it is for clutter to appear as we work.
So let's get two good things in one tutorial using these simple desk plans to maximize our work environment. Oh and did I mention that this desk is customizable to fit your homespace?
34. Two-in-One Bed Cum Desk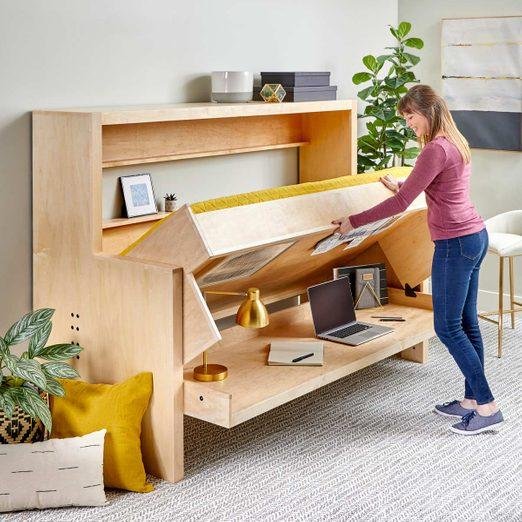 Source: familyhandyman.com
Low on space? We got you. These simple DIY computer desk plans are well incorporated into a bed. So now you can wake and get to work with the flip of your bed. Murphy beds are a great option to utilize the space when not being used as a bed.
These plans are built in such a way that when you lower the bed, you desk can stay as it is. Although slightly time consuming, I have to say the end result is totally worth the effort.
35. DIY Two-Level Reception Desk
Source: grayhousestudio.com
When one desk is just not enough, but you also don't want your desk taking up too much floor space, go for the two level desk. These DIY reception desk plans show you how to create a solution for larger workspaces and multiple monitors.
You can use these reception desk design plans to build yourself your own innovative little desk. A great thing about this is it hides most of the contents on the lower level. This is also great for cord management – what with all those monitors and wires running everywhere.
36. DIY Wooden Loft Bed with Desk & Storage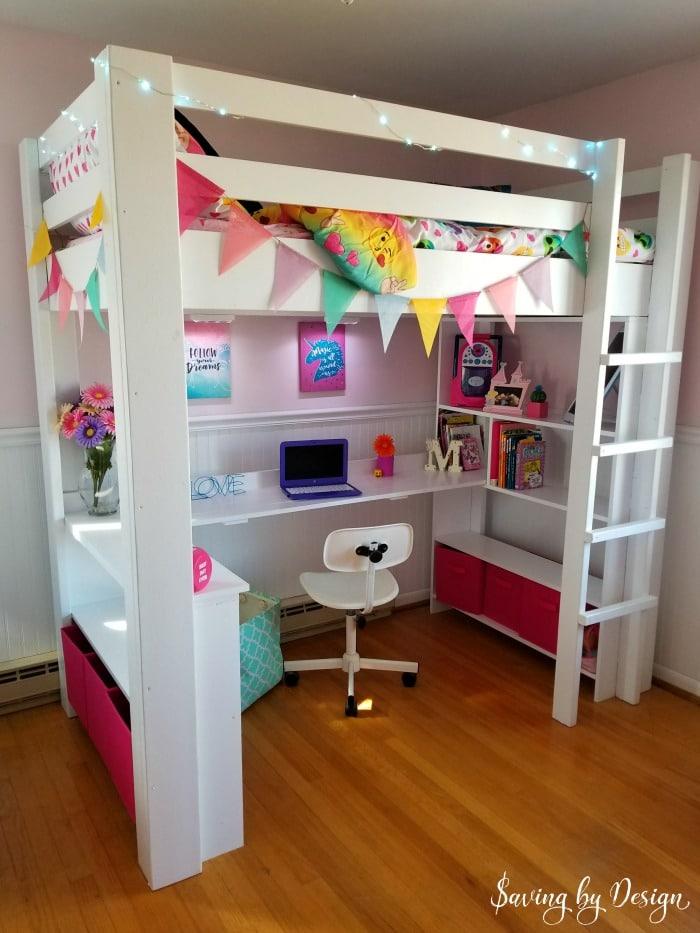 Source: savingbydesign.com
Combining your desk with your best is an ingenious way to save space and make innovative furniture. These DIY loft bed desk plans are a great place to get that idea started. Did I mention that it is really economical?
If you're looking for a functional bed for your kid, you should head to the tutorial for the details on how to do it. With this you keep the top bunk, and have a lovely desk and storage space on the bottom. Two birds with one stone, as some would say.
37. DIY Polished Pallet Board Desk
Source: 100things2do.ca
Sometimes, being a little over the top isn't a bad thing. Just like these DIY studio desk plans with epoxy resin finish. If you have some rough wormwood on your hands, it's the perfect time to try this tutorial out. That type of wood doesn't make for the best writing surface.
But a resin pour can really change that. The pallet boards are a great type of wood to work with. The base is made with plywood that has plenty of open shelves for your work things too.
38. DIY Floating Wall-to-Wall Desk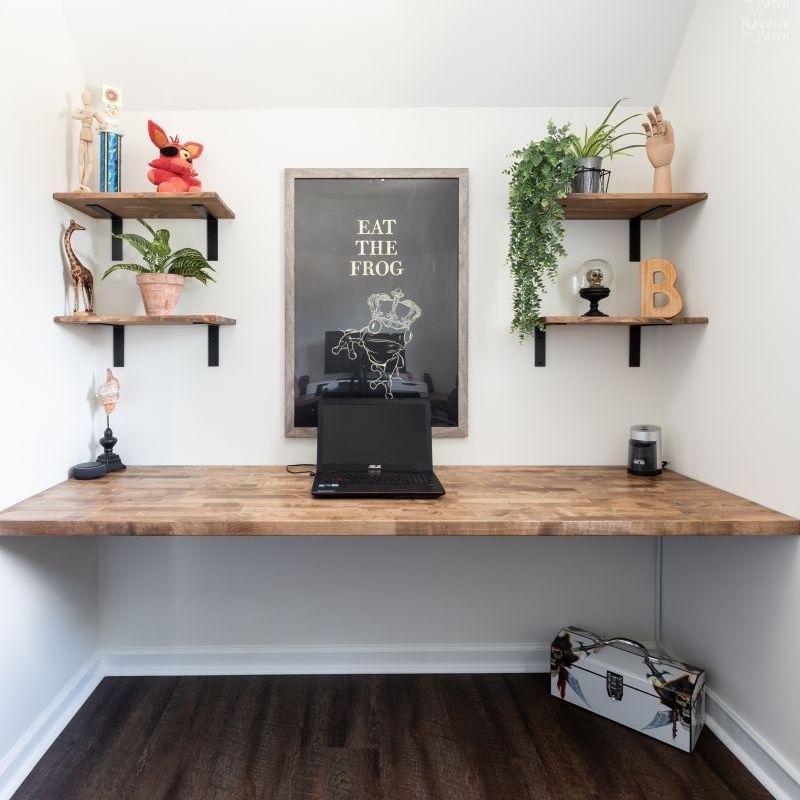 Source: thenavagepatch.com
Sometimes we don't have a conventional desk. Sometimes we want something unique and outrageous. And these DIY corner desk plans are both. This floating desk table is made with a butcher block countertop and is a really sturdy option for small spaces.
Since it is wall to wall, you can build shelves on top to access other things you might need while working. And a little storage is never a bad idea. A simple DIY desk like this is interesting visually and you'll enjoy working at it no doubt.
39. DIY Kids Table with Hidden Storage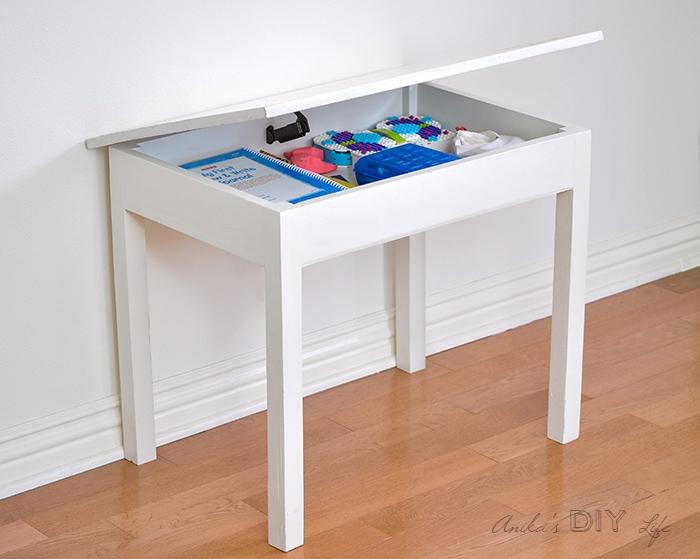 Source: anikasdiylife.com
If you have a household with children then you know that their stuff takes up a lot of room. This easy DIY desk plans offers a handy solution with it's hidden storage feature. The children can use this to keep their work area clean when studying. It also teaches them early on how to be organized.
These DIY desks are made to be safe for children and store everything to keep the top uncluttered. Great isn't it?
40. Easy DIY School Desk Plan
Source: thecreativemom.com
With the whole world working and learning from home, it makes sense to try and build your kids a functional desk. And maybe evoke some memories in the process as well. These easy DIY desk plans will help you make a proper school desk for your kids to study.
They can store their notes and books for easy access later. After all, it's nice to have a place for all the paraphernalia rather than have it lying in different places in the house.
41. Affordable DIY Treadmill Desk Plan
Source: wholelifestylenutrition.com
Sitting for long hours can have really bad consequences for our health. And these free DIY studio desk plans are here to change that. This treadmill desk will help you move more and get your steps in – while you work! This is a great way to make sure you're alert at work too. And you can also use the treadmill desk when watching your favorite show. Try it once, you'll not regret it at all.
If you loved these ideas, you can use the Pin image below to save this article on your Pinterest board. Also, follow us on Instagram to stay updated!