Earth Day is an annual event celebrated on April 22nd to raise awareness about environmental protection. One way to mark the occasion is by creating Earth Day crafts. These crafts not only encourage creativity but also promote sustainable living. In this article, we'll share some fun and eco-friendly crafting ideas that you can try at home. Let's get started!
Also, read –
32 Amazing St. Patrick's Day Crafts For Kids & Adults
25 Best Red, Blue, and White 4th of July Crafts for Kids
40+ Best Animal Crafts For Kids & Toddlers
1. DIY 'Bee Happy' Wreath
Image and Tutorial by Home is where the boat is
Who all love bees over here? Thus happy bee wreath are easy to make with all materials available at home. In addition, you can use some pretty ribbons for the bees, flowers, and plants.
2. DIY Safari Binoculars
Image and Tutorial by Crafting Cheerfully
These super funky binoculars can be easily made at home. You can use some pretty animal print papers to decorate the binoculars. To join and fix them together, you can use any waste material.

3. Marbled Art 
Image and Tutorial by iHeart Crafty Things
Just look at this beautiful piece of art! It is so facile to make this messy marble painting with the help of shaving cream. You will need an aluminum pan, cardstock paper, a rubber spatula, a toothbrush, and a plastic tablecloth.
4. Earth Day Cookies
Image and Tutorial by Pretty Petunias
How about some cookies on this Earth Day? You are surely going to enjoy these Earth look-alike cookies. These are super easy to make, and you don't need to shop from the market as almost all the ingredients will be available at home.
5. Recycled Tin Can Ladybug Plant Holder with Hand Print Wings
Image and Tutorial by Fun Hand Print Art Blog
Here is a fun activity for your Earth Day celebrations. You can make this tin can ladybug very quickly with recycling products. You will need acrylic paints, white cardstock, pipe cleaners, pom pom, and many other things.
6. Coffee Filter Earth Paintings
Image and Recipe by Fun with Mama
After the paper towel Earth painting, here are coffee filter Earth paintings which can be made quickly with the help of a few materials required. You can paint coffee filters swiftly and then saturate them.
7. Puffy Paint Earth Day Craft 
Image and Tutorial by Happy Hooligans
This craft can be made by kids of any age. You will need just three ingredients for this craft idea. You will need a paper plate, puffy paints, and paintbrushes. After painting, you will need to keep it in the microwave for some time.
8. Stripped Slime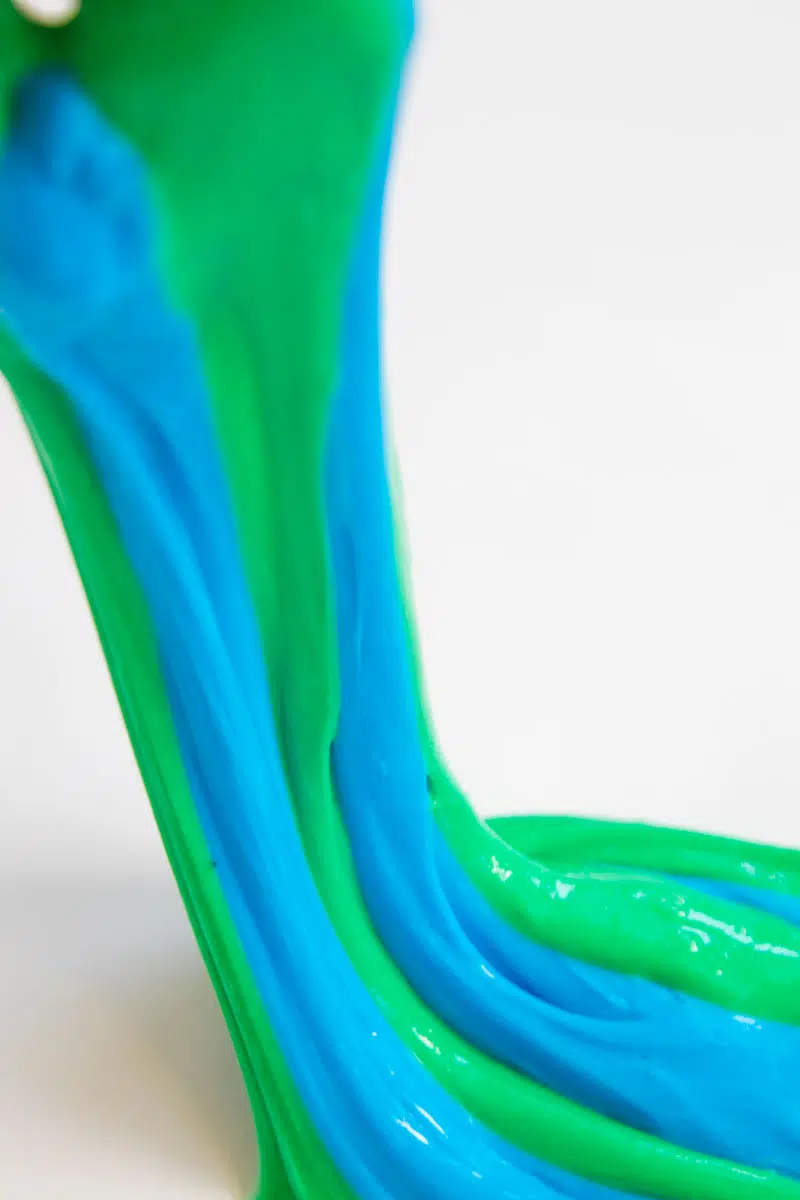 Image and Tutorial by Really, Are You Serious? 
You can try this recipe of slime out with any kind of slime. Here blue and green colors are used for depicting Earth. They have used Elmer's Washable color glue for slime instead of food colorings, markers, or dyes. 
9. 3D Earth Day Craft
Image and Tutorial by Non-Toy Gifts
Making this 3-D styled Earth will surely give out a message to children that the thought of prosperity for Earth should always be in our hearts. 
10. Earth Pom Pom 
Image and Tutorial by The Gingerbread House
You can use this idea to make cute and petite pom pom Earth. You will need a pair of scissors, a pompom maker and blue and green wools. You will surely enjoy making these. 
11. Earth Day Daisy
Image and Tutorial by Buggy and Buddy
These Earth Day daisies look so beautiful. The interesting part about them is that they are made with cupcake liners. So you can paint or color Earth inside them. Or you can also use pom pom or colorful buttons instead of painting.  
12. Turn an Empty K Cup
Image and Tutorial by Artsy Momma
You can quickly create this creative K Cup for Earth Day with minimal material required. You just need paintbrushes, an empty K cup, and red, green, and blue acrylic colors. 
13. Pop Up Book
Image and Tutorial by The Craft Train
 Children will enjoy making this pop-up book while making; they will learn a lot of information related to Earth and various ways to preserve it. You can also use printable templates.
14. Recycled Plastic Squid Craft
Image and Tutorial by The Craft Train
This will be the most sustainable Earth Day project craft which you find. This plastic squid craft is made with recyclable products. You will need paper cups, string, paint, paper straw, wooden beads, googly eyes, and plastic bottle tops. 
15. DIY Earth Day Recycled Crayons
Image and Tutorial by Simply Green Rebekah
You will enjoy the process of making these Earth Day crayons by using the DIY method. You will specifically need blue, green, and white crayons to make new crayons. You can use molds of whatever shape you want. 
 16. Button Globe
Image and Tutorial by Happiness is Homemade
For this craft, you will need many buttons as you need to cover a whole sphere with them. It is not necessary to have the same type and size of buttons. You can paint them accordingly after sticking them.
 17. Earth Day Windsocks
Image and Tutorial by iHeart Crafty Things
Here is another facile idea for Earth Day crafts. For this craft idea, you will need blue and green cardstock, clothespin, pom pom, green and blue crepe paper, green acrylic paper, scissors, stapler, and gluestick. 
 18. Simple Earth Suncatcher
Image and Tutorial by No Time for Flashcards
Another suncatcher idea is here for Earth Day. This idea is the glittery version of the previous one. You will need a plastic lid, glue, blue and green glitter, ribbon, a plate, and a hole punching machine. 
 19. Earth Crayons and Play Dough 
Image and Tutorial by The Gunny Sack
This craft is the new and creative way to present Earth on Earth's Day. Here you will need crayons that will be melted and gunny sacks in which the melted crayons will be packed.  
20. Earth Day Bookmark Corner Design
Image and Tutorial by Red Ted Art 
Just look at these cute little Earth-faced bookmarks. You can make them easily in no time with few materials required. You will also need to do a bit of origami for the bookmark and then stick all the parts together. 
21. Garden Markers
Image and Tutorial by Creative Green Living
This garden maker is a different idea for Earth Day. You can use this as a wall hanging as it is a creative and colorful piece for your garden. For this, you will need can lids with pliers, dril and drill bit, silver jewelry wire, clear stamp box, paper or plastic plate, and paintbrush.  
22. Paper Mache Light-Up Globes
Image and Tutorial by Housing A Forest
This is the cheapest craft idea you can find as paper mache is cheap. Also, you can add lights to the paper mache globes and brighten them up. Making them is a bit messy, but the end product is worth it. 
23. Wine Cork Succulent Planter Magnet
Image and Tutorial by The Decorated Cookie
Another attractive Earth Day craft idea is here to make your idea. You can make these wine cork succulent planter magnets in simple ways. You just need wine corks, drill, wrench,craft paint, paint brushes, magnets,soil, glue, and succulent plants. 
24. Earth Day Craft with Writing Prompt
Image and Tutorial by iHeart Crafty Things
In this Earth Day craft, kids can make this with the help of coffee filter papers and paint them. Also, they can add a message to the painting which they have learned about the day and can be a valuable activity for them.
25. Earth Day Handprint & Photo Keepsake
Image and Tutorial by Teach Me Mommy
This idea consists of salt dough to make your hand imprints and keep them for future perspectives as a showpiece. For the light version, you can make this of air-drying clay in blue and green colors. 
26. DIY Cardboard Sunflower
Image and Tutorial by Salvage Sister & Mister
This is a different type of activity which children will surely enjoy for Earth Day. It is because you can create this and then decorate it as you want. Apart from cardboard you will need just scissors, hot glue gun, and yellow paint color.
27. Earth Day Necklace with Salt Dough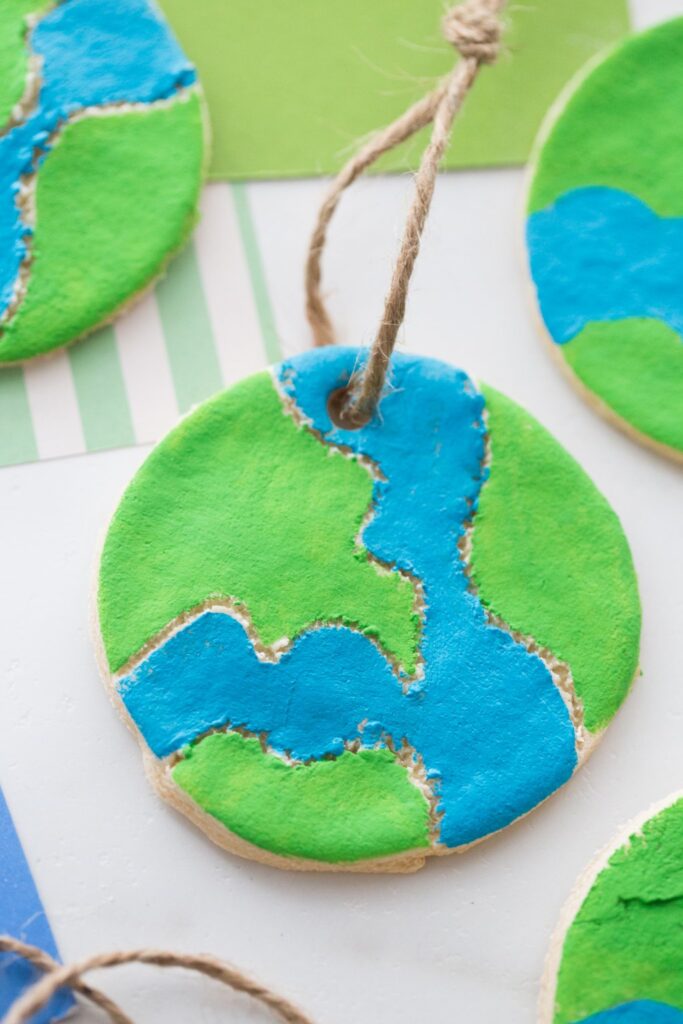 Image and Tutorial by Little Bins for Little Hands
Here is another salt dough activity but for the creative necklaces. You can create these beautiful necklaces in no time and will be a unique ornament style for the kids. In this you will need salt, bleached flour, and warm water. 
28. Pointillism Earth Day Craft for Kids
Image and Tutorial by 123 Home School 4 Me
Here is another interesting craft idea as you can use qtips and make colour the Earth easily. You just need some templates of Earth and watercolors and can color them easily. This will make a really pretty Earth.
29. Earth Day Handprint Flower Craft
Image and Tutorial by Pre School Play and Learn
You can make this super cute handprint flower craft to make your Earth Day celebrations more fruitful. You can take the printouts out of flowers and trees and paint them.  
30. Happy Earth Sewing Craft
Image and Tutorial by The Craft Train
This craft idea is also made with sustainable material. You can make this Earth craft with the help of sewing materials. You will need a printable template, needle, needle threader, and embroidery thread. 
31. Lorax Earth Day Slime 
Image and Tutorial by Little Bins for Little Hands
Here is another slime activity that you will enjoy making. But this is Lorax-themed slime. Slime is neither solid nor liquid. It is non-Newtonian as it is in between both of these. You will need liquid starch also for this.
32. Paper Plate Earth Craft
Image and Tutorial by Non-Toy Gifts 
This paper plate Earth can be created very quickly by children. And they won't require any assistance also in making this. They will need a paper plate, paint colors, pom pom, scissors, glue, yarn, and a clothespin.  
So, here we come to an end with some of the most impressive Earth Day crafts ideas. You and your children will surely make these. These will bring out your creative side. And we are sure that your children will surely learn some fruitful things about Earth conservation.