Are you tired of having a bland game room that looks like it is straight out of the 80s? Fear not, my gaming friends! In this article, you will find 50 fantastic game room ideas that will blow your mind and level up your gaming experience. There's something for everyone, from classic arcade games to modern console setups.
So sit back, grab your controller, and get ready to transform your game room into a gaming paradise. Let's do this!
Related articles –
1. Modern Game Room Designs
Image and tutorial by Handmade By Carmona
This space is not your grandpa's game room; it's sleek, stylish, and futuristic. The walls are adorned with large flat-screen TVs, perfect for gaming and streaming. And let's not forget about the center coffee table that is turned into a play area for board games. So grab your favorite gaming console and come play in the modern game room, where the future of gaming is now.
2. Cool Color Theme Game Room Decorating Ideas
This entire room is all about the colors, baby! With bold shades of blue, green, and purple, your eyes will pop like popcorn from the moment you step in. The soothing pink hues will transport you to a tranquil gaming oasis, while the wooden accents add a touch of rustic charm. So get ready to up your game night in style and comfort!
3. Black And White Game Room Decor
Image and tutorial by the Crafting Nook
If you're a lover of classic black-and-white movies and all things monochrome, then this gaming rooms
decor is perfect for you. It is all about sleek lines, minimalist design, and creating a timeless space that will never go out of style.
4. Living Room Game Room Ideas
Why settle for a space that's just for lounging when you could have a room that's both cozy and entertaining? You can have the best of both with this living room game room. So why late? Gather all the necessary tools and get building!
5. Modern Corner Living Room Gaming Station
Looking for a way to incorporate your gaming obsession into your living room without sacrificing style? This sleek and stylish setup combines the best of both worlds with a gaming desk nestled neatly in the corner of your living room. So go ahead, and level up your living room with this modern gaming station.
6. Small Room Game Station
Introducing the Small Room Game Station – the perfect solution for gamers with big dreams but tiny spaces! This compact and cozy setup is the ultimate gaming oasis, featuring a comfortable gaming chair, a space-saving desk, and all the latest gaming gadgets.
7. Glow In The Dark Gaming Station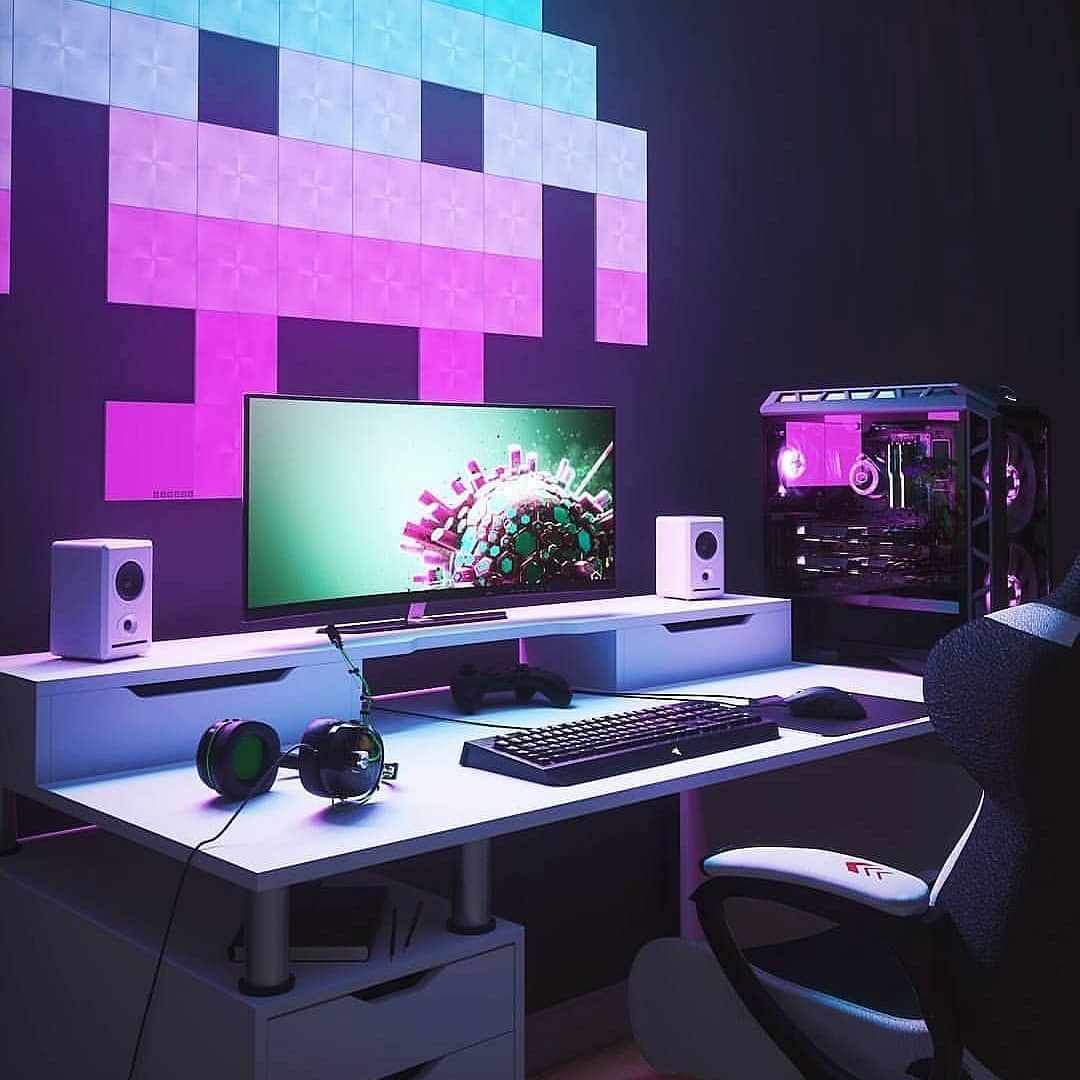 Say goodbye to boring old gaming setups and hello to a galaxy of gaming bliss. This bad boy features glow-in-the-dark accents that will transport you to another dimension. With a comfortable chair, a sleek desk, and all your gaming gear within reach, you'll never want to leave your gaming haven.
8. Minimalist Set-Up Gaming Station
Tired of cluttered gaming stations with too many bells and whistles? Look no further than the minimalist setup gaming station. You'll have only the essentials, like a sleek gaming monitor, a streamlined keyboard and mouse, and maybe a plant or two for some added Zen. Plus, with all the extra space, you'll have plenty of room for your victory dances.
9. Retro Game Library
With a vast collection of classic titles from the 80s and 90s, this library is a trip down the memory lane for anyone who grew up with a controller in their hands. So dust off your old console, grab some snacks, and get ready to relive the glory days of gaming.
10. Garage Game Room
Image and tutorial by Home Beautifully
Who needs a fancy man cave or a luxurious living room when you can have a dimly-lit garage with a rusty old couch and a mini-fridge stocked with energy drinks? This Garage Game Room is all about embracing the grungy, DIY aesthetic and making the most out of your limited space.
11. DIY Giant Wall Scrabble
Image and tutorial by Jenwood House
Do you love Scrabble but hate being confined to a tiny board? This game takes your favorite word-building game to new heights (literally) and gives you the space to create big, beautiful words that will make your opponents green with envy.
12. PC Gaming Room Setup
This isn't your grandma's desktop computer and office chair combo. Oh no, we're talking about a room that's decked out with RGB lighting, multiple monitors, and a chair so comfortable you'll forget you're even sitting in it. So sit back, grab your headset, and get ready to dominate the competition like the gaming champion you are.
13. Small Board Game Room
This cozy little nook is perfect for intimate game nights with friends or family. With just enough room for a small table and a few chairs, you'll feel like you're in your private board game cabin.
14. Pool Table Game Room
With its sleek design and luxurious green felt, the pool table is the centerpiece of this room. So grab a cue, chalk up your tip, and get ready to sink some balls. So grab your power tools and start building this fantastic room.
15. Basement Gaming Zone
Leave your screens and controllers behind because this is where you'll get your heart rate up and break a sweat. You can challenge your friends to a game of ping pong, test your smartness by playing chess, or even try your luck at the claw machine. And if you need to refuel after all that activity, we have a snack bar stocked with all your favorite treats.
16. Family Game area
Image by masterpiece Design Group
This is the perfect spot for some good old-fashioned family bonding over a game of Monopoly, Twister, or even a high-stakes round of Go Fish. Whether you are a board game fanatic or a card shark, this is the place to be.
17. Minimalist Ping Pong Game Room
Are you looking for a game room that's sleek and stylish, with just a touch of sophistication? Behold, the minimalist ping pong game room! It's the perfect blend of modern and classic, with a beige and wood color scheme and clean lines that will make your inner design snob swoon.
18. Garden Area Game Setup
Image by Eastkimberlyeventhery
Step into the ultimate outdoor gaming experience with this garden area game setup! Get ready to throw down in a classic game of giant tic tac toe, where the Xs and O's are more significant than your head. And that's just the beginning – this game setup is jam-packed with games that'll get you moving and grooving.
19. Outdoor Video Gaming Setup
Who needs nature when you can have a high-definition screen and surround sound system right in your backyard? With weather-resistant equipment and comfy outdoor seating, you'll never have to sacrifice your gaming time for some fresh air again.
20. Kids Play Room
Welcome to the ultimate kid's playroom – where your little ones can unleash their inner chaos and wreak havoc to their heart's content. This room is a wild and colorful wonderland where imagination reigns supreme. Plus, we've got plenty of storage solutions for all those toys that seem to multiply overnight.
21. Attic Play Area
Image by Hazel House And Hearth
This attic play area could be the perfect solution for your kids' never-ending energy. Just imagine their joy when they climb the creaky stairs to find a magical wonderland of toys and games.
22. Stormtrooper Gaming Station
This sleek and futuristic setup will transport you to a galaxy far away with its white and black color scheme and Stormtrooper-inspired design. Equipped with the latest gaming technology, you'll feel like a faithful member of the Empire as you dominate the virtual battlefield.
23. Contemporary Game Setup
Get ready to up your gaming with this contemporary game setup. It's so sleek and stylish; you'll feel like you're in a sci-fi movie. With all the RGB lighting and cool gadgets, you'll be the envy of all your gamer friends.
24. Kawaii Gaming Station
This gaming station is designed to make you squeal with delight with its pastel colors, plush cushions, and cartoonish decorations. You'll feel like playing video games in a magical wonderland filled with unicorns and rainbows.
25. Small Space Video Game Room
Welcome to the world of small-space gaming, where we squeeze our gaming setups into the tiniest nooks and crannies. Whether you're gaming in a closet or a converted pantry, get ready to level up your small space setup and show off your gaming skills. Who needs square footage when you've got gaming prowess?
26. Wood Desk Gaming Room
With this stylish wooden desk, you'll feel like a lumberjack while slaying dragons and conquering worlds.
But don't be fooled by the desk's rustic charm; it is equipped with state-of-the-art technology to enhance your gaming experience.
27. Neon Light Gaming Room
Filled with vibrant neon lights, this room will make you feel like you're in the middle of a sci-fi movie, and the sound of button mashing and game controllers clicking will make you forget all your worries. Just be careful to avoid getting lost in the virtual world for too long, or you might forget to eat, sleep, or even pay your rent!
28. Game Over Gameroom Idea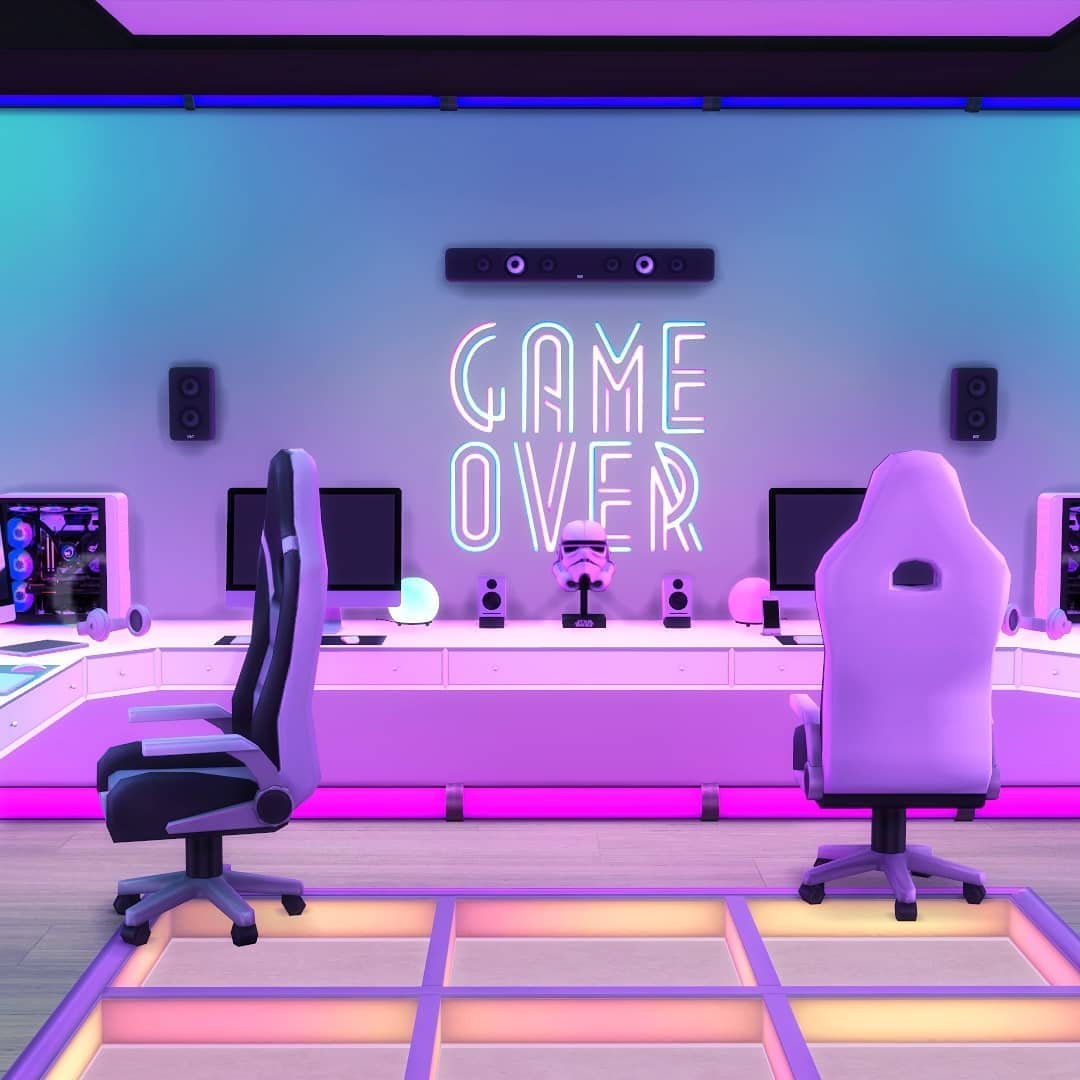 Welcome to the "Game Over" room, where the pink and blue neon lighting will make you feel like you're in the world's most excellent arcade. So come on in, grab a controller, and see who has the high score. Just don't blame us if your eyes hurt from all the neon!
29. DIY Giant Tic Tac Toe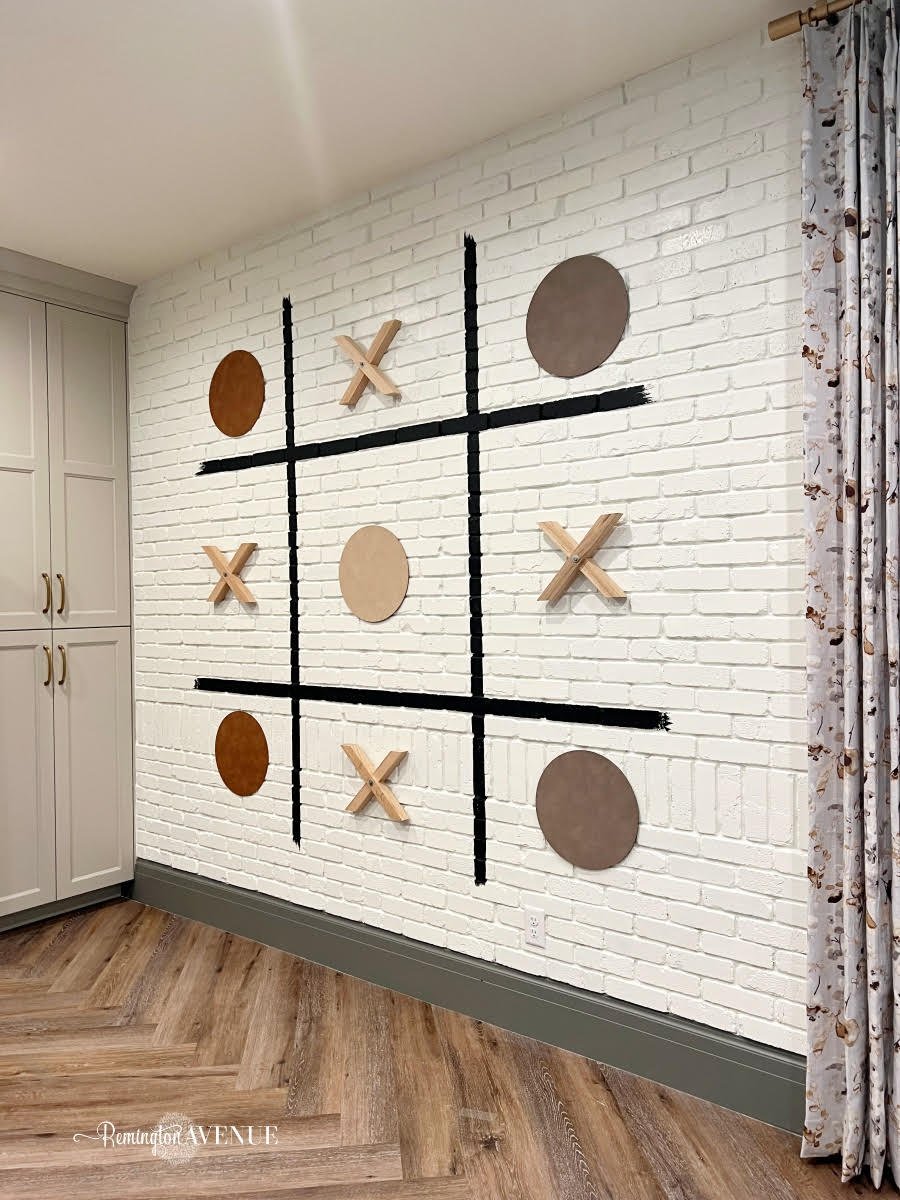 Image and tutorial by Remington Avenue
Are you looking to add some fun and games to your wall décor? Why not try creating a DIY Giant Tic Tac Toe on the wall? It's an amazing way to show off your crafting skills while impressing your friends with your impeccable taste in wall art.
30. DIY Checkered Board
Image and tutorial by Tristlewood Farms
Looking to inject some fun into your next backyard BBQ or family gathering? Why not DIY your very own giant checkered board? It's like regular checkers but more prominent, so it's automatically better.
31. Entertainment Room Idea
This family room is where fun and games reign supreme, and you're guaranteed a blast. It's like a Batcave for gamers, a Narnia for the digitally inclined. It's the perfect spot for getting your game on and leaving the real world behind.
32. Gaming Room Ideas For Basement
Image and tutorial by Nesting With Grace
This is where you can escape from the real world, forget about your troubles, and immerse yourself in a world of pixels and pixels. It's like a magical cave, but instead of bats, you have your trusty console and your favorite games.
33. Game Room With Custom Jungle Gym
Image by Amber Golob Interiors
Welcome to the ultimate game room experience for both kids and adults! It's a jungle gym paradise for your inner Tarzan or Jane.
Get ready to swing, climb, and walk through this custom-made jungle gym. It's like being in the Amazon rainforest but with air conditioning and snacks.
34. Attic Kids Playroom
"Attic Kids Playroom" – a space where imagination runs wild, and shins get banged on low-hanging rafters. It's the ultimate hideout for mini-adventurers, a place where toys go to retire and where "clean-up time" is a foreign concept.
35. Kids Game Zone
This place is like a mini amusement park, with games and activities that will entertain your little ones for hours. From arcade games to bounce houses, there's something for every child (and every parent's sanity level).
36. Modern Retro Game Station
These games room ideas are the perfect way to relive the glory days of gaming while still pretending to be hip and current! So go ahead, break out those old cartridges, and get ready to game like it's 1999.
37. Simple Small Space Gaming Station
Say goodbye to the days of awkwardly maneuvering your mouse around your tiny desk or tripping over cables in your cramped room.
This little game room setup will take your gaming experience to the next level without taking up too much of your precious space.
38. DIY Gaming Desk
Image and tutorial by Autonomous
Are you tired of gaming on a plain old boring desk? Well, have no fear, my gaming friend, because a DIY gaming desk is just what you need!
You only need some wood, screws, and a few power tools, and you can craft the ultimate gaming throne.
39. Modern Simple Gaming Station
Who needs fancy features when you can play games? Am I right? This minimalist marvel will have you feeling like you're back in the 90s but with better graphics and less dial-up internet.
40. Pegboard Desktop Game Room
This Pegboard Desktop Game Room is the perfect way to turn your mundane work desk into a thrilling gaming haven! It is a mini carnival game, minus the overpriced tickets and creepy clowns. So ditch those boring spreadsheets and embrace the joy of pegs and balls. Your desk will thank you.
41. Black And White Gaming Setup
Who needs RGB lighting when you can have the timeless elegance of monochrome and natural light?
With a black-and-white gaming setup, you'll feel like you're in a noir film, except instead of solving mysteries and chasing dames, you're slaying dragons and building virtual empires.
42. Pinterest-Worthy Video Game Rooms
This is the place where pixels and aesthetics collide, where RGB lighting and minimalist decor find harmony. It's the gaming equivalent of finding a unicorn riding a rainbow. Just don't forget to actually use it for gaming and not just as a backdrop for your Instagram photos. Happy gaming!
43. Car-theme Video Game Room Ideas
Do you want to inject some vroom-vroom into your gaming experience? Look no further because the Car-theme Gaming Setup is here to rev up your gameplay! I love how everything is complimenting each other.
44. Sleek Pink Gaming Setup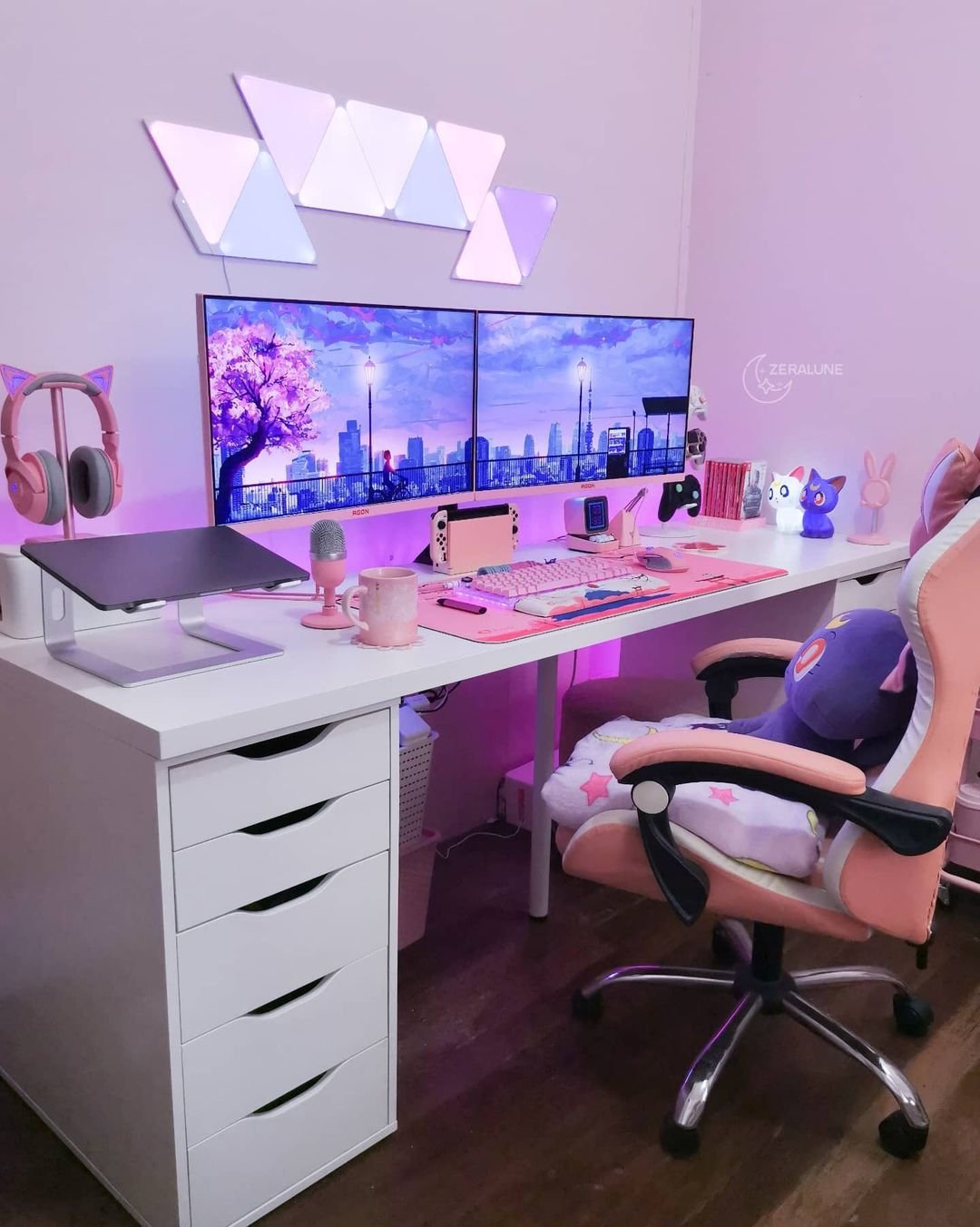 This is the perfect way to show off your love for gaming while reminding everyone that you're fabulous. This setup will make all your friends jealous with its hot pink peripherals, game consoles, and minimalist design.
45. Nature-Inspired Gaming Room
This inspiration is for those who want to feel like they're in the great outdoors and ambient lighting without actually having to leave their house (or, you know, put down the controller). So come on down to the Nature-Inspired Gaming Room – where the only thing you'll be hunting is that high score.
46. Anime Theme entertainment Room Ideas
This game room design is not just any ordinary design. It's a room that transcends space and time, transporting you to different worlds and dimensions. It's where you go to escape reality and become a part of your favorite anime universe.
47. Homemade Skeeball Game
Image and tutorial by Instructables
Looking to add some excitement to your living room? Why not build your very own homemade skeeball game? It's the perfect way to combine the joy of arcade games with the thrill of DIY projects.
48. How To Make A Chalk Board Tabletop
With this table, you'll never have to worry about running out of space for your artistic masterpieces. Instead, grab a piece of chalk and let your creativity flow! And if anyone complains about the mess, tell them it's the latest trend.
49. DIY Dartboard Cabinet
Image and tutorial by Wonder How To
Looking to upgrade your man cave or she-shed with a fancy new dartboard? Well, look no further than this DIY Dartboard Cabinet. It is the perfect addition to any basement, garage, or home bar! So why late? Click on the tutorial link and start the project!
50. Garage Play Zone
Who needs a minivan when you can have a jungle gym? Plus, think of all the money you can save on gym memberships! So come on down and let your kids run wild in our garage-turned-playground.
If you love these ideas, don't forget to pin the above image to your "home and garden" board.