A subtle or vibrant pop of color is enough to brighten up any space in your home, including the kitchen! These trending green kitchens are perfect for adding an earthy and natural touch to your favorite space.
Opting for a green kitchen gives you endless possibilities, from going all out to adding subtle hints of sage or mint. You can build green kitchen cabinets, add some green tiles, or even set up a green island in your kitchen. The availability of both cool and warm tones makes this concept even more versatile!
Related Articles:
60 Stylish Two-Tone Kitchen Cabinets You Will Love
30 DIY Pantry Shelves To Build For Your Home
40 Beautiful Kitchen Windows For An Amazing Kitchen
1. Smoky Green Kitchen Cabinets
From teach_na_coille_
Add these smoky green kitchen cabinets and island to give your kitchen space an elegant yet colorful style. This cool-toned shade of green is a perfect balance against any neutral tone. It also blends well with wooden decor accents. I love that this idea is not too much and still brightens the space!
2. Sage Green Modular Kitchen
Looking for something minimal that blends well with your wooden interiors? Sage green kitchen cabinets are the way to go! They perfectly blend with the woodwork and add a rustic feel to your green modular kitchen. You can go for lighter or darker tones to compliment your kitchen. Sage green is a beautiful and safe option if you are trying for the first time!
Read – 35 Gorgeous Floor to Ceiling Cabinets For Smart Storage
3. Green and White Kitchen Design
From hello__kitchen
Looking to add a bold twist to your kitchen space? Install these stunning emerald-green cabinets to add an attractive contrast to your kitchen. These cabinets look best with a lighter backdrop and countertop to highlight the color. Emerald is a great choice for a green-and-white kitchen design. You can also add gold accents to amplify the look of your kitchen and make it an attractive coffee spot!
Read – 30 Amazing Farmhouse Blue Kitchen Cabinets To Transform Your Kitchen
4. Minimal Green Kitchen Cabinets
Switching up the color of your kitchen cabinets can make a huge difference to the space. So grab some light sage paint and give your kitchen a minimal makeover. This green kitchen is the perfect option to match the neutral feel of your home. The soft sage tones complement the white tiles beautifully. You can use this cabinet design to set up a soothing spot in your home!
5. DIY Olive Kitchen Cabinets
From Jenny Komenda
If you want a budget-friendly green kitchen idea, install these olive green cabinets. It is a quick and stylish way of adding color to your kitchen. This is also a great idea for smaller kitchen spaces or studio kitchens. You can opt for different shades of olive and personalize them according to your taste. Here is the complete guide to setting up these cabinets.
6. Modern Dark Green Kitchen
From devolkitchens
This stunning dark green kitchen is truly a timeless classic! The bold contrast of white marble and dark cabinets is eye-catching. Both wooden and gold accents blend well with this combination. This design is a rich and elegant option for a pop of color to your space.
7. Soft & Natural Green Kitchen Design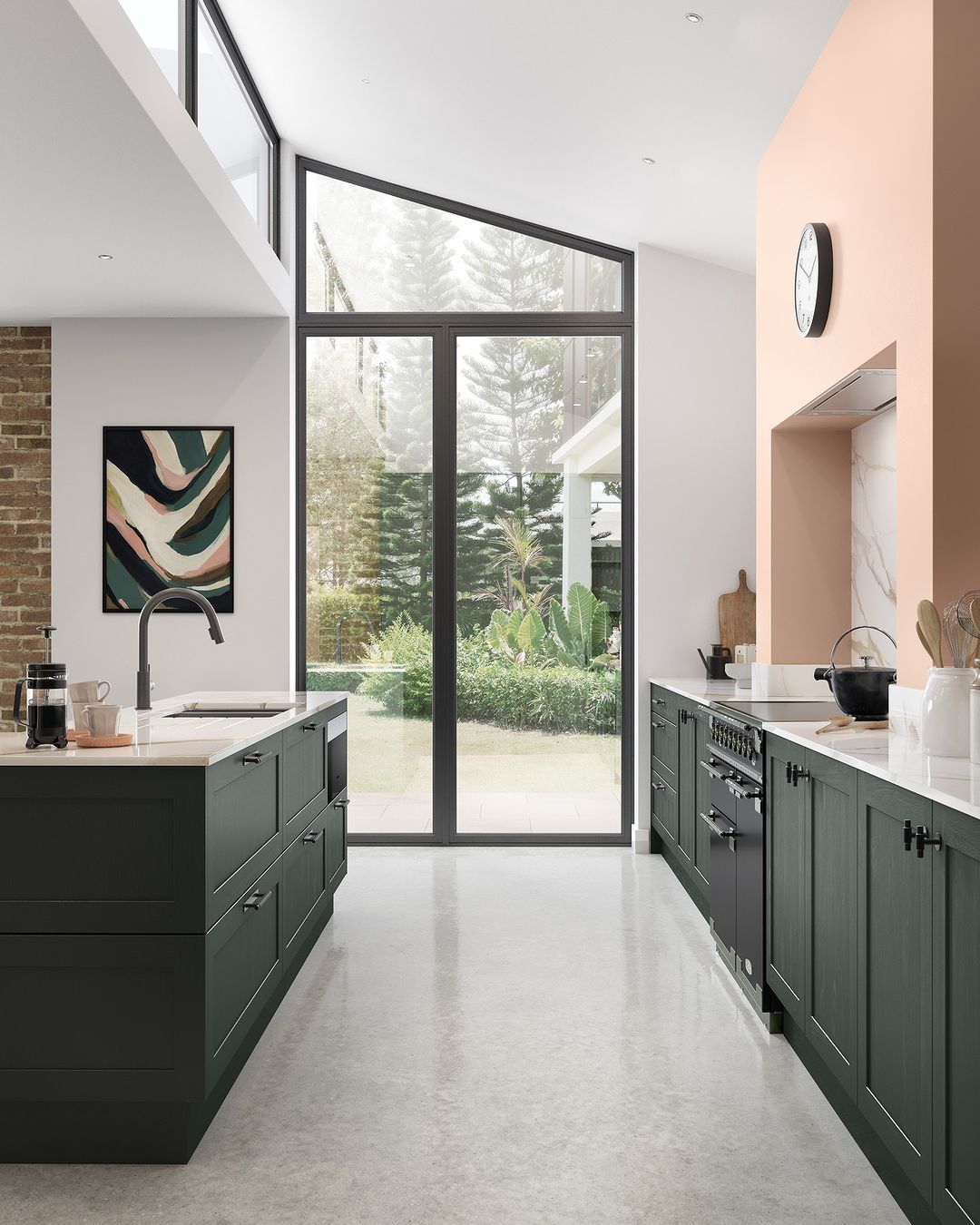 From classicinteriors_
Leaving walls plain white can dull your kitchen. Using complementary colors like blush pink and green can add to the visual appeal of your green kitchen. The freshness of the green and the warmth of the pink shall create a calm and soothing space for your kitchen. This is a unique design that is well-balanced and equally pleasant!
Also, read – 50 Cool Galley Kitchen Ideas To Live Large
8. Farm-Style Kitchen Cabinets
Green color kitchen cabinets are an excellent choice for enhancing the look of your farm-style kitchen. The green cabinets are not overpowering and beautifully complement the white backsplash and countertop. You can customize the shade of green to suit the aesthetic of your kitchen. By coating the existing cabinets in green, you could turn this green kitchen into a DIY project.
Read – 35 Amazing White Cabinets With Gold Hardware For A Luxurious Look
9. Earthy Kitchen Cabinets
From devoncottagereno
Install a combination of wooden accents and sage green kitchen cabinets to give your kitchen a bright and earthy feel. This refreshing combination makes your space a beautiful and pleasant spot. You can use brass accents and a white backsplash to add that extra touch! This is a minimal, straightforward, and budget-friendly option for your dream kitchen.
10. Dark Green Kitchen Backsplash
A small change in your kitchen can turn it into a vibrant and lively space. This dark green ombre backsplash with hints of gold adds an appealing character to the white kitchen. It breaks the monotony of the plain white cabinets and kitchen tops. This design is a great idea if you are on a budget and wish to remodel your kitchen. You could use paint, tiles, or wallpapers to install a similar backsplash and achieve the same with minimal effort!
11. Soothing Mint Green Cabinets
From lambandcodesign
If you want to add character to a dated kitchen but don't want to empty your pockets, this green kitchen cabinet is perfect! Pick up a can of your favorite shade of green and paint your kitchen cabinets in this earthy goodness. You could use these minimalist mint green cabinets for a bright and playful look. They are an excellent choice to go with wooden or neutral accents.
12. Sophisticated Sage Kitchen
From dustsheets_and_decor
This beautiful design is perfect for a small yet sophisticated green kitchen. Using a combination of white and forest green with a quartz countertop makes the kitchen an attractive chilling spot. The paneled cabinet doors with brass handles add a stylish touch to this kitchen design. Cover the top and bottom cabinets in this fresh hue for a cohesive appeal.
13. Minty Fresh Kitchen Backsplash
From popixdesigns
If you love minimal fresh tones, this super cute mint kitchen is the way to go! This is another budget-friendly option; all you have to do is change the backsplash. You can use solid or patterned tiles or wallpapers and remodel the backsplash. The light green beautifully complements the neutral cabinets and white countertop. This is a must-try design if you are new to setting up a green kitchen.
14. Sleek Sage Green Kitchen Cabinets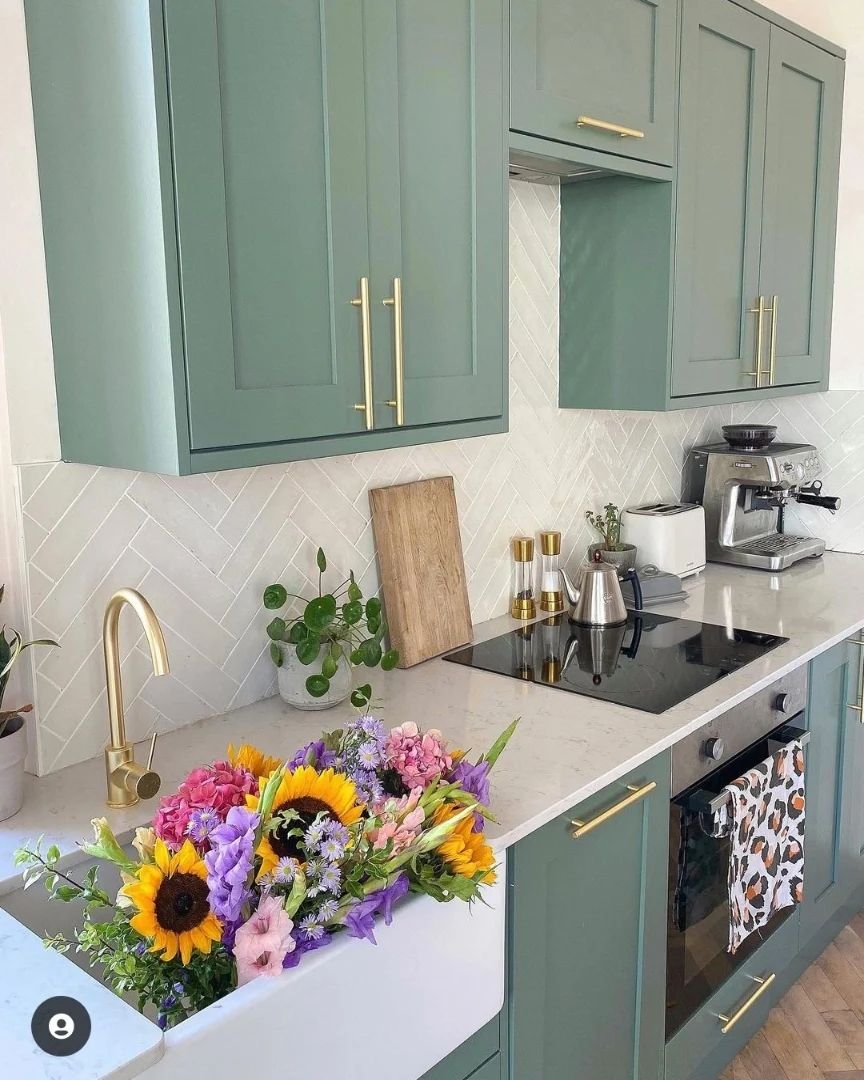 From tuinteriorymas
Add a refreshing splash of green to your kitchen cabinets to go with an all-white kitchen space. This sage touch will surely make the space lively and attractive. You can use green kitchen cabinets to bring a colorful contrast to your plain white space. Sage is a modern and classy shade that pairs well with brass accents. This can be a great choice to give your kitchen a contemporary look.
15. Pastel Pista Green Kitchen Cabinets
From fraufriedablog
Choosing pastel tones instantly gives any space a relaxing yet appealing look. Pista green kitchen cabinets are a subtle choice when planning a new kitchen. The muted cool tones blend well with various interiors. These kitchen cabinets are not too loud and look perfect in your country-style kitchen. The black handles can be customized, and you can go for a darker or lighter green to suit your taste!
Add to the taste of your kitchen space.
16. Color Blocked Kitchen Design
From homeofcharl
If you believe a green kitchen is all about turning everything into hues of green, then you're wrong! While designing a this kitchen, you can play around with other colors that contrast well with green. Color blocking is a bold and stylish way of remodeling your kitchen space. The thick pink stripes highlight the dark green cabinets perfectly. You can also use lighter shades of both colors for a more subtle and tinted look.
17. Minimal Pista Green Kitchen
From _house_77
I love how simple yet attractive these pista green kitchen cabinets look. The cool tones of pistachio green are a minimal touch you can add to your kitchen space. These kitchen cabinets perfectly complement your farmhouse kitchen and its wooden accents. Just give your cabinets a fresh coat of pista green paint, and your kitchen is ready!
18. Quirky Jade Green Kitchen
From absoluteprojuctmanagement
Looking for a pop of color in your kitchen? Add these bold jade cabinets to the top and bottom of your kitchen with a quirky backsplash. This is an excellent choice if you enjoy going all out with your remodeling projects. This hue of green is very catchy and perfect for a bright touch to your kitchen!
19. Rustic Dark Green Kitchen
These stunning deep green kitchen cabinets and chimney are a must-have in your new kitchen remodel. Rich in texture, the cabinetry is complemented well with wooden flooring and brass hardware. The open shelves and bright white walls lighten up the space and balance out the dark green perfectly!
20. Marble Dark Green Kitchen
From originalbtc
Green kitchens pair well with marble countertops and backsplashes. So, make these dark green cabinets your pick for the marble kitchen. The contrast of dark hues against bright white gives the space a balanced look. This is a minimal yet eye-catching design, and that too, on a budget!
21. Two-Toned Dark Green Kitchen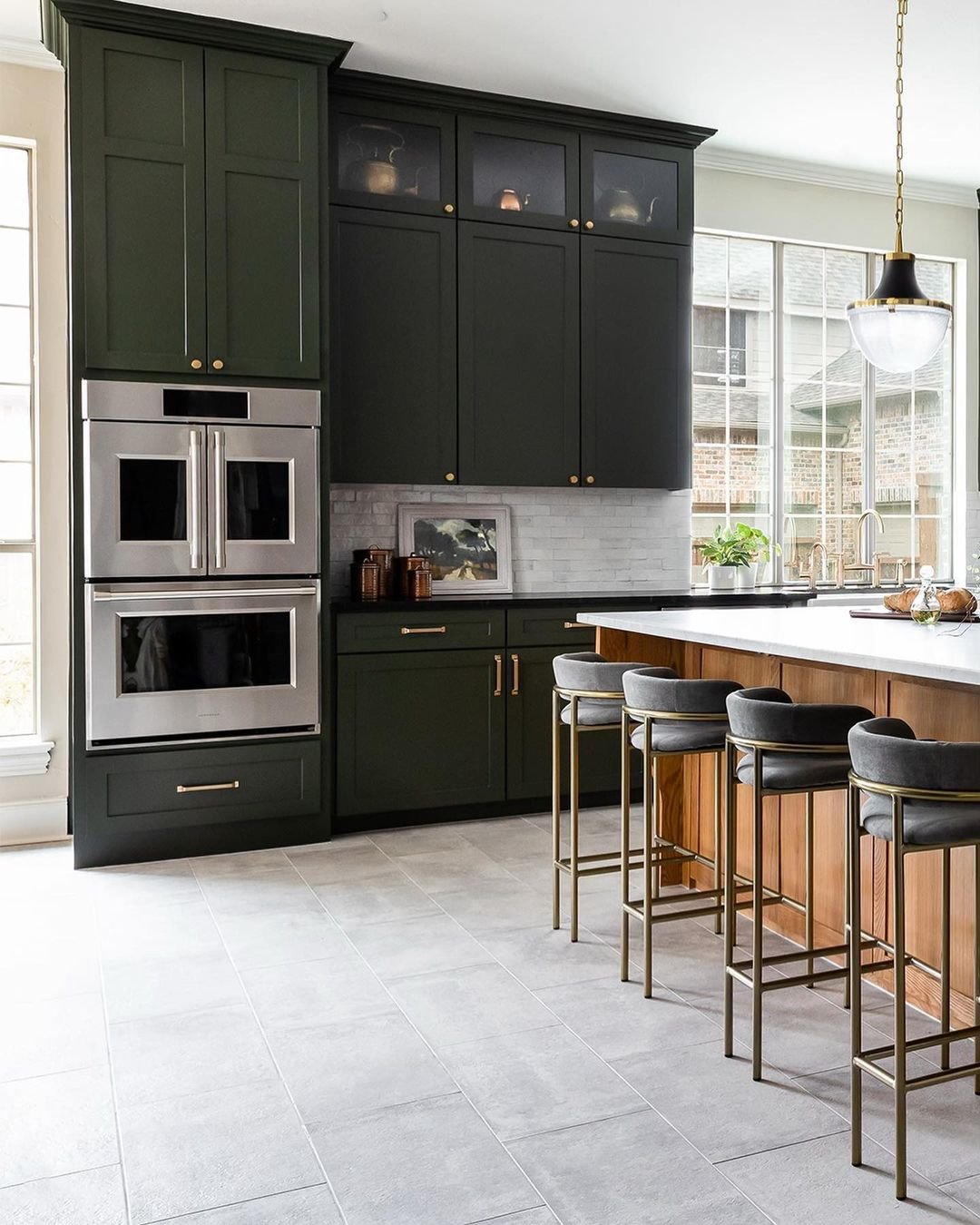 If you are building a green kitchen, why limit yourself to one hue of green when you can go for many more? These two-toned dark green cabinets adds a charming twist to the boring cabinets. You can experiment with different hues, and this idea works best with multiple cabinets spread across the kitchen.
22. Everything Green Kitchen Design
From deargloria.home
Deep green tones are a sophisticated way of adding change to your kitchen space. These gray-green cabinets spread across the kitchen give the space an intense yet vibrant feel. The black countertops blend well with the dark accents of the cabinetry. This design looks amazing in the bright daylight and the evening mood lighting!
23. Minty Fresh Green Kitchen Cabinets
From northshorekitchens_
Give your kitchen space a super cute makeover using this soothing shade of mint green. Cover your cabinetry with this evergreen shade to give it a trendy touch! The versatility of this hue blends well with light or dark interiors and makes your space instantly pleasant.
24. Elegant Dark Green Cabinets
From katiedeandesigns
I love how seamlessly these dark green kitchen cabinets blend with the elegant kitchen interiors. If you worry that the space will be too dark, you can balance it with a bright white backsplash and hanging cabinets. Also, the natural sunlight will give these dark green hues a colorful contrast.
25. Vintage Gray-Green Kitchen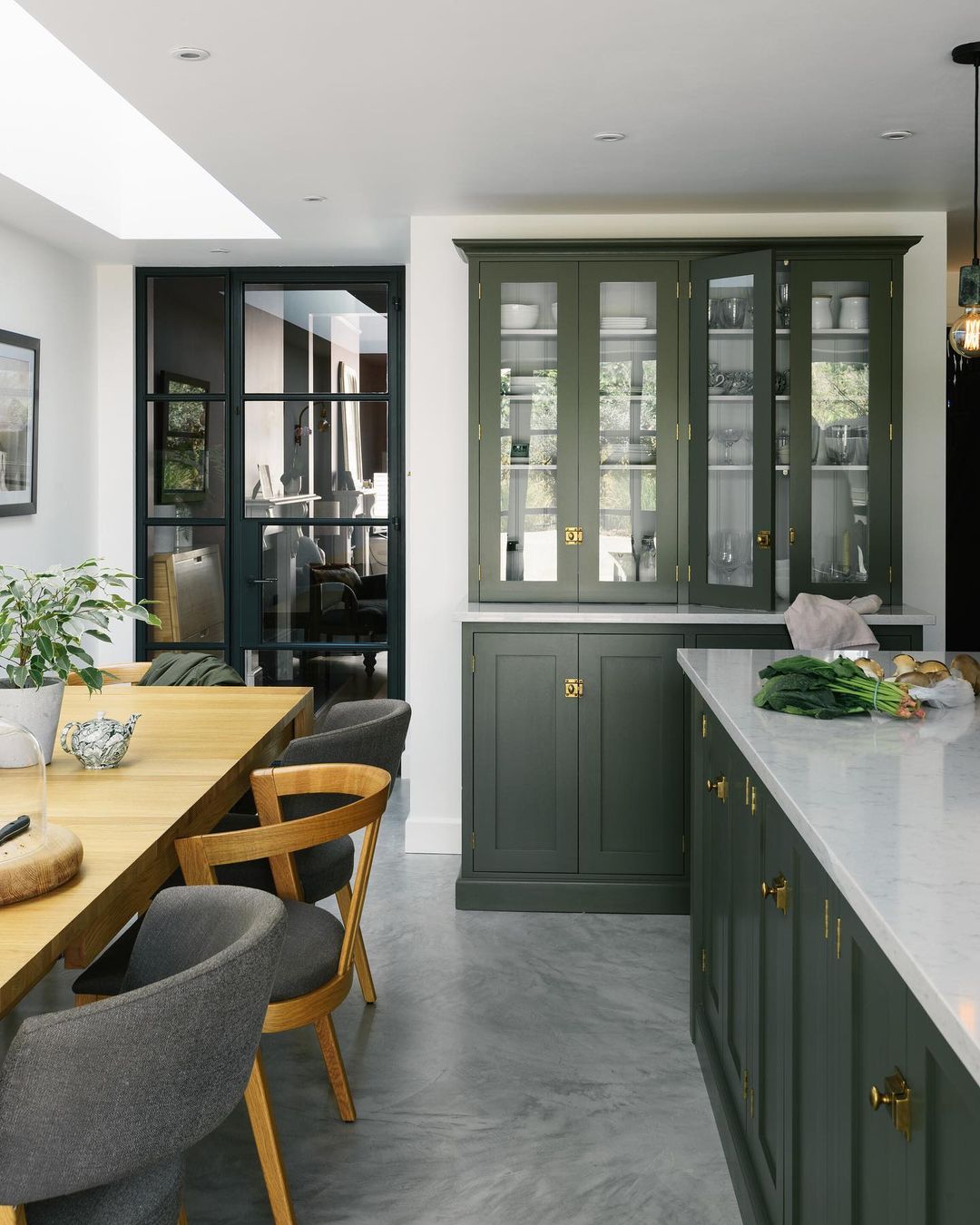 From devolkitchens
I love these vintage kitchen cabinets painted in a fresh coat of grayish-green tones. The glass door cabinets are highlighted with this elegant pop of color. The white walls and countertop perfectly balance the dark tones of these green kitchen cabinets. You can add brass hardware to the cabinets for a cleaner and richer look.
26. Textured Dark Green Cabinets
From welcome2westcott
If you prefer a more personalized touch to your spaces, try out this unique dark green design for your kitchen. The cabinets are coated with a dark pine shade with a textured finish. The visible strokes of paint add a rustic and forest feel to this kitchen. The wooden countertop and tiled backsplash are a great choice to match this aesthetic!
27. Pista, Please Green Kitchen Cabinets
From ktu_burloak
These beautiful pista green kitchen cabinets can make a big difference in your dull cooking space! The muted green tones are a trendy twist to the flat whites and beiges. Do try this color to give your kitchen a bright and pleasant appeal. You can also use this shade with darker interiors to add some light.
28. Timeless Olive Green Cabinets
Olive green kitchen cabinets have been a trend to follow this season. This timeless shade always stays in style. Whether you go all out, like this design, or add smaller olive hints to your kitchen space, it will undoubtedly be very tasteful. You can choose brass or black hardware to complement the cabinets, and your olive green kitchen is ready!
29. Handleless Green Modular Kitchen
From benchmarxkitchens
This sage green modular kitchen is the perfect example of everything classy and contemporary. The minimalist paneled cabinetry painted in this neutral sage color is a soothing treat to the eyes. The blush pink wall adds an aesthetic balance to the entire kitchen space. If you are building your green modular kitchen from scratch, this design is the best choice!
30. Lovely Leafy Green Kitchen Design
From idinteriordesignmn
Here is another adorable mint green and pale pink kitchen design that makes for the cutest spot in your home. The leafy wallpaper peaking through the cabinet glass is such a unique addition. The greens, pinks, whites, and browns blend to make this a cozy kitchen. It will surely be the best evening tea and sandwich spot in your home!
31. European Green Kitchen Design
From juliachasmandesign
This tiny European kitchen is the perfect inspiration for remodeling kitchen cabinets. This sage hue is not too much yet vibrant enough to make your kitchen fresh and bright. Combining green cabinetry with a similar kitchen island makes this a unique design. It is best complimented by white interiors and textured flooring!
32. Boho Green Kitchen Design
This romantic green kitchen design shall make your bohemian dreams come true! The olive green cabinetry and a matching island make this a minimal yet luxurious space. I love how well the dark olive green cabinets blend with the neutral beige and white tones.
33. Mint Tint Green Kitchen Cabinets
From durasupreme
Here is another delightful kitchen design with hints of minty tones in the kitchen cabinets. The subtle green breaks the white monotony of the kitchen and adds a lively contrast. It blends beautifully with the brass hardware, dark wood flooring and results in this cute kitchenette. Do give this design a try while you set up your green kitchen!
34. Apple Green Kitchen Cabinets
From rachaelsmithphotographyltd
Add a super fresh and cute look to your kitchen using these apple-green kitchen cabinets. Topped with mint green wall paneling, a marble backsplash makes this a very creative option. You can add some floating shelves and brass hardware to complete this kitchen design!
35. Quartzite Green Marble Kitchen
From andandandstudio
Turn your kitchen into the best gathering spot for a warm cup of coffee by making a simple change. Add a dark green quartzite backsplash to your kitchen, and voila! Your stylish, unique, and elegant green marble kitchen is ready! You can pick any shade of green to suit the interiors of your kitchen. This is an excellent choice for open kitchen spaces.
36. Chevron Olive Green Kitchen
From barij
Another excellent way to revamp your kitchen backsplash is by installing this monochrome chevron design. Just a simple change can transform the look of your kitchen space. It makes the kitchen very natural, bright, and earthy! Do try this design if you are looking to DIY your kitchen space.
37. Luxurious Olive Kitchen Cabinets
From miks.home
Give your kitchen cabinets a shiny olive green coat for turning your kitchen into a luxurious and refreshing space. You will look forward to enjoying your meals in this stunning kitchen. The design is super simple and can be used for any cabinet style. You can customize the tone of olive green to suit the kitchen interiors.
38. Nature Inspired Green Kitchen
I love how the wooden beams on the ceiling give endless options for designing this kitchen space. And this gorgeous shade of dark green is a phenomenal choice! It balances out the lighter interiors of the kitchen and makes it very modern and nature-inspired. You can go for warmer or cooler tones according to your taste!
39. Edgy Olive Green Cabinetry
From caseyhowardinteriordesign
Add an edgy and sophisticated vibe to your kitchen using this amazing green kitchen design. The two-toned cabinets and kitchen island add diversity and give your kitchen a more modern feel. The dark flooring and brighter ceiling are balanced in the middle by the hues of olive green!
40. All Olive Green Marble Kitchen
From maison_amarande
Create your dream green kitchen by going all out with this beautiful olive green design. This monochrome kitchen design is best suited for green lovers. If you want to add earthy tones to your kitchen space, paint your walls and cabinets olive green. To complement the interiors add a similarly toned marble countertop. You can also adjust the shades of green according to your preference.