Welcome to the ultimate guide for anyone looking to take their shelf decor game to the next level! If you're bored of staring at the same old boring bookshelves day in and day out, fear not – we've got you covered with some of the best shelf decorating ideas.
In this article, we've searched the internet for the most impressive and stylish shelf decor ideas. 
So please put on your decorating hat, grab a cup of cold coffee, and get ready to transform your boring shelf into a stunning styling shelf of your personality and style. Let's dive in!
Related articles – 
1. Balance Small Pieces With Larger Accents
Image and tutorial by House By Hoff
Sometimes, your open shelves can look like a cluttered mess of tiny trinkets. That's why balancing small pieces with more extensive accents is crucial. A few small blocks mixed with larger ones can create a stable and stylish structure.
So go ahead, add those cute little knick-knacks to your shelf. Just mix in some more significant pieces to keep things grounded. Your shelf (and your inner interior designer) will thank you.
2. Using Plants To Bring Life to Your Shelf Decor
Image and tutorial by House Mix Blog
Do you know what the secret ingredient to perfect shelf decor is? Plants, my dear friends! Not only do they add a pop of color and life to your shelves, but they also have the power to make you look like a fancy, sophisticated plant parent.
Whether you're into succulents, ferns, or cacti (or all three, we don't judge), adding a few plants to your shelves is a surefire way to elevate your decor game. 
3. Keep It Colour Co-ordinated
Image and tutorial by Lizmarie Blog
If you want your shelves to look like they were styled by a professional, here's a hot tip: keep them color-coordinated.
That's right, folks. If you want your shelf to look like a work of art, keep the colors in check. Don't just throw random items up there like it's a garage sale. Instead, think about the colors of your items and how they work together.
4. Display Art
Image and tutorial by Love Grows Wild
Desire to add sophistication to your bookshelf? Why not display some art pieces to give it that "I didn't just raid my local thrift store" vibe?
There's absolutely no need to break the bank either – pick up a few prints from your favorite artists or even your kid's art project.
Not only will it make your bookshelf look fancy, but it'll also make you look like a cultured individual who knows something about the arts.
5. Include Books And trays
Image and tutorial by Style By Emily Henderson
Not only do books add a touch of intellectual sophistication to your shelves (even if you've never actually read them), but they also come in all sorts of colors and sizes to fit your decor vibe. And don't even get me started on trays – they're like the MVP of shelf accessories.
6. Know The Importance Of Scaling
Image and tutorial by The Beauty Revival
It's time to learn about the importance of scaling. No, we're not discussing weighing your decor (although that could be an interesting approach). Instead, we're talking about the size of your items relative to each other and the size of the shelf itself.
If you've got tiny trinkets and massive vases all jumbled together, your shelves are going to look like a scene out of Alice in Wonderland.
7. Go Farmhouse Style
Image and tutorial by Hey Donna
If you're into that rustic, country vibe, farmhouse style is where it's at. Think weathered wood, vintage finds, and plenty of charm.
To get the look, scour your local flea markets and antique stores for some one-of-a-kind pieces. Old milk jugs, chicken wire baskets, and mason jars are all great additions to your shelf.
8. Divide Into Sections And Decorate
Image and tutorial by Advice From A 20 Something
Are your bookshelves feeling a little lackluster? Here's a tip to spice things up: divide and conquer! No, we're not talking about world domination (yet); we're talking about sectioning off your shelves and decorating each one individually.
This breaks up the monotony of rows and rows of books and also gives you a chance to showcase different styles and themes.
9. Repeat Decorative Accents And Elements
Image and tutorial by House On Longwood Lane
Don't be afraid to use the same decorative accents and elements multiple times on your shelves. It creates a sense of continuity and makes your brackets look intentional and cohesive.
10. Place Smaller Decor Accessories On Stacked Books
Image and tutorial by Update Interiors
One great tip is to place smaller decor accessories on top of those stacks of books. Not only does it add some height and dimension to your shelves, but it also shows off your love for reading.
So let's mix and match – throw on a cute little succulent, a vintage candlestick, or even a funky little sculpture.
11. Include Something Geometric
Image and tutorial by Kristi Murphy
Looking to add some pizzazz to your shelves? Consider incorporating something geometric! Geometric shapes are all the rage in home decor right now. Whether it's a funky diamond-shaped vase or a set of hexagonal bookends, adding a touch of geometry can instantly elevate your shelfie game.
12. Add Meaningful Decor
Image and tutorial by DIY Playbook
Adding decor that has sentimental value or tells a story is a surefire way to give your shelves some soul; whether it's a quirky figurine from your travels or a framed photo of your dog, meaningful decor adds a personal touch that can't be beaten.
13. Select A Theme
Image and tutorial by Artsy Chic Rule
Choose a theme that speaks to your interests and personality. Love travel? Fill your shelves with globes, vintage suitcases, and travel guides. A fan of all things nautical? Add some seashells, anchors, and a captain's hat (because who wouldn't want to look like they're ready to set sail at any moment?).
14. Sort Books By Color
Image and tutorial by Paper And Stitch
Gone are those days where frantically searching for that one book you need, only to be thwarted by the chaotic mess of your bookshelf. With this tip, you'll not only have a stylish display but a functional one too. So go forth and color-coordinate your way to bookish bliss!
15. Use A Variety Of Colors, Shapes, And Textures
Image and tutorial by Love And Renovations
Think of your shelf as a canvas and your decor as the paint – you wouldn't want to use just one color, right? So throw in that funky-shaped vase or that fluffy pom-pom garland you've been eyeing.
The key here is to have fun and experiment. Who knows, you might discover your inner interior design guru.
16. Use The Lower Shelf For Daily Must Haves
Image and tutorial by Lolly Jane
Think about it – why waste valuable real estate on your top shelves for items you only use once in a blue moon? Reserve that prime spot for your chic decorative pieces and keep your everyday essentials within arm's reach on the lower shelf. This is one of the best kitchen shelf decor ideas. 
Also, read – 30 DIY Pantry Shelves To Build For Your Home
17. Stagger The Heights Of Each Object
Image and tutorial by The Turquoise Home
How to make your wall shelf look like it was styled by a professional and not a five-year-old with a random assortment of toys. Fear not, dear reader, for we have a tip that will take your shelf decor to the next level: stagger the heights of each object.
Yes, it's that simple. Arranging your items at different heights creates visual interest and prevents your shelf from looking too uniform.
18. Add Baskets For Extra Storage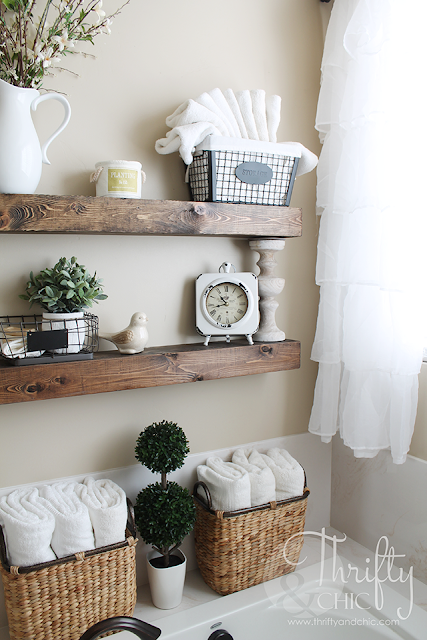 Image and tutorial by Thrifty Chic
Add baskets for extra storage! Yes, you heard me right – those wicker wonders are not just for picnics and farmers' markets anymore. So stick them on your shelves and watch your clutter disappear into the abyss. They add a rustic-chic vibe that's just begging to be Instagrammed.
19. Nail Down A Color Scheme
Image and tutorial by The DIY Mommy
Are you all about that beachy vibe? Go for blues and greens. More of a boho babe? Warm tones like oranges and pinks might be more of your style.
Trust us, once you've got a color scheme locked in, the rest of your shelf styling will practically fall into place. Plus, you'll look like a total decor pro (even if you're really just winging it).
20. Keep It Neutral And Subtle
Sometimes the urge to go wild with bright colors and bold patterns can be strong, but trust us – less is more. Keeping your living space shelf decor neutral and subtle creates a sense of sophistication in your space. Plus, you won't have to worry about your knick-knacks clashing with your throw pillows (the horror!).
21. Personalize The Shelf With Picture Frames
Image and tutorial by Driven By Decor
One easy and affordable way to add some pizzazz to your decorating shelves is by adding photo frames.
Not only will it give your space a more homey vibe, but it'll also give you an excuse to show off all those embarrassing family photos. You know, the ones – where your hair looks like a bird's nest, and your outfit is a fashion disaster.
22. Shelf Display Your Collection
Image and tutorial by The Home I Create
Shelves are the perfect place to show off your collection of vintage teacups, action figures, or antique spoons (hey, we won't judge). Not only will they add color and personality to your space, but they'll also spark some interesting conversations with your guests.
23. Decorate According To The Season
Image and tutorial by Cherished Bliss
Why settle for bland old shelf decor that stays the same all year round? Instead, spice things up by decorating your shelves according to the season!
Add some cozy knits and warm blankets to your adjustable shelves to create a hygge atmosphere in the winter. Bring some fresh flowers and pastel-colored accessories in the spring to celebrate the new beginnings.
Summer calls for beachy vibes and tropical plants, while fall is about pumpkins, leaves, and rustic accents.
24. Use Vases As Decorative Objects
Image and tutorial by Bless This Nest
Are your shelves looking a little bland? Well, it's time to let those vases shine! Go for a bold and colorful vase to add some pizzazz, or opt for a sleek and modern design to keep things chic. Feel free to mix and match different shapes and sizes, too – variety is the spice of life.
25. Modern DIY Floating Shelf
Image and tutorial by The Handcrafted Haven
Looking for a shelf decor tip that's modern, stylish, and easy on the wallet? Look no further than the DIY floating shelf!
This project will make you feel like a crafting genius and give your home that sleek, minimalist look that's all the rage these days.
26. Collect Potential Items
Image and tutorial by Julie Blanner
Whether it's a quirky figurine, a stylish vase, or a funky piece of art, don't let anything slip through your fingers. You never know when you'll find the perfect item to complete your shelf decor vision.
27. Add In The Vintage Beauty
Image and tutorial by Making Manzanita
There's just something about an old, weathered book or a vintage knick-knack that screams, "I'm sophisticated and classy but also kind of funky and cool." So go ahead, raid your grandma's attic, or hit up your local thrift store – you never know what hidden gems you might find.
28. Incorporate Pictures And Decorative Plates
Image and tutorial by Little House On The Corner
Mix different styles and sizes of frames to create a visually exciting display. And feel free to get creative with your plate placement – stack, lean, or even hang them on the wall!
29. Add In Metals Or Glass For Some Sparkle And Shine
Image and tutorial by Nina Hendrick
If your bookshelves are feeling a little lackluster, it's time to add some bling! Cue the metallics and glass, baby!
Adding in some shiny elements will make your shelves look more stylish and give you the added benefit of constantly feeling like you're in a disco ball-filled room.
30. Shop Your House First Before Buying From The Stores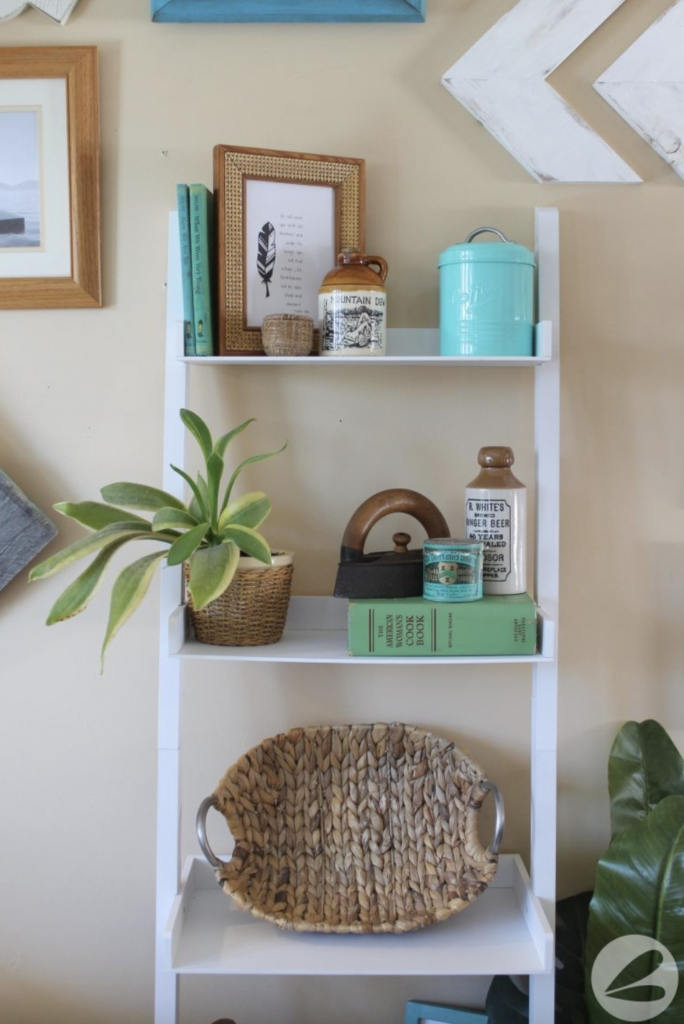 Image and tutorial by Homemade Heather
Before you hit up the stores and blow your budget on fancy knick-knacks and trinkets, stroll around your house first. That's right, my friends, shop your digs!
You'd be surprised at the treasures you can find buried in your own closets and drawers. You may have some sentimental items that deserve a spot on your shelves, or that weird thing your Aunt Mildred gave you years ago suddenly looks like a work of art in the proper context.
31. Embellish The Decor
Image and tutorial by 2 The Sunny Side
Take those boring old trinkets and knick-knacks you've collected over the years and give 'em a little makeover. Add some glitter, dazzle them with gems, or even slap on a coat of neon paint.
Trust us; nothing says "stylish" like a sparkly ceramic unicorn on your bookshelf.
32. Visual Balance Is Important
Image and tutorial by Worthing Court
When it comes to decorating your shelves, there's one crucial tip to keep in mind: visual balance is key.
You don't want to overload one side with all your favorite items and leave the other side looking like a barren wasteland. That's just bad feng shui, people.
33. Incorporate Sentimental Or Heirloom Objects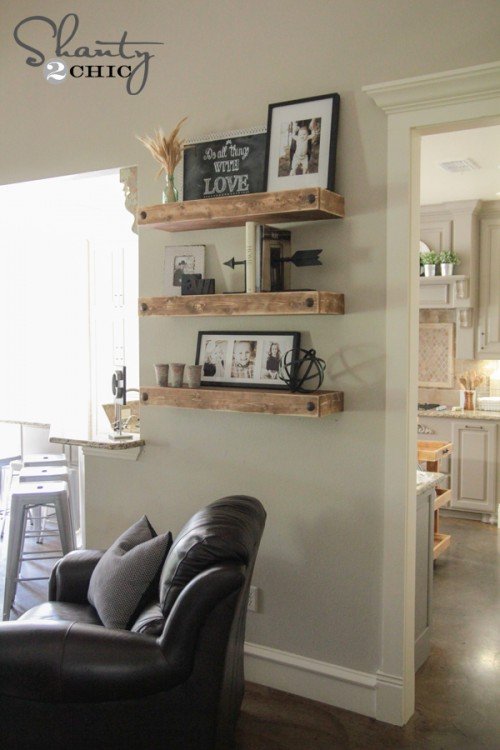 Image and tutorial by Shanty 2 Chic
Are you looking to add personality to your shelf decor? Why not dig up that old family heirloom or sentimental trinket you've hoarded all these years?
It will add a unique element to your display and allow you to show off that weird-looking vase your great-grandma gave you.
34. Do Not Include Anything That You Don't Love
Image and tutorial by Jenny Reimold
Here's a tip that will save you a whole lot of headaches: don't include anything on your shelves that you don't love.
Think of your shelves as a VIP section for your favorite objects. They should be the chosen few, the cream of the crop, the objects that make your heart sing.
35. Step Back And Adjust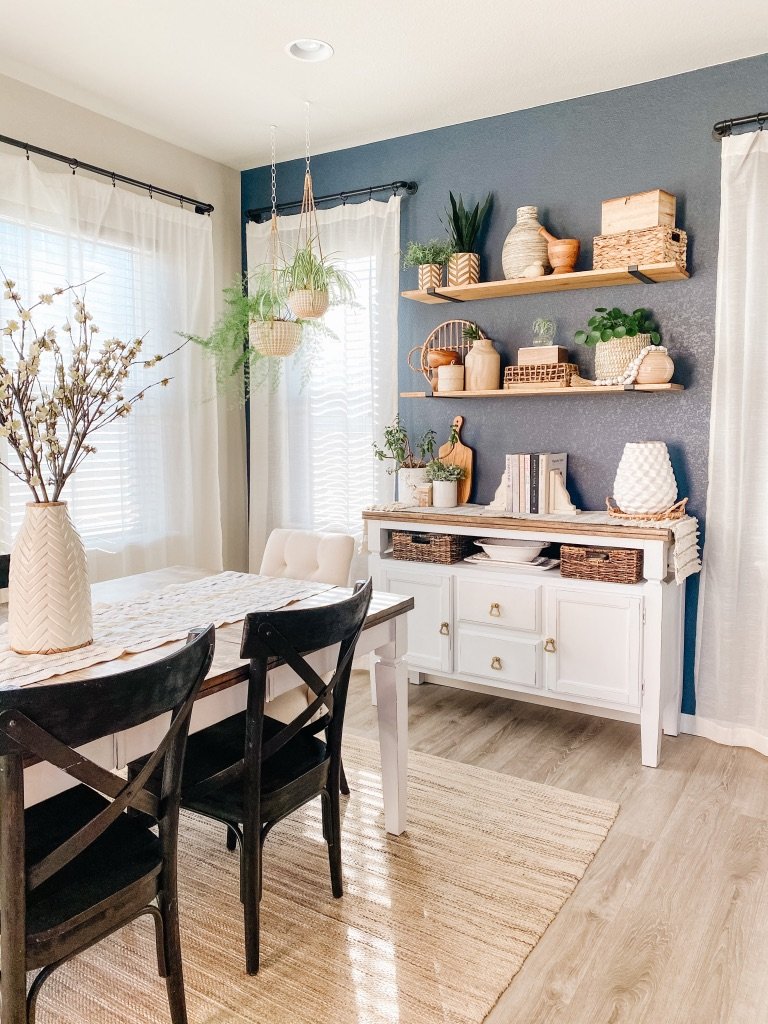 Image and tutorial by Sprucing Up Mamahood
The solution to your shelf decor woes is as simple as walking a step back and adjusting. It's like that old saying: sometimes you can't see the forest for the trees. Or in this case, the shelf for the trinkets.
So take a deep breath, put down the decorative figurine, and step back to get a better view. It might just be the key to unlocking your inner interior decorator.
36. Include A Variety Of Wood, Ceramic And Woven Textures
Image and tutorial by Kelsey Kooima
You don't want your shelves to look like a boring one-trick pony, do you?
Including a variety of textures like wood, ceramic, and woven materials can give your shelves a touch of personality and depth. It's like a mini adventure for the eyes as they journey from one texture to the next.
37. Overbuy. That's Right. Buy Way More Stuff Than You Think You Need.
Image and tutorial by Shannon Leigh
Why settle for a sparsely decorated shelf when you could have a veritable cornucopia of quirky trinkets and eye-catching baubles? Sure, your wallet may scream for mercy but think of your satisfaction when you finally achieve the perfect shelf.
40. Keep It Simple And Fun
When it comes to living room shelves decor, the key is to keep it simple and fun. Don't go overboard with a million tiny trinkets, or your shelves will look like a cluttered mess.
Instead, focus on a few statement pieces that showcase your personality and style. And remember to have fun with it! For example, add a quirky sculpture or a funny figurine to inject some personality into your shelves.
41. Go For An Open Shelving Display
Tired of hiding your clutter behind closed cabinet doors? It's time to embrace the open-shelving trend! Not only does it show off your collection of cute mugs and quirky succulents, but it also forces you to keep things tidy (because nobody wants to see a pile of dirty dishes on display).
42. Black, White, And Gray Can Never Go Wrong
Looking for a foolproof way to make your shelves look effortlessly chic? Here's a pro tip: you can never go wrong with black, white, and gray.
Seriously, these colors are like the holy trinity of shelf decor. They're timeless, versatile, and go with just about anything. Plus, they'll make you look like a decorating genius without even trying.
43. Mix In Trends With Classics And Personal Touches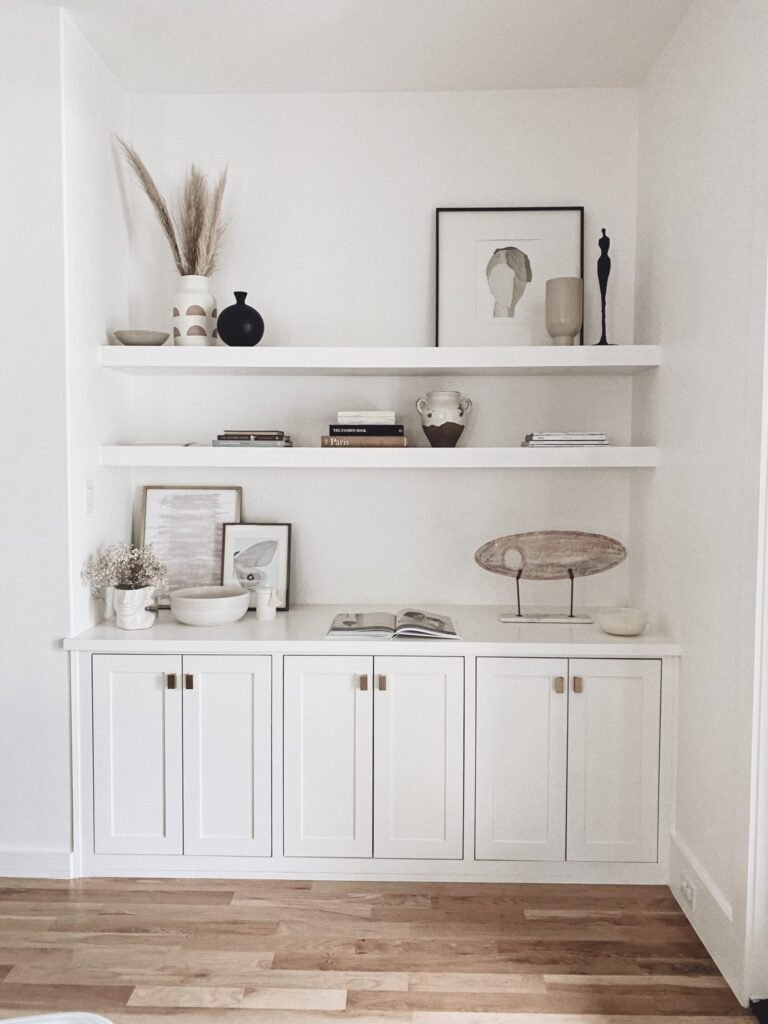 You don't want your shelves to look like a time capsule from the 70s, but you don't want to be a slave to every passing trend. So, throw in a few trendy pieces, but remember to showcase some classic items. And, of course, remember to sprinkle in some personal touches that make your shelves pop.
44. Don't Be Afraid To Start Over If You Don't Like What You Have Created
Image and tutorial by Mindy Gayer
Sometimes it can be tough to let go of our initial design ideas and start fresh but trust us; it's worth it. Don't get afraid to hit the reset button and try some new decor pieces or rearrange your current ones.
After all, the worst that could ever happen is you end up with a shelf that still doesn't quite work and have to start over again. Let's not think about that.
45. Layer Layer Layer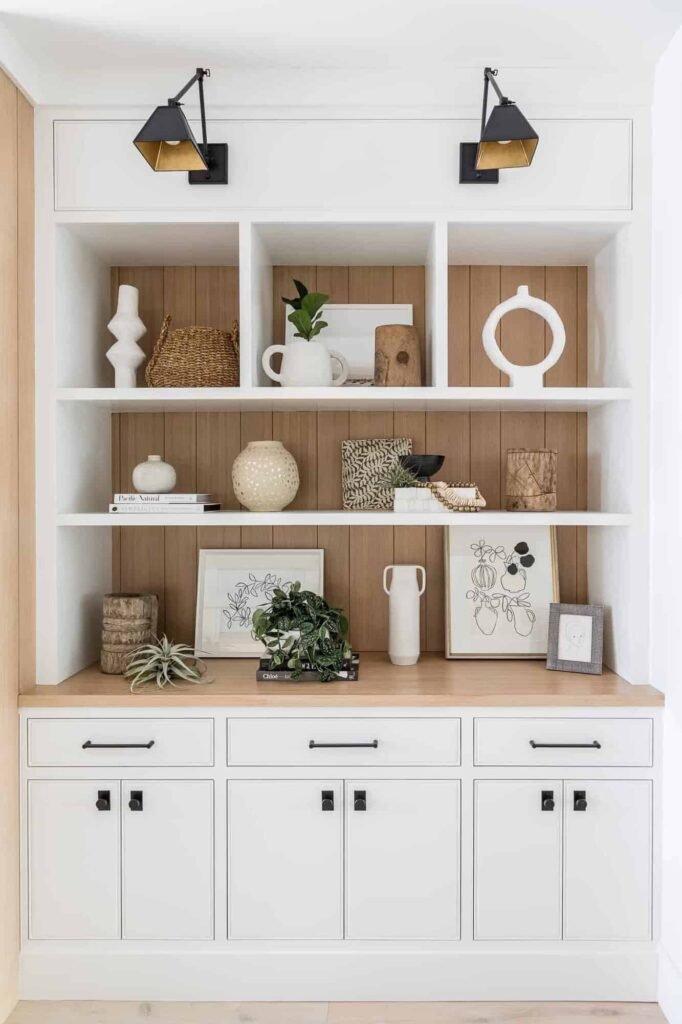 If you want to take your shelf decor game from basic to boss-level, listen up, folks: it's all about the layers. That's right; we're talking layering like you're building a lasagna (or a cake, if that's more your thing).
First, start with a sturdy base – think of a few more oversized items that anchor the shelf. Then, add some medium-sized pieces to create depth and texture. Finally, top it off with smaller items like plants or trinkets to add personality and charm.
46. Use Unique Items for Eye-Catching Shelf Decor
Image by Bria Hammel Interiors
The key to eye-catching shelf decor is to use unique items that catch the eye and add personality to your space. Don't be afraid to mix and match – throw in some vintage finds, quirky trinkets, and maybe even a bizarrely shaped vase that you picked up at a thrift store.
47. Go For An Entirely Bespoke Option
Image by Camille Styles
So you're tired of the same old generic shelves and want something unique? Look no further than these bookshelf decor ideas!
Forget the mass-produced options – go for something made just for you. Want a shelf that looks like a giant slice of pizza? No problem! How about one that doubles as a mini rock climbing wall? We can make it happen!
48. Curate A Display That Dazzles
Image and tutorial by Mary Lauren
The key to achieving that dazzling display is to curate your items like priceless works of art.
First, gather all your knick-knacks, trinkets, and other odds and ends. Then, think like a curator at a fancy museum. Which items complement each other? Which ones clash like a traffic jam on a Monday morning?
Once you've selected your star pieces, arrange them to showcase their unique beauty while creating a cohesive look. And remember, there's no need to overdo it. Remember, Less is more!
49. Consider Rustic Wooden Shelving
With its natural texture and warm tones, rustic wooden shelving adds a touch of earthy charm to any room. Plus, this will the perfect excuse to bust out that DIY toolkit and show off your handy skills.
50. Don't Get Too Crowded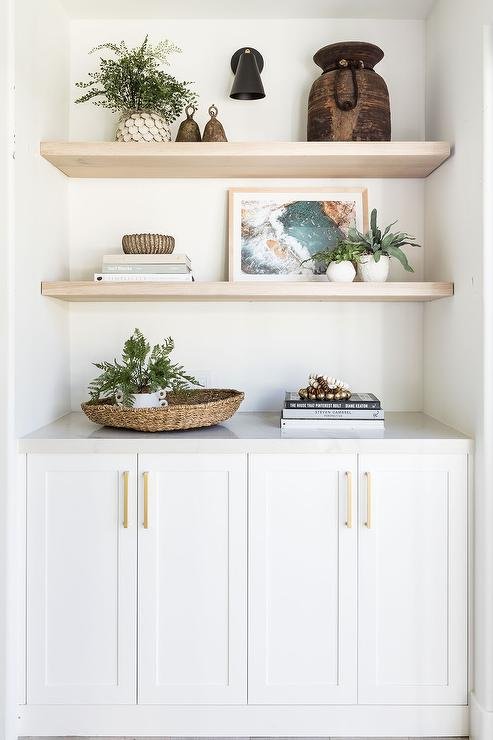 Doesn't let your shelves become a cramped, overcrowded mess! Yes, we know you want to display every single one of your beloved trinkets and treasures but trust us, less is more.
If you love these diy shelf decor ideas, don't forget to pin the above image to your "home and garden" board.