Attention all book lovers and arch enthusiasts! If you're looking for a fantastic way to combine your love for literature and curved architecture, we have a treat for you. We've searched the internet to bring you 22 of the coolest arched bookcases out there, guaranteed to make you swoon. From traditional wooden designs to modern minimalist styles, these bookcases are more than just a place to store your favorite reads; they're statement pieces that will elevate any room. So grab a cup of cold coffee and be ready to fall in love with our arch-mazing bookcases.
Related articles – 
1. Custom Built-In Ikea Bookcase
Image and tutorial by First House On Finn
Its sleek and modern design makes this bad boy perfect for those who want to show off their impeccable taste in literature while also being the envy of all their friends. And the best part? It's custom-built to fit your space perfectly, so you can finally say goodbye to those awkward gaps and wasted wall space.
2. Ikea Arched Billy Bookcase Hack
Image and tutorial by Our Aesthetic Adobe
Did you know with just a few simple steps, you can transform your plain old Billy bookcase into a stylish arched masterpiece? Don't believe me? Check out the tutorial; you will instantly love this cool hack. 
3. Easy Black Built-In Bookcase
Image and tutorial by Southern Yankee DIY
Are you Looking for a bookcase that's both functional and stylish? You have got lucky! This sleek and chic bookcase will add a touch of sophistication to your room while providing ample storage space for your beloved books. 
4. White Arched Minimalist Bookcase
Image and Tutorial by Home With Hay
With its clean lines and smooth white finish, this arched bookcase will make all your other furniture jealous. It's got enough space to store all your favorite books and enough style to make even the most avid Kindle user convert to paperbacks. 
5. Kids Room Olive Green Arched Bookcase
Image and tutorial by Instructables
Behold the cutest addition to any book lover's abode – the Olive Green Arched Bookcase! This little cutie is the perfect combination of trendy and traditional, with its classic arched design and charming olive green color. It's the ultimate statement piece for anyone looking to add some pizzazz to their book storage situation. 
6. DIY Arched Wall Library
Image and tutorial by Smor Home
If you're tired of boring rectangular bookcases taking up all your wall space, why not go for a more arch-itectural look? With this DIY arched wall library, you can add whimsy to any room and impress your book-loving friends.
7. Arched Bookcase With Glass Doors
Image and tutorial by Alice And Lois
This stunning piece of furniture will not only keep your books organized but will also showcase them in style. The arched design adds a touch of elegance, while the glass doors allow you to show off your literary treasures without fear of dust or damage.
8. DIY Corner Arched Book Case
Image and tutorial by 136 Home
Introducing the DIY Corner Arched Book Case, the perfect combination of literary charm and DIY magic. This bookcase will showcase your books while giving your room a unique arched touch. Plus, it's a great way to impress your friends with your handiwork skills. 
9. DIY Arched Cabinet
Image and tutorial by Functional Decor
Are you looking for a challenging weekend DIY project that will test your carpentry skills and patience? Then look no further than the DIY Arched Cabinet! This project will have you bending wood like a pro and cursing like a sailor in no time.
10. Built-In Arch Top For Bookshelf
Image and tutorial by Brian Benham
This pair of masterpieces of architecture is not only functional but also adds elegance to any room. The curved design provides the perfect backdrop for your favorite books while showing off your impeccable taste in interior design. 
11. DIY Painted Arch Shelves
Image and tutorial by Collective Gen
Ready to unleash your inner artist and carpenter? Then it's time to tackle the ultimate DIY project: a painted arch bookshelf. This masterpiece combines the best of both worlds – a functional bookshelf and an eye-catching arch design.
12. Classic White Arched Bookcase Cabinet
Image and tutorial by Maison De Pax
Looking for a bookcase that's as antique as a black-and-white movie? You should definitely consider this Classic White Arched Bookcase Cabinet! With its elegant arched top and crisp white finish, this bookcase is timeless and sophisticated, like the Audrey Hepburn of furniture.
13. Green Arched Bookcase With Doors
This is the tall bookcase that every plant-loving book hoarder needs in their life. With its beautiful arched design and leafy green color, it's like having your own personal garden in your home. 
14. Inexpensive Entryway Arch Bookshelf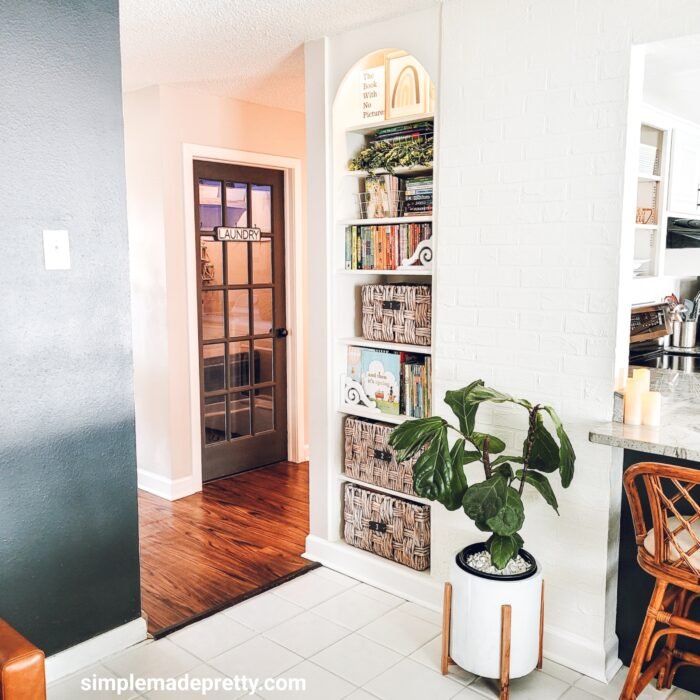 Image and tutorial by Simple Made Pretty
This arch-shaped bookshelf adds a touch of sophistication to your entryway while providing a spot to store your shoes, jackets, and of course, your beloved books. And the best part? It won't break the bank! Don't believe me? Check the tutorial now.
15. Stunning Black Arched Wood Bookcase
This black arched wood bookcase is the ultimate combination of beauty and brains. Not only does it have curves in all the right places, but it also provides ample space for your literary collection. 
16. Bookcase Cabinets With Glass Doors
Image and tutorial by Melissa Roberts Interiors
Behold the bookcase cabinet with glass doors! It's an amazing way to show off your impressive book collection while keeping it safe from curious hands and dusty fingers. 
17. All-White Arched Bookshelf DIY
Image and tutorial by Arin Solange At Home
This project is perfect for those who want to add some pizzazz to their plain old bookshelf but don't want to spend a fortune on a store-bought version. With little elbow grease and a lot of white paint, you'll have a bookshelf that will make all your friends and family say, "Wow, did you hire an interior designer?" 
18. European Inspired Bookcase With Fluted Doors
Image and tutorial by City Farm House
Introducing the DIY European-Inspired Bookcase with Fluted Doors, the perfect way to add some sophistication to your book storage game. With its elegant fluted doors and timeless design, you'll feel like you're strolling through the halls of a Parisian library every time you grab a book. 
19. Black Glass Bookcase Cabinet
With its black glass exterior, this bookcase paired with rustic floor exudes an air of sophistication that will make your other furniture green with envy. Not to mention, the glass shelves add a touch of elegance that will make you feel like literary royalty.
20. Industrial Style Arched Book Shelf
This bad boy is the perfect blend of industrial and arch-tastic design. With its sleek metal frame and gracefully arched top, it's the kind of bookshelf that will make your literary collection look like it belongs in a trendy Brooklyn loft.
21. Wood Casole Bookcase
Ah, the Wood Casole Bookcase – an actual work of art in the world of book storage. It's like a cozy little nook for your books to cuddle up in. Made of warm, inviting wood, this bookcase features arched shelves that will cradle your books like a loving parent. 
22. Small Book Cabinet With Glass Doors
This charming little cabinet is just the thing for displaying your collection of tiny tomes while keeping them safe from curious fingers (or claws if you have mischievous pets). Its dainty glass doors and compact size make it a tiny museum exhibit for your beloved books.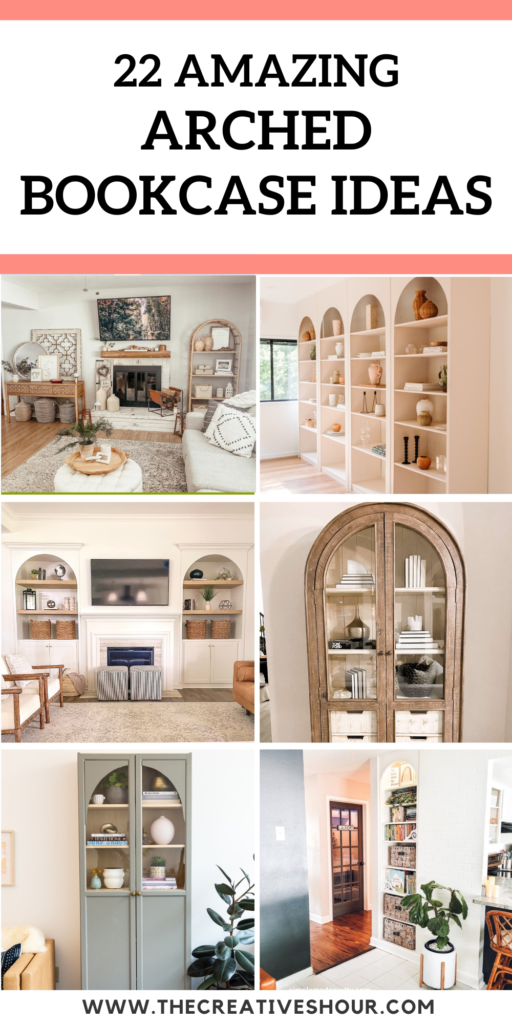 If you love these ideas, don't forget to pin the above image to your "home and garden" board.