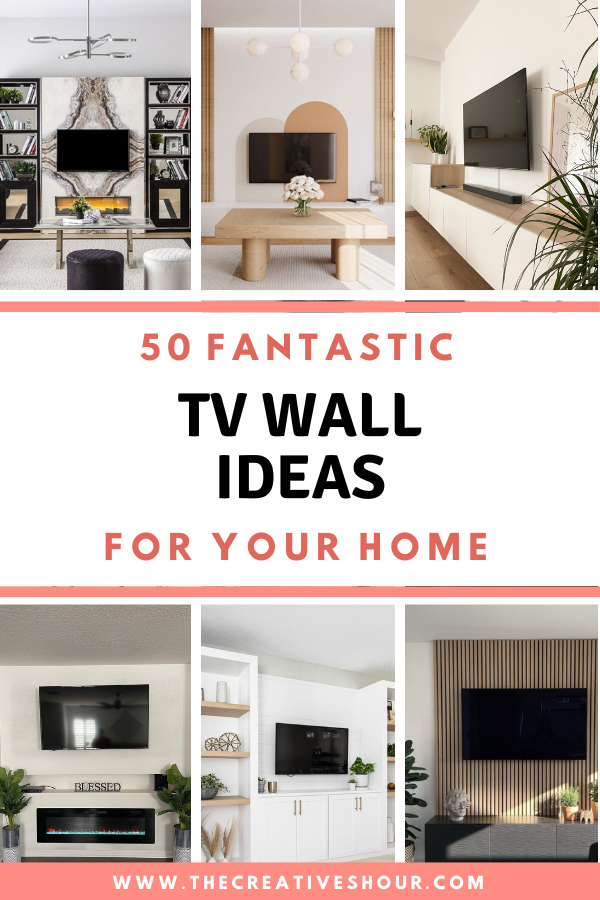 Tired of looking at that boring blank wall while binge-watching your favorite shows? Well, fear not, dear reader, because we've got the ultimate solution for you! In this article, we're diving headfirst into the world of TV wall ideas that are so amazing they're practically timeless.
From sleek minimalist designs to bold and vibrant statement walls, we've searched the depths of interior design to bring you the most jaw-dropping and envy-inducing TV setups. So, transform your living room into a cinematic wonderland where style and laughter collide in perfect harmony!
Related articles –
1. Make It Functional With Storage
Are you tired of constantly tripping over your endless collection of DVDs and remote controls? Well, fret no more because we've got the perfect tv wall decor idea that will not only make your living room look fabulous but also solve your storage woes. So get ready to embrace the magic of Storage!
2. Create A Focal Point
This tv stand idea unleashes your inner drama queen (or king) and creates a focal point to make your TV the show's undisputed star! So say goodbye to those uninspiring wall-mounted TVs that blend into the background like an introvert at a party. Instead, you will give your TV the red-carpet treatment it deserves.
3. Add In A Hanging Shelf For Your Wall Mounted TV
Want to take your TV wall to new heights of awesomeness? Look no further than hanging shelves! Yes, you heard it right, folks. We're not just talking about any old boring shelf. We're talking about a shelf that defies gravity and hangs gracefully above your TV like a superhero sidekick.
4. Keep It White And Minimalistic
If you're a fan of simplicity and cleanliness, then this TV wall idea is the perfect match for you! We're talking about a minimalist masterpiece that would make even Marie Kondo weep tears of joy.
5. Bring In The Rustic Charm With Wood Accent wall
Image by Swiss Interior Bandung
If you're tired of your TV wall looking as bland as a plain rice cake, it's time to spice things up with a wood accent wall and a coffee table. This TV wall idea will transport you straight to a cozy cabin in the woods, minus the bug bites and questionable bathroom situations.
6. Utilize The Space Below The TV
Why let all that precious space below your TV go to waste? It's time to unleash your inner genius and make the most of it! In this TV wall idea, we're all about utilizing the space below the TV in ways that will have you wondering why didn't you think of it sooner.
Also, read – 25 Cool DIY Faux Fireplace Ideas That Won't Cost A Bomb
7. Focus On Lighting
Whether you're watching a gripping drama or a hilarious sitcom, this idea ensures that every moment is lit up like a disco ball. Get ready to see your favorite shows in a whole new light – literally!
8. Keep It Neutral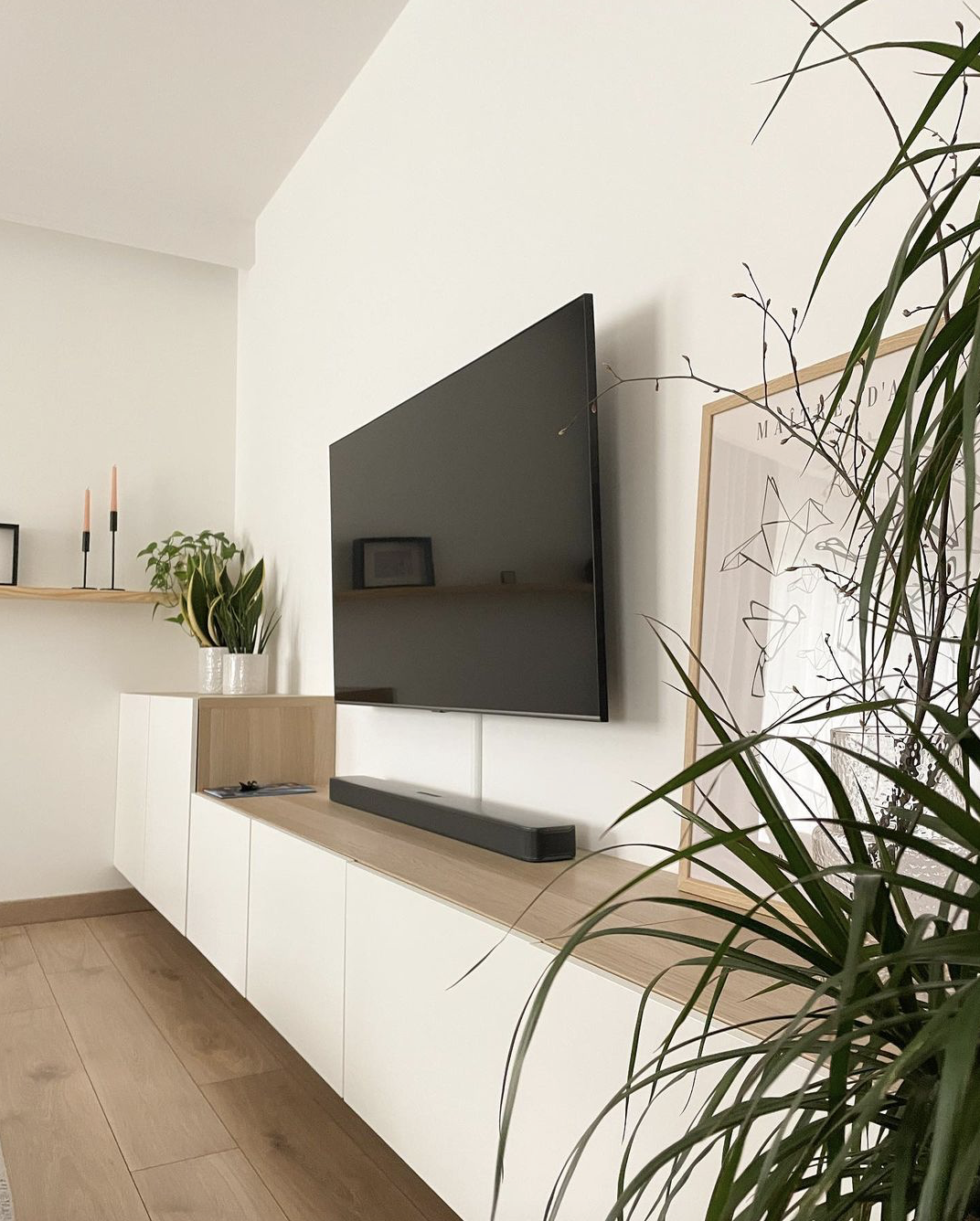 With this living rooms design, you'll be in constant awe of the captivating shades of beige that seamlessly blend into the background, making your TV the true star of the show. It's like watching your favorite series in a beige dreamland, where the excitement lies in the plot twists and not in the wallpaper.
9. Play With Colours
Image by Louslifeatsycamorehouse
This idea is like a kaleidoscope of joy, a rainbow of entertainment, and a visual feast for the eyes. Whether you opt for a vibrant accent wall or an explosion of colors surrounding your TV mounted, this design is sure to make your guests gasp in awe. So wave goodbye to dull neutrals and say hello to a TV wall that's as vibrant and lively as your favorite sitcom.
Also, read – 30 Amazing DIY Wall Mural Ideas To Brighten Any Room
10. Try Board And Batten Feature Wall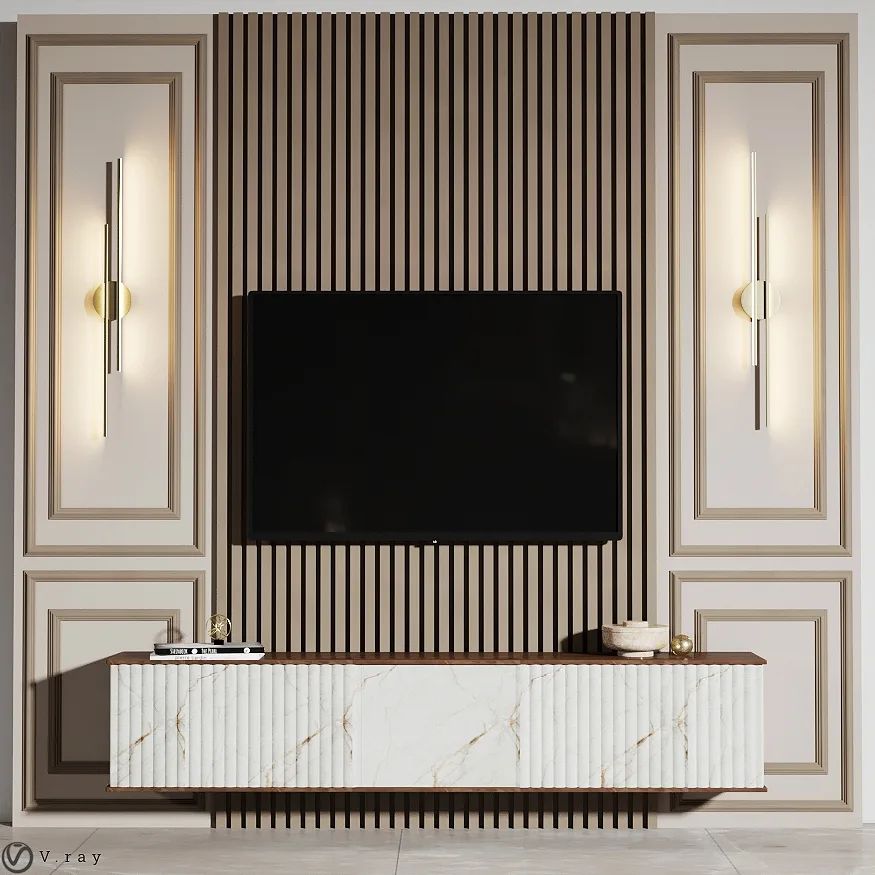 Introducing the "Try Board And Batten" accent wall, the TV wall idea that will have your living room feeling like the star of a home improvement show! Say goodbye to boring flat walls and hello to texture, depth, and a touch of architectural elegance.
11. Consider A Marble Backsplash
Why settle for a boring wall when you can admire an expensive marble masterpiece? This TV wall idea will make your friends gasp in awe as they enter your living room. But, of course, they'll be too busy admiring the sleek and luxurious marble to even pay attention to the plot twists on screen.
12. 3D Wall Panel Design
Say goodbye to flat surfaces and hello to a whole new dimension of awesomeness. This TV wall idea takes your viewing experience to another level, literally. It's like stepping into a futuristic sci-fi movie, minus the pesky aliens and intergalactic battles.
13. Keep It Sleek And Modern
Who needs a Picasso when you can have a TV wall that's sleek and modern? This idea is about simplicity and sophistication, like a supermodel sipping a fancy latte. So why settle for a wall that's stuck in the Stone Age? Instead, keep it sleek and modern, and let your TV steal the spotlight in style!
14. Rustic Pallet TV Wall Panel
Introducing the Rustic Pallet TV Mount – the ultimate DIY solution for those who want their TV to hang with the elegance of a hipster's beard! This genius creation combines the raw charm of a weathered pallet with the practicality of modern technology.
15. Make It A Gallery Wall
Image and tutorial by Classic Casual Home
Say goodbye to those lonely frames and hello to a curated collection of artwork surrounding your beloved screen. It's the perfect conversation starter for those awkward moments where you run out of things to say about the latest episode of your favorite series.
Also, read – 47 Beautiful Family Picture Wall Ideas For Your Home
16. Add Greenery
Image and tutorial by Marta Home
Adding greenery to your TV wall is the perfect solution to spruce up your modern living room. This genius concept brings the great outdoors inside by adorning your TV setup with abundant lush green plants.
17. Let Accessories Shine
Forget about hanging boring picture frames or generic artwork—let your personality take the spotlight! From a row of superhero action figures to a shelf full of wacky souvenirs from your travels, this TV wall idea screams, "Look at me; I'm a masterpiece!" So, unleash your inner curator and let your accessories steal the show while your TV humbly plays a supporting role.
18. Decorate Below The TV
In this TV wall idea, we aim to transform that neglected area into a glorious showcase of creativity. So let your imagination run wild and turn that TV wall into a spectacle that will leave your guests wondering if they accidentally stumbled into a modern art exhibit. Let the decorating extravaganza begin below the TV!
19. Go Traditional
Calling all nostalgic souls and lovers of all things classic! Get ready to take off on a wild journey back in time with the "Go Traditional" TV wall idea. This throwback design will transport you straight to your grandma's living room, complete with a shiplap accent wall, porcelain figurines, and a TV that seems to double as a time machine.
20. Stone Accent Wall For TV
This ancient marvel will transport your living room to when cavemen binge-watched their favorite paintings. With its rugged and earthy charm, this stone masterpiece will make your TV the room's centerpiece, leaving your guests in awe and wondering if they've accidentally stumbled into modern-day Stonehenge.
21. Celebrate Shiplap Walls
Ready to take your TV wall from ordinary to extraordinary? Buckle up because we've got a game-changing idea for you: the Shiplap accent wall! Channel your inner Chip, and transform your TV wall into a coastal paradise with your guests saying, "Shiplap, ahoy!"
22. Embrace Minimalism
Tired of your TV wall looking like a chaotic mess of cables and random knick-knacks? Well, it's time to embrace the holy grail of interior design: minimalism. This TV wall idea takes simplicity to a whole new level.
Read – 30 Floating Shelves Around Fireplace Ideas for Your Home
23. Make It Look Modern With Open Shelving
Tired of your TV wall looking as outdated as your collection of VHS tapes? Well, buckle up because we've got a genius idea to bring it into the 21st century: open shelving! This TV wall idea is so modern it practically screams, "I know what TikTok is!"
24. Marble TV Frame Over Board And Batten Accent Wall
This genius design combines the timeless allure of marble with the rustic charm of a board and batten accent wall. The result? A TV setup that will have your neighbors gasping in awe and wondering if you've secretly become an interior design guru.
25. Black TV Cabinet
This dark and mysterious beauty will make your TV blend seamlessly into the shadows, leaving your guests scratching their heads in bewilderment. With its sleek black exterior, it's like having a secret agent guarding your entertainment kingdom.
26. Wooden And Marble TV Accent Wall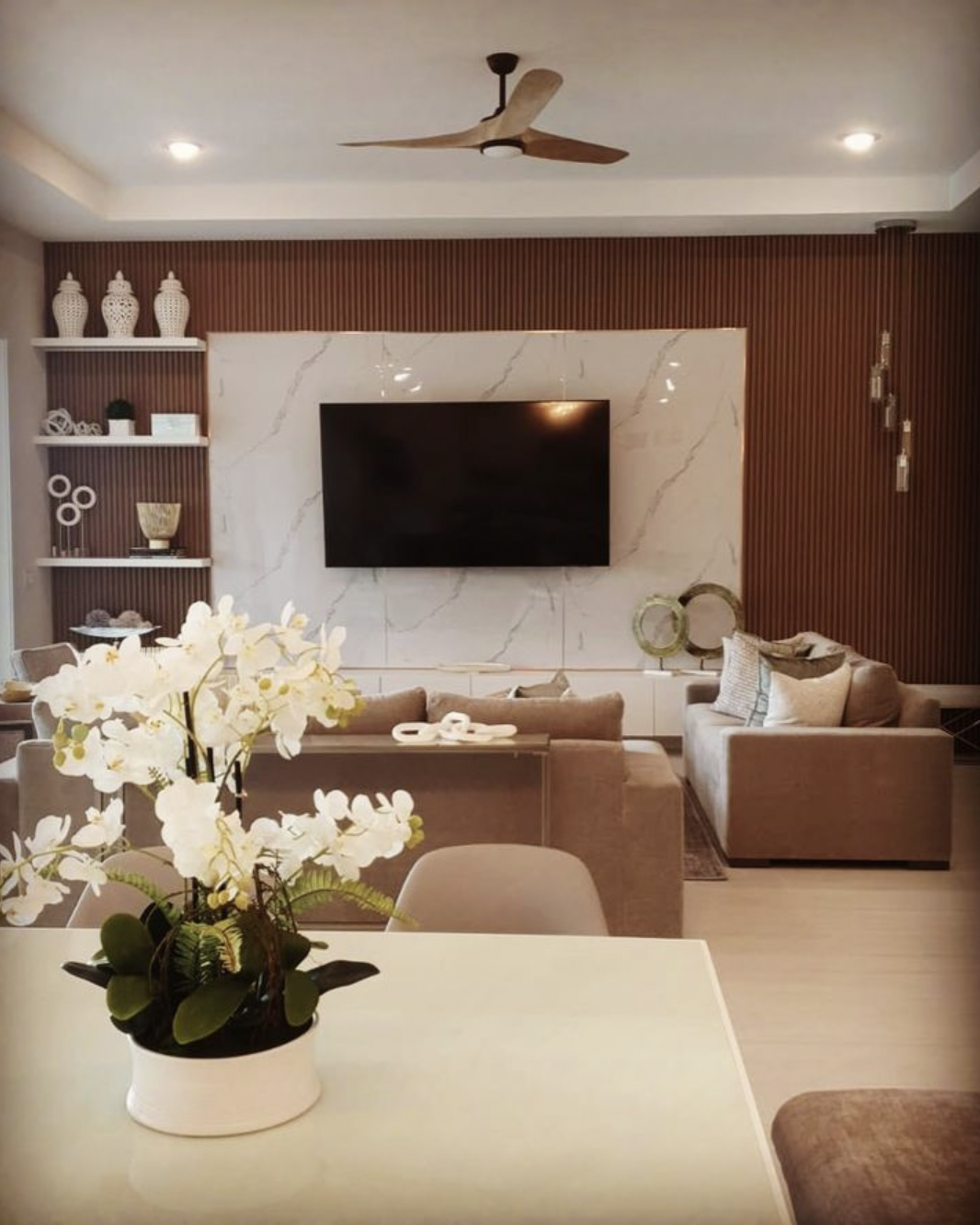 Get ready to embrace the epitome of sophistication and rustic charm with our wooden and marble TV accent wall idea. It's like bringing a touch of nature's finest and a sprinkle of luxury into your living room.
27. Add Comforting Accents
Get ready to cozy up because we're about to introduce you to the TV wall idea that will make you want to snuggle like a contented kitten. Say hello to "Add Comforting Accents"! This brilliant concept takes your TV-watching experience to a new level of comfort.
28. Think Outside The Box
Why settle for conformity when you can think outside the box – quite literally – and redefine what it means to be an actual TV trendsetter? So say goodbye to mundane setups and embrace the avant-garde with our "Think Outside The Box" TV wall idea.
29. Get Custom
Whether it's a gallery wall of cherished family photos surrounding your screen or an eccentric mix of quirky artwork, this idea allows you to showcase your personality and elevate your binge-watching experience to legendary status. So why settle for the ordinary when you can go custom and unleash your inner TV wall with contemporary fireplace?
30. Built-In TV Unit
With its built-in shelves and cabinets, this TV wall idea is the ultimate multitasker, storing all your gadgets and knick-knacks while making your TV the star of the show.
31. Install A Floating Fireplace Cabinet
Who needs a regular TV when you can have a cozy fireplace too? It's like getting the best of both worlds – warmth and entertainment in one convenient package. Plus, the floating cabinet adds a touch of magic to your living room, as if your TV and fireplace are defying gravity together.
32. Minimize The Chaos
This ingenious design combines smart cable management systems, hidden compartments, and a touch of magic to create a minimalist masterpiece. No more tripping over cables or desperately searching for the right remote; this TV wall idea will declutter your living room and mind.
33. Get Technical
Say goodbye to boring old flat screens and hello to a TV setup that would make Elon Musk jealous. So get ready to channel your inner tech genius and embrace a whole new dimension of entertainment. Beam me up, Scotty!
34. Paint The Wall
Whether you go for a mesmerizing mural that takes you on a visual journey or a psychedelic explosion of colors that leaves you questioning reality, this idea is guaranteed to make your TV viewing experience a feast for the eyes.
35. Get Bold With Black
Who needs a regular old white wall when you can channel your inner superhero with a sleek and mysterious black backdrop? This TV wall idea is all about embracing your inner darkness and creating a moody atmosphere that will have your friends and guests feeling like they've stepped into the Batcave.
36. Paint Soothing Colors
Bored of the same old beige walls? Well, it's time to paint the town…or rather, your TV wall with soothing colors! Imagine a serene ocean blue or a calming lavender backdrop that whispers, "Relax, my dear couch potato." This TV wall with built-in storage idea is perfect for those who need a little zen in their lives while binge-watching reality TV shows that make your blood pressure rise.
Read – 30 Amazing Blue Accent Wall Ideas For Any Room
37. Eliminate The Need For Extra Tables
Say goodbye to those clunky extra tables and hello to the TV wall idea that will set you free! This ingenious design eliminates the need for those pesky tables, sports bar, and coffee tables, and creates a sleek and streamlined look that even Marie Kondo would approve of.
38. Group Statement Decorative Accessories
Imagine a carefully curated collection of eclectic artwork, quirky sculptures, and random trinkets, all strategically arranged around your TV. Your living room will scream sophistication and confusion simultaneously. Your friends will need to decide whether to focus on the mesmerizing show on the screen or the peculiar array of objects surrounding it.
39. Built-In TV Cabinet With Plywood
This ingenious creation combines the sophistication of a built-in cabinet with the rustic charm of plywood, resulting in a TV wall idea that's both functional and oh-so-fabulous. It's like having a secret hideout for your TV, where it can relax and bask in the warm embrace of plywood perfection.
40. Stone Accent Wall For TV Cabinet
Take your binge-watching sessions back to the Stone Age by adorning your living room with a wall covered in stunningly realistic faux stones. It's like having a TV in a cozy cave, minus the wild beasts and the questionable hygiene.
41. Natural Wood Panels For TV Wall
With these wooden panels, you'll feel like you're watching your favorite shows in the great outdoors, minus the bugs and uncomfortable seating. So grab some popcorn, kick back, and let the natural charm of your TV wall transport you to a world where the remote control is the ultimate camping tool.
42. Pick Up A Serene Background
Tired of feeling like you're watching your favorite shows in the middle of a chaotic hurricane? Well, it's time to pick up a serene background for your TV wall and bring some much-needed Zen to your binge-watching sessions.
43. Let The Focus Be On What You Are Watching
Image by Kingsbrook Joinery ltd
Say goodbye to distracting wallpaper and over-the-top decorations because this TV wall idea knows how to keep it real… focused! Let's face it, your TV deserves all the attention, so why not let it take center stage?
44. Match The Wall With The Flooring
This Tv Wall idea is the ultimate power move in interior design, proving that you're not just a TV lover but also a flooring connoisseur. So get ready to let the creativity soar, and your guests' jaws drop!
45. Let The Furniture Do The Talking
Introducing the TV wall idea that will have your furniture speaking volumes, quite literally! Say goodbye to dull decor and hello to a living room that's filled with sass and personality. "Let The Furniture Do The Talking" is all about giving your TV wall a hilarious twist by incorporating quirky, animated furniture pieces.
46. Be Practical
This genius concept combines the best of both worlds: a sleek and stylish wall display that also serves as a practical storage solution. It's like having your own personal superhero lair, minus the cape.
Read – 35 Creative And Unique Wall Decor Above Couch Ideas You Will Love
47. Wall To Cieling TV Wall
Get ready to take your TV game to new heights with the "Wall to Ceiling" TV wall idea! This mind-boggling concept dares to defy gravity by extending your TV wall all the way up to the ceiling, creating a jaw-dropping visual masterpiece.
48. Keep It Simple And Functional
If you're tired of getting lost in a sea of clutter and tangled cables, this one's for you. We're taking a minimalist approach that screams, "Less is more, baby!". No fancy frames, no floating shelves, just pure unadulterated simplicity.
49. Easy Board And Batten Built-In Tv Cabinet
With this quirky yet charming design, your TV will be nestled snugly between vertical wooden battens, giving it a stylish framework that's straight out of a rustic cabin in the woods. It's the perfect blend of farmhouse chic and modern sophistication, guaranteed to make your friends wonder if you hired an interior designer or became a DIY master overnight.
50. Gold And Wood Accents Can Never Go Wrong
Image by Brick Rug Interior Design
Prepare to enter a world where gold and wood accents reign supreme, transforming your TV wall into a glorious masterpiece. In this jaw-dropping idea, we take classic elegance and sprinkle it with a touch of bling, creating a space fit for royalty.
If you love these ideas, don't forget to pin the above image to your "Home and garden" board.