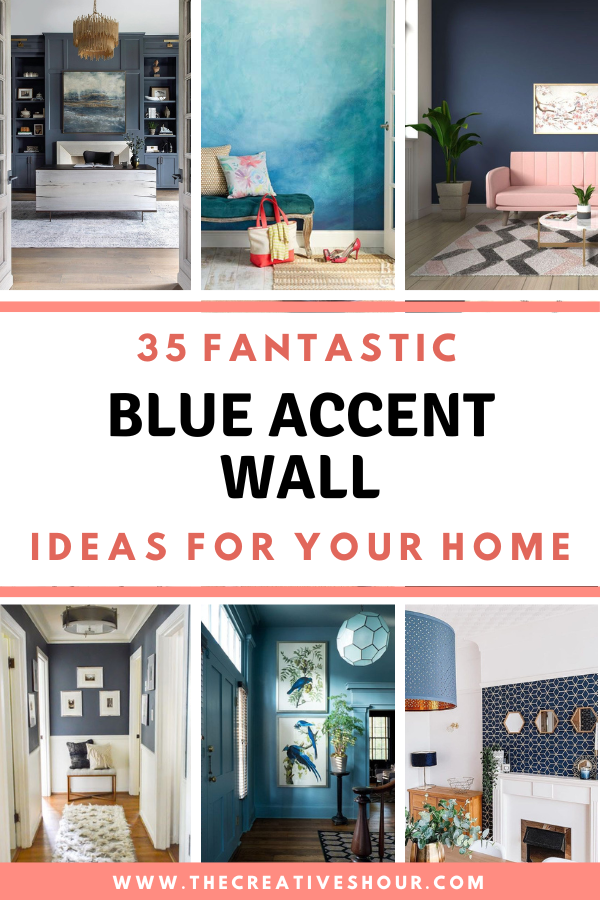 Welcome, fellow decorators, to a whimsical journey through the realm of "30 Amazing Blue Accent Wall Ideas For Any Room"! Prepare to be dazzled, inspired, and fall head over heels in love with the sheer awesomeness of blue accent walls. We've scoured the depths of design heaven (and a few Pinterest boards) to bring you the blue wall goodness. From calming and serene to bold and dramatic, these ideas will have you rethinking your entire room decor. So buckle up, grab a paintbrush, and get ready to transform your space with a stroke of brilliance. Trust us; it's going to be blue-tiful!
Related articles –
1. Blue Wood Panelling Accent Wall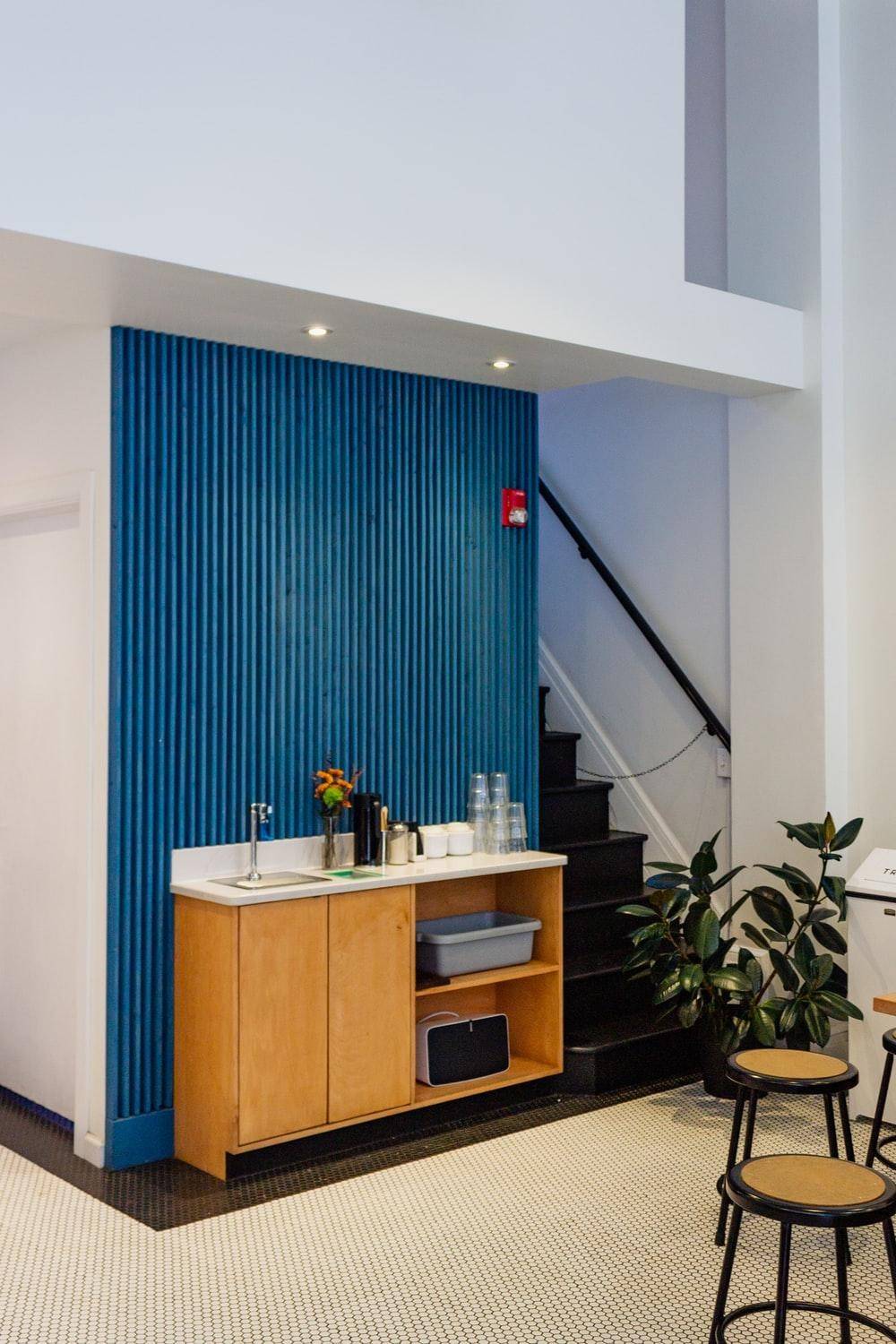 Image and tutorial by Design News
The Blue Wood Paneling Accent Wall is a showstopper in the world of interior design. This unique design choice combines the warmth and texture of wood paneling with the captivating allure of a striking blue hue.
2. Dark Blue Accent Wall Living Room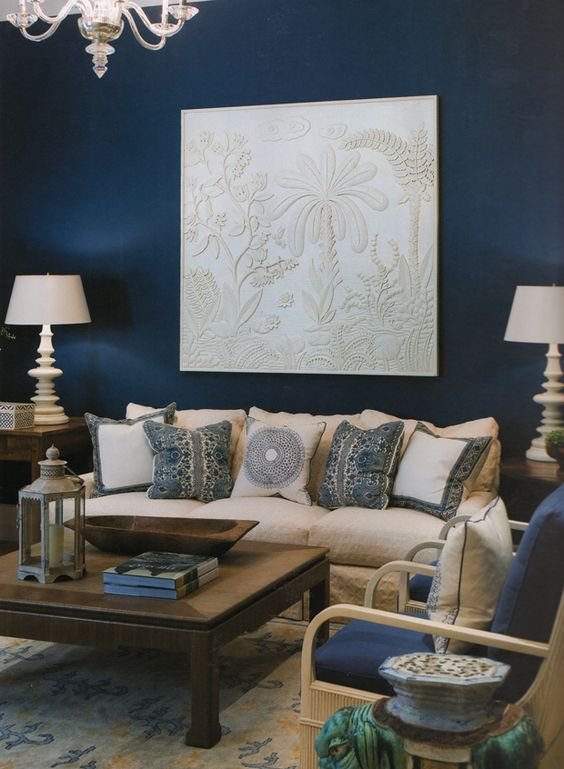 Image and tutorial by The pink pagoda
The dark blue accent wall takes center stage, commanding attention and setting the tone for the entire room. Its deep, velvety shade adds depth and intensity, creating a backdrop that beautifully contrasts with furniture and decor.
3. Blue Accent Walls in Small Rooms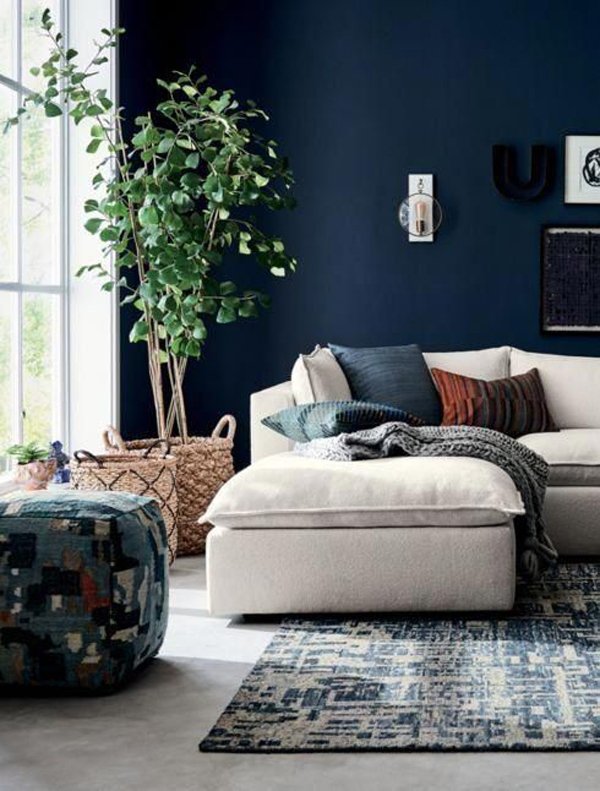 Image and tutorial by Home my design
When it comes to small rooms, big ideas are needed to maximize every inch of space. That's where the magic of blue accent walls comes into play. Whether you opt for a soothing light blue or a bold and vibrant hue, these walls will inspire you to think outside the box and transform your petite space into a stylish sanctuary.
4. Dark Blue Accent Wall With Dramatic Interiors
Image and tutorial by Home edit
Prepare to enter a world of mesmerizing allure with our Dark Blue Accent Wall with Dramatic Interiors. This daring design choice is not for the faint of heart, but for those who crave a touch of intense sophistication.
Read – 25 Amazing Fireplace Accent Wall Ideas That Stands Out
5. Navy Blue Accent Wall Kitchen
Image and tutorial by House Beautiful
Dive into culinary excellence with a Navy Blue Accent Wall in your kitchen. This bold and sophisticated choice adds a touch of drama and depth to your culinary sanctuary. So bid farewell to mundane kitchens and say hello to a culinary haven that oozes style and sophistication.
6. Board And Batten Blue Accent Wall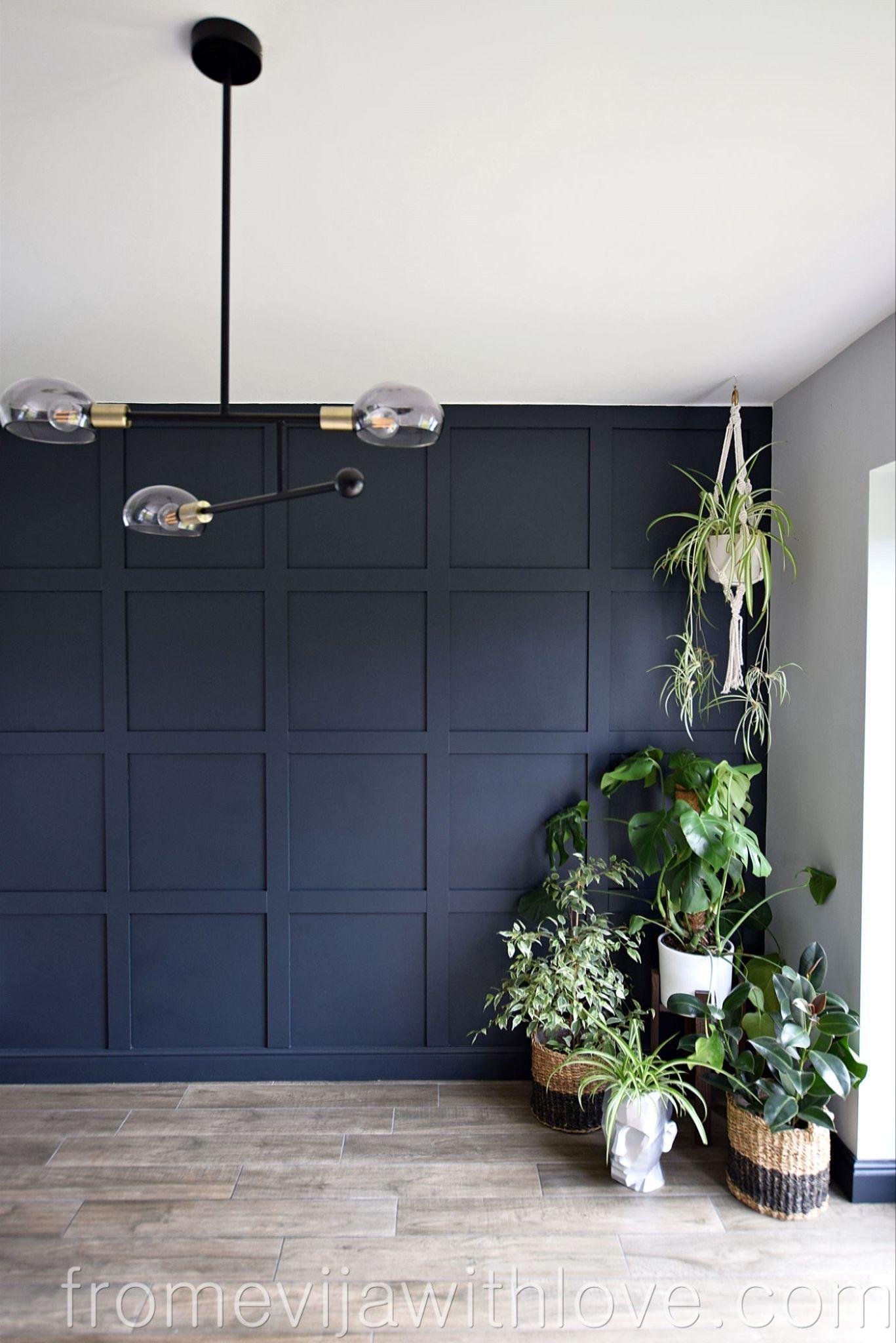 Image and tutorial by fromvijawithlove
The Board and Batten Blue Accent Wall is a design marvel that combines classic charm with a modern twist. This technique involves installing vertical boards onto a wall and then painting them in a stunning shade of blue, creating a visually striking and textured surface.
Expert tip by TCH- Choose the Right Wall. The ideal wall for your blue accent can make all the difference. Consider walls that naturally draw attention, such as the one behind a bed or a focal point like a fireplace. These strategic choices will maximize the impact of your blue accent wall and create a stunning focal point in the room.
7. Blue Shiplap Walls
Image and tutorial by thedesigncupboad
The Blue Shiplap Accent Wall is a design masterpiece that combines the rustic charm of shiplap with the captivating allure of a cool blue hue. This unique wall treatment instantly adds depth, texture, and a touch of coastal elegance to any room.
Read – 40 Kitchen Accent Wall Ideas You Will Love
8. Half Board And Batten With Blue Wallpaper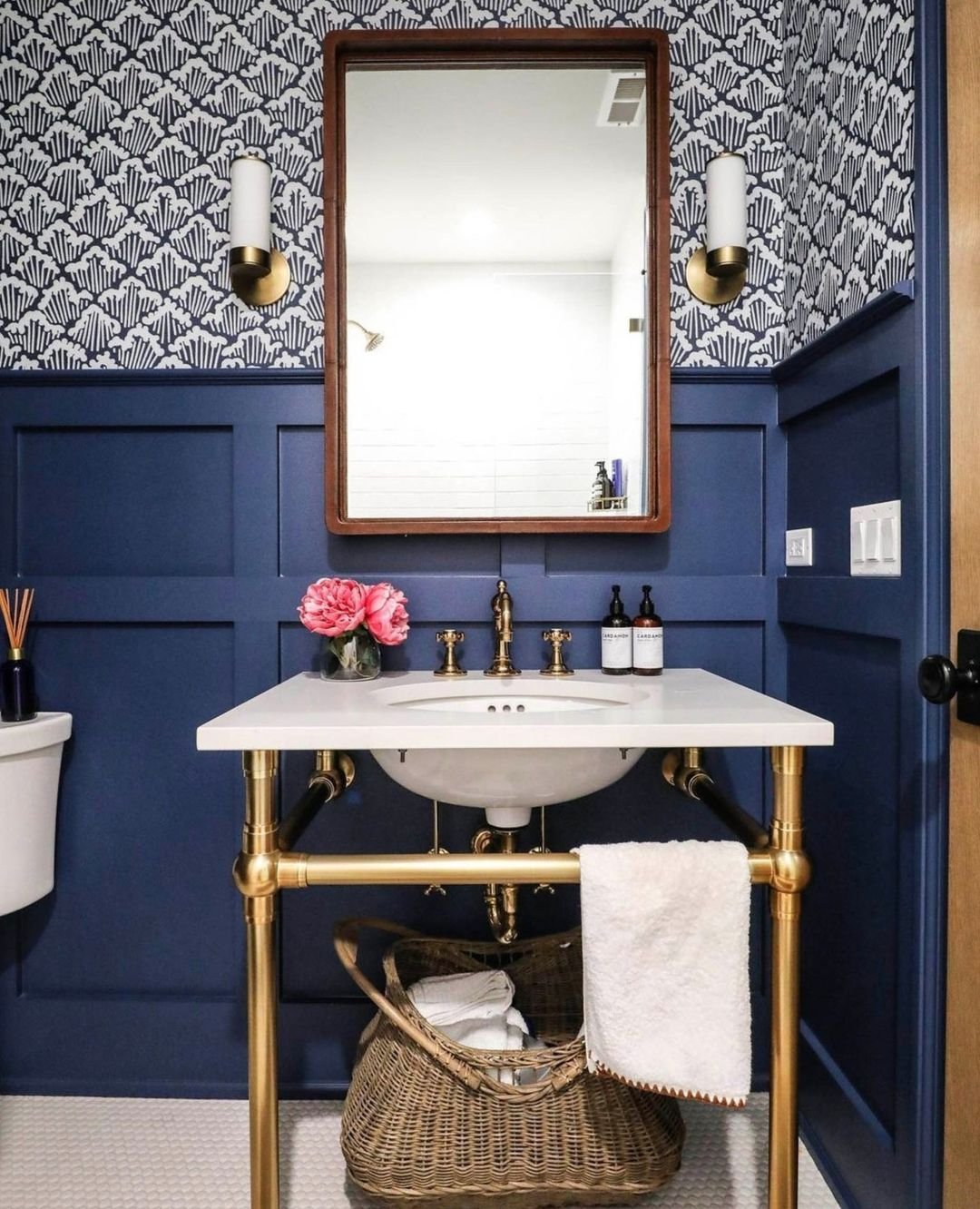 Image and tutorial by spaces twen
Get ready to make a stylish statement with our blue Half Board and Batten accent wall, complemented by a stunning blue wallpaper. This dynamic combination brings a touch of sophistication and visual intrigue to any room. The Half Board and Batten technique adds depth and texture to the wall, while the blue hue creates a sense of tranquility and calmness.
9. Blue Built-In Cabinets In Living Room
Image and tutorial by layla grayce
These stunning, custom-designed storage solutions not only provide ample space to declutter and organize your belongings but also add a touch of elegance and charm to your living space. The blue hue brings a refreshing pop of color, injecting personality into the room while seamlessly blending with various design aesthetics.
10. Blue Galley wall
Image and tutorial by HomeDesignBoard
The Blue Galley Wall is a striking and innovative concept that brings together the beauty of a gallery display and the timeless elegance of blue. This design idea involves creating a curated collection of artwork, photographs, and other decorative pieces, all framed and arranged along a prominent wall in your home.
11. Blue Accent Wall And Wooden Flooring
Image and tutorial by Urban Nesting
This captivating design choice offers a striking contrast and a harmonious balance in any room. The natural warmth and elegance of the wooden floor provide a solid foundation, while the bold blue accent wall adds color and personality.
12. All walls Blue In Living Room
Image and tutorial by Behance
Whether it's a sleek and modern living room or a sultry and luxurious bedroom, the dark blue accent wall among other walls sets the stage for a theatrical experience like no other. With this captivating backdrop, prepare to indulge your senses and embrace the drama within your space.
Expert tip by TCH- Balance with Surrounding Colors. While blue accent walls can be bold and eye-catching, it's essential to maintain balance with the surrounding colors. Take into account the existing color scheme and furnishings in the room. Consider incorporating complementary or neutral tones to create a harmonious visual balance and prevent the accent wall from overpowering the space.
13. Blue Accent Wall With Wooden Furniture And Flooring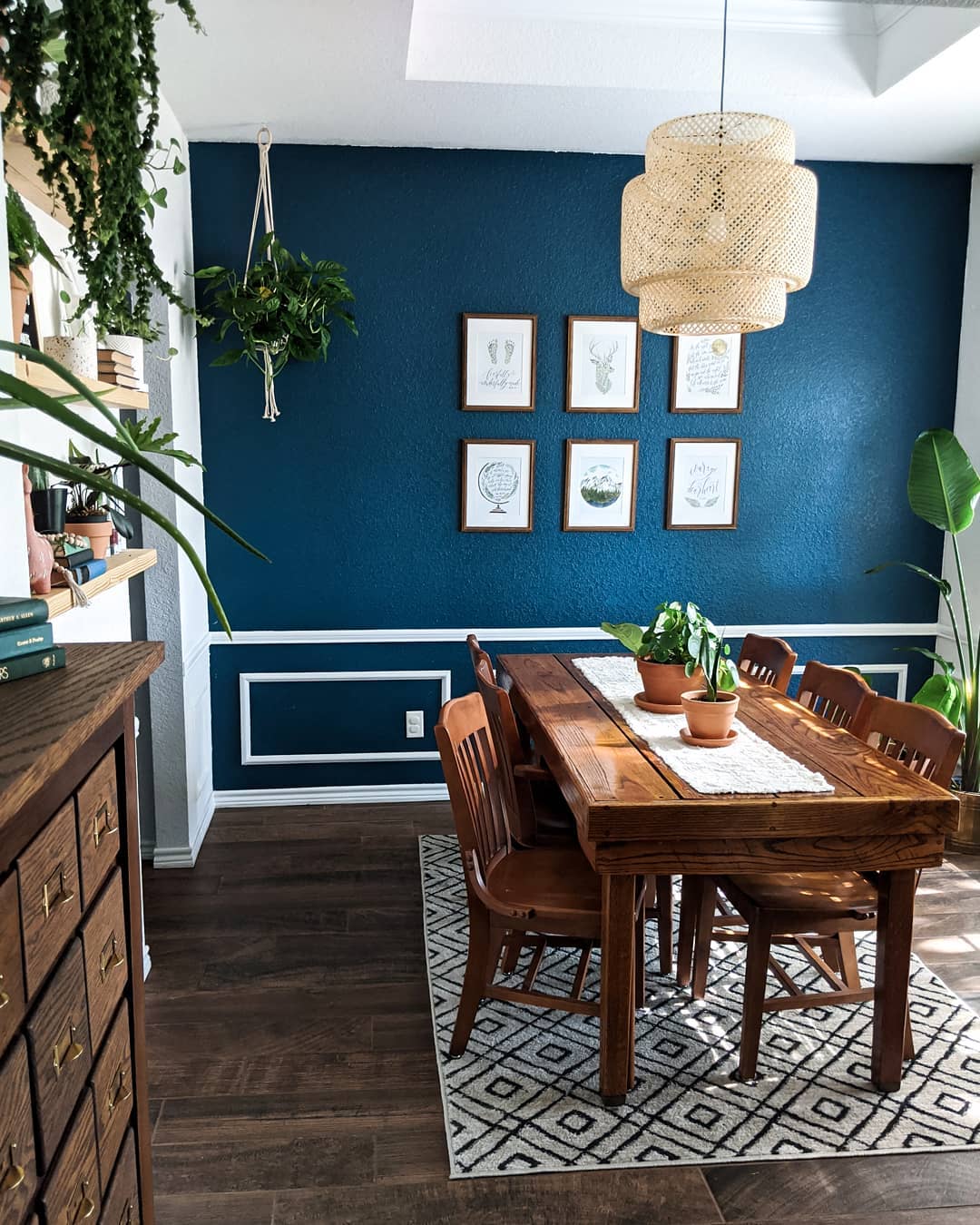 Image and tutorial by hallihome
This design concept marries the boldness of a vibrant blue accent wall with the earthy charm of wooden furniture and flooring. The blue wall serves as a striking backdrop, instantly adding depth and character to any room.
14. Bleeding Ink Art Prints Accent Wall For Small Room
Image and tutorial by Home BNC
Get ready to unlock your inner artist and make a bold statement with a "Bleeding Ink Art Accent Wall" in your living room! This unique and mesmerizing design technique combines the fluidity of ink with the vibrancy of colors, resulting in a visually stunning masterpiece that will captivate anyone who enters the room.
15. Geometric Blue Tiled Wall
Image and tutorial by via Trevalyn House
The Geometric Blue Tiled Wall is a mesmerizing masterpiece that combines the allure of geometric patterns with the captivating charm of shades of blue. This eye-catching accent wall takes your room to new heights of modern sophistication.
16. Bedroom Accent Wall With Windows
Image and tutorial by remodelaholic
Whether you're aiming for a farmhouse chic or coastal-inspired aesthetic, this accent wall will effortlessly elevate your bedroom's style quotient. Get ready to indulge in peaceful slumber and wake up to a visually captivating feature that's sure to make your heart flutter.
Expert tip by TCH- Experiment with Textures. Don't be afraid to play with textures to add depth and interest to your blue accent wall. Consider techniques like stenciling, texture painting, or even using wallpaper with a unique pattern. These creative touches can elevate the overall design and make your blue accent wall truly one-of-a-kind.
17. Only One Wall Blue Ombre Wall Art
Image and tutorial by Digs Digs
Dive into the whimsical depths of the ocean with our captivating Blue Ombre Wall Art. This stunning piece combines shades of blue in a seamless gradient, creating a visual masterpiece that brings tranquility and sophistication to any space. Also, love the accent pillows.
18. Half Blue And Half White Walls
Image and tutorial by Adolfson
The "Half Blue and Half White Wall" is a unique and eye-catching design choice that adds a touch of playful charm to any room. By dividing the wall horizontally, with the top half painted in a serene shade of blue and the bottom half in crisp white, this design creates a striking visual contrast.
19. Built-In Bookcase On Blue Accent wall
Image and tutorial by style by Emily henderson
This combination not only adds a pop of color to your space but also creates a focal point that is as functional as it is eye-catching. Showcase your favorite books, treasured mementos, and stylish decor pieces on the shelves while the blue accent wall sets the stage for a harmonious blend of style and organisation.
20. Blue Accent Walls in Zen-Inspired Spaces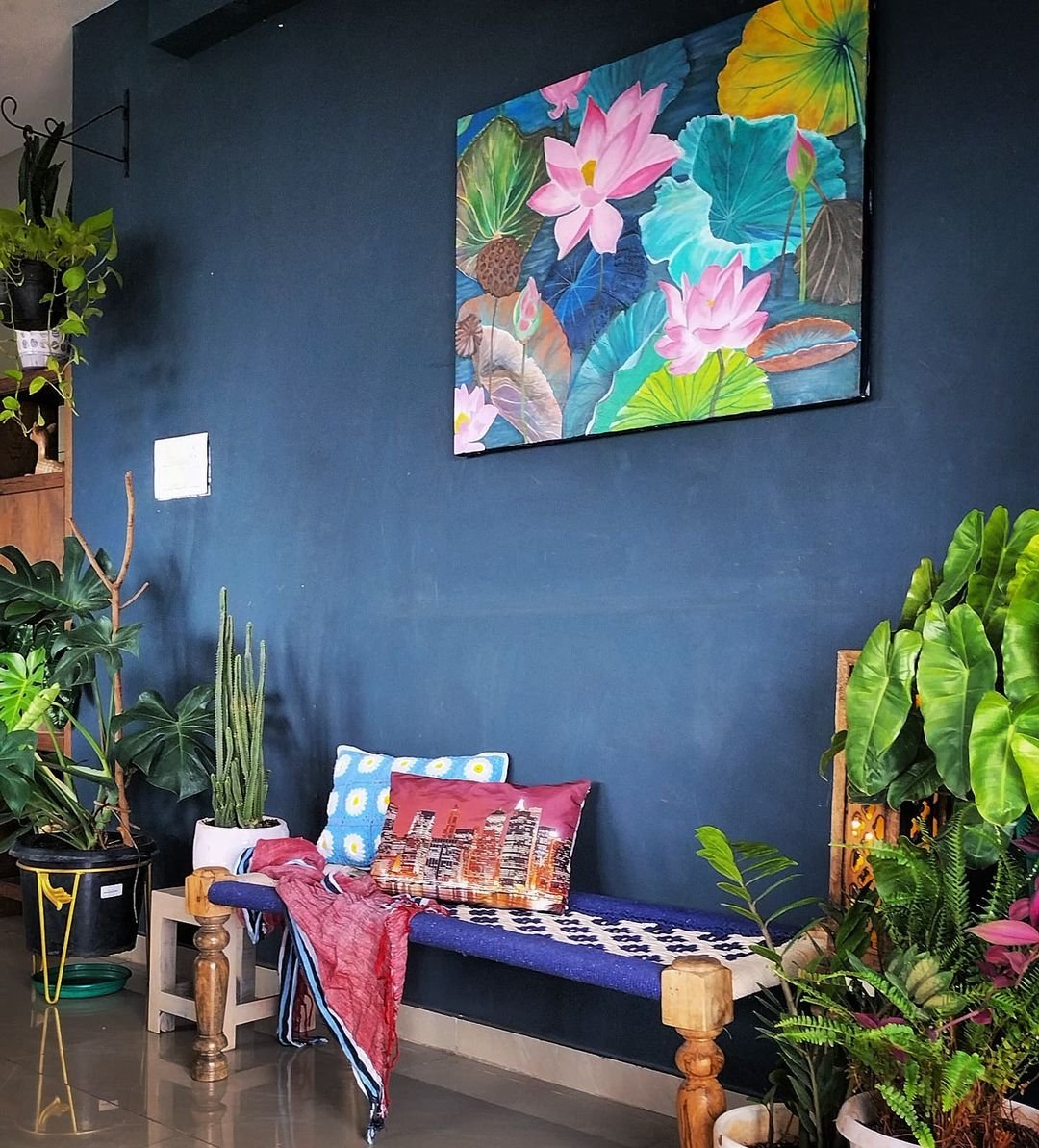 Image and tutorial by myhomecanvas1502
In the peaceful world of Zen-inspired spaces, blue accent walls reign supreme, exuding a sense of tranquillity and harmony. The subtle hues of blue, from soft pastels to soothing aquamarines, create a soothing backdrop that complements the minimalist aesthetics of Zen decor.
21. Herringbone Style Wall Paper For Nursery Room
Image and tutorial by Jenna Kate at Home
Transform your nursery into a haven of charm and whimsy with our delightful "Herringbone Style Wallpaper for Nursery Room." This enchanting wallpaper features a timeless herringbone pattern, adding a touch of elegance to your little one's space.
22. Blue Accent Wall With Pink Furniture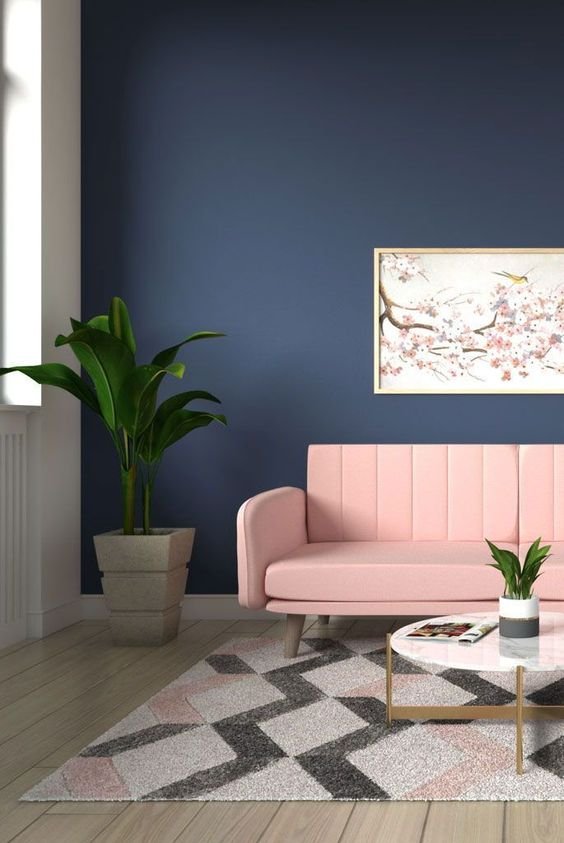 Image and tutorial by room design
Dive into a world of vibrant contrast with our captivating Blue Accent Wall with Pink Furniture. This stunning combination brings together the calming allure of a blue backdrop with the playful pop of pink furnishings.
Expert tip by TCH- Lighting is Key. Proper lighting can enhance the beauty of your blue accent wall. Experiment with different lighting options, such as wall sconces or track lighting, to highlight the wall and create a captivating ambiance. Soft, warm lighting can bring out the richness of darker blues, while excellent lighting can amplify the freshness of lighter shades. Don't underestimate the power of lighting in accentuating the beauty of your blue accent wall.
23. Blue And Gold Geometric Pattern Mural
Image and tutorial by thearchitectsdiary
Step into luxury and sophistication with our Blue and Gold Geometric Pattern Mural. This stunning wall masterpiece combines the timeless allure of rich blue hues with the luxurious elegance of shimmering gold accents.
24. Gallery Wall On Blue Shiplap Accent Wall
Image and tutorial by Thou Swel
Enable your inner curator with our sensational "Gallery Wall on Blue Shiplap Accent Wall" idea. This unique combination adds depth, character, and a touch of coastal charm to any room.
25. Blue Theme Accent wall For Wood Flooring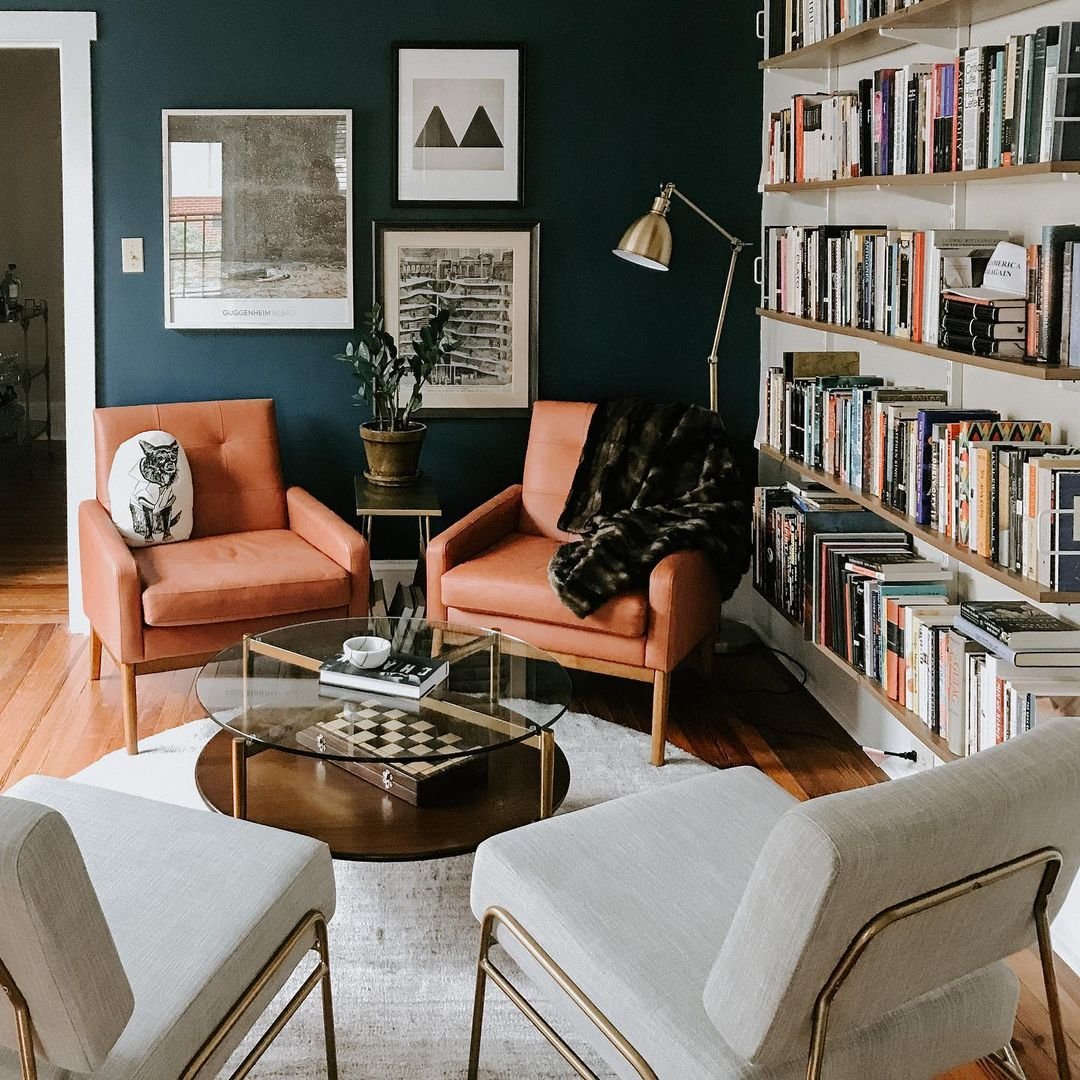 Image and tutorial by reneekerstetterdesign
In the enchanting realm of interior design, where colors dance, and textures sing, we present the mesmerizing combination of a light blue accent wall with glorious wood flooring. This dynamic duo brings a harmonious balance to any room, effortlessly blending the sky's serenity with the warmth of natural wood tones.
26. Art Display On Blue Accent Wall
Image and tutorial by skyframe
Whether you opt for abstract paintings, serene landscapes, or intricate prints, the blue hues and dark brown flooring will create a soothing and visually captivating focal point. This art display in office room adds personality and character to your working space while inviting you to work and be productive in a space that feels uniquely yours.
27. Blue Living Room Accent Wall
Image and tutorial by shelterness
Transform your living room into a captivating oasis with a mesmerizing blue accent wall. This design choice adds an instant pop of color and personality to your space, turning it into a haven of style and comfort.
28. Dark Blue Walls With White Trim In Dining Room
Image and tutorial by BHM pics
The Blue and White Accent Wall is a classic combination that never fails to impress. This timeless duo brings a sense of calm and sophistication to any room.
29. Blue Accent wall Bedroom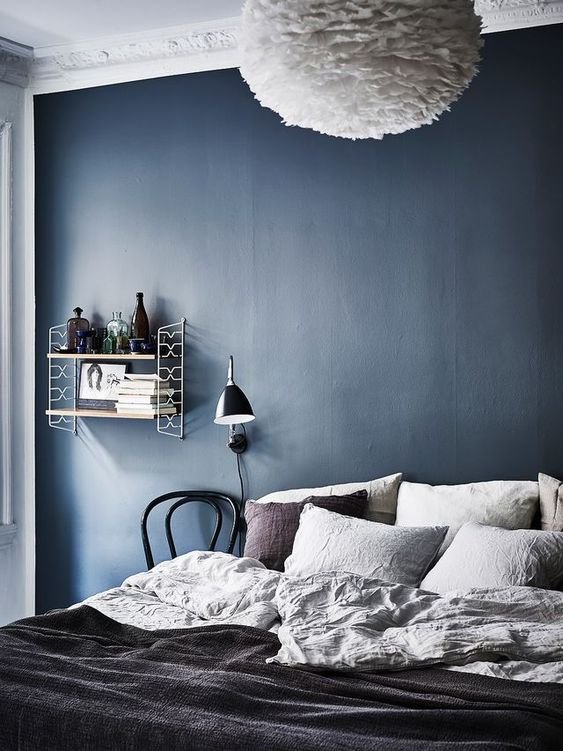 Image and tutorial by Emily Henderson
A Blue Accent Wall Bedroom is a dreamy retreat where tranquility meets style. This captivating design choice involves painting one wall in a stunning shade of blue, creating a focal point that instantly transforms the entire room.
30. Blue Accents Walls For Displaying Memories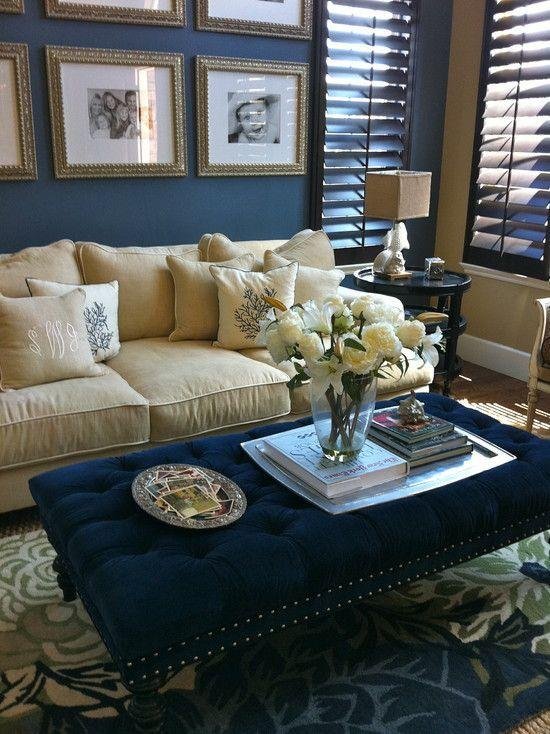 Image and tutorial by houzz
Incorporating blue accent walls into your home decor isn't just about adding a splash of color—it's about creating a meaningful canvas for showcasing your cherished memories. With the perfect shade of blue as a backdrop, your treasured photographs, artwork, and mementos come to life in a whole new way.
FAQS
Q: How do I choose the right shade of blue for my accent wall?
A: When selecting the perfect shade of blue for your accent wall, consider the overall mood and ambiance you like to create in the room. Lighter blues, such as sky blue or powder blue, evoke a sense of calmness and tranquility, while deeper blues, like navy or royal blue, add richness and drama. Consider the existing color palette and furnishings in the room to ensure a harmonious blend. It's also helpful to gather paint swatches and test them on the wall to see how they interact with the lighting throughout the day.
Q: Can I incorporate multiple shades of blue in a single room with accent walls?
A: Absolutely! Mixing different shades of blue can create a visually captivating and dynamic space. To achieve a cohesive look, consider using lighter shades of blue for adjacent walls and bolder, darker shades for the accent walls. This approach adds depth and dimension to the room while maintaining balance. Experiment with complementary tones or create an ombre effect by gradually transitioning from one shade to another. Remember, it's all about finding the right balance and creating a harmonious composition that suits your style.
Q: Are blue accent walls suitable for small rooms?
A: Blue accent walls can work wonders in small rooms! In fact, they can actually make a space appear larger and more airy. Lighter shades of blue reflect light, giving the illusion of a more expansive room. Consider painting the wall opposite a window in a pale blue hue to maximize natural light and create an open feel. Additionally, incorporating mirrors and strategic lighting can further enhance the perceived spaciousness. Just be mindful not to overwhelm the room with too much dark blue, as it may make the space feel smaller.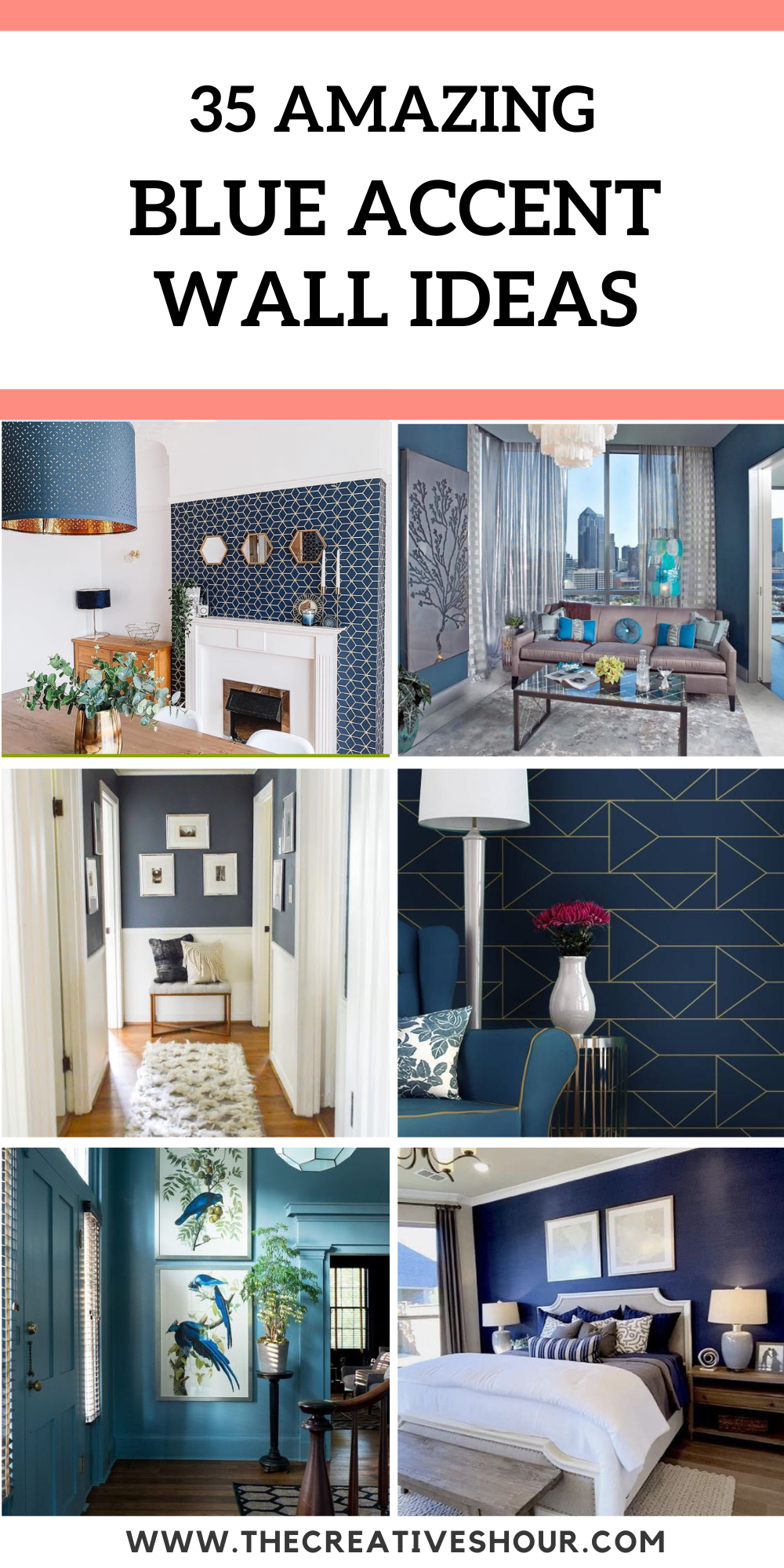 If you love these ideas, don't forget to pin the above image to your "home and garden" board.