Calling all coffee enthusiasts and kitchen adventurers! Get ready to embark on a caffeinated journey like no other as we unveil the "20 Best DIY Coffee Bar Ideas for Kitchen You'll Love"! We've scoured the realms of creativity to bring you the most ingenious, quirky, and downright magical ways to create your coffee haven.
Whether you're a coffee connoisseur, an aspiring barista, or just someone who can't resist the siren call of a perfectly brewed cup of joe, these DIY coffee bar ideas will transport you to a caffeine wonderland right in the heart of your kitchen. So grab your favorite mug, prepare for some caffeinated inspiration, and dive into this frothy adventure together!
Related articles –
1. Organized Small Coffee Bar in The Kitchen
Having an organized coffee station or coffee bar in your kitchen is the best way to get things quickly in the morning. Maximize your space by assigning a separate shelf for different items.
Your coffee maker will, of course, be front and center. Keep a tray with your absolute coffee supplies next to it and refill from the cabinets. In this way, you can be sure to be on top of your shopping lists.
Expert tip by TCH - Don't underestimate the power of coffee bean storage. Treat those little beans like the treasure they are by keeping them in airtight containers away from light and moisture. And if you want to up your coffee game, consider storing each bean individually in its luxurious velvet pouch. Your coffee will be so grateful for the VIP treatment it might just brew itself in gratitude.
2. Elegant Shelf Coffee Bar On Kitchen Counter
This is a brilliant coffee bar idea for small kitchens. If you don't have a lot of room to dedicate to your coffee corner, you can use the little tips and tricks available here. Use the countertop in a way that maximizes space. Keep miniature jars of your supplies in sight and store the rest in drawers and cabinets. Elegant mugs will be a hit with a sleek countertop and polished shelves. Use the shelves to display minimal designs. Put up a small quirky sign to indicate that this spot is for caffeine.
3. Stylish Minimal Kitchen Coffee Bar
Floating shelves are an excellent way to make any space look sleek and stylish. So, of course, it's a great coffee bar idea for kitchen counters. Make the most of your counter space to set up the heavyweight stuff like your French press and coffee maker.
4. Modern Coffee Station Ideas For Kitchen Counter
Modern themes often focus more on lines and colors than anything. For beautiful coffee bar ideas for kitchen counters, you want to highlight colors that complement each other. If the counter and wall are dark, feature light and solid mug designs.
Read – 40 Best DIY Coffee Station Ideas For Your Home
5. Mini DIY Kitchen Coffee Bar on Counter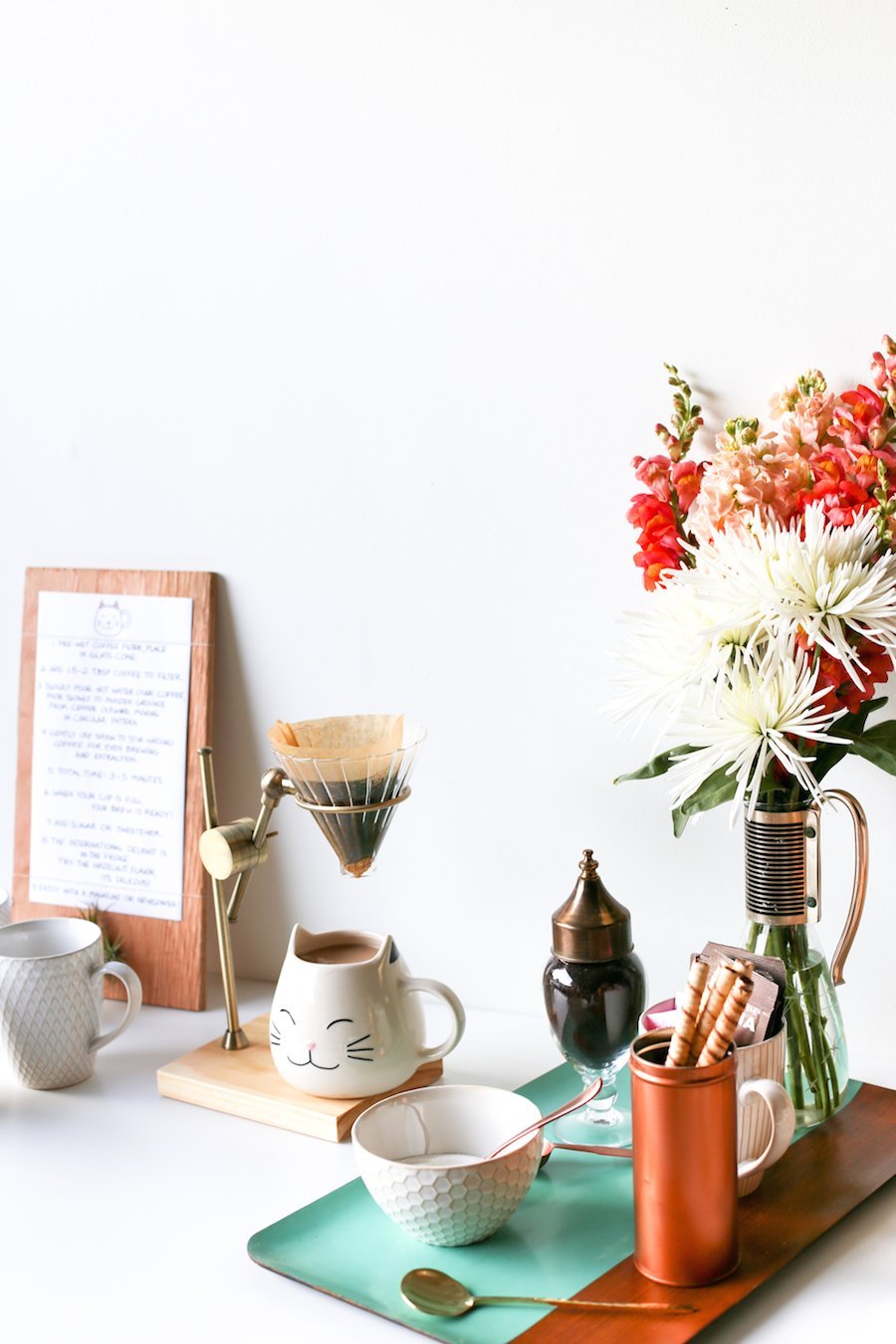 Sometimes the smallest space can be transformed into a fantastic coffee bar with just a few tweaks. I love the minimal vibe of this coffee bar in the kitchen. Make the most of your space by adding a tray to keep everything neat. If you have a pour-over coffee stand, you don't need much else to start your morning cup of joe.
6. Black Pipe Home Coffee Bar
For those of you who want to go the DIY way, building your own coffee bar might be a great idea. It's good that this tutorial exists to help you get started on that. Once you have your space ready, setting up is relatively easy. This idea has something for everyone.
7. Kitchen Coffee Bar Ideas
Your coffee bar should ideally be such a part of your kitchen that it doesn't interfere with the rest of your cooking and tasks. You're in luck if you can have a dedicated corner like this kitchen. Use drawers to hide away anything that does not need to be in view.
8. Wicker Basket Kitchen Coffee Bar
Looking for some quick and easy coffee bar ideas for a small kitchen? This easy-to-do trick can be set up in just 10 minutes. First, gather all your supplies – the coffee powder, aromatic beans, and sugar. Next, find a fancy wicker basket – or any other basket.
You want to keep things neat to find them easily in a small space. And a basket works better than a tray if you're prone to knocking things over. Next, get your mugs. After you're done preparing your basket, you'll have to set this close to your coffee maker, and you're done.
9. Easy DIY Tiered Coffee Bar
With how easy it is to set up a mini coffee bar, it's no wonder they're so popular with everyone nowadays. We have many different ideas for coffee bars in kitchen spaces, and this one is unique in its own way. Using a tiered stand like this is very popular for farmhouse decors. It provides a lot of vertical space to use instead of cabinets.
10. Sideboard Coffee Bar for Kitchen
Sometimes we don't have much space on the kitchen counter to set up a cozy coffee bar. And in those situations, it's always good to be able to improvise space. This sideboard or similar structure makes it very convenient to set up a cozy coffee bar in your kitchen or near the dining room. With the extra space, you won't have to worry about cramming everything into your kitchen.
11. Small Kitchen Coffee Bar
This is another mini coffee bar idea for small kitchen counters. It works excellently with drawers and cabinets to store most heavyweight stuff. Having a tray or fancy plate to keep your mugs on is good enough.
12. Corner Kitchen Bar Ideas
Unused and corner spots in the kitchen make unique coffee bar ideas for kitchen counter settings. If you have a spot in your kitchen that you don't particularly use for anything other than maybe keeping spare pantry items, it might be time for a makeover.
Stock it precisely as you would want your coffee bar to look. Place your coffee machine, mugs, coffee beans, syrups, and maybe some snacks. You can add a quote or sign related to your coffee corner if you like it. Depending on your space size, decide if you want a lot in sight or would prefer a minimal look.
13. Glam Coffee Bar
Just because a coffee bar is in the kitchen doesn't mean it cannot be really glamorous. A few choices about the types of mugs and cutlery you put out to display can change the mood of the small coffee bar ideas for kitchens.
Instead of plain mugs, set out gilded ones. And if you want to keep your coffee grounds on display, store them in crystal containers. Check out the link for tips and suggestions if you want more inspiration.
14. Narrow Cabinet Coffee Corner
Source: fourgenerationsoneroof
Morning coffee is not just essential anymore. It is a ritual. And we want you to make the best of the experience. Cabinets are by far the most popular coffee bar ideas for small kitchens. They can house a variety of stuff, be styled easily, and, best of all, be concealed if you don't want to show others what's inside. It's only natural that sometimes you want to keep your coffee haven away from prying eyes.
Also, read – 30 DIY Pantry Shelves To Build For Your Home
15. Black and White Coffee Bar
There is something about a black-and-white color palette that soothes the eye. This particular coffee bar idea for kitchens incorporates a wood finish cabinet, which also ties into the color scheme well. If you want to upgrade your coffee corner, add elements that complement the decor to make it more cohesive. Use mugs as the star of your coffee bar.
16. Classy Countertop Coffee Bar
If you like mugs and have a vast aesthetic collection, you'll want to showcase them at your coffee station. In this idea, the display case's simple blue and copper contrast helps the mugs stand out more.
Everything else can be displayed aesthetically around your mug collections. Use trays, jars, containers, and other accessories to show you have an excellent kitchen coffee bar just for the joys of coffee.
17. Simple Coffee Corner
The space under your kitchen cabinet is among the most popular places to set up your cozy coffee corner. For a different approach to showcasing your mugs, hang them under your cabinet as this idea does. Use tea cozies for your cups as well if you like.
18. Kitchen Cabinet Coffee Bar
Even if you don't always think so, narrow spaces can make for convenient coffee bars in the kitchen. If you have an unused cabinet, clear it to make your coffee corner a big hit. Every time you open up your cabinet coffee bar, you will be greeted with the organized sight of coffee beans, sugar canisters, flavored syrups, and tea bags.
19. Cozy Coffee Bar
COZY is the word to describe this kitchen coffee bar idea for home spaces. Make your coffee bar as rustic as possible using the little details and elements available. If you can find something like this rustic industrial stand for your mugs, you can tie in the decor with the rest of your space.
Use muted colors to complement the rustic decor. Add natural elements like the leaves wreath on the old window frame.
20. Colourful Spring Coffee Bar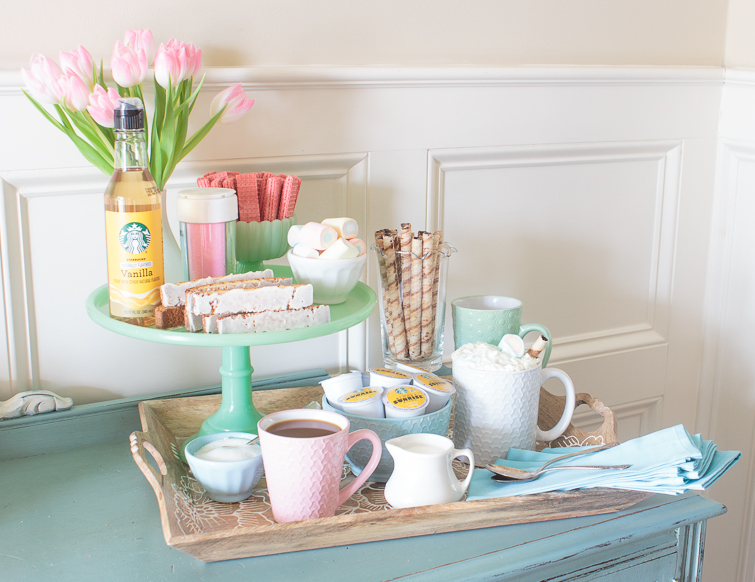 If you have a bit of a sweet tooth, you will like this carousel idea for all things dessert. The main design feature is to make sure you use all things colorful. Mugs, vases, utensils, containers – even trays – make it all as bright and spring-like as possible. Add flowers and plants around your coffee bar area if you have enough space.
21. Rustic Dresser Coffee Bar
Be quirky and different by using different design elements in your coffee bar ideas for kitchens. Using a solid dark dresser to house your coffee machine. If you have a farmhouse vibe kitchen. It will tie in with the decor nicely. Also, add more rustic elements to your coffee bar with the floating shelves and earthy-tone mugs.
If you can get a hanging rack for your mugs, it could make the space look more open as well. The dresser is great for keeping your essentials at hand but still out of sight. If you like aesthetics, display your coffee beans on the counter too. It's an excellent way to tie in your decor with intention.
Expert tip by TCH - Incorporate some coffee-inspired DIY decor to truly immerse yourself in the java experience. Hang vintage coffee signs on the walls, repurpose coffee cans as charming flower vases, or even create a mesmerizing chandelier made entirely of espresso cups. Remember, the more coffee-themed knick-knacks you have, the stronger the coffee magic becomes. Be careful not to go overboard and accidentally transform your kitchen into a full-blown coffee-themed amusement park.
22. DIY Coffee Station At Home
Image and tutorial by Flour On My Face
This quirky, caffeinated wonderland brings the barista experience right to your kitchen. Transform into a bean-slinging maestro as you unleash your inner barista, armed with a dazzling array of exotic beans, frothy milk, and mysterious syrups.
23. DIY Coffee Bar Countertop Ideas In The Kitchen
Image and tutorial by The Inspired Workshop
Introducing the "Café Chaos" – your very own DIY coffee bar cabinet in the kitchen! Say goodbye to blurry-eyed mornings and hello to caffeinated chaos! This charmingly chaotic creation is your ticket to coffee nirvana.
24. Chalk Board Coffee Bar Cabinet Ideas
Image and tutorial by Sincerely Marie Designs
Get ready for caffeine-fueled creativity with the "Chalk Board Coffee Bar Build"! This whimsical wonderland takes your morning pick-me-up to new heights, replacing the dull with a playful twist.
25. How To Design A Perfect Coffee Bar
Image and tutorial by Curated Interior
This extraordinary creation boasts an ingenious fusion of convenience and style, with built-in shelves and a table that'll make your morning brew a breeze and give your living space a jaw-dropping transformation.
26. Easter Home Coffee Station Decor
Image and tutorial by Blog Stuff
This Easter Coffee Station Decor extravaganza takes your morning caffeine fix to eggstraordinary levels of awesomeness! It is the perfect place to brew up some severe springtime magic.
27. Easy Coffee Bar Table Build
Image and tutorial by Houseful Of Handmade
Say goodbye to clumsy coffee spills, and hello to your new best friend, the coffee bar table! With its ingenious design, you'll have all your favorite brews at arm's length, giving you the power to caffeinate the world, one cup at a time.
28. DIY Coffee Bar Wooden Storage Tote
Image and tutorial by Knick Of Time
This handy-dandy tote is here to rescue you from coffee chaos and bring order to your java jungle. With its rustic charm and whimsical design, it's like having a tiny lumberjack bartender at your service. You can place this next to your main coffee station cabinet.
29. House Shaped Coffee Cup Holder In The Kitchen
Image and tutorial by A Beautiful Mess
Introducing the marvelously quirky "House Shaped Coffee Cup Holder In The Kitchen"! This little gem is the architectural masterpiece your caffeine addiction has been craving.
30. DIY Coffee Station Out Of Old Furniture
Image and tutorial by My Repurposed Life
Tired of coffee-induced chaos in your kitchen? Embrace your inner caffeine connoisseur with our genius solution: a DIY Coffee Station Out Of Old Furniture! This epic transformation takes your dusty bookshelf or abandoned dresser and turns it into a java lover's paradise.
Expert tip by TCH - Channel your inner barista and embrace the art of latte foam design. Start with simple heart shapes, then move on to more ambitious creations like a unicorn or a miniature replica of the Mona Lisa. Just remember, it's all about confidence and a steady hand. Plus, your guests will be so mesmerized by your foam masterpieces that they won't notice if your latte art skills aren't quite Picasso-level.
31. DIY Coffee Mug Rack

Image and tutorial by Jenwood House
This nifty rack will transform your kitchen into a caffeinated wonderland while saving you from the heart-wrenching sight of a lonely, mugless cupboard. Crafted with love (and maybe a few curse words) using recycled materials, it's the ultimate blend of style and functionality to store all your coffee cups.
32. Reclaimed Wood Old Sign Coffee Station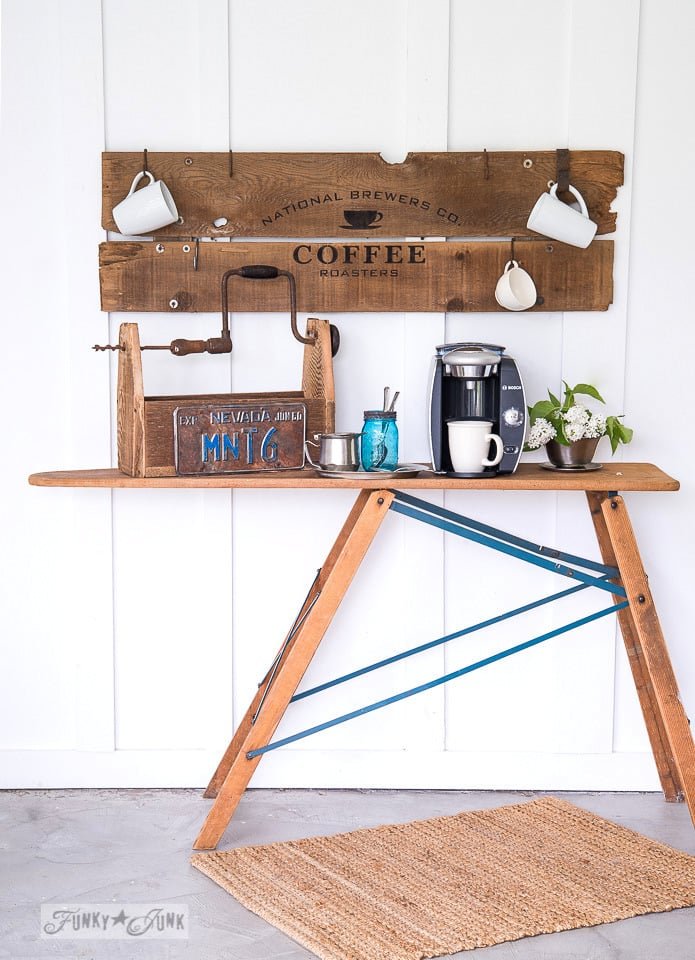 Image and tutorial by Funky Junk Interiors
Our coffee station is adorned with a weathered wooden sign that's seen more history than your great-grandma's attic. This isn't your average Joe joint; it's an Instagrammable masterpiece that'll make your latte-loving heart skip a beat.
33. Coffee Bar Serber With Shelves

Image and tutorial by Artsy Chicks Rule
Introducing the "Coffee Bar Serber With Shelves"! This quirky contraption is like your caffeine-fueled butler, juggling your morning brew and your collection of coffee mugs with finesse.
34. Coffee Station For Small Spaces

Image and tutorial by Just A Girl Blog
Introducing the "Espresso Express" – the ultimate coffee station for small spaces that will perk up your mornings and tickle your funny bone! This compact marvel is like a caffeinated superhero, squeezing all the goodness of a full-sized java paradise into a pint-sized package.
35. Coffee Station Cart
Image and tutorial by A Beautiful Mess
Introducing the Coffee Station Cart: the ultimate caffeinated companion on wheels! This ingenious contraption combines a coffee shop's elegance with a grocery cart's convenience. Just push this portable coffee paradise around your office or home and watch coworkers and friends flock to it like seagulls to french fries.
36. Simple Coffee bar From A Repurposed Cable Spool
Image and tutorial by My Repurposed Life
This ingenious creation takes recycling to a new level, giving caffeine enthusiasts a reason to spin joyfully. Imagine sipping your favorite brew while perched on bar stools made from discarded headphone cords, feeling like an upcycling champion.
37. DIY Concrete Top Coffee Bar
Image and tutorial by The Merry Thought
Introducing the "DIY Concrete Top Coffee Bar" – the caffeinated masterpiece you never knew you needed! It's like having your coffee shop right in your living room!
38. Black Coffee Bar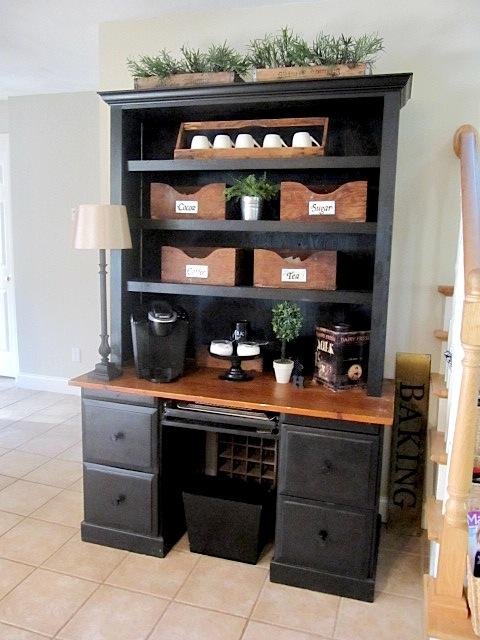 Image and tutorial by Sew Many Ways
Welcome to the Black Coffee Bar, where we take our coffee as dark as our souls! Our beans are perfectly roasted, achieving a rich, smoky flavor that'll wake you up faster than a thunderstorm on a Monday morning.
39. Functional Coffee Cart
Image and tutorial by The Inspired Room
This zany contraption is like a coffee shop on wheels, ready to caffeinate the masses with a side of laughter. With its mismatched wheels and flamboyant espresso machine, it's like a circus clown got a hold of a barista's dream.
40. DIY Built-In cabinet Coffee Bar
Image and tutorial by This Hart And Home
Tired of navigating the treacherous morning terrain to satisfy your caffeine cravings? Fear not, for the DIY Built-In Cabinet Coffee Bar is here to rescue you from the perils of subpar java! This miraculous creation combines the magic of a master carpenter with the fancy of a coffee aficionado.
FAQs
Q: How can I create a coffee bar in a small kitchen?
A: In a small kitchen, opt for compact solutions like a wall-mounted coffee station or a portable coffee cart that can be easily moved around. Utilize vertical space with shelves or hooks for storage, and consider multipurpose furniture like a kitchen cart with built-in coffee storage.
Q: How can I incorporate a coffee bar into a modern kitchen design?
A: For a modern kitchen, go for sleek and minimalist coffee bar designs. Opt for clean lines, neutral colors, and materials like stainless steel or glass. Built-in coffee machines or espresso makers can seamlessly blend into the overall design, while open shelving with geometric shapes can add a contemporary touch.
Q: Can I create a coffee bar in my kitchen without sacrificing precious counter space?
A: Fear not, brave coffee lover! We have nifty solutions that utilize walls, corners, and even hidden nooks and crannies to create your coffee oasis. You'll have your morning cup of joe within arm's reach without sacrificing an inch of your precious counter real estate. It's like having your cake and drinking your coffee too!
If you loved these ideas, you can use the Pin image below and save this article on your 'Coffee Bar Ideas' Pinterest board.