Morning is the only time of the day you actually have to yourself. And you want things to go as smoothly as possible for the best start of the day. If you like having set routines in the morning and if you're a coffee lover, a neat coffee spot in the kitchen is a literal lifesaver. It therefore makes sense that you have a coffee bar right in the kitchen to kickstart your day.
Coffee bars are a great way to delegate a space in your home to caffeine and quiet times. You can add whatever you want to your coffee bar. Whether it's just the coffee maker and a couple of mugs on the tray or an elaborate set up, you decide what should be on display and what theme to apply.
30 Smart DIY Coffee Bar Ideas for Small Spaces & Homes
40+ Best Farmhouse Coffee Bar Ideas With Tutorials
40+ Creative and Inviting Coffee Bar Decor Ideas
20 Best DIY Coffee Bar Ideas For Your Kitchen Space
If you're confused about where to start, we have a few ideas lined up ranging from small to elaborate and even glamourous. Take inspiration from different themes and display options to get started on your very own coffee bar ideas for kitchens.
1. Organized Small Coffee Bar in Kitchen
Having an organized coffee station or coffee bar right in your kitchen is the best way to get things quickly in the morning. If you're looking for clear ideas for a coffee bar in the kitchen using a cabinet, this simple one is really good. Maximize your space by assigning a separate shelf for different items.
Your coffee maker will of course be front and centre. Keep a tray with your absolute essentials next to it and refill from the cabinets. In this way, you can be sure to be on top of your shopping lists as well. If you so like, the blog has more tips on how to start your small coffee bar ideas for kitchen spaces.
2. Elegant Shelf Coffee Bar
This is a brilliant coffee bar idea for small kitchens. If you don't have a lot of room to dedicate to your coffee corner, you can use the little tips and tricks available here. Use the counter top in a way that maximizes space. Keep miniature jars of your supplies in sight and store the rest in drawers and cabinets. Elegant mugs will be a hit with a sleek countertop and polished shelves. Use the shelves to display minimal designs. Put up a small quirky sign to indicate that this spot is for all things caffeine.
3. Stylish Minimal Kitchen Coffee Bar
Floating shelves are a really good way to make any space look sleek and stylish. So of course it's a great coffee bar idea for kitchen counters. Make the most of your counter space to set up the heavyweight stuff like your french press and coffee maker.
Use the shelves as an accessory while making it subtly functional. If you want a really elegant coffee bar, stick to a colour scheme. This idea showcases clear glass which is really visually attractive. Don't leave too many coffee supplies in sight when doing this type of minimalist look.
4. Modern DIY Coffee Bar
Modern themes often focus more on lines and colours more than anything. For beautiful coffee bar ideas for kitchen counters, you want to highlight colours that complement each other. If the counter and wall are dark, feature light and solid mug designs.
Use small kitchen plants to bring in elements of nature and brighten the space. Make use of shelves to display coffee bar artwork and cutlery. If you can complement the colour of your coffee maker to the surrounding, that will be the cherry on the cake.
Read – 40 Best DIY Coffee Station Ideas For Your Home
5. Mini Coffee Bar on Counter
Sometimes the smallest space can be transformed with just a few tweaks. I love the minimal vibe for this idea for a coffee bar in the kitchen. Make the most of your space by adding a tray to keep everything neat. If you have a pour over coffee stand, you don't need much else to get started on your morning cup of joe.
Since the tray will host most of your essentials, stock it well with small containers of coffee beans or grounds, sugar canisters and such. To brighten up the space, place a vase of flowers nearby. As well as a neat sign to indicate that this is the caffeine stop in the house.
6. Black Pipe Coffee Bar
For those of you who really want to go the DIY way, building a small coffee space for you might be a great idea. It's a good thing that this tutorial exists to help you get started on that. When building, keep in mind your coffee bar ideas for kitchen spaces and measure accordingly. Wood and pipe are a classic combination for most kitchen decor because they're so easy to work with.
Once you have your space ready, setting up is relatively easy. Make sure to keep your mugs and coffee maker front and centre. You can use the lower shelves to house other appliances as well as your excess supplies. This idea really does have something for everyone.
7. Bright and Sunny Coffee Bar
Your coffee bar should ideally be such a part of your kitchen that it doesn't interfere with the rest of your cooking and tasks. If you can have a dedicated corner like in this kitchen coffee bar ideas for home, you're in luck. Use drawers to hide away anything that does not need to be in view.
Again, in a corner like this, you want to play with complementing colours. A dark counter should pair well with brighter appliances and utensils. Keep a tray for your mugs and coffee beans. Have your most important coffee maker next to it. A dedicated spot like this would look great with some natural light as well as green plants. So if you can add those, you'll have the ideal kitchen coffee bar.
8. Wicker Basket Kitchen Coffee Bar
Do you want some really quick and easy for your handy coffee bar ideas for small kitchen? We have this easy to do trick that can be set up in just 10 minutes. First gather up all your supplies – the coffee powder, aromatic beans and sugar. Next find yourself a fancy wicker basket – or any other basket will do.
In a small space, you want to keep things neat so that you can find them easily. And a basket works better than a tray if you're prone to knocking things over. Next, get your mugs. After you're done preparing your basket, you'll just have to set this close to your coffee maker and you're done. Now isn't that the easiest coffee bar idea for kitchens?
9. Easy DIY Tiered Coffee Bar
With how easy it is to set up a mini coffee bar, it's no wonder that they're so popular with everyone nowadays. We have a ton of different ideas for coffee bars in kitchen spaces and this one is unique in it's own way. Using a tiered stand like this is very popular for farmhouse decors. It provides a lot of vertical space to use instead of cabinets.
If you're curious about how to make this wooden tiered tray for your kitchen coffee bar idea for your home, check out the tutorial. It provides detailed instructions for construction as well as set up, which I think is really great.
10. Sideboard Coffee Bar for Kitchen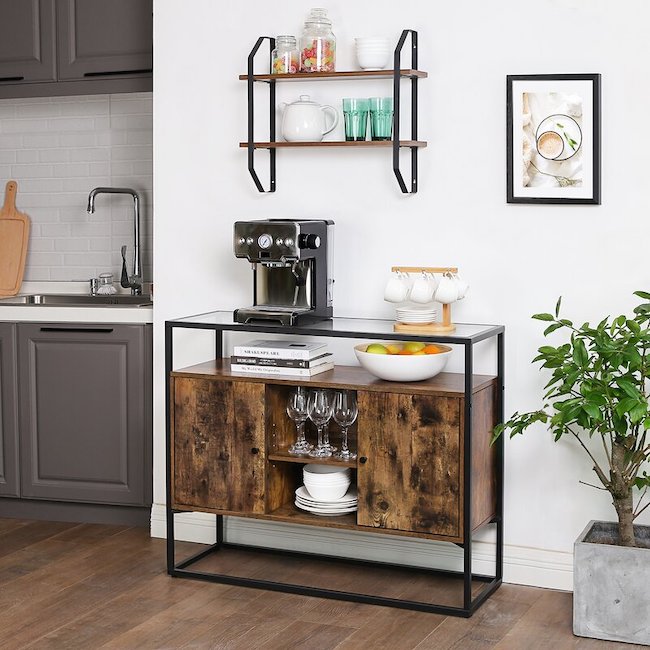 Sometimes we really don't have a lot of space on the kitchen counter to set up a cozy coffee bar. And in those situations, it's always good to be able to improvise space. This sideboard or similar structure makes really cool coffee bar ideas for small kitchens. With the extra space, you won't have to worry about cramming everything into your kitchen.
You will get the added space in drawers for supplies while your coffee maker and mug carousel take centre stage. Now if that isn't a great way to make your coffee bar unique, I don't know what is.
11. Small Kitchen Coffee Bar
This is another mini coffee bar idea for small kitchen counters. It works great if you have drawers and cabinets to store most of the heavyweight stuff. Just having a tray or fancy plate out to keep your mugs on is good enough.
Of course this idea is just a guide. If you would prefer to have a more elaborate set up that is fine. In case you use drawers, keep them stocked with different coffee supplies so that you can find them easily. Ideas like these are a real lifesaver in the mornings.
12. Corner Kitchen Coffee Bar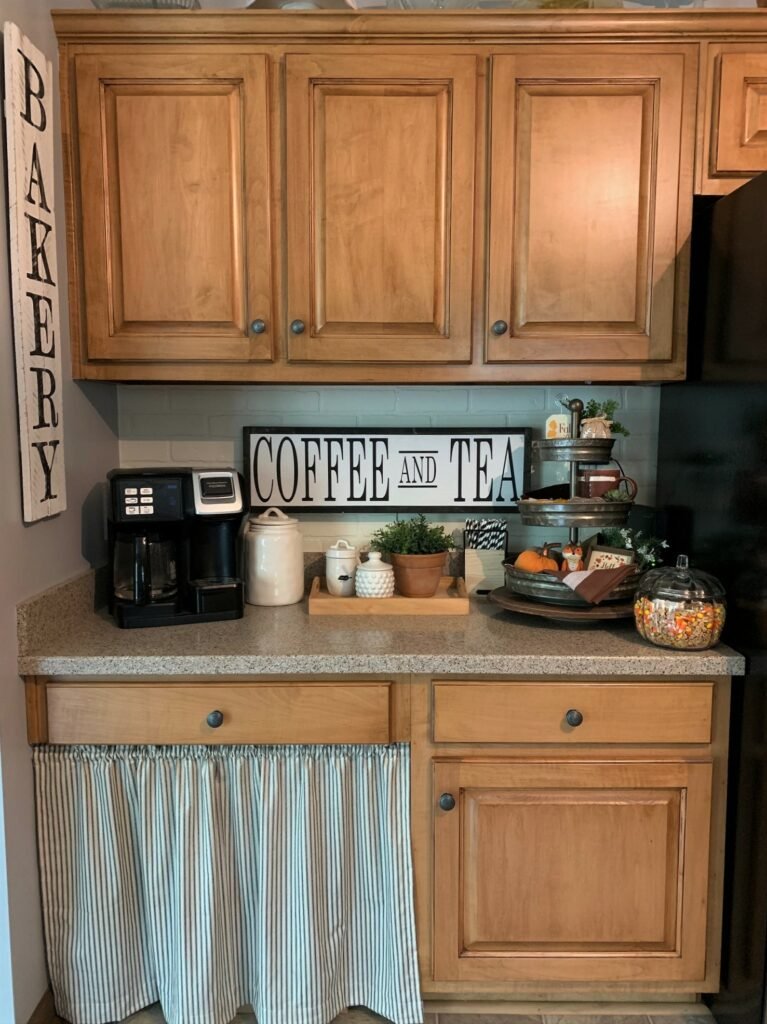 Unused and corner spots in the kitchen make amazing coffee bar ideas for kitchen counter settings. If you have a spot in your kitchen that you don't particularly use for anything other than maybe keeping spare pantry items, it might be time for a makeover.
Stock it exactly as you would want your coffee bar to look. Place your coffee machine, mugs, coffee beans and syrups, maybe even some snacks. If you like it, you can even add a quote or sign related to your coffee corner. Depending on how big your space is, decide if you want a lot in sight or would prefer a minimal look.
13. Glam Coffee Bar
Just because a coffee bar is in the kitchen, doesn't mean it cannot be really glamorous. A few choices about the types of mugs and cutlery you put out to display can really change the mood of the small coffee bar ideas for kitchens.
Instead of plain mugs, set out gilded ones instead. And if you want to keep your coffee grounds on display, store them in crystal containers. If you are looking for more inspiration you should really check out the link for tips and suggestions.
14. Narrow Cabinet Coffee Corner
Source: fourgenerationsoneroof
Morning coffee is not just essential anymore. It is a ritual. And we want you to make the best of the experience. Cabinets are by far the most popular coffee bar ideas for small kitchens. They can house a variety of stuff, they can be styled easily, and best of all, they can be concealed if you don't want to show others what's inside. It's only natural that sometimes you want to keep your coffee haven away from prying eyes.
However, when you do want to display your neat organization skills, ideas like these can come in really handy. Wicker baskets, mug holders, steel and glass containers all make such amazing organization units for your coffee essentials. If you have a cabinet large enough to hold your coffee maker it's great, but if not, placing it on the counter below is also good enough to indicate your caffeine corner.
15. Black and White Coffee Bar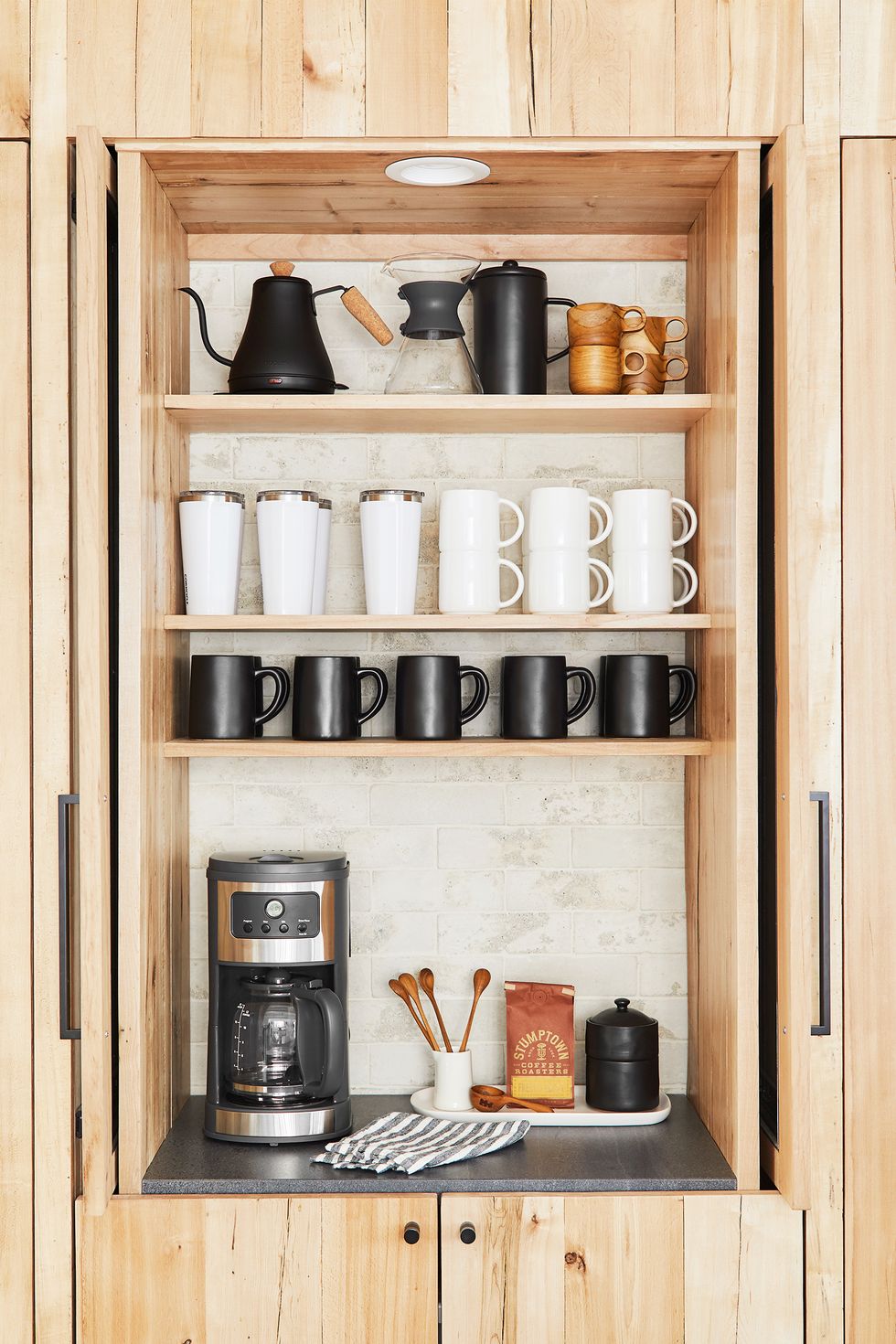 There is something about a black and white colour palette that really soothes the eye. This particular coffee bar idea for kitchens incorporates a wood finish cabinet which ties into the colour scheme well too. If you're looking to upgrade your coffee corner, add elements that complement the decor to make it more cohesive. Use mugs and different coffee makers the star of your coffee bar in this idea.
In the above example you can see how the different coloured mugs are segregated. The tray features wooden elements that add to the visual aspect of the coffee corner. With such coffee spaces, it is best to be minimal in decor. Keep your coffee ingredients out of view and in drawers where they can be accessed easily.
16. Classy Countertop Coffee Bar
One of the most important parts of your coffee bar other than the coffee maker? Mugs. If you like mugs and have a vast aesthetic collection, you'll want to showcase it with your coffee bar ideas for kitchen counters. In this ideas, the simple blue and copper contrast of the display case really help the mugs stand out more.
Everything else can be displayed aesthetically around your mug collections. Use trays, jars, containers and other accessories to show that you have a wonderful kitchen coffee bar just for the joys of coffee. If you sometimes prefer to pour over coffee instead, have that available on hand too. At the end of the day, you should have a joyful experience.
17. Simple Coffee Corner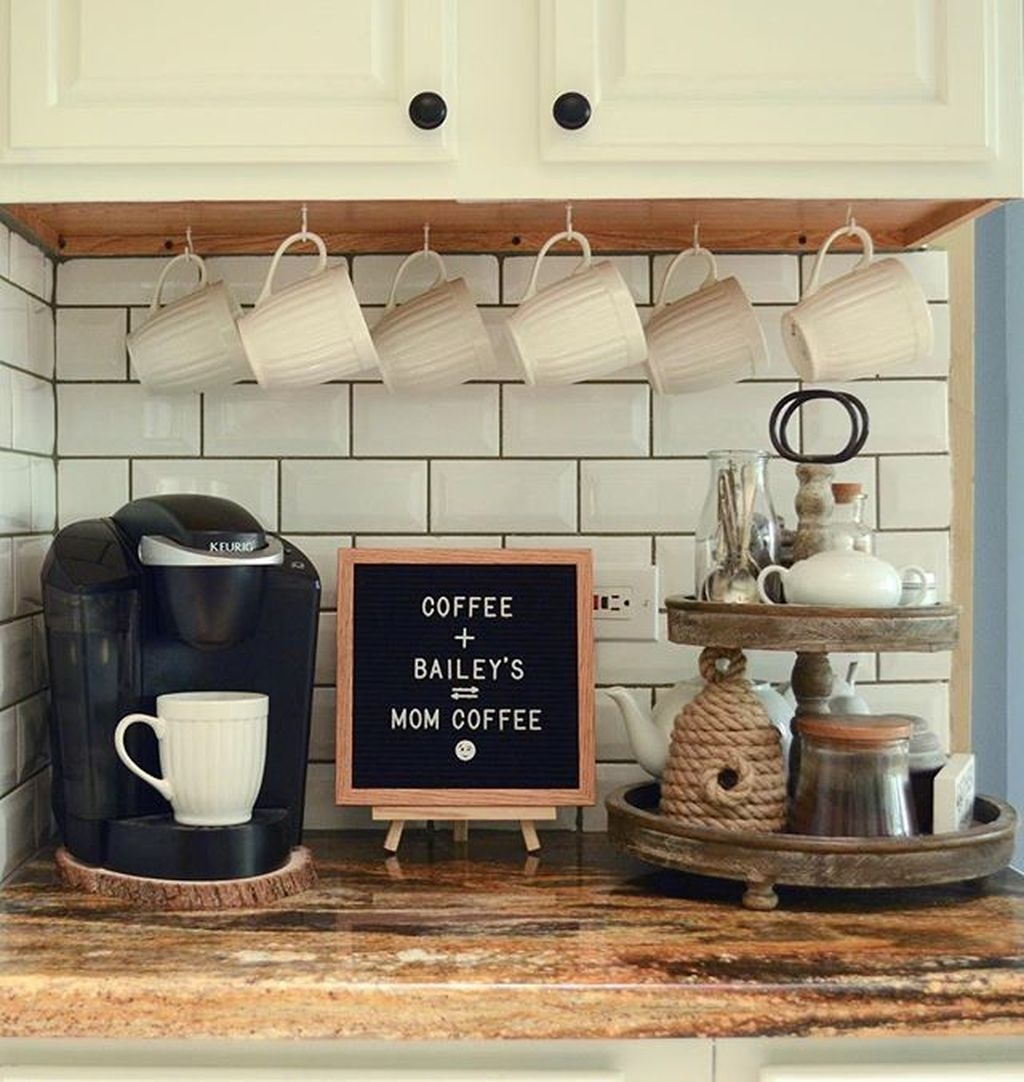 The space under your kitchen cabinet is one of the most popular places to set up your cozy coffee corner. For a different approach to to showcasing your mugs, hang them under your cabinet like this idea does. Use tea cosies for your cups as well if you like.
The coffee bar ideas for kitchen usually focus on the big things like mugs and coffee makers. But you can also focus on little jars of coffee beans and signs to indicate your coffee corner. If you like cakes and sweets, you could also keep a tray of those nearby for easy access. Trust me, little things like these can really lift your mood even more than the coffee.
18. Kitchen Cabinet Coffee Bar
Even if you don't always think so, narrow spaces can make for really handy coffee bar ideas for kitchen counters. If you have an unused cabinet, clear it out to make your coffee corner a big hit. Every time you open up your cabinet coffee bar, you will be greeted with the organized sight of coffee beans, sugar canisters, flavoured syrups and tea bags.
Make your cabinet a caffeine hub by adding all your favourite essentials to it. On the counter, keep your coffee maker and a few mugs. This way you can make your morning coffee on the go. Having a cozy spot like this right in the kitchen really makes all the difference to your morning routine.
19. Cozy Coffee Bar
One word to describe this kitchen coffee bar idea for home spaces is cozy. Make your coffee bar as rustic as possible using the little details and elements available to you. If you can find something like this industrial rustic stand for your mugs, you can tie in the decor with the rest of your space.
Use muted colours to complement the rustic decor. Add natural elements like the leaves wreath on the old window frame. That window can also be used to hang a few mugs or some signs for your coffee bar. Make the space more open by only displaying a few essentials and keeping the rest out of sight.
20. Colourful Spring Coffee Bar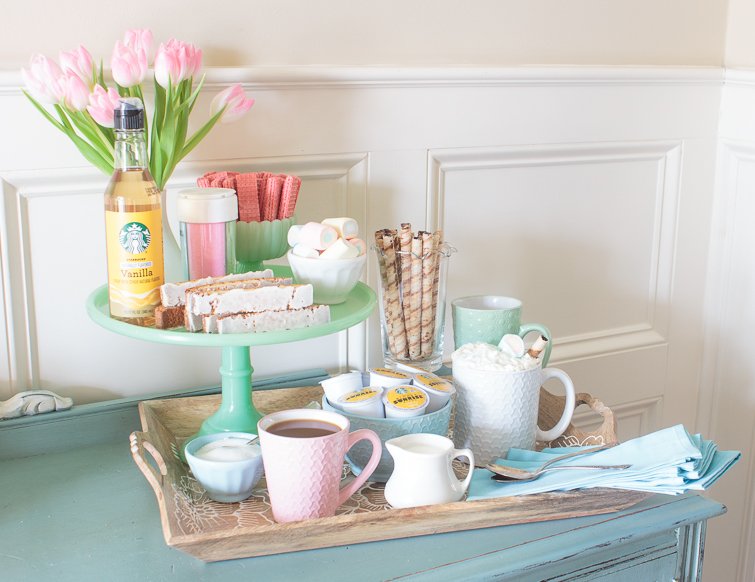 If you like having colours in your decor, you will want to carry that forward to your ideas for coffee bars in the kitchen as well. Again, this is a mini coffee bar idea that can be done right on the counter if space permits. Or you can have a separate dresser to make things easier.
If you have a bit of a sweet tooth, you will like this carousel idea for all things dessert. The main design feature to make sure of is to make sure you use all things colourful. Mugs, vases, utensils, containers – even trays – make it all as bright and spring like as possible. If you have enough space, also add some flowers and plants around your coffee bar area.
21. Rustic Dresser Coffee Bar
Be quirky and different by using different design elements in your coffee bar ideas for kitchens. Using a solid dark dresser to house your coffee machine. If you have a farmhouse vibe kitchen. It will tie in with the decor well. Also, add more rustic elements to yoru coffee bar with the floating shelves and earthy tone mugs.
If you can get a hanging rack for your mugs it could make the space look more open as well. The dresser is great to keep your essentials at hand but still out of sight. If you like aesthetics, display your coffee beans on the counter too. It's a nice way to tie in your decor with intention.
If you loved these ideas, you can use the Pin image below and save this article on your 'Coffee Bar Ideas' Pinterest board.