When you're creating the perfect homespace, you really want everything to be perfect and according to your taste. Lately, there has been a surge in people looking for DIY accent wall ideas for their home and work spaces.
Accent walls – also called feature walls – are a nice way to change the look of an otherwise dull room. It can be used to add your personality to the room, showcase your creativity or even signal the use of the room better. You can use whatever you already have – fireplaces and wall cubbies, windows, staircases and other things, to turn your wall into an extension of your art preferences.
Also read –
26 Modern Bedroom Accent Wall Ideas Trending in 2023
35 Stunning Black Accent Wall Ideas For A Dramatic Look
31 Spectacular & Unique Wood Accent Wall Ideas
37 DIY Accent Wall Ideas For Every Room
Accent walls are a pocket friendly way to upgrade the look of your room and highlight a striking feature that might already exist. Below is a list of some of the best ideas we could find for different accent walls. You can use these in different rooms and with varying styles. Trust me when I say, there is something for everyone.
1. Staircase Gallery Wall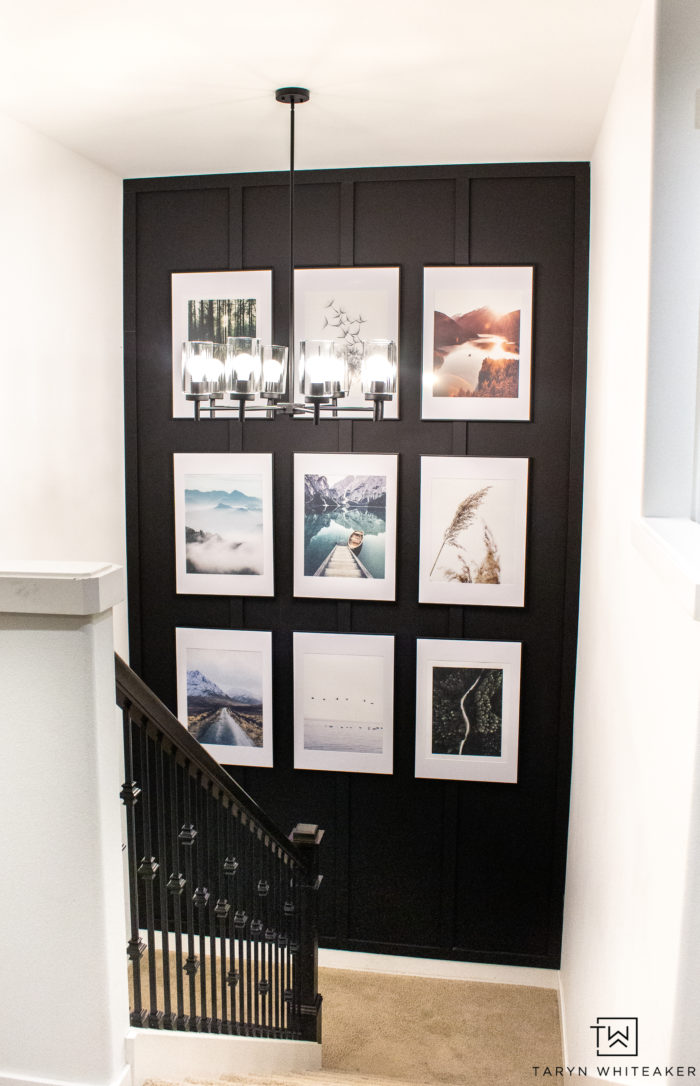 This is a beautiful accent wall design for your staircase. More often than not, we neglect this wall because it simply doesn't seem like a priority. This DIY painted accent wall is easy to do because of how simple it is.
The design is straightforward and really helps the paintings stand out against the dark wall. Also, the wood panels do add a layer of dimension to the flat wall, which is always welcome.
2. Vertical Shiplap Accent Wall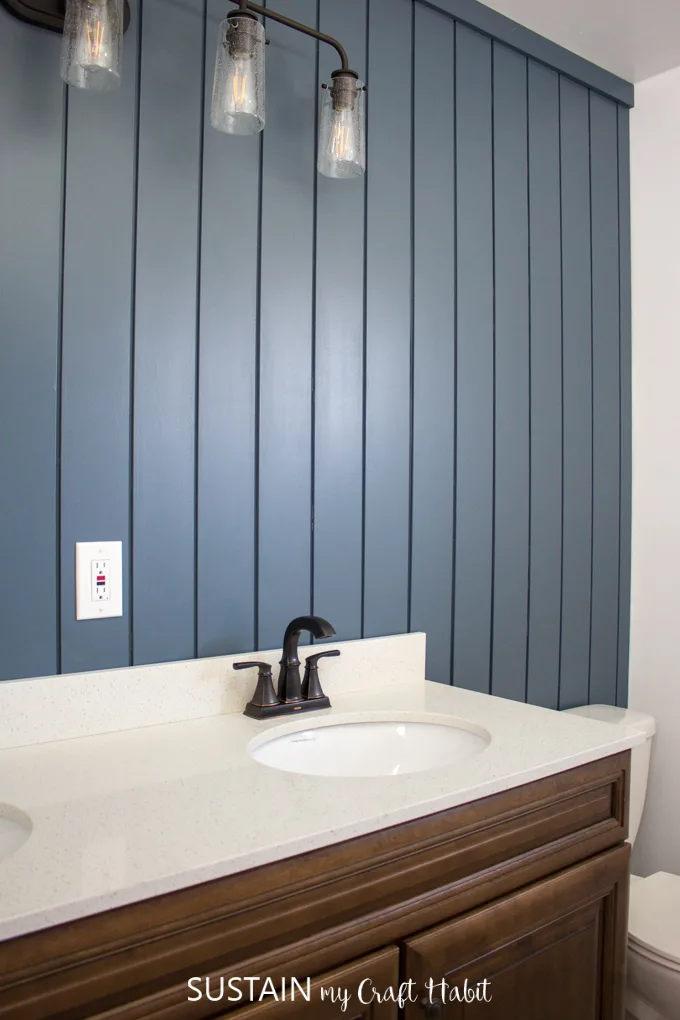 Shiplaps are such a versatile accent feature. This pretty DIY shiplap accent wall is surely a good example of that. It has a muted colour that is neither too bright nor too drab and brings out the features of the room well. Although using shiplaps is much more common horizontally, the vertical effect is very pleasing to the eye.
Also, read – 30 Stylish Bathroom Backsplash Ideas And Inspiration, 40 Brilliant Bathroom Accent Wall Ideas You Will Love
3. Buffalo Check Wall Accent
This eye pleasing gingham patterned wall is a favorite when it comes to accent wall designs. When done correctly, buffalo checks have a very symmetrical effect. It can certainly bring the style of the room together seamlessly.
This is a really easy to do DIY painted accent wall. Use the tutorial for the tips on how to achieve this look in the easiest way. A project like this can look a little daunting, however, you will realize how easily you can do this.
Also, read – 30 Amazing DIY Wall Mural Ideas To Brighten Any Room, 30 Amazing Dining Room Accent Wall Ideas You Will Love
4. Easy Wood Frame Accent Wall
This is one of those really ingenious ideas that you stumble across and cannot believe is actually that easy to do. This DIY modern wood accent wall is very affordable and just as easy to execute. You probably wouldn't believe how the look was achieved either.
All you require are a dozen or so picture frames, a handful of nails and paint to cover the wall you choose. This DIY painted accent wall is just what you'll need to add some visual detail to your room. It works especially well when the other walls are a much lighter colour.
Read – 40 Kitchen Accent Wall Ideas You Will Love
5. Wood Plank Wall Accent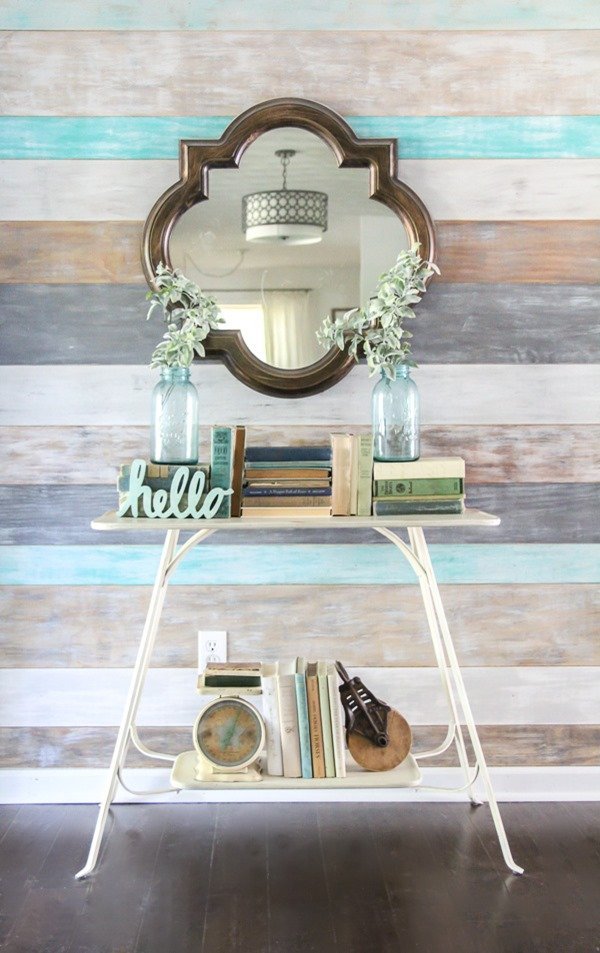 This DIY shiplap accent wall idea is a stunning way to transform your room into something dreamy and magical. The different colours and wood grains are able to make a nice contrast with each other.
The nice thing about a DIY wood accent wall is that it looks good no matter how you decide to style it. Even if you didn't use as many colours it will still tell a story and look elegant too.
6. Brick Wall with the World Map
A brick wall is a great way to accent your room. But what's even better than a brick wall is having the world on your wall. This DIY paint accent wall idea is unique and will require some exceptional drawing skills to finish.
Although, the tutorial does give some good hacks too. The best part is that the whole project won't take you more than a few hours to finish. If you're short on time and still want some really nice DIY accent wall ideas, you should definitely try this one.
Read – 35 Best Brick Backsplash Ideas For Your Perfect Kitchen
7. Striped Bedroom Accent Wall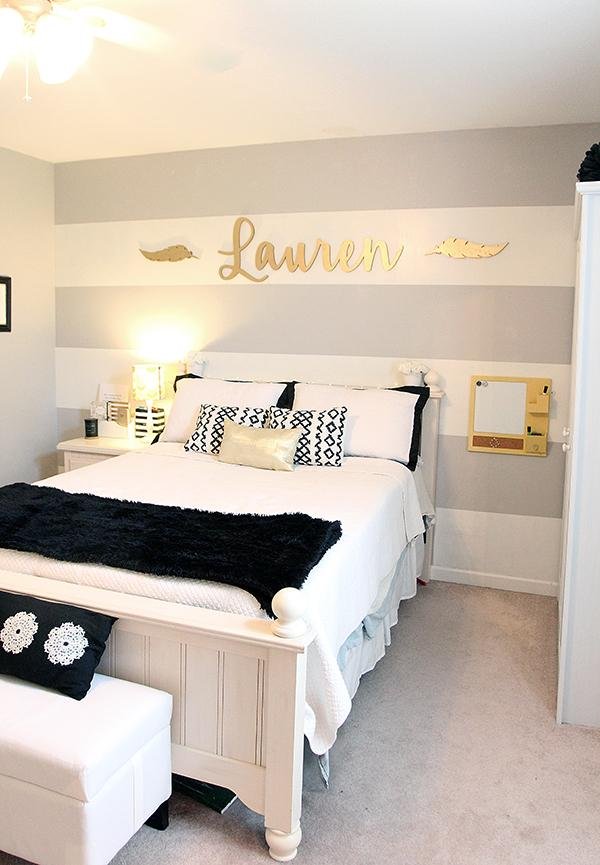 Source: lessthanperfectlifeofbliss
Simple DIY accent wall ideas work really well in bedroom decors. Usually, an accent wall goes really well behind bed. You want to draw more attention towards the wall with the accent than any other part of the room.
If you're going for an easy DIY accent wall like this, make sure to use colours that will complement the colour scheme of your decor. As there isn't much else to focus the eyes on, you can add little details like picture frames and wall fixtures too.
8. Dark Vertical Shiplap Office Space
Shiplaps – especially vertically placed, can give the illusion of a high ceiling and much larger room in general. This DIY shiplap accent wall is a great idea for a corner of your home office. This way you can bring your attention to your work area better.
The contrast of the light walls with the dark accent wall is a good way to balance out the brightness of the room. If you're looking for a unique way to give your room a makeover, you should try this tutorial.
Read – 30 Amazing Dark Green Accent Wall Ideas For A Modern Look,30 Amazing Office Accent Wall Ideas For Your WFH Setup
9. DIY Faux Wallpaper Accent Wall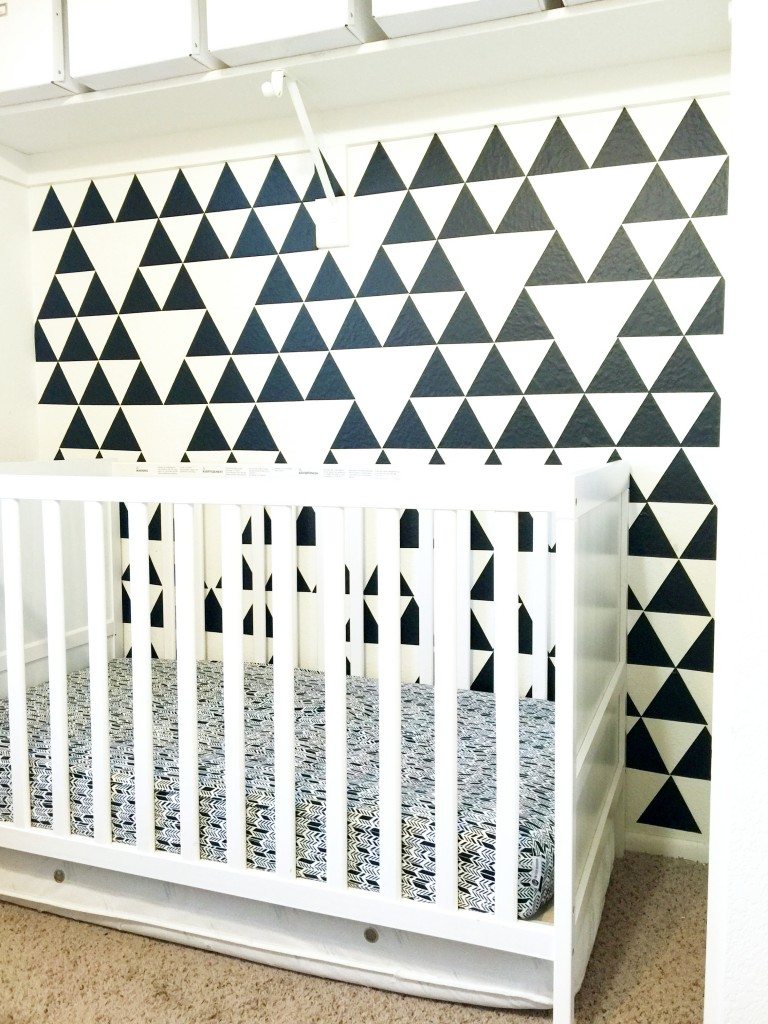 We have all looked into wallpaper when we think of wall accents. But given how expensive it can be, there are a few alternatives that might give a similar effect. Deciding which shape you want the cut outs to be is up to you. So is the colour and spacing.
Really, you can try a bunch of different things to see what works for the room you want your accent wall in. Black and white are a classic pairing. With a little mix and match you could find something in other colours as well.
10. DIY Outdoor Wood Accent Wall
Not all accent wall projects need to be indoors. This pretty DIY wood panel accent wall is a great way to create an accent outdoors. The wood also offers a nice way to show off your planters. This way you get a beautiful accent wall and a small garden in one. Isn't that a cool deal?
Read – 30+ Beautiful & Stylish Pallet Planter Ideas for Outdoors
11. Black and White Accent Wall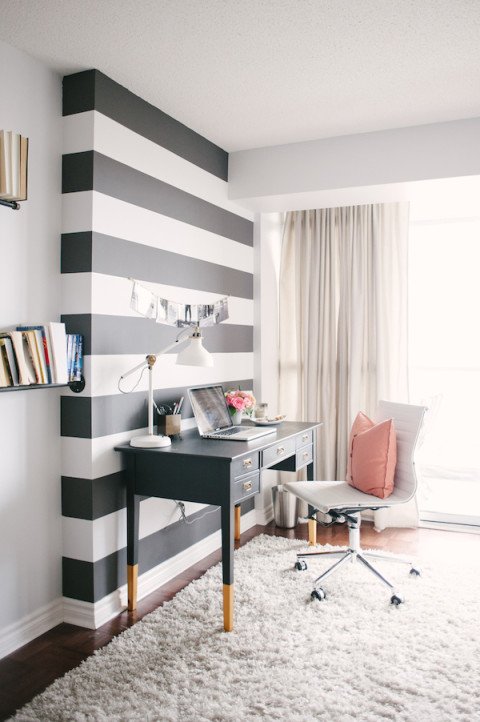 This striped accent wall is a great offset for your workspace isn't it. The whole purpose of an accent wall is to centre the attention towards it. And this idea is a great feature for a simple DIY painted accent wall.
The neutral pairing of black and white stripes keeps the fuss away while still creating a pretty detail for your room. It also adds visual depth to a room that has a lot of light colours.
12. DIY Vertical Wood Accent Wall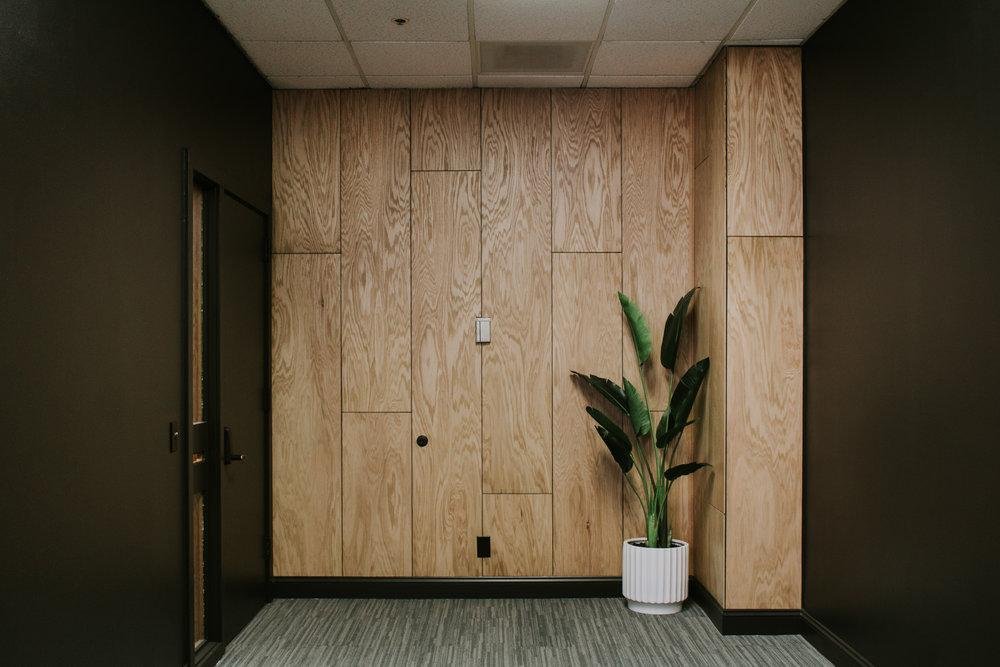 Sometimes, your work area needs to have the right vibe for you to be able to work well. And a good DIY modern wood accent wall can go a long way in helping you find exactly that. Wood accent walls can really ground a room that is heavy in colour or has little dimension.
The wood here adds a nice texture and character to the room without attracting too much attention. If anything this tutorial shows you how to balance different elements so each will shine in your room.
13. Diamond Panel Accent Wall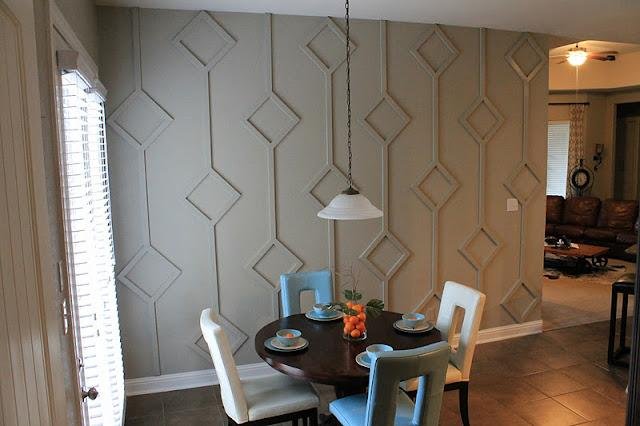 If you like getting all precise with design and patterns, you will love this DIY wood panel accent wall. It has something for everyone. The wood paneling detail is absolutely stunning to see. Especially when the whole wall is monochromatic.
If you are looking for different textures and visual elements to make your wall stand out, you will enjoy this project. It has detailed instructions and is easy to follow. Not to mention, it's really fun seeing something like this unfold in front of you
14. DIY Herringbone Accent Wall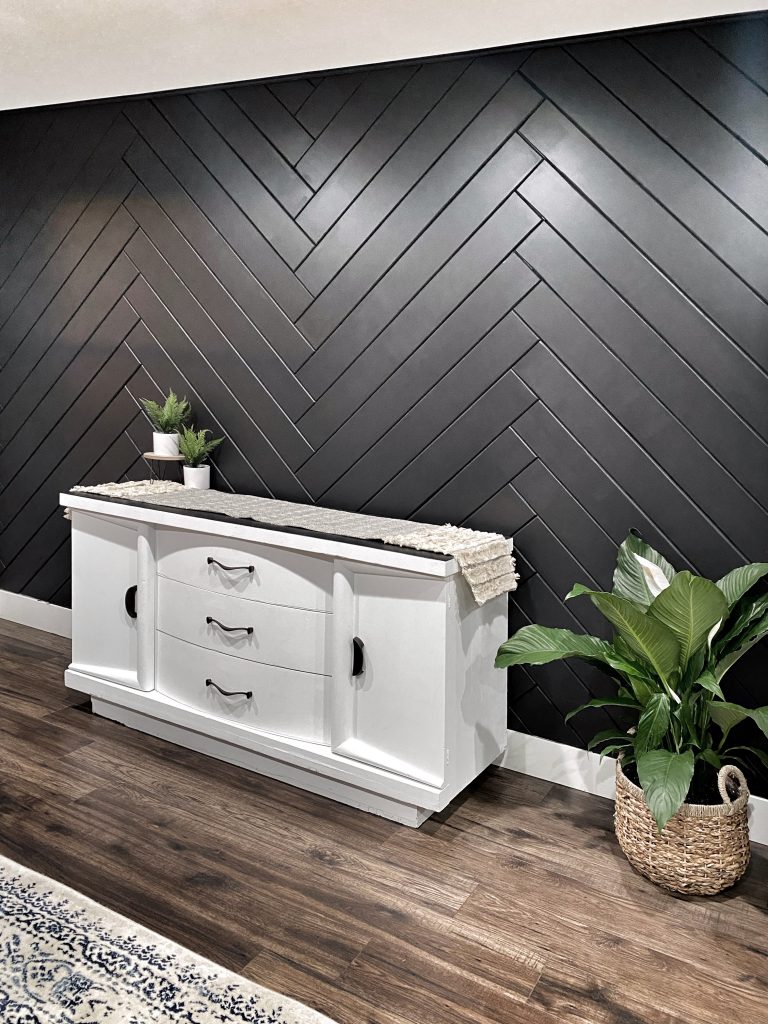 The most important point of an accent wall is to attract the viewer's attention. This beautiful herringbone DIY modern wood accent wall is the perfect example of that.
The dark wood contrasts really well with light colour decor to balance out the elements. Also it is a great textural element that plays with light and shadows. Another plus point is that it doesn't make a big dent in your pocket and is very durable as well.
15. Boxwood Accent Wall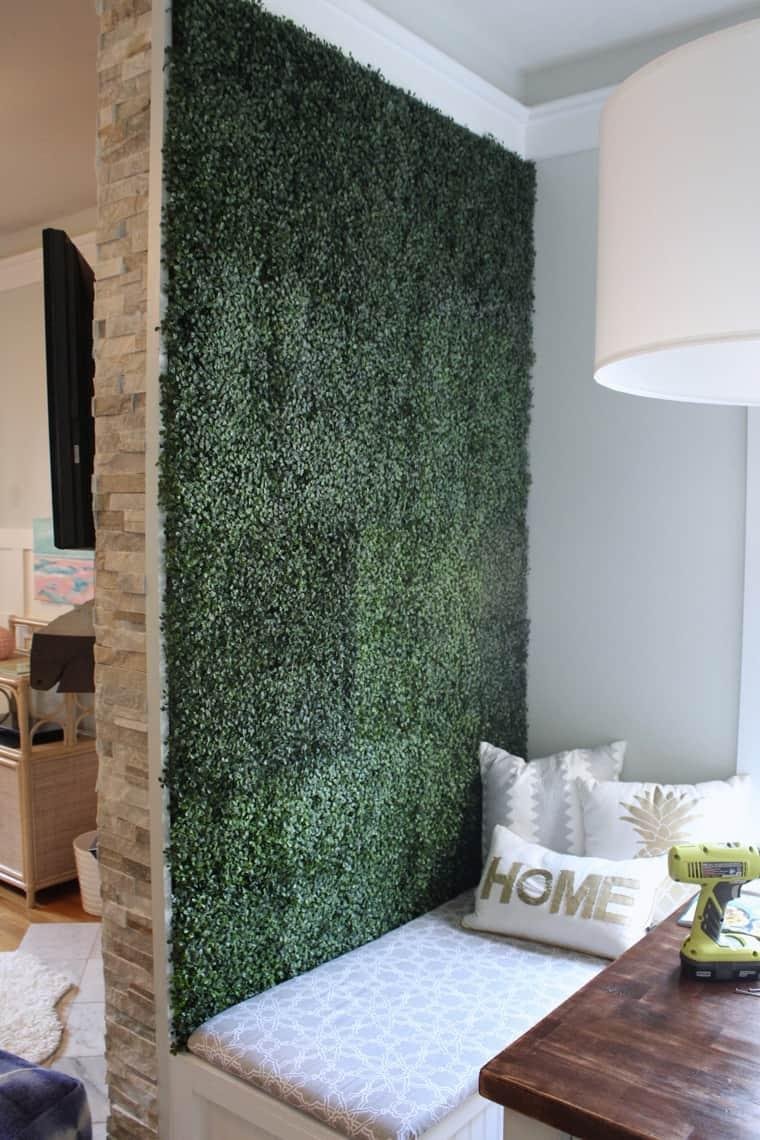 Artificial boxwood accents are a really ingenious way of adding dimension and character to your room. What's nice about boxwood decor is how easy it is to prep and install. This easy DIY accent wall can be completed without too much time and effort. Best of all it looks really good and will make your room's decor really pop.
Read – 40 Brilliant Green Accent Wall Ideas For Every Room
16. Dark Board and Batten Accent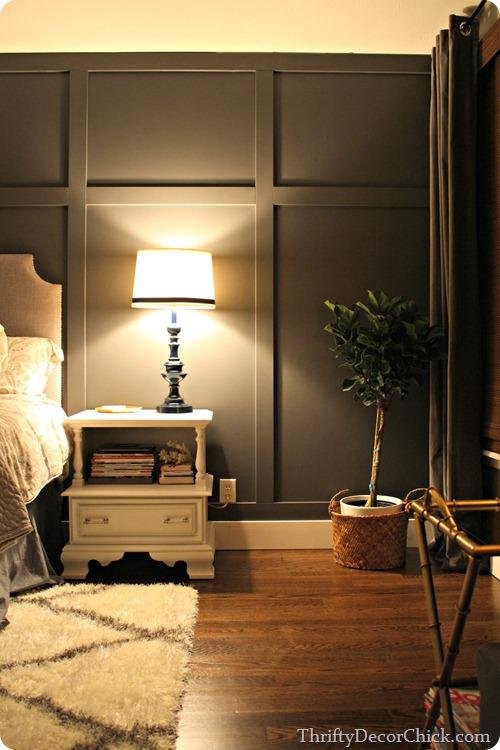 Bedroom accent wall ideas DIY come in loads of different styles. This board and batten tutorial is one that will transform your room from basic to really elegant and classy. When pairing dark walls with the rest of the decor, you really cannot go wrong.
The board and batten accent is what really transforms the look though. Having a DIY trim accent wall really elevates the look of the room and makes it look sophisticated.
17. DIY Hexagon Wall Accent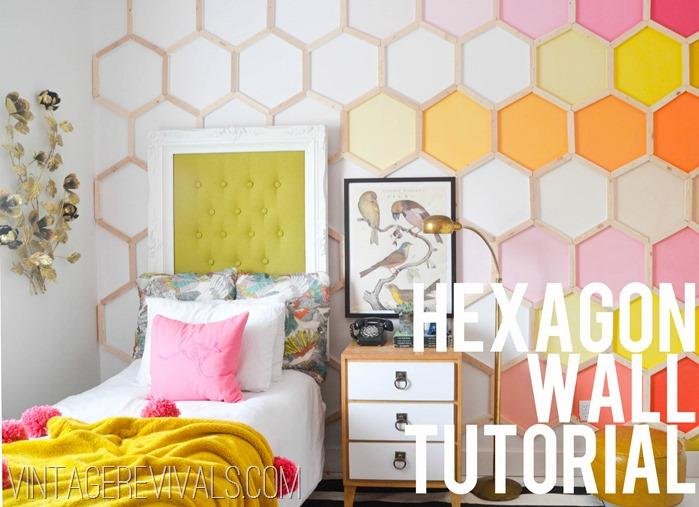 You like geometric patterns and you like wood accents for walls. So why not combine the two to make this exquisite DIY wood trim wall accent for your bedroom. Yes, it's simple and easy to do as well.
As long as you're ready to do some wood working this one will be a breeze to do. You can choose to do it in sections and add some ombre colour effect for more dimension. It is more time consuming but the end result will have you swooning for sure.
18. DIY Wood Panel Accent Wall
Wood slat accents are becoming increasingly popular with home decor ideas lately. You will find a lot of different DIY wood panel accent wall ideas everywhere. This one is a very simple execution of the same.
Deciding on the look and feel of your wall according to your room is the first step. If you want to draw attention to a certain area, the colour might also make a difference. In any case, this detailed tutorial will be your friend every step of the way.
19. DIY Triangle Accent Wall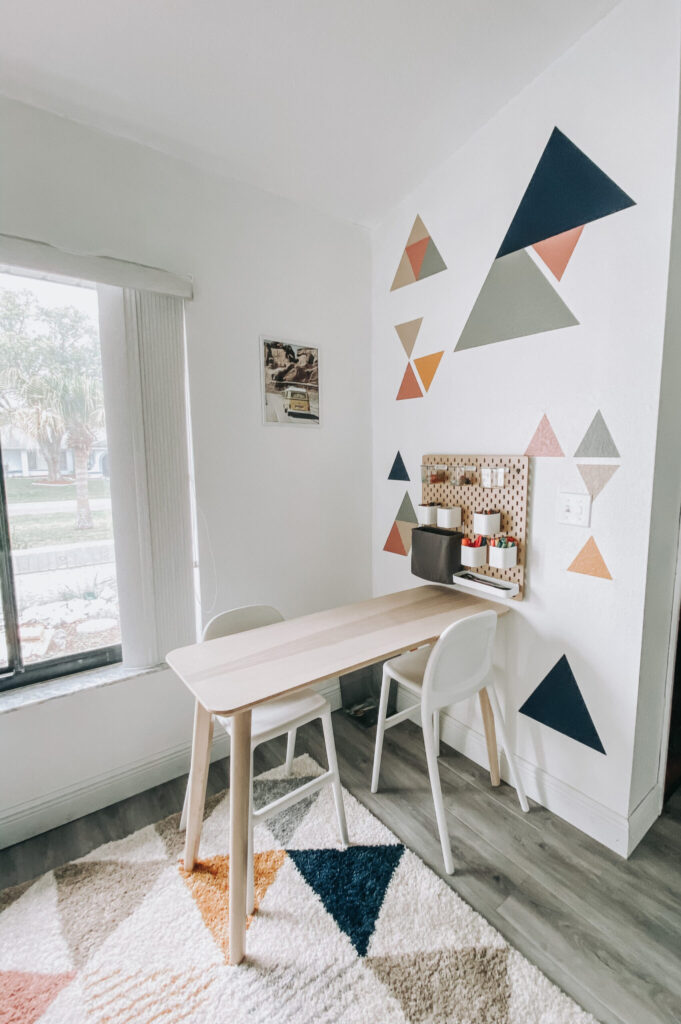 Kids rooms can sometimes be a little harder to style. Although at other times it's much easier to find ideas and patterns. Here we have a really easy geometric accent wall DIY for a playroom.
All you need to do is map out how you want the wall to look – you can sketch it out or find an online tool. Painters tape is definitely your friend here. And in less than 3 hours, you will have a transformed wall.
20. Painted Diamond Accent Wall
Painting projects might be the most fun of all right? This DIY paint accent wall tutorial will show you how to create a diamond accent easily. As you might have guessed, matching the colour of your wall with your furniture might be the key to successful execution.
Once you have finalized that, all you'll need is plenty of painter's tape and paint to get started. The scotch tape will prevent the paint from bleeding and give your wall the neat look you're looking for. If this type of accent wall is your style you should definitely check this one out.
21. Shutter Wall Accent
If you like outrageous and over the top, this tutorial is the one stop shop for you. These kinds of DIY accent wall ideas are kind of adventurous right? Unlike a lot of other ideas, this one is a bit time consuming.
However, it is a really unique idea to try and all the effort will surely pay off. The tutorial consists of 3 parts and is very detailed. So in case you want to try this, you know where to start.
22. Rainbow Mural Accent
Murals are that fun whimsical way of brightening up a room while showing off your creativity. If you're looking for a cute idea for a children's room or nursery it is a great project. Rainbows are a favorite with kids and has such fun elements
This easy DIY accent wall idea is very easy to execute since it's mostly painting. Plus, even though we say rainbow, you can always add colours that you like to the mix too. Really, with a mural accent wall, you can have all kind of fun.
Read – 30 Brilliant Nursery Accent Wall Ideas For Your Baby's Room
23. Herringbone Wood Accent
Make art in your room with this wonderful DIY wood trim accent wall. If you're trying to make a unique design this tutorial will not disappoint you. It works great on small walls since you don't have to herringbone the entire space available.
If you're interested in an accent wall without committing to the whole wall, you might want to look into this. Chevron herringbone is a timeless design and you cannot go wrong with it.
24. DIY Stamped Accent Wall
Sometimes we want things to be budget friendly, even for DIY accent wall ideas. This particular idea is easy and requires no wood working or excess effort to get started. Isn't that great?
If you're crafty and your inner child keeps wanting to make an entrance, you'll enjoy it. This is a fun and simple DIY sponge accent wall that requires little effort but loads of fun.
25. Modern Art DIY Accent Wall
Colourful geometry is a great way to showcase your art style isn't it? You will surely like what's in this tutorial in that case. If you have been wondering how to give your kid's bedroom an upgrade this is it for you.
There is enough quirkiness to get started. I think the best part about geometrical accent walls is that you can do whatever you want. It can be rainbow coloured or monochromatic and it will look good either way.
26. Bathroom Stone Accent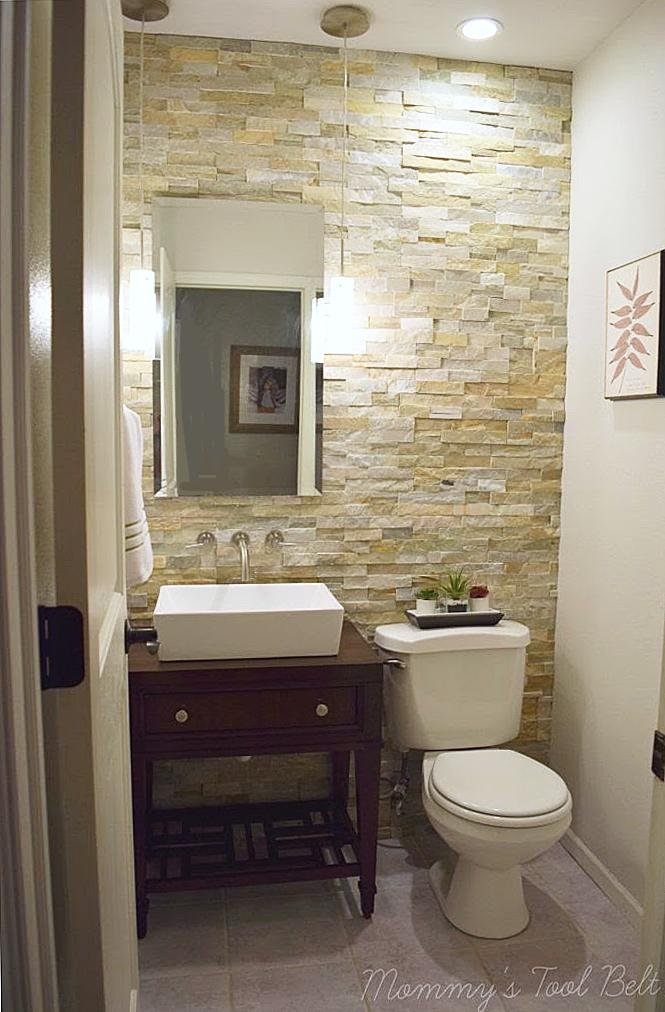 Bringing nature right into the bathroom, we couldn't be more excited for this one. Don't be fooled, this DIY accent wall will require you to get your hands dirty. However, the end result is more than worth it.
As long as you have an easy to install stone, you won't have a lot of difficulty though. If you're looking for a beautiful and timeless accent for your home, you will love this project.
Also, read – 38 Awesome Bathroom Wall Ideas That You Should Try
27. Dining Room Accent Wall
This is a very simple and easy idea that will change the look of any room, but is particularly useful for a dining room. The DIY painted accent wall pairs really well with the brightness of the room and surrounding walls.
When choosing a colour in such situations, it's nice to get one that has a lot of depth. Like the example here has shades of green and grey mixed with black. Using this, you can create a nice DIY ombre like effect as well.
28. DIY Wood Slat Wall
Isn't this one so satisfying to look at? A DIY modern wood accent wall like this just has to be on this list. First you have to decide on the type and size of your slats. But after that.creating your own elegant accent wall will be so easy.
This DIY idea is a sure fire way of adding that texture and dimension to your room. You can be sure that it's the first thing most people's eyes are drawn to. And isn't that what we're going for here?
29. Easy Reclaimed Wood Wall
Reclaimed wood you say? I say why not. DIY and recycling do go hand in hand after all. Adding a bit of texture to your room, this DIY wood panel accent wall will be a great visual element as well. Not to mention it's environment friendly.
An actual reclaimed wood element can really enhance the look of your room. Of course this tutorial painted the wood panels to give it an old timey rustic feel. However, it can also be done with a wood finish to make it more farmhouse-like.
30. DIY Wall Decal
If you're trying to infuse some personality to your room, you cannot go wrong with this one. This one is a really nice DIY modern accent wall. You don't need much except a Cricut to get started with this one.
No messy painting, no worrying about splotches and messes. No woodwork either. Just some wall stickers and you can transform the look of your wall completely. If you still feel skeptical, just head on to the tutorial and you'll see it really is that easy.
31. Wood Plank Reading Nook
Having a comfy spot to relax in might be the best thing in the whole world. And if it contains your own special touch then it's even better. This is a great example of a DIY wood panel accent wall.
It's a great way to beautify something that is a little offset like this space in the example. A pallet wall invokes a very rustic feeling so it might be nice for a little balance in the modern times. If you're feeling adventurous, try doing it in a jigsaw manner to bring more texture in.
Read – 37 Best DIY Bookshelf Ideas & Designs for Every Budget
32. Ombre Scallop Wall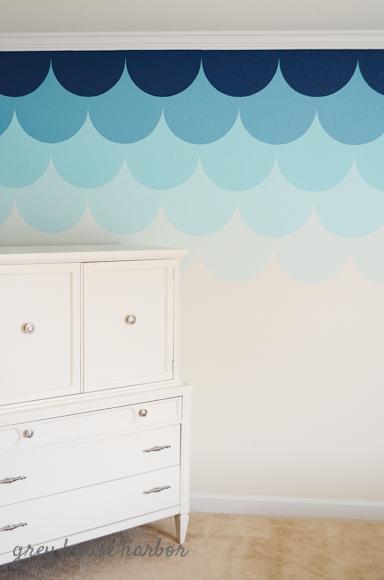 Scallop designs are more popular than ever lately. They are also very easy to do. Which is why we have this super adorable easy DIY accent wall idea on this list. This idea is almost perfect for a kids room.
The resemblance to the mermaid's tail is pretty uncanny right. Make your room into a story from a fairytale each night. You're never too old for fantasy stories anyway. The ombre gives the whole look some really nice dimension and eye catching details. I think this one is a winner for sure.
33. Handwriting Statement Wall
Have you grown tired of the same kinds of DIY accent wall ideas everywhere? You want an accent wall but you also don't want to be the same as everyone else? Well, then this statement wall might just be the thing for you.
I can say it definitely gets full points for creativity. Also, I haven't seen a more simple project for days. You can choose whatever phrase it is you want to, get yourself a couple of sharpies and start scribbling (neatly). Ahh, feels nice to write on walls like kids again doesn't it?
34. DIY Ombre Wall
Ombre style painting can really bring out the different nuances in your room. This DIY paint accent wall is a great way to experiment with colour shading. The tutorial works with a dark accent to highlight the back wall against the bed.
This is a nice way to bring more attention to the color scheme without being too evident about it. Ombre can create a nice wave without harsh lines. This type of accent wall is great for a nursery or living room as well.
35. Brushstroke Accent Wall
This is probably the easiest yet quirkiest of all the DIY accent wall ideas on this list. It's imaginative and unique. At the same time, it is also really easy to do.
All you need are a few painting supplies and you're ready to begin. The awesome thing about this DIY accent wall is that you can use whatever brush stroke you want. Keeping it to a single style might be cohesive but if you want something different, that might work too.
Also, read – 47 Beautiful Family Picture Wall Ideas For Your Home
36. Geometric Patterned Accent Wall
A geometric accent wall DIY is probably one of the most popular ideas when giving your room a makeover. There really isn't anything complicated about this at all. You can decide the pattern of your accent wall.
Make sure to use good quality paint tape to keep your paint from bleeding into each other. A geometric accent is great for slightly smaller rooms. You can easily add dimension and make the room look longer than it is. Plus it's fun to look at so why not.
37. Concrete Finish Accent Wall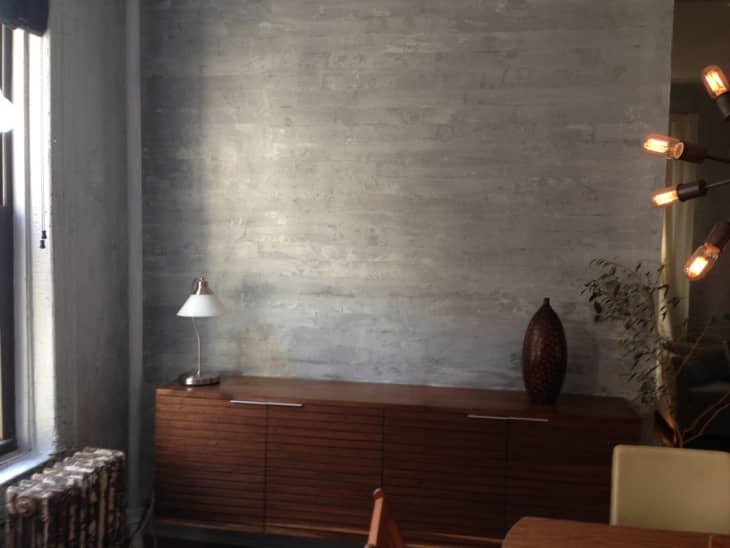 For the adventurous one, we have a special way to create a superb accent wall with a concrete finish. This is a neat way of giving your room a slightly industrial feel, especially if the rest of the walls are light coloured.
The DIY painted accent wall is actually much easier to do than it looks and won't require too many of your hours. The good thing about this is that it can be customized to look more industrial or more sleek as you wish.
If you loved these ideas, you can use the Pin image below and save this article on your 'Home Decor DIY Projects and Crafts' Pinterest board.