Paper crafts for kids are a great idea to keep the kids occupied. It is a form of handcraft that often finds its place amongst the school work as well. Paper crafts for kids is a fine way to teach kids the importance of patience and improve their motor skills.
However, crafting can be quite tricky. Especially when you involve kids, you need to be careful about their safety. And what safer raw material for crafting than paper? It is easily available, you get various kinds of paper, and color options to choose from for your project.
Paper crafts for kids are amazing for the DIY projects for your kid's vacations, night overs, and even parties. It keeps them occupied and entertained.
So here is a curated list of paper crafts for kids ideas for you and our kids. You can exchange them with these, and even use their final DIY projects to decorate their rooms.
You can also check out some more crafts for kids here on 15 Easy And Creative Thanksgiving Crafts For Kids.
1. Paper Butterfly Crafts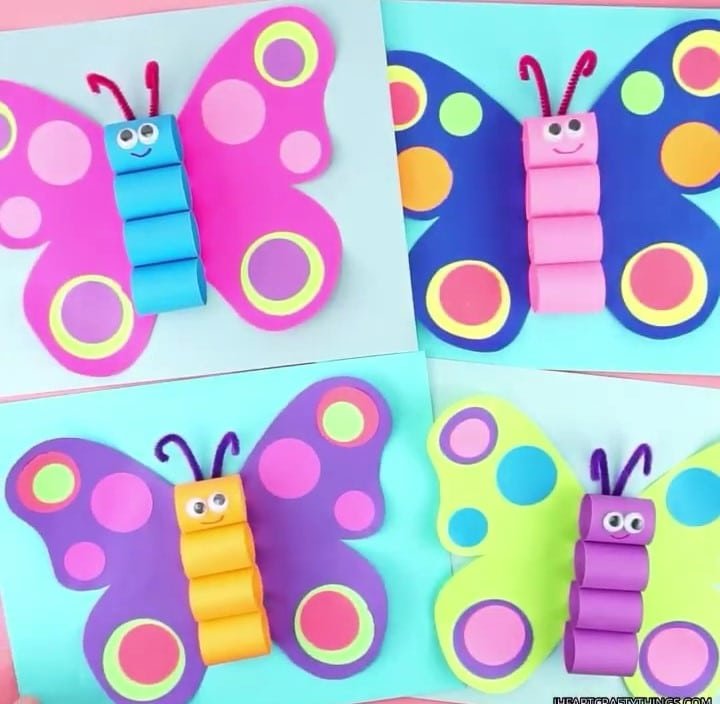 These colorful paper crafts for kids by iheartcraftythings is cuteness overloaded. What I like most are the small details that have added to the fun in these little papercrafts. These butterflies are everything that you need to cheer up your kids. And the tutorial for this is easy to replicate.
2. Rainbow Cards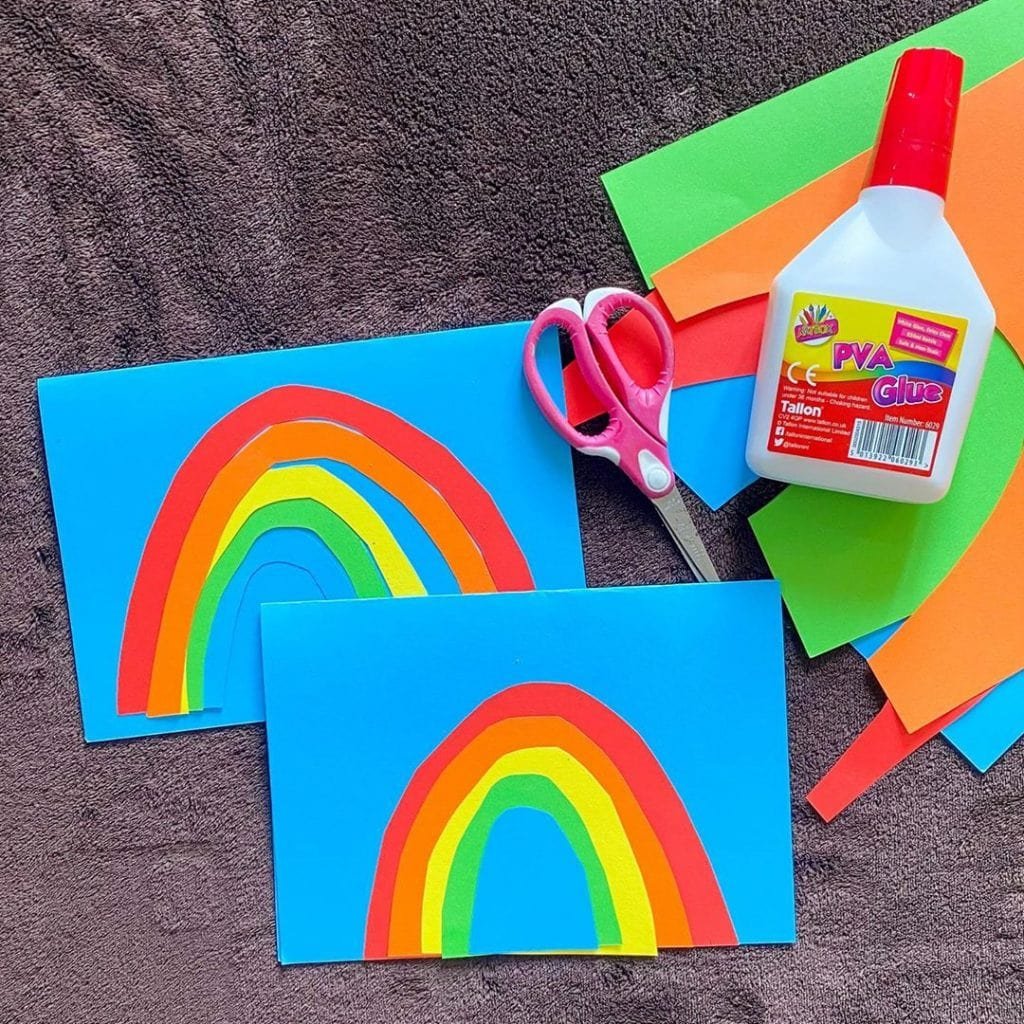 Eloise_life has perfectly summed up the favor of summer in these beautiful card ideas. The colors will certainly brighten up your kids. And why not make some handmade cards this year. These paper crafts are easy to recreate and definitely a creative way to keep your kids occupied.
3. Doggo Lovers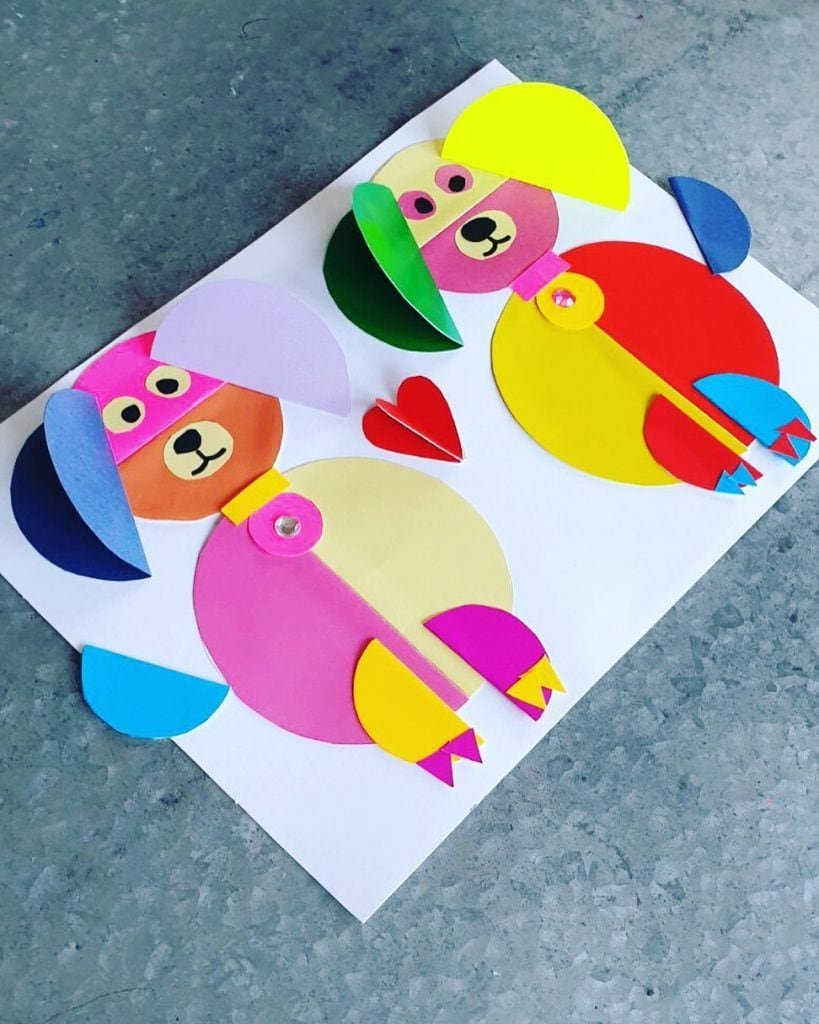 This paper crafts for kids by read_create_dream has taken paper crafts for kids to a higher level. With the use of a number of colored papers and some pins to hold them together, this piece of work deserves all your attention. Under a little parental guidance, this one will be perfect for any dog lovers out there.
4. Pirate Finger Puppets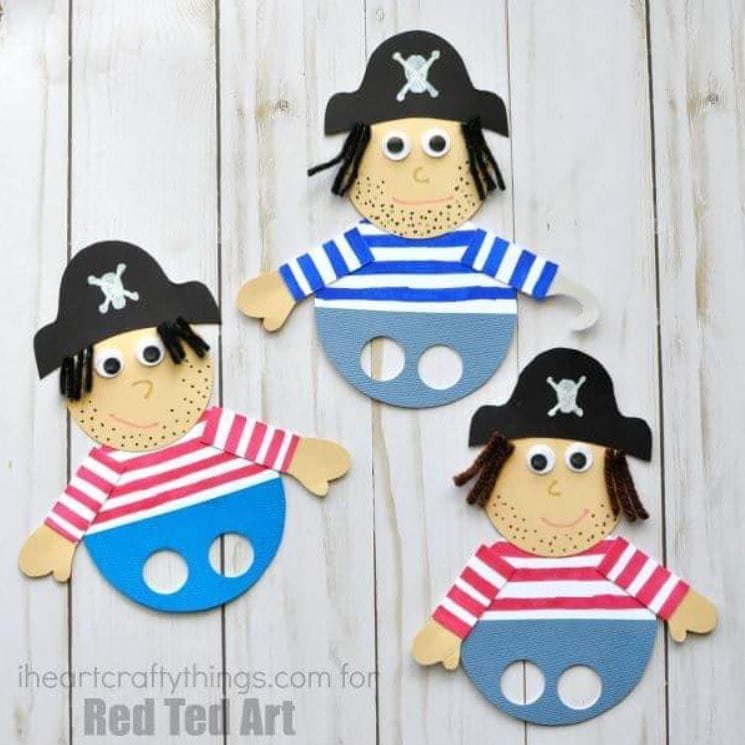 Pirates are scary but redtedart has redefined pirates are these cute little finger puppets. These little puppets are so adorable, especially the detailing with the hair, these are true charmers. They are not only easy to make but also fun to play with.
5. Paper Fish Ready To Swim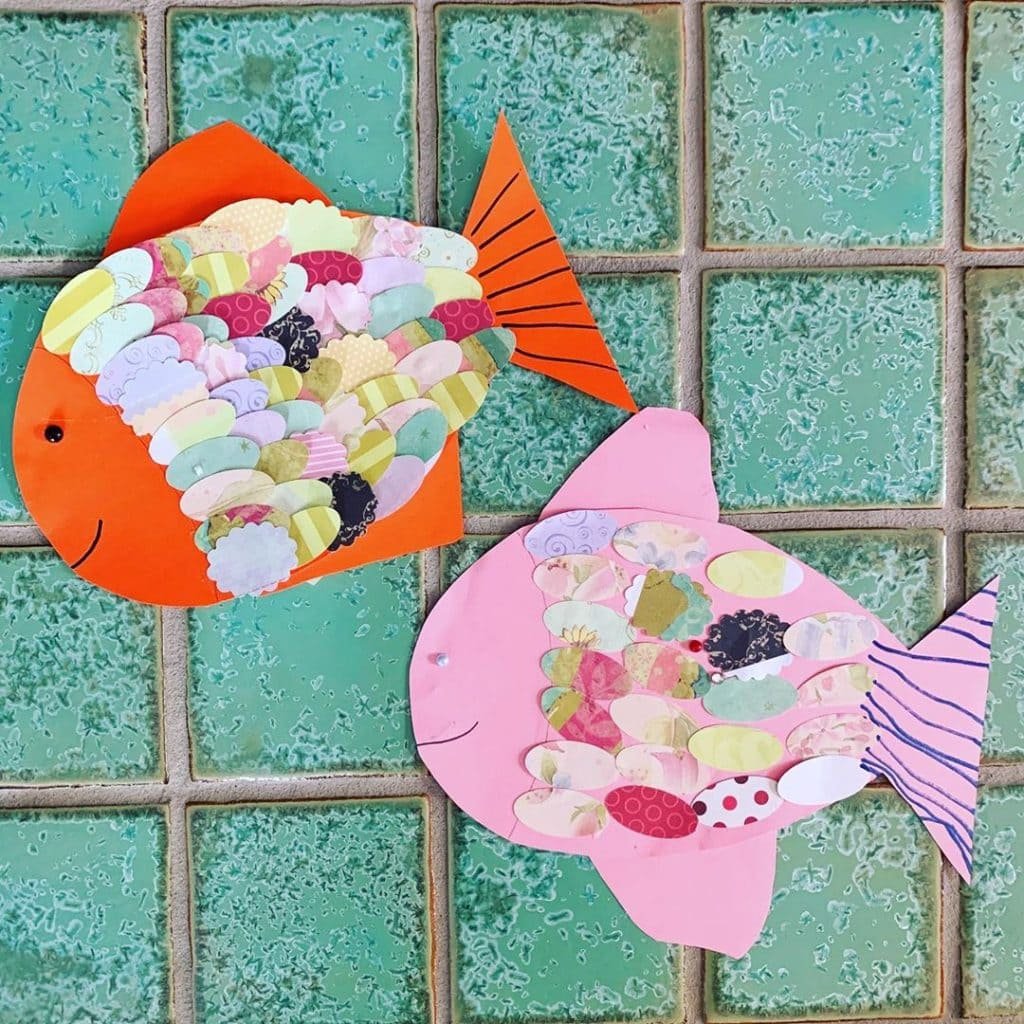 Whether you are into fishing or not your kids will definitely enjoy making these cute paper fishes. Caraspeech has very creatively added the scales of the fishes. This might require a little help but this one will make your kids proud of themselves. Go on let your kids enjoy some papercrafts with this one here!
6. Simple Origami Paper Boats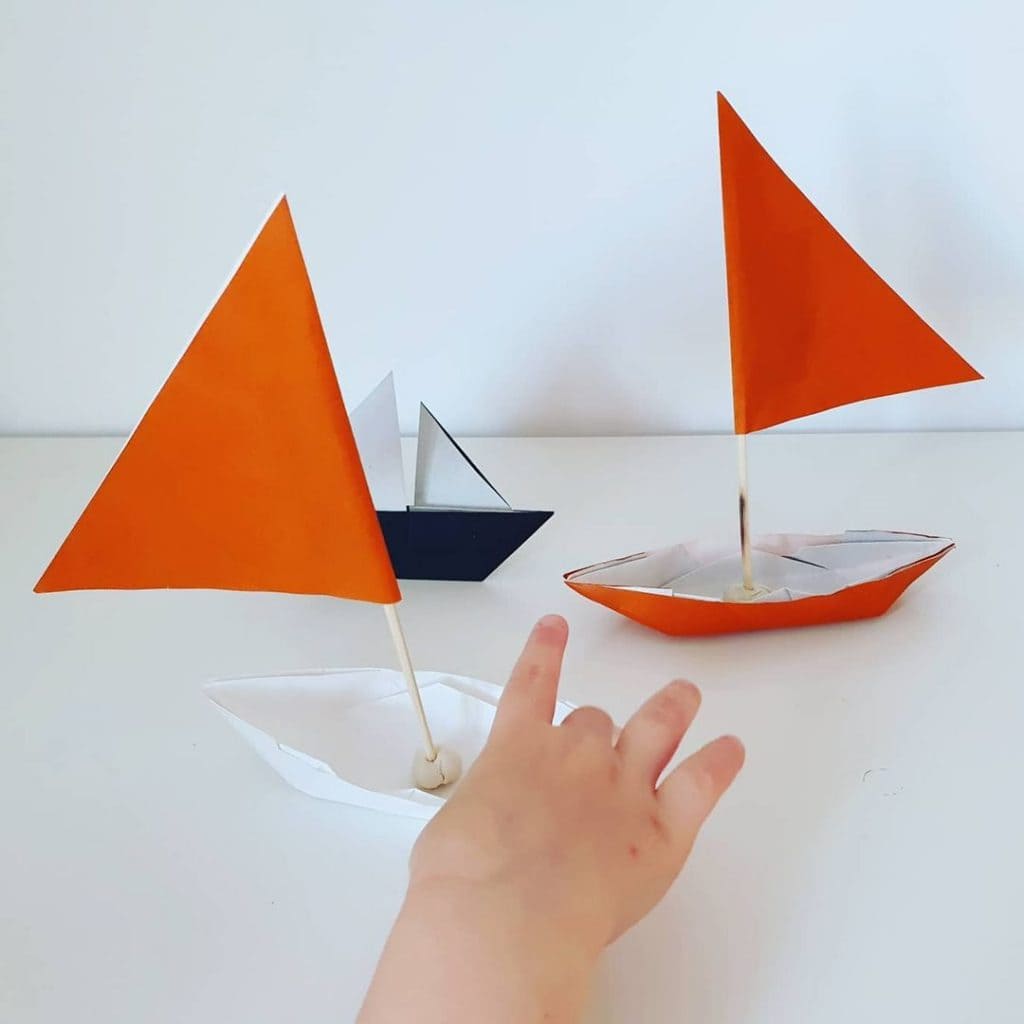 Who doesn't remember making those old classic paper boats in the rainy season? Well, rain or not, these paper crafts for kids will make amazing bath time toys. Easy to make and a way to get your kids to shower, this idea by funchildcraft is a must-try.
7. Paper Rocket Crafts For Kids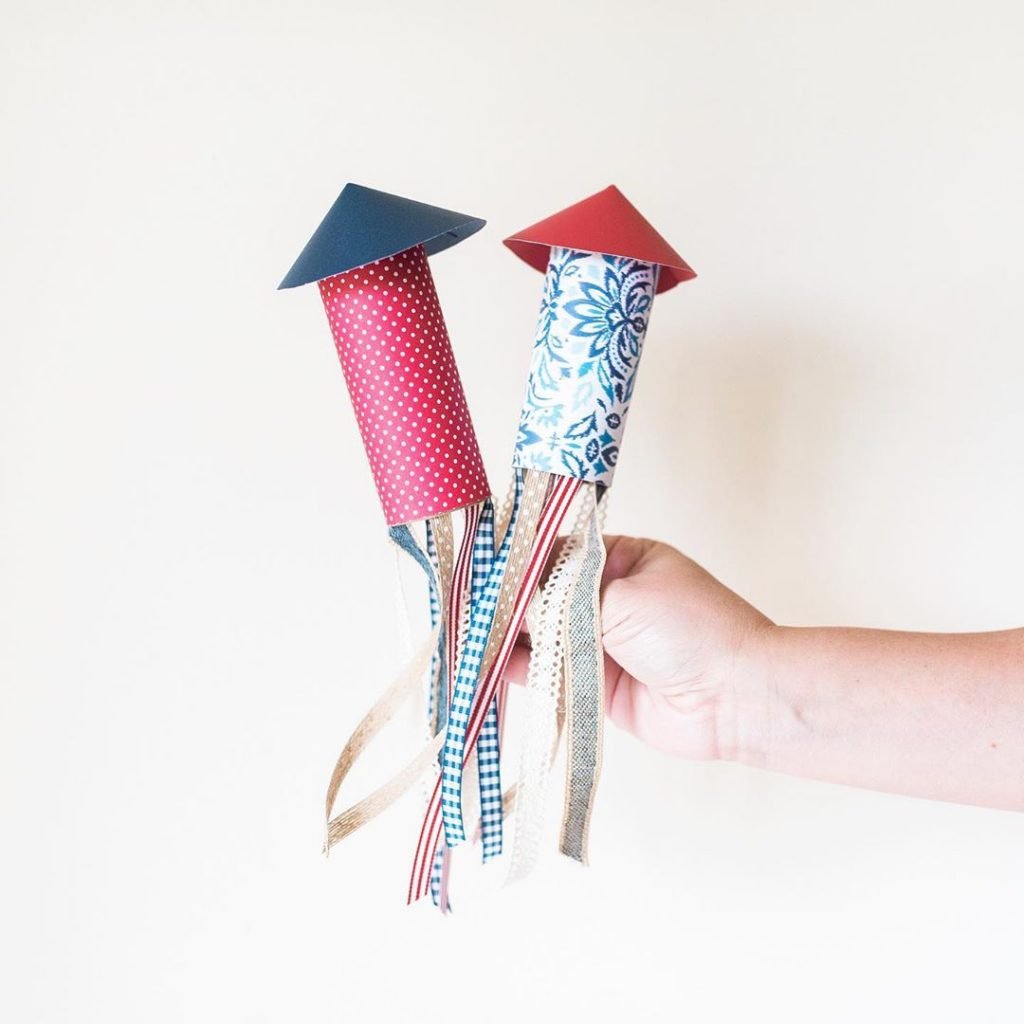 These last few minutes of paper crafts for kids are celebration personified. These paper rockets by brittneynaylor are fun to make. I particularly like the ribbon extensions added to it giving it a festive vibe.
8. Paper Pumpkin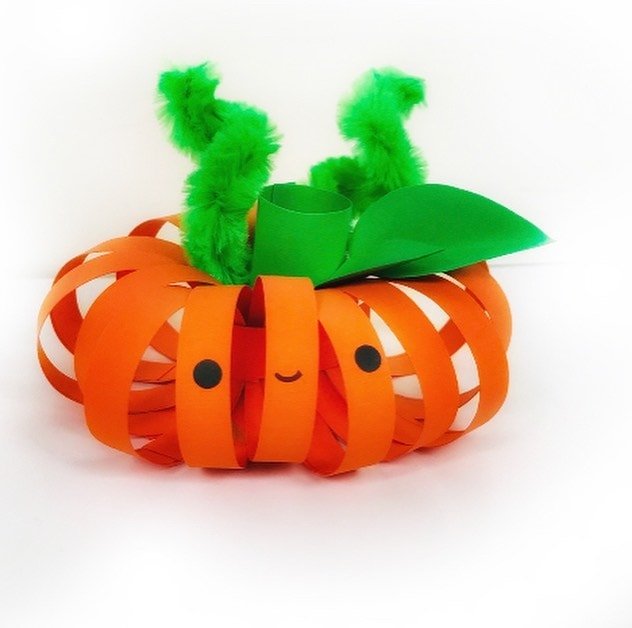 Kidscrea.nl has created pumpkin paper crafts for kids with a Halloween theme. This orange papercraft has it all, it is cute, it is fun, and it is colorful. You kids will enjoy making this piece of art.
9. Majestic Peacock Craft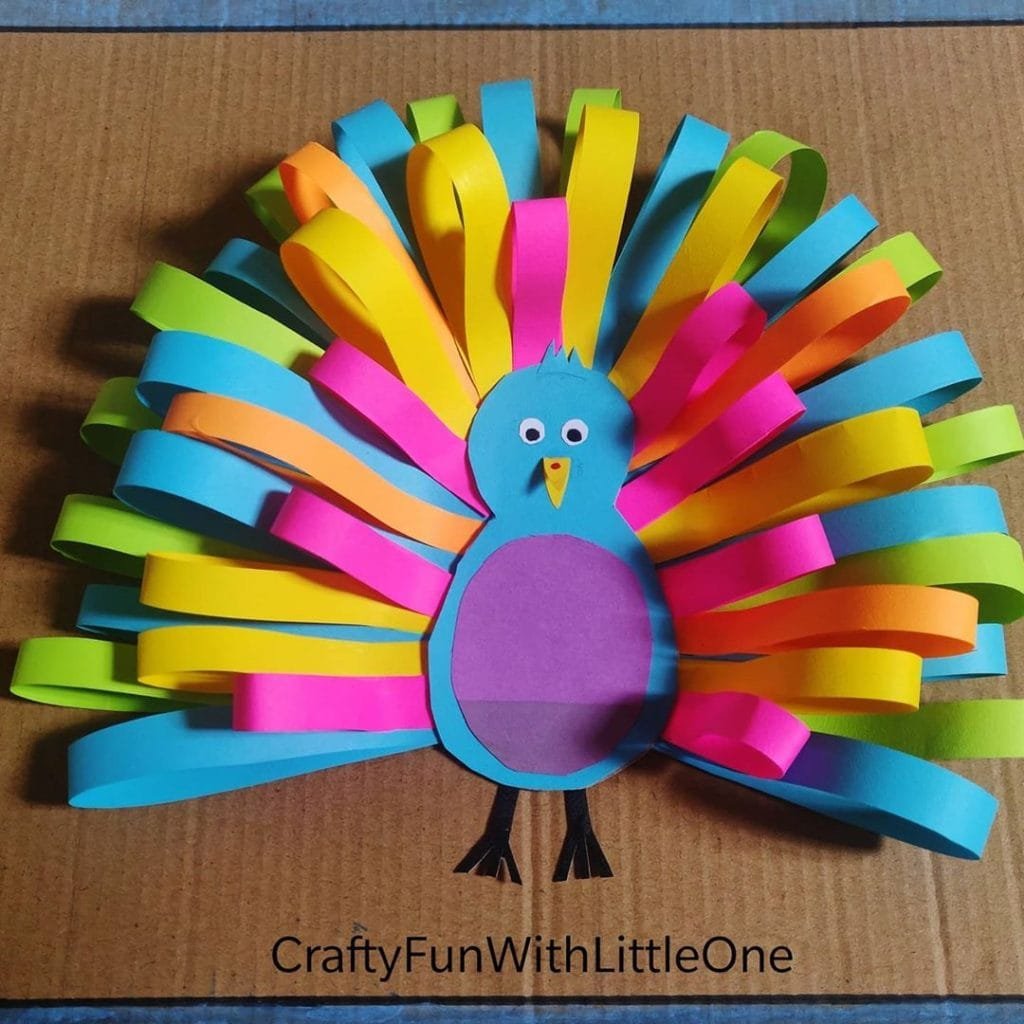 This colorful majestic peacock is a creative way to introduce India's national bird to your kids. Craftyfun_with_littleone has made it a point to add as many colors as possible to this little paper peacock to make it look vibrant.
10. Paper Crafts For Kids Ideas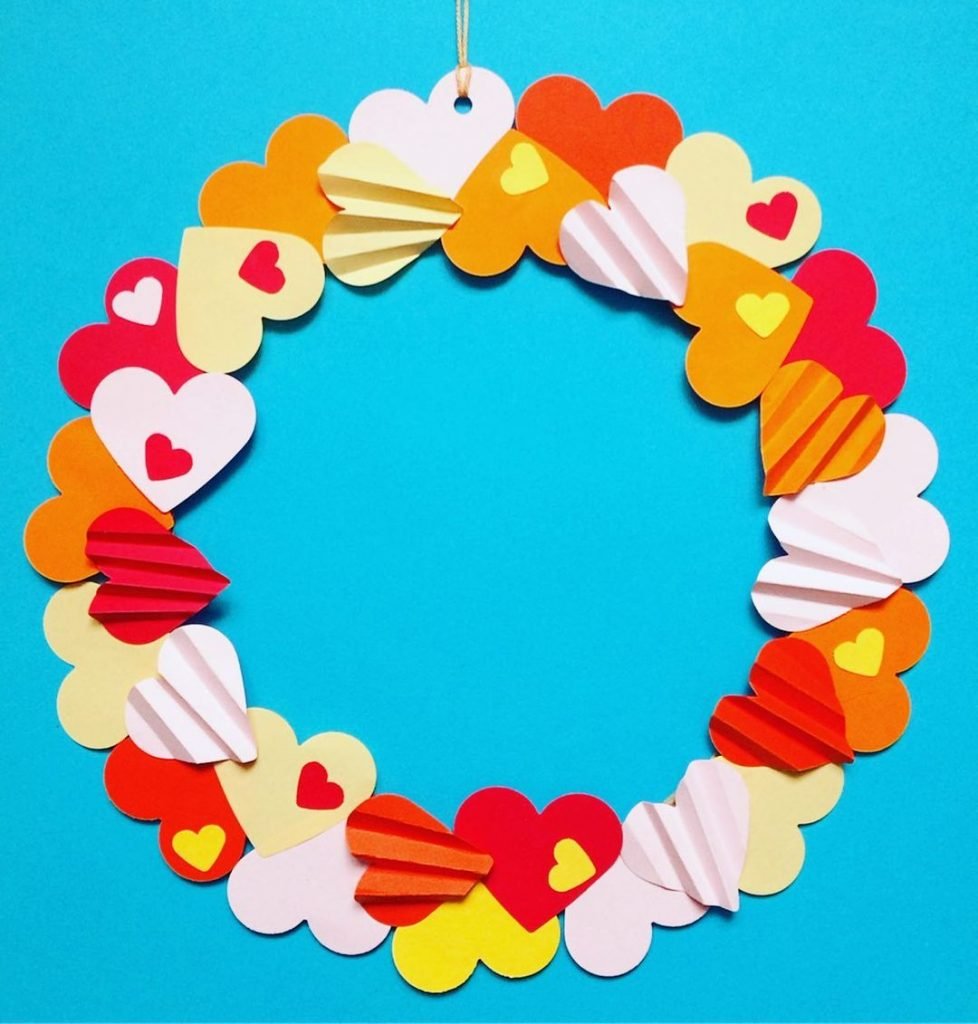 If mistletoe could be made of paper this is exactly what it would look like. Mini.art.club has shown how simplicity can look phenomenal. This paper crafts for kids is som easy and simple to make yet it looks fancy enough to be a part of Christmas decoration.
11. Building Houses
Forget Lego and get your kids to make these fun DIY paper building houses. These are fun to make and easy to recreate. Mycrafty_home has left no stone unturned to make these DIY houses colorful. These paper crafts for kids are so simple that your kids can easily make their own dream house replicas.
12. Do You Wanna Build A Snowman?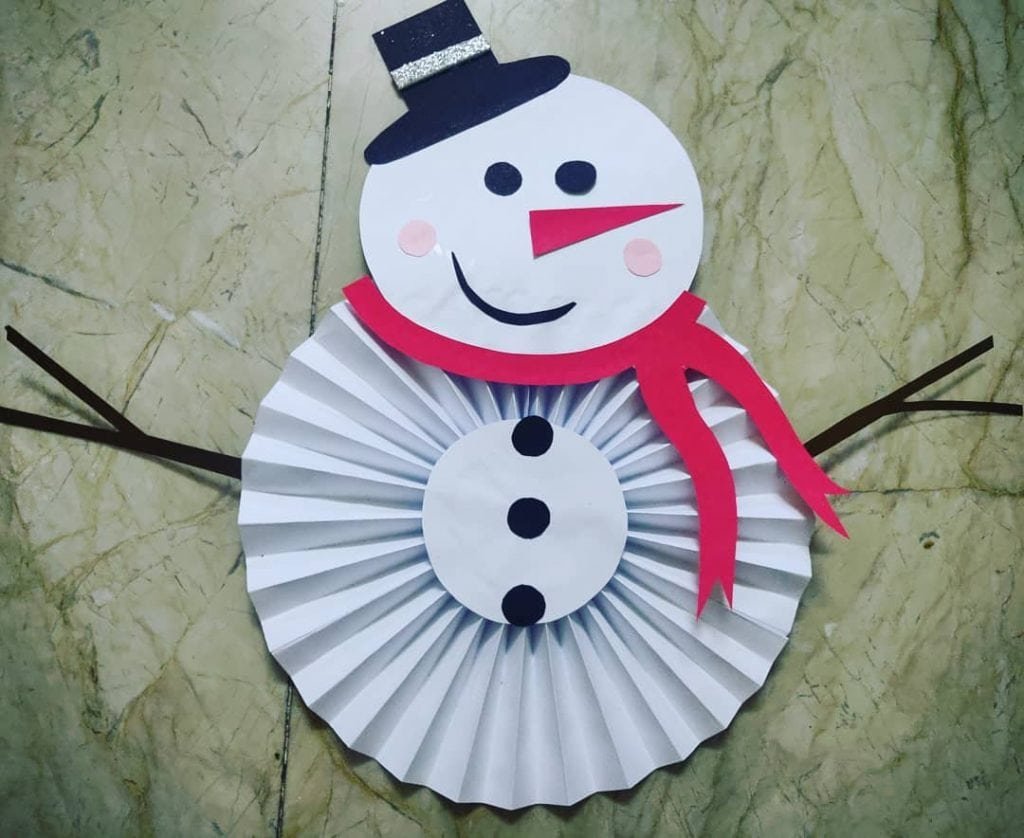 Christmas or no Christmas don't we all love a snowman? With this paper crafts for kids idea by twinkle.kaur you can have your own paper snowman even in the summers. This little snowman is so amazing that your kids can easily make it for the Christmas decoration.
13. Dreamcatcher With A Twist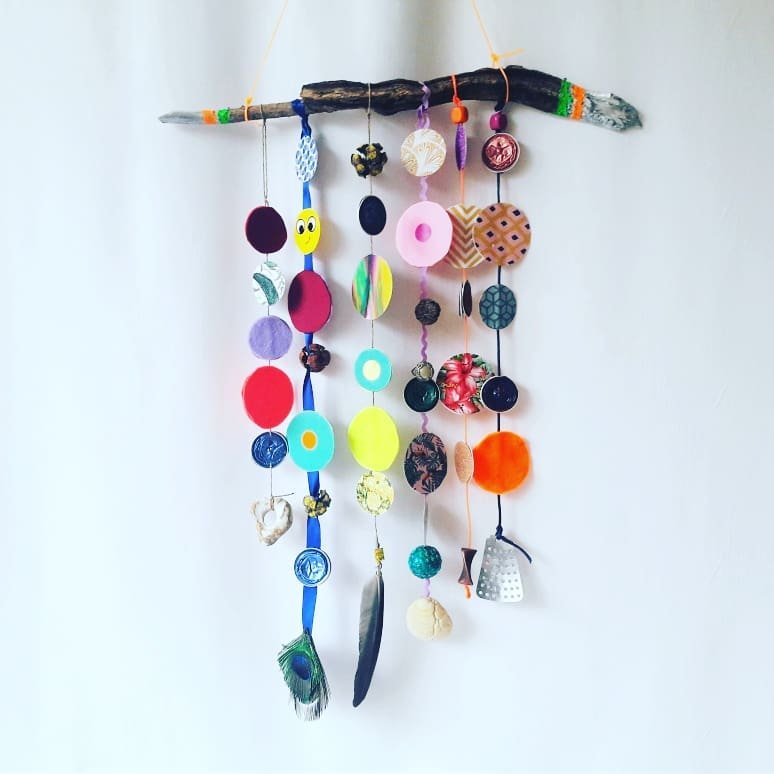 Kids often have nightmares and can use some good old dreamcatchers with an eco-friendly twist. Deblauweraaf has given a nice twist to the classic dreamcatcher. It has a boho vibe to it and certainly adds a charm to your kid's room.
14. Christmas Ornaments
This year why not involve your kids in making some Christmas ornaments? This paper crafts for kids idea by roots_and_wings_by_inui is simple. It is a great way to add some personalized ornaments to the Christmas tree.
15. Teddy Pen stand
This teddy pen stands by the.craft.show has taken paper crafts for kids to the level of efficacy. This one is not just mere decoration, it is also useful.
16. Creative Valentine's Day Craft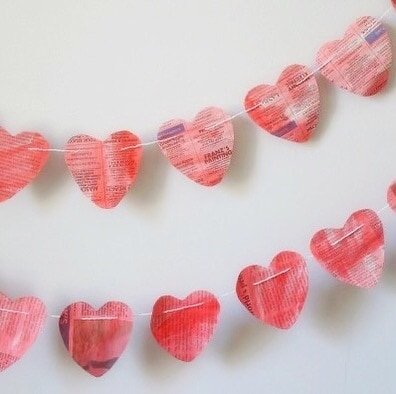 This piece of papercraft by kitchencounterchronicles is an excellent way to teach your kids the importance of recycled products. This one is made from old newspapers. It is clearly very easy to make and certainly an innovative way to decorate your home space.
17. Paper Snail
It is a task to keep kids occupied. But paper crafts for kids is a constructive way to keep them engrossed in something new like this snail art by papercraftsplanet.
18. Paper Scarecrow cut-outs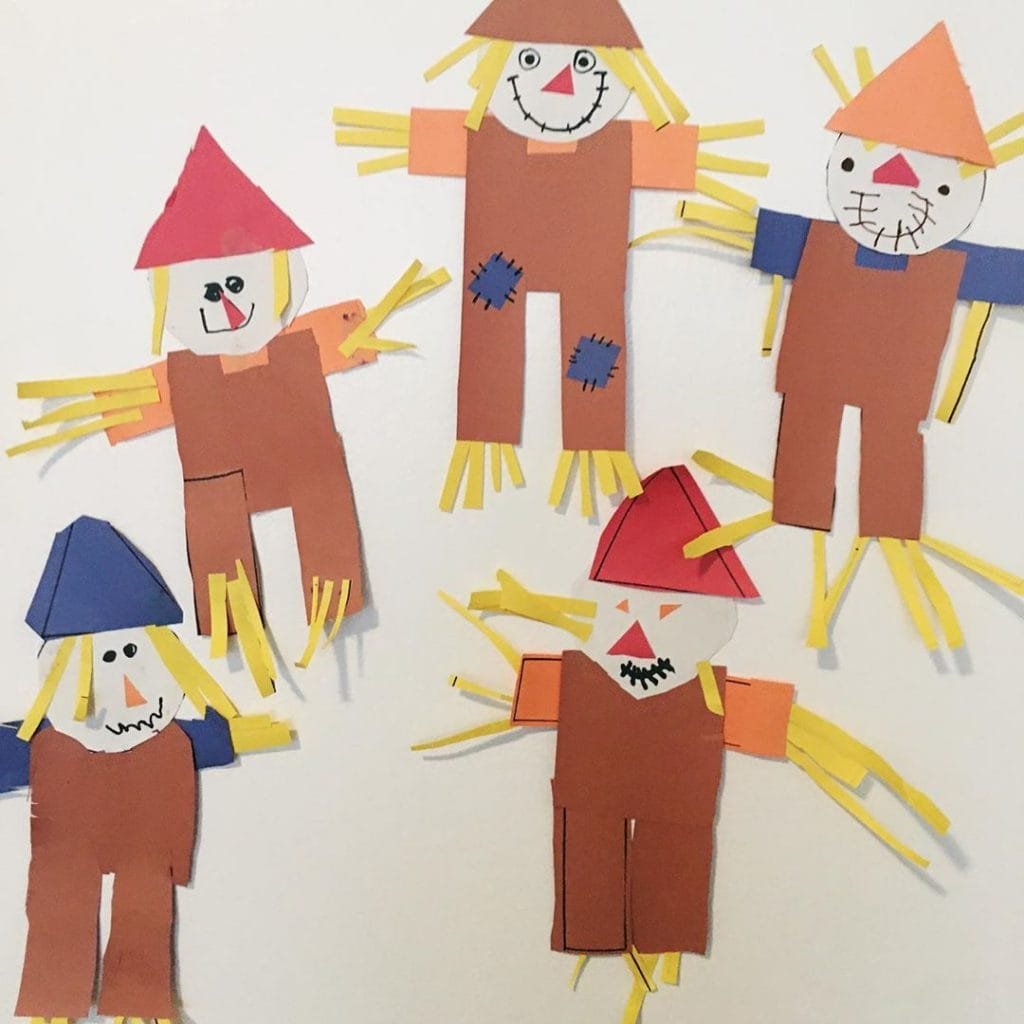 How about exhibiting some cutting skills? This paper crafts idea by austins_imagination is so cute and creative. Your kids will need a lot of cuttings to do to achieve this one.
19. Cheeky Piggies
How cute are these little pink piggies? They are a modified version of the famous colorman game. Redtedart ahs made sure that your kids not only learn paper cutting but also the art of folding paper. This one is fun to make and the cuteness is certainly worth the patience.
20. Crow Crow Crow
Black and grey and that little touch of yellow have bound together to make this fun paper crow. If you want your kids to be interested in some good paper crafts for kids then this is where you should start. This papercraft by paper_magic_reny is hands down an excellent choice.
21. Paper Bunny
Easter or not bunnies are through and through nothing but cuteness. These paper crafts for kids idea by kras_olka is extra cute. With an easy tutorial, this one can without a doubt be your kid's favorite.
22. Paper Caterpillar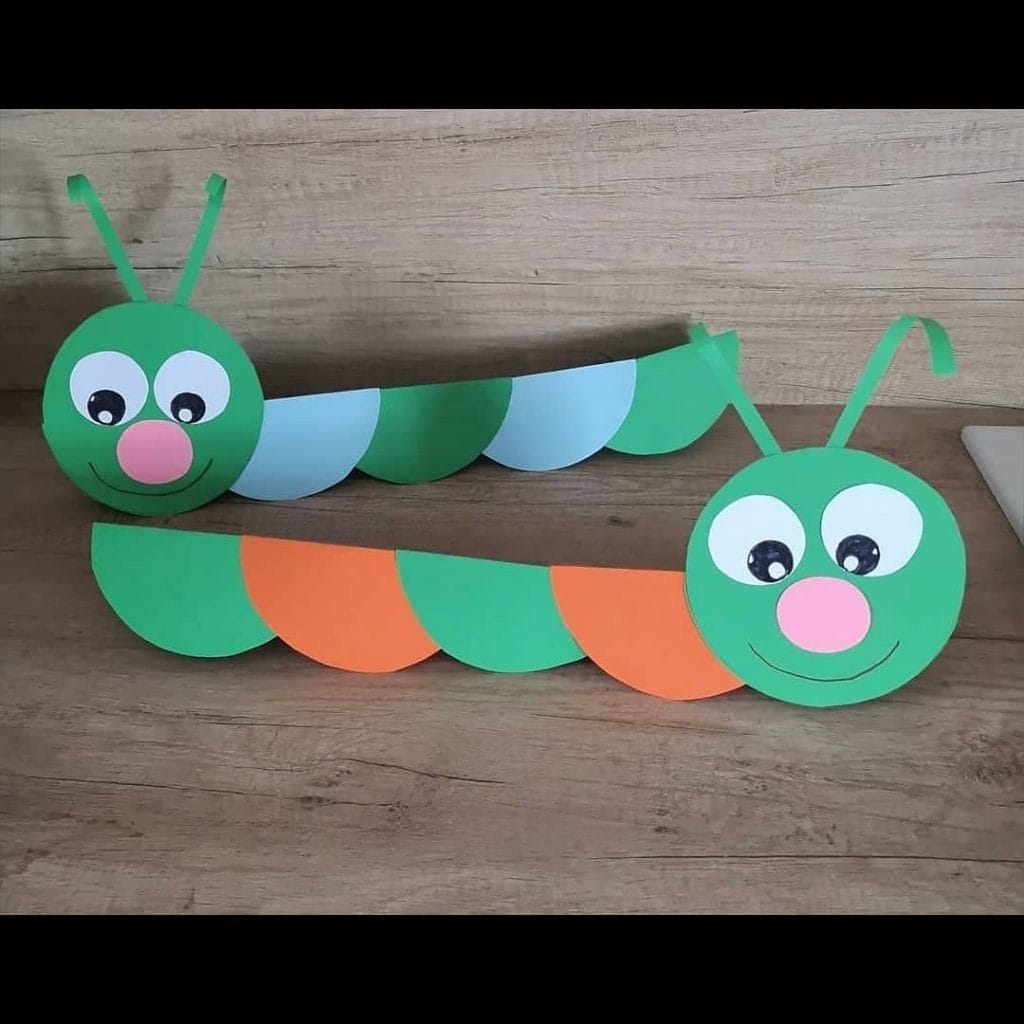 This paper caterpillar is simple and unchallenging to make. Maryam.shojaa has kept it simple. This is one of those paper crafts for kids' idea which your kids will enjoy recreating and we get them to do something constructive with their time.
23. Paper Ladybug
This paper crafts for kids idea by blank_crafts is easy and simple. This is a good choice for kids as it requires almost no help from adults. You can encourage your kids to make these and later help them decorate their own room with these little ladybugs.
24. Paper Octupus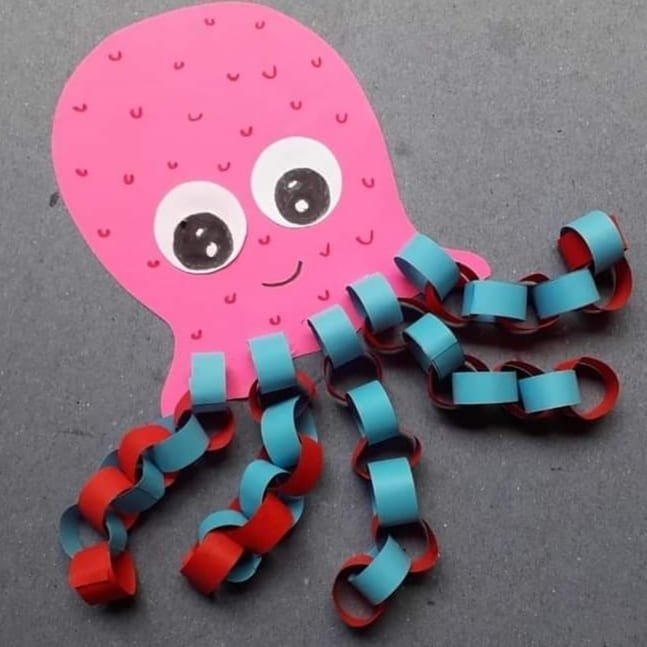 Octopuses are amazing creatures. They are unique and intelligent creatures. So why not get you kids to some creative fun time. This pink and blue paper octopus by blank_crafts are going to impress your kids.
25. Christmas Handprint Cards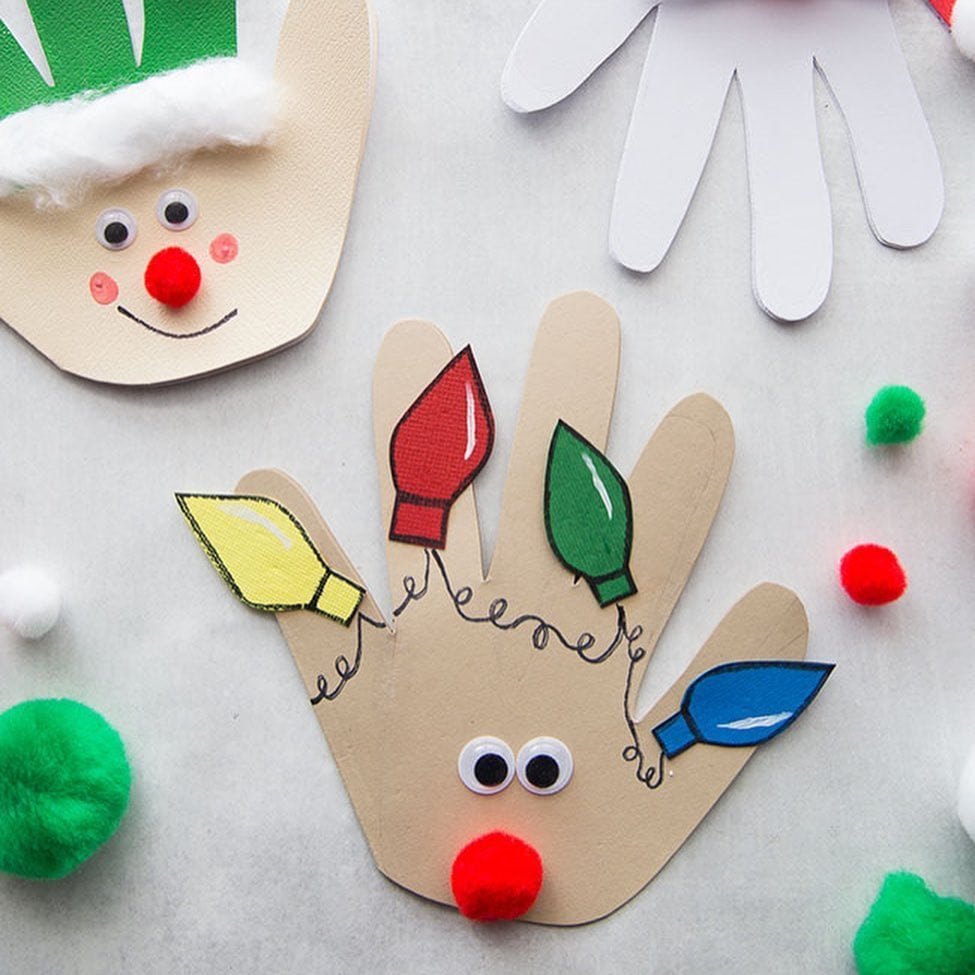 These Christmas handprint cards are innovative and versatile. This one by bestideasforkids is so versatile that you can give these handprint cards any look. You can make a reindeer; you can make a Santa; you can also make an elf. So go ahead an make this Christmas a little more fun for your kids.
26. Hello Halloween!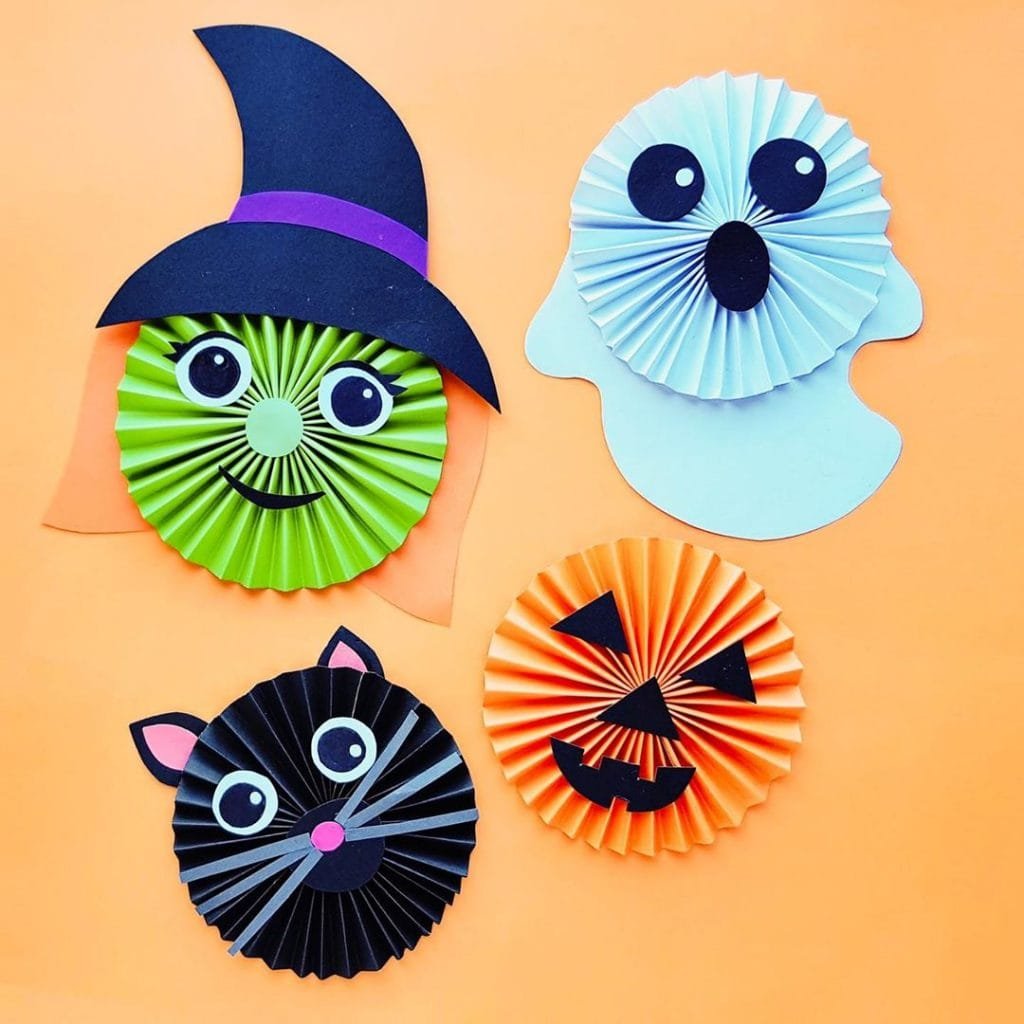 These Halloween paper crafts for kids has that Boo-effect. They are cute ghost replicas, like the Casper. They are fun to play around with. And hellowonderful_co has made it sure that you have a spooky Halloween with these craft ideas.
27. Paper Fox
Paper crafts for kids should be fun and easy. And this paper fox by humeurs_creatives has it all. I like the colouring of this fox, how it done. Your kids will be delighted at the sight of this little fox.
28. Let's Go Green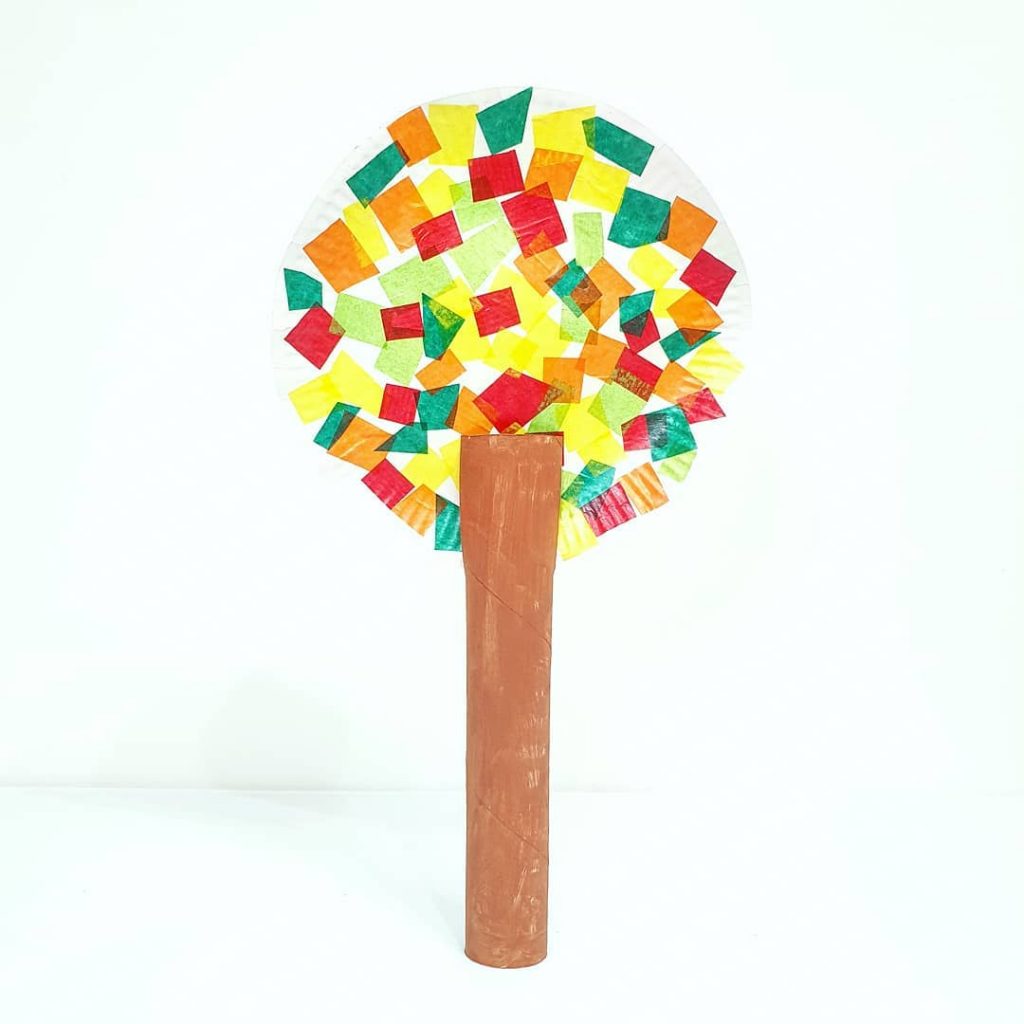 This paper crafts for kids is an excellent way to treat your kids with some extra curriculars. This tree is colourful and leniaskinderwelt has made sure that your kids will know the importance of recycling and the value of trees.
29. Ripping Rainbows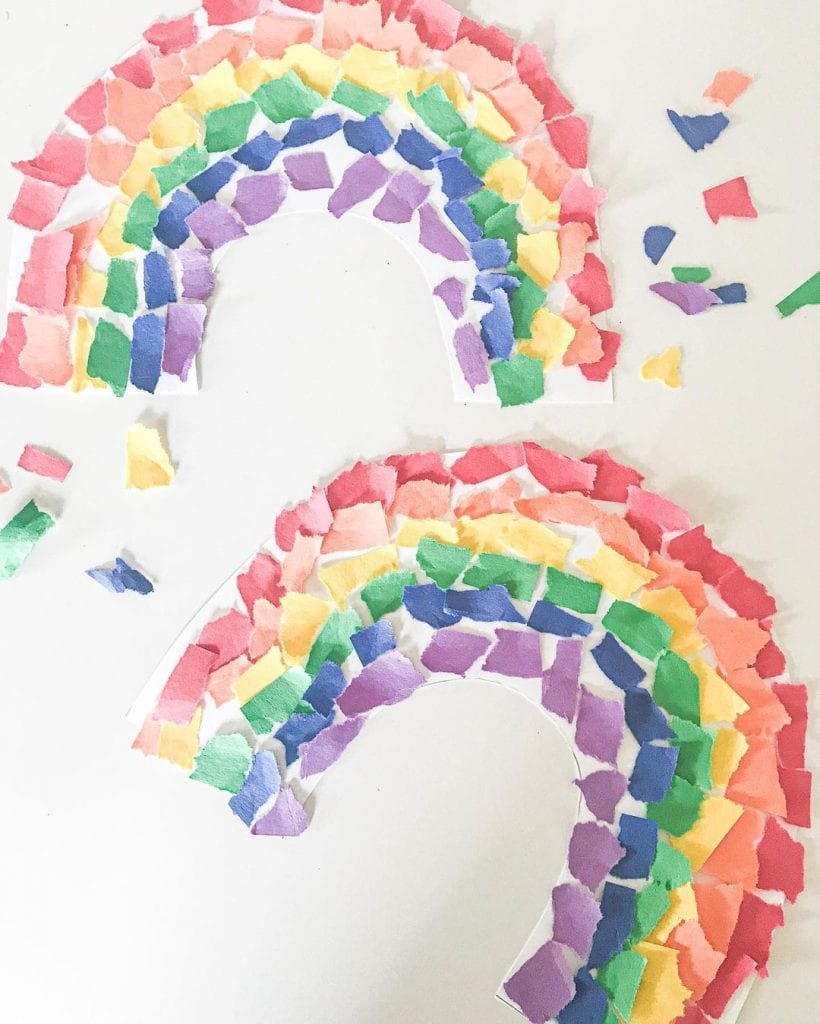 If you want a little positive vibe added to your kid's room, why not use a paper craft work made by them? This rainbow paper crafts for kids by abcdeelearning is going to remind you of a perfect day. It will bring back sweet memories and add a positive vibe to your walls.
So we have come to an end of the curated list of paper crafts for kids. I hope you have found something for our kids. Paper crafting is not just beautiful it also an way to teach our kids patience. It will introduce the kids to their creative side. It will unleash your kid's creative mind. Do not forget to let us know your favorite option in the comment section.
Also, if you like this article feel free to save it for future reference. All you have to do is click on the image below to pin it to your Pinterest board.