Feature Image Source: gracegigglesandnaptime
While you are busy cooking turkey dinner and the pumpkin pie, your kids can be in charge of the Thanksgiving decorations. Try these easy and unique thanksgiving crafts for kids. Some are ways to keep your kids engaged while you work, and others add up as a decoration piece for the celebration. These ideas allow your kids to reflect on the little things they are thankful for in a creative way! Guess what? You can join your kids in this creative adventure as well! 
While your kids are busy crafting, here are some Christmas Crafts for Kids to keep the creativity going.
1. Thankful for… Turkey Kids Craft
Source: keepingupwithkeelyskinders
Here is a super adorable and effortless thanksgiving craft for kids by keepingupwithkeelyskinders. It allows your children to be as creative as they like and celebrate the spirit of Thanksgiving. Create some paper turkeys and let your kids paint them as they want. Ask your kids to write the things they are thankful for in the feathers of the turkey. This craft is a lovely way of creating and storing some memories. 
2. Turkey Lurkeys Thanksgiving Crafts for Kids
Source: simplesweetlove
This colorful, bright turkey thanksgiving craft for kids by simplesweetlove is as fun to make as it looks. The craft uses the hand and footprint techniques on white paper. Cutout these printed patterns and stick the handprint as feathers next to the footprint to create a turkey. Add a googly eye with a beak on the birds, and voila! You can create a garland of these turkeys for your Thanksgiving decorations.   
3. Feathered Rock Turkey
Source: littlepinelearners
I love how simplistic, cute, and unique this thanksgiving craft for kids by littlepinelearners is. It uses natural items and takes no time to make. This craft can also be a beautiful Thanksgiving decor piece. Take a round, smooth rock and stick some shed feathers behind the rocks to create the turkey feathers. Finally, add googly eyes and the turkey mouth using paint to finish this adorable craft. 
4. Patterned Paper Adorable Turkey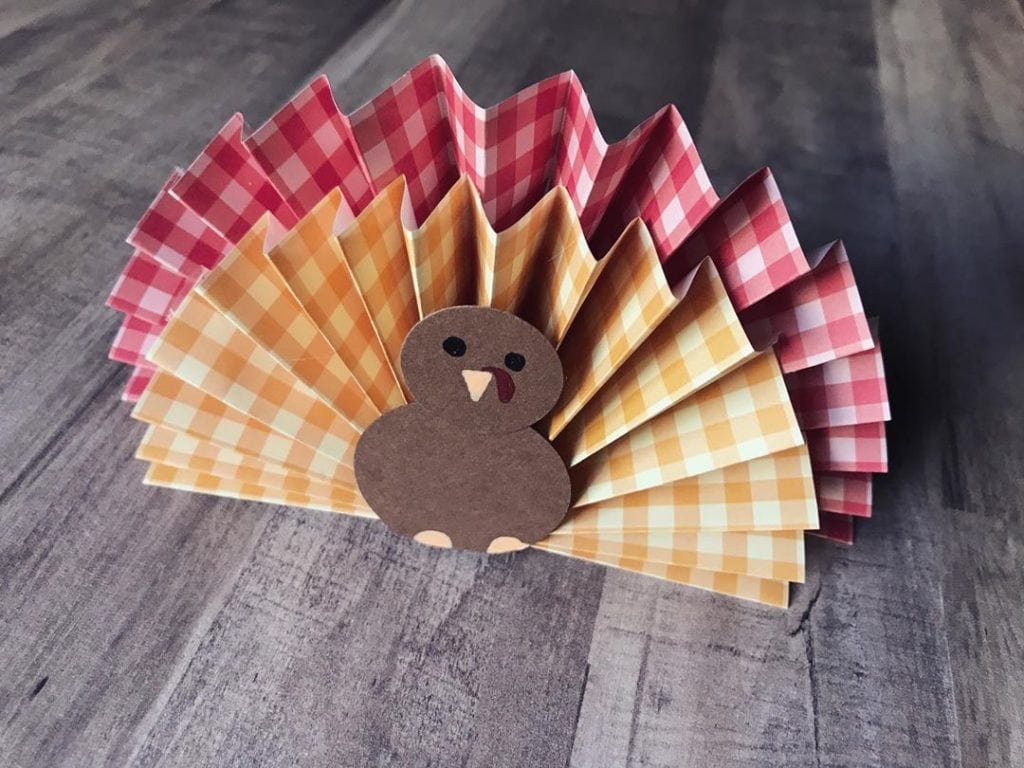 Source: craftingwithgee
Another beautiful and straightforward way to make a turkey craft is this idea by craftingwithgee. Get some scrapbook paper and create two fans using different papers. Stick these together and add two circles on top to make the body of the turkey. Add a face and your beautiful creation is ready! This craft can also be used for decorations and can be customized using different patterned papers. 
5. Colorful Paper Fan Thanksgiving Crafts for Kids
Source: figmentcreative
This Thanksgiving craft for kids by figmentcreative is extremely bright, colorful, and fun to recreate. Get your kids a paper fan, some paints, and allow them to do the rest! Once they have painted the fan in different colors and styles, use colorful paper to create turkey/peacock bodies, and stick them on the fan. Finish off by adding googly eyes and a tiny, red beak. 
6. Candy & Cookie Handmade Treats
Source: studioartbeatbox
Here is a thanksgiving craft for kids that is both a treat for the eyes and the tastebuds. This crafty treat is perfect for your Thanksgiving party and looks like the most adorable turkeys. The tutorial for this yummy treat can be found here by studioartbeatbox. So try this candy and cookie combination to add some sweetness to the celebrations!
7. Turkey Pudding Cups Thanksgiving Crafts for Kids
Source: messforless
Turn some packaged pudding cups into bright and colorful turkeys with this fun Thanksgiving craft for kids. Place the cups upside down and add some googly eyes and a mouth to the turkey. For the multicolored feathers, stick some paper strips behind the cups, and voila! This craft by messforless can be used as a treat decoration idea for your party as well! 
8. Thankful Turkey Bucket Crafts for Kids
Source: capturing_parenthood
I love this adorable turkey bucket by capturing_parenthood that reminds you of all the things to be thankful for! It is an effortless Thanksgiving craft for kids, which can be used as a centerpiece for your celebrations. Take a tiny bucket and fill it with colorful ice cream sticks. Write the things that you are thankful for on these sticks. Stick a paper turkey cutout on the bucket, and voila! 
9. Pinecone Turkey Thanksgiving Crafts for Kids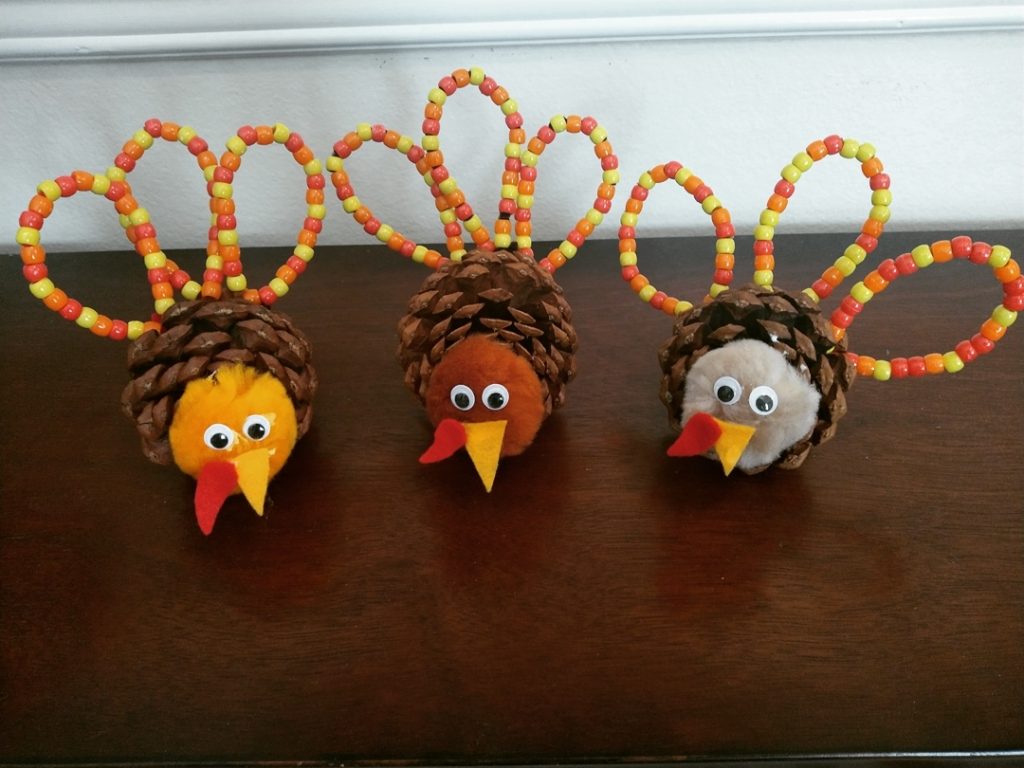 Source: jenniferwolfthal
Here are some tiny turkeys by jenniferwolfthal that is a super creative craft for your kids to recreate. Grab some pinecones, colored felt, and beaded wire to make these cute birdies. It is a fun craft that can be customized any way you want. Also, you can use these beautiful creations as tabletop decors for this celebration. 
10. Scrapbook Paper Turkey Hats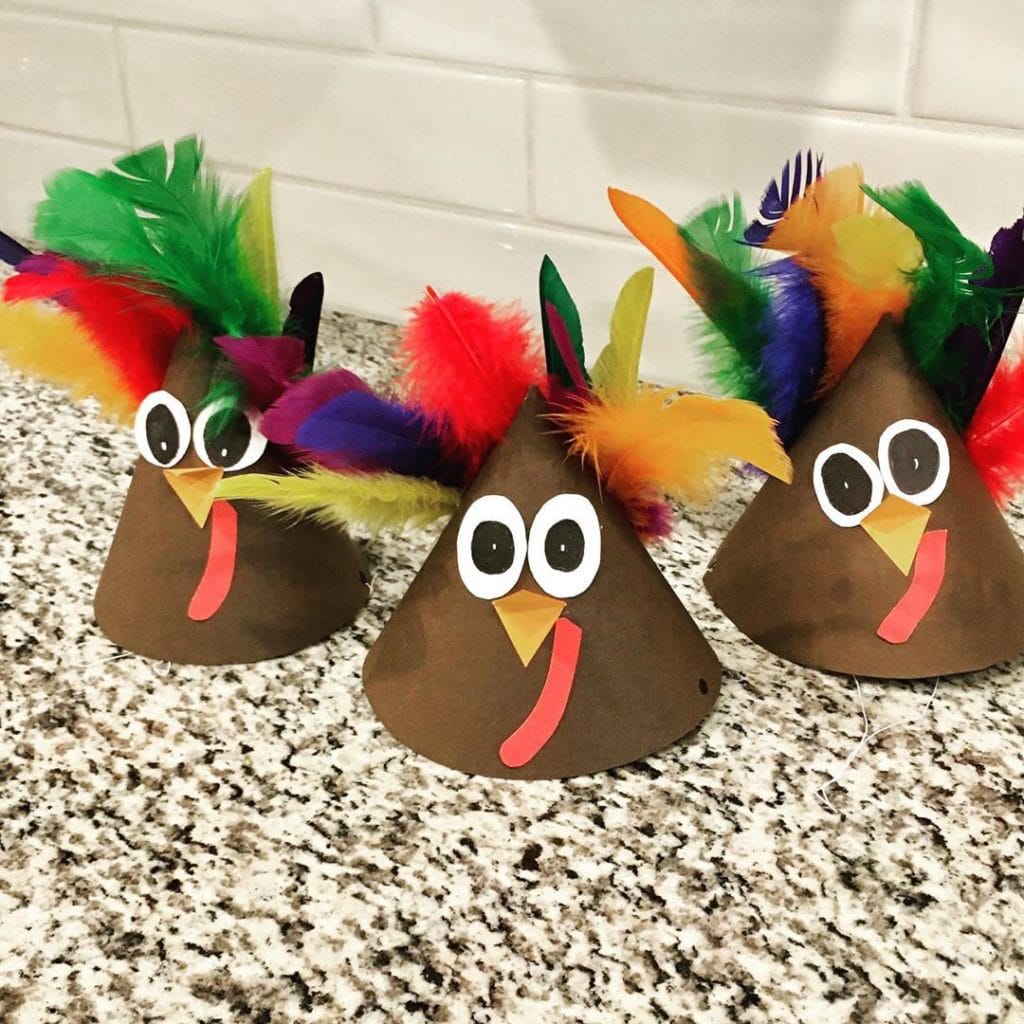 Source: paolinadecorates
These turkey hats by paolinadecorates are a perfect addition to your Thanksgiving party outfit! And your kids can make them for you! All you need is some colored paper, an elastic string, and multicolored feathers. Create a cone and attach an elastic band to the base. Stick some feathers behind the cone and add eyes and mouth to the turkeys. Wear these feathered creations and receive compliments from your guests! 
11. Hand & Foot Cutout Turkey Crafts for Kids
Source: bethebestnanny
Trace your kids' tiny hands and feet on colored paper to recreate this adorable Thanksgiving craft for kids by bethebestnanny.  Use the hand traces as the feathers of the bird and the foot trace as the body. Add googly eyes and a cute beak. That's it use these as a wall decor piece by creating them in different bright colors. 
12. Tiny Painted Pinecone Turkeys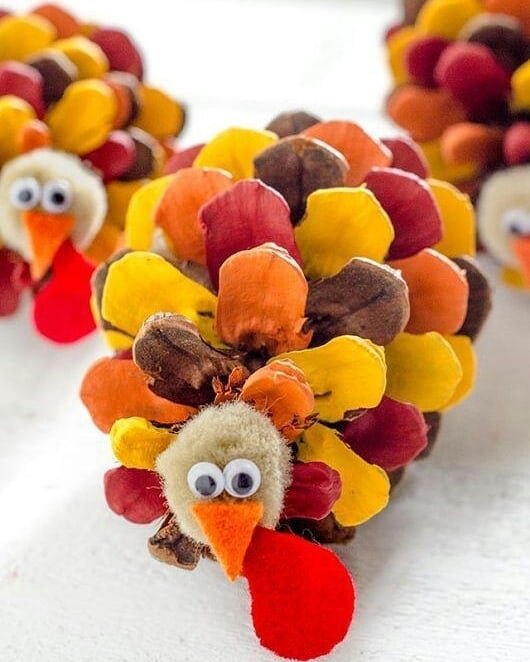 Source: holiday_lady84
Here is an adorable Thanksgiving craft for kids by holiday_lady84, which turns a pinecone into a turkey! Paint the pinecone in multiple colors to create the feathers of the turkey. Add a circular piece of felt with googly eyes on one end of the pinecone for the face. That's it! These tiny turkeys are colorful, customizable, and fun to make.  
13. Sparkly Turkey Thanksgiving Crafts for Kids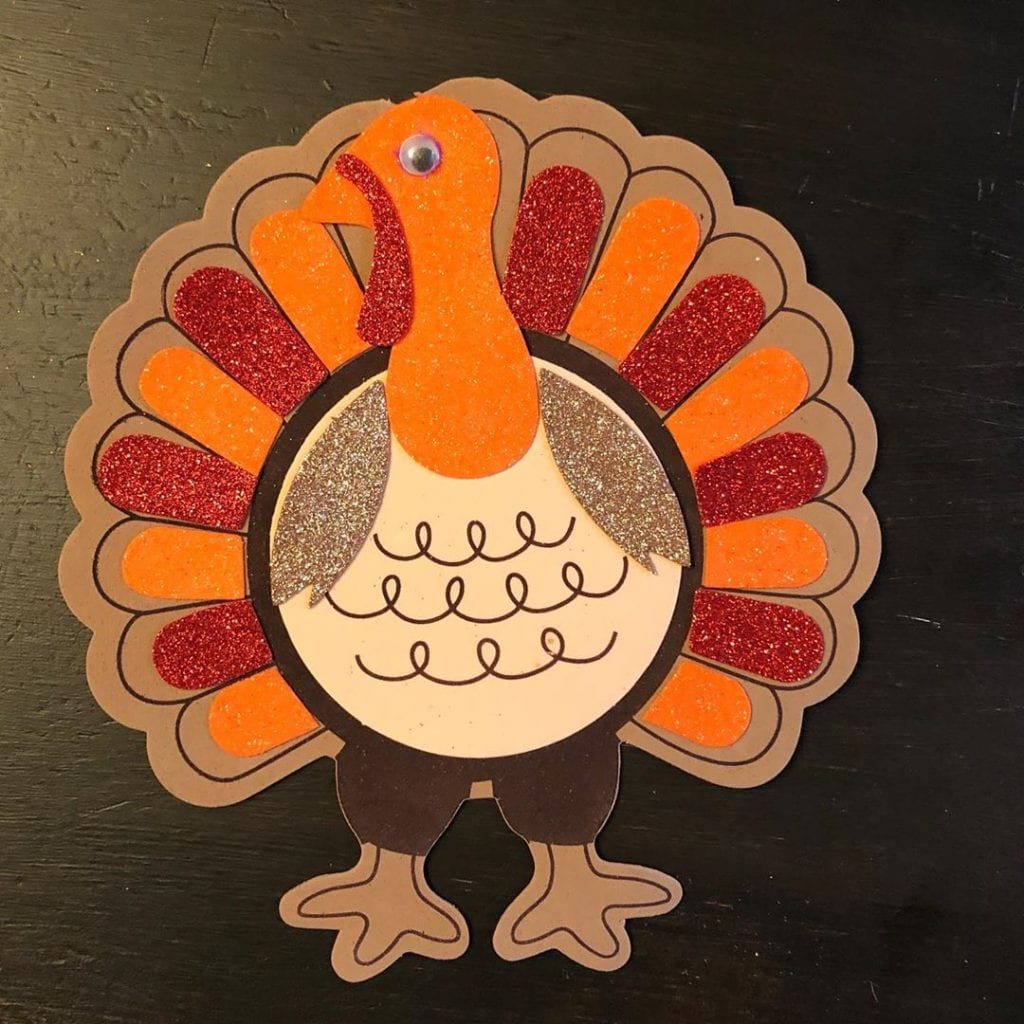 Source: crafty.mama.creations
Add a glittery sparkle to your Thanksgiving celebrations with this fun craft by crafty.mama.creations. Grab some colorful plain and glitter paper. Cut out turkey stencils from plain brown paper and let your kids turn it into some sparkly turkeys. This Thanksgiving craft for kids can be customized and used as wall decor for celebrations. 
14. Handmade Craftstick Turkey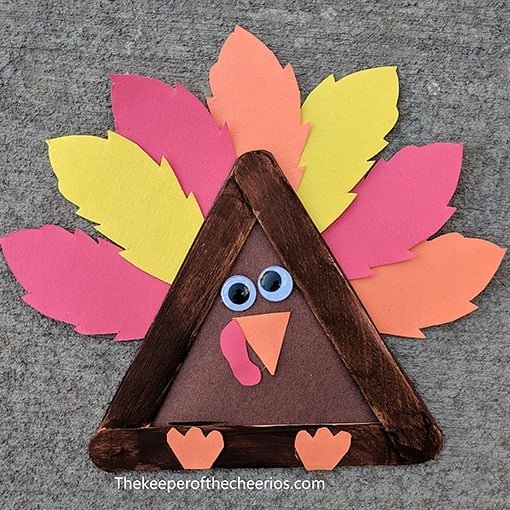 Source: thekeeperofthecheerios
This Thanksgiving craft for kids by thekeeperofthecheerios looks so adorable and would be a wonderful addition to your entry door decorations. Grab some craft sticks and colored paper to recreate this turkey craft. The idea is simple and will be a fun engagement for your kids. The multicolored paper feathers make each handmade craft unique.
15. Turkey Paperbag Puppets for Kids
Source:  gracegigglesandnaptime
This Thanksgiving craft for kids by gracegigglesandnaptime is unique and is made using reused material. This craft is a paper bag turned into a turkey puppet. Using different colored sheets, add feathers and other details to the body of the turkey. Your kids can list down the things they are thankful for in the feathers, which makes this craft very personal and memorable!
So get ready to engage your kids in these fun, adorable, and creative Thanksgiving crafts for kids. These will not only make your kids excited and happy but also add to the decor of your festivities.