Cucumbers are probably the most versatile and refreshing vegetable at the same time. And so are the plants that they grow on. Cucumbers grow on climbing vines, so they are most healthy when they have plenty of room to climb. And what better way to grow climbing vines than some handy DIY cucumber trellis ideas.
A trellis can be a real space saver, it can support the fruit as it grows on the vines, you can even see the harvest more easily and most importantly, it keeps the small nasty soil insects away. These alone are good reasons to make a good trellis for your cucumber plants. But to take it further, a trellis will add a lot of visual interest to your garden.
Read –
26 Beautiful DIY Cucumber Trellis Ideas For Your Garden
Below we have a list of some really interesting and easy to make DIY cucumber trellis ideas to try. A trellis can be from anywhere between 3 feet to 6 feet tall. So according to your garden space, find a nice idea that you feel called to try and give it a whirl. We've also covered some homemade cucumber trellis ideas for small spaces.
1. Wire Fence Rustic Cucumber Trellis
Image and tutorial by therealfarmhouse
For those who love to DIY and have a lot of space in the backyard, this might be the easiest cucumber support trellis. Most of the items required to build this easy trellis are easily available at junkyards or even on farms. The best thing about this cucumber trellis idea is you can customize the size easily. Give this one a try, it won't disappoint you.
2. Garden Cucumber Trellis with Wood and Twine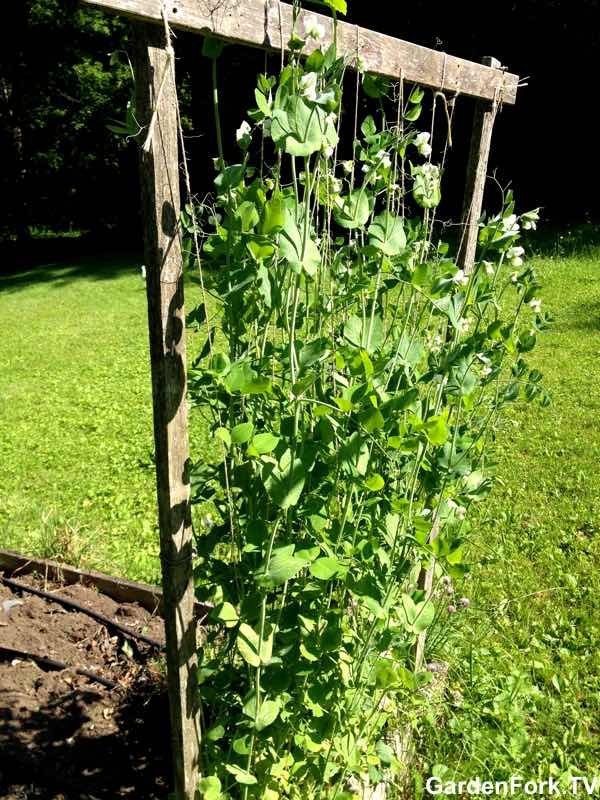 Image and tutorial by gardenfork
If only all things were as easy as this cucumber plant trellis tutorial. Seriously, this is one of those straightforward instruction sets that will be done in no time at all. You will need a bunch of twine and a couple of wooden posts to get started, but after that it is really simple.
This tutorial is also great for a raised bed cucumber trellis if you like. Vertical gardens like these are not only space saving, but also add a nice visual element to your outdoors.
Read – 40+ Unique DIY Raised Garden Bed Ideas
3. DIY PVC Trellis for Cucumbers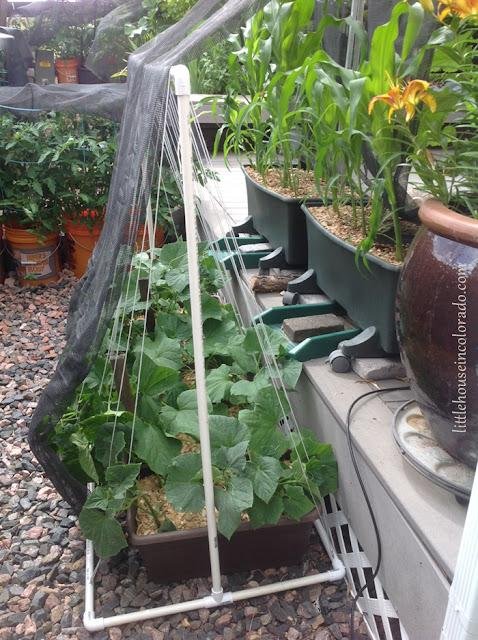 Image and tutorial by littlehouseincolorado
Cucumber plants thrive well when they have something to climb on. This handy PVC cucumber trellis is a great way for your vines to grow healthy and strong. The most important part of this tutorial is to get the frame right
Once you have the frame ready it can be placed anywhere, even a potted plant. Twine or strong jute string make good frame structures. This way you can ensure your cucumber vines grow on the trellis instead of the ground.
4. Wood Ladder Trellis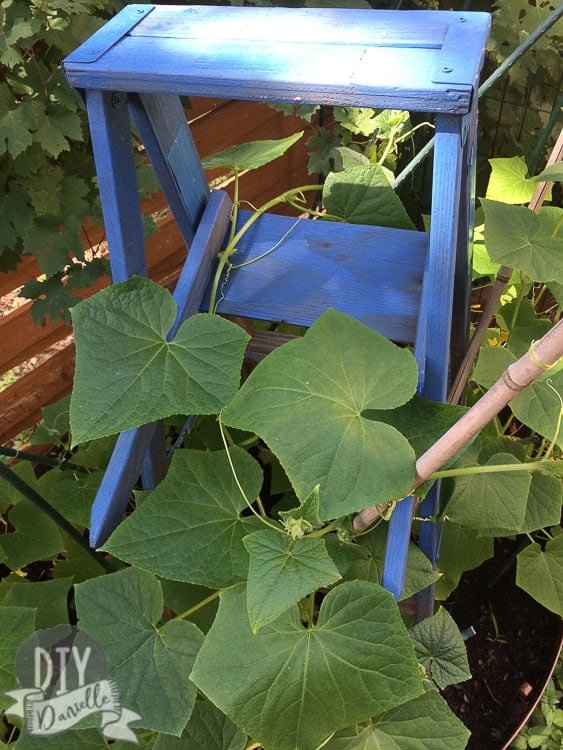 Image and tutorial by diydanielle
Clever and unique gardening ideas are great aren't they? This particular DIY cucumber trellis also involves upcycling, which is always so good. This is a very easy to do project, while being very attractive. There isn't much you need to do with this except place the ladder around your cucumber vines and let them climb all over it.
5. Mesh Wire Cucumber Trellis
Image and tutorial by sarabytheseason
A vertical cucumber trellis like this one is best for narrow spaces. It helps the cucumber vines and leaves grow upwards easier. If you can get the support on a mesh wire like this, it can make a really easy trellis for your plants to climb.
This type of frame cucumber trellis can be easy to customize. Like the tutorial mentions, you can even use this horizontally or use twine to make it tent like. Go crazy with this one. You will not be disappointed at all.
6. Clothesline Vertical Cucumber Plants Trellis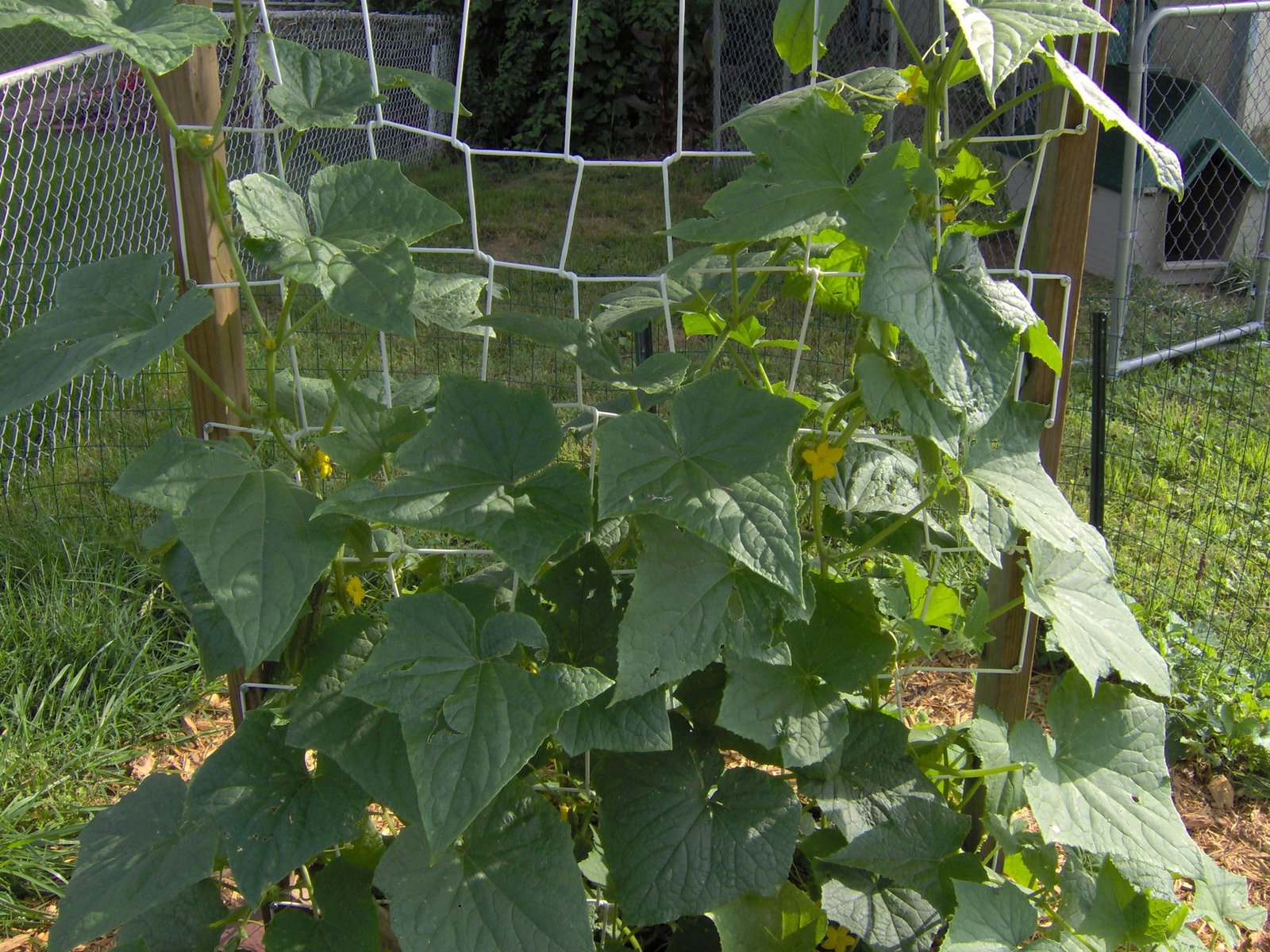 Image and tutorial by veggiegardener
Letting your cucumber plants grow on vines is a much healthier option than spreading them low to the ground. This ingenious cucumber plant trellis does just that. You can build this in just a couple of hours and it is reusable too. A good lattice cucumber trellis like this makes it easy for vines to hold onto and climb properly.
7. DIY Wood Trellis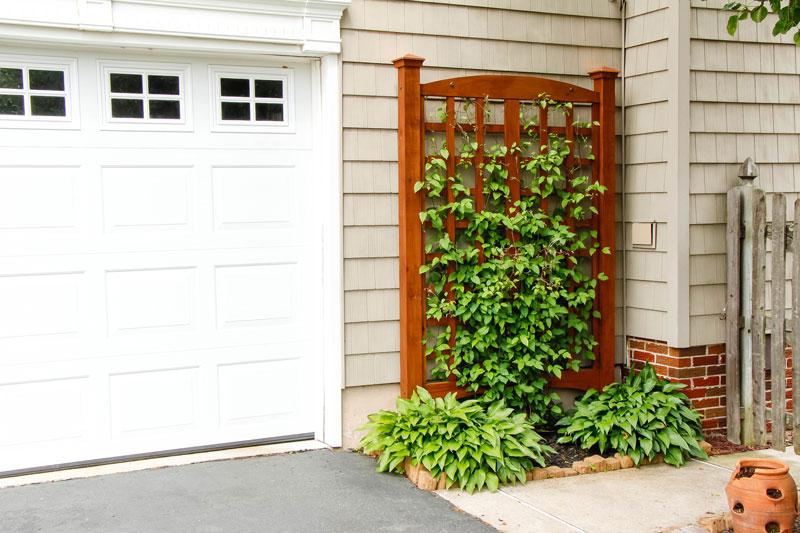 Image and tutorial by handydad
Although the example shows the trellis on the front porch, it is versatile enough for you to use as a cucumber support trellis. The instructions for this trellis are very straightforward. If you decide to not paint the wood, you could get this ready in a day.
Try this one for an elegant addition to your garden. Since it is made with solid wood, you can be sure that it is very strong and able to support the weight of full grown cucumbers really well.
8. DIY Raised Bed Cucumber Trellis
Image and tutorial by thecapecoop
Buying a cucumber plants trellis for raised beds can be a little expensive sometimes. And if you can build a cool DIY raised bed cucumber trellis for half the price, why not do it? This trellis could not be easier to make. All you will need are two strong posts to stick in on either side and run the ropes along the middle.
Isn't that great? You can store these away in the off season. It can be used for different vine plants, and customized according to the space in your garden. For a really inexpensive trellis, give this one a try. You will not regret it.
9. DIY Cucumber Fence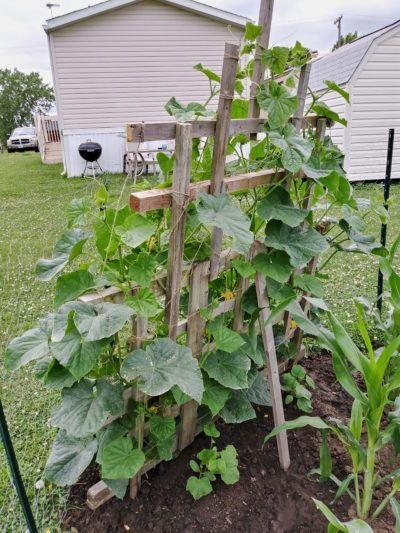 Image and tutorial by gardeningknowhow
This is a cute and easy way to have your cucumber vines growing upwards instead of all over the ground. A cucumber spacing trellis can save a good amount of space horizontally while allowing the vines to grow upwards.
Once the vines start growing on this cucumber plant trellis, they will be well supported by the fence. Since it is made with wood, you can be sure that the structure is very sturdy and strong.
10. Best Trellis For Cucumbers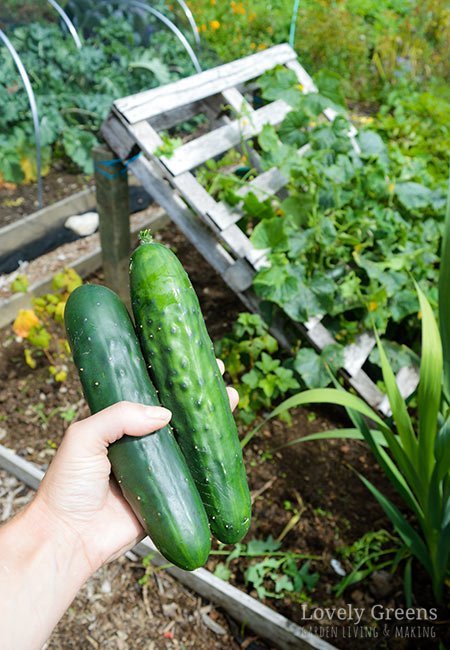 Image and tutorial by lovelygreens
One thing that can really bring joy while making a DIY project is using repurposed materials. This DIY cucumber support trellis is made with wood pallets. You don;t require any tools and it makes a really nice space for the plants to grow healthy and strong.
Such DIY cucumber trellis ideas can help keep your plants off the ground away from diseases. It gives the leaves more fresh circulating air. It also gives you more gardening space so yes, this tutorial does have it all.
11. DIY PVC Garden Trellis
Image and tutorial by instructables
Probably the easiest cucumber garden trellis design of all time is this one. Not only is it super straightforward to make, it can be taken apart at the end of the growing season. Talk about compact storage.
All that you need to make this PVC cucumber trellis is easily available at the hardware store. Plus it is really cheap to make and doesn't require too many tools either. The finished trellis is compact and strong. You can also adjust the height according to how high or low you want it.
12. DIY Trellis Garden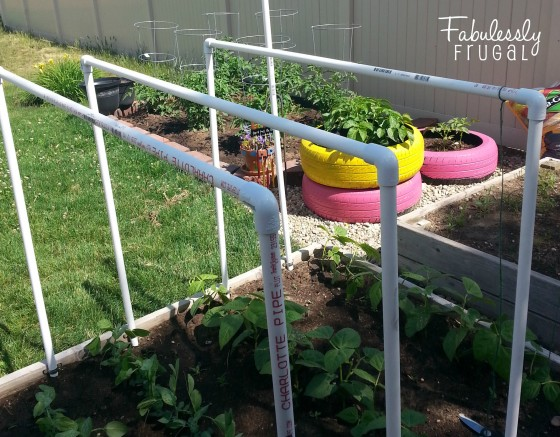 Image and tutorial by fabulesslyfrugal
Here's a cool DIY PVC cucumber trellis for a growing garden. For those of you who like to grow different vine vegetables, it can get challenging to find ways to have healthy growing plants. A trellis can really help with that.
PVC pipes can make a pretty sturdy structure for the vines to grow on. The tutorial really gives very simple instructions to get started. So let's make that vertical garden a reality today.
13. A-Frame Trellis for Raised Bed
Image and tutorial by kelloggarden
Probably the nicest part of having an A-frame cucumber trellis is that you can use it to grow a variety of garden vegetables. Such homemade cucumber trellis can keep your vines off the ground and provide shade to a varying degree.
This particular raised bed cucumber vines trellis is made using really sturdy redwood, since it is most resistant to rot and insects. As the trellis structure has carriage hinge bolt hinges, you can position it differently according to the needs of your plants. Give your garden some height and depth at the same time with this beautiful trellis.
14. Homemade Arched Garden Trellis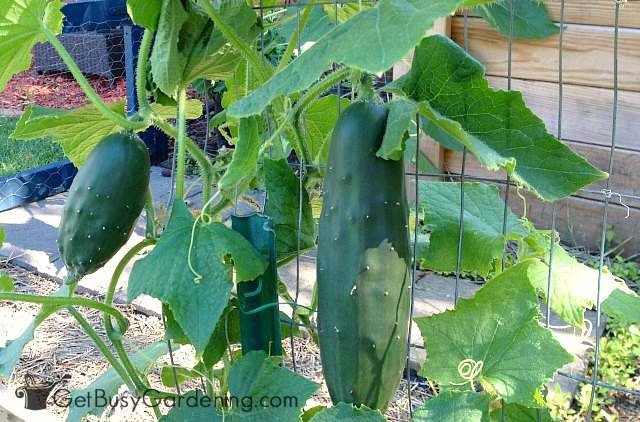 Image and tutorial by getbusygardening
Try to maximize your garden space with this arched chicken wire cucumber trellis. It makes harvesting so much easier when the fruit hang through the lattice. The design is simple and it is really easy to build as well.
You can adjust the cucumber plant trellis height according to your preference. Make sure to harvest the mature cucumbers regularly to prevent sagging. Either way, you will be able to utilize this trellis through many years and that's what matters.
15. Easy T-Post Garden Trellis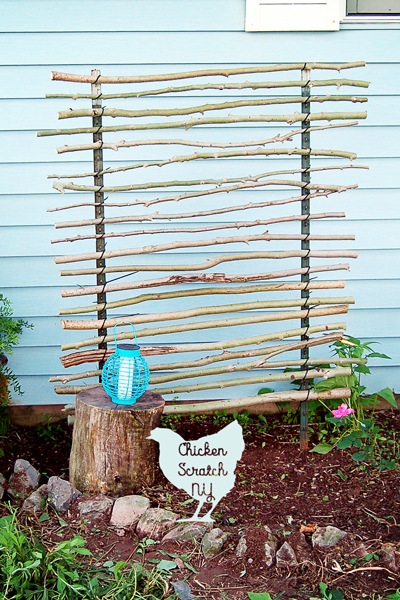 Image and tutorial by chickenscratchny
Make a really aesthetic T-Post garden trellis for your cucumber vines. If you are looking for a rustic addition for your garden or backyard, this tutorial is the one for you. Made correctly, this type of trellis is going to last you a long time.
16. DIY Bamboo Garden Trellis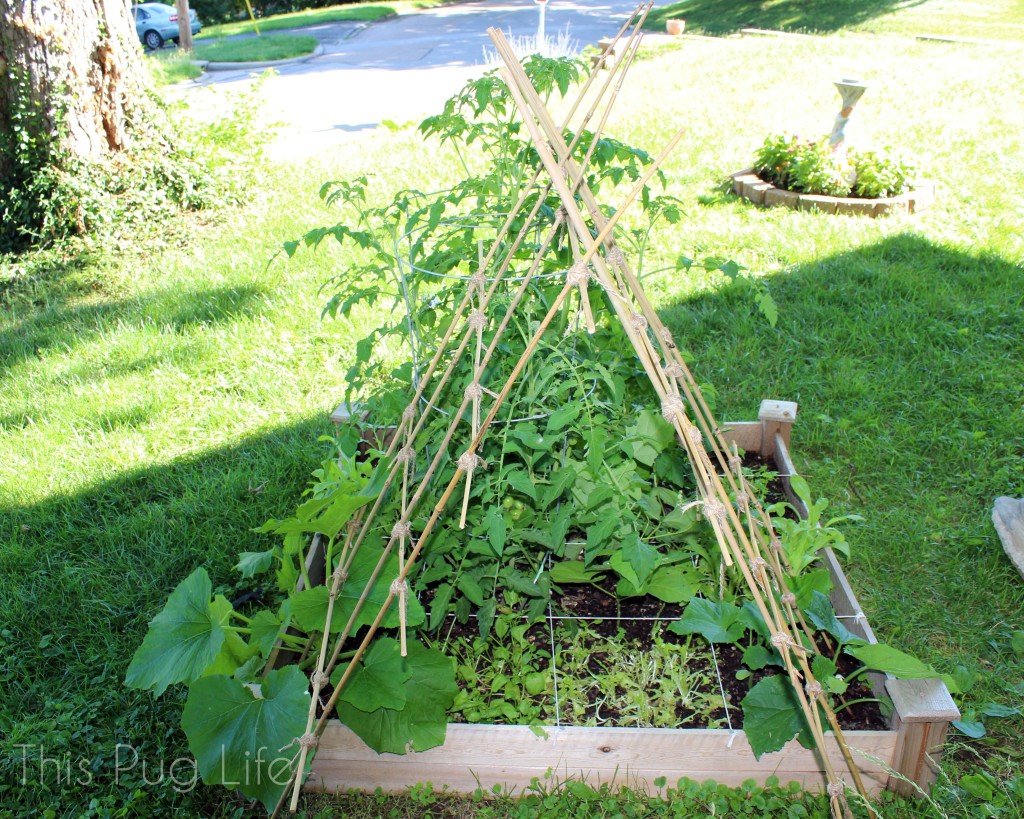 Image and tutorial by thispuglife
DIY bamboo cucumber trellis projects probably don't come easier than this. You need bamboo sticks, some strong twine and really strong scissors. This particular structure is made in a lattice structure so you get a sturdy base.
The triangle tent shape of the finished bamboo structure gives more surface area for the plants to grow. Also, since it is all bamboo, the cucumbers can hang easily once they grow. This trellis will surely make everything look a lot tidier in the garden.
17. Conical Garden Cucumber Vines Trellis
Image and tutorial by chesapeakecrafts
For those of you who have some scrap wood lying around, let's start whipping up this super easy cucumber spacing trellis. The main purpose of a trellis is to give your cucumber vines something to climb on.
You can maximize the space that your cucumber vines use by training them to go upwards instead of spreading horizontal. While making this type of trellis, it would be better to use treated wood if you are planning to use it year after year.
18. DIY Wood Vertical Cucumber Trellis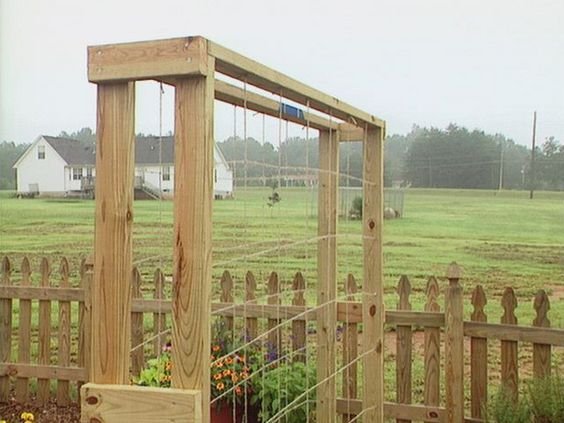 Image and tutorial by diynetwork
A trellis can ensure that your cucumbers grow nice and healthy with a uniform size and shape. So let's get right to it with this cucumber support trellis. If you are into woodwork, you will be able to get this done in a day.
It really is that simple and effective. The short boards maintain the distance between the two frames. Such DIY cucumber trellis ideas have a sturdy structure and can be used year after year. Once covered in vines it'll make a really good addition to your garden as well.
19. Simple Cattle Panel Garden Trellis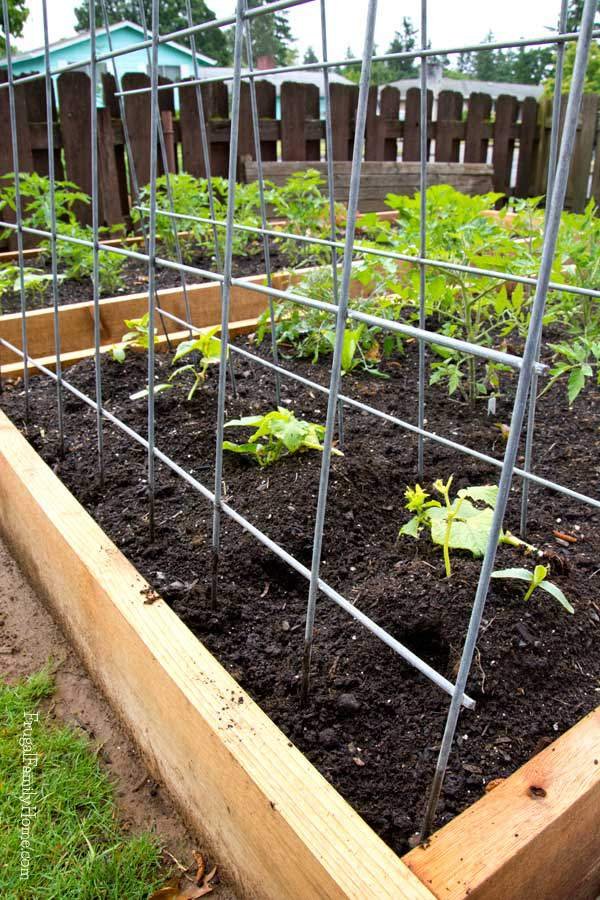 Image and tutorial by frugalfamilyhome
Looking for an easy to do yet sturdy cattle panel cucumber plants trellis? Look no further. You can save a lot of space by growing upwards; not to mention the benefits for the vine plants.
A metal trellis also ensures that there is no sagging within the trellis. And they can be stored when not in use. If all of this hasn't convinced to to give it a try, reading the instructions definitely will.
20. Clever TeePee Trellis For Cucumbers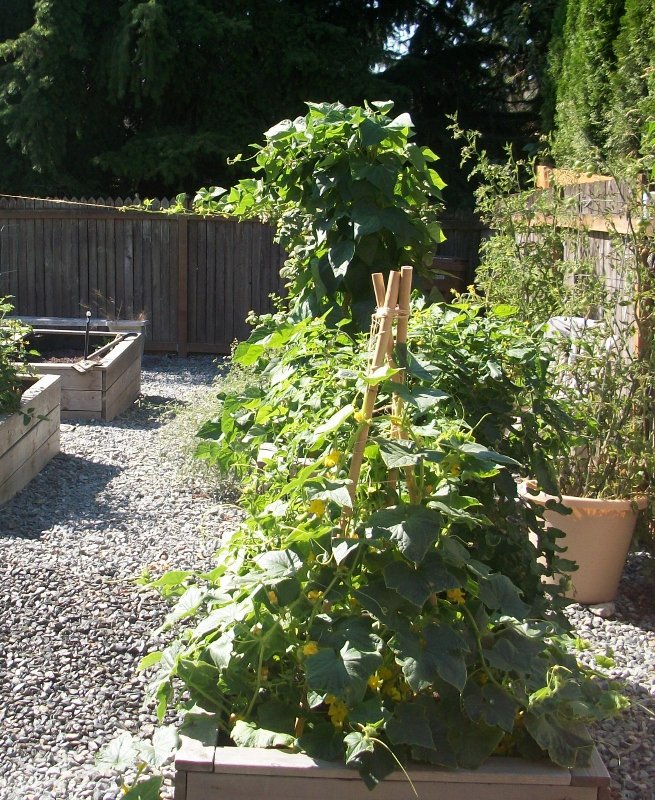 Image and tutorial by thecouponproject
For those of you who have limited garden space but still want to make the most of vine vegetables, this hack works great. This bamboo cucumber trellis is a great way to start your cucumber garden, although it could easily be used for a variety of different climbing plants.
The best part about this tutorial is that it requires no tool. All you need is a few pieces of sturdy bamboo, some heavy duty twine and you are good to go. Isn't that great? You could shape the trellis like a teepee trellis for cucumbers.
21. Arched Trellis for Raised Beds
Image and tutorial by momeomagazine
When your cucumber plants start to take up tons of space in your garden, you know that you need a good cucumber support trellis. Using a trellis is not only great for your plants health, it makes it easier to pick the cucumbers once they are ripe.
These types of arched chicken wire cucumber trellises save space and are visually interesting to look at. They can also be used in conjunction with growing other plants in its shade. Talk about getting two things in one structure.
22. Raised Bed Cucumber Trellis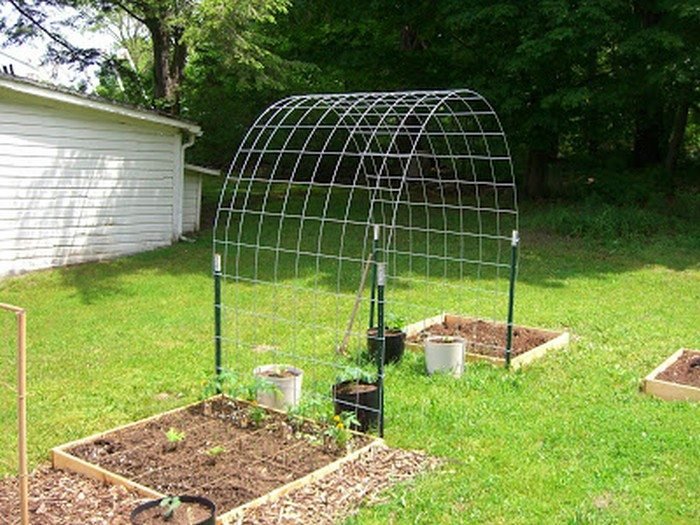 Image and tutorial by diyprojects.ideas2live4
This might be one of the best trellis for cucumbers on this list just for the visual appeal. The combination of raised beds and arched trellises could never go wrong. It's great for almost any plant that likes climbing or needs support to grow.
Another great thing about this cattle panel cucumber vines trellis is that you can easily harvest from both sides. It also makes it easy to see when the fruits are ripe. And the best part, according to how you plant it, there might be some place to sit in the shade as well. Isn't all this enough to get your started on this tutorial?
23. Easy and Inexpensive Cucumber Trellis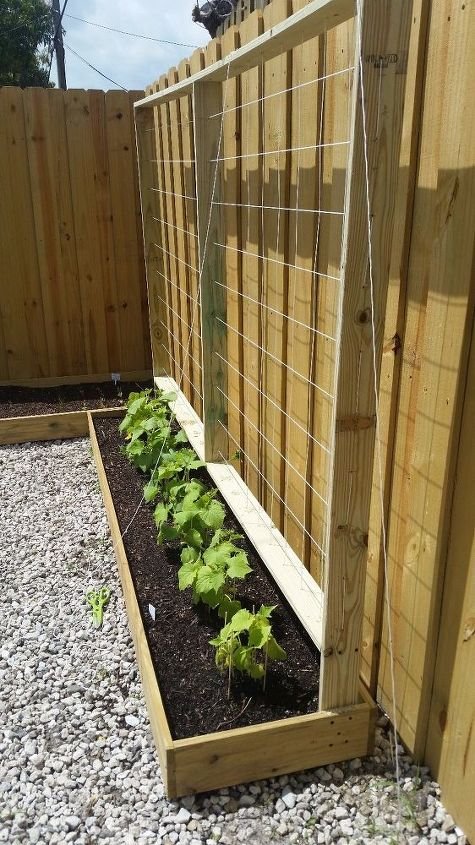 Image and tutorial by hometalk
Build your own trellis Home Depot style. All the material required to make this handy trellis are available in under $20 dollars. Also, you can be sure that this vertical cucumber trellis is very sturdy and will hold the weight of your climbing vines very well.
Although this tutorial details the process with a raised bed, you could easily have this in the open soil as well. As long as it is fixed properly, it should hold up really well.
24. DIY Vegetable Garden Trellis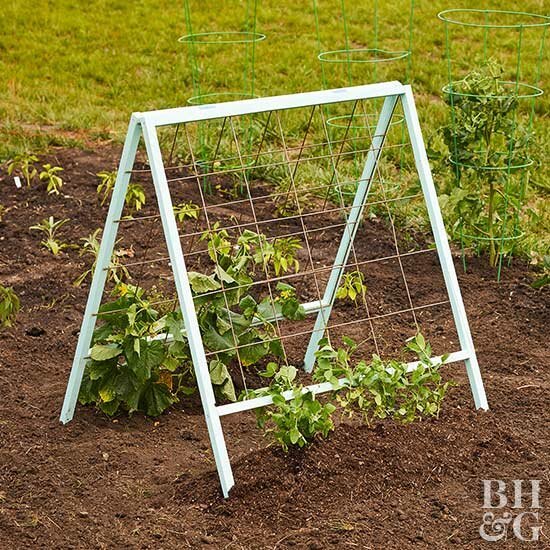 An A-Frame cucumber trellis like this one is the best way to make the most of your garden. You can even use frames like these to grow other vine plants like tomatoes and peas. The assembly of this trellis will require some tools but you will get a really sturdy and lasting trellis in the end.
25. Simple Cucumber Trellis for Garden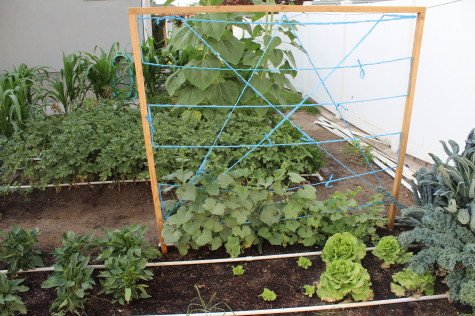 Image and tutorial by ourstoneyacres
If you want to build a simple yet effective cucumber garden trellis, then this is the one for you. It is a great way to add some visual character to your garden. Also, it is extremely inexpensive to make.
Cucumber vines do need a vertical trellis to reach full potential. So do look into this one to get started on that journey. This vertical trellis is sturdy and movable so you can plant your cucumber plants in a different spot each year. Isn't that neat?
26. Cucumber Tent Trellis
Image and tutorial by bonnieplants
A tent shaped trellis for cucumbers is great for support and growth. This particular tutorial talks about making these support structures using steel panels which are really economical and can be reused 4 to 5 times.
Although the cattle panel cucumber trellis used here is placed in the ground, you can even use them for raised beds by adjusting the height. Make sure to prepare the soil well and allow the cucumber plants to grow up the tent trellis.