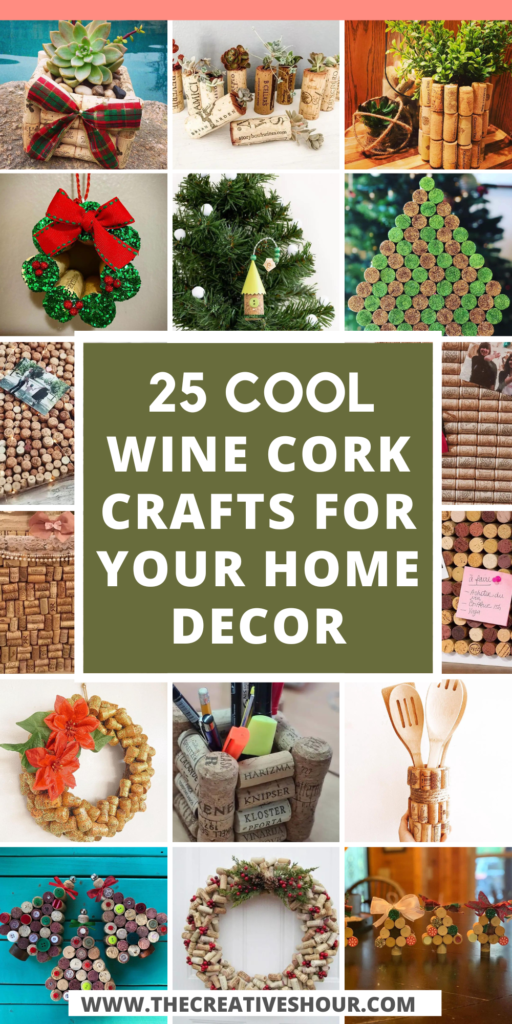 Indulge your inner artist and uncork a world of imagination with captivating wine cork crafts! Transforming discarded wine corks into extraordinary creations has never been more exciting. From whimsical home decorations to one-of-a-kind gifts, these crafts offer a perfect blend of creativity and sustainability.

Join us on a delightful journey as we unlock the secrets of crafting with wine corks. Our expert tips, ingenious ideas, and easy-to-follow tutorials will empower you to create stunning pieces that captivate attention and ignite conversations. Get ready to pop the cork on your creativity and discover the enchanting possibilities of wine cork crafts!
You can also check out our other articles on home decor ideas here on 30+ Innovative Toilet Paper Roll Crafts For You.
Containers and Planters Wine Corks
1. 100% Recycled Project
Wine cork crafts are, needless to say, an environment-friendly idea to deck up your indoors. For instance doityou.lady has assembled old used wine corks to make this rustic vase for her succulents. And why not, it is eco-friendly and hardly takes any of your time.
2. The Stand
How about replacing those plastic stands for your spatula and going green with some good old wine cork crafts? Corchosymanderspr has done the same. With some good old wine corks and jute rope, effortlessly assembled a good and aesthetically pleasing stand for the kitchen. You can of course use this also as a pen stand.
3. The Pen-stand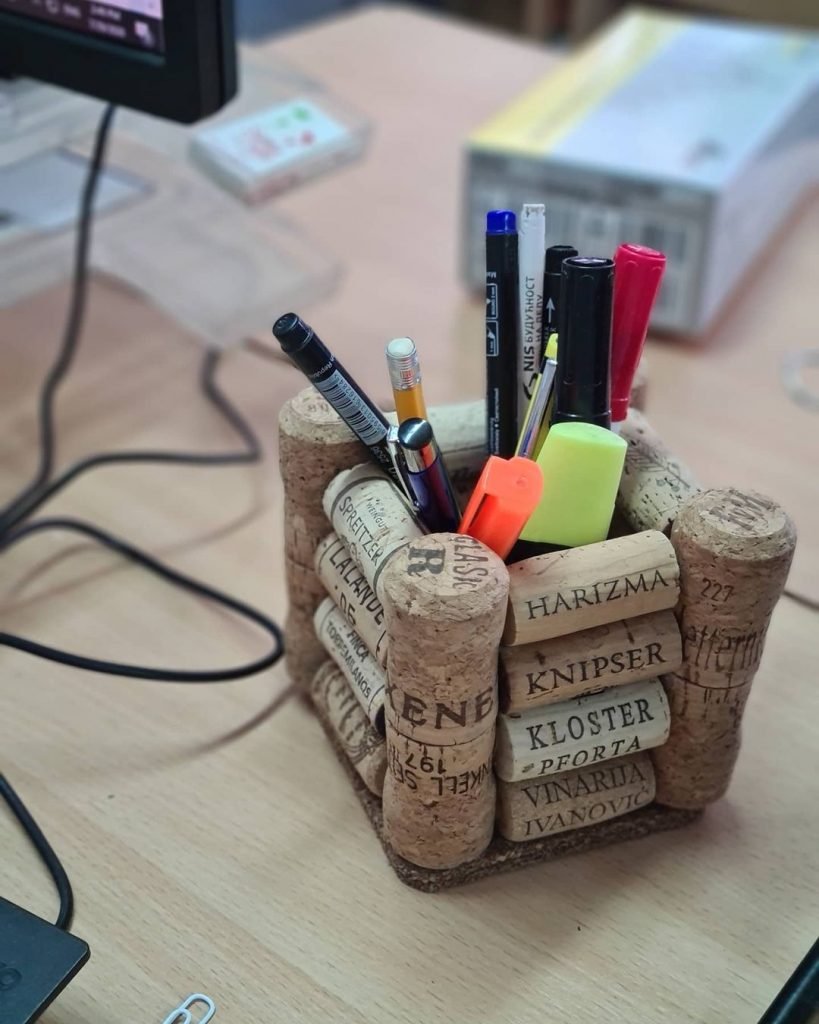 This beautiful and archaic-looking pen stand is going to be loved by your kids. Or if you fancy some good old eccentrically pleasing crafts then this will certainly find a place on your work or study table.
4. Wine Cork Crafts For Your Succulent
Why keep the wine cork crafts restrained to your house, you can bring them out to the yard for your beautiful succulents. Just as thesocioablesucculent has done it. This beautiful DIY pot for the succulent is giving the holiday season vibe. This is also an excellent gift idea for your loved ones.
Wine Cork Crafts For Build-in Board Ideas
Wine cork crafts can be quite versatile and you can explore your options. If you have no intentions of making a stand or a vase with your accumulated wine corks then you have nothing much to worry about. Here we have some other build-in board wine cork crafts for you to try out. These build-in board will light up your empty corner or even that unoccupied wall that needs a bit of a character.
5. Vintage Memo Board With Wine Cork Crafts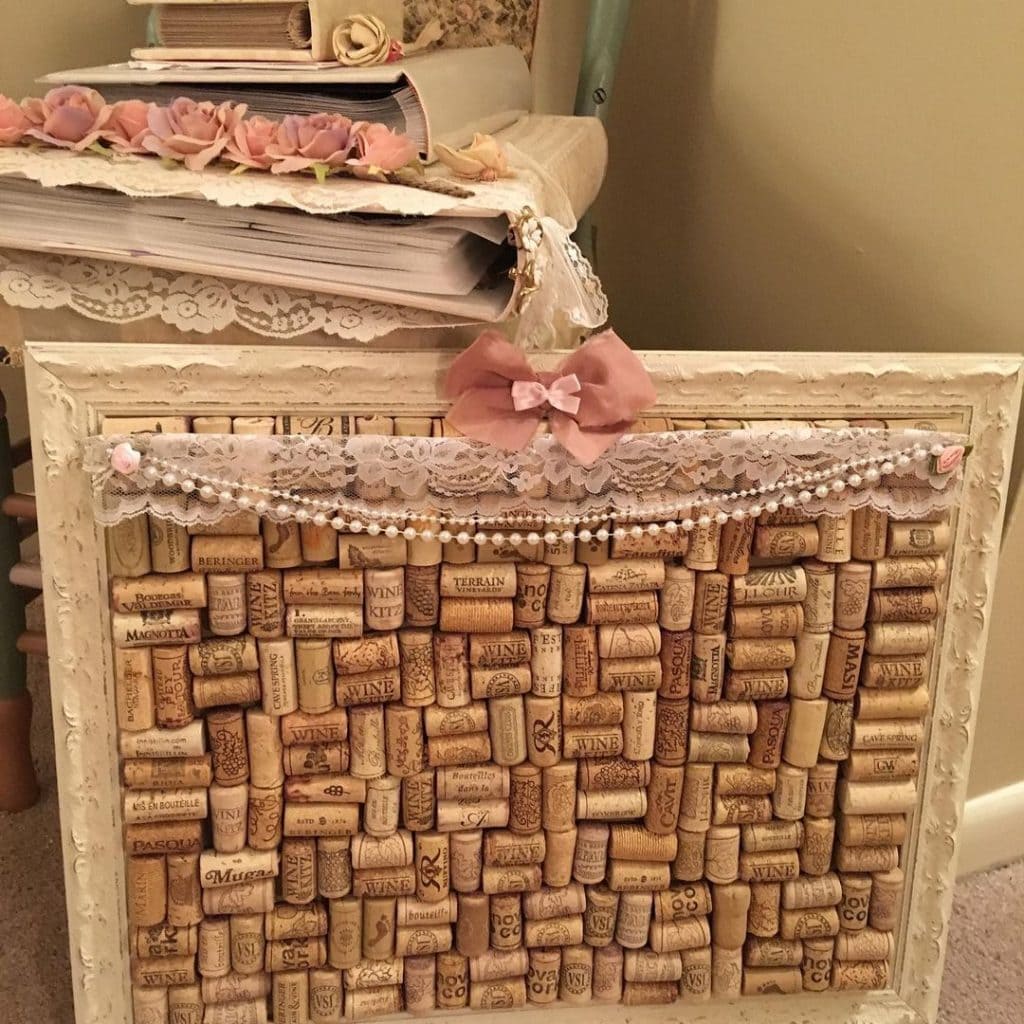 Crafts can be experimented with to come up with some brilliant ideas like this one here by vintagedaysandsweets_sh. This memo board has an impressive vintage touch. And all you need to make this beautiful piece of craft is some wine corks, laces, pearls, and a bow. Yes! It is indeed that simple to make this elegant build-in board.
6. The Picture Board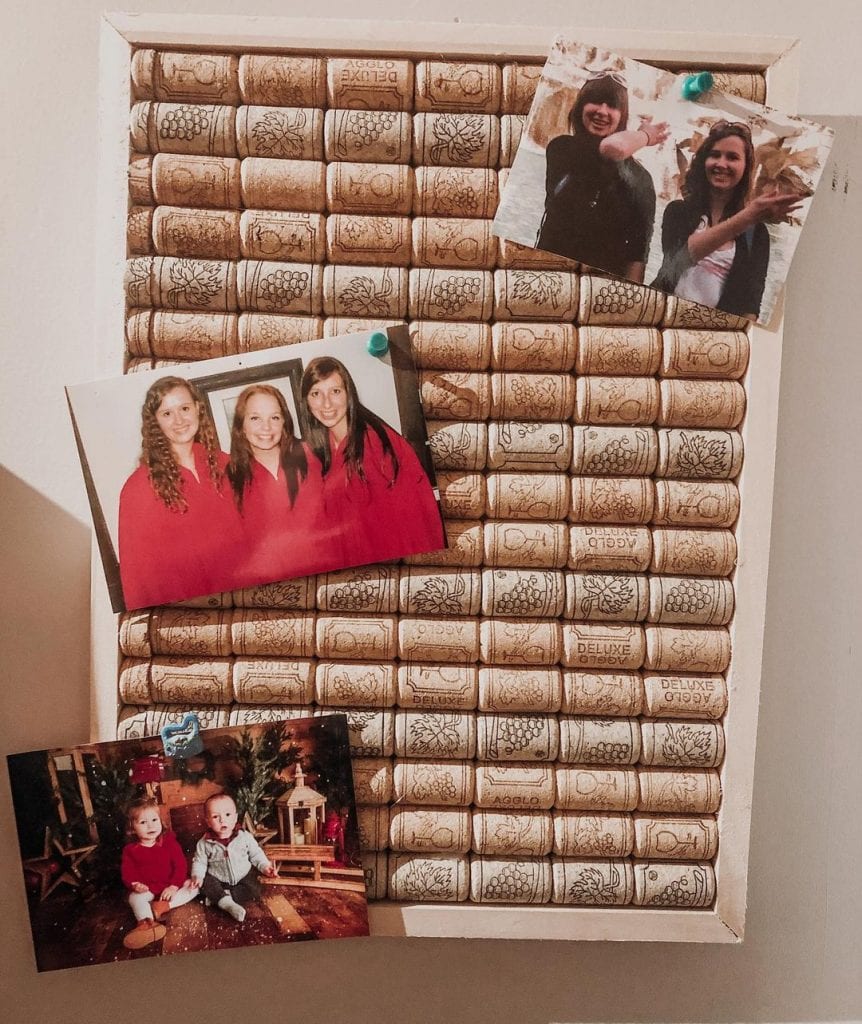 Such picture-perfect wine cork crafts like this one here by beautybrainsxo. This aesthetically pleasing build-in board is an excellent option for you to experiment to make some good old wine cork crafts this time. Pin some pictures and photographs on it to give it a character and you will have your own memory board.
7. The Heart Shape Corks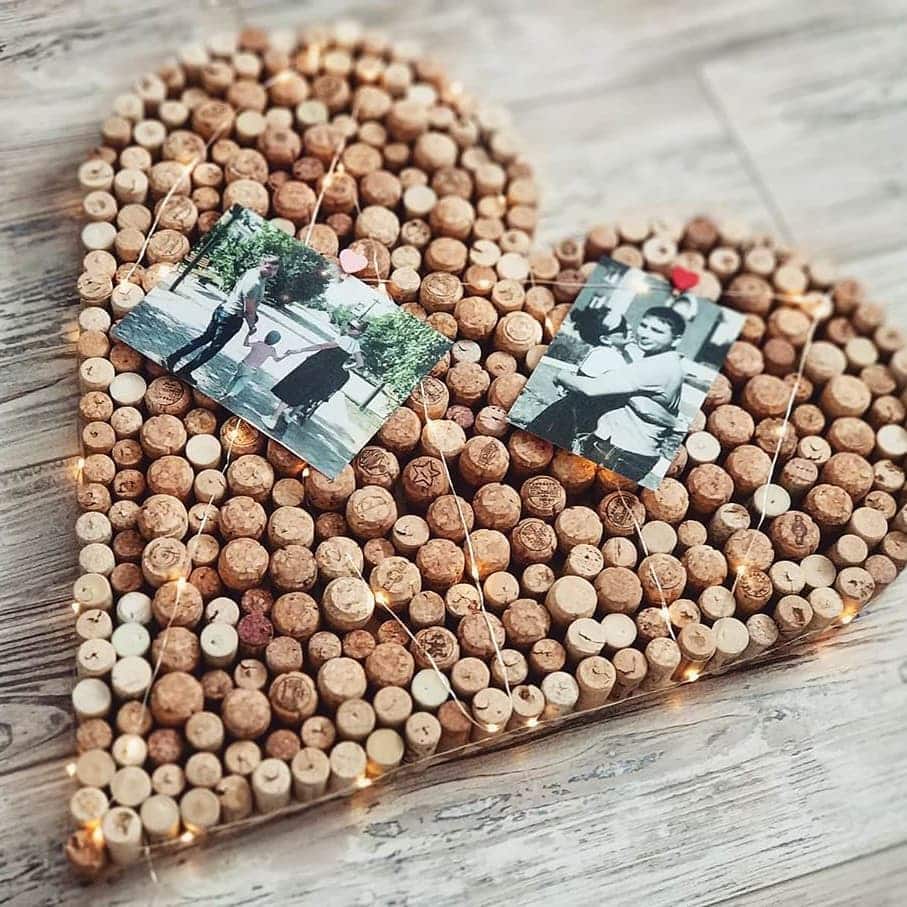 This heart-shaped wine cork crafts by craftrolla is an excellent option for you to start with for your memory board. This love themed memory board will just need some fairy lights and some of your beautiful memory pictures to give it a personal touch.
8. The DIY Time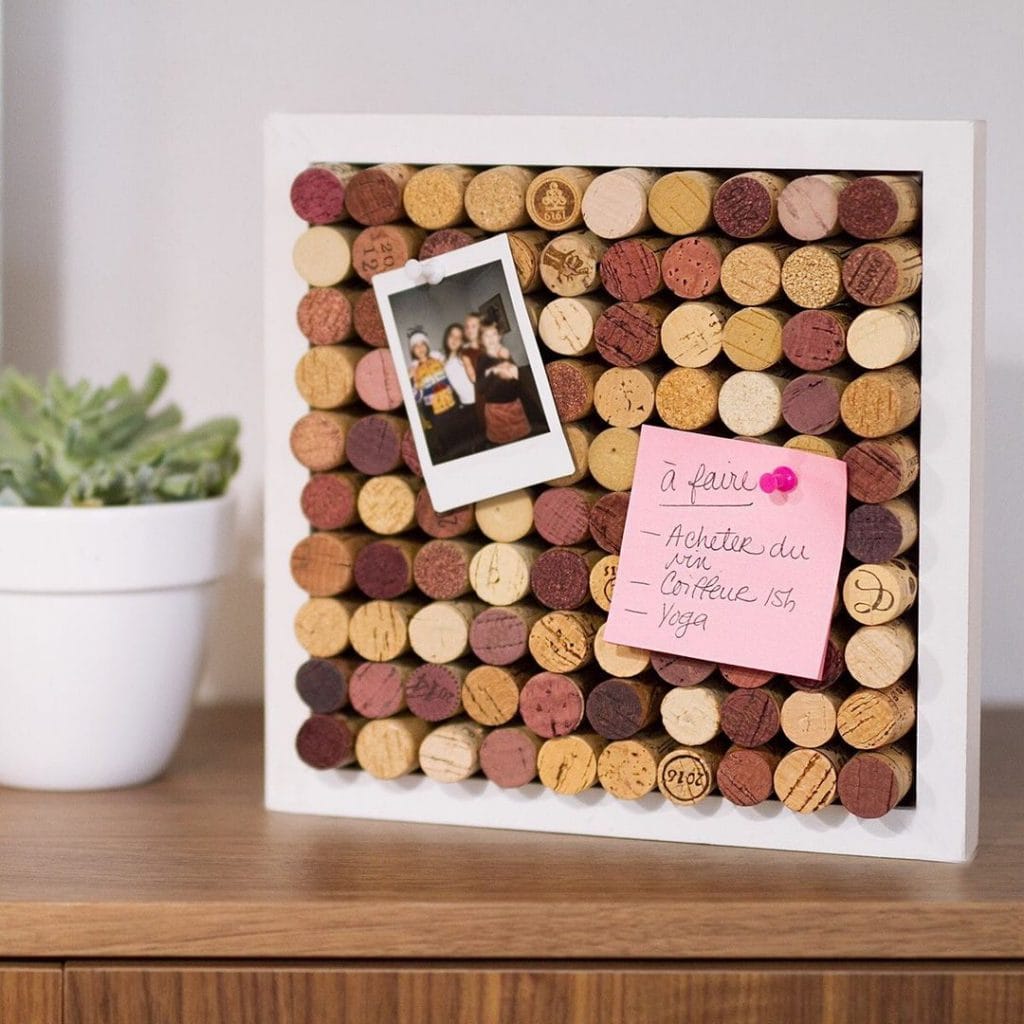 This pinboard by lasaq is a classy and elegant touch to your table. This board is a good way to declutter your days and schedules. The white framing has only enhanced the monochromatic beauty of the wine corks within it.
Wine Cork Crafts For Christmas
Christmas is one of those festive times that reminds us of all the good memories. With the families and the loved ones coming together, this time of the year is very special for everyone. But one more aspect of Christmas which is as important as the celebrations is the Christmas decoration. Christmas decoration is honestly a big deal and why not this year make some good DIY wine cork crafts. Here we have some amazing wine cork crafts ideas for you to choose from so that you can make unique Christmas decorations this year.
9. Wine Cork Wreath
What is a Christmas without some beautiful wreaths? But what if this year you can make a wreath with something which is not flowers but also equally eco-friendly? So just like eveylyn_myturnforus you can bring out those old popped wine corks to tie and stick them together to make this new of a kind wine cork crafts wreath.
10. Wine Cork Christmas Tree Miniature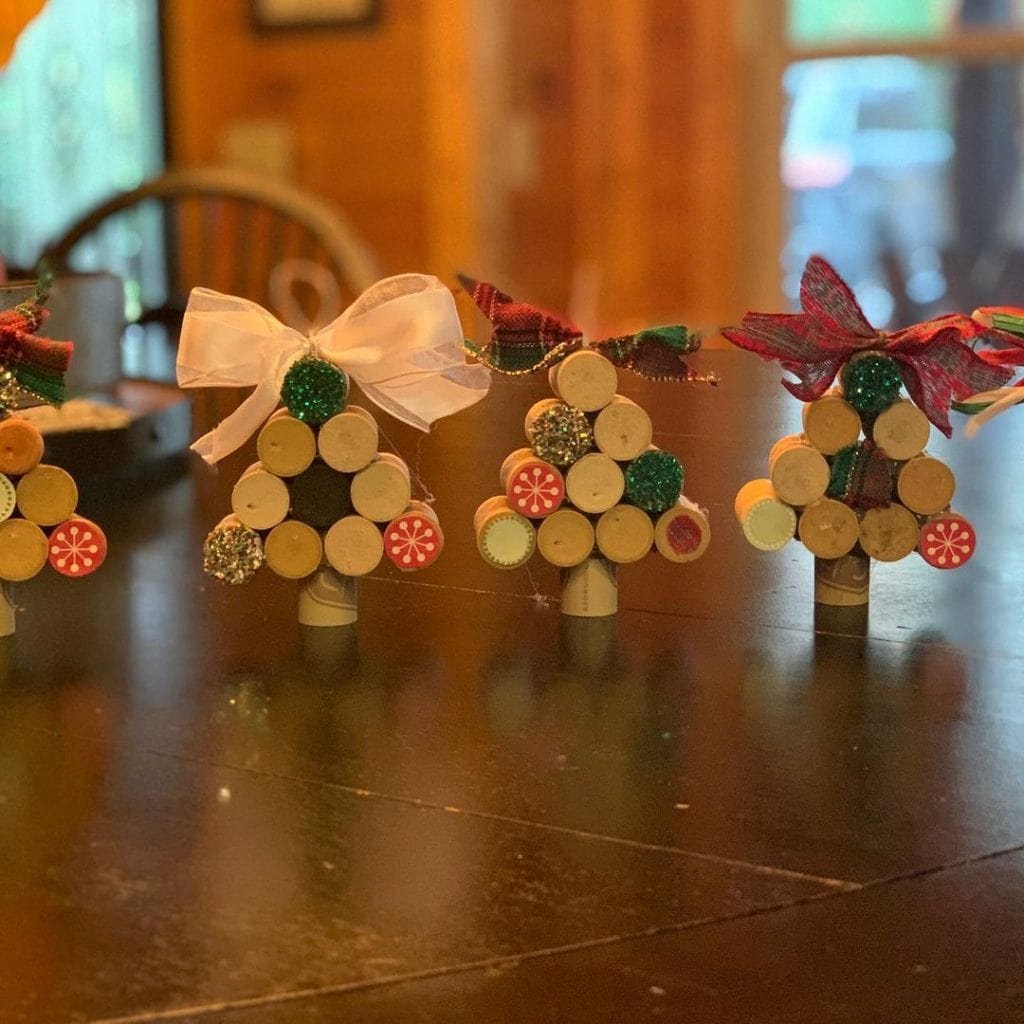 These beautiful wine cork crafts used by rjandsoncabins is cuteness overloaded. This cute little miniature Christmas tree is certainly an innovative way to do your Christmas decoration this year.
11. Buttons and Wine Corks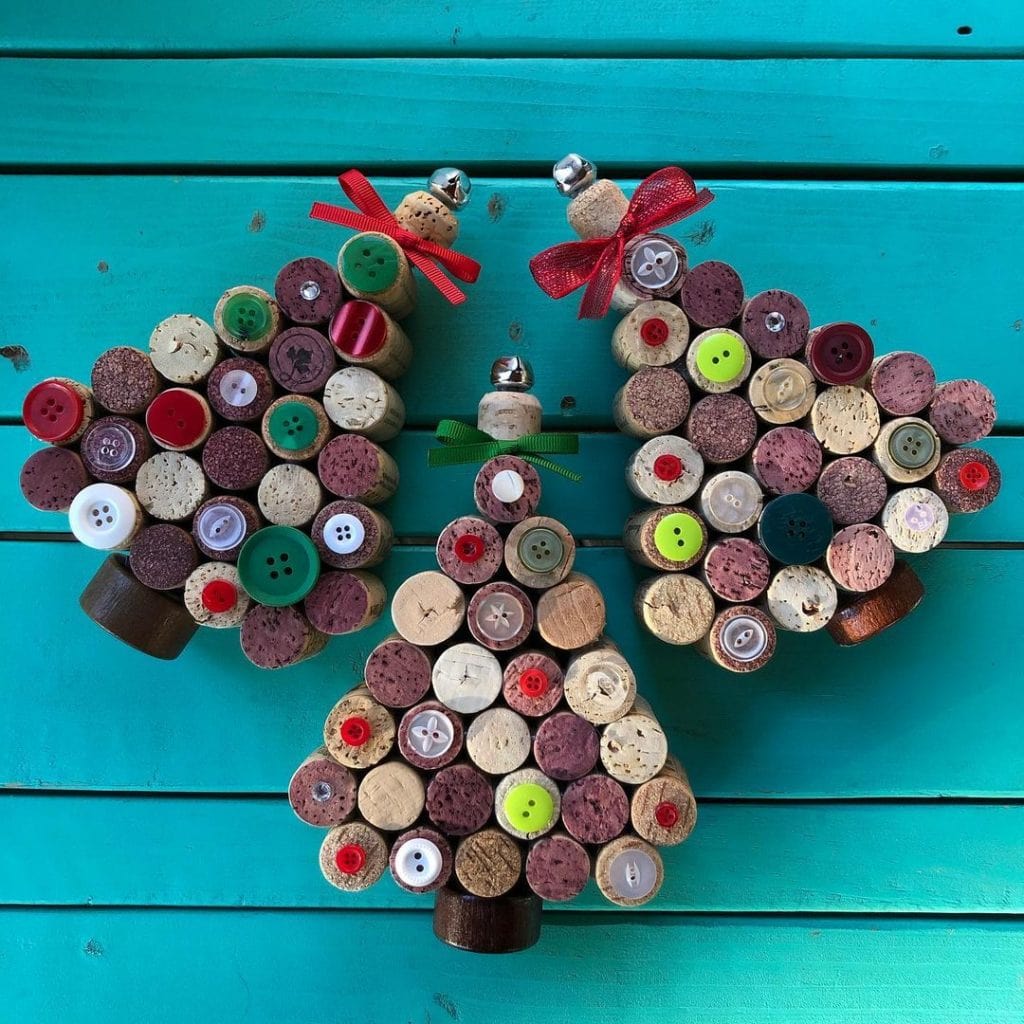 There are some wine cork crafts that will forever be special and will leave an impression on you. This one here by bss_boutique has made use of some classic wine corks and some colorful buttons that will only brighten up this otherwise classic wine cork crafts.
12. On the Gold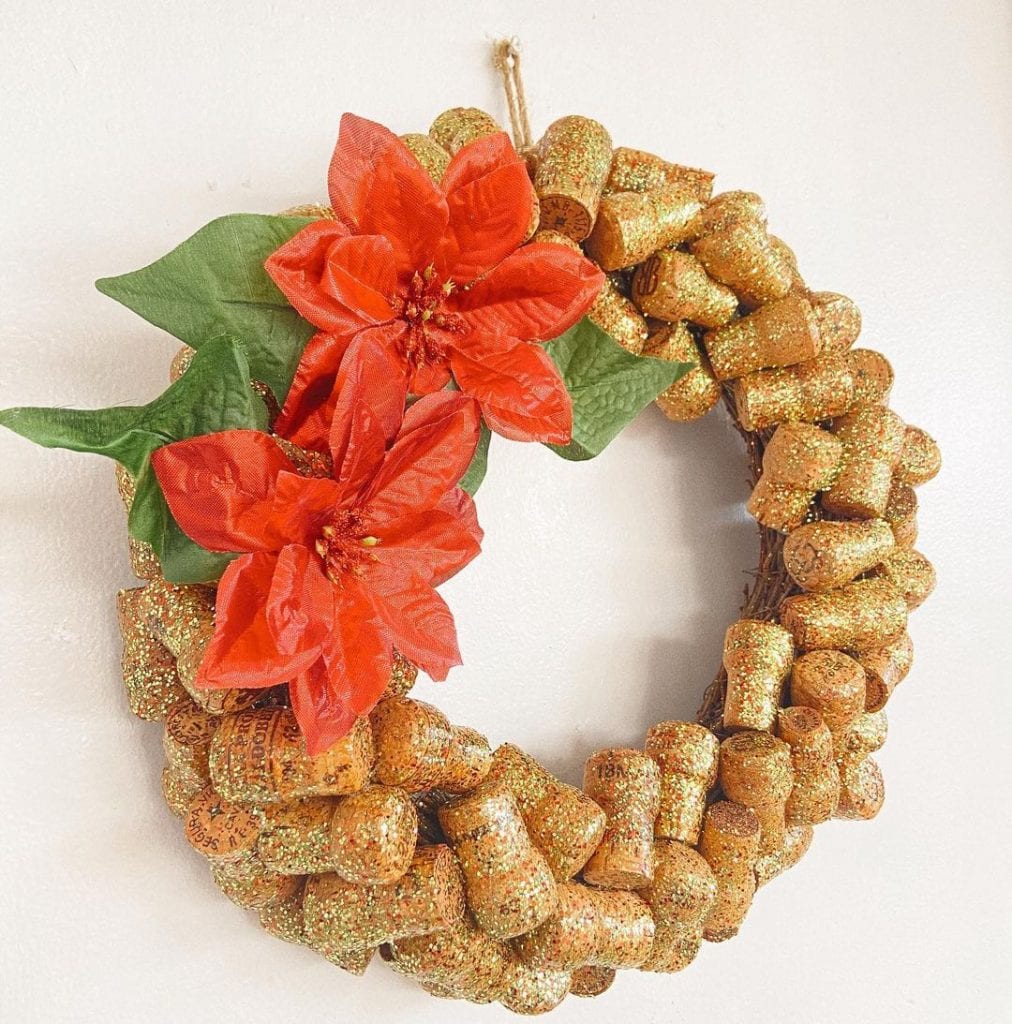 This gold and orange combination of wine cork crafts by corchosymaderaspr has a strong Christmas vibe. Green, gold, and red, these are probably the theme colors of Christmas, aren't they? And this work of craft has all three, brought together to make it all the more happening.
13. The Green and Brown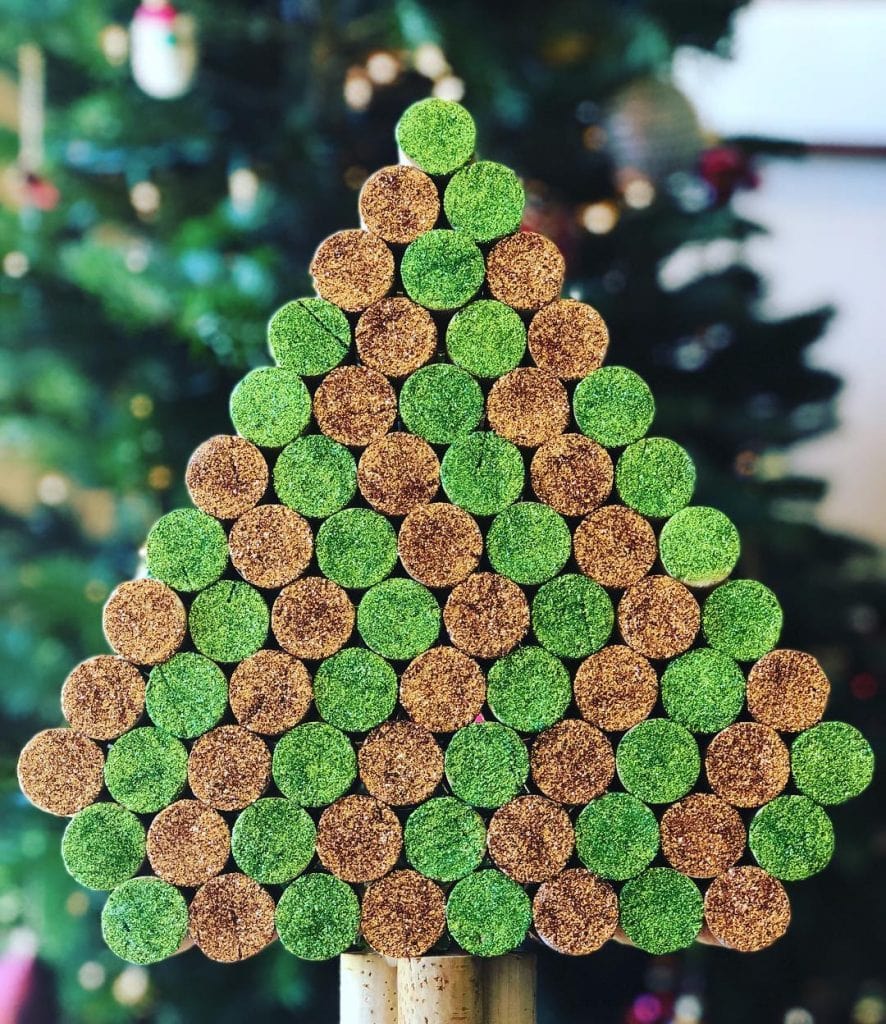 Brown and green are two colors that will give an extra touch of realism to your wine cork crafts. Just like this one here by petermichaelwinery you too can use some paint and some wine corks to make some DIY Christmas tree for the decorations.
14. Mini Elves
If you thought you need a bunch of wine corks to come up with some amazing wine cork crafts then let's change that for you. So if you have only a few wine corks then this idea by guiademanualidades is perfect for you. All you need is some colored papers for the hat and some colorful buttons and the wine corks, and you are good to go.
15. The Christmas Feel Wreath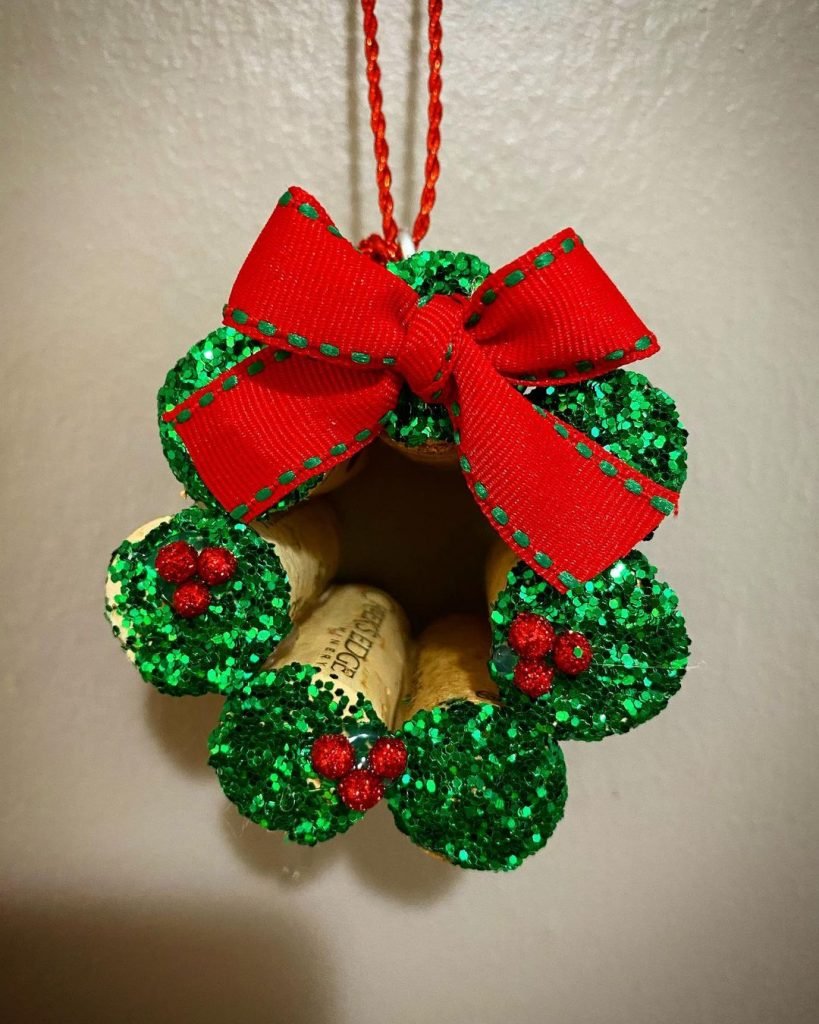 If you have only a few handfuls of wine corks then no worries. Because acb55 has come up with this colorful wine cork crafts idea that you will love. Some green glitters and a red bow and you can assemble your own DIY wreath.
16. Pinecone Craft Idea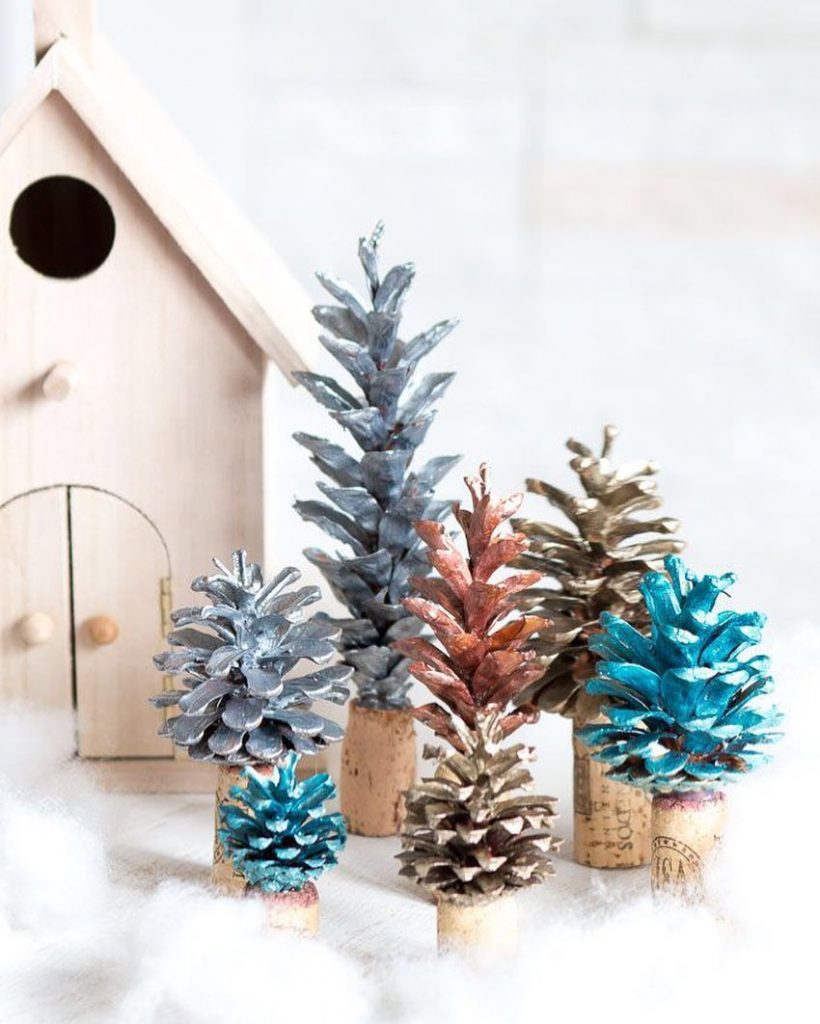 If you are looking for something interesting to do with your family this holiday season then try out this craft idea by sustainmycrafthabit. This one here is easy to make and all you need is some pinecone and wine corks and some colors of your choice.
17. Succulent wine corks
How beautiful are these DIY tiny pots for your succulents? The_shady_gal has these astounding wine cork crafts here for you, which look so classy and quaint that you will certainly love them.
Other ideas
When it comes to DIY projects there is no limit to the innovations and unique concepts. Apart from the Christmas and the pot ideas here are some other unique wine cork crafts for you to try out. Here are some versatile options for you to choose from. With these ideas, you can easily make your indoors unique and quaint.
18. Hanger: Branch and Wine Corks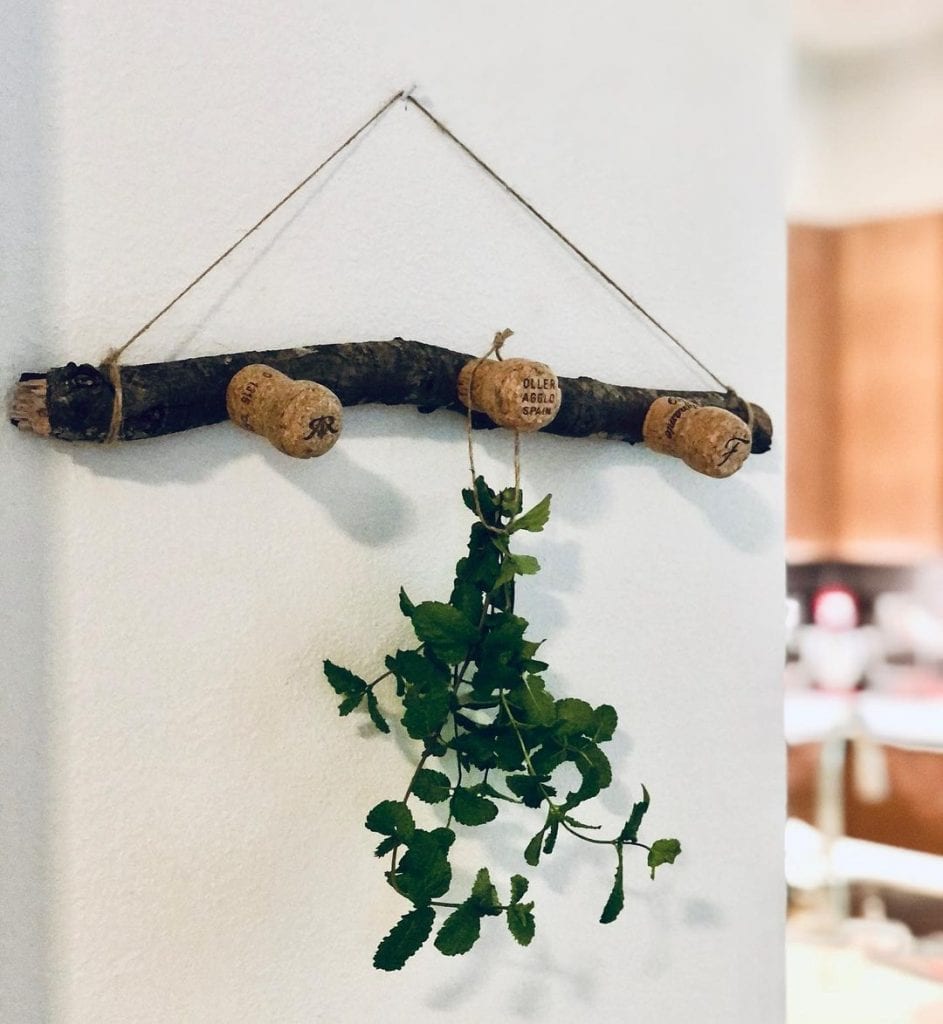 This unique hanger design is without doubt one of the most quaint on the list. This DIY branch idea by sustainablyamber is so unique that at a glance you will hardly think it is a DIY project. This amazing cork crafts can be used as a herb hanger. It is a nice addition to your kitchen wall- useful and beautiful.
19. Candle: Candle And Corks
How about glamorizing your basic candles with some old popped wine corks? With this idea by natalja_0809 you can deck up your simple candles for special occasions. These are also certainly an amazing gift for your loved ones.
20. Coasters And Corks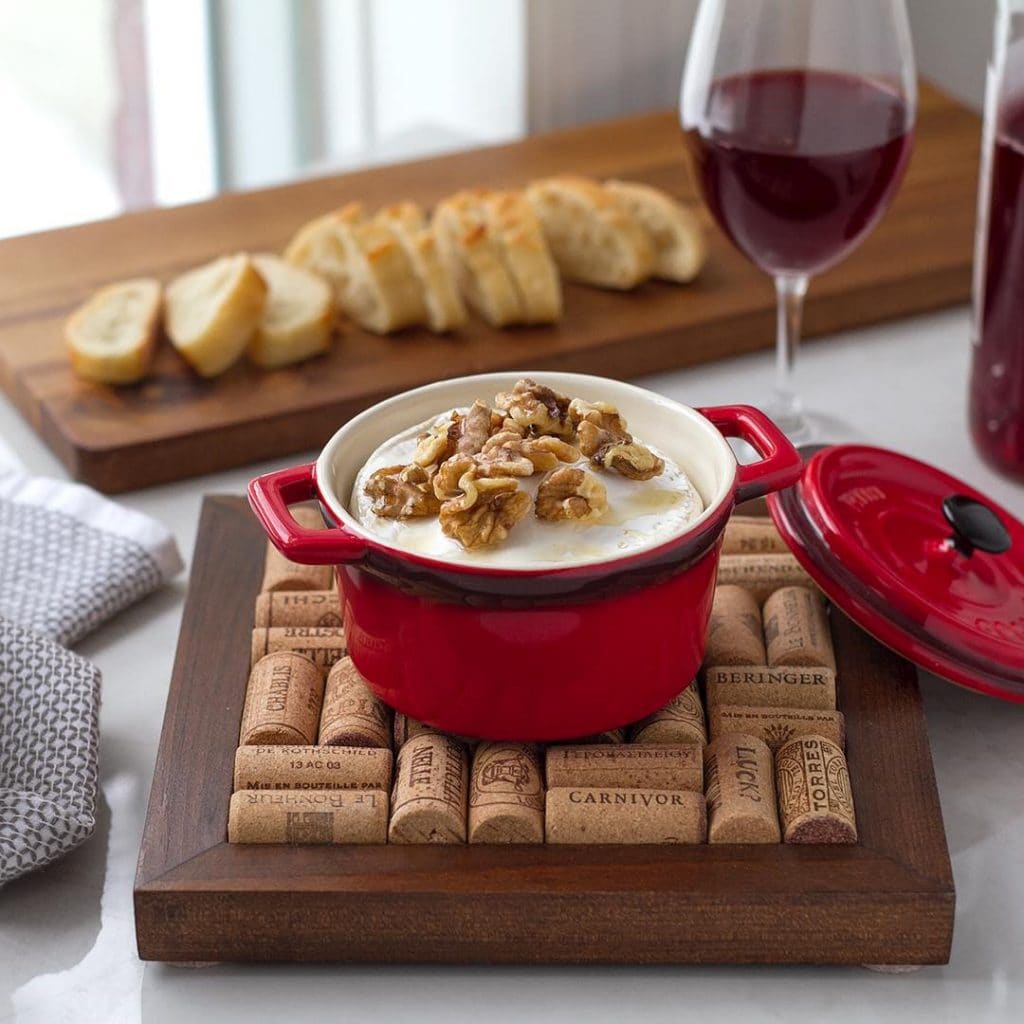 Have you ever thought of making good use of those wine corks? If you are in need of coasters then why not make yourself some eccentric cork crafts to make some eye-pleasing coasters. You can even frame the assembled coaster to keep it compact and sturdy.
Also, read – 40 Fun And Easy DIY Coasters To Gift Or Keep
21. Label the Corks
If you are a simple soul who loves things organized then this idea by lasaq is perfect for you. It is simple, all you need is a stick and a marker to label the cork. The idea is quite versatile as you can label pretty much anything. From those plants to those herbs and also those jars in your kitchen cabinets.
22. Map On The Wall
If you are a traveler by the soul but also someone who has an eye for unique house decor, then this idea by makar.kobylinskyi is going to be close to your soul. We all have seen those archaic-looking maps crowding the online sites, but how about this time you give a try at wine cork crafts to make your own DIY city map?
23. Fall wreath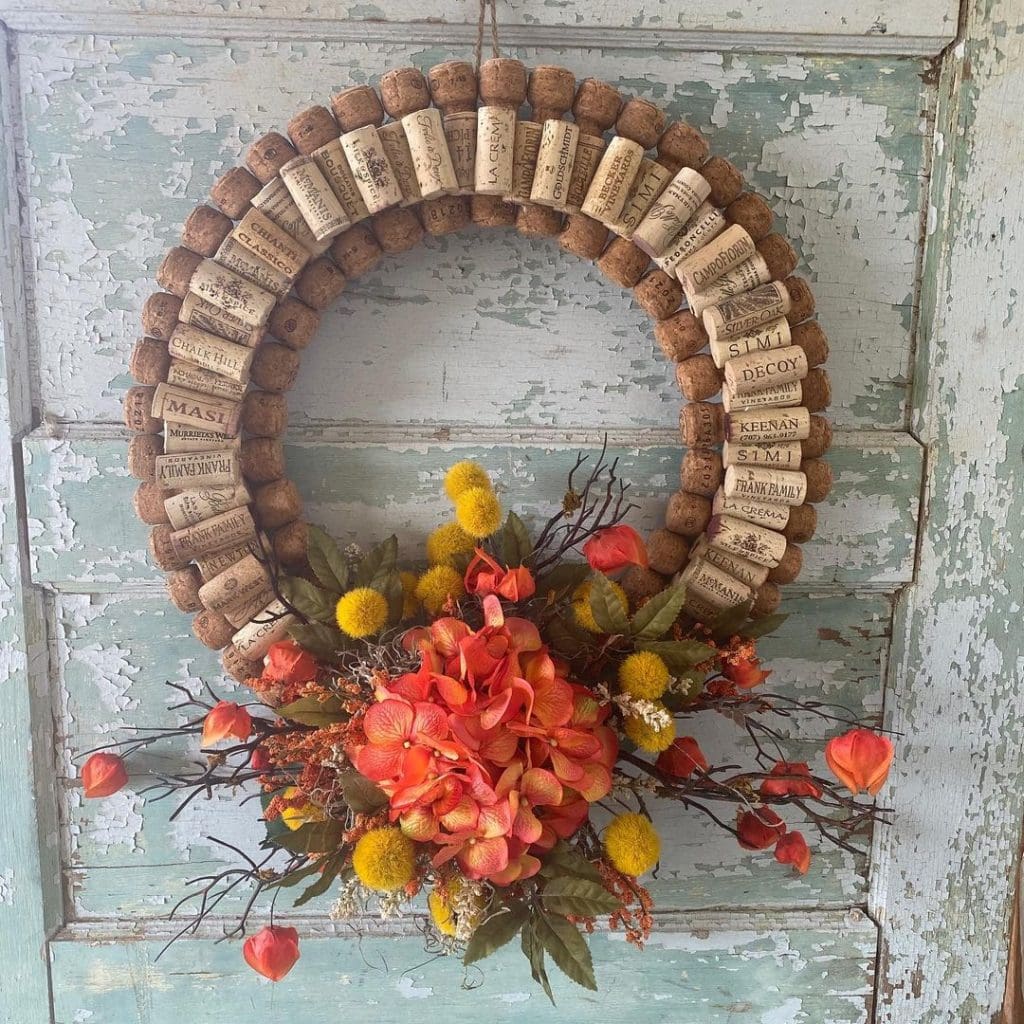 Fall wreaths are something you will finding hanging on the door of almost every house during the fall. So this time try to hand something which looks beautiful and also lasts long the usual floral wreaths. And if you think it sounds not so impressive then let southern_studios_lr change that for you. This wine cork wreath is aesthetically pleasing and impressive.
24. Jewelery hanger Wine Cork Crafts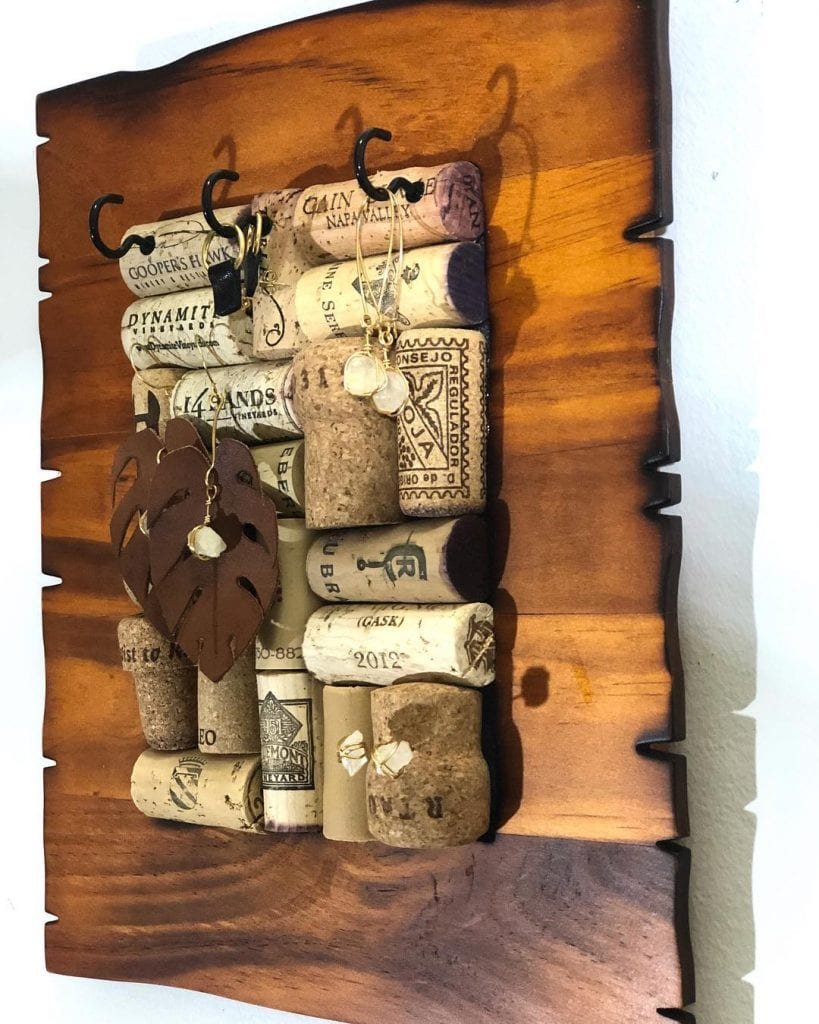 No more hiding those beautiful pieces of jewelry in those boxes. Get those chains out and flaunt them on this wine cork jewelry board. Thewineingtwins has come up with this genius of an idea to make a quaint jewelry board with just some wine corks.
25. Monogram Wine Cork Craft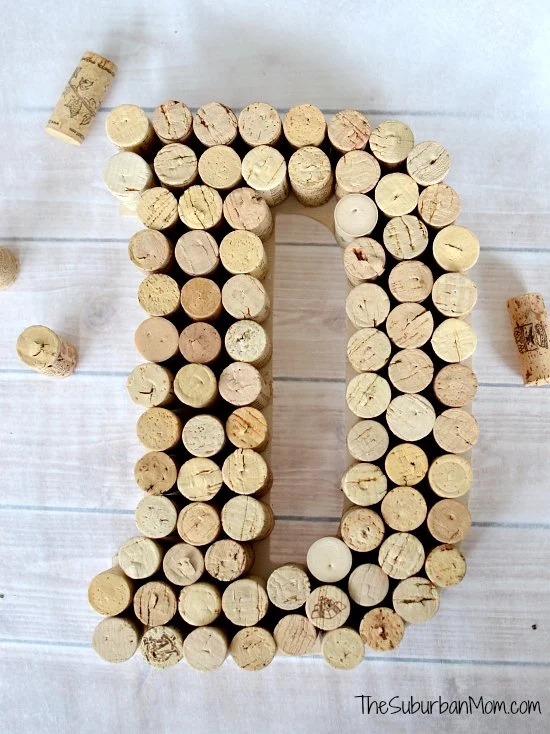 Image and tutorial by thesuburbanmom
Transform your wine cork collection into a remarkable DIY Wine Cork Monogram craft—a stunning way to repurpose those cherished memories. By combining flat wood letters and an abundance of corks, you can create a personalized monogram masterpiece.
We have come to an end with this curated list of wine cork crafts. We have the easiest and the classiest on the list for you. You will certainly find an idea that you will fancy and give it a try. Let us know your favorite one in the comment section below. Get those wine bottles popping and make some wine cork crafts!
If you loved these ideas, you can use the Pin image below and save this article on your 'Wine Cork Crafts' Pinterest board.