Since the introduction of the Apple Pencil in 2015, developers have had ample time to create innovative and unique ipad apps that take full advantage of the combination of the stylus and iPad.
As a result, there are a variety of design apps available on the App Store that can help you create stunning visuals and designs, whether you're a graphic designer, illustrator, or digital artist.
With the power and versatility of the iPad graphic design, it's no surprise that more and more designers are turning to this device as their go-to tool for design work.
With a wide range of features, including customizable brushes, intuitive interfaces, and professional-grade tools, there's a powerful graphic design app for everyone to bring their creative visions to life. Let's talk about 34 best ones in the App Store.

Also read –
14 Best Graphic Design Softwares For Creatives
12 Best Website Builder for Artists & Creatives
How to Sell Art Online & Make Money in 2023

1. Vectornator
Vectornator is a free vector graphics design app for the iPad that offers a range of features for both professional designers and novice users. 
Its simple interface, range of vector brushes, and access to tutorial videos make it easy for beginners to get started. The app has a sleek modern design, neatly stacked features, and is optimized for the iPad Pro and Apple Pencil.

It also offers Figma integration and seamless access to royalty-free images. However, one drawback is that the app does not offer tooltips for quick action buttons. Overall, Vectornator is a solid design tool that rivals premium products like Affinity designer.
2. Adobe's Fresco
Adobe's Fresco is a vector-based digital drawing platform with a highly intuitive interface offering a great set of digital art tools for your artistic use. 
The app is free, but there is a premium version available at $9.99 per month, which is great if you want to get the most out of this and other Adobe products such as Photoshop or Illustrator.
The app has lifelike brush, pen, and pencil physics that evoke memories of drawing with pens and dipping brushes into paint-wells right on your drawing tablet. The overall experience is second only to paper. However, you can't create new brushes or access Illustrator brushes, and there's no Chrome OS version.
3. Adobe's Illustrator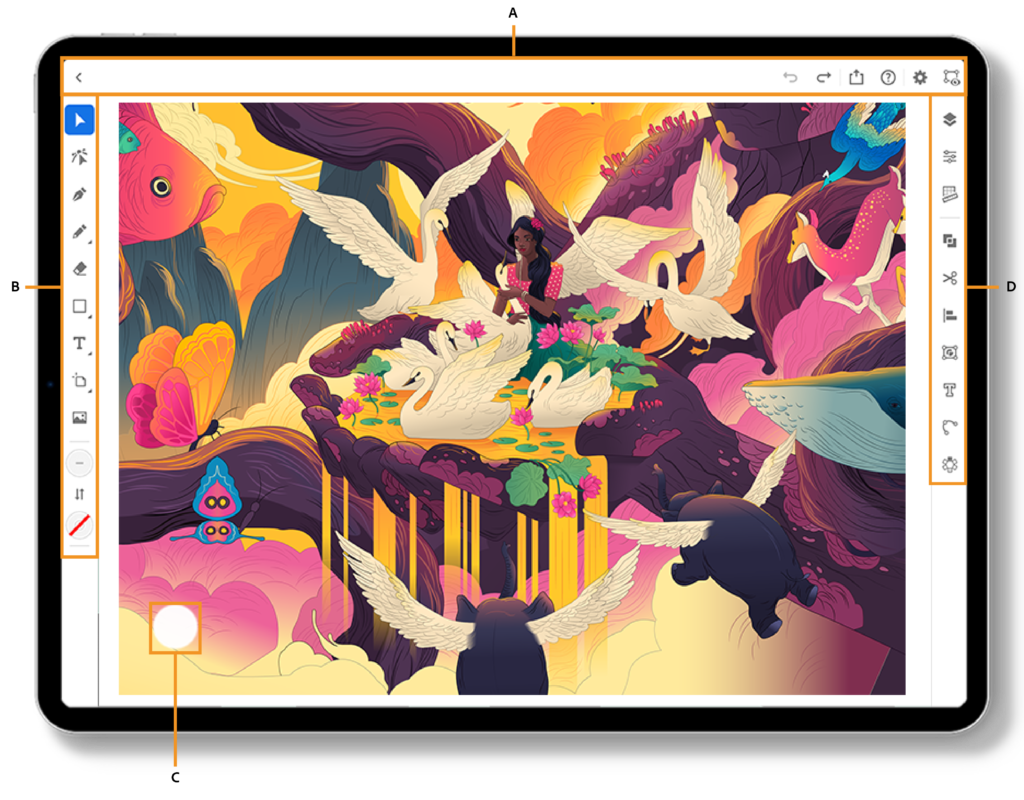 While the iPad version of Adobe Illustrator cannot match the endless features of the desktop version, it is still loaded with utility. Its Apple Pencil integration is a dream, and it could be the best tool for granular typography control on the go until Adobe ports InDesign to iPad.
Adobe Illustrator for iPad can be downloaded as a standalone app for free, but premium features require a monthly subscription of $9.99. Alternatively, it can be part of Illustrator for $19.99 a month, or part of the full Creative Cloud Suite for $52.99 a month (with discounts available).
Adobe Illustrator for iPad is a great tool for graphic designers on the go. It allows users to draw crisp lines, create smooth curves, and transform type using its world-class type tools. However, it does have a few drawbacks, including the lack of support for plug-ins and its incompatibility with iOS versions below 14.
4. Adobe's Photoshop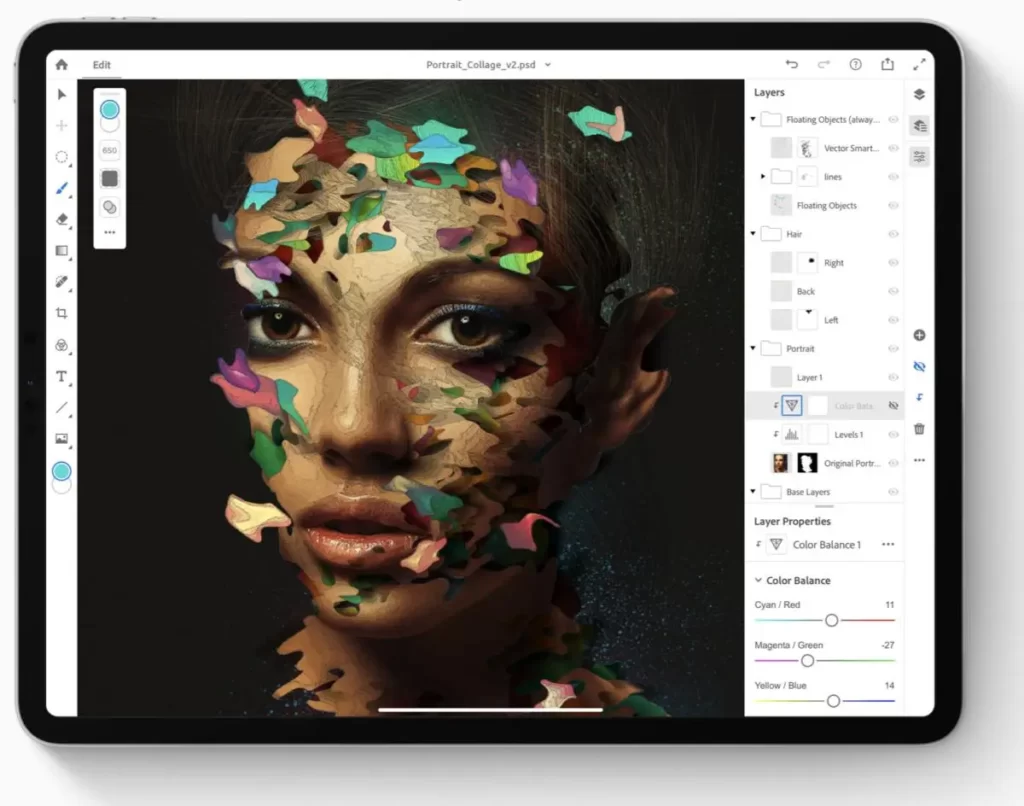 Adobe Photoshop for iPad offers many of the basic image-editing tools, along with some of the most-loved features of Photoshop. While it may not have all the features of the desktop version, it allows you to work on PSD files anywhere, anytime, with anyone, as it works seamlessly with Photoshop on your desktop.
However, it has some notable competition from full-featured apps like Procreate and Affinity Photo, but the seamless integration with the desktop Photoshop is a strong advantage.
While Adobe promised "full Photoshop on the iPad," it has yet to be fully realized. Adobe's approach of slowly releasing features seems like an attempt to address the fact that learning Photoshop on the desktop is cumbersome for most users.
Overall, the active community of users and the company's commitment to bringing more features to the app make it a worthwhile investment for digital artists and designers.
5. Procreate
Procreate is an exceptional app that transforms your iPad and Apple pencil into a complete art studio. This highly popular creativity app is perfect for both beginners and professionals, thanks to its intuitive tools and unique features. 
With hundreds of customizable brushes, including pencils, inks, and charcoals, you can fully control your brush game and create stunning digital art with ease.
At only $9.99, Procreate offers a plethora of features, including Animation Assist, 3D painting, and various brush types and effects. It's a premium quality, low-cost app that provides abundant customizable features, expandability, and an attractive and intuitive user experience, enabling you to create 2D and 3D paintings, drawings, hand lettering, and animations.
Procreate's rich features and effects make it an app worth every penny. However, Procreate's biggest downside is its lack of availability on Android or Windows. Additionally, the app does not offer tear-off windows, vector capability, or cloud storage.
6. Affinity Designer

Affinity Designer by Serif Labs is a powerful design application that offers professional graphic designers an extensive range of features to create anything from illustrations to UI/UX designs on the iPad.
In addition to drawing with a stylus or finger, users can utilize vector and raster image functions, advanced grids, unlimited layers, color wheels, and guides to create top-notch designs.
Affinity Designer is available for a flat price of $19.99 for the iPad version, or $169.99 for the complete Affinity trio, which includes Designer 2, Photo 2, and Publisher 2 with activation on multiple platforms including Mac, Windows, and iPad. This makes it a very affordable alternative to the industry leaders Adobe Illustrator and CorelDraw.
The new additions to Affinity Designer 2 have made it even more promising, allowing users to be more creative while drawing, slicing, and warping shapes to design impressive artworks. If you are looking for a professional-grade vector graphics editor that is budget-friendly, Affinity Designer 2 is an excellent choice.
7. Autodesk Sketchbook
Autodesk Sketchbook is a versatile and user-friendly drawing and design app that is now free (used to cost $4,99 earlier) and available for both iOS and Android devices. The app provides professional-grade tools, including hundreds of customizable brushes and pens, and supports the use of a stylus for a natural drawing experience.
With its intuitive interface and tools such as color fill, rulers, symmetry, and predictive stroke, Sketchbook is perfect for artists, designers, and other creatives. 
Its toolset includes brushes, pencils, markers, and airbrushes, which can be customized for a personalized touch. The app also provides traditional, curved, ellipse, and French curve tools for drawing smooth lines.
Overall, Autodesk Sketchbook is a powerful design app that is perfect for artists of all levels, providing an array features and tools for a seamless drawing and design experience. Whether you're looking to sketch your ideas or create stunning artwork, Sketchbook has got you covered.
8. Pixelmator Pro
If you're in the market for a comprehensive graphic design tool for your iPad, Pixelmator Pro is a compelling option to consider. Not only is it an excellent painting and drawing app, but it also serves as an efficient photo editing and retouching software.
However, it's important to note that this app can be expensive, so it might not be the best option for beginners. The app costs $4.99 per month, $23.99 per year, or $54.99 for a lifetime license.
One of the standout features of Pixelmator Pro is its non-destructive editing system, which allows you to make changes without affecting your previous work. You can adjust colors and apply effects to specific layers, making it easier to organize and segregate your design elements.
In terms of drawing and illustration, Pixelmator Pro has an extensive collection of vector tools that enable you to create high-resolution graphics that maintain their quality, no matter how much you resize them. Additionally, it comes with over 100 customizable brushes ranging from paintbrushes, watercolors, markers, and crayons, providing you with the necessary tools to create stunning digital artwork.
9. Art Set 4
Art Set 4 is a top-notch drawing and painting application for those starting their digital art journey. For only $10, it offers the most advanced digital painting and drawing tools with levels of realism and many professional features.
This app has multiple levels of sensitivity and expressions for dynamic simulation, 3D Painting, layering, and more to bring your imagination to life. It comes with hyper-real tools such as all types of oil and watercolor paints, pastels, pens, markers, crayons, blenders, and advanced brushes. The UI of this app is fully customizable, and the workflow comes with the latest graphics technology written entirely in METAL 2.
The app offers a virtual canvas with high resolution and allows you to choose the resolution that your device supports. It also allows you to set DPI and canvas dimensions in millimeters, inches, or points and pixels. If you need any help getting started, the app comes with an in-depth User Guide.
10. Astropad Studio
Astropad Studio is a feature-packed graphic design app for professional designers that turns your iPad into a graphics tablet and syncs to your Mac or PC. It's designed for the most demanding creative work and used by millions of professionals, including top animation studios like Pixar.
Astropad Studio is optimized for use with the Apple Pencil and works best with the earliest version of the iPad Pro. It offers low-latency mirroring of your PC or Mac desktop software to iPad, thanks to Astropad's custom video technology called LIQUID.
The software features complete workspace customization, including Magic Gestures for switching tools quickly, unlimited per-app shortcuts, and customizable stroke lab for adjusting every element of your stroke to your unique drawing style.
Astropad Studio also supports full keyboard functionality with on-screen, Bluetooth, or Smart keyboards. You can try it for free with a 30-day trial, and then it costs $12/month or $79.99/year.
11. Adobe Capture
Adobe Capture is a useful design app for creatives who want to bring the world around them into their digital workspace. With this app, you can extract colors, patterns, and fonts from your photos, and even identify fonts you see. It also transforms your phone's camera into a scanner, allowing you to capture elements from your photos and use them in your artwork.
The app helps you identify color palettes from your photos and customize them to your liking, then import them into Adobe Photoshop or any other graphic design app you use. Adobe Capture is part of the Creative Cloud subscription, and it offers a wide range of tools for creating various graphic elements from a single photograph.
One of the best things about Adobe Capture is that you can save the results in custom libraries and access them from any image editor. This application is suitable for both professional and novice users who need a reliable vector graphics tool. 
However, it's worth noting that the app's tools are more for assisting artists rather than allowing them to create artworks from scratch. Overall, Adobe Capture is a great app for capturing and incorporating real-world elements into your digital creations.
12. Paper by WeTransfer
Paper by WeTransfer is a digital sketchbook that emulates the experience of having a sketchpad. It allows you to draw, sketch, type, paint, and create awesome collages all in one place.

The app's tools are unique, with no buttons to change settings – users swipe up or down to adjust the tool's thickness. The scissors tool is used to copy and paste elements into your sketchpad. Your drawings and sketches are stored in journals that serve as your sketchpads, with an immersive 3D interface that lets you flip through your work.
This fun app is perfect for sketching and note-taking, and with enough creativity, you can push the boundaries and create beautiful art. It's an essential free app to have on your iPad, although some premium features require a subscription fee. Paper by WeTransfer is a part of WeTransfer's suite of productivity tools that help users find easier ways to collaborate while making sure their solutions are environmentally friendly.
13. iFontMaker
If you've ever wanted to create your own personalized font for any reason or occasion, look no further than iFontMaker – the app dedicated to this very purpose. With a simple, easy-to-use interface, it allows you to draw out your letters with your finger, choosing from four brush types and setting guides for baseline, x-height, cap-height, ascenders, and descenders. 
Once you're done designing your font, you can upload it to their servers, and they provide you with a display page to showcase your creation, a download link to share it with others, and even a link to a web font file for easy integration on websites.

While there are limitations to the app, including difficulty with precise editing and adjusting character width, it makes up for it with its unique features such as support for a large character set in many languages (including including Japanese, Greek, Cyrillic and Thai).
14. Tayasui Sketches
Tayasui means 'easy' in Japanese, which is the philosophy behind this art-creation tool for graphic artists. Although its interface differs from apps like Photoshop or Procreate, each tool feels like an accurate representation of its real-world counterpart. The app also has a distinct charm with the audible feedback of each tool as you draw and paint.

The Pro version, available for $5.99, unlocks more options such as unlimited layers and gradients. However, the app has some limitations such as fixed canvas dimensions, inability to rotate the canvas, and a disappointing screen recording feature. Nonetheless, Tayasui Sketches is an affordable and accessible option for novice artists looking to create digital art.
15. Graphic
Graphic is a feature-packed graphic design app with impressive export/sharing abilities. It works best with the Apple Pencil and iPad Pro, and is great for making illustrations. The app offers more features than most vector apps while still maintaining a simple interface. Graphic also strikes the best balance of features and simplicity.

However, the app could benefit from a lasso tool, symmetry tool, bigger brush library, record option, and the ability to share custom brushes and shape libraries. The app is priced at $8.99, making it a good alternative to Adobe Illustrator.

16. ArtRage

ArtRage is the ultimate iPad design app for simulating real-world painting tools! With a wide range of brush and canvas customization options, you can create anything from watercolors to oils, and even chalk. With 24 preset canvases and 13 instrument types to choose from, you'll have plenty of options to customize your artwork.
What sets ArtRage apart is its uncanny ability to replicate real-world painting techniques. You'll be amazed at how natural it feels to smudge and blend your brushstrokes, just like you would with traditional paint. 
And the best part? You can easily share your artwork and get inspired by other artists in the app's active community. At just $6.99, ArtRage is an excellent and affordable choice for digital artists looking to create stunning masterpieces.
17. Clip Studio Paint
Clip Studio Paint is the ultimate tool for professional digital artists to unleash your creative vision! With features that match the desktop version, you can expect nothing but professional-grade results. Plus, with a library of over 10,000 free assets, creating stunning artwork has never been easier. 
Although it's primarily known as a manga drawing tool, don't be fooled, it has evolved to become the perfect combination of Adobe Photoshop and sketching apps. The best part? It's not just for manga enthusiasts! 
With vector and raster features, animations that flow like a dream, and the ability to sync your work between devices, it's the ultimate tool for comic creators. So, whether you're a professional artist or just starting, Clip Studio Paint is definitely worth checking out!
18. ArtStudio Pro
Artstudio Pro is a versatile and affordable drawing app that's taking the design world by storm! With its extensive range of features, you can tackle even the most complex design tasks with ease. And get this, its latest ArtEngine means faster performance, so your creativity won't be slowed down.

But that's not all! Artstudio Pro isn't just a painting and photo editing software. It's also got a range of cool and unique tools like a clone tool, text tool, and fill bucket. Plus, it works like a dream with an Apple Pencil or Wacom Tablet, has a great layers system, and live editing capabilities. It's like Photoshop's cool little brother, but at a fraction of the cost ($39.99 for one time purchase).
19. Notability
Notability is the ultimate productivity app that allows you to capture your thoughts and ideas in a variety of ways. From sketches to photos to writing, you can bring everything together seamlessly. With the ability to annotate PDFs and mark up photos, it's perfect for anyone who needs to keep track of important information.
But what makes Notability stand out is its simplicity. With an intuitive, minimal interface, you can start using it in seconds. And despite its power, it's easy enough for a five-year-old to use.
So whether you're a professional artist or just someone who needs to jot down a quick idea, Notability is the app for you. With its smooth, realistic ink and cross-device accessibility, it's a must-have for anyone who wants to stay organized and productive.
20. Comic Draw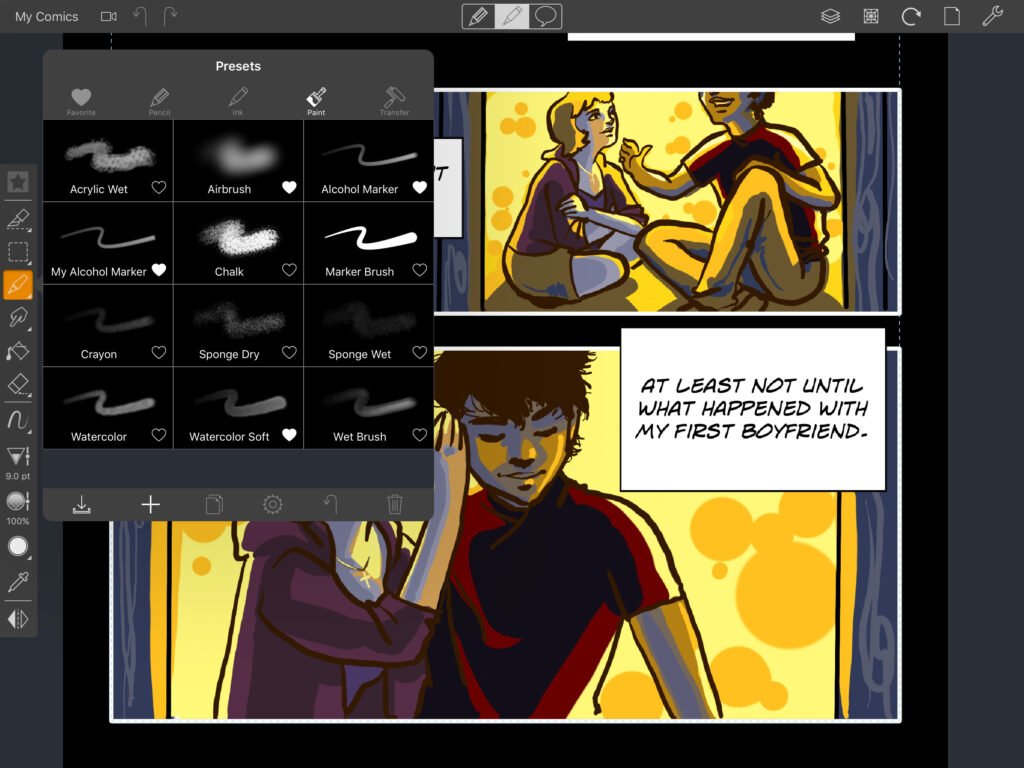 Comic Draw is the ultimate dream come true for aspiring comic artists. With all the necessary tools at your fingertips, you can finally create the comic book you've always wanted. Even if you're just starting out and feeling overwhelmed, this app simplifies the process and provides a cost-effective option (free with In-App purchases for $9.99) for creating professional-level art.

The digital sketchpad is perfect for testing out your panel concepts, and the inking and coloring interface allows for a variety of brush options. The app even has a tool to help you quickly layout your panels and guides to ensure perfect perspective. With the ability to add multiple pages and layers, the sky's the limit for your comic book dreams!
21. Inspire Pro
If you're looking for a painting app that's both portable and powerful, Inspire Pro might just be the perfect fit for you! 
One of our favorite features of Inspire Pro is the ability to import images onto the canvas. This is incredibly handy for artists who prefer to work off sketches or photographs. Plus, with its realistic simulations of various mediums like oil paint, airbrushes, graphite, crayons, and more, you'll be able to achieve stunning results that are sure to impress.
The $9.99 price tag may be a bit steep for some, especially considering that you have to pay to unlock all the brushes. And while the color palette is great, the graphics could be a bit sharper and more inspiring.
22. Concepts
With an infinite canvas and powerful performance, Concepts makes it easy to bring your ideas to life and let them flourish. And let's not forget the color wheel – it's sure to convince you that this app is worth checking out.
With a one-time purchase of the $10 Essentials pack, you'll have access to infinite layers, tap+hold selection, transforms, and more export formats. Plus, it's the best deal because it unlocks infinite layers and gives you the option to export your artwork in lossless file formats.
Overall, Concepts is a fantastic app for sketching, but it may not be the best choice for creating precise artwork like logos or typography. The app does have some limitations, such as no fill bucket tool, no way to combine shapes using Boolean tools, and no blending modes with layers.
23. Assembly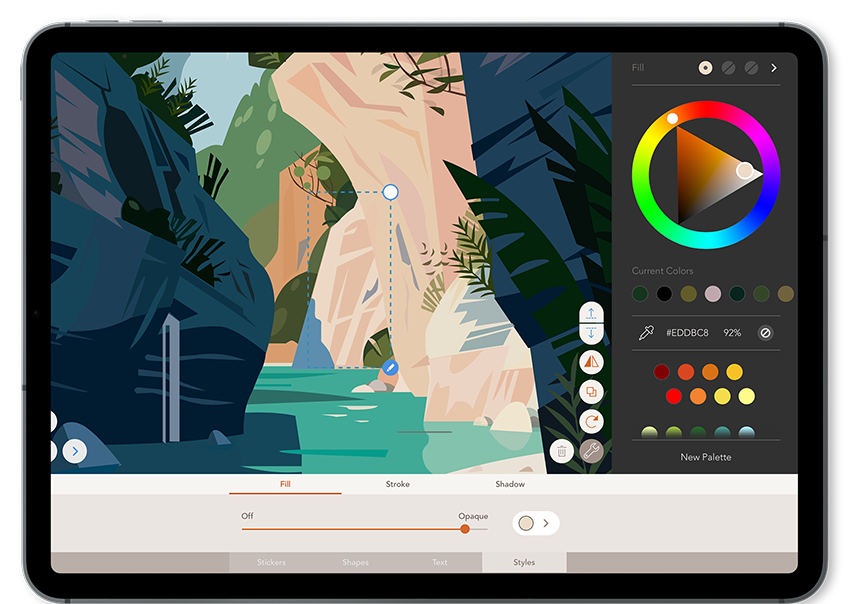 Assembly is the perfect design app for creating stunning vector art, logos, and illustrations in a snap. With its easy-to-use UI, infinite layers, and pre-designed shapes, you can let your creativity run wild.

Plus, it seamlessly works with other graphic design apps, making it a must-have for any designer on the go. And the best part? It's free to download with affordable in-app purchasing options starting at just $1.99.
24. iPastels
iPastels is a must-try for anyone who loves pastel art, with its realistic simulation of the pastel on paper experience. The app's color blending feature is particularly impressive, allowing artists to create stunning textures and gradients. 
While it may take some time to get used to the interface and tools, the end results are well worth the effort. With the pro upgrade at a reasonable $4.99, iPastels offers even more paper textures, pastel types, and advanced features for intermediate and advanced artists. 
25. Medibang Paint
MediBang Paint is a must-have app for all iPad-using digital artists! With its range of brushes, pens, and editing features, it's perfect for both beginners and professionals. The ability to save your artwork to the cloud also allows for easy access and editing from multiple devices. And the best part? It's free!
26. Canva
Canva is a must-have app for anyone looking to create professional-looking graphics without the need for artistic skills. With its wide selection of templates and premade elements, even beginners can easily create stunning designs.

While it may not be a painting or sketching app, it's perfect for students, professionals, and business owners who want to make high-quality presentations and promotional materials with just a few taps. For $12.99 per month, it's definitely worth the investment.
27. SketchClub
With its vast array of brushes and pencils and its powerful layer and image editing tools, SketchClub is the ultimate tool for artists who want to create stunning digital art on their iOS devices.

The social community feature is also a great way to connect with other artists and get feedback on your work. While SketchClub may be a bit challenging for beginners, its range of capabilities makes it a must-have for any serious artist. You can purchase the app for 2.99 USD.
28. Wondershare Mockitt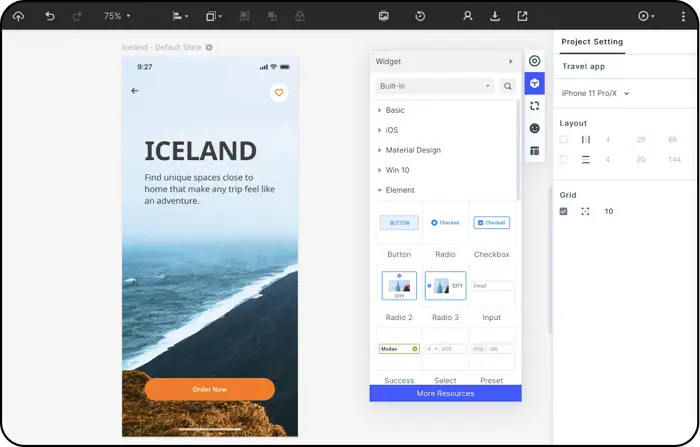 Wondershare Mockitt is a collaborative prototyping tool that provides an intuitive and ad-free design environment for UI/UX designers and product managers. The tool supports diverse platforms and includes abundant widgets, such as text, buttons, maps, videos, and images. 
With page transitions, animations, and gestures, users can take their prototypes to higher fidelity levels. While the platform has a low to moderate learning curve, it may be challenging for new users to navigate its advanced functionalities. The app is priced at 9 USD.
29. Adobe Express
Adobe Express is a powerful design tool with many features that graphic designers can benefit from, including access to Adobe Fonts and Adobe Stock assets. The free plan is also a great option for those who want to try out the platform without committing to a paid plan.
However, the lack of SVG support and the laggy performance of the platform can be significant drawbacks for some users. Additionally, the snap-to edges feature not working when resizing an element may be frustrating for some designers.
Overall, it seems like Adobe Express has the potential to be a top online design platform if it can address these issues.
30. PixelCut
Pixelcut is an all-in-one photo editor and graphic designer that uses AI technology to help you create stunning product photos in just seconds. With features like background removal, Magic Eraser for object removal, AI Photoshoot for generating infinite product photos, and Reels Maker for creating videos, Pixelcut is the perfect tool for e-commerce store owners and social media influencers looking to boost their online presence.
In addition, Pixelcut offers a Magic Writer powered by the same technology as ChatGPT, allowing you to generate product descriptions, Instagram hashtags, and captions in a matter of seconds. With thousands of templates, white and color backgrounds, shadow control, and text styles, you can create beautiful collages and stand out on platforms like Instagram, Poshmark, and Shopify.
31. Design Lab
DesignLab is the ultimate design app for anyone who wants to create stunning graphics and professional-looking designs on their iPad. It offers customizable templates, advanced text tools, photo filters and adjustments, free stock photography, and gorgeous artwork with hundreds of illustrations and design elements.

With layer-based editing and blend and erase tools, it's easy to fine-tune your designs and achieve precision. Whether you're designing for social media or just want to improve your brand's identity, DesignLab is the app for you!
32. Wonder AI Art Generator
Wonder is a fascinating digital AI art tool that turns your words into mesmerizing artworks in just seconds. You simply enter a prompt, choose an art style, and watch as your idea comes to life.

Wonder can paint anything from poems and song lyrics to creative word combinations like "Haunted Cornfield" or "Flaming Ocean." You can even bring your favorite movie characters, star signs, and monuments to life with Wonder's unique and creative art styles. 
33. Wombo Dream
WOMBO Dream is an incredible AI-powered art generator that lets you turn words into mesmerizing digital artworks in seconds. With an impressive array of art styles to choose from, you can create stunning images from simple prompts like "Rainbow Forest" or "Alien Space Station".

Whether you want to transform poems, song lyrics, or journal entries into unique artwork, WOMBO Dream is the perfect app for you. With easy editing tools, you can customize and fine-tune your images to create the perfect look. Share your creations with your friends and family or save them to your profile for later. With WOMBO Dream, anyone can be an artist!
34. Midjourney AI App
Looking for a fun and easy way to turn your words into art? Look no further than Midjourney AI! This app uses cutting-edge Dalle-2 AI technology to transform your text into stunning digital artwork in just a few clicks. Whether you're an experienced artist or just starting out, Midjourney AI is a must-have tool for anyone looking to unleash their creativity and create something truly unique.
In conclusion, there are plenty of great graphic design and drawing apps available for iPad users. Whether you're a professional designer or just starting out, there's an app out there for you. From realistic drawing apps to powerful graphic design tools, there's something for everyone.

What is the best graphic design app for iPad?
It really depends on your needs and preferences, but some of the best graphic design apps for iPad include Procreate, Adobe Illustrator Draw, Affinity Designer, and Concepts.

What is a good graphic design app for iPad?
Some good graphic design apps for iPad include Graphic, Autodesk Sketchbook, and Tayasui Sketches.

Are there any realistic drawing apps for iPad?
Yes, there are several realistic drawing apps for iPad, such as Procreate, ArtRage, and Adobe Fresco.

Can I use my iPad as a digital sketchbook?
Absolutely! There are many apps available that turn your iPad into a digital sketchbook, such as Procreate, Autodesk Sketchbook, and Concepts.

Are there any other apps besides graphic design and drawing apps for iPad?
Yes, there are many other apps available for iPad users, such as productivity apps, entertainment apps, and social media apps.