A visually appealing site is what everyone (both the website owner as well as the user) ever dream of. The days are gone where the people only indulged in reading the content. Today, along with the words, the website has to look exciting and appealing. The viewer gets easily convinced to stay in the site and use it only when it has eye-catching visuals and gripping content. Graphics play a significant role in creating a perfect outline, especially in the case of ecommerce sites.
In order to create an intriguing website with aesthetic visuals, you will need the help of some graphic design software or tools. These graphic design software will help you improvise the images, models, and text shown on the website.
If you are a newbie in graphic design, let us learn a bit about graphic design software.
What Is A Graphic Design Software?
Graphic design software is a tool that allows designers to manipulate images, models, text, etc. visually on a computer.
Not only the websites, but a significant part of the digital world we see is also created by graphic design. The ads we see, the signs all around us, 2D and 3D animations, and the products we love are all created using graphic design software. You don't have to be a professional designer to create graphics; most of the following graphic design software is beginner-friendly. A little learning is enough to create graphics of your dreams.
1. Adobe Photoshop
Adobe Photoshop is one of the leading graphic editing tools available in the market today. It is everything you need when it comes to image manipulation – from basic cropping to intricate raster designs. Whether it is a flyer, poster, logo, signs, motion pictures, 3D design, or banner, Adobe Photoshop is a powerful tool that you can learn to use in a short time. 
Designers and photographers find the most advanced tools they need for their craftwork in this software. Pen tool, layers, and masks are some of the standard features of Adobe Photoshop; the latest versions also added cool ones like Frame tool, Content-Aware Fill workspace.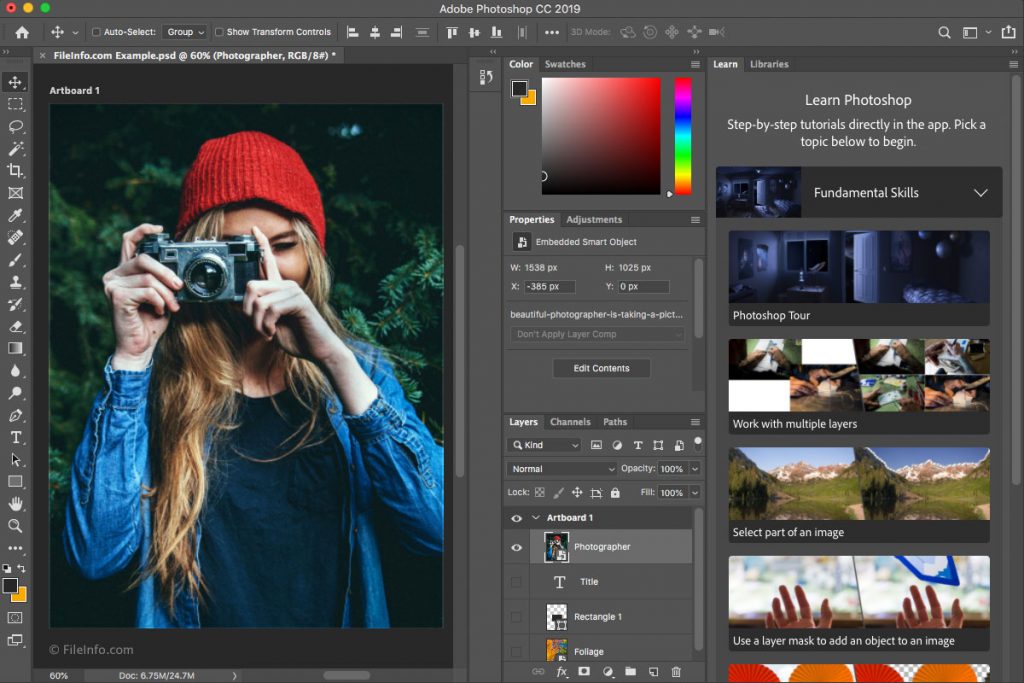 Some of the best tools Adobe Photoshop has are as follows – 
Pen tool, clone stamp tool, shape tools, measuring and navigation, video editing, mobile integration 3D extrusion, camera raw, 3D printing tools, color replacement tool, selection tools like cropping, slicing, moving, marquee, lasso, magic wand, and eraser.
Things You Can Do With Adobe Photoshop
Create Announcements.
Posters and Brochures and Business Cards.
Infographics and Mockups. 
Website Elements.
Photo Restoration.
Image editing
Action Sequence Shot.
Surreal Photos.
Website layouts
People Who Benefit From Adobe Photoshop
Adobe Photoshop is critically used by designers, photographers, graphic artists, web developers, creative professionals, and anyone who likes to get creative with their photos and videos.
How Much Does Adobe Photoshop Cost?
Adobe Photoshop graphic design software offers a 30-day free trial to test its features. However, to use the software, you need to subscribe to its plan that costs the US $29 per month. This plan gives you access to unlimited images, videos, and graphics available in Photoshop.  It also provides a nearly limitless skill ceiling and integrated stock library.
Best Features Of Adobe Photoshop
Stroke smoothing
Great brush organization and brushes from Kyle T. Webster
Access to Lightroom collection sets
A quick share menu bar and quickly share creations
Curvature pen tool
Properties panel
360 panorama workflow
Copy-paste layers
Variable fonts and colors
Tooltips and paint symmetry
Cons Of Using Adobe Photoshop
There are a plethora of features in Photoshop. These features can be overwhelming for beginners.
Photoshop offers lesser support for vector images like SVG files and raster.
Three Best Places Where You Can Learn Photoshop For Free
Adobe Photoshop Tutorials – Adobe provides numerous videos and hands-on tutorials. You can watch them to learn the basics to start and work your way up to more advanced techniques. 
Phlearn – Phlearn connects you with many resources at one place – a wide range of video tutorials that let you learn Photoshop from basic to advanced techniques.
Udemy – Though Udemy offers paid courses, there are numerous free options on learning Photoshop. Many of these are generally for beginners.
2. Adobe InDesign
Adobe Indesign is a must-have for publishing companies. This software is offering excellent capabilities for laying out newspapers, magazines, postcards, brochures, books, booklets, etc. since 1999. Adobe Indesign is excellent for the newbies learning to combine text and graphics as it has a low learning curve. After creating the designs, you can easily export them to PDF or HTML. Indesign is especially useful for documents that contain multiple pages, images, layouts that combine texts.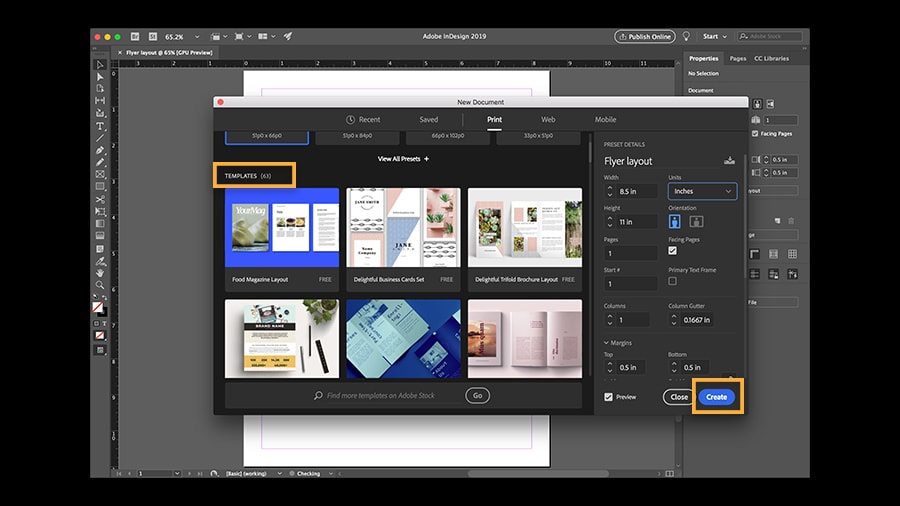 Things We Can Do With Adobe InDesign
Business cards
Media kits
Workbooks, lookbooks, and ebooks
Worksheets
Welcome packets
Newsletter graphics
Moodboards and branding boards
Business catalogs and brochures
Website banners and buttons
Presentations and slideshows
Planners, calendars, and invoices
Restaurant menus
People Who Benefit From Adobe InDesign
Since InDesign is excellent for designing magazines, brochures, flyers, etc., this software is mainly used by graphic designers, publishers, artists, marketing professionals, and any creative professionals. 
How Much Does Adobe InDesign Cost?
Indesign costs $18.77 when paid monthly for a year and $214.55 when paid for an entire year. If you need InDesign for just a month, then it costs $28.16. These plans give access to all the latest features and updates as soon as they get released in the market. It also provides access to 100 GB cloud storage, Adobe Portfolio, Adobe Fonts, and Adobe Spark.
Latest Features Of Adobe InDesign
Digital Publishing
Alternate Layouts
Liquid Content
Text frame fitting
Linked content
Interactivity
Content conveyor
Productivity enhancements
Extension Manager CS6
EPUB and HTML
Cons Of Using Adobe InDesign
The user interface of Adobe Indesign is a bit less intuitive. This might make some users a little overwhelming.
Adobe Indesign is best suitable for enterprises. The general users may get confused.
The prices are a bit too high when compared to other similar software available in the market.
People sometimes face problems with PDF formatting of Adobe Indesign.
Three Place Where You Can Learn Adobe InDesign
Indesign Tutorials: Adobe Indesign offers numerous video tutorials to learn the basics. If you want to learn the software while using it, it is the best option, and it is free.
Udemy: Udemy is a one-stop center for learning anything, and Adobe Indesign is one of them. It offers numerous courses on learning Adobe Indesign from basic to advanced techniques. 
Skillshare: Skillshare is an online skill learning website. It offers many paid courses on learning Adobe Indesign from basic to advanced training. And the prices too are very affordable.
3. Sketch
If you are looking for a graphic design tool that can create a fantastic app, web, and interface design, then the Sketch is perfect for you. This vector-based Sketch is considered as the application of choice for many UI and UX designers. Though Sketch is not designed for photo editing and print work, it is excellent for designing interfaces and icons you will need for mobile apps and websites. Designs of Sketch can be saved in any format – PNG, JPG, SVG, PDF, WebP, TIFF, etc. You can open sketch files in adobe illustrator, adobe photoshop and other software too.
The latest version of Sketch added features for collaboration and prototyping too.
Things We Can Do With Sketch
Web design
UI design
Mobile applications
Icon design
Wireframing
Prototyping
collaborating
And pretty much anything, well, maybe except the things like heavy 3D renders.
People Who Benefit From Sketch
This vector-based graphic design software, Sketch is used by mobile app developers to design mobile applications and web developers to convert sketch designs into websites.
How Much Does Sketch Cost?
Sketch offers two plans; one is for individuals – a pay-once license, just for you, and the other is for teams – a subscription for the whole team.
The plan for individuals is $99 per year per device. You will get the MAC Sketch app for a year; you will be kept up to date with new features and improvements. Unlimited cloud storage and personal cloud workspace.
The team's plan is $9 per contributor, monthly with the same features discussed above in the program for individuals.
Best Features Of Sketch
Vector graphics
Prototyping
Assets export
Wide range of symbols and styles
Plugins
Collaboration
macOS version
Cons Of Using Sketch
The sketch is available only for MAC users.
As already said, Sketch is not best for printing designs, illustrations, and editing photos.
There is no automatic layout flowing system in Sketch.
Best Places To Learn Sketch
YouTube Tutorials: If you don't want to waste your money, then YouTube tutorials are the best way to learn about the Sketch software. You will find a wide range of YouTube videos when you can learn all the basic and advanced techniques of Sketch. Jesse Showalter has some fantastic video tutorials on how to use Sketch. Go check them out. You might like them.
Udemy: Udemy is a house of numerous courses. It offers a wide range of best courses on Sketch. Plus, Udemy is very affordable too.
Treehouse: Treehouse has now become one of the leading online learning platforms. It has the best course created by the official Sketch team – Sketch Basics Course. Not only the basics, but this course touches some of the advanced techniques too.
4. Adobe Illustrator
Adobe Illustrator is similar to Adobe Photoshop. The only difference is – Adobe Illustrator is centered around vector design. You can create beautiful logos, typography, icons, and sketches with the Illustrator's powerful mesh tools, pen tools, shape, and pathfinder tools. This graphic design software has an extensive collection of swatches and colors. Considering its performance and versatility, Illustrator is an ideal software to work with vectors.
Things We Can Do With Adobe Illustrator
Business cards
Social media graphics and banners
Posters and flyers
Blog post templates
Infographics
Branded icons
Printables and newsletter banners
Mood boards
Postcards and mailers 
Video thumbnails etc.
People Who Benefit From Adobe Illustrator
Graphic artists, designers, web developers, creative professionals, and anyone who wanted to create something with vectors can make use of Adobe Illustrator can create illustration material such as corporate logos, artwork, website design, infographics, etc…
How Much Does Adobe Illustrator Cost?
Adobe Illustrator costs $28.18 a month, $18.78 a month when billed annually, or $214.68 a year. This plan is the most economical way if you want to use just this software. It gives access to all the latest updates and features of Adobe Illustrator as soon as they are released. This plan provides 100 GB of cloud storage, access to Adobe Portfolio, Adobe Fonts, and Adobe Spark.
Best Features Of Adobe Illustrator
Freedom gradients
Global edits
Custom toolbar
Adobe fonts integration
Scalable interface
True-size view
External GPU support
Trim View
Presentation Mode
Performance enhancements.
Cons Of Using Adobe Illustrator
Adobe Illustrator requires a steep learning curve to understand and use it efficiently. So, beginners might face some difficulty. Also, the infinite amount of features might be overwhelming too.
Adobe Illustrator is a bit high priced compared to other vector-based graphic design tools available in the market.
Best Places To Learn Adobe Illustrator
Vectips: Vectips is a blog specially created for Adobe Illustrator tips, tricks, and tutorials both for beginners and professionals. You can also find numerous interviews with professional designers. 
Blog.SpoonGraphics: This website is created by the famous graphic/ web designer, Chris Spooner. He writes articles related to design topics and gives tutorials that are topnotch and very useful. Just go to the tutorials section and look for the one related to Adobe Illustrator.  
Vectortuts: Vectortuts is a recent addition to the tuts network. It is a tutorial website and a blog on vector illustration and illustrator. You can find detailed and high-quality videos on basic and advanced techniques of vector illustrations and excellent roundups.
Coreldraw Graphics Suite
Coreldraw Graphics Suite is a good all-rounder for image creation and editing software. It offers a highly accessible interface that makes it easy to use and has some pro-level features that make editing professional and smooth. Coreldraw Graphics Suite is a bundle of various applications that give access to powerful editing features.
Coreldraw Graphics Suite is a powerhouse for workflows and vector art generation.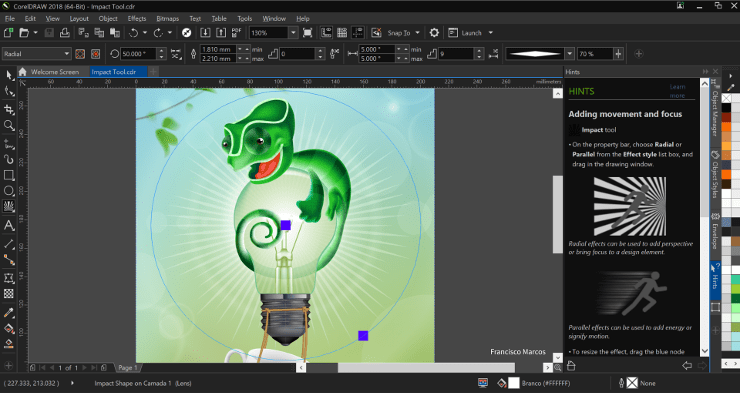 Things We Can Do With Coreldraw Graphics Suite
Logos
Invitation cards
Flexes
Brochures
Large format print designs
Billboards
Vector-based designs
Vinyl designs
Posters
Convert bitmap to objects
People Who Benefit From Coreldraw Graphics Suite
From graphic artists to web developers who like to create vector-based and vinyl designs can use Coreldraw Graphics Suite software.
How Much Does Coreldraw Graphics Suite Cost?
You will have to pay $34.79 monthly when billed annually to use Coreldraw Graphics Suite. There is also a 365-day subscription, which costs $417.43.
With these subscriptions, you will also get access to Corel apps like Coreldraw, Corel PHOTO-PAINT, Corel font manager, PowerTRACE, and CorelDRAW.app, CAPTURE, AfterShot.
Best Features Of Coreldraw Graphics Suite
Game-changing collaboration tools
Cutting-edge typography
Impressive AI-powered image solutions
Serious performance gains
Professional design tools
Vector illustration
Wide range of colors swatches and brushes
Non-destructive editing
Extensive file compatibility
Cons Of Using Coreldraw Graphics Suite
Coreldraw graphics suite's navigation board is not visible. Also, users might feel that navigation a bit tough.
The freehand brush available in the software is a bit hard to use.
Three Best Places Where You Can Learn Coreldraw Graphics Suite
Coreldraw Graphics Suite Tutorials: The best and the easiest way to learn the basics of the Coreldraw Graphics suite is through the tutorials they provide you. These tutorials will assist whenever you need them. Plus, they are free.
Udemy: Udemy has the best online courses on learning Coreldraw Graphics Suite from basic to advanced techniques. The prices, too, are very affordable. 
Lynda.com: Lynda.com is an online learning platform like Udemy and Udacity. It offers an amazing course that teaches you all the basic and few advanced techniques of Coreldraw Graphics Suite.
6. Affinity Designer
Affinity Designer is a low-budget, clean, and capable alternative to Adobe Illustrator in terms of style and functionality. Affinity Designer is also faster and comfortable to use when compared to Adobe Illustrator, you will observe this, primarily when you work with layers. Therefore, we can say Affinity is suitable for beginners to use as a learning tool, and at the same time, it is ideal for freelance graphic artists on a budget. 
The latest version of Affinity Designer has come with some new features and performance improvements too.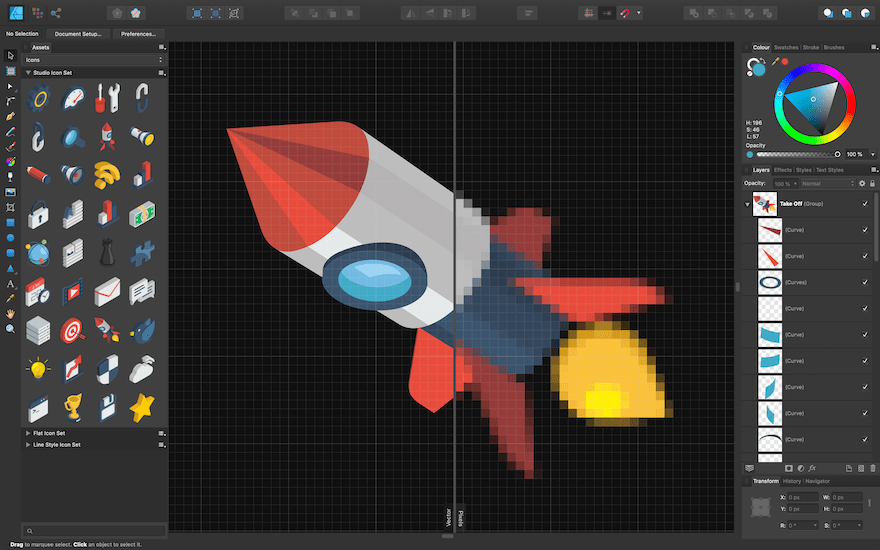 Things We Can Do With Affinity Designer
Illustrations
Icons
UI designs
Typography
Projects
Mockups
Web graphics
Pattern designs
Concept arts
collaboration
Posters and flyers
Mood boards
Video thumbnails etc.
People Who Benefit From Affinity Designer
This vector graphic design solution, Affinity Designer is used by professional designers, freelance graphic artists, and creators who work on illustrations and branding.
How Much Does Affinity Designer Cost?
The best thing about Affinity Designer is it is very affordable. You can buy this software for a one time cost of $52.96 for both Windows and Mac. And for Ipad, it is $21.18.
With this single one-off price, you can use the current version of the software, and it will be yours forever. You will be receiving updates until the next version of the app is available in the market. If you want to use the next release, then you have to pay some additional costs.
Best Features Of Affinity Designer
Dynamic precision guides
Accurate designs
Snapping options
Can create beautiful vector illustrations
Flawless geometry
Non-destructive operations
Split screens and outline views
Live pixel preview
Asset management
Precise curves and dazzling colors
Brush stabilization
UI, web and app design optimization
Dynamic symbols and unlimited artboards
Pixel and vector in one workflow
Cons of Using Affinity Designer
Affinity Designer doesn't export files in AI. Also, it doesn't have a natural perspective grid and a vector eraser in Designer Persona.
If you compare Affinity Designer to Adobe Illustrator, you might see some tools missing in Affinity and available in Illustrator.
Three Best Places Where You Can Learn Affinity Designer
Affinity Designer Workbook: If you need a complete guide to getting the most of Affinity Designer – from core skills, design tricks, and tips to advanced techniques, you need to get this book. It will walk you through the whole journey with easy and enjoyable lessons.
Affinicasts: Affinicasts is a youtube channel that uploads videos demonstrating many tricks and tips from basic to advanced Affinity Designer techniques. You can watch them and learn some basics about Affinity Designer.
Affinity Revolution: Affinity Revolution is a website that offers courses that help you become a better vector graphic designer. Pick up a course that is well suited for you and learn about Affinity Designer.
7. Photoscape
Photoscape created by the Korean company, MOOII Tech, is an all-in-one graphics solution. It offers indispensable features for photo editing and managing. This software is an excellent option for beginners and professionals who don't want to spend a penny and buy any expensive subscriptions.
Photoscape provides all the necessary photo enhancement tools, including color adjustment, resizing, cutting, printing, and GIF animation. It is robust with a user-friendly interface.
Things We Can Do With Photoscape
Photoscape provides all the necessary photo enhancement tools, including color adjustment, resizing, cutting, printing, and GIF animation. It is robust with a user-friendly interface.
People Who Benefit From Photoscape
Anyone who wants to fix and enhance any kind of photos can use Photoscape.
How Much Does Photoscape Cost?
Photoscape is entirely free of cost. You just have to click on the download button and install the software into your device.
Best Features Of Photoscape
Viewer
Batch editor
Splitter
Screen capture
Multi-lingual
Powerful editing tools
Animated GIF
Face search
Cons Of Using Photoscape
Photoscape is not available on Linux.
Some of the advanced features of Photoshop aren't available in Photoscape.
Best Places Where You Can Learn Photoscape
YouTube Tutorials: Many YouTube tutorials demonstrate how to use Photoscape – from simple tricks to advanced techniques.
Pretty Webz: Pretty Webz is a graphic design – resources and tutorials website. Here you can find a wide range of videos demonstrating various aspects of graphic designs. Search for Photoscape tutorials and learn.
8. Canva
If you are looking to create something quickly and easily with no prior design knowledge, then Canva is a great option. It offers a wide range of fonts, colors, templates, and images. While some are free to use forever, and others need to be purchased. You can choose one of these templates or create one manually from scratch using Canva's drag and drop editor.
Though Canva doesn't offer the customization potential like Photoshop, it is the best alternative for people with zero knowledge in designing. Also, Canva uses the freemium business model, which means, no bells and whistles until you upgrade to the pro version.
Things We Can Do With Canva
Facebook cover photos
Branded images
Pinterest graphics
Book covers
Event invitations
Etsy shop covers and icons
Business cards
Infographic resumes
Gift certificates
Yearbook covers
CD covers
Restaurant menus
People Who Benefit From Canva
You don't have to be a professional to use Canva. An absolute beginner can quickly learn canvas and use it for creating graphics, cards, invitations, etc.
How Much Does Canva Cost?
Canva is completely free of cost forever. You will be provided with 8000+ free templates, 100+ design types, and hundreds and thousands of free images and graphics. 
However, if you want some advanced features like creating your brand's visual identity with colors, logos, and fonts, custom templates, and design types, you can upgrade to the PRO version that costs – $9.95 a month when billed annually. There is also an Enterprise version that costs $30 a month with unlimited storage and more advanced features.
Best Features Of Canva
There's a layout for every occasion
Stock image and illustrations
Social media graphics
Library of fonts
Drag and drop editor
Web wireframe
Photo vignette
Photo straightener
Customizable branding
Custom templates
Photo editing, etc.
Cons Of Using Canva
Canva doesn't have rulers. Repeatedly applying a logo or anything in the same position precisely is very frustrating as it takes a lot of time and energy.
Download/ export of files is limited to only main file types – PNG, JPG, PDF, PNG print, etc.
Best Places To Learn Canva
Design School Canva: Design School is a package of courses and tutorials on Canva provided by the Canva itself. You can learn everything from basics to advanced techniques there. 
Udemy: Udemy offers numerous courses on Canva. Click here, choose one and learn everything you need to know about Canva.
9. GIMP
GIMP is a free software that offers numerous incredible photoshop features for free. GIMP (GNU Image Manipulation Program) is much more than a photo editor, and it provides multiple professional-quality functions to create artworks from scratch. Though this software doesn't look sexy as other graphic design software like Photoshop, it still offers advanced photo retouching, cropping capabilities, and drawing like any other powerful software.
Things We Can Do With GIMP
Content-Aware rescaling
Face swap
Change the color of objects
Create an animated GIF
Cartoonify an image
Remove red eye
Flip photo
Add lighting effects, etc…
How Much Does GIMP Cost?
GIMP is an open-source platform. It is completely free forever. You can use GIMP without spending a single penny.
Best Features Of GIMP
Original artwork
Graphic design elements
File format
Digital retouching
Hardware support
Photo enhancement
Customizable interface
Scribus
Swatchbooker
Cons Of Using GIMP
GIMP's interface may not be suitable for Mac users.
GIMP gets updated at a much slower pace, as the developer community is not significant.
Best Places To Learn GIMP
GIMP Tutorials: GIMP offers many tutorials that include some advanced techniques to learn while using the software. These tutorials will assist you whenever and wherever you need them.
YouTube Tutorials: There is a wide range of YouTube tutorials on basic and advanced techniques of GIMP. Just search what technique you want to learn and click on one of them to learn.
Gimpology: Gimpology is a website that offers tutorials for the GIMP. It also allows users to submit there own tutorials and share links to tutorials they find on the web. 
10. Gravit Designer
Gravit Designer is an HTML based graphic design application that is great for logo making, photo manipulation, animations, and illustrations. It delivers high-quality vector graphics. The layout is sleek and customizable, and you can also use Gravit Online with it's cloud-based software.
Things We Can Do With Gravit Designer
Logo making
Vector graphics
Illustrations
Animations
Photo editing
Photo manipulation
Basically, you can create anything using Gravit Designer; the only limit is your imagination.
People Who Benefit From Gravit Designer
Gravit Designer is most suitable for web, graphic, and product design professionals.
How Much Does Gravit Designer Cost?
Gravit Designer is free forever with 500 MB cloud storage, PDF export, color space (RGB only). But if you want unlimited cloud storage, to work offline, color space (CMYK, HSB, and RGB), version history, and advanced export options, you need to upgrade for PRO version. The PRO version of Gravit Designer costs $49.00.
Best Features Of Gravit Designer
Text
Powerful grids
Multiple styles
Powerful pages
Vector 
Auto layouts
Portability
Cloud program
Advanced and intuitive dashboard
Customizable interface
Drag and drop functionality
Advanced editing tools
Cons Of Using Gravit Designer
Gravit Designer doesn't have a real-time collaboration feature.
The prototypes cannot be run on smartphones. So, you can find out how they would look on different screens.
To work on fonts, you need to have an active internet connection.
Best Places To Learn Gravit Designer
Gravit Designer Tutorials: Gravit Designer applications provide some tutorials illustrating all the basic and advanced techniques on each aspect of graphic designing. You can click on each and learn how to use Gravit designer.
Envatotuts+: Envatotuts+ offers numerous tutorials, courses, and ebooks on Gravity Designer. Pick one of your choices and learn.
11. Inkscape
Inkscape is a user-friendly graphic design software that helps designers create scalable designs that won't get stretched or blurred when resized. It boasts outstanding features and powerful tools. The software's intuitive and straightforward interface makes it easy for beginners.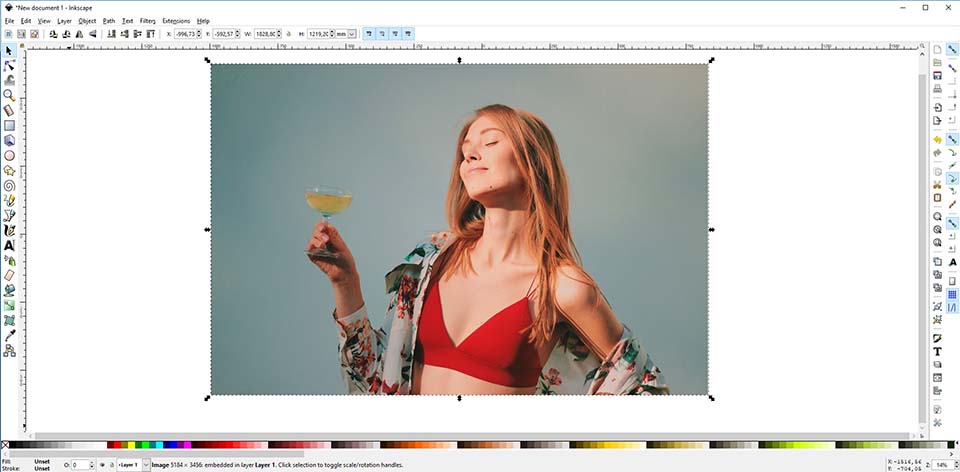 Things We Can Do With Inkscape
Diagrams
Logos
Programmatic marketing materials
Web graphics
Paper scrapbooking
Flow chart
Illustration
Web design
UI design
Infographics and memes
Book cover design
People Who Benefit From Inkscape
Inkscape is the best option for hobbyists and beginners who are interested in graphic design.
How Much Does Inkscape Cost?
Inkscape is entirely free of cost forever. You don't have to spend a single penny on upgrading or subscribing to any pro plan. Everything is free of charge.
Best Features Of Inkscape
Drawing, calligraphy, pencil, and pen tools.
Bitmap tracing
File formats
Grouping objects
Node movement, alignment, and distribution
SVG format file generation and editing
Z-order operations
Boolean operations
Path simplification with variable threshold
Fully anti-aliased display
Path insetting and out setting
Cons Of Using Inkscape
Before exporting, the Inkscape streaming text needs to be converted to plain text.
The processing of Inkscape is a bit slower than other graphic design software available in the market.
Best Places To Learn Inkscape
Udemy: Udemy is an online skill learning platform that offers hundreds of thousands of courses on different skills. It also provides many fantastic courses on learning Inkscape from basic to advanced techniques.
Skillshare: Skillshare is another online skill learning platform that offers multiple courses on Inkshare. Basics for beginners and advanced techniques for professionals, you will find everything and anything on skillshare.
12. Vectr
Vectr is vector-based graphic design software that creates intuitive vector graphic designs. This software allows collaboration, enabling multiple users to work on a single project to produce some enhanced designs. Simple interface, a separate panel to provide advanced features like clipart designs, image customizations, etc. make Vectr a great option to create vector images. Vectr also allows the designers to access their projects from any device as the projects get saved online automatically.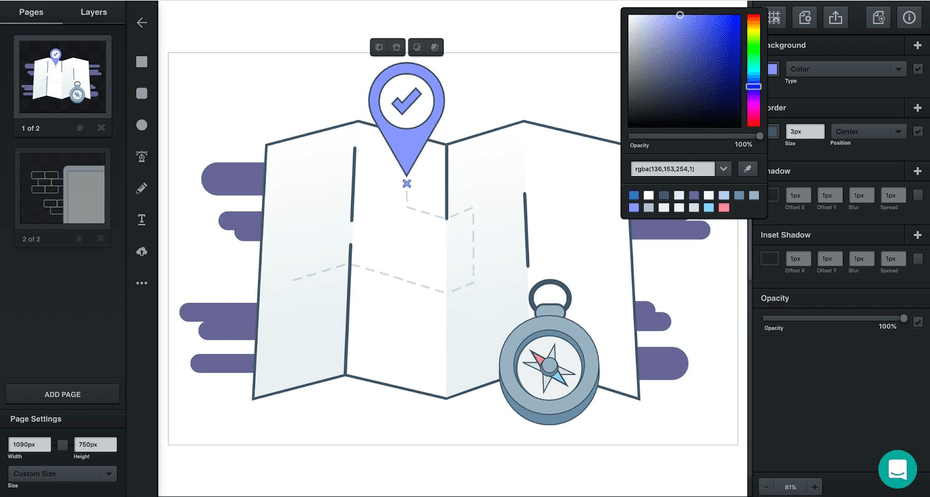 Things We Can Do With Vectr
Business cards
Greeting cards
Icons
Websites
Illustrations
Logos
Brochures
Posters
Presentations and much more.
How Much Does Vectr Cost?
Vectr is free of cost forever. You can design graphics, illustrations, logos, icons, etc. without paying a single penny.
Best Features Of Vectr
Collaboration
Premium icons
Transparency tools
Built-in templates
Image editor
Align elements
'Pathfinders
Pen tools and shape tools
Gradients 
Customization options, such as color, opacity, and shadow.
Cons Of Using Vectr
The sign-up process to the Vectr is a bit clunky.
Best Places To Learn Vectr
Vectr Tutorials: There are user guides and tutorials provided by the Vectr software. You can click on them and learn while using the application. These tutorials are an excellent way for beginners to learn basic and some advanced techniques about Vectr. 
YouTube Tutorials: These YouTube tutorials are also another way of learning Vectr. They have videos from as basic as how to get started with Vectr to many advanced techniques.
13. Scribus
Scribus is an open-source desktop publishing program. It is considered as a good alternative to Adobe Indesign though it is not as good looking and as expansive as InDesign. If you are looking for a desktop publishing program free of cost and has great features, then Scribus is perfect for you.
How Much Does Scribus Cost?
Scribus is entirely free of cost. You can use it while having to pay a single penny.
Best Features Of Scribus
CMYK colors, spot colors, ICC color management
Versatile PDF creation
Supports a vast number of file types via import/export filters
Color blindness Emulation
Powerful vector drawing tools
Cons Of Using Scribus
Scribus doesn't have a "Spell-check" feature. This is an essential requirement for any word processing program.
Scribus doesn't look great while switching fonts.
Scribus, when working with multiple pages on XP, runs very slow.
Procreate
Procreate, the first-rate digital painting tool, helps you put down quick sketches on the go. Has inspiration struck while waiting in a queue? Don't worry, Procreate help put it down real quick. With more than 150 brushes and a wide range of colors, Procreate is a must-have tool in your arsenal.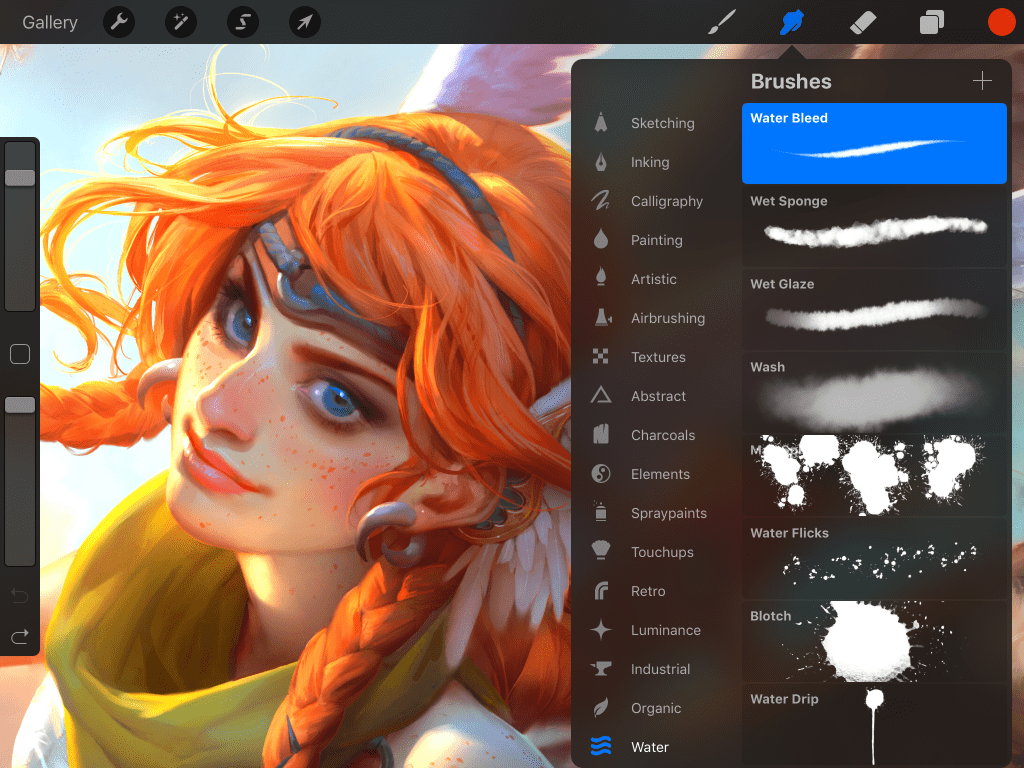 People Who Benefit From Procreate
Procreate has the power and depth that is required by jobbing artists. Yet, it has the accessibility and immediacy that suits the absolute beginners who have never put the finger on a digital canvas.
How Much Does Procreate Cost?
Procreate doesn't have a free version. If you want to use it, you will have to buy the app in the apple play store for $9.99.  Once you buy the app, it is yours forever; no subscription required. There isn't a free trial version too to sample the application.
Best Features Of Procreate
Color drop tool
Reference layer
Gradients
Copy and paste
Alpha lock
Eyedropper
Quick line
Quick shape
Cons Of Using Procreate
There are no vectors in Procreate. Designers who got used to vectors in illustrator and photoshop might find a bit difficulty in achieving the same smoothness of the line in Procreate.
You can change the color, saturation, contrast for individual layers. But you can adjust these things for the entire document as a whole. This might feel frustrating, especially when you want to make the final adjustments.
Procreate is only for Apple users.
Best Places To Learn Procreate
Conclusion
 I know finding the best graphic designer that meets all your requirements can be overwhelming and confusing.
So, my advice is to note all the crucial points, including a budget, collaboration, and features, to make the right choice.
Decide on whether you can afford a paid tool or not. Whether buying a subscription plan is feasible or not. 
If you want intricate vector designs regularly, go for quality tools like Adobe Photoshoot, etc. Otherwise, you can opt for free tools like Inkscape. These free tools can manage basic editing work.
If your job needs frequent collaboration, then go for the tools equipped with cloud capabilities for seamless collaboration.
I hope thinking about these things can keep your confusion at bay.