Photography has come a long way since the days of film, and the digital age has brought with it an array of powerful software tools to help photographers take their craft to new heights. Two of the most popular programs for editing and managing digital images are Capture One and Photoshop.
In this article, we'll take a look at the key differences between these two programs, as well as their similarities, to help you choose which one is right for you.
Also read –
5 Best Website Builders for Photographers
14 Best Graphic Design Softwares For Creatives
34 Best Drawing & Design Apps For iPad In 2023 (Free & Paid)
What Is Capture One?
Capture One is a professional-grade photo editing and management software developed by Phase One, a Danish company known for their high-quality medium format camera backs.

It's designed to help both amateur and professional photographers work more efficiently and effectively with RAW files from a wide range of digital cameras. Capture One is known for its advanced colour correction and high-end retouching capabilities, making it a popular choice among commercial photographers and studios.
What Does Capture One Do?
One of the standout features of Capture One is its tethering capabilities. This allows you to connect your camera to your computer and control the camera settings directly from the software. It's perfect for real-time image review and is especially useful for studio photography or when working with clients.

But that's not all. Capture One also has user-friendly features for photo management, making it easy to sort and organize your images. It also has advanced tools for editing RAW files, including powerful tools for color, layer, and masking. This makes it a top choice for professional real estate photographers who require high-quality and precise image editing.

As non-destructive editing software, Capture One can handle and process RAW files without losing any quality. This means that you can experiment with different edits and always return to the original image if necessary. Capture One also allows you to export finished versions of your images with ease.

What Is Photoshop?
Photoshop is a versatile photo editing and graphic creation application developed by Adobe, and it's currently the most popular photo editing software in the market that's been around for more than 30 years.
It's considered to be the industry standard for digital image editing, and it's used by photographers, designers, and artists worldwide. Photoshop's advanced features make it possible to create even the most complex graphics with ease.
What Does Photoshop do?
Unlike Capture One, Photoshop is a versatile software that is not limited to photo editing alone. Its advanced features make it a go-to choice for creating website mock-ups, compositing images, adding image effects, and retouching photos.

But that's not all! Photoshop can also create paintings, three-dimensional artworks, illustrations, posters, banners, icons, websites, and mobile applications with ease, making it a must-have tool for artists and designers alike.
As the most popular professional-level photo editing software, Photoshop is widely used by creative professionals across the world, including photographers, graphic designers, illustrators, and artists. It is part of the Creative Cloud suite, making it easily accessible and integrated with other Adobe software.

Photoshop also supports a wide range of file formats, including RAW files, making it a popular choice among photographers who need advanced editing capabilities.
Capture One vs Photoshop: Pros and Cons
When it comes to image editing, both Capture One and Photoshop are highly regarded and powerful tools. Here are the pros of each:

Pros of Photoshop:
Industry standard: Used by professionals in a wide variety of fields, making it the de facto standard for image manipulation.
Trove of plugins available: Wide variety of plugins add new effects, improve existing functionality, and simplify workflow.
Lots of tutorials: Huge number of both free and paid tutorials available online make it easy to learn and use the software.
Cheaper, standalone version available: Stripped down version of Photoshop, called Photoshop Elements, can be bought as a standalone application for $100.
Includes powerful content-aware tools: Includes content-aware tools such as content-aware fill that can fill in a selected area based on what surrounds it.
Packs a staggering amount of functionality: Supports most professional color modes and file formats, includes extensive lists of filters, styles, effects, fonts, as well as tools for painting, sketching, and typography work. Even includes tools for video editing, working with 3D objects, and support for 3D printing.
Integrates with Creative Cloud: You can save all projects directly to the Creative Cloud, allowing you to access them from any device and with any relevant Adobe software.
Creative Cloud Photography subscription includes Lightroom: Lightroom is another image editing software from Adobe that's specifically designed for photo editing and managing large quantities of digital images.
Mobile companion apps available: There's a free mobile app available for iOS, Android & Windows Phone.
Pros of Capture One:
Capture Pilot enables using Capture One collaboratively during a shoot: Capture pilot feature allows any web-enabled device to remotely connect to Capture One and use a subset of its functionality, like viewing a selected catalog, rating images, and even making minor edits to photos. The iOS app for Capture Pilot allows controlling the tethered camera.
Well thought out tethered capture implementation: Once you hook up your camera to Capture One, the program offers a bunch of useful tools and workflows based on your needs. It has Composition Mode, Hot Folder functionality, and many other functions and design decisions that help with ease of use.
Extremely robust color editing: Capture One offers a huge amount of color editing options, with the ability to modify overall or extremely targeted ranges. It has especially robust support for editing skin tones.
Clean and sharp default processing: Straight imports in Capture One seem a bit sharper and more dynamic than many other RAW editors.
Very intuitive IRS and easier to use, and raw conversion using Sony seems better.
Has advanced colour correction capabilities and high-end retouching tools which are great for working on skin tones of varying complexions.
Capture one styles sync with multiple photos: Simpler to apply to many images and preview compared to setting up a batch job in Photoshop
Cons of Photoshop:
Expensive, with a standalone version costing $19.99/month and subscription-only for the latest versions.
Learning it can take some time due to the extensive functionality and lack of hand-holding for novice users.
Very slow and requires a powerful CPU, GPU, and many GBs of RAM to run smoothly.
Stops working if subscription is not paid, meaning it never becomes owned by the user.
Affinity Photo is a cheaper alternative that is just as good for many professionals.
Batch editing of images is not straightforward and can be difficult to use.
Asset management capabilities are lacking and are done through a separate program called Bridge.
Cons of Capture One:
Expensive, with a price tag that is more than Photoshop and Lightroom put together.
Doesn't support color checkers, so creating color profiles using the ColorChecker Passport is not possible.
Asset management could be better and isn't as robust or intuitive as some of the competition, like Lightroom.
No third-party plugin capabilities until version 12, which could be an issue for those who use them regularly.
No HDR or panorama options, which can be limiting for photographers who need these features.
Limited organization compared to Lightroom, with no face detection software and no AI keywording.
No history panel, which can make it difficult to track and undo changes.

Capture One vs Photoshop: Pricing
Capture One offers several pricing options, including a perpetual license for $299, a subscription plan for $24/month, or an annual subscription for $179/month.

Photoshop is available as part of Adobe's Creative Cloud subscription service, which starts at $19.99/month for the photography plan, which includes Photoshop, Adobe Fresco and Adobe Express along with 100 GB of cloud storage.
Main Differences Between Capture One and Photoshop
1. Interface: 
The main difference between the interfaces of Capture One and Photoshop is that Capture One has a more user-friendly and flexible interface with customizable and easy-to-use tools.

On the other hand, Photoshop has a more complicated interface with industry-standard photo editing and creative features that may be overwhelming for beginners.

However, it is consistent with other Adobe applications, making it easier to use if you are already familiar with the Adobe interface. Overall, Capture One prioritizes ease of use and customization, while Photoshop prioritizes advanced editing capabilities.
2. RAW Processing: 
Capture One is known for its exceptional RAW processing, especially for its excellent color rendering, dynamic range, and detail capture. Some photographers prefer Capture One's RAW processing over Photoshop's, especially for specialized cameras like the Fuji X series, where Capture One has specific profiles stored.

However, the preference for RAW processing is ultimately down to personal preference. One advantage of Capture One's RAW processing is that it is not done in a separate window, making it easier to undo edits, whereas in Photoshop, you have to go back into Camera RAW to see the settings you used.
3. High-End Retouching:
Capture One and Photoshop are both high-end photo editing applications used by real estate photographers. While both allow for similar photo edits, Photoshop has more functionality and versatility, making it ideal for complex edits like digital blending.

Capture One is designed to handle and process RAW files, has a good reputation for tether optimization, and is versatile for professional photographers. Both applications allow for the use of layers, but Photoshop has more advanced layering capabilities, allowing for up to 8,000 layers, while Capture One allows for up to 16 layers.

Photoshop also has a Liquify tool, which allows for distortion without interfering with image quality, while Capture One lacks this feature.
4. Speed Editing: 
Capture One is a more lightweight and faster program than Photoshop, making it easier and faster to carry out basic photo edits such as dynamic range, contrast, and white balance. Its excellent interface guides you to make edits in a way that Photoshop doesn't.

Therefore, if you want to speed edit a large collection of photos or run through the basics before more serious work in Photoshop, Capture One is an excellent tool for this.
5. Colour Control: 
Capture One's color control is intuitive and straightforward, with three color pickers and skin tone settings that make it easy to change color balance, even for beginners.

In contrast, Photoshop's color control is more complex and contains elements that a typical real estate photographer might not need. Although Photoshop provides more fine control over color, Capture One's intuitive interface wins for the majority of photo editing.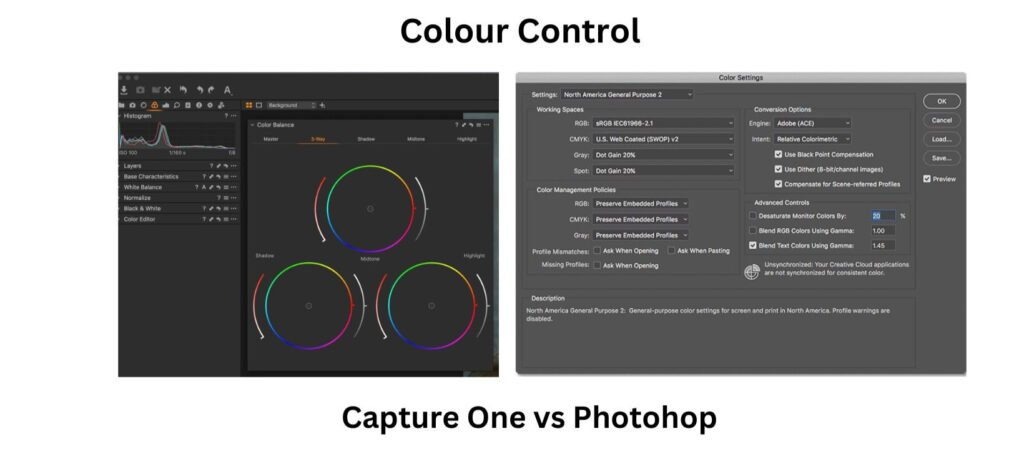 6. Tethered Shooting: 
Tethered shooting, which involves connecting a camera to a computer with photo editing software, allows you to view images live as you shoot. Capture One has a tethered capture option that allows live edits, while Photoshop doesn't support tethered shooting.

7. Plugins: 
Capture One has limited plugin capabilities for connecting with other applications for additional image processing or sharing options.

In contrast, Photoshop has strong integration and connection abilities, especially with other Adobe products. It has become an industry standard and has many more plugins and presets available for extending its capabilities, making it an excellent choice for those who rely heavily on plugins.

8. Beginner Friendliness: 
Capture One offers a more straightforward editing experience than Photoshop, with streamlined features and step-by-step guides, making it beginner-friendly.

Although Photoshop has been in the market for longer and has many online tutorials, its many complex features and tools combined with the different ways of doing things can be confusing, especially for beginners.
9. Photo Organization: 
Capture One has a strong photo organization feature, allowing users to organize and access images in catalogs and sessions from the same screen, making it an excellent choice for wedding photographers or anyone who values a speedy workflow.

In contrast, Photoshop lacks photo organization tools and users must rely on Adobe Bridge, which looks similar to a standard file explorer. Photoshop is designed for use with one image at a time.
10. Camera Model Support: 
Capture One has specific profiles for certain camera models like Fujifilm, Sony, and Nikon, providing an advantage when editing images. 
On the other hand, while Photoshop supports all camera models, it doesn't offer specific profiles for specific models, which can impact color accuracy during RAW file processing. Many professionals feel that Capture One's camera-specific profiles give it an edge in photo editing.
11. Minimum System Requirements:
Both Capture One and Photoshop have different minimum system requirements depending on the operating system used. Capture One requires at least 8 GB of RAM and a first-generation Intel Core i3 processor for Mac, and an AMD or Intel processor with at least two cores for Windows. 
Photoshop requires at least 8 GB of RAM and a 64-bit Intel processor running at a speed of at least 2 GHz with SSE 4.2 or later for Mac, and a 64-bit AMD or Intel processor with at least 2 GHz speed for Windows. Additionally, both software have specific requirements for the monitor, GPU, and available storage space.

What Do Capture One and Photoshop Have in Common?
Both Photoshop and Capture One allow you to use layers, which means you can adjust or edit individual levels of transparency without affecting the pixels of the original file. This is a handy feature that lets you make precise edits to your photos.

Although you can purchase the Capture One license on a one-time payment basis, both Photoshop and Capture One mainly use subscription plans. This means you pay a monthly or yearly fee to use the software.

Both Photoshop and Capture One are great for working with RAW files. However, Photoshop uses camera RAW, which is an Adobe RAW image processing engine, while Capture One has its own RAW converter.

Both applications also support various cameras, but Photoshop doesn't feature specific profiles for camera-specific models. Both Photoshop and Capture One have presets and plugins that you can get online if you want to add extra features and functionalities.

Another thing they have in common is that they have excellent customer support because they are both well-established applications from reputable companies. And, although Photoshop is more versatile and can run on mobile devices, both applications can run on Windows PC, Mac, and some of their features can be accessed on web-enabled devices.
Final Verdict – Capture One vs Photoshop – Which One Is Better?
Capture One is great for organizing your photos and doing basic edits quickly. It's also really good for fine color grading and processing RAW photos. It works best for portraiture, skin tones editing, and speed editing of any series of photos. If you're new to photo editing, Capture One is a great option because it has an easy-to-use interface.
Photoshop, on the other hand, is better for more complex photo edits, like blending multiple exposures or retouching. It's great for high-end retouching and working on larger individual files that require more time to perfect. Photoshop also works well with plugins.
While both programs have some overlapping editing tools, they really serve different purposes. Capture One is more of a RAW editor and photo organizer, while Photoshop is more of an image manipulator. However, they do complement each other nicely and can be used together as a complementary system.
Overall, if you're looking for a program to quickly organize your photos and do basic edits, or if you're new to photo editing, Capture One is a great choice. But if you want to do more complex edits or work on larger files, Photoshop is the way to go.
When To Use Capture One?
If you want to collaborate with others when editing your photos, Capture One has a feature called Capture Pilot that lets people connect to your editing session using a web-enabled device. They can view, rate, or even make minor edits to the images, which is super helpful if you're working with a team.

Also, if you don't have a high-end computer, Capture One is a better option because it's more lightweight than Photoshop. It also has a tethered shooting feature that lets you control your camera remotely using the Capture Pilot iOS app.

Capture One is great for working with unsupported cameras thanks to the hot folder functionality. It automatically detects when a new image appears in the folder and adds it to Capture One. The overlay mask feature is also useful when shooting interior photos as it helps you know whether the image you're capturing is in focus or not.

If you're a beginner, Capture One has an intuitive and easy-to-use interface that makes it the best photo editing application to use. It's also optimized to work with RAW files, so if you're working with those, Capture One's RAW file direct imports are more dynamic and sharper.

Overall, if you want to collaborate, have a lightweight software option, or are working with RAW files, Capture One might be the better choice for you.
When To Use Photoshop?
If you're looking for a photo editing software that can connect with other applications for additional editing or image organization, then Photoshop is the way to go. It integrates seamlessly with other Adobe products, like Lightroom. And don't worry if you're a beginner; even though the features may seem complex, there are plenty of online tutorials available to help you get started.

One of the best things about Photoshop is that it's very versatile. You can use it on a Mac, Windows PC, Windows phone, Android, and iOS. If you're already using other Adobe applications, then it makes sense to stick with Photoshop, since it's part of the Creative Cloud.

Another advantage of Photoshop is that there are lots of presets available. These are pre-set editing effects that you can apply to your photos or use to copy the styles of professional photo editors. And if you're on a tight budget, you can access Photoshop through the Adobe Creative Cloud photography plan for just $9.99 a month.