"If winter comes, can Spring be far behind?" rightly said. So here we are with these new March bullet journal ideas to manage your blooming month of March. Bullet journals are a blessing to our busy souls in this modern world. With too little time and too much to do, we all could use a little help to manage our everyday life. If you are looking for some new and interesting ideas for this Spring then stay tuned! 
March has a lot to celebrate besides the Spring, it is also the time of warmth after the cold winter. There is something about these summer months. With flowers blooming and the smell of flowers in the air, let these March bullet journal ideas motivate you to do more, achieve more, and thrive more!
You can also check out some ideas for bullet journal flower doodles. 
So let's begin and get our choice of March bullet journal ideas.
March Bullet Journal Cover Page Ideas

I cannot emphasize enough the importance of the cover page for a bullet journal. It not only gives the journal a character but also sets the theme for the bullet journal. And of course, a good cover page will not fail to cheer up your mood. These March bullet journal cover page ideas will make your bullet journal interesting and certainly motivating.
1. Black and White March Bullet Journal Cover Page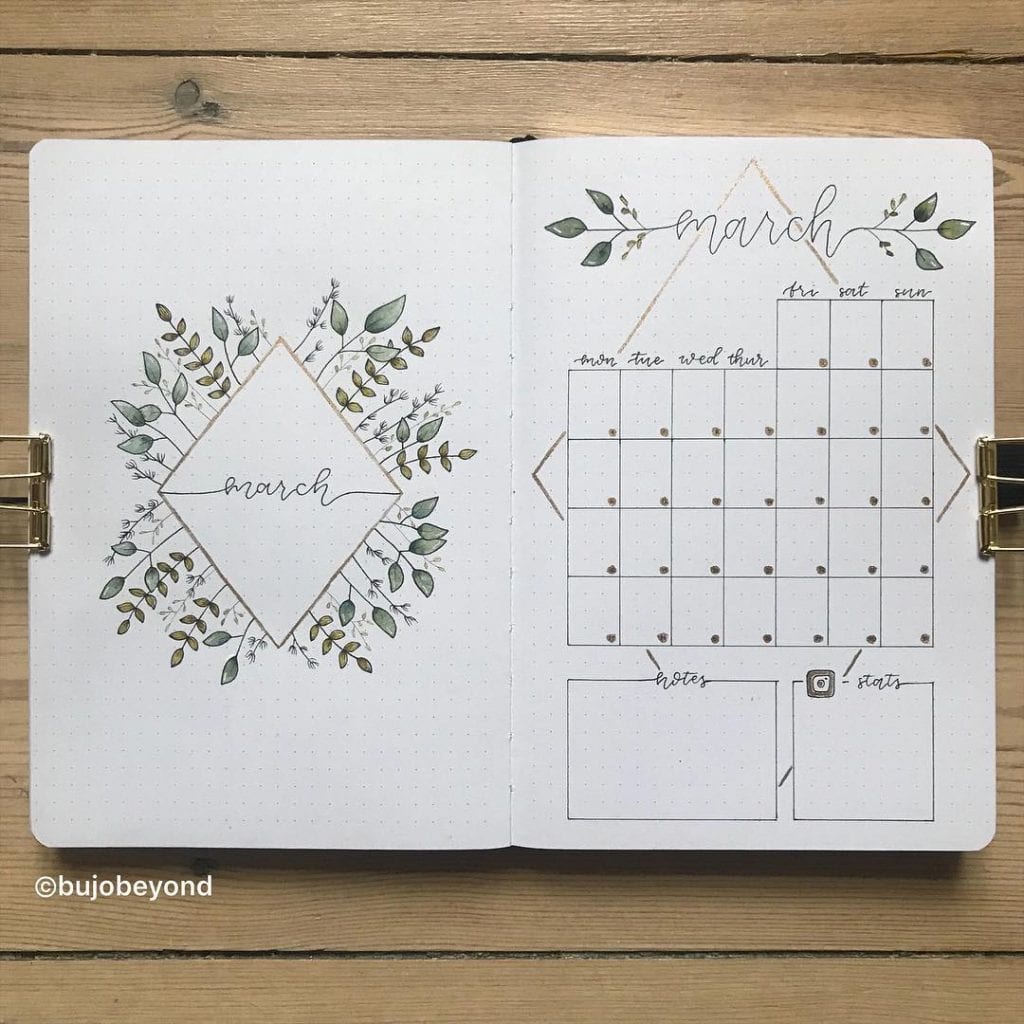 I love how simple this cover page is. Bujobeyond has kept things pretty simple and clean. With just a little hint of colors, this March bullet journal cover page idea is certainly a charmer. And I love the calendar added to the side. It gives an overview of what your month is going to look like. It will show you all the free days and the workdays. 
2. A Leafy Story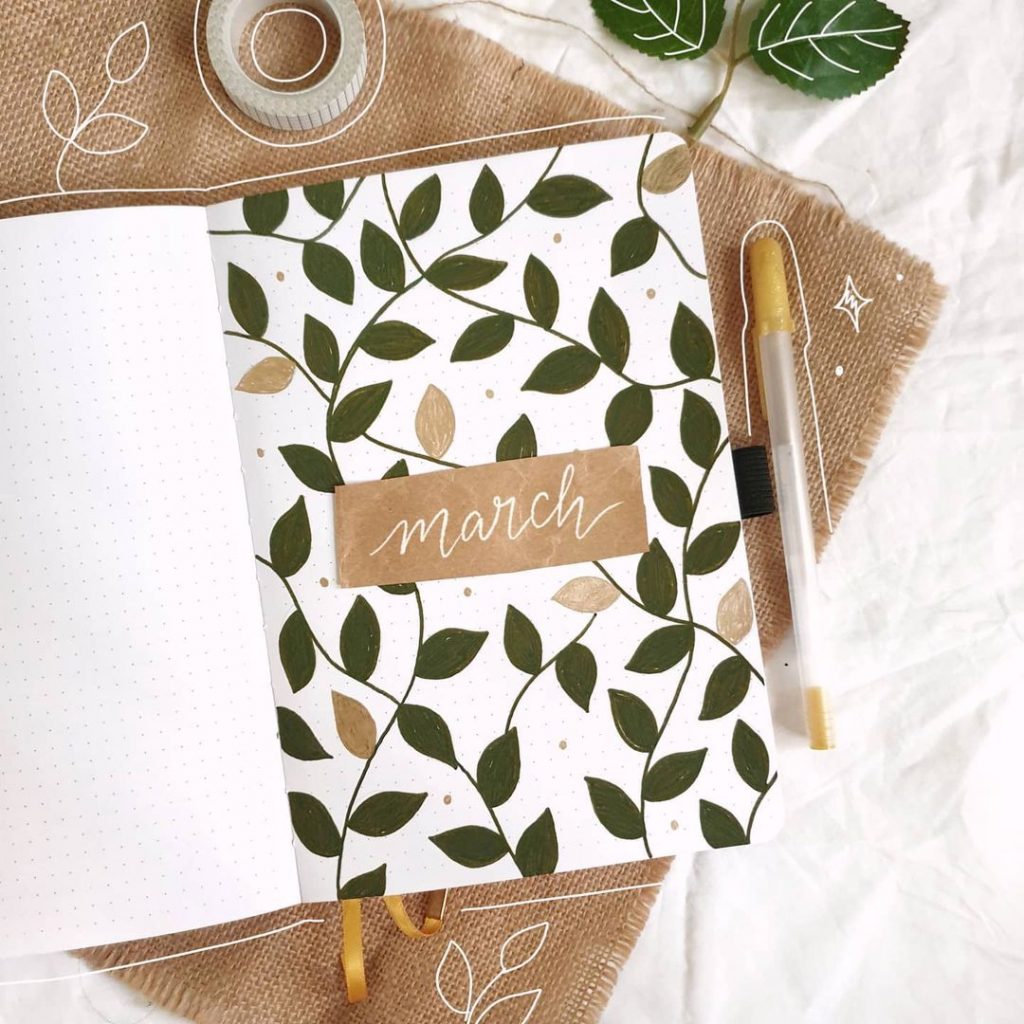 The gold is doing good for this March bullet journal cover page. This cover page by whimsical.doodles is fancy. The khaki shade and the gold gelly roll has created a perfect amalgamation of interesting pattern. The colors have made this otherwise simple pattern festive. And I am loving the underlying simplicity that has been added by the simple lettering of 'March'.
3. M for March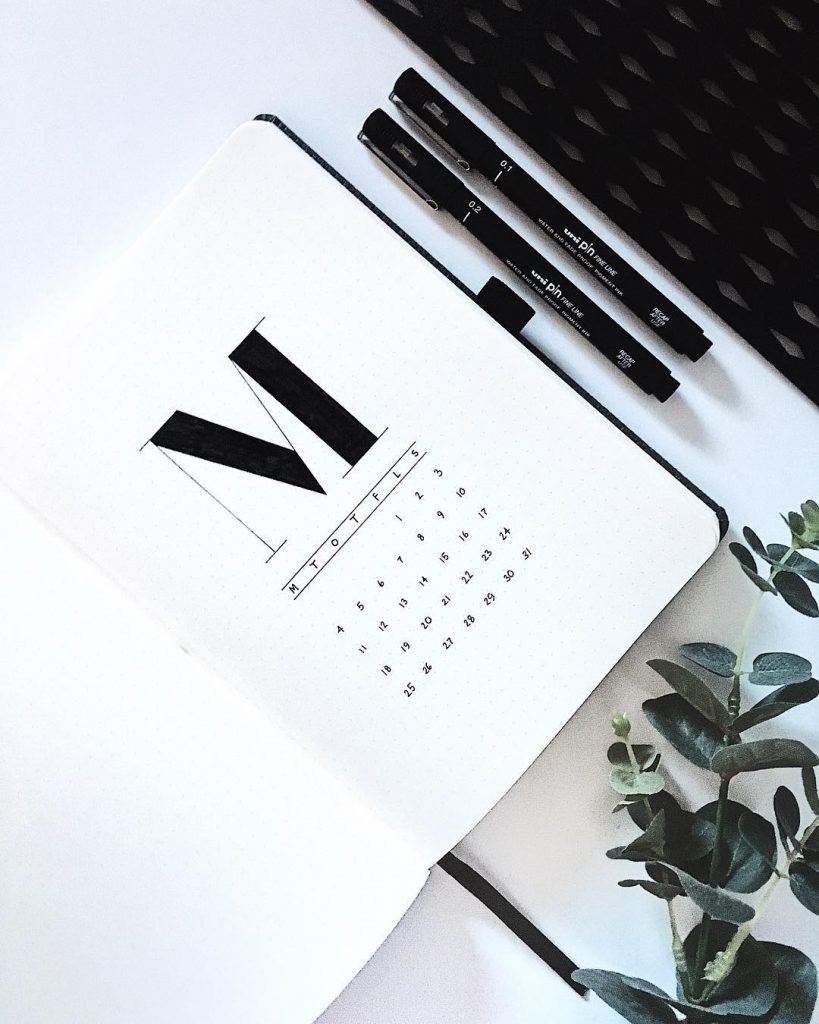 This cover page idea with just one color is so majestic. The simplicity is just too good. The.nordic.journal has kept things easy. This is certainly the perfect choice for all the minimalist souls out there. If you are looking for something that is simple and convenient then this one is for you. What I love the most in this March bullet journal cover page is the calendar. It gives me an overview of what my month is going to look like without even opening the journal. This keeps my month sorted and my schedule planned.
4. Flowery March Bullet Journal Cover Page Idea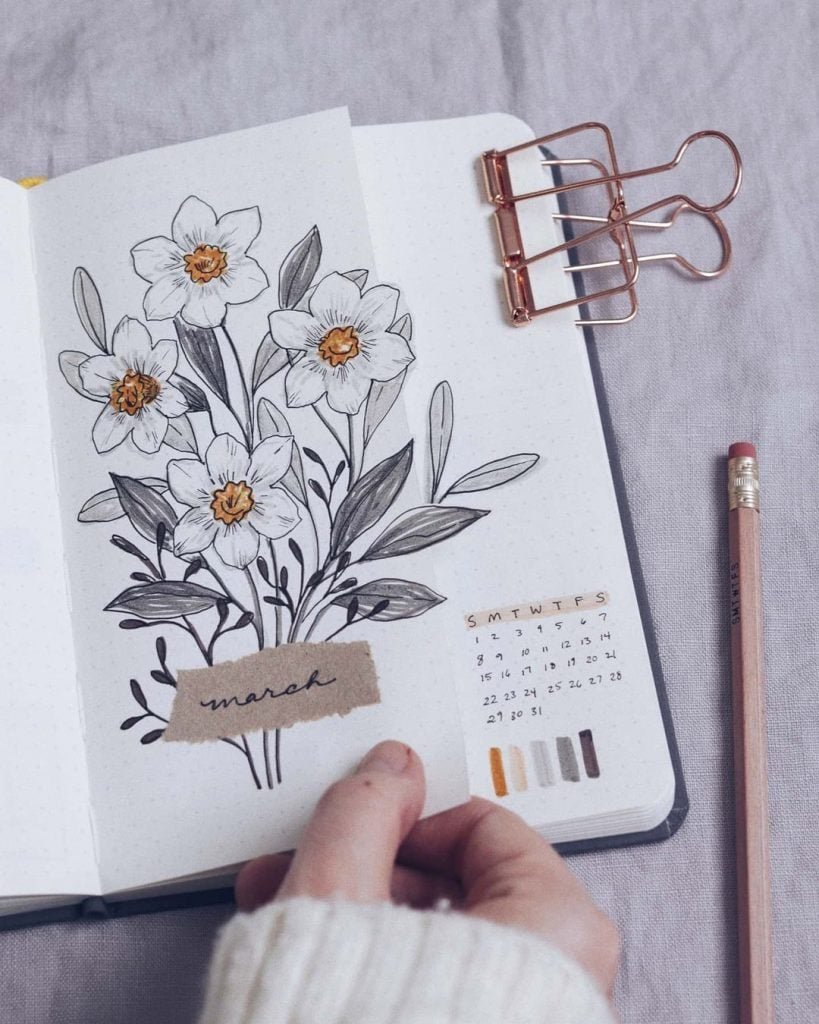 Shaydacampbell has an excellent idea of keeping true to the theme of the month. With this cover page, you can let your plans and days bloom just like these flowers. The subtle hint of yellow used in this one is just the perfect shade to symbolize the incoming of summers.
5.Hello March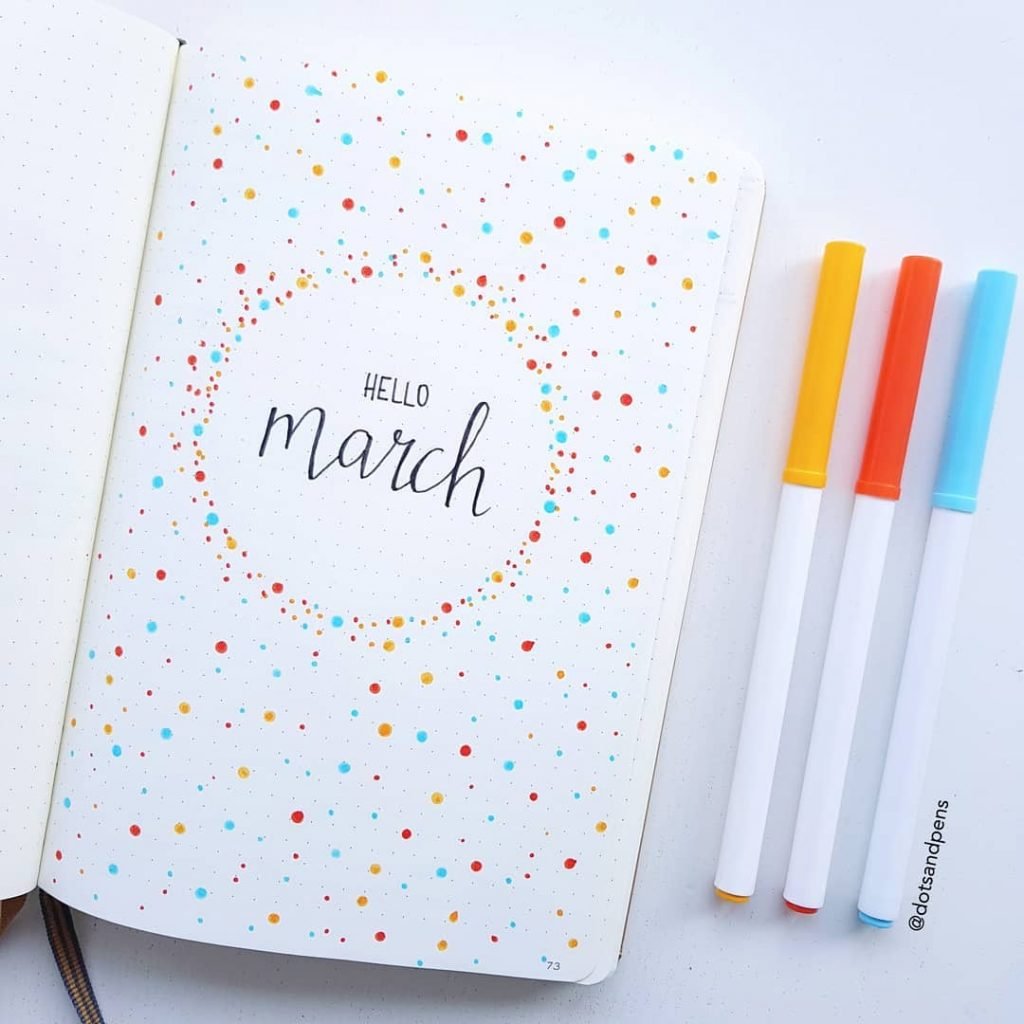 This cover page idea for your March bullet journal is perfect for kids. Yes, kids! Why not let the kids keep things sorted and the vacations planned. Dotsandpens have come up with this simple idea. It will take only a few minutes to get replicate this cover page. With this bullet journal cover page welcome March with warm colors.
6. Mountain and March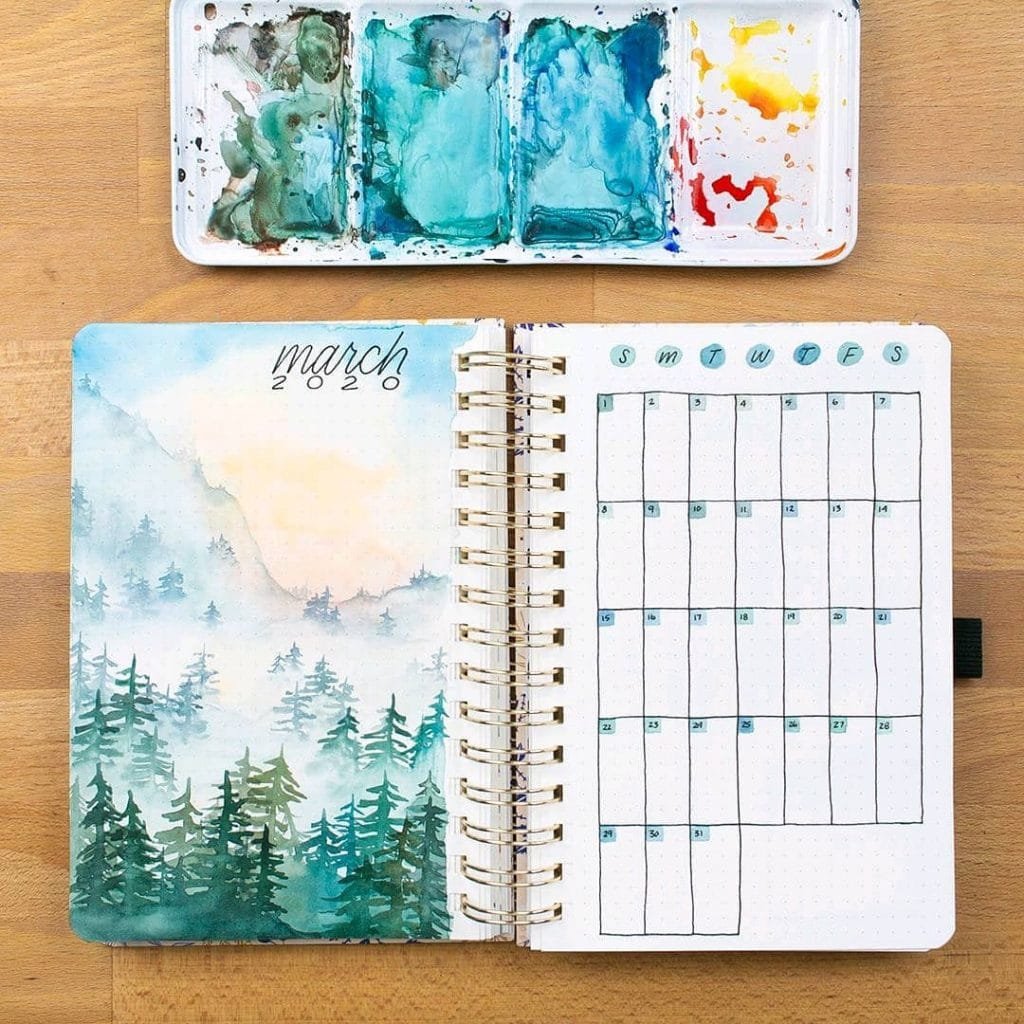 This March bullet journal cover page by little_coffee_fox reminds me how March is slowly creeping in. With the past year being almost on house arrest we all could live to be a wanderlust soul. And with this cover page, I am all set to plan the next adventure trip with my gang!
7. Mark the Date

With this March bullet journal cover page idea by dez.bujo mark every detail. I love how she has included the calendar on the cover page. It is unique and innovative. But the most important thing is it is less time-consuming with just a few numbers you can have an overview of all the important dates. And how can one miss the cloudy atmosphere on this cover?
8. Magical March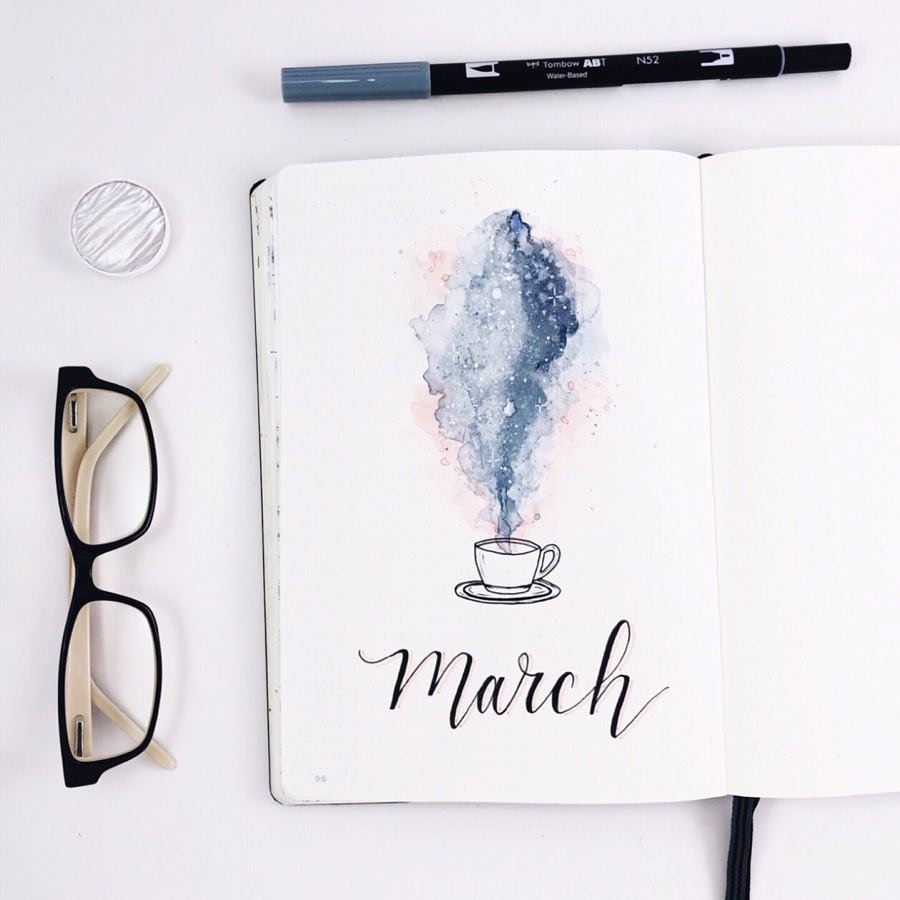 Magic is in the air with this March bullet journal cover page idea by _coffeeandsarcasm_. How beautiful she has created this magical cover page! And the detailing of the cup only shows how magic is everyone's cup of tea. With this cup of blue and pink magic get ready to smear some extra magical vibe in your March schedule.
9. Sea Turtle Cover Page
This sea turtle by bujo_by_bee is my absolute favorite on the list. If you have a painter in you then this is the time to revoke it. Get those paintbrushes ready to recreate this cover page for your March bullet journal. This is a blue-themed cover page keeping true to its underwater vibe. The simple lettering of 'March' only adds to the majestic presence of the turtle.
10. Spring has Arrived
Welcome Spring with this cover page idea by bujo__gram. Yet another calendar on the cover page is here. If you too like to have an overview of what your month is going to look like then this is a good choice for you. With two shades of green, she has created a forest-like atmosphere to keep you motivated this March.
March Bullet Journal Tracker Ideas

Trackers are my favorite part of the bullet journal. It keeps me on track, just how it is supposed to do. The purpose of a bullet journal is to keep you motivated and sorted. And with these trackers, you can efficiently track your productivity graph and that, in turn, will keep you motivated. So let us see some of these March bullet journal tracker ideas. 
1. Lifestyle Tracker

This tracker is perfect if you are looking for something precise and compact. Bulletjournalcollection has taken only two pages to sort the month of March with this March bullet journal layout. This tracker is simple to maintain and easy enough to recreate. And the simple flower doodle keeps the pages interesting and fun.
2. Jewel Studded Habit Tracker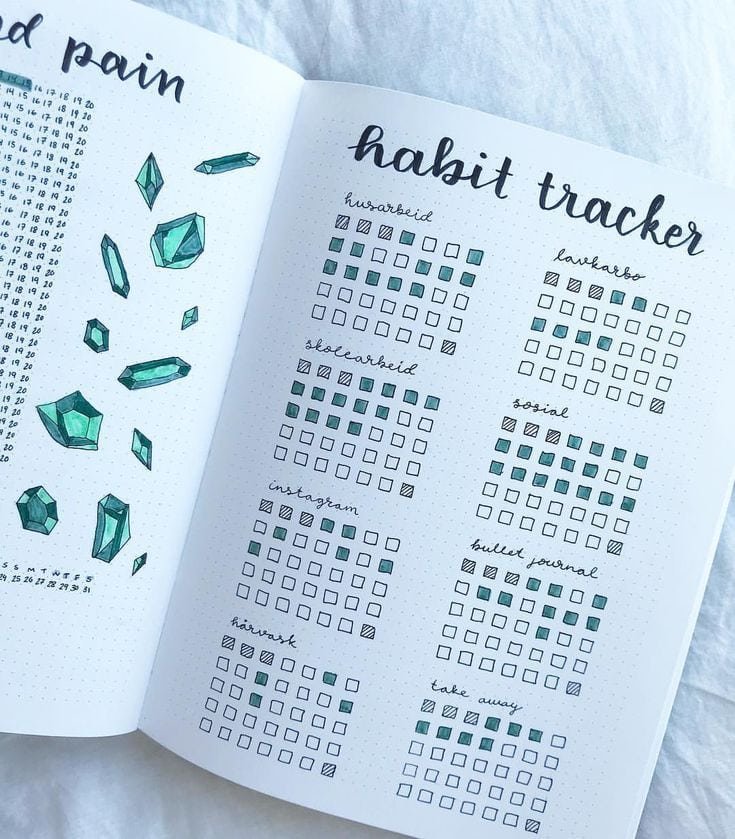 This jewel-themed habit tracker by i.pinimg.com is mesmerizing. With the help of this tracker, you can track whatever you want. This is what is excellent about this tracker, it is versatile. You can easily improvise it a little to fit your convenience. 
3. You Grow Every Day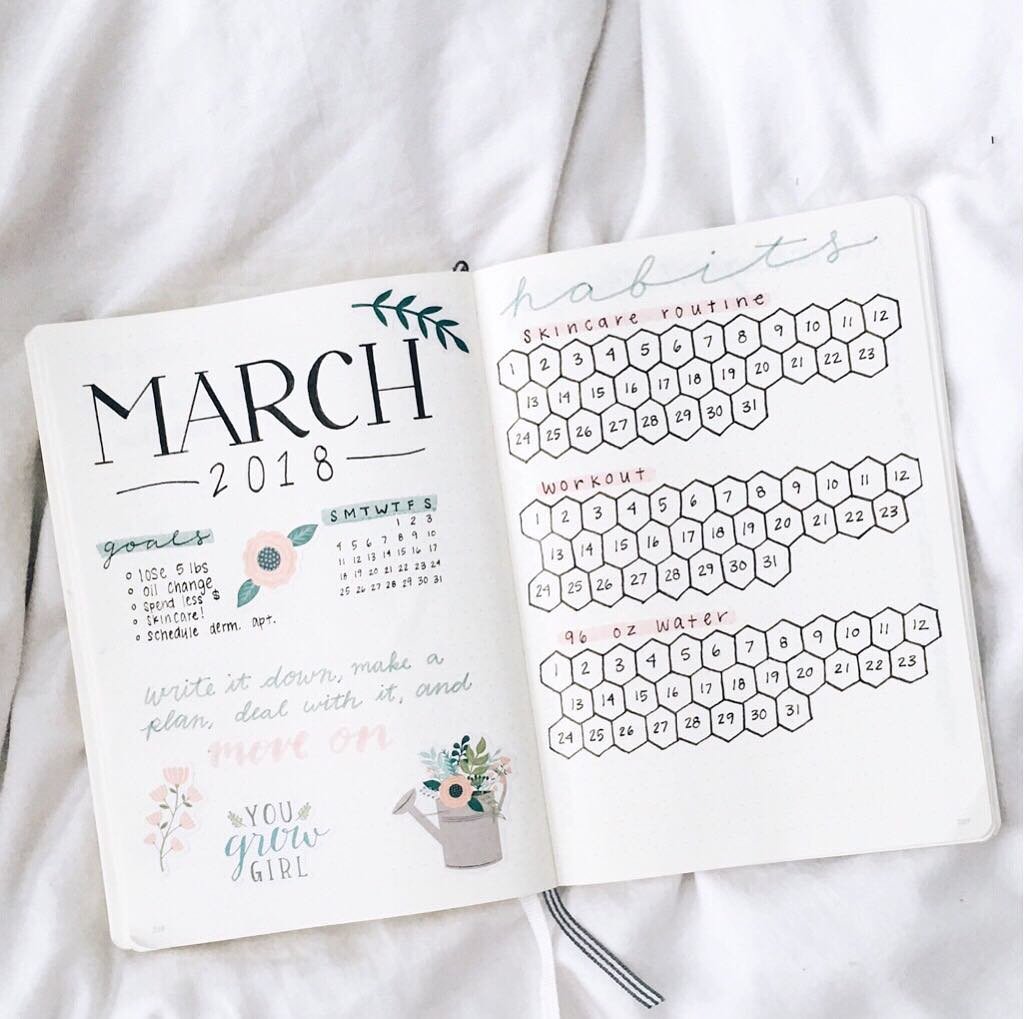 This honeycomb-themed tracker idea is probably my favorite one on the list. I like my trackers a little innovative, it keeps me focused and motivates me to do better every day. With this tracker by laurensnotebook track your workout sessions, skincare routines, and water intake.
4. Day by Day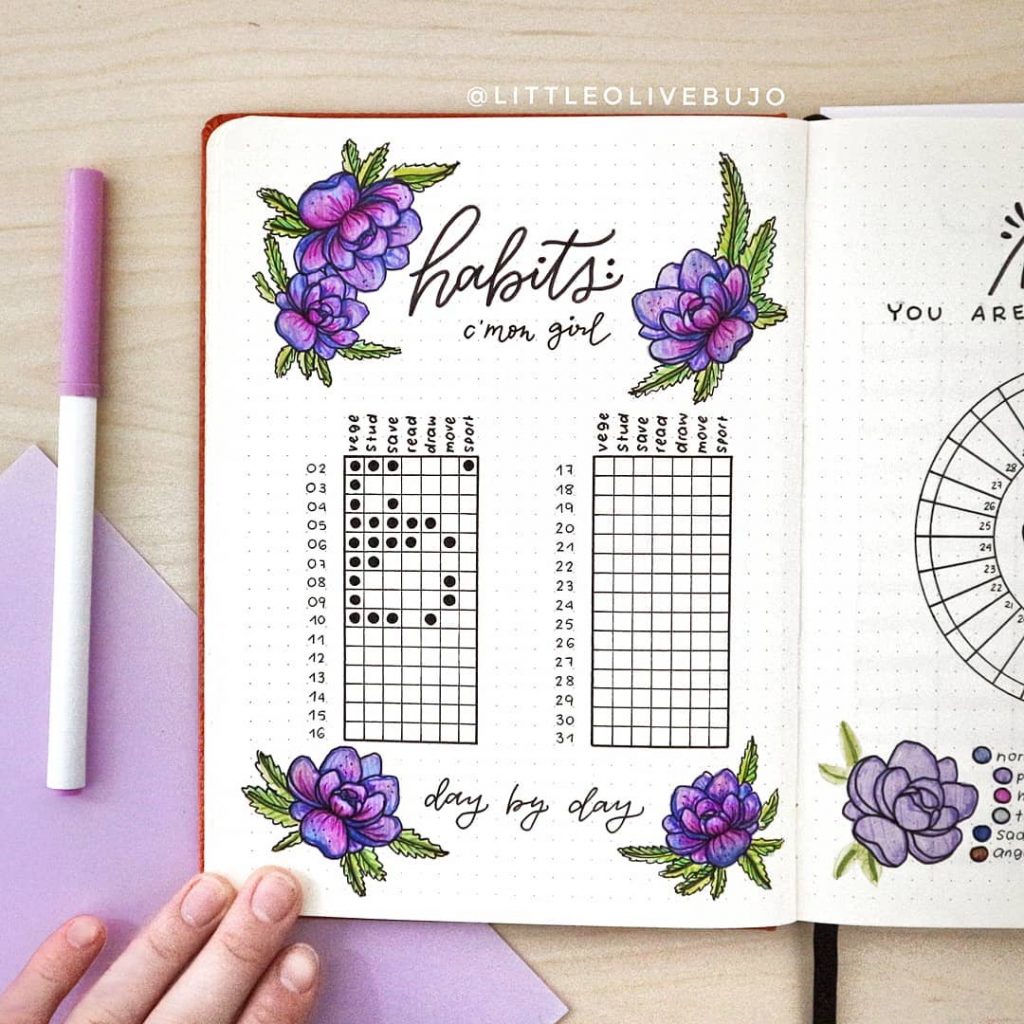 With every passing day, you grow what you go through. Peony has always been fun to doodle, and this tracker page has been blessed with the presence of the same. Littleolivebujo has used these beautiful violet flowers and green leaves to brighten up the pages. 
5. Habits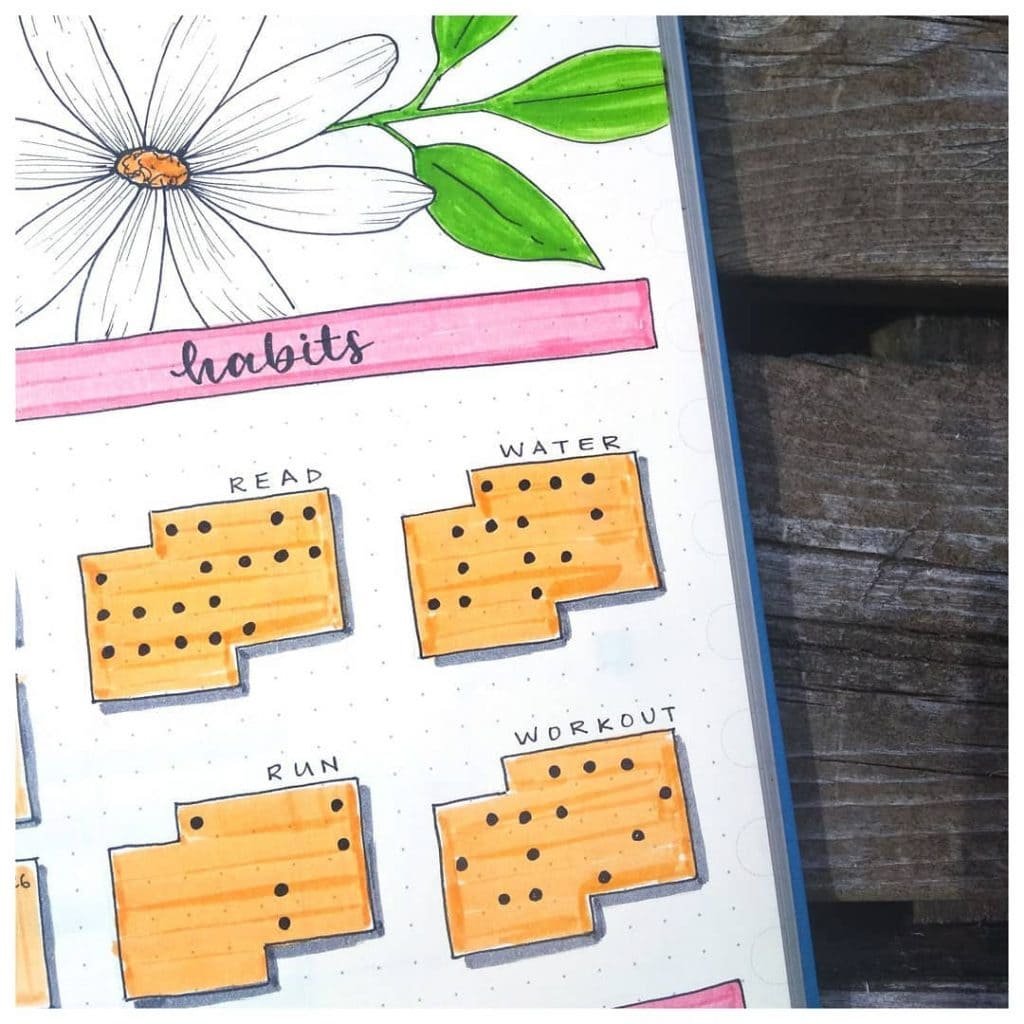 Habits good or bad need to be tracked. And trackers are an excellent way to build or break any habit. This simple tracker by hellobonjournal has the perfect colors that can cheer you up any day. What makes this layout so elegant is the green and pink combination.
6. Make every day Count
In today's world, the only thing that matters is staying productive. And that is how we thrive and do better, by pushing a little more every day. This crafty March bullet journal layout by littleolivebujo is so animatic. I am loving this one! The tiny little flowers only add to the beauty of this tracker layout.
March Bullet Journal Monthly Layout

Monthly logs are an excellent way of keeping a track of everything. It will enable you to map out specific events and plan out the month accordingly. These March bullet journal monthly layouts will help you to add notable snippets that happened. Monthly logs are often improvised and personalized to cater to their own needs. So here are some interesting ways for you to decorate your March bullet journal monthly layout.
1. Leafy March Bullet Journal Monthly Spread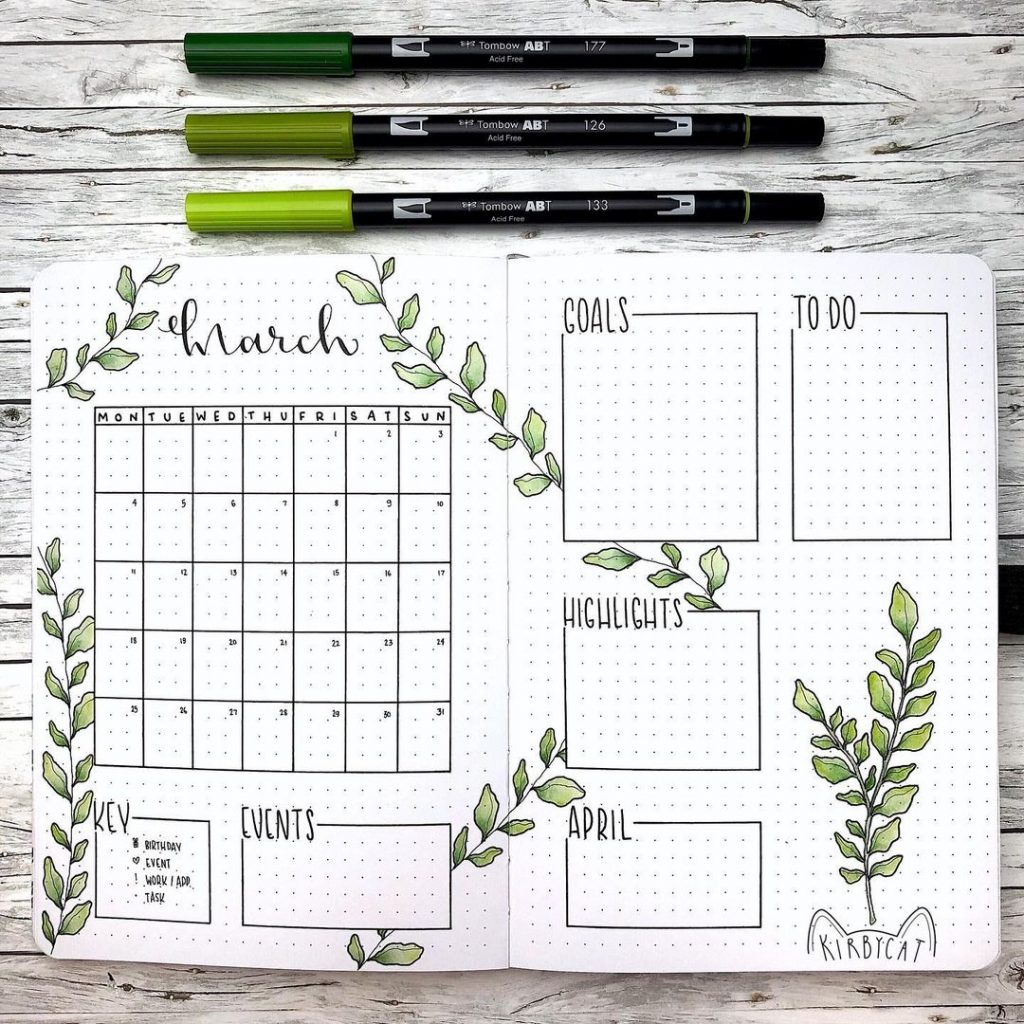 This bullet journal monthly log by kirbycat.bujo is so green. Green symbolizes life and growth and what is a bullet journal if you are not using it to track your growth? I like how she has dedicated a corner for the key events. And also the page on the bigger goals and highlights to prioritize the events.
2. Let the Magic Begin

This night-themed monthly log welcomes a magical vibe into this month of March. Kim_artventures has created this elaborate monthly log for the March bullet journal and has nowhere made it inconvenient. Besides the magical violet hues, what I love about this spread is the 'next up' section. It will help you to write down all the upcoming important to-dos and events.
3. Wildlife Adventure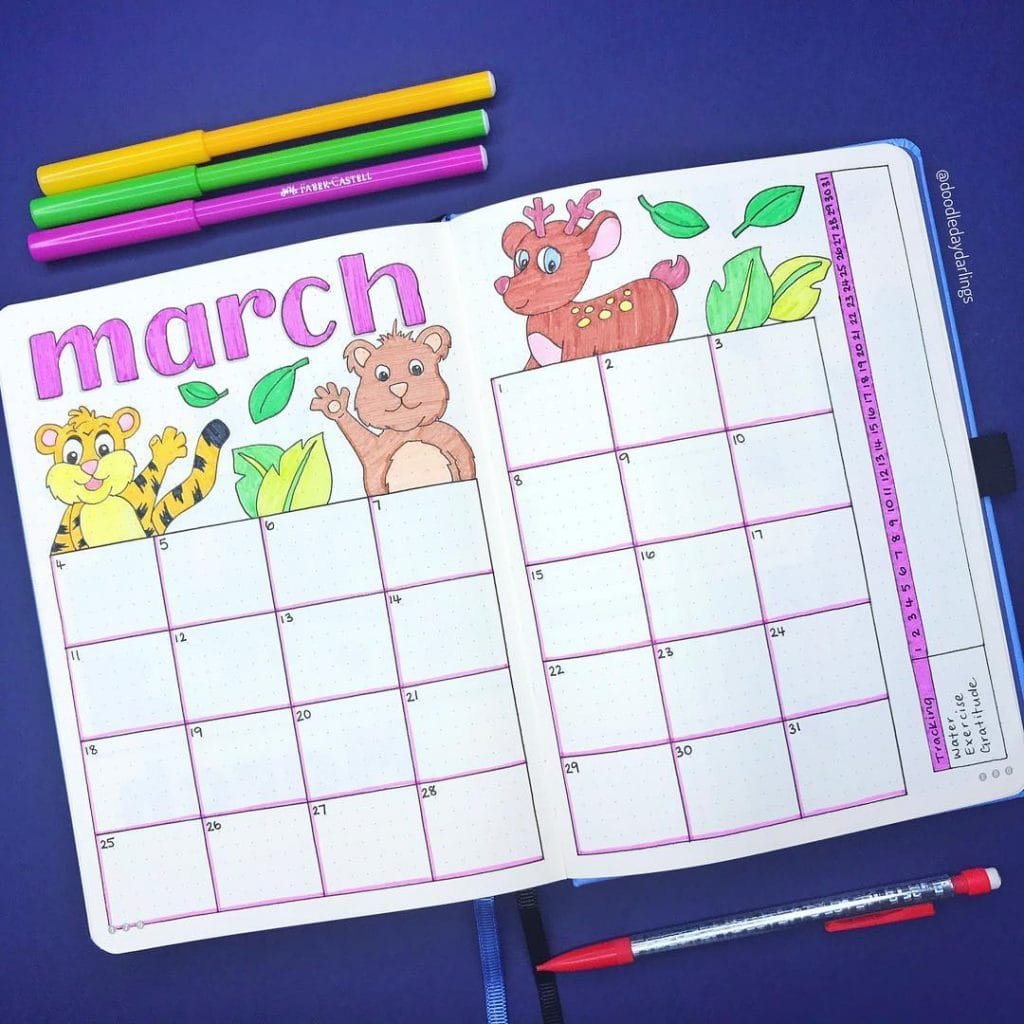 How interesting is this monthly log? With all these cute animal doodles this layout is just too much fun and colorful. This is like a wildlife collection! Doodledaydarlings has also included a tiny section for tracking daily habits. If you are looking for a monthly log bullet journal for your kids, then this one is certainly a good option. Your kids will love to keep this one updated at all times.
4. Cactus-themed Monthly Log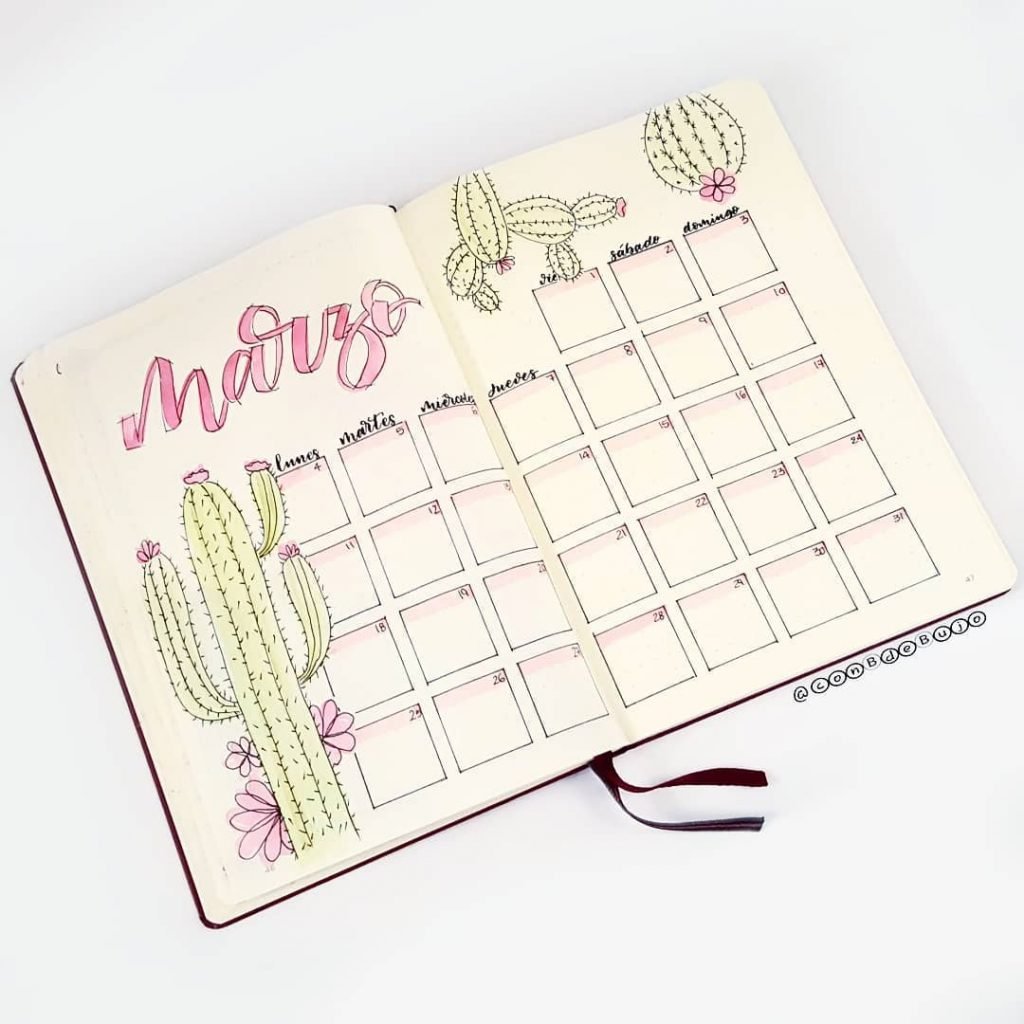 This March bullet journal monthly log by conbdebujo is so sophisticated. Cactus doodle is easy and very much in trend. And this one certainly has an extra softer touch thanks to the pink flowers. This monthly log will without any doubt keep you motivated every day!
5. Green-themed March Bullet Journal Monthly Log

This monthly log looks so much like a mundane calendar, but of course, it is not so. Mylartsy has beautifully decorated this simple monthly log with twigs all over. The different shades of green have given this monthly spread a very modern touch.
March Bullet Journal Weekly Layout
A weekly layout unlike a monthly layout keeps things much more elaborate. It helps to set goals and targets for each day. And this way you can even track your progress every day. Personally, I think weekly spreads are excellent for achieving smaller goals.
So let us explore a few March bullet journal weekly layouts.
1. Mountains and Hues

I love this one. Bountifulcolors have created such a dreamy atmosphere on this layout. With the use of shades of blue and violet, she has created a perfect ambiance that will evoke the wanderlust in you. The rest of this March weekly layout is simple. The ample amount of space dedicated for each day and the extra space for notes are certainly a blessing.
2. Weekly Page of March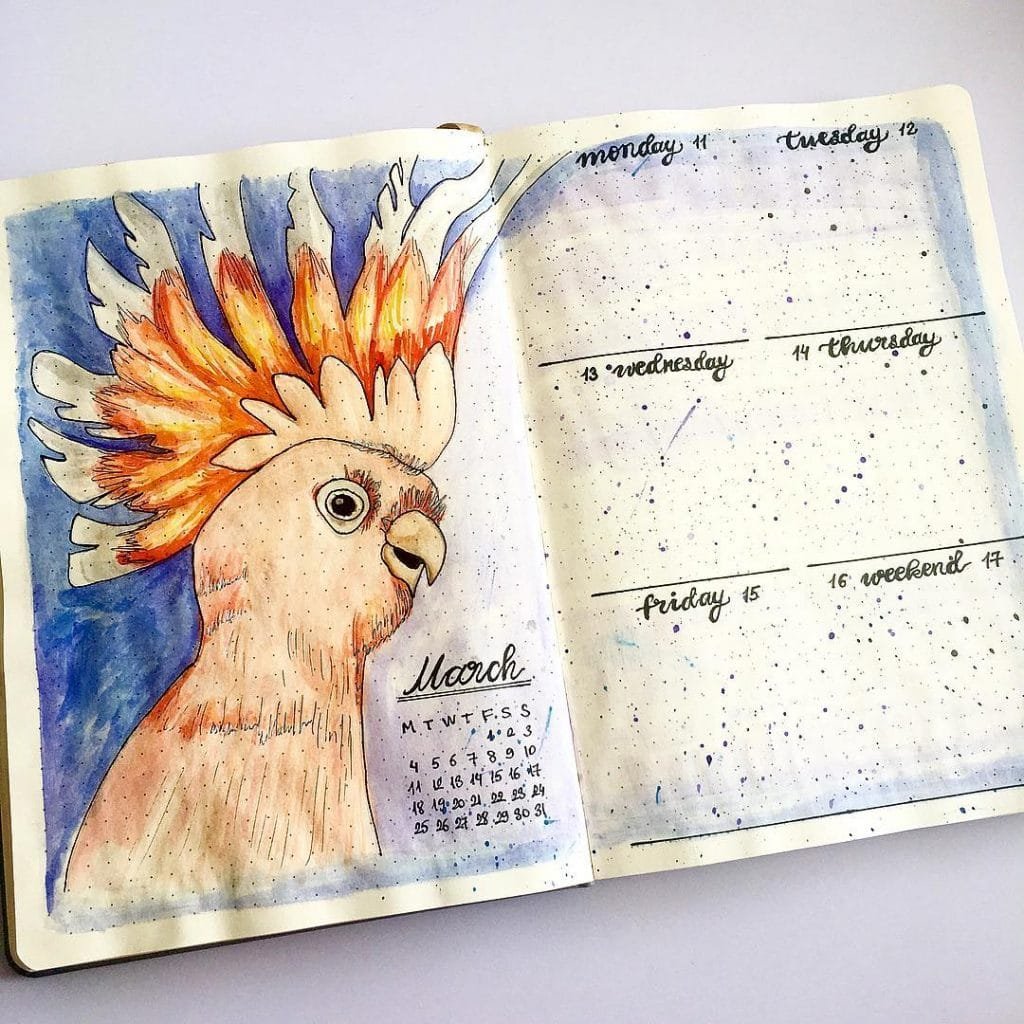 If you are a painter then this is the time to bring out the Picasso in you. Dunyasbujo has drawn the majestic bird to bless the month of March. This weekly log has a unique feature. It has added the month calendar on the left side to make it more convenient for you to keep track of the dates and the upcoming events.
3. Weekly spread of March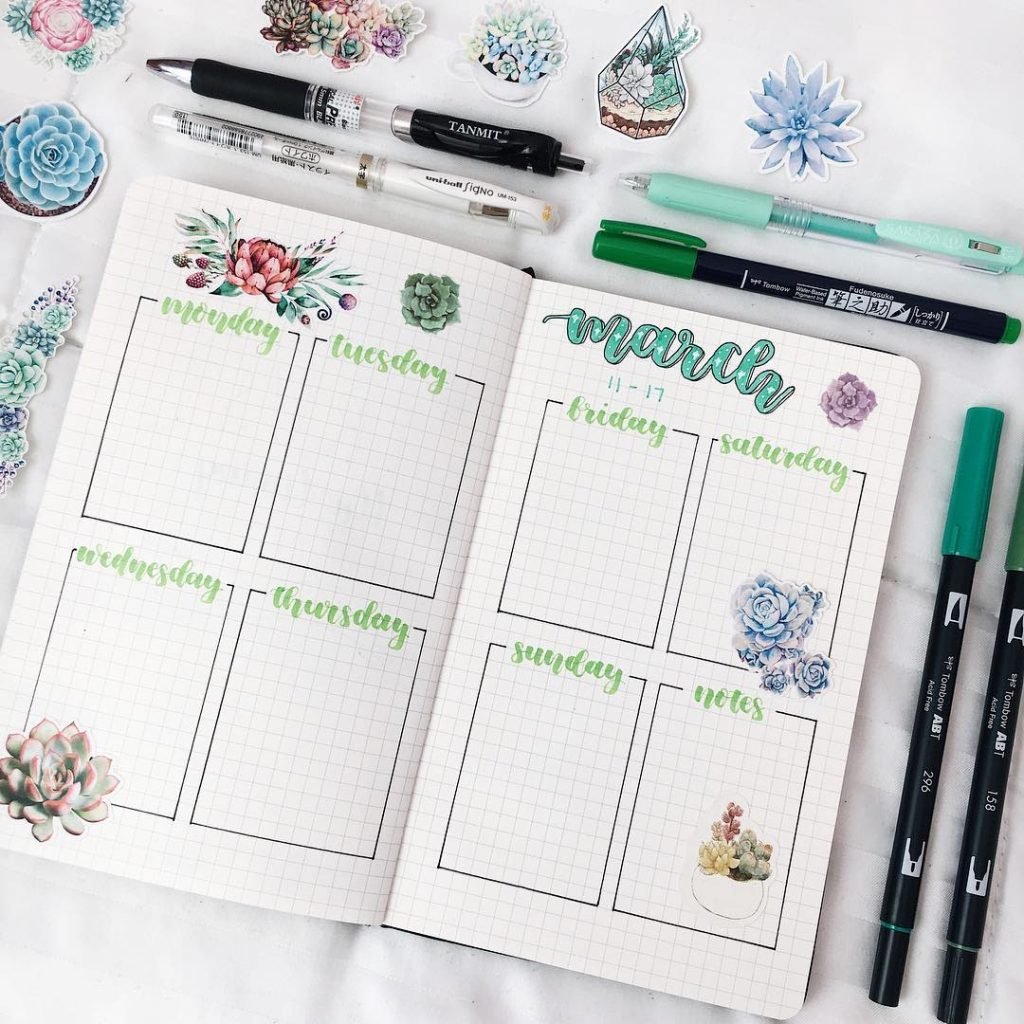 Megansstudies has very tactfully made this weekly spread. Most of the time I keep too busy to actually invest too much time behind creating a masterpiece weekly spread. So when I saw this weekly log I fell in love with it. With some stickers and pens, you can easily recreate a weekly spread like this one.
4. Yellowish Green Weekly Log
Begumjournals has made the perfect use of the yellow shade. It is bright and will not fail to remind you of summer and cheer you up. But what I like the most is the upcoming week's section, which will give me an idea about what I am up for next week.
5. Garden of Flowers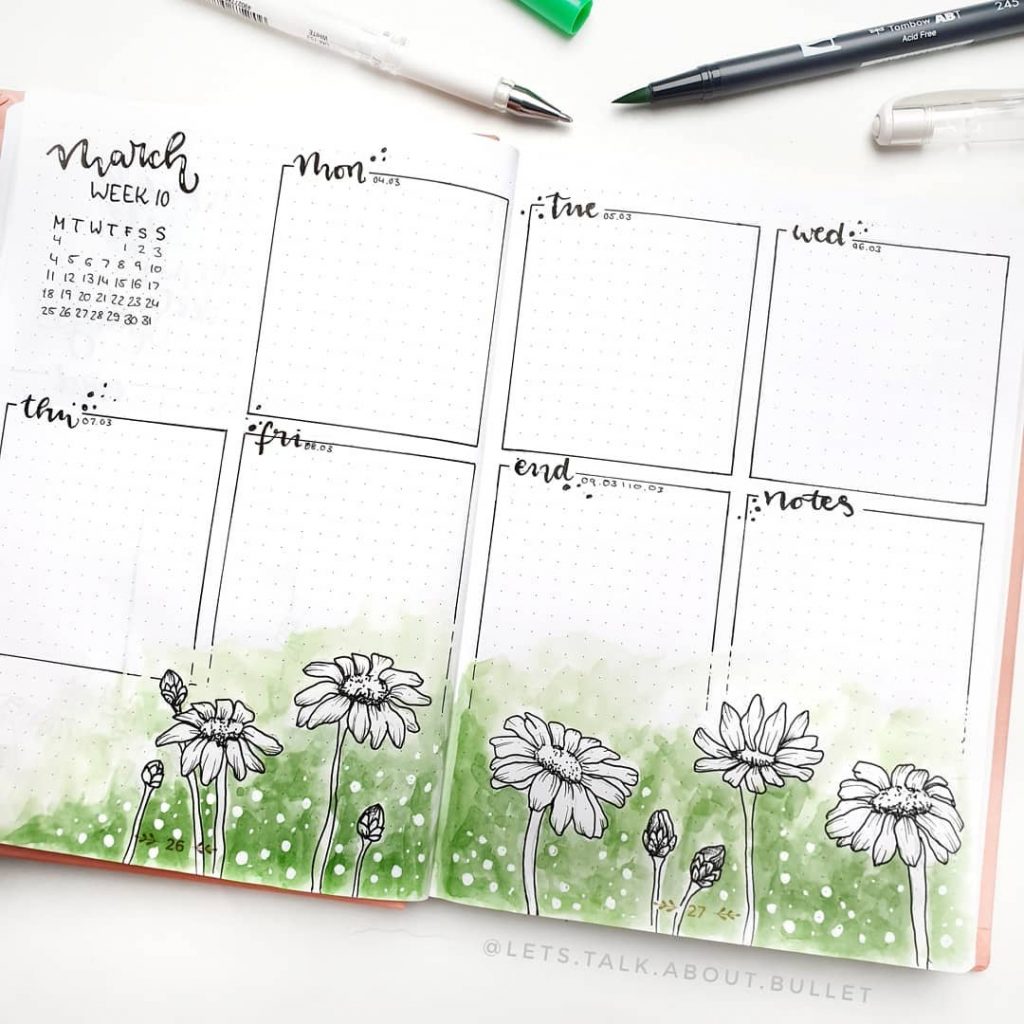 This idea for a weekly log by machsschoen is artistic. It looks like an anime scene, to be honest. And I am loving the whole layout. Not only she has kept the flower doodle easy and beautiful, but also has included a monthly calendar beside the weekly layout. This makes planning and keeping track of the date convenient.
6. Cactus-themed Weekly log

Yet another classy weekly log for you. In this one galalimette has included everything you need to keep the date and schedules sorted. She has included the monthly calendar on the left bottom corner and has also kept a designated space for notes. And how can one not fall for these cute little cacti doodles?
So there you go, with that we have come to the end of an exhausting list of bullet journal ideas for the month of March. This Spring let those ideas bloom and allow your BuJo pages to keep you sorted and productive throughout. Do let us know your favorite inspiration in the comment below. Happy Bujoing!
Also, if you have liked this article then you can save it to your Pinterest board by just clicking on the image below.