Mardi Gras is synonymous with grand celebrations, colorful atmospheres, lots of blues music and of course really good food. The term 'Mardi Gras' refers to the French term for 'Fat Tuesday' which is fitting for a day full of food and festivity.
The occasion is marked by plenty of costumes and lively celebration, most notably with the colors green, gold and purple at the forefront.
Although Mardi Gras is traditionally celebrated in the French ethnic regions along the gulf coast of the USA, celebrations ring in everywhere that the heart desires. And where there is fun, there must be food. So in this edition, we have brought you some classic Mardi Gras recipes.
Mardi Gras Drinks Recipes
While a variety of these are tried and tested, some are novel and will definitely tickle your fancy. If you have been wondering what you should prepare for this year's Carnival, we have a choice for everything from drinks to appetizers and desserts.
1. Bourbon Milk Punch
Imagine the most sumptuous milkshake you've had. Now make it pop with some bourbon. That's what this delicious and easy mardi gras recipe is all about. Like a southern dream in a jar, you will not be able to get enough. And that really is saying something.
2. The Hurricane
Image and recipe by mixthatdrink
Originally from the French Quarter in New Orleans, The Hurricane is a fresh drink with a sweet rum based fruity cocktail. This beautiful Mardi Gras dinner recipe is perfect for parties and get-togethers to start with. If you aren't interested in the alcoholic version, this recipe also includes a mocktail version, which is great.
3. King Cake Daiquiri
Image and recipe by cakenknife
A twist on the classic drink, this refreshing cocktail is light and crisp with a touch of sweetness. King cake is a must during Mardi Gras so it's only fitting that we have a drink inspired by the same. The Mardi Gras recipe appetizer will be the perfect start for all festivities.
4. Mardi Gras Pina Colada
Image and recipe by foodnetwork
This is the official French Quarter take on the classic pina colada. It is purple and fun and all sorts of sweet, which makes it perfect to kick start a Mardi Gras party. It takes a while to prepare but then all good things take time. Once you have all your ingredients ready though, you'll love making this Mardi Gras dinner recipe for your guests.
5. Lime Swamp Punch
Not to leave out the kids, this is a drink that everyone will definitely enjoy. It is sweet yet tart, creamy yet not too frothy. Great for any time of the day. And especially as an easy Mardi Gras recipe. The sherbet definitely adds a very fun touch and is a great ice cream substitute. Definitely try this one out for your next Fat Tuesday get together.
6. Grasshopper
Image and recipe by mixthatdrink
With a Grasshopper, you basically get a drink that is a dessert. Cool, refreshing and with a hint of chocolate chip mint, it's origin at French Quarter makes its a Mardi Gras staple. Make this a Mardi Gras food recipe because it takes some time to kick in and is a great accompaniment with appetizers. Whether you like your creamy drinks light or heavy, the Grasshopper will not disappoint you.
7.Mardi Gras Festive Punch
Image and recipe by premeditatedleftovers
You can have this punch with alcohol or without. We have a recipe for both. And let me tell you, they're both bang for your buck. Loosely based on the fan favorite Hurricane, this festive punch is delicious and made with all the flavors to bring you a party in a bowl. Seriously, you have to try this easy Mardi Gras recipe once, because it will definitely leave you wanting more.
8. Cajun Bloody Mary
Image and recipe by ezrapoundcake
When you think of Mardi Gras, you most definitely also think of Cajun dishes. And so it's only fair that we have a Creole inspired drink on this list. This Mardi Gras dinner recipe is spicy, full of seasoning and so well balanced it's hard to think of it as just a drink. If a little kick is what you like, this version of the Bloody Mary is going to be your best friend.
9. King Cake Shots
There isn't much to be said about this super fun and really easy Mardi Gras recipe except that it is fit for a king. ANd for a king's carnival. Shots are a fun way to start off the party and when they have colored sanding sugar, you really don't need much convincing. Make these at your next Mardi Gras party. Trust me, it'll be worth it.
Mardi Gras Cake Recipes
10. Mardi Gras Party Cake
This is one of the most delicious looking butterscotch cakes I have seen. And that is saying something. If you're looking for an easy Mardi Gras recipe while making cakes, you have to try this. Covered with butterscotch chips and made with a light coconut filling in the batter, you'll be pard pressed to pass this up. Once you bring this out, no one will be able to stop talking about it.
11. King Cake Filled Two Ways
Image and recipe by lemon-sugar
We know you want to get King Cake. But how about a little twist on the King Cake so it's delicious and fun at the same time? The super fun Mardi Gras food recipe makes a really smooth dough and can be filled with two different fillings. I have a feeling now you're really interested in this one. Whether you choose cinnamon pecan praline or a delicious cherry bourbon cream, this cake will be the talk of the night. So why not give it a try this year for Fat Tuesday.
12. Vanilla Cupcakes
Image and recipe by easydessertrecipes
Cute, colourful and fun. All these make this the perfect Mardi Gras dinner recipe. This is a sweet vanilla cupcake that is topped with cream cheese frosting. And if it doesn't scream Mardi Gras carnival, then I don't know what does. Plus it's a great alternative if you don't want to spend all your time worrying with a king cake this year. So go ahead and make this year stylish with something new.

Read – 25 Lip Smacking Thanksgiving Cupcakes Recipes
13. Mardi Gras King Cake
The cake to rival all other cakes when it comes to Mardi Gras celebrations. However, it can be slightly time consuming and tricky if not done correctly. That is why we have this easy Mardi Gras recipe to make King Cake using crescent dough. Topped with a satisfying cream cheese icing and Mardi colored sanding sugar, you'll love digging into this delightful cake at the end of the carnival.
14. Mardi Gras Pound Cake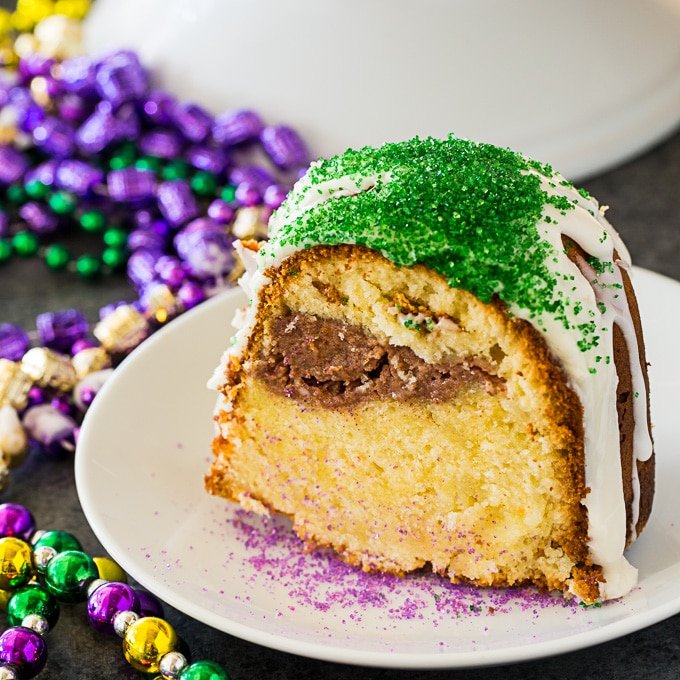 Image and recipe by spicysouthernkitchen
Cinnamon flavored swirl, a rich and moist cake and wonderful sugar glaze. Those are the things that encompass this fantastic Mardi Gras dinner recipe. You'll want to save a bit of room because one serving of this pound cake is certainly not enough. And to let you in on a secret, you can have it even as a tea time snack. Cool right?
15. King Cake Roll
Image and recipe by tablespoon
If you are a big fan of swiss rolls, there's no reason to not try the Mardi Gras version of it as well. This brightly colored striped cake is filled with a decadent frosting that will have you going back for more. For an easy Mardi Gras recipe that everyone will appreciate, you have to try this one. Although the cake looks complicated to assemble, you can rest assured that it is really easy to make.

Read – 30+ Lip Smacking Pinwheel Recipes To Roll Up For The Party
16. King Cake Cheesecake
Image and recipe by kitchenbelleicious
This list would be incomplete without at least one mention of cheesecake recipes. As much as the traditional king cake is the undisputed hero of Mardi Gras desserts, we have to have a little variety and some grand twists. And so we have this indulgent best of both worlds Mardi Gras food recipe. Made with a cinnamon shortbread cookie crust and a cream cheese filling, this cake is bound to have many people swoon. Try it yourself and see how good it is.
Mardi Gras Party Recipes
17. Classic Shrimp Cocktail
Image and recipe by entertainingdiva
Have you ever wanted to have really high end food but not pay those exorbitant prices at the same time? This Mardi Gras recipe appetizer pairs with a decadent homemade seafood sauce that will not be harsh on your pockets. So don that chef's hat and get ready to serve a real treat at the party because this dish might just top every other party dish on your menu.
18. Vegan Jambalaya
Image and recipe by holycowvegan
Packed with the flavors of Louisana, this wonderful vegan Mardi Gras recipe is a vibrant and healthy one pot meal. It is packed with celery and bell peppers to provide an explosion of color and deliciousness. If you want to partake in the festivities of the Carnival while being gluten free and nut free, you're in for a treat. Trust me, this recipe leaves nothing to desire.

Read – 100 Delicious Vegan Dinner Recipe Ideas (Super Easy)
19. Cajun Mac and Cheese
Image and recipe by countryliving
Although pasta is the staple of Italy, there's no reason not to include a Cajun version for Fat Tuesday. This Mardi Gras pasta recipe contains kielbasa sausage which makes it perfect for a party. The cajun seasoning gives the recipe the kick it needs. Also, this recipe is great to make ahead of time so that you're not rushing at the last moment.
20. Cajun Chicken with Salsa
Image and recipe by iowagirleats
As much as you want to deny it, Mardi Gras chicken recipes are a classic hit. This one is a festive and colorful recipe that makes itself at home amidst the celebrations. The chicken is tender and has all the flavors of the south which feel like home. If you love a good salsa with your meat, you absolutely cannot go wrong with this sweet yet tangy flavor palette. Do us all a favor and try it out yourself.
21. Oyster Mushroom Po' Boys
Image and recipe by loveandlemons
Fun and healthy but also downright delicious are words that are used to describe this vegetarian Mardi Gras recipe. The baked oyster mushrooms in this recipe are as crispy and delicious as their fried meaty counterparts. A staple at Mardi Gras, this version of the Po' Boys is bound to be very popular once you've given it a try.
22. Cajun Crab Dip
Image and recipe by thriftydiydiva
If you love a good cheesy dip, you're going to want to make Mardi Gras dip recipes like these all the time. It's great as an appetizer and with your trusty bread rolls. It also has the perfect amount of spice without being overpowering. Best part of all, you can make this in no time. Sure to be a hit at the party.
23. Deviled Crab Melts
Image and recipe by southernliving
Crunchy crostini bread with a wonderful crab melt, lots of gooey cheese and plenty of fresh tomatoes. Sounds like the perfect Mardi Gras recipe for appetizers. This is a great start to your Fat Tuesday party with a side of coolers and some lovely cheese dip. Plus, they are so easy to make you won't even realize when you have a whole batch steaming hot and ready.
24. Beer Batter Hush Puppies
Image and recipe by shewearsmanyhats
Probably the most popular side dish at a Mardi Gras party, it would be criminal to leave this one out. This easy and delicious vegetarian Mardi Gras recipe is made with love and has just the right hint of sweetness and spice. Its great for a Fat Tuesday party if you ask me.
25. New Orleans Gumbo
Image and recipe by tasteofhome
To be honest, Mardi Gras wouldn't really be the same without a mention of this classic recipe. This dish has all the classic elements of the French Quarter and if you haven't tried it yet, you're missing out. The Mardi Gras chicken recipe with shrimp and sausage is an explosion of flavor. It has just the right amount of heat to sweetness which balances well with the rice. If you're having a Fat Tuesday party, you've got to have Gumbo.
26. Mini Crab Cakes
Image and recipe by southernliving
Crab cakes are pretty awesome for any time of the year. But they're even better as a Mardi Gras appetizer recipe.These crab cakes are delicate and delicious especially when paired with a lovely garlic and chive sauce. Whether you're serving it at a party or just for a simple Mardi Gras dinner, you can be sure that these golden brown crispy treats are going to be much loved.
27. Hot Muffuletta Dip
Image and recipe by allrecipes
Hot and spicy with a hint of tangy sweetness sums up this dip.. It's oozing flavor from the salami and cheese. A great Mardi Gras dip recipe, this Muffuletta dip is great with French bread and tortilla chips. You won't even notice how quickly you've finished it. And that right there is the mark of a good dip.
28. Creamy Cajun Chicken Pasta
Image and recipe by thriftydiydiva
Easy to make and a real time saver, you have to try this Mardi Gras pasta recipe at this year's party. It is delicious and oozing with cheese and spices. Pasta on it's own can be great, but with the cajun style seasoning and the amazing rotisserie chicken, you've got yourself a real Fat Tuesday treat.
Mardi Gras Dessert Recipes
29. Petit Fours
Image and recipe by bakinginheels
Whoever came up with the name petit fours for these mini cake treats is a genius. Aren't they really the cutest? If you're ready to have a bit of a mess on your hands, you're going to love making this Mardi Gras food recipe. In saying that, it is actually a really easy recipe and you will love the sticky petit fours they yield.
30. Mardi Gras Cake Pops
Image and recipe by pintsizedbaker
I don't know about you, but the concept of cake pops gets me really excited. Bring some color and fun to your carnival celebrations with these green, gold and purple fun sized party treats. So get your cake tins and food coloring out to make some yummy cake pops with the whole family.
31. Mardi Gras Munchies
Image and recipe by bakelovegive
This one is part appetizer – part dessert and fully fun. M&Ms provide the fun part of course. Add some sweet and salt to your Fat Tuesday celebrations with these Mardi Gras dinner recipes. If nothing else it will keep the kids occupied and quiet for a while.
32. Mardi Gras Cookies
Image and recipe by momlovesbaking
If you're looking for a really easy Mardi Gras recipe, you might want to try this one. Yes we use a premix powder, but when there are so many things to do for Fat Tuesday, you're allowed to take shortcuts. Also, just because it's easy doesn't mean it's not going to be delicious. After all, it's snickerdoodles with creamy vanilla frosting and sprinkles. It's bound to be delicious.

Read – 40 Halloween Cookies Recipe Ideas To Get Inspired From
33. Easy Beignets
Often referred to as the deep fried cousin of the funnel cake, this sweet Mardi Gras recipe appetizer is famous during Fat Tuesday. This particular recipe is a quick version that doesn't use yeast and is super simple to make. Make them right before the party and your guests will surely appreciate how amazing these pillowy sugary treats taste.
34. Mardi Gras Jello Shots
Image and recipe by tablespoon
Get into celebration mode with fun Mardi Gras food recipes like these. Making this might be almost as fun as having them at the party later. With how easy they are to make, we won't blame you for sneaking in a few before the celebrations begin. Go ahead and check the instructions for a fun time in the kitchen.
35. Fleur De Lis Spritz Cookies
Image and recipe by bakelovegive
Assorted sprinkles, candies and food color make up a good chunk of this Mardi Gras food recipe. But it doesn't end there. If you want to have some fun this Fat Tuesday, you're going to want a serving of these adorable fleur de lis cookies. Seriously, they will be a hit at dinner parties. And don't tell anyone, but it's okay to sneak some in before dinner as well.
36. King Cake Ice Cream
Image and recipe by cookingwithjanica
So we have ice cream, and we have a lot of king cake. And of course it only makes sense that we mix the two and create this delicious and easy Mardi Gras recipe. This king cake ice cream has cream cheese with vanilla and cinnamon. And here we thought the recipe couldn't get any better. Do me a favor and try it yourself. You won't regret it one bit.
37. Turtle Apple Pops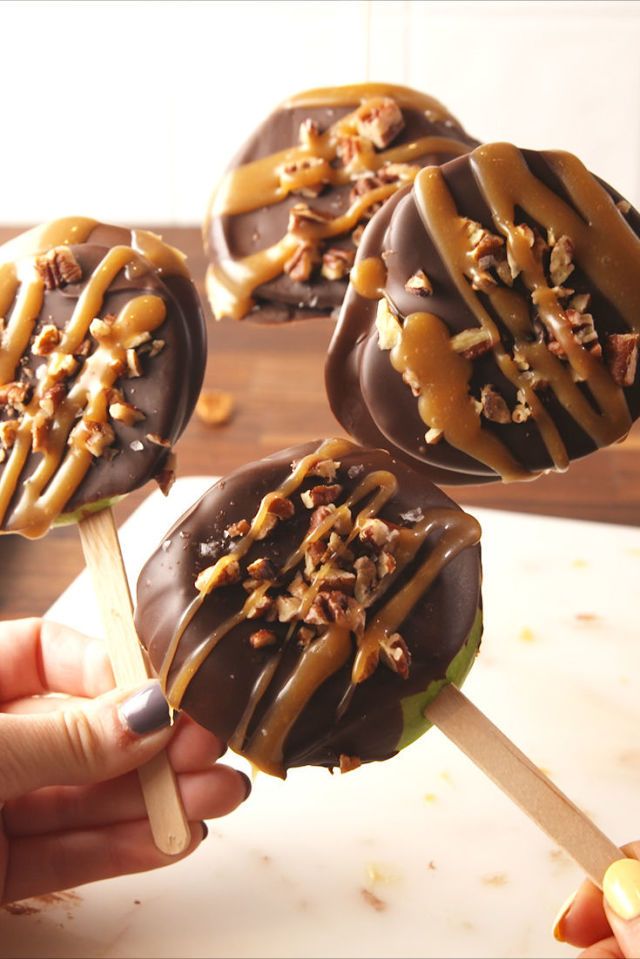 Now I'm not saying this might be the one healthiest Mardi Gras dinner recipes for dessert, but that is what I'm saying. If you're a fan of apples and you love caramel, you will love this. Melted chocolate, pecan nuts, caramel drizzle – do I need to say more to convince you to try this amazing dessert recipe?
38. Mardi Gras Dipped Pretzel Rods
Image and recipe by livinglifeasmoms
Whether you decide to use this Mardi Gras food recipe to make party favors or just to soothe the party, you can't deny they're fun. You can finish dinner with these amazing and colorful pretzel rods that everyone will adore. A great way to use them is to tie them and serve as a bouquet to your guests. Adorable isn't it?