Flower crowns are so chic and classy. They are the perfect party props. You can use them for your wedding parties, bridal showers, and even for baby shower parties. You can use fresh flowers if you are looking for fresh and fragrant flower crowns. Here we have some basic steps to teach you how to make a flower crown. 
You might think that making a flower crown is too complicated, but let me change that thought. Here I have simplified the whole affair for you. So let's get on with this beautiful crafting skill. Let's explore the steps to answer the question- How to make a flower crown!?
1. Arrange The Basic Materials for your Flower Crown
Getting the basic materials and supplies is the most important way to start your quest for how to make a flower crown. You will need to make flower crowns are floral tapes, scissors, craft wire, wire, flowers, and greenery. 
If you want to learn how to make a flower crown, you will have to learn how to get the flowers right. Flowers can change so much. Different flowers create different vibes and essence. And that is what you need to figure out before you learn to make your flower crown. If you want to make a statement you can use flowers like spray rose, daisies, dahlia, peony, anemone, and carnation. For fillers, you can use poms, astilbe, statice, snapdragon, and feverfew.  But a flower crown also needs some greenery, and for that, you can use myrtle, ivy, leather fern, dusty miller, eucalyptus, and lemon leaf. Get a little creative to experiment a little in the process of learning how to make a flower crown.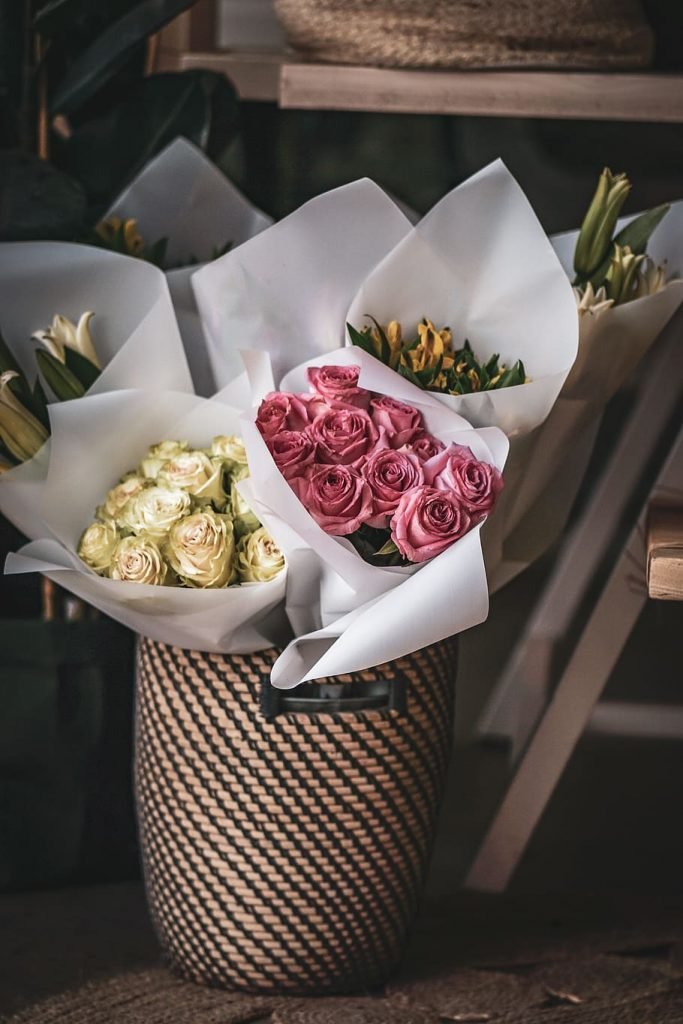 The next thing you need to get right for this tutorial- How to make a flower crown- is the wire. It is the building block of your flower crown. Take the wire and wrap it around your head to find the best fit. Leave about half an inch of extra wire to wiggle. Then you can just secure the ends with floral tapes.
4. Wrap Greenery Around the Base
This is a simple step in a DIY flower crown. You can just secure the greenery to the floral wire. Greenery like myrtle and lemon leaf will add delicate detail to your DIY flower crown headband. But if you want a most extravagant and fuller flower crown, you can use greenery like a leather leaf and dusty miller.
5. Add the Mini Flower Bunches
You would want to choose your flowers wisely. You can bunch together three blooms and attach the stems with flora tape. You can combine the statement flowers with some fillers to achieve a more balanced look. Once you are done making the bunches, attach them to the wire. 
6. Add a Few Statement Flowers
Get the flower bunches and attach them to the wire with craft wire or floral tapes. Layer it with more blooms and flowers to create a seamless look. Make sure to attach the flowers in one direction with the flowers facing outwards. Keep adding flowers to your crown until it satisfies your heart. But like everything else, you can make a few focal points in your easy DIY flower crown by adding some statement flowers.
DIY Flower Crown Inspirations and Tutorials
I love easy DIY flower crowns; they look so beautiful and divine. But, a flower crown can come in different shapes and sizes so here I have a list of inspirations and tutorials for you. 
If you want a long-lasting DIY flower crown, then this paper marigold flower crown is just what you need. I love the bright orange flowers, add the right amount of spark to the crown. It is the perfect DIY prop. These tissue paper flowers are just too good to ignore.
2. Woolly Sunflower Head Wreath
This easy DIY flower crown is the perfect choice for summer weddings, baby showers, or any other event. And as these are paper flowers, you don't have to worry about them wilting away.
If you are looking for some spooky easy DIY flower crown headband, then this is it for you. I love these. It is such a refreshing idea in the list of traditional Halloween craft ideas. Make this Halloween special with these flower crowns. Here are some more spooky Halloween craft ideas- 15 Halloween Crafts for a Boo-tiful Decor.
I love this flower headband. It has a nice tropical vibe to it. And the best part of this is that it is so easy to make and beautiful to look at. I think this one is a perfect prop for birthday parties. Here are some papercraft ideas for you- 25+ Cute Paper Crafts For Kids For A Fun Time.
5. Blue Baby Flower Crown DIY
This is how I want my flower crown to look like. And this is much easier than it looks. First, you make a little base with the baby flowers and then just keep adding until they look perfect. I think a DIY fresh flower crown makes a perfect prop for bridesmaids.
6. How to Make Fresh Flower Crown?
If you are looking for a  DIY fresh flower crown, then this is your stop. I love how simple and easy this flower crown looks. It is bright, colorful, and chic. Perfect for a beach-themed party.
You don't need a wedding or a party to make a flower crown. With this simple tutorial, you can make your floral crown. I love the statement flowers used in this flower crown. Makes it look so much more beautiful.
8. DIY Wedding Flower Cream
A dreamy DIY flower crown is so much more than just a bridal accessory. A DIY wedding flower crown is also a thoughtful gift for the bridesmaids. So here we have an easy tutorial for you to accomplish the task. 
My niece loves daisies, and this year on her birthday I surprised her with this daisy flower crown. This easy daisy flower crown is made from real flowers. If you know how to make a braid you will easily make this one. This is also a great craft idea for kids.
10. DIY: How To Make A Flower Crown
Whether it be picnics, brunches, or weddings, I love flower crowns. They are easy to make; you just need a few key items. For instance, look at this beautiful flower crown; all you need to make this one are florist wire, floral tapes, gyps, scissors, roses, freesias, and roses.
This DIY flower headband is adjustable; meaning you can make it for kids and adults. It is perfect for parties, weddings, and costumes. This one is so simple, all you need to know is how to braid and you are good to go.
It is the little details that make the party special. Learn how to make darling flower crowns with this easy tutorial. She has made this one with floral wire and artificial flowers. And just like that, you are all set to make your DIY fake flower crown.
13. DIY Wedding Flower Crown
This one is my favorite in this list of how to make a flower crown. If you don't have a wedding coming up you can make this one even for a Coachella party. This one is a gem; it can be a little heavy, but it is certainly worth it.
14. How to Make a Flower Crown for the Summer Solstice?
Making a flower crown is easy and a perfect way to celebrate the summer. All you need for this one are flowers, scissors, wool, and willow. Go ahead and give this one a try!
15. Country Florist Garden
There is nothing prettier than flowers in the summers. But you don't always need to have a party to make a beautiful fairy-like flower crown. This can also be a beautiful surprise gift for your little girl. I love the seamless combination of pink, purple, and white flowers.
16. How to Make a Flower Crown
This one is a true DIY Snapchat flower crown! I love how simple and sober it looks. If you want your flower crown to look minimal and sophisticated, then I would suggest you go for this one. I love the white and the green combination.
17. Spring Flower Crown Craft for Kids
This is an amazing paper craft idea for kids. Kids love simple craft ideas; it is simple, pretty, and fun to wear. I love this yellow, white, and green combination. It is so bright and fun, perfect for kids.
Create a flower crown for you and your puppy to celebrate weddings and parties. In this tutorial, you will learn easy tips, techniques, and ways to keep the flower crowns healthy. 
19. DIY Felt Flower Crown Craft
This is a perfect addition to your fairy birthday party. You will need felt cloth, scissors, pencil, yarn, and hot glue. This cute flower headband is super cool and fun. You should give it a try.
20. How to Make a DIY Flower Crown?
Are you obsessed with flowers? Then I suggest you braid a flower crown like this one. You can get a little creative and change the vibe of the flower crown by choosing different flowers. So first, pick your flowers and make your crown.
There you go, people. We have listed down creative ideas in this list of how to make a flower crown. Let us know which one impressed you in the comment section below. Happy crafting, people.
Also, if you like this article, you can pin it to your Pinterest board by clicking on the image below.