Are you tired of your wallet feeling as empty as a motivational seminar on a Monday morning? Well, fret no more, my fellow frugal crafters! Prepare to unleash your inner Picasso without breaking the bank as we present the ultimate collection of 55 Dollar Tree crafts guaranteed to leave your piggy bank squealing with joy. From stylish home decor to quirky accessories, we've got it all.
Get ready to turn dollar store treasures into goldmine creations that will have people lining up to empty their pockets faster than a magician pulling rabbits out of a hat. So, grab your glue guns and let the crafting extravaganza begin!
Also read –
1. DIY Wood Tiered Tray
Image and tutorial by jugglingactmama
Making dollar tree DIY wood crafts couldn't be easier than this. If you love pieces that add a rustic charm to your home, this craft will be right up your alley.
2. DIY Maple Leaf Charger Plate
Image and tutorial by thisisourbliss
Is there any better way to welcome Autumn than with affordable dollar tree fall crafts? This little craft is a beautiful and unique addition to your Thanksgiving dinner table. The best part is that you can make this project in under 5 minutes. Amazing, isn't it?
3. DIY Sea Glass
Image and tutorial by thehomespunhydrangea
We all love souvenirs from our visits to the ocean. Make your very own, so you always have a bit of the sea with you. Sea glass is super pretty to look at, no one will believe how easy it is to make this DIY dollar tree craft.
4. Dollar Store Bat Craft for Halloween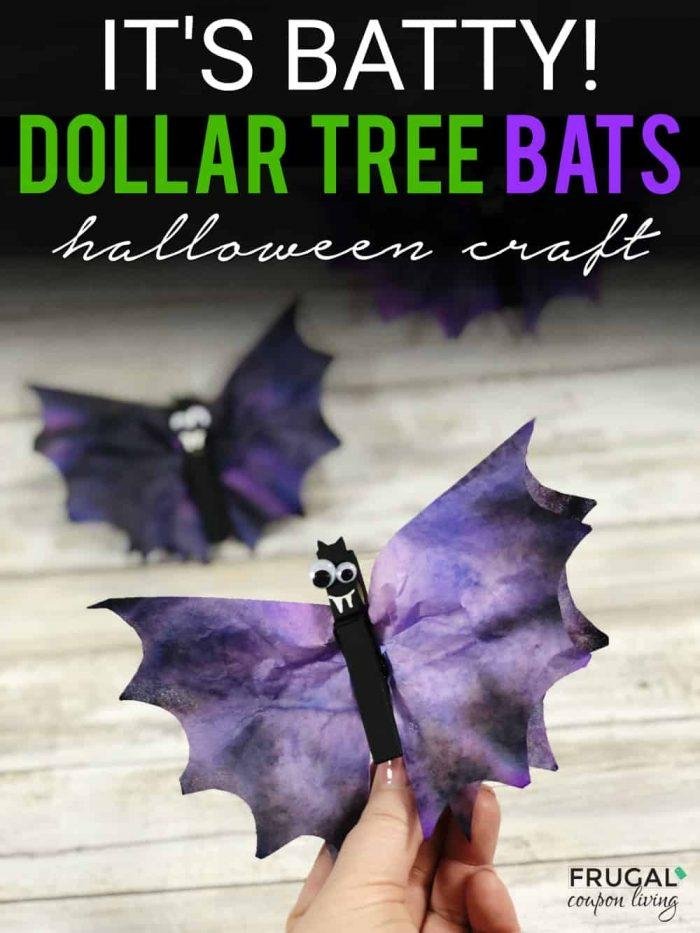 Image and tutorial by frugalcouponliving
Want to make spooky yet cute crafts for Halloween this year? Start with this adorable bat craft with items you'll find at the dollar store. Easy and affordable are just how we like all our scary decor.
5. Fox and Bunny Jars
Image and tutorial by twokidsandacoupon
Start your upcycling journey today with these adorable dollar tree Easter crafts. These dollar tree crafts can be used as pen holders, store little nick-nacks, and even hide some Easter candy in them. Plus, look at how cute they are to look at.
6. Trendy Decorative Lamps
Image and tutorial by hip2save
Who doesn't like a good antique lamp or lantern? With this dollar tree craft, you can make these trendy lamps for a fraction of the cost. You can change what you display in the lamps seasonally – candles, fall decor, and even Christmas baubles are all great. So get some dollar tree frames and start on your little project today.
Expert tip by TCH: To stand out in the crowded market, focus on a specific niche or theme for your Dollar Tree crafts. This will help you in targeting a specific audience and cater to their interests and preferences. Whether it's farmhouse décor, children's toys, or personalized gifts, having a niche will make your crafts more appealing to potential buyers.
7. Dollar Tree DIY Christmas Gnome
Image and tutorial by rufflesandrainboots
This cute little dollar tree Christmas craft will brighten up your holiday in no time. With some hot glue, scissors, and felt, this wreath comes together in 20 minutes for the perfect decor for Christmas. What are you waiting for? Start your gnome wreath collection today.
8. PB Inspired Tiled Mirror
Image and tutorial by dolalrstorecrafts
This DIY dollar tree craft will elevate the look of your home. Try it yourself and see how many compliments you get when you have visitors. You can also add a stylish mirror frame to it.
9. Marbled Nail Polish Mugs
Image and tutorial by strengthandsunshine
This simple DIY looks like it might take hours, but it really is easy and quick to do. With mugs, nail polish, and a bowl of water, this dollar tree craft comes together quicker than a dream. Get some plain white mugs and an old nail polish to get started with this amazing little DIY craft.
10. Valentine's Day Ribbon Wreath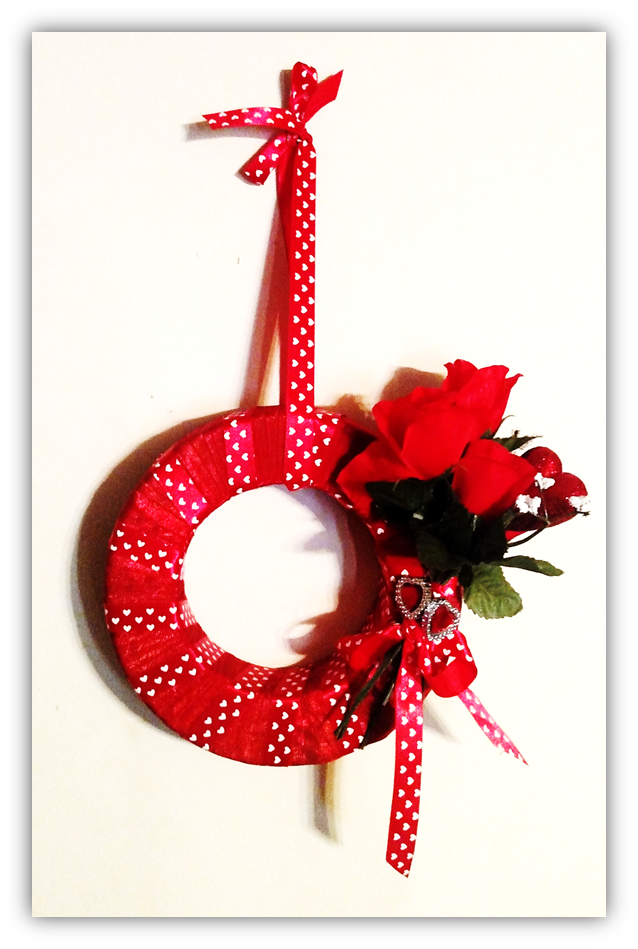 Image and tutorial by ruralmom
Isn't this wreath craft adorable? This dollar tree Valentine craft is much easier than you would think. With many red and pink ribbons, little heart pins, and faux flowers, this Valentine craft comes together in no time. You can hang this craft on your front porch, living room, or any other place you like.
11. Mini Easter Egg Topiary
Image and tutorial by intelligentdomestications
Have you always wanted to make a unique decor item for Easter but never knew where to start? This simple dollar tree Easter craft will be a fun and perfect craft for welcoming spring.
12. Washcloth Bunnies and Chicks
Image and tutorial by craftsbyamanda
Finding the right things to put into Easter baskets shouldn't be difficult. And with this easy dollar tree Easter craft, you will have a bunch of gifts in no time. These washcloth bunnies are so cute and easy to make; you'll be done with them soon.
13. Decorative Seashell Bottles
Image and tutorial by craftsbycourtney
The beach-themed decor might be the most popular craft decor idea. Not only is it bound to be pretty, but the different things you can do with shells and sand are almost infinite. This is one of the elementary dollar tree DIY crafts to make and sell because of how popular seashell items are. So, next time you are in the beach, remember to collect a few sea shells.
14. Dollar Tree Night Lights
Image and tutorial by leapoffaithcrating
Anyone who loves personalized items will love this idea. These night lights are easy to make; they can be great gifts. And the best part? Even your kids can make it. This is exactly the idea you need to start with for an easy dollar tree craft to make and sell.
15. Succulent Turtle Topiary
Image and tutorial by gardeningintheshade
With a few pots and adorable succulents, this easy dollar tree fall craft will be done quickly. Also, they would make brilliant housewarming gifts. Start your little topiary garden today and inspire others to do the same.
Expert tip by TCH: While working with budget-friendly materials, ensure that your finished crafts reflect quality and durability. Take the time to strengthen joints, secure embellishments properly, and ensure your products look polished and professional. Investing extra effort in the finishing touches will go a long way in commanding higher prices and building a reputation for quality craftsmanship.
16. Skeleton Hand Place Card Holders
Image and tutorial by thenavagepatch
Spooky yet whimsical, these placeholders are perfect for a Halloween get-together. With some spray paint, rattan balls, a dollar tree, and terra cotta pots – and of course, skeleton arms – you can make these perfect Halloween decorations for your get-together. As long as it's horror themed, the party will surely be a hit.
17. DIY Hanging Planters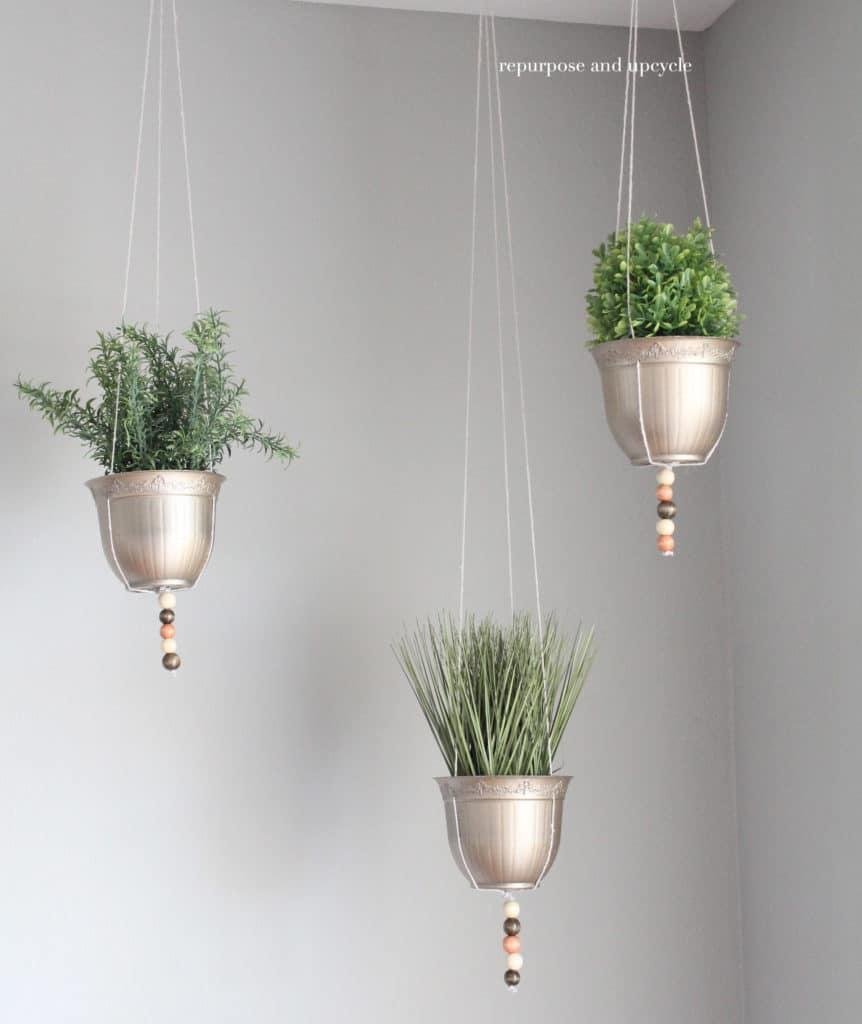 Image and tutorial by repurposeandupcycle
Spring is a great time to watch things grow and take root. And that's what gardening is all about. Also, indoor plants can help brighten up your indoors and bring in some greenery. Try this easy planter project and see how good it looks.
18. Gift Box Ornaments
Image and tutorial by craysonsandcravings
Who would have thought Jenga blocks could be used to make such adorable Christmas ornaments? With this dollar tree jenga craft, you'll have some inexpensive Christmas decor ready in no time.
19. Faux Succulent Gold Wire Orb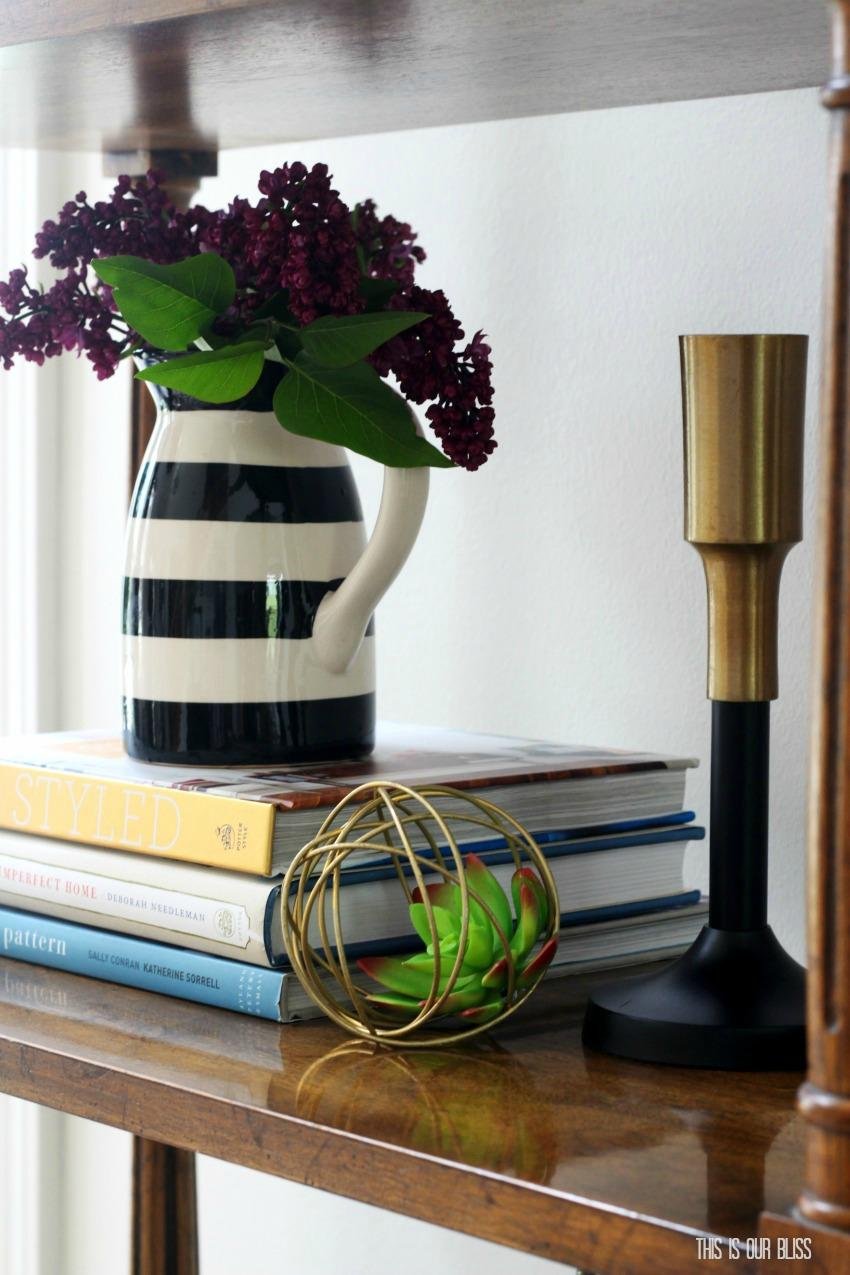 Image and tutorial by thisisourbliss
Using dollar store supplies to make chic decor items is the perfect thing you can do in your free time. This fresh and fabulous DIY dollar tree craft is easy and fun. Warning: Your guests might ask you to do some for themselves.
20. Painted Foam Pumpkins
Image and tutorial by firstdayofhome
Don't you love those Harlequin pumpkins that sit in boutiques around the Halloween season? With this dollar tree pumpkin craft, you can give your front porch the upscale farmhouse look you've been craving. All you have to do is gather some foam pumpkins and various paints to get started.
21. Hanging Flower Baskets
Image and tutorial by the craft berry bush
This lovely dollar tree Easter craft can instantly brighten up any room. The best part? This craft might be the easiest DIY dollar tree craft anyone can ever do. With a few pieces of crepe paper, you can ensure that these flower baskets are full of flowers all year round.
22. DIY Jewelry Storage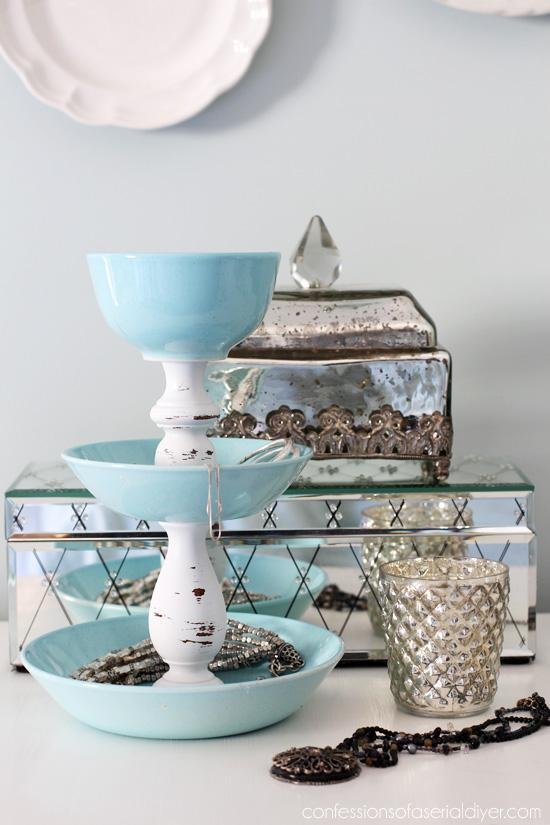 Image and tutorial by confessionsofaserialdiyer
Do you love taking things meant for one use and turning them into something else altogether? Well, you'll love these dollar tree crafts to make and sell. With a few bowls and cups, you can make a cute vintage-looking jewelry holder for all your little trinkets.
23. Hot Chocolate Mug Gift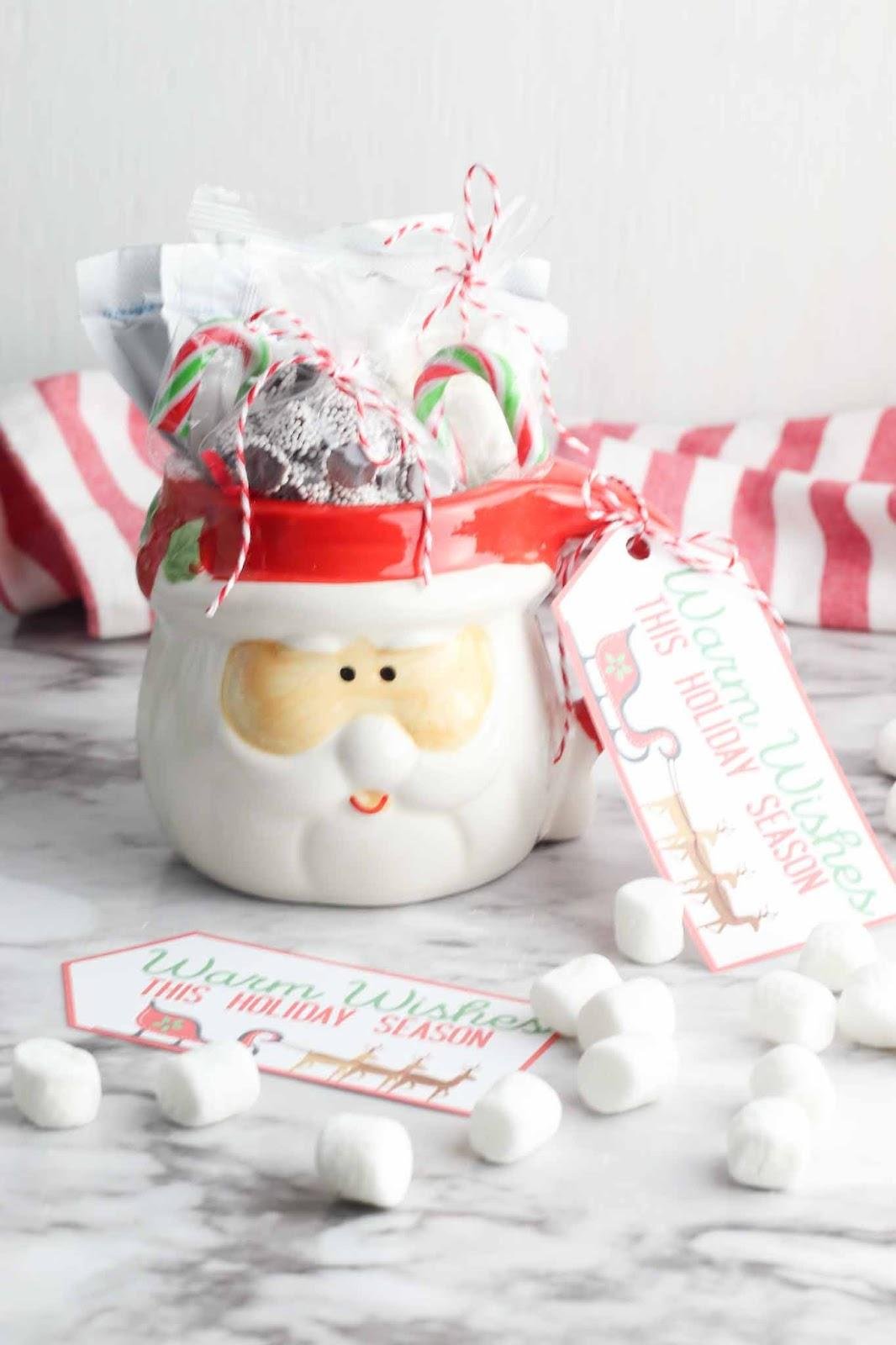 Image and tutorial by brooklynactivemama
Do you love hot chocolate? Well, it's a rhetorical question. This dollar tree Christmas craft is a great gift for Christmas. Add some cocoa powder packets, candy, marshmallows, dollar tree wooden spoons, and anything else you think can make a perfect hot chocolate.
24. DIY Easter Bunnies
Image and tutorial by kimspireddiy
If you and your family love sewing crafts, this new dollar tree DIY is a lovely project to do together. These adorable bunnies can be used in Easter baskets as pillows and simple room decor. They make a nice and inexpensive gift.
25. DIY Pumpkin Decor
Image and tutorial by hunnyimhomediy
Isn't fall genuinely the most relaxing time of the year? These simple dollar general crafts will upgrade the fall decor in the best way possible. So, without being late, let's check out the tutorial and start making a few.
Expert tip by TCH: Craft shows, online platforms, and local boutiques are great avenues for selling your Dollar Tree crafts. However, it's crucial to be strategic in your marketing approach. Utilize social media platforms to showcase your creations, engage with customers, and build an online presence. 

Additionally, consider collaborating with complementary businesses or offering personalized/customization options to attract a broader customer base. Effective marketing will help you reach more buyers, increasing the chances of making a profitable sale.
26. Valentine's Day Ornaments
Image and tutorial by thecrazycraftlady
Have you been struggling to develop some innovative Valentine's Day gift ideas? Or Do you want some decorations that aren't commonly seen? This little dollar tree jenga craft project is perfect for times like these. They go wonderfully with farmhouse decor or if you're trying to add a rustic charm to your room.
27. Wooden Snowman Ornaments
Image and tutorial by jugglingactmama
Inexpensive and recyclable Christmas decorations are all the rage this year. And why not? They're easy to make and look adorable. And because you're using supplies from the Dollar Store, you know that they will be affordable too.
This dollar tree Christmas craft can be made with tumbling tower blocks and some googly eyes. Feeling fancy? Customize them further in any way you want.
28. Rolled Rope Coasters
Image and tutorial by diyncrafts
Hate the water rings on your center table? Well, this DIY dollar tree craft will put an end to that unintentional mess. All you need is some sturdy dollar tree rope to get started.
Also read – 40 Fun And Easy DIY Coasters To Gift Or Keep
29. Confetti Bowl
Image and tutorial by modgepodgerocksblog
If you didn't know how much you needed a confetti bowl until just now, it's okay. But now that you know how beautiful it looks, you will need this in your home. Don't let all the colors and styles scare you, either. This DIY dollar tree craft is super easy and fun to make.
30. DIY Dollar Tree Picture Frame Crafts
Image and tutorial by simplemadepretty
This is the perfect project for simple dollar tree crafts to make and sell. Creating a reverse canvas is pretty straightforward. You will have some excellent signs ready in no time. Check out the tutorial for details
31. DIY Falling Leaves Wreath
Image and tutorial by celebrateanddecorate
If you live somewhere that will not have a lot of orangey-red leaves in the fall, this project is an excellent way to experience some of that.
The dollar tree fall craft needs some faux leaves and styrofoam wreath form to get started. Everything else is straightforward, though.
32. DIY Ornament Place Holders
Image and tutorial by thisisourbliss
Christmas ornaments don't all have to be for the tree. Use this dollar tree Christmas craft to bring some bing right to the dinner table. These DIY dollar tree crafts make your dinner party a more elegant affair. And, of course, later, you can hang these ornaments on the tree. Because why not?
33. Fall Luminary
Image and tutorial by cleverlysimple
With the cool weather and falling leaves, you want just the perfect light and warmth inside the house. Lanterns are a great way to go about that. But we know that store-bought lanterns can be pricey. So why not make a DIY dollar tree craft instead?
34. Tipsy Pumpkin Bucket Totem
Image and tutorial by scratchandstitch
This might just be the most novel yet adorable Halloween decoration you've encountered. With some Halloween pails, plastic plates, and wire, this dollar tree Halloween craft will be ready quickly. It's whimsical with just a touch of spookiness. And who doesn't enjoy that?
35. Christmas Bell Napkin Rings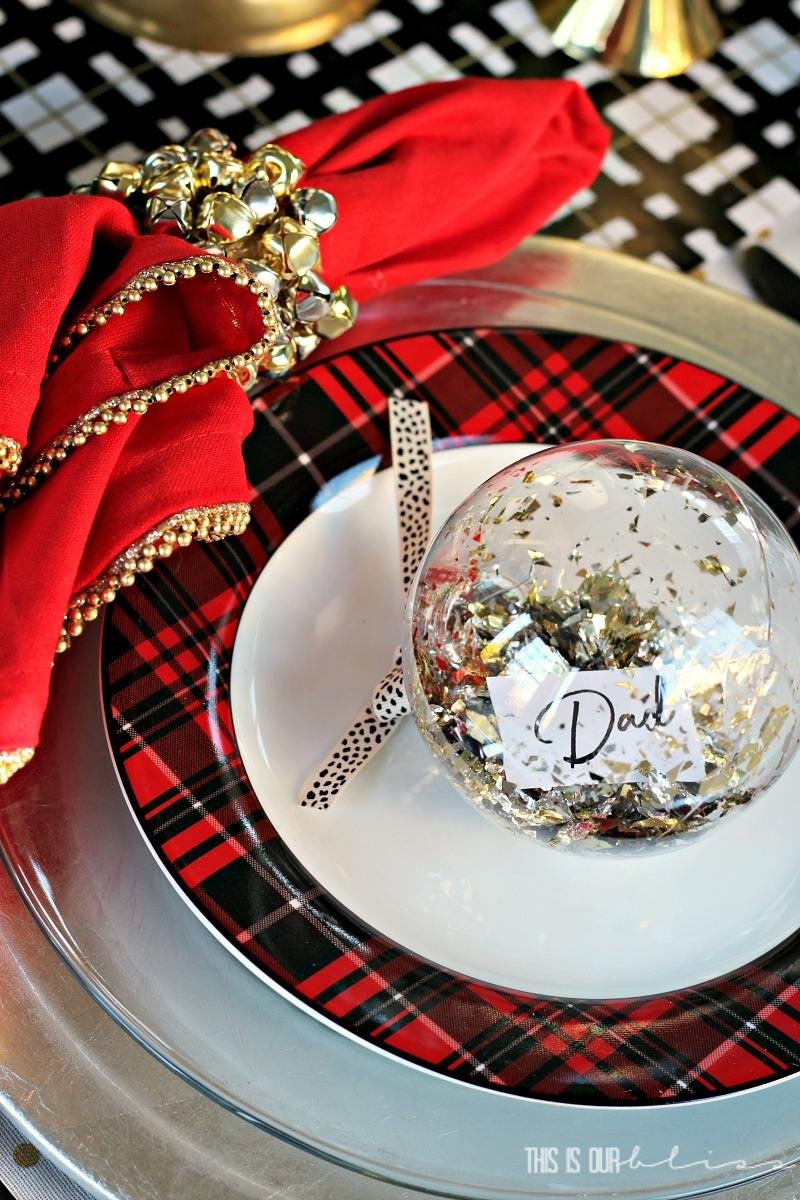 Image and tutorial by thisisourbliss
Dinner placemats and small personalizations can go a long way to show appreciation for your family. With some empty paper rolls and mini bells, these Christmas-themed napkin rings are all kinds of festive. Head to the tutorial for a simple yet fun craft to do during the holidays.
36. Gold Thanksgiving Decor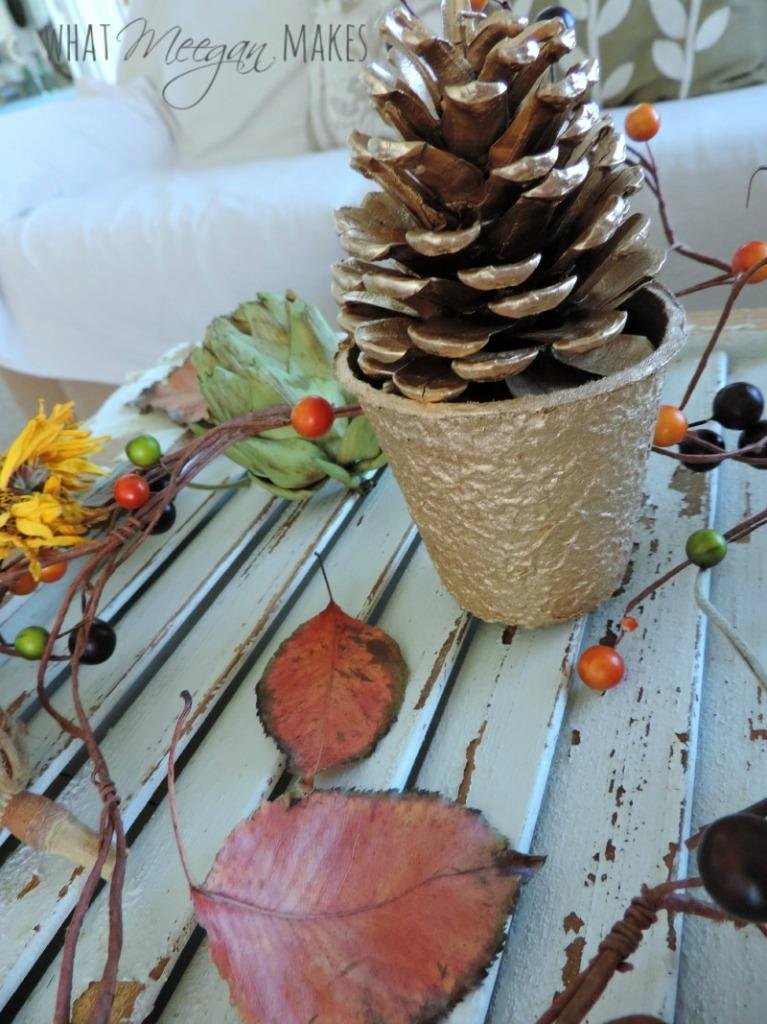 Image and tutorial by meganmakes
With this easy dollar tree fall craft, you'll have a pine cone topiary ready quickly. Look at how chic yet adorable it looks. If you're prepared for a weekend of high-end creativity, you should check out the tutorial now.
37. Vintage Card Catalog
Image and tutorial by roostandrestore
Looking for some vintage craft ideas to make and sell? If you admire everything vintage and are looking for some summer crafts to sell, you'll love this dollar tree woodcraft. With a few of the little boxes and wood-stain dollar tree, you can get started on your card catalog.
38. DIY Spring Dollar Tree Crafts
Image and tutorial by happy-mothering
For those of you who love Thanksgiving decor but want to get some utility out of it, too, this craft will not disappoint. Check out the tutorial now and start making some.
39. Jenga Block Christmas Trees
Image and tutorial by craftbits
This dollar tree jenga craft is a great way to excite children about decorating. And since it's DIY, you aren't spending much money on this. A fun way to use these little dollar-store Christmas crafts is by making them placeholders at the dinner table.
40. Lavender Candle Wreath
Image and tutorial by thediymommy
These DIY dollar tree crafts are easy and fun, taking up only a few minutes of your time. You can hang a few of these wreaths on your mantelpiece or front porch. Since they are faux wreaths, you can use them all year to keep a touch of spring alive in your home.
41. Dollar Store Kisses Booth
Image and tutorial by kellysthoughtsonthings
Introducing the DIY Kisses booth is the perfect solution for chocolate lovers and craft enthusiasts! This genius concoction combines the art of smooches with the joy of crafting.
42. DIY Framhouse Stacking Tray
Image and tutorial by Kiminspired DIY
Want to organize your cluttered kitchen or showcase your miniature figurine collection, Or want some farmhouse crafts to sell? Well, get ready for some stacking fun! With its rustic charm and tongue-in-cheek attitude, this tray brings a new meaning to "stack 'em high.
43. Dollar Tree Store Fall Reverse Canvas
Image and tutorial by The Crazy Craft Lady
Get ready to fall for the ultimate frugal dollar store DIY project—the DIY Dollar Tree Fall Reverse Canvas! This DIY dollar store decor combines the wonders of Autumn and budget crafting like never before.
44. Dollar Tree Houses Decor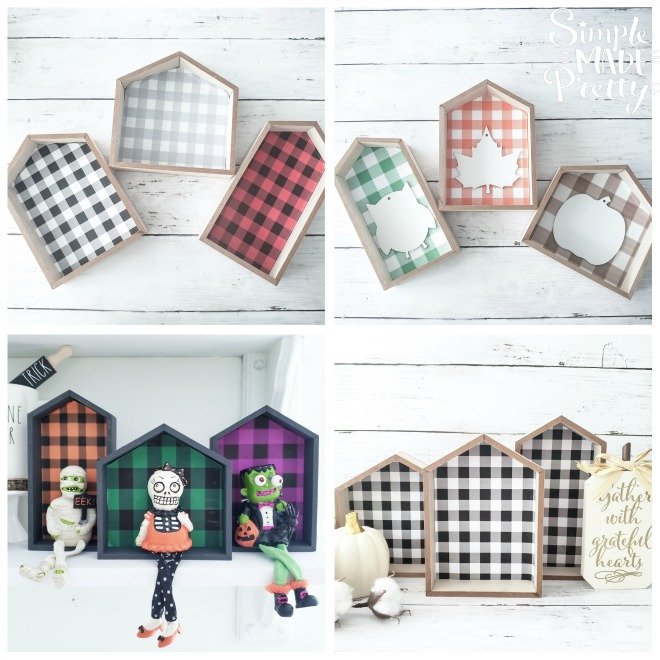 Image and tutorial by Simple Made Pretty
This haven of affordable decorations from the dollar store will leave your guests wondering if you've secretly hired an extravagant interior designer.
45. Spring Decor
Image and tutorial by Soap Deli News
Spring has sprung, and so has dollar tree store DIY fever! Get ready to decorate your space with a touch of whimsy and a dash of hilarity with this DIY Spring Decor extravaganza.
46. Summer Snow Globe
Image and tutorial by Messy Momma Crafts
This ingenious dollar tree store contraption combines summer's scorching heat with winter's frosty magic, all in one fantastic package. Don't you think they can make great summer crafts to make and sell?
47. Popsicle Sign Craft
Image and tutorial by Party Pinching
Looking for some dollar store crafts to sell? Introducing the DIY Popsicle Sign Craft! This quirky masterpiece combines creativity and refreshment in the most perfect way possible.
48. Decoupage Craft
Image and tutorial by We Three Shanes
Unleash your inner Picasso and embark on a wild adventure with the "Diy Decoupage Craft"! It's the art form that takes ordinary objects and transforms them into great masterpieces. They are perfect dollar-store crafts to sell.
49. DIY Faux Cotton Stems
Image and tutorial by Teresabatey
With this dollar tree crafts DIY, you can pretend you're picking cotton right off the field, minus the sweat and farm animals. You can either use dollar tree dowels or twigs from your garden.
50. Beehive Vase
Image and tutorial by Dollar Crafter
Introducing the DIY Beehive Vase! This dollar tree crafts DIY is the perfect way to give your flowers a home sweet home and create some serious buzz in your decor.
51. Fabulous Farmhouse Craft Dollar Tree Decor Ideas
Image and tutorial by Sustain My Craft Habit
Ready to unleash your inner farmer? With this dollar tree DIY craft, you can transform your home into a rustic wonderland without actually having to deal with mud or animals! This craft will also make perfect dollar tree crafts to make and sell.
52. Dollar Tree Tulip Wreath
Image and tutorial by Craft bits
This wreath is the perfect combination of frugal and fabulous that screams, "I am fancy, but I will not pay more than one dollar for it!"
53. DIY Pool Noodle Monsters
Image and tutorial by mamacheaps
Introducing the wacky world of DIY Pool Noodle Monsters! Dive into laughter as you transform those ordinary foam noodles into extraordinary creatures that'll make your pool party go from 'meh' to 'muahahaha'! You can also try making dollar tree finger puppets too.
54. Home Sweet Home Book Craft
Image and tutorial by Mom Does Reviews
What will happen when your love for reading meets your inner handyman? Well, this craft is here to answer that burning question. It's like giving your favorite books a cozy and quirky home makeover.
55. Dresser Mirror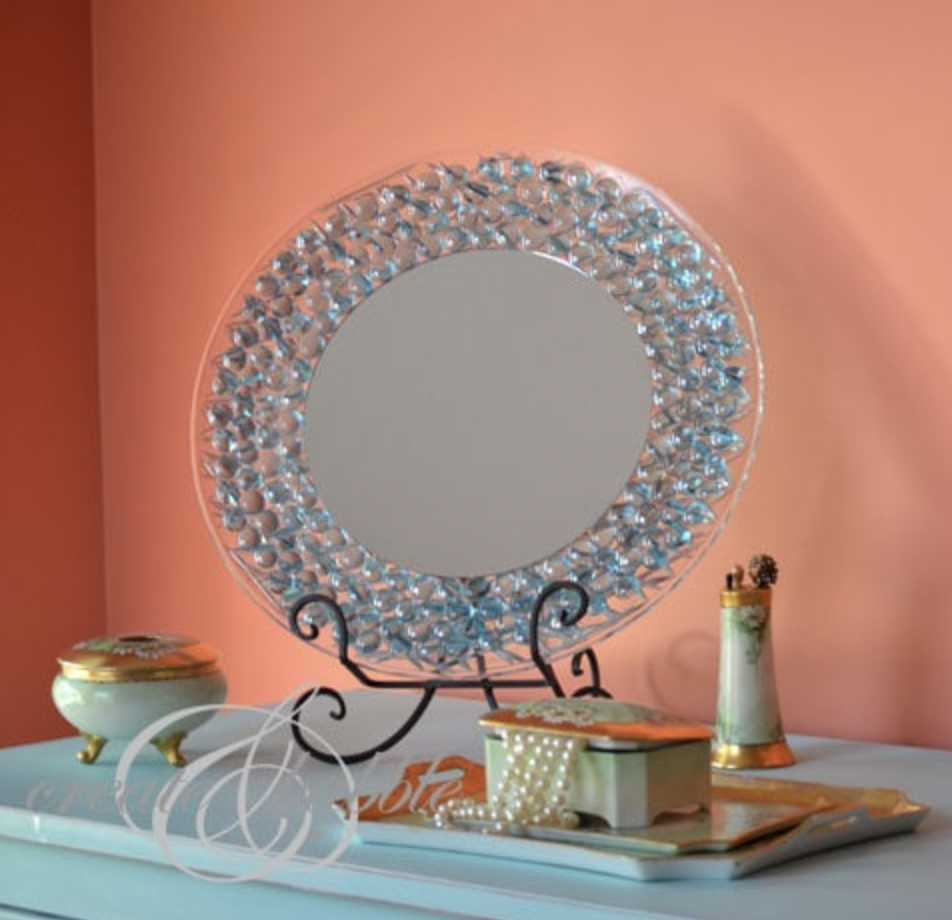 Image and tutorial Create And Babble
Transform your plain ol' mirror into a rockin' masterpiece without breaking the bank. Grab those super affordable dollar store stones and let the creative juices flow.
Can I profit by selling crafts made from Dollar Tree items?
Absolutely! Dollar Tree Craft ideas offer a fantastic opportunity to create unique and affordable products that can be sold at a higher price.
What are the popular Dollar Tree crafts to sell?
The possibilities are endless! There are infinite dollar tree crafts to sell. You can create stunning wreaths using Dollar Tree supplies, design personalized mugs with vinyl decals, craft beautiful jewelry from their beads and findings, or even upcycle ordinary glass jars into charming candle holders. The primary thing is thinking outside the box and finding ways to add your creative touch to these affordable items.
Do I need to have crafting experience to succeed in selling Dollar Tree DIY crafts?
Not at all! Dollar Tree craft ideas are perfect for both beginners and seasoned crafters alike. All the materials are readily available and easy to work with, allowing you to experiment and learn. Plenty of online tutorials and inspiration guide you through the process. Who knew? You might discover a hidden talent and turn it into a profitable venture!
If you loved these dollar tree craft ideas, use the above image to save this article on your DIY & Crafts Pinterest board.