Welcome to the captivating world of seashell crafts! Whether you're an adult seeking a creative outlet or a parent looking for engaging activities for kids, seashell crafts offer endless possibilities for artistic exploration.
From easy DIY projects to intricate handmade creations, there are fun seashell crafts suited for every age and skill level.
With this treasure trove of seashell craft ideas at your fingertips, you'll find yourself immersed in a world where the beauty of nature merges with your creative spirit. So dive in and explore the wonders of seashell crafts – the possibilities are as vast as the ocean itself!

Also read –
40 Best Animal Crafts For Kids, Toddlers & Preschoolers
55 Fun And Easy Butterfly Crafts Ideas For Kids Of All Ages
45 Super Easy Rock Painting Ideas For Inspiration
1. Seashell Peacock Craft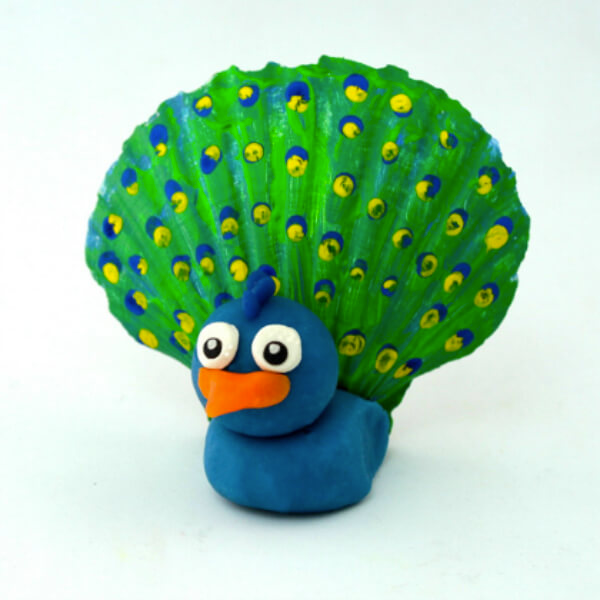 Image and tutorial by craftymorning
Seashell peacock craft is a fun and creative activity that uses materials like play-dough and seashells to make beautiful peacock sculptures. With the help of paint, the seashell is transformed into a canvas for vibrant feathers, while play-dough is used to shape the peacock's body, head, beak, and crest.
2. Seashell Turtle Craft
Image and tutorial by funmoneymom
Seashell Turtle Craft is an adorable and engaging activity that children will love. Using seashells, paint, and glue, kids can create their own cute turtle sculptures. This craft offers a wonderful opportunity for kids to explore their creativity while incorporating natural materials like seashells into their artwork.
3. Seashell Coasters
Image and tutorial by runningwithsisters
Seashell coasters are a fantastic DIY project that adds a touch of coastal charm to your home decor. By using jar lids as a base, then adding seashells, sea glass and resin, you can create unique and beautiful coasters. These seashell coasters not only serve a practical purpose but also act as lovely mementos of summer, bringing a delightful reminder of the beach into your everyday life.
4. DIY Mermaid Crown With Seashells
Image and tutorial by creativegreenliving
DIY Mermaid Crown with Seashells is a stunning and versatile project suitable for both kids' costumes and adult mermaid enthusiasts. Using a plastic tiara as the base, chenille stems, hot glue gun, and an assortment of seashells, you can create a beautiful crown.
5. DIY Marbled Seashell Craft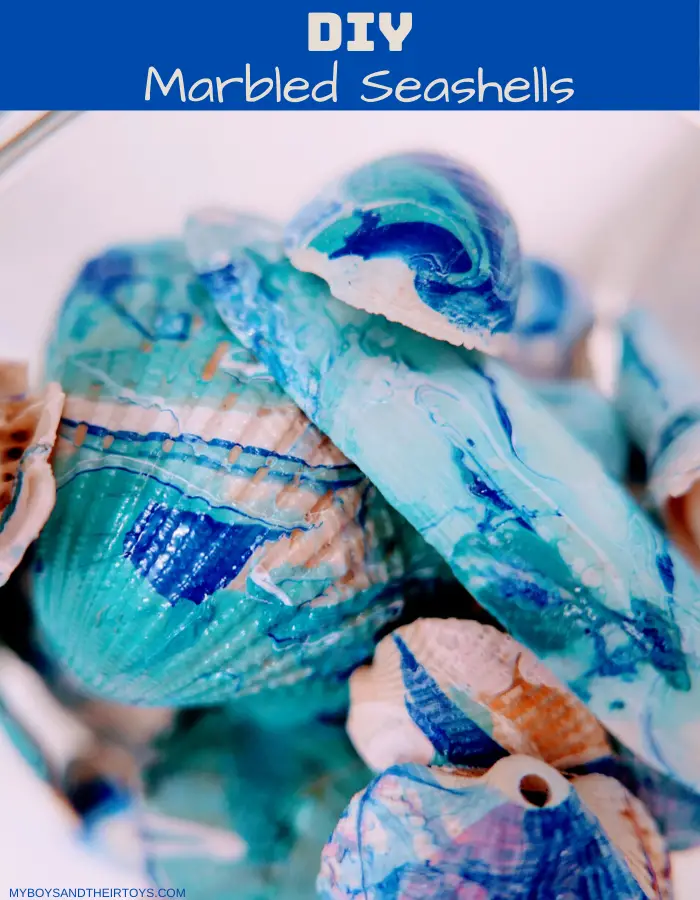 Image and tutorial by Myboysandtheirtoys
Marbled Seashell Craft is a fun and creative activity that allows you to transform ordinary seashells into unique works of art. By using nail polish and water, you can create beautiful marbled patterns on the seashells, making them a stunning decoration for your home.
6. Seashell Heart Shadow Box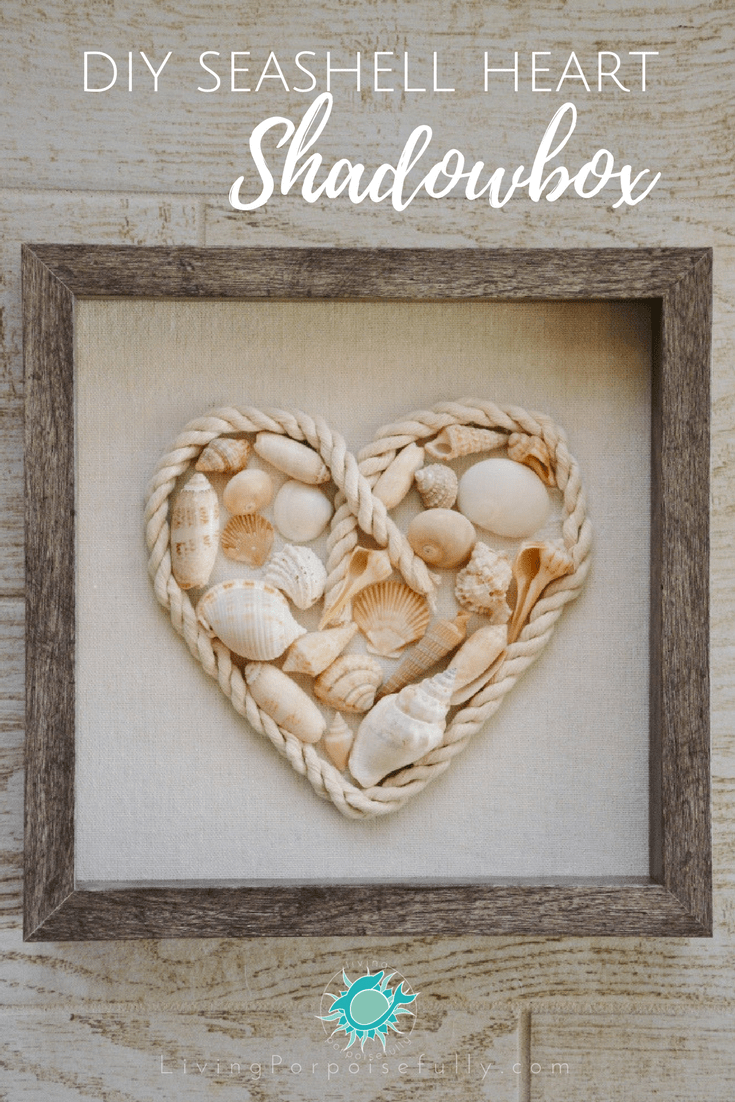 Image and tutorial by livingporpoisefully
A Seashells Shadowbox is a beautiful and creative way to showcase seashells and capture the essence of the beach. By arranging seashells inside a shadowbox and adding decorative elements like craft rope or ribbon, you can create a unique and personalized piece of coastal-inspired art.
7. Seashell Ornaments
Image and tutorial by onelittleproject.
Seashell Ornaments are a delightful DIY project that allows you to transform seashells into beautiful decorative pieces. By painting the shells, adding glitter, rhinestones, and a string for hanging, you can create unique ornaments that can be used for Christmas or as year-round coastal decor.
8. Seashell Jellyfish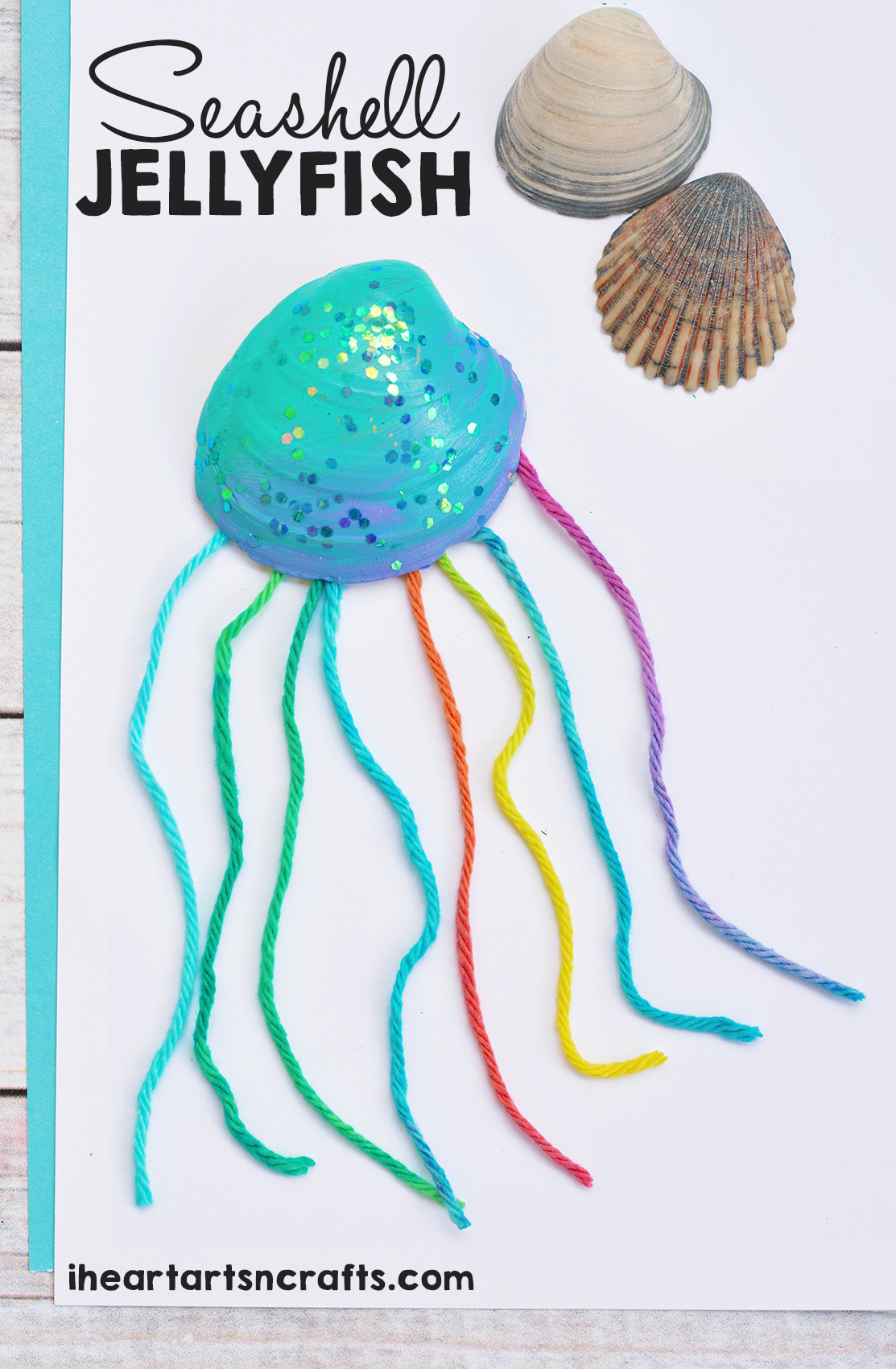 Image and tutorial by iheartartsncrafts
Create adorable seashell jellyfish by painting the seashells in vibrant colors and adding optional glitter for extra sparkle. Once the paint is dry, attach strips of yarn to the back of the seashell using glue or tape, creating the flowing tentacles of the jellyfish. These charming and easy-to-make seashell jellyfish make fantastic decorative accents or playful additions to your ocean-themed crafts.
9. Clam Shell Critters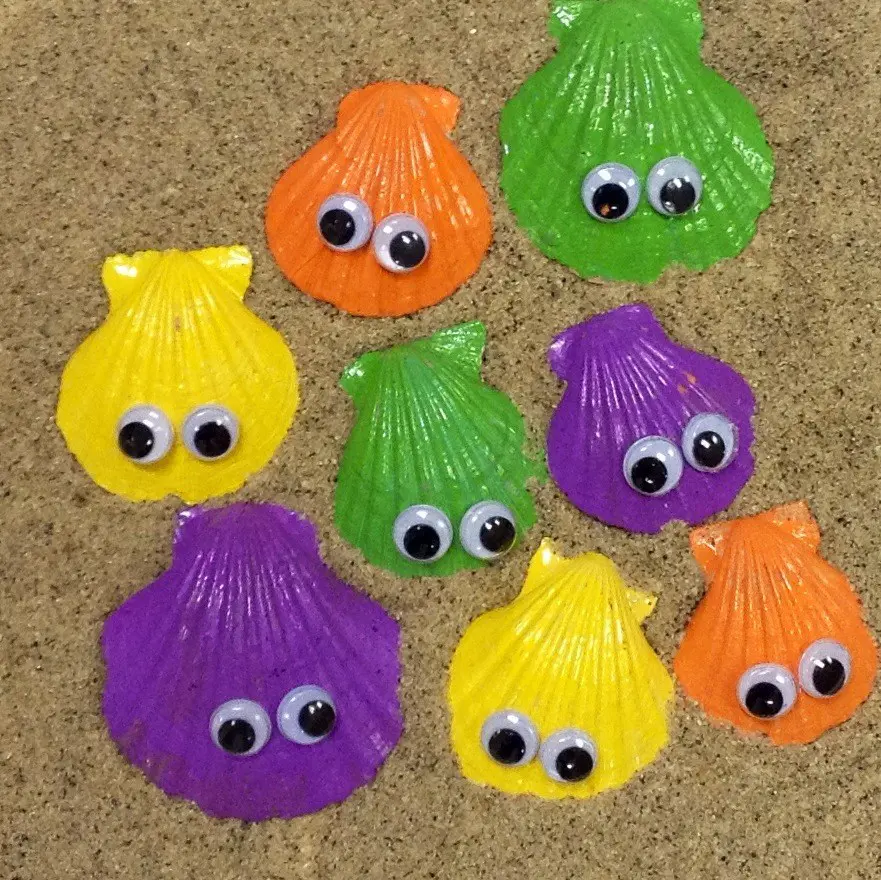 Image and tutorial by freekidscrafts
Clam Shell Critters craft is a fun and creative activity that involves transforming ordinary clam shells into adorable creatures.This craft is not only enjoyable for kids but also a great way to explore creativity and repurpose natural materials.
10. Christmas Seashell Wreath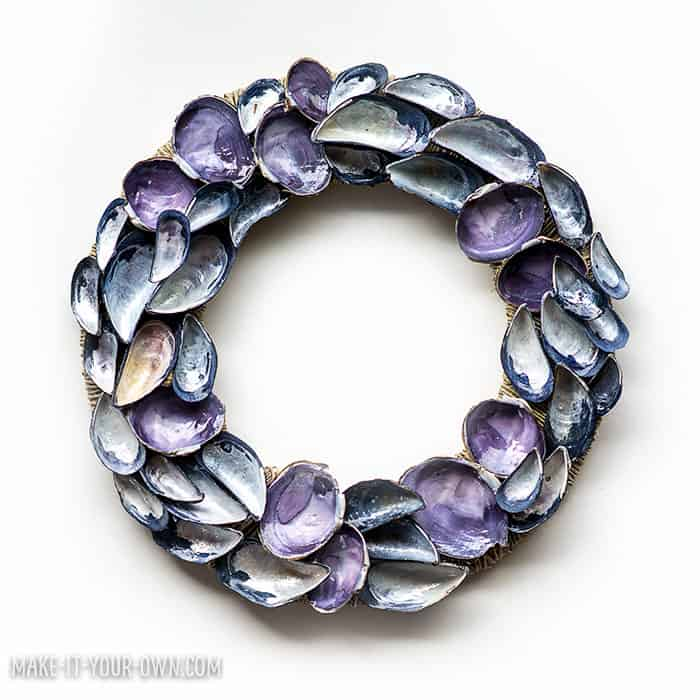 Image and tutorial by hellowonderful
Embrace coastal charm this holiday season with our DIY Seashell Christmas Wreath craft! Dive into creativity as you gather seashells,acrylic gloss (optional- but worth it!),paint brush and craft tray.to adorn your wreath, adding a unique touch to your Christmas decor. Get ready to craft a seashell masterpiece that will make your Christmas merrier than ever!
11. Fun Shell People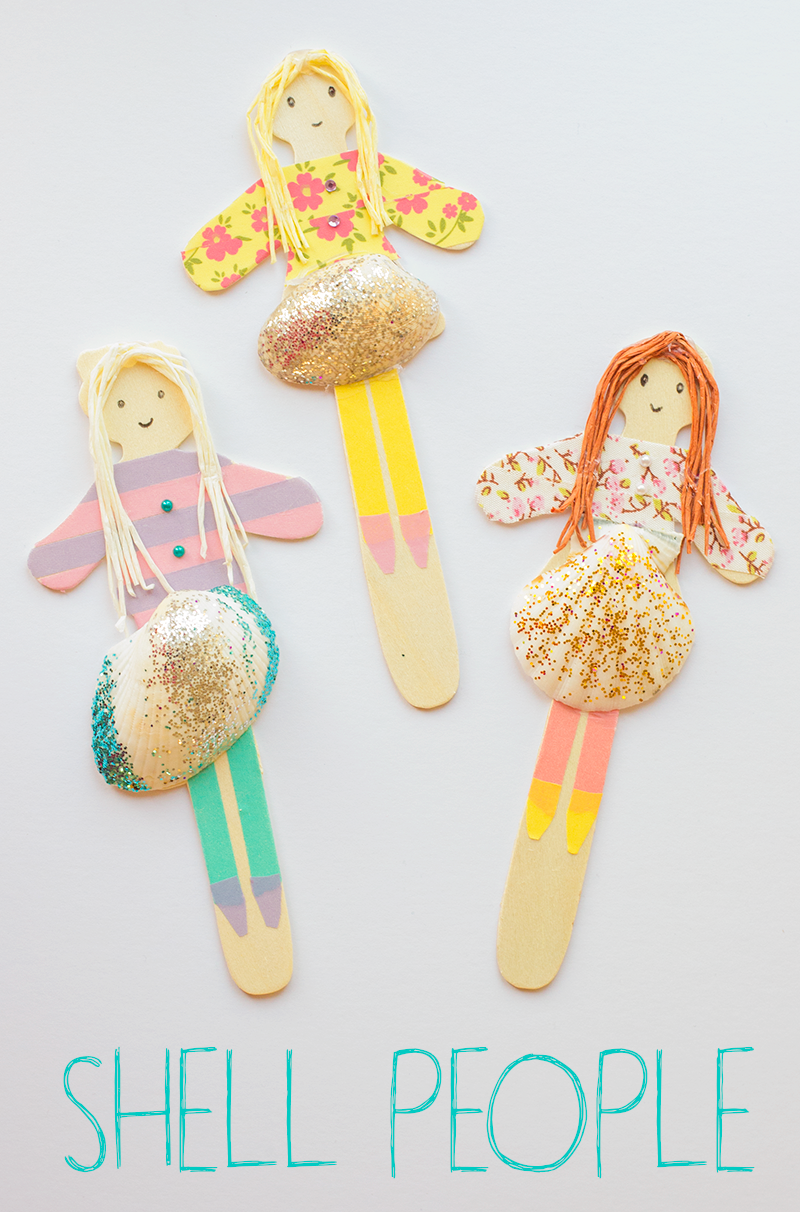 Image and tutorial by letsdosomethingcrafty
Shell people are a delightful craft activity for summer beach trips. With just a few materials like shells, lolly sticks, string, washi tape, and glitter, you can create these adorable characters. These charming shell people can then be used as puppets, providing endless fun and imaginative play on a homemade stage.
12. Shell Christmas Tree Topiary
Image and tutorial by Natashalh
A seashell Christmas tree brings a coastal touch to holiday decor. Crafted by hot gluing an assortment of sea shells onto a cone-shaped base, it creates a unique and enchanting centerpiece. Adorned with a starfish on top and draped with fishing net, this seashell Christmas tree captures the beauty of the ocean during the festive season.
13. Shell Candles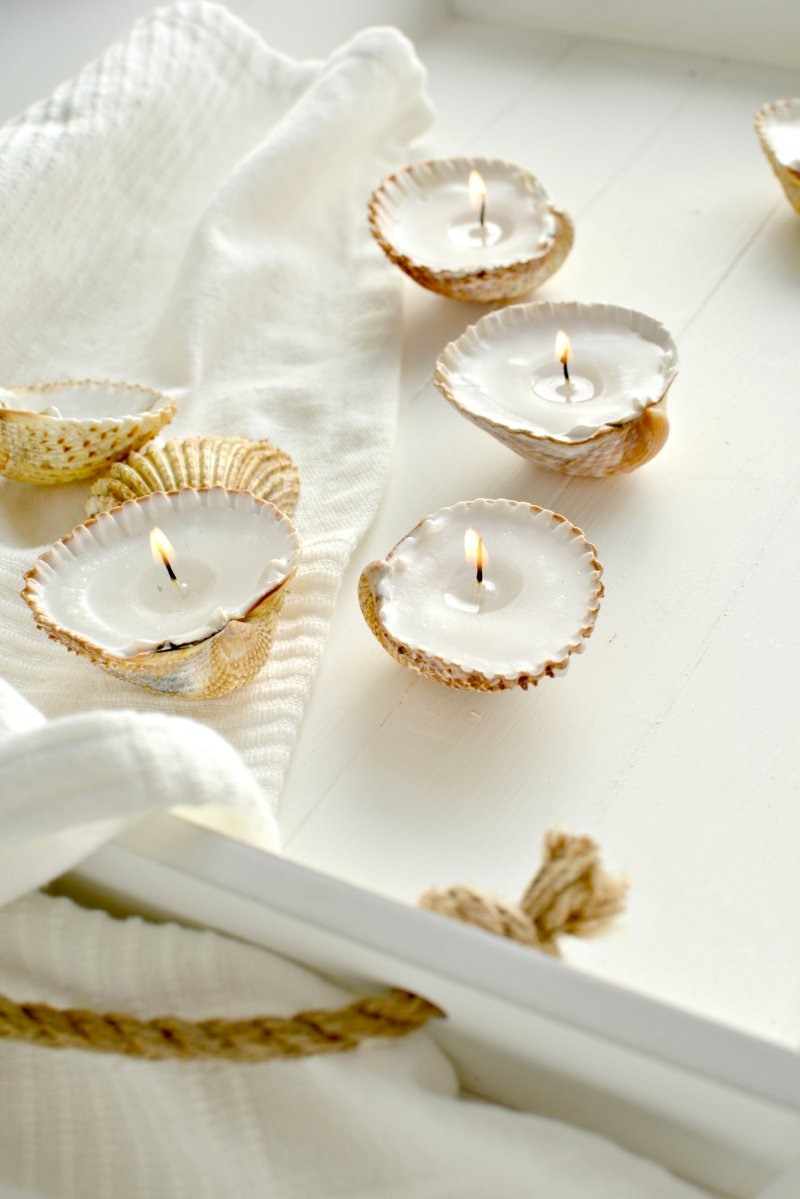 Image and tutorial by Burkatron
Handmade shell candles offer a charming and easy DIY project.These seashell candles make perfect table decorations or bathroom accessories, and once they burn out, simply replace the wick and refill them for continued enjoyment.
14. Seashell Wind Chime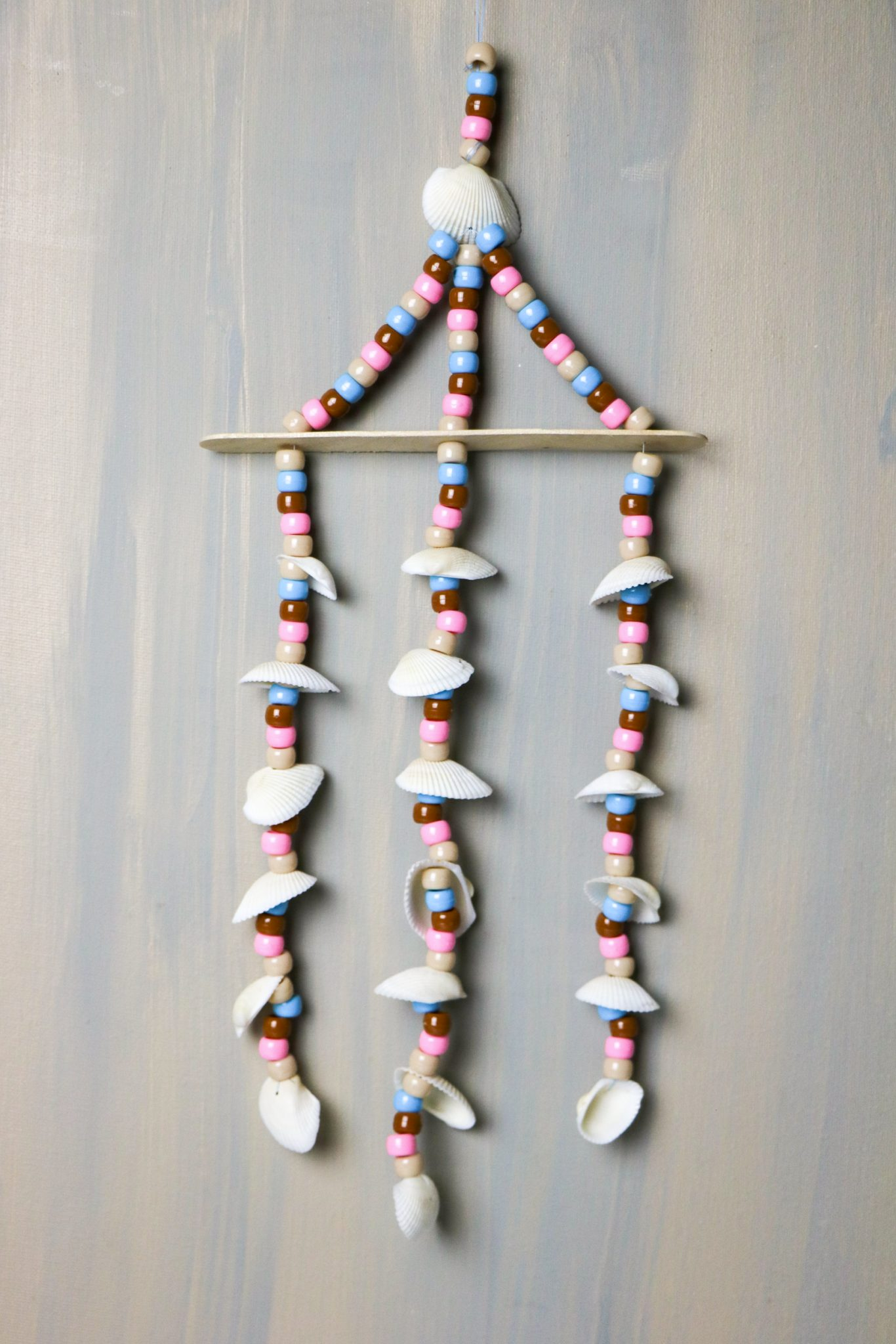 Image and tutorial by Activity Mom
Creating a seashell wind chime is a delightful craft that requires beads, seashells, and a few additional supplies. This DIY project is perfect for kids and results in a beautiful porch decoration or a special handmade gift. This lovely seashell wind chime will bring soothing melodies to any outdoor space.
15. Shell Fridge Magnets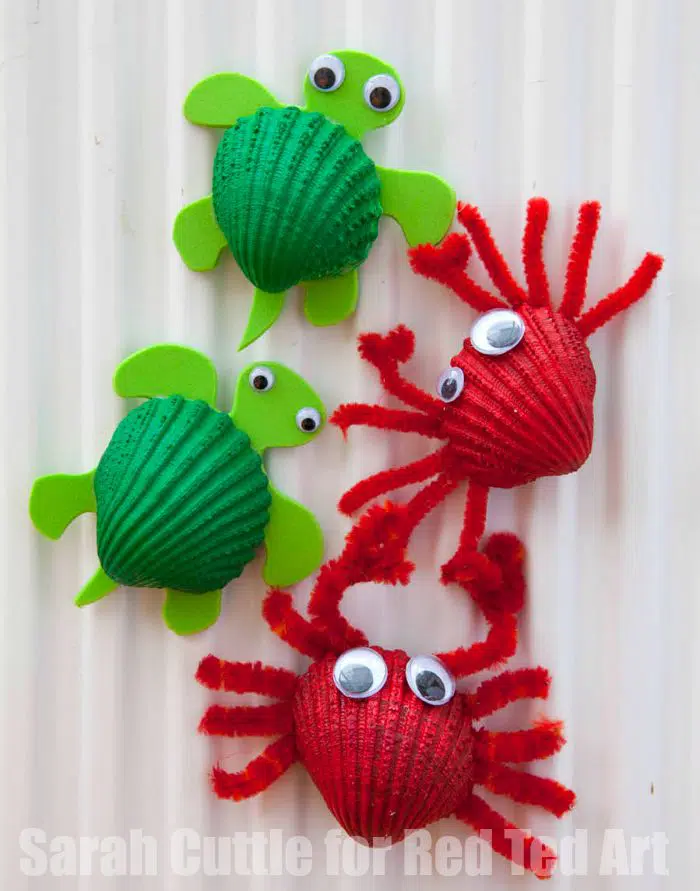 Image and tutorial by redtedart
Creating shell fridge magnets is a delightful craft inspired by the treasures found on the seashore. By using collected shells, you can craft adorable crab-shaped fridge magnets that capture the essence of the sea. Adding a magnet to these creations not only makes them functional but also serves as a charming reminder of your beach holiday or a day spent by the seaside, bringing a touch of coastal charm to your refrigerator.
16. Seashell Ladybug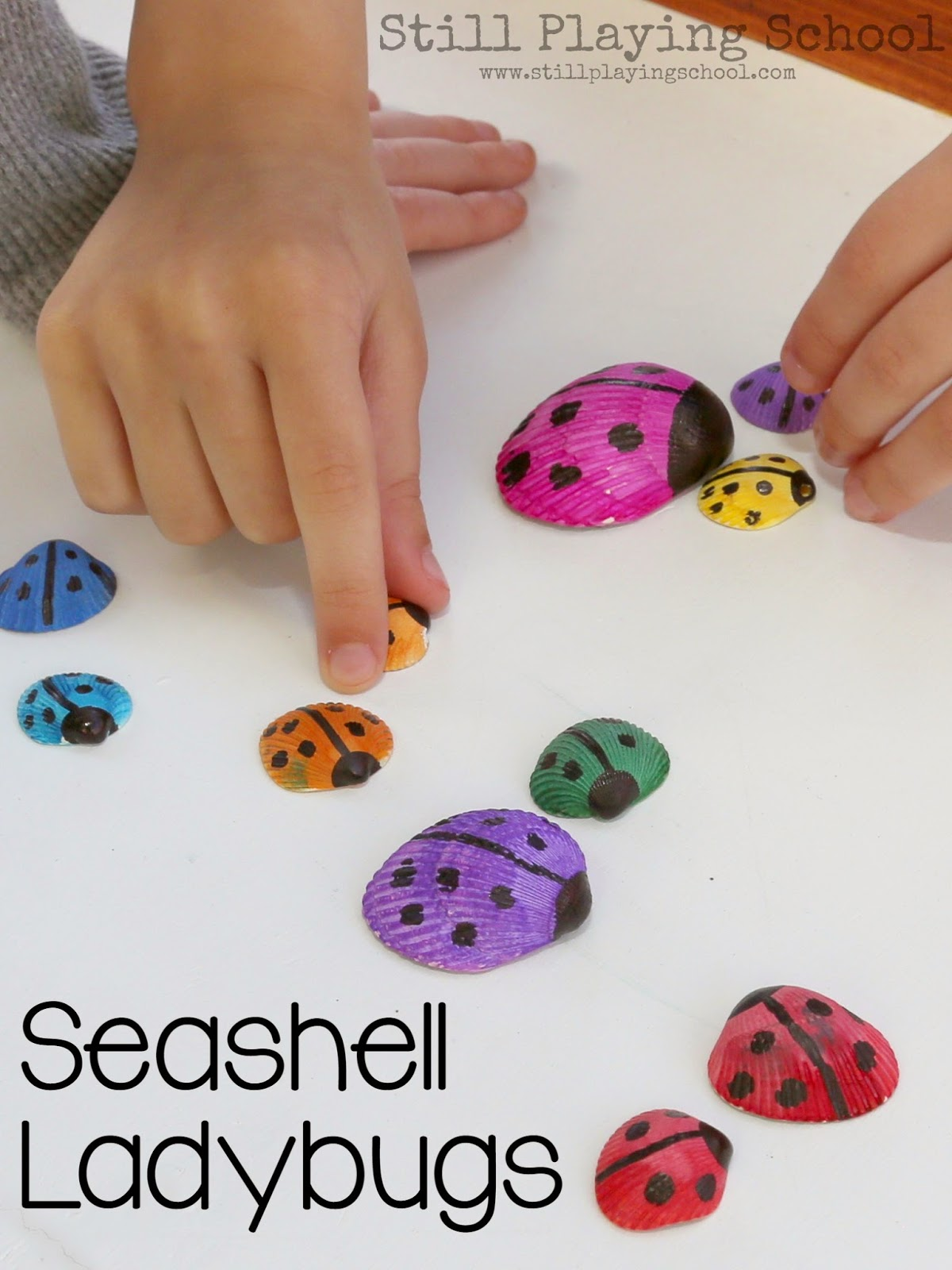 Image and tutorial by stillplayingschool
​​Creating sea shell ladybugs is a creative and colorful craft activity. Dyeing the shells with liquid watercolors or painting them allows for personalization and fine motor skill practice. Once dry, these vibrant shells can be used for various play and learning activities, and their colorful beauty makes them a delightful surprise for others to discover on the beach.
17. Sea Shell Puppet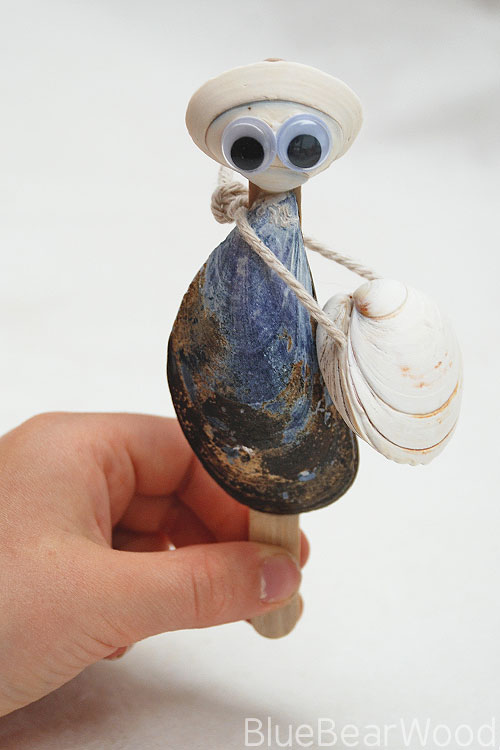 Image and tutorial by .bluebearwood
Sea shell puppets are a wonderful way to transform beach treasures into interactive toys. The tactile nature of the shells enhances the sensory experience, providing a calming effect. Children will delight in using these puppets for imaginative play, bringing their shell characters to life and fostering creativity.
18. DIY Seashell Charm Necklace
Image and tutorial by /kidsactivitiesblog
Sea shell necklace is a fun and easy craft, perfect for capturing the essence of summer. With a seashell, wax cord, and optional beads, you can make a unique necklace that will be your delicate beach keepsake.
19. Sea Shells Sensory Bottle
Image and tutorial by rhythmsofplay
The Seashell Sensory Bottle is not only a fantastic sensory play option but also a delightful craft project. It offers a mess-free and secure way for babies and toddlers to explore shells and engage their senses. With its calming properties and visual appeal, this DIY seashell sensory bottle encourages creativity and provides a stimulating experience for little ones.
20. Seashell Painting Craft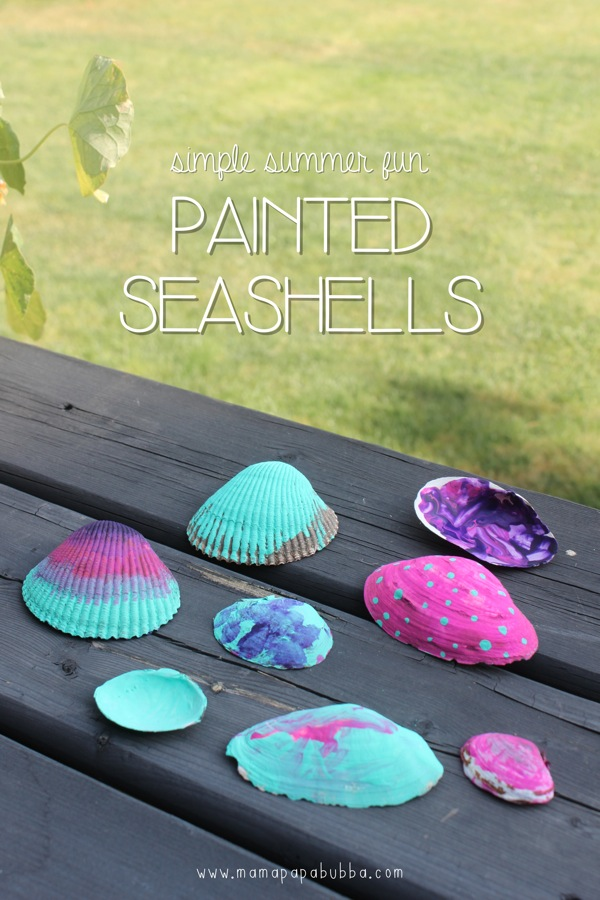 Image and tutorial by mamapapabubba
Seashell painting craft is a delightful and creative activity that allows you to transform ordinary seashells into beautiful works of art. With a variety of colors and techniques, you can personalize each seashell with unique designs and patterns, unleashing your creativity.
21. Sea Glass and Seashell Windchime
Image and tutorial by hearthandvine
Transforming seashells and sea glass into a charming wind chime is a creative adventure! Let your imagination guide you as you arrange them in a captivating pattern. Remember to create strands close enough to tango together and produce that delightful chime sound.
22. Underwater Seashell Candles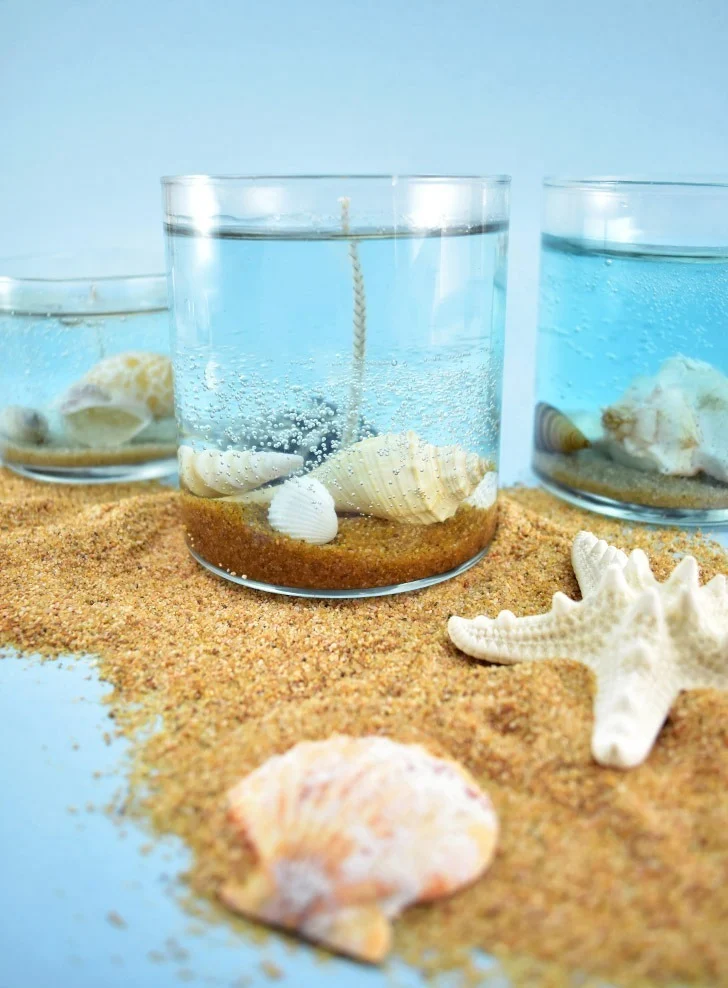 Image and tutorial by dreamalittlebigger
Underwater Seashell Candles are a craft project that aims to capture the beauty of the sea floor. By embedding seashells and sand in gel wax, these candles create a stunning underwater effect. Now you can have a collection of lovely candles that can be enjoyed and gifted to others, bringing a touch of coastal charm to any space.
23. Planter Seashell Craft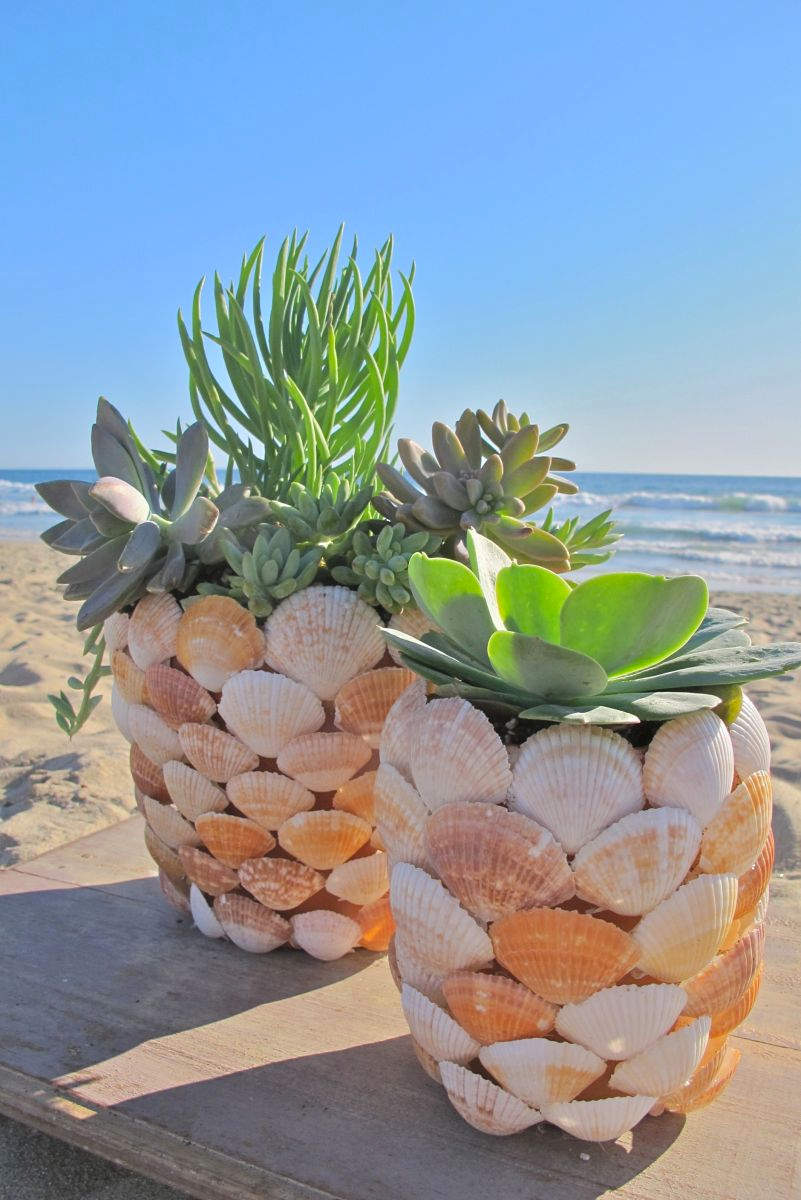 Image and tutorial by billabong
A homemade seashell planter is a wonderful way to infuse a beachy vibe into your living space while showcasing your love for plants. This DIY project is both satisfying and easy to accomplish, requiring only a few materials such as terra cotta pots, seashells, glue, succulents, and potting soil. The end result is an alluring and unique planter that brings a touch of coastal beauty to any room or garden.
24. Handprint Shell Keepsake
Image and tutorial by artycraftykids
The Handprint Shell Keepsake is a sentimental craft that captures a precious moment in time. By using handprints and seashells, this keepsake becomes a cherished memento that evokes memories and emotions for years to come. The joy and warmth experienced when looking at these creations reflect the love and connection shared with our children, making it a heartfelt and meaningful craft project.
24. Painting Seashells
Image and tutorial by colormadehappy
The DIY painted sea shell project is a simple and enjoyable activity that provides entertainment for kids. With just a few supplies like sea shells, puffy paints, and a paintbrush, children can unleash their creativity and decorate the shells in their own unique style. This appealing summer project is a great opportunity to bond with your kids and create lasting memories together.
25. Seashell String Lights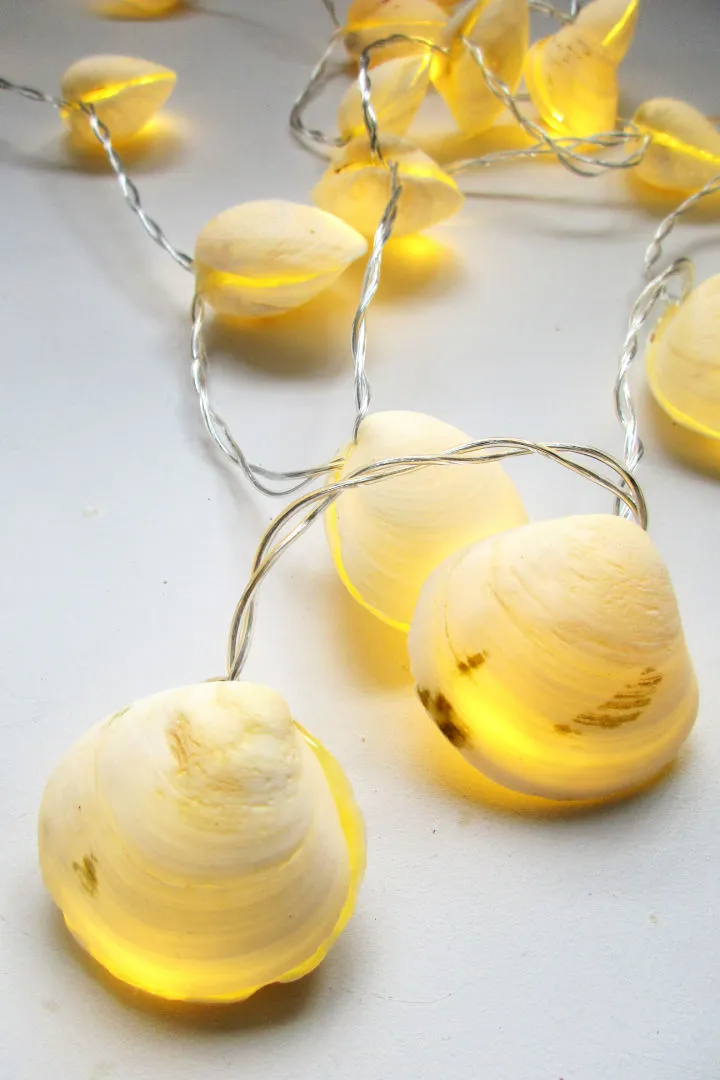 Transform your space into a bohemian or beach-inspired haven with these DIY seashell string lights.This straightforward project allows you to showcase cherished seashell souvenirs from beach vacations, bringing a summery and enchanting atmosphere to both indoor and outdoor areas. Illuminate your surroundings with this delightful seashell string light and infuse your space with a coastal vibe.
26. Sea Shell Fish In an Aquarium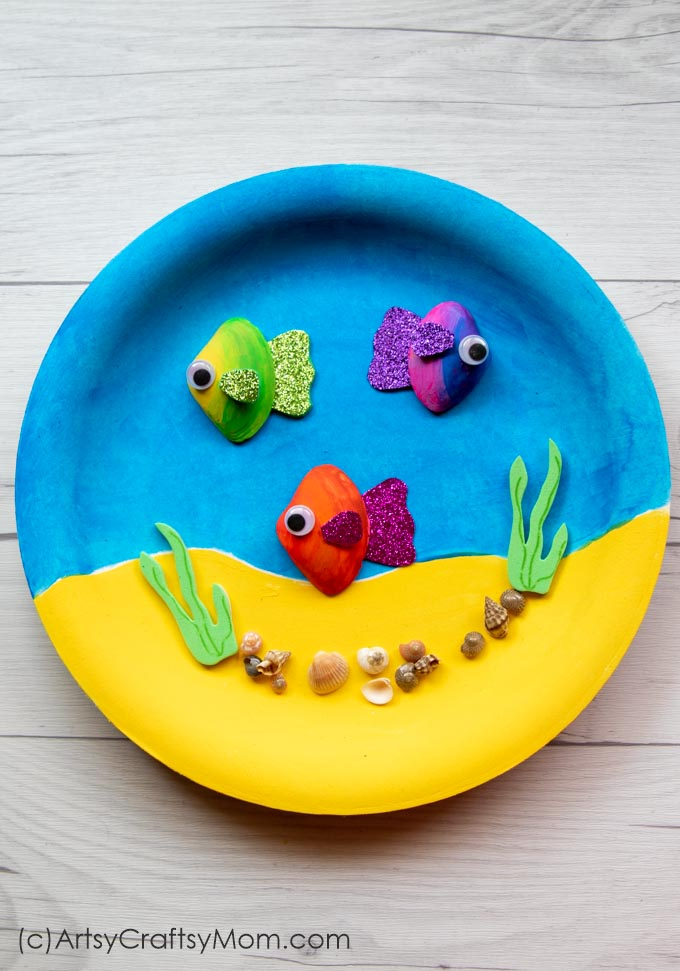 Image and tutorial by artsycraftsymom
Create your own sea shellfish aquarium with this easy and quick DIY craft. This gorgeous sea shellfish craft is not only a fun project to follow but also a wonderful gift idea that will bring joy to the recipient. Enjoy the DIY process and let your creativity shine!
27. Seashell Door Hanging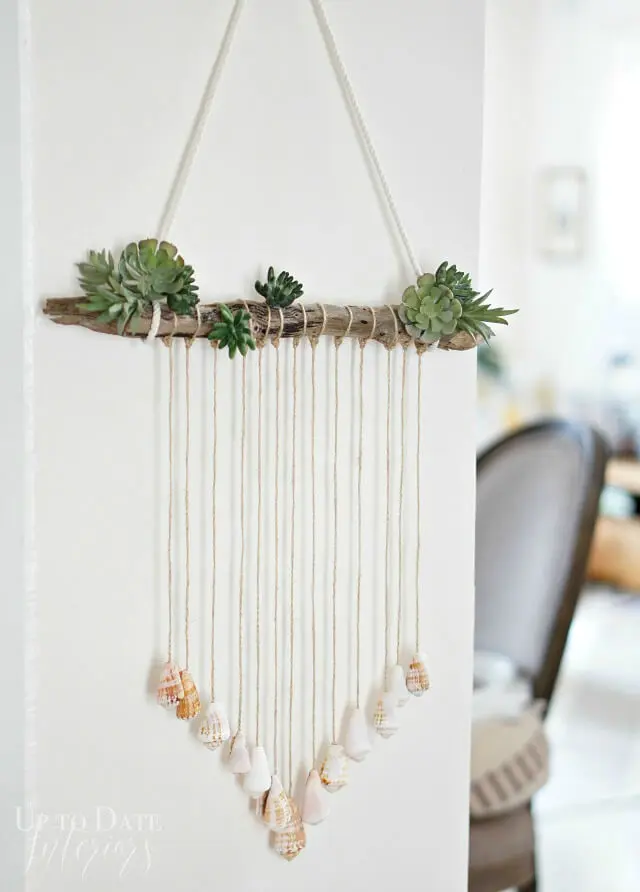 Image and tutorial by Homemade
Transform your door with this modern seashell door hanging that brings a touch of coastal charm.This quick and easy project adds a beautiful wall hanging to your home, and the best part is that it's budget-friendly. Hang it up and enjoy the stylish and summery vibes it brings to your space.
28. Seashell Picture Frames
Image and tutorial by artsychicksrule
Seashell picture frames are a romantic way to display cherished memories from beach vacations. These frames, adorned with beautiful seashells, add a touch of coastal charm to any space. With their unique and natural designs, seashell picture frames serve as both functional and decorative pieces that capture the essence of the sea.
29. Sea Shell Creatures
Image and tutorial by craftsbyamanda
Sea shell creatures are a fun and imaginative craft project that allows you to turn ordinary seashells into adorable pets.Let your creativity soar as you create unique and portable shell pets that are sure to bring smiles wherever you go.
30. Sea Shell Rainbows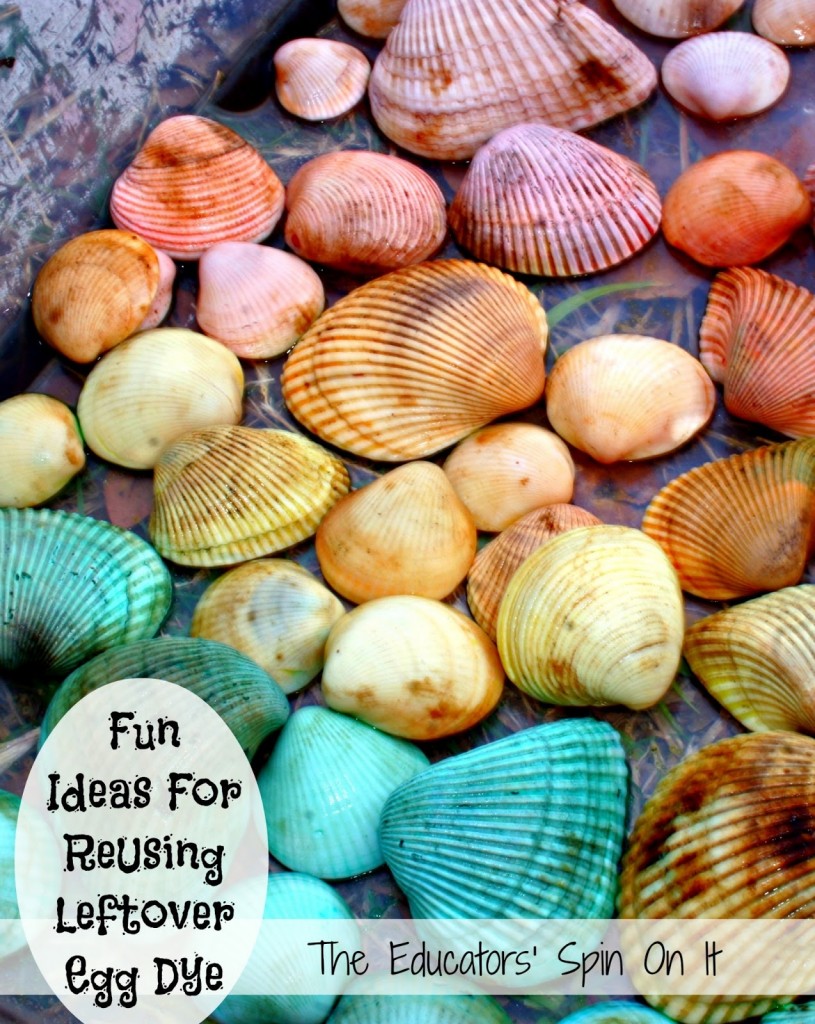 Image and tutorial by theeducatorsspinonit
Creating Sea Shell Rainbows is a fun and educational activity that combines science and creativity. By placing seashells in various colors of egg dye, you can observe and enjoy the transformation as the shells change color. This hands-on experiment is a great way to engage children in scientific exploration while also producing a beautiful array of rainbow-colored shells.
31. Seashell Christmas Tree Topiaries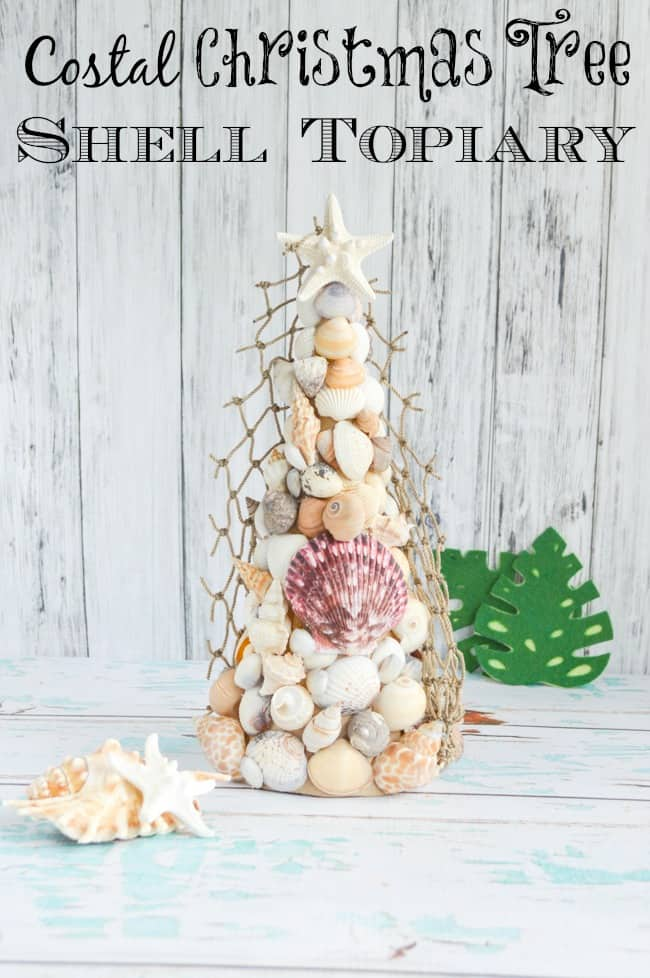 Image and tutorial by natashalh
The Seashell Christmas Tree craft is a unique and coastal twist on traditional holiday decorations. By using a variety of seashells, you can create a beautiful and eye-catching Christmas tree. This DIY project allows you to infuse your holiday season with a beachy vibe and adds a touch of natural beauty to your festive decor.
32. Seashell Wall Hanging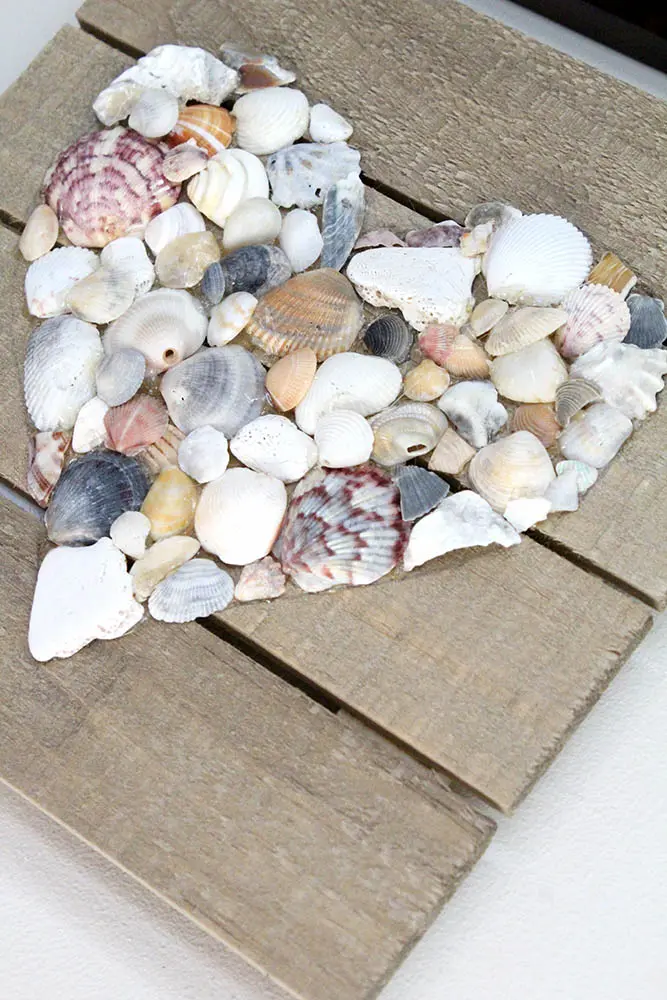 Image and tutorial by justmeasuringu
This DIY project is both cost-effective and time-efficient, making it a wonderful way to add a touch of the beach to your home decor. Whether you choose a heart shape or another design, arranging and gluing down the seashells allows you to personalize the artwork and capture memories of beach trips.
33. Decoupage Shell Dish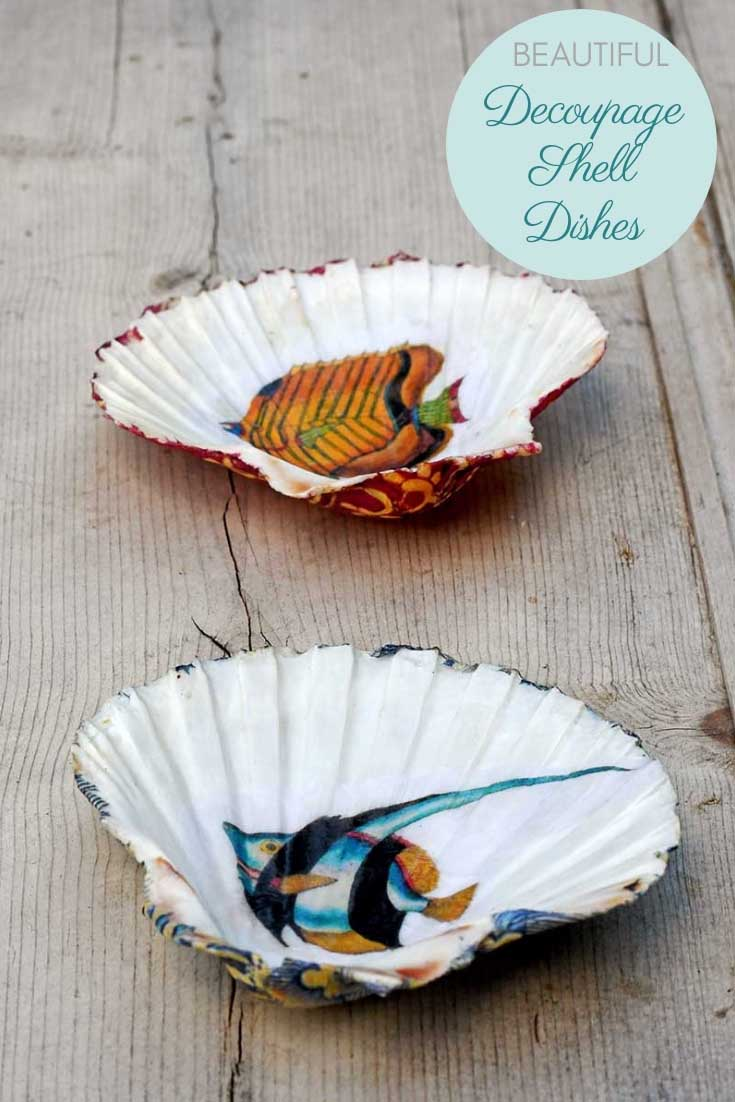 Image and tutorial by pictureboxblue
Making a decoupage shell dish is a creative and personalized project. By printing images onto tissue paper and using decoupage glue, you can easily decorate the inside and outside of the shells. Adding a protective varnish coat ensures a finished look, making the shell dish perfect for holding trinkets or even creating shell ornaments.
34. Seashell Night Light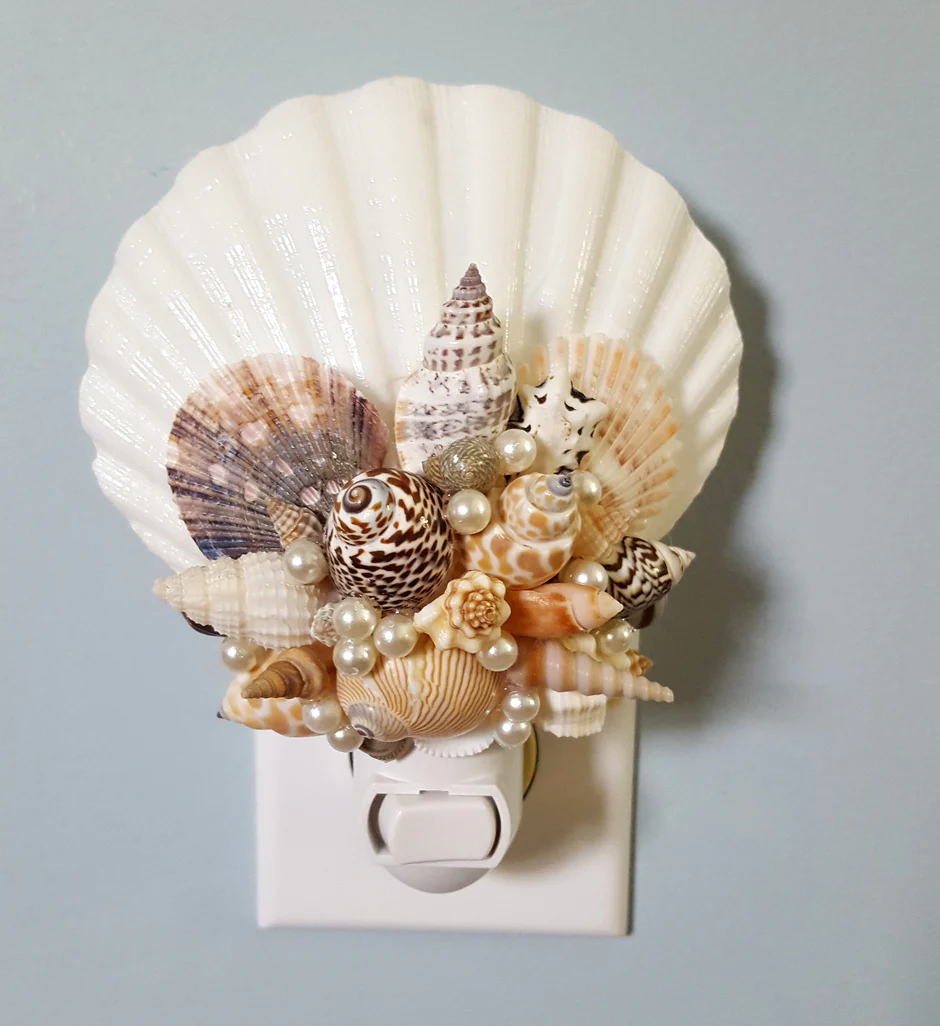 Image and tutorial by beachgrasscottage
Adding a seashell night light to your home decor is both functional and stylish. By embellishing a simple night light with beads and shells, you can create a unique and visually appealing piece. It's a great addition to any room, providing a comforting glow during nighttime and adding a touch of beachy charm to your space.
35. Sparkling Mason Jars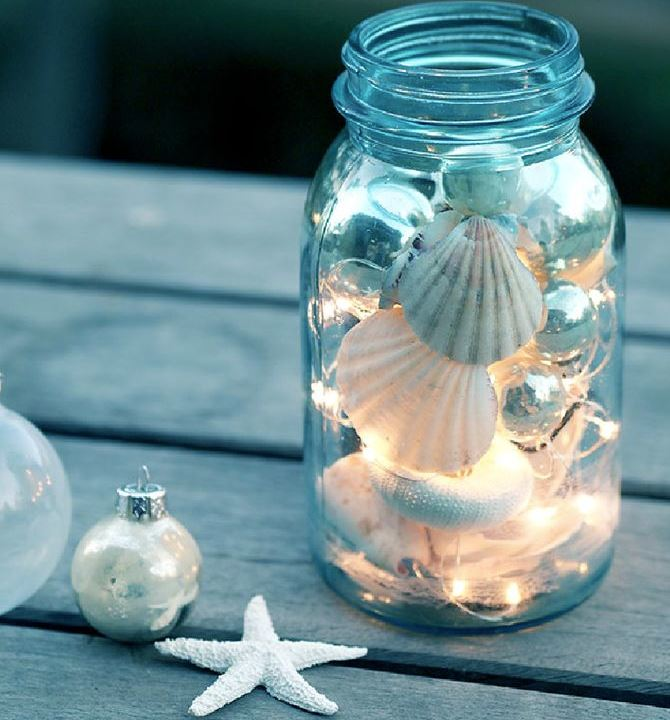 Image and tutorial by gottalovediy
Mason jars are versatile and can be transformed into beautiful decorative pieces. Whether you choose pre-tinted blue jars or paint them yourself, filling them with a battery-powered LED light string, white seashells, and small silver, white, and clear bulbs creates a stunning display, perfect for adding a festive touch during Christmas or creating a beach-themed ambiance.
36. Seashell Candle
Image and tutorial by shabbyfufu
Seashell candles are a simple and stunning addition to any table decor. By affixing a wick to the center of each shell and pouring melted wax into them, you can create unique and fragrant candles that add a touch of coastal charm to your space.
37. Seashell Keychains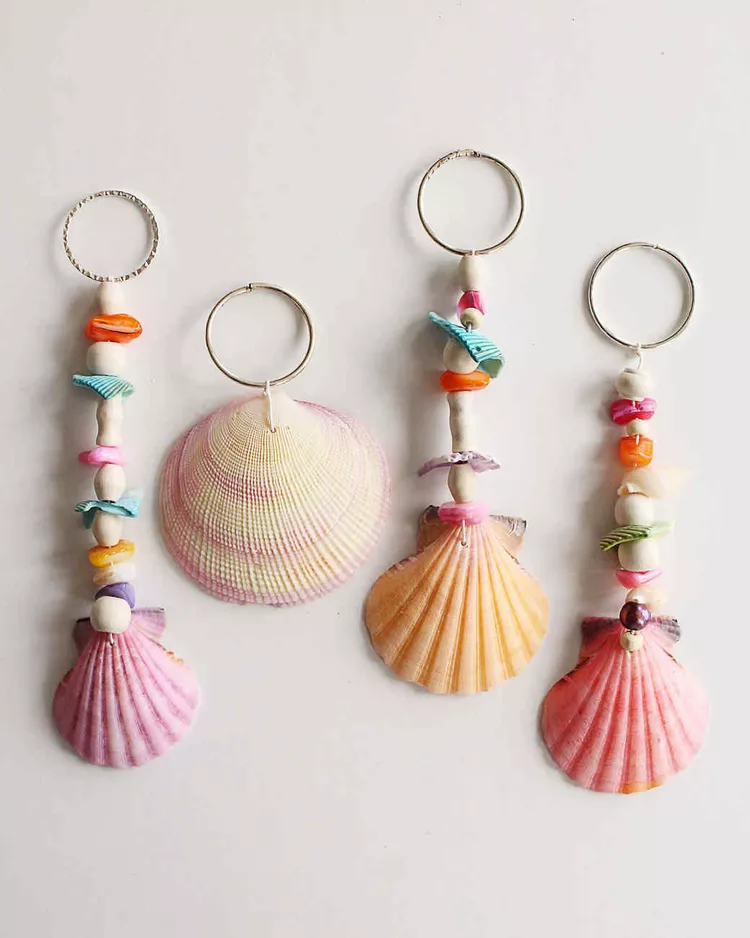 Image and tutorial by marthastewart
Seashell keychains are a fun and easy summertime craft that the whole family can enjoy. With just a few steps, you can create personalized keychains using seashell beads and a craft drill. Add a touch of coastal flair to your keys or tote bags with these colorful and unique accessories.
38. Rainbow Crystal Shell Bowls
Image and tutorial by hellowonderful
\Create stunning Rainbow Crystal Shell Bowls using oyster shells and rainbow crystals for a beautiful and unique storage solution. With a little Mod Podge and some creativity, you can transform these shells into sparkly and personalized bowls, perfect for keeping small treasures and making heartfelt gifts.
39. Tie Dye with Sharpies
Image and tutorial by colormadehappy
Create stunning tie-dye effects on shells using Sharpie markers and rubbing alcohol for a unique and vibrant art project. Experiment with different colors and designs, then watch as the alcohol blends the colors together to create beautiful patterns. Display your finished tie-dye shells in various ways, from decorative dishes to centerpiece arrangements, or even use them as personalized name cards.
40. Seashell Lamp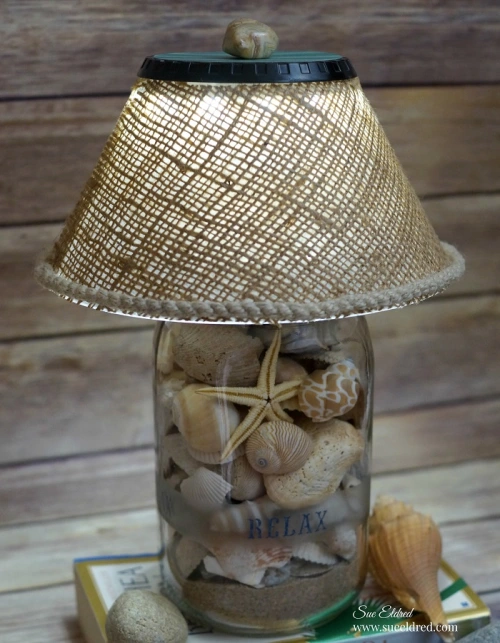 Image and tutorial by sueeldred
Transform a mason jar into a charming coastal lamp by etching a seashell design, adding a "relax" stencil, and filling it with sand and shells. With LED lights and portable battery operation, it's a perfect addition to your patio for warm summer nights.
Loved these ideas? Get ready to create beautiful seashell crafts right away and add this article to your Pinterest board.