If you are looking for some easy and fun paper plate crafts to try out this summer, then this is your stop. These are some super easy DIY paper plate crafts that are perfect for keeping yourself entertained this summer.
I have assembled a list of easy tutorials for paper plate crafts for you. You will find interesting and unique ideas here; these are so easy that even your kids can achieve them. Check out some more craft ideas here- 25 Best Red, Blue, and White 4th of July Crafts For Kids.
1. Sunshine and Rainbow Paper Plate Crafts
Source : hello.happy.sunshine
Summer months are all about the clear sky, bright sun, and colorful rainbows. Everyone loves simple and easy paper plate crafts. You can use cardstock for the rays, pom-poms for clouds, paper plates for the sun, yellow paints, googly eyes, and glue to hold them all together.
2. Paper Plate Ladybug
Image and Tutorial by craftsbyamanda
She has used colorful tissue paper to make this adorable paper plate ladybug. You need a paper plate, black construction paper, craft glue, tissue papers, and googly eyes for this craft. Get a little crafty with this paper plate ladybug.
3. Snail Paper Plate Crafts
Image and Tutorial by kidscraftroom
This snail paper plate craft is super cool! I love how colorful this craft looks. She has used bright colorful pom-poms, googly eyes, and colorful plates for these beautiful snail paper plate crafts.
4. Unicorn Paper Plate Crafts
Source : just_toddleractivities
How cute are these unicorn paper plate crafts? This craftwork is so simple and easy. You can get your kids to do this fun craft. All you need white paper plates, construction papers (white, pink, and sparkle), a pair of googly eyes, and some colorful woolen yarn. Check out some more fun crafts for your kids here-
5. Caterpillar Craft
Image and Tutorial by inthebagkidscrafts
I am in love with this green caterpillar. It looks adorable. She has used basic craft supplies like a green paper plate, pom-pom, green and red construction paper, black marker, googly eyes, white yarn, and caterpillar template. The tutorial for this one is easy and fun.
6. Aquatic Paper Plate Crafts
Source : statetheatrenj
These paper plate crafts are super easy and your kids will love them. All you need for this craftwork are tissue paper, pom-pom, paint, paper plates, and googly eyes. And Voila! You are all set to some adorable paper pate fishes.
7. Paper Plate Turtle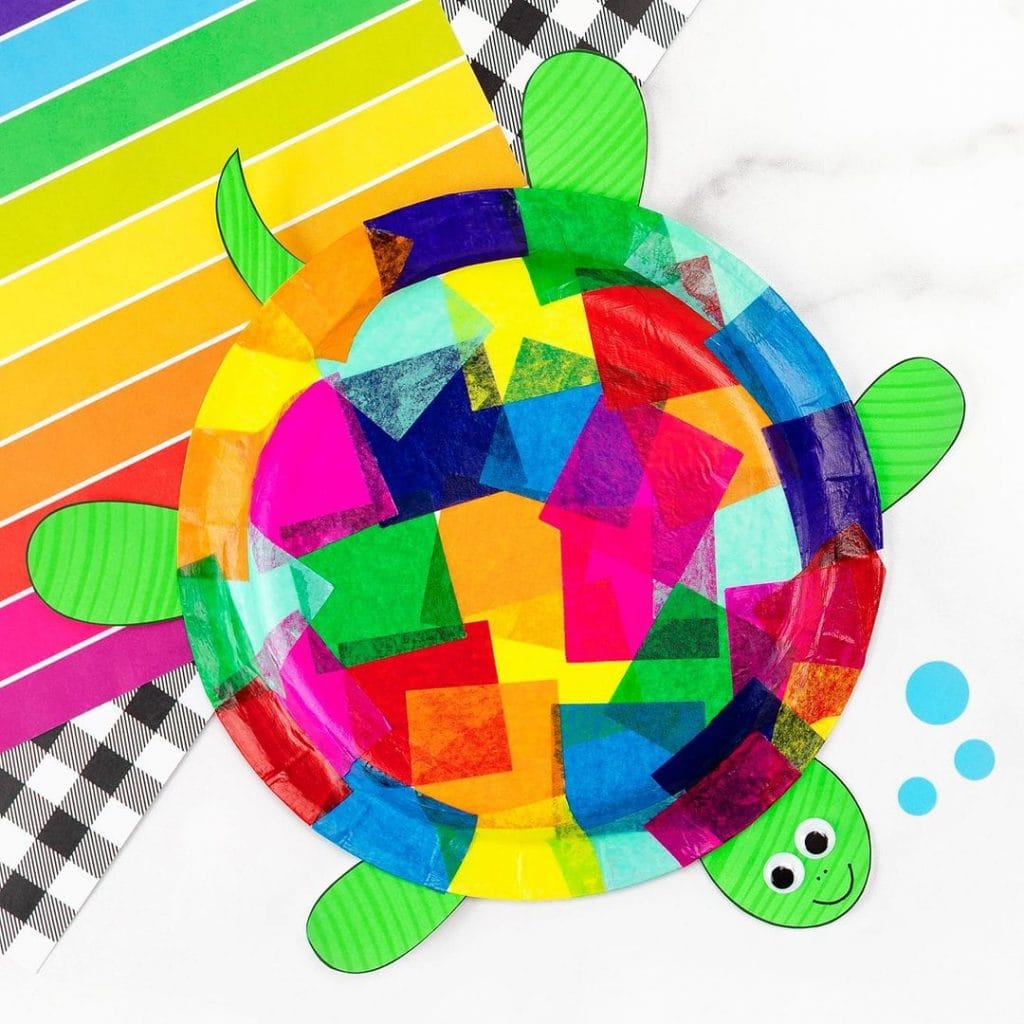 Image and Tutorial by firefliesandmudpies
Tissue paper is a versatile element when it comes to crafting. For instance, look at this colorful green paper plate turtle, isn't it beautiful? You will need some basic craft supplies like a paper plate, tissue paper squares, turtle template, glue, scissors, and googly eyes. You can check out some interesting tissue paper crafts here- 15+ Amazing Tissue Paper Crafts For Your Fun Time.
8. Paper Plate Vehicles
Source : the_wonder_girl_sheshay
They say waste becomes best with creativity. I love how she has made these vehicles. They are super cool and fun. They are colorful and your kids will love making a few of them. With some paper plates, paints, construction papers, glue, and scissors, they too can accomplish this craft.
9. Lion Paper Plate Craft
Image and Tutorial by lydiality
This one is so easy that even toddlers can make it with a little parental guidance. I love how realistic this lion looks! With just a paper plate, colored strips of paper, marker, and glue, the kids can easily recreate this craft.
10. Pufferfish Paper Plate Crafts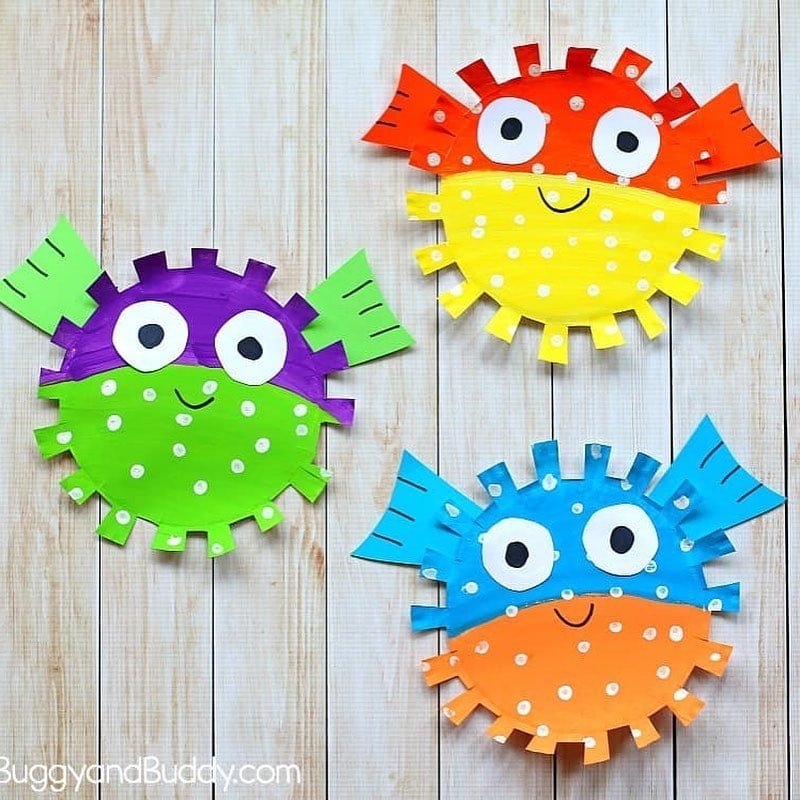 Image and Tutorial by buggyandbuddy
Paper plate crafts like these pufferfishes are so neat and clean; that even I wanted to help my niece make a few of them. This kept her engaged and entertained for quite some time. You will need a paper plate, tempera paint, paint brushed, cotton swabs, glue, scissors, scraps of construction paper, and markers.
11. Easter Celebration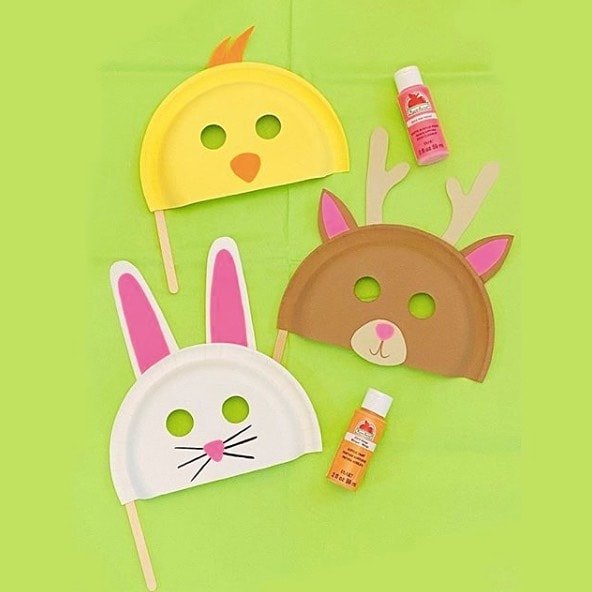 Image and Tutorial by plaidonline
I love these kinds of paper plate crafts. They are not just easy and fun to make, but they are also great props. This year, let's not have a boring easter celebration; instead, get your kids to make a few of them. They are perfect indoor crafts for kids.
12. Halloween Craft Ideas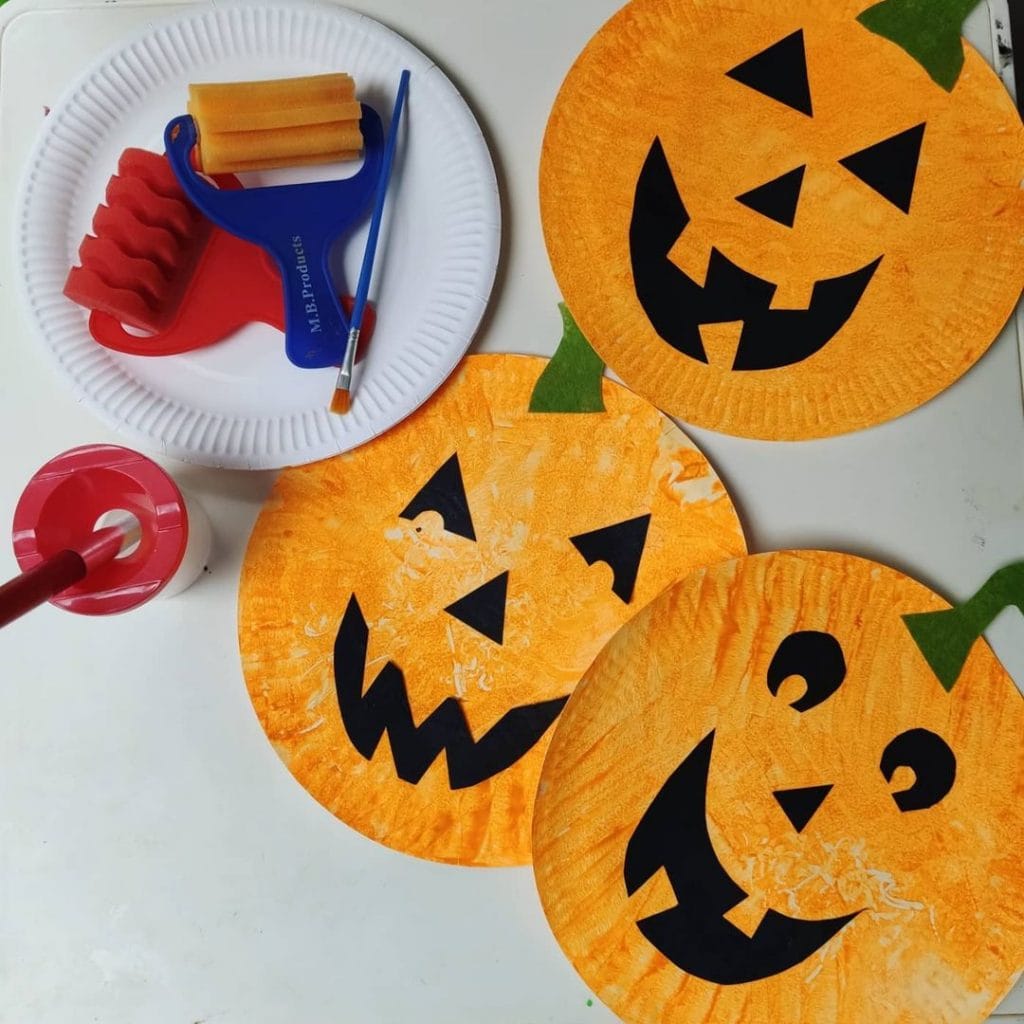 Source : wearesupermums
I love these Halloween crafts. This is an easy peasy craft idea. It is less time-consuming and certainly fun!  Needless to say, they are the perfect prop for Halloween night. You can check out some Halloween craft ideas here- 15 Halloween Crafts For A Boo-tiful Decor.
13. Paper Plate Rainbow Craft
Source : craftybutterfly_mom
This Paper plate craft is a great option for kindergartens and preschoolers. Such craftwork is an apt way to improve the motor skills of the kids. All you need are paper plates, cloud templates, craft paint, colorful yarns, plastic needles, hole punch, scissors, and glue.
Did you know that you can also make suncatchers with paper plates? Click here to know!
14. Crown for the Queen
Source : woven.wonder.learning
This is the perfect birthday prop. The steps for this one are simple. First, cut spikes out of the center of the paper plate; second, use a paintbrush to brush glue on the plate; third, lay a layer of colored tissue paper squares to give it a more colorful touch. And Voila! You have your own DIY crown.
15. Paper Plate Masks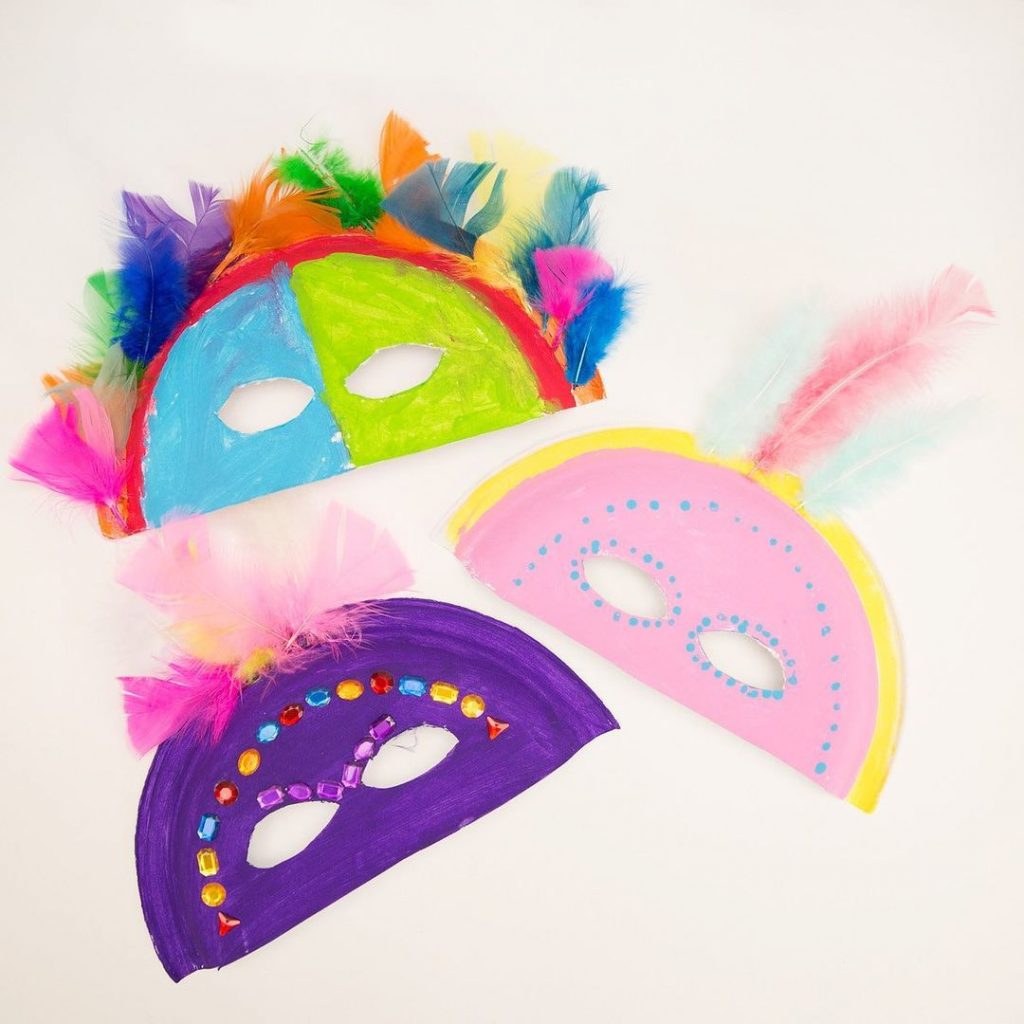 Source : a.creative.childhood
DIY paper plate crafts are an excellent way to keep kids occupied. Honestly, I have been indulging myself and my little niece in this kind of craftwork every weekend. It is fun, easy, and gives her a sense of accomplishment. To create these masks you will need a white paper plate, feathers, jewels, and paints.
16. Paper Plate Dinos
Image and Tutorial by madetobeamomma
I loved dinosaurs as a kid, and I still do! So if you have kids who love dinosaurs then this is the perfect craft idea for them. Such paper plate crafts are easy and entertaining. So go ahead, grab a few house supplies and make a few of these prehistoric babies.
17. Suncatchers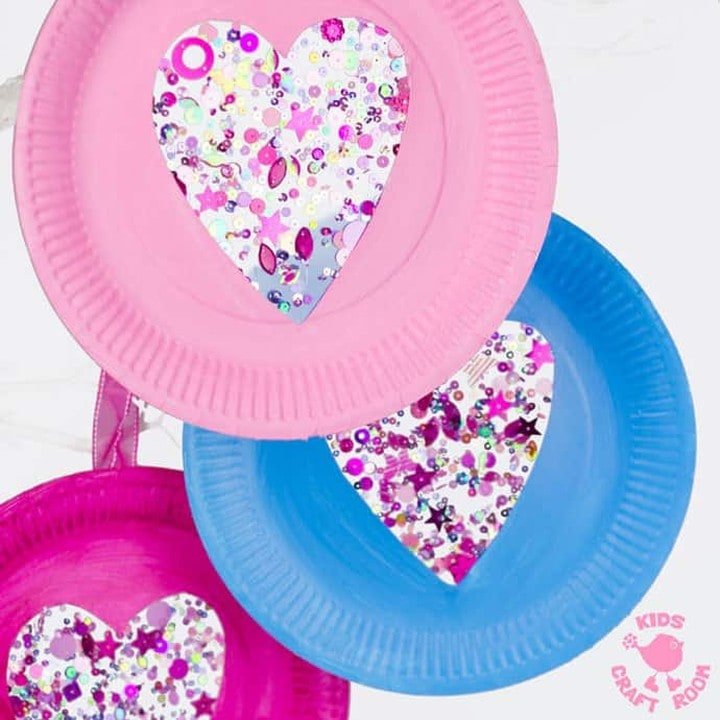 Image and Tutorial by kidscraftroom
These suncatcher paper plate crafts are gorgeous. This is a perfect Mother's day gift. A good summer project for the kids. The heart at the center has sequins and that reflects the lights perfectly. For these crafty pieces, you will need paper plates, acrylic paint, clear contact papers, assorted sequins, and ribbon.
18. Pizza Party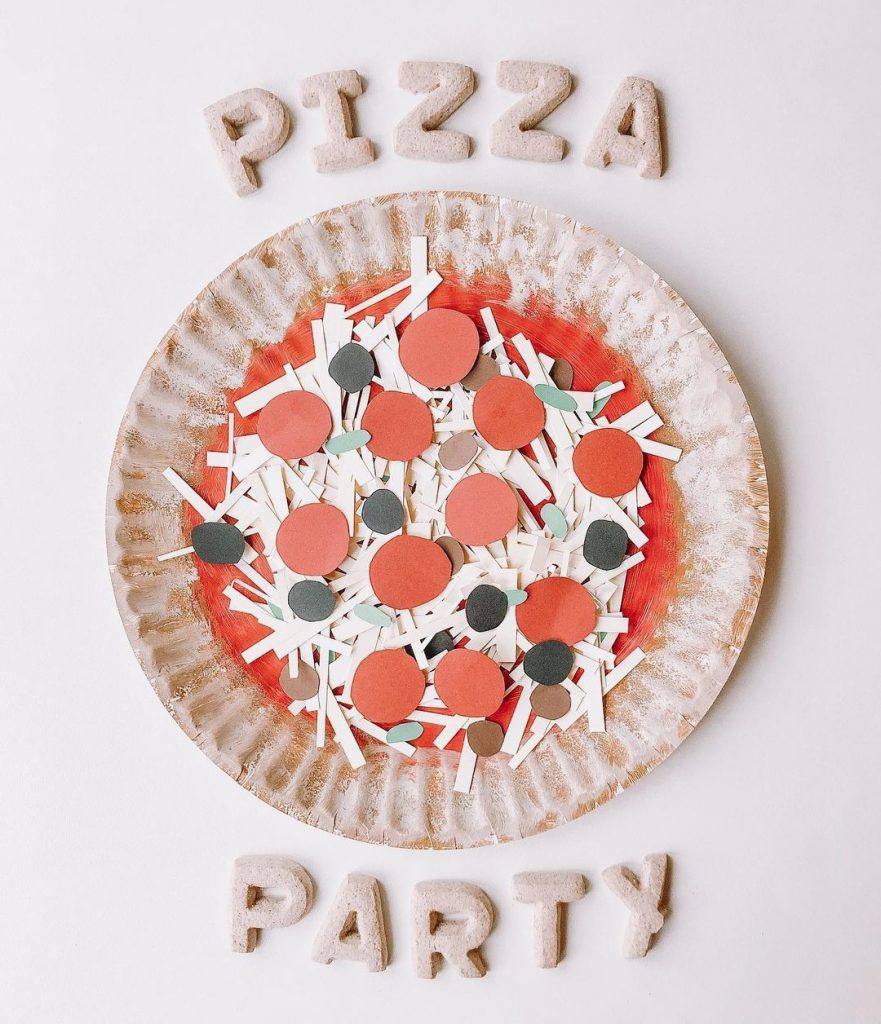 Source : jaimepederson
Are you ready for the pizza party with this mind-blowing paper plate craft? This one is super easy and cool. With all the paper topping and the realistic look, this one here is creativity at its pinnacle.
19. Animal Paper Plate Crafts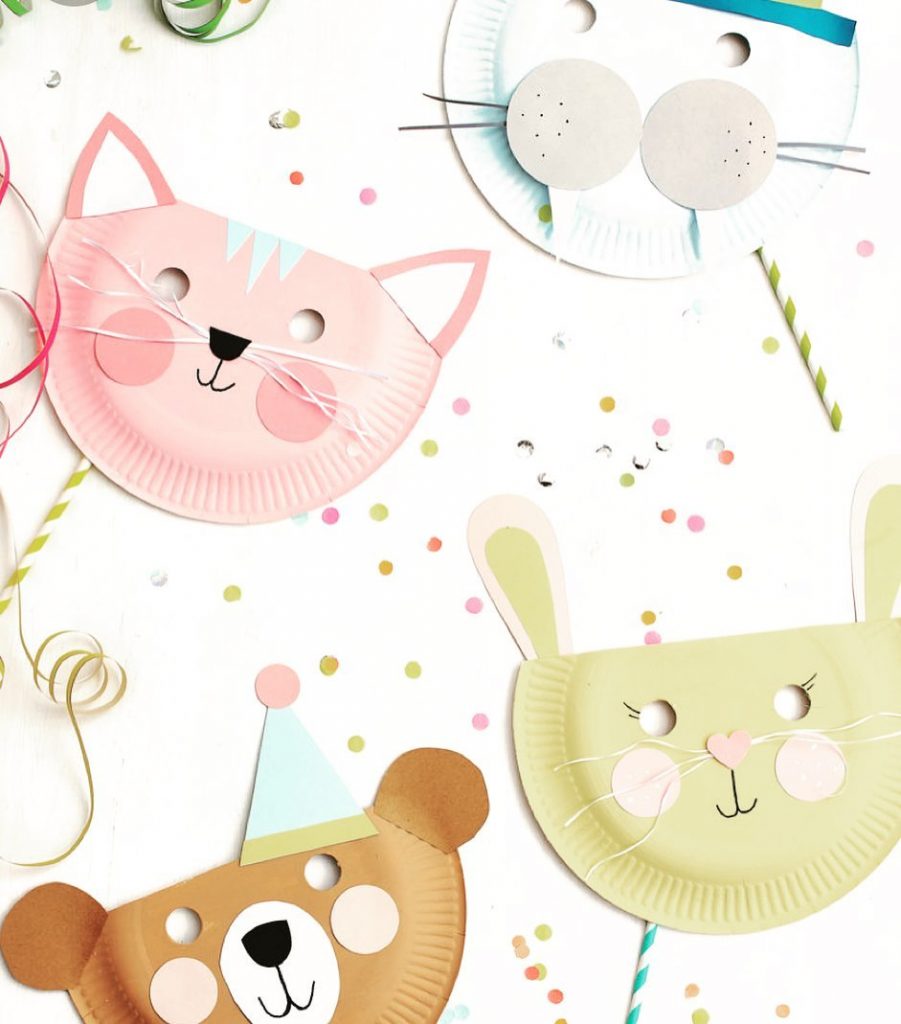 Source : _le_bosh_
How adorable are these paper plate crafts? They are neat and clean. I especially love the pink cat with the paper whiskers. Which one is your favorite?
20. Paper Plate Aquarium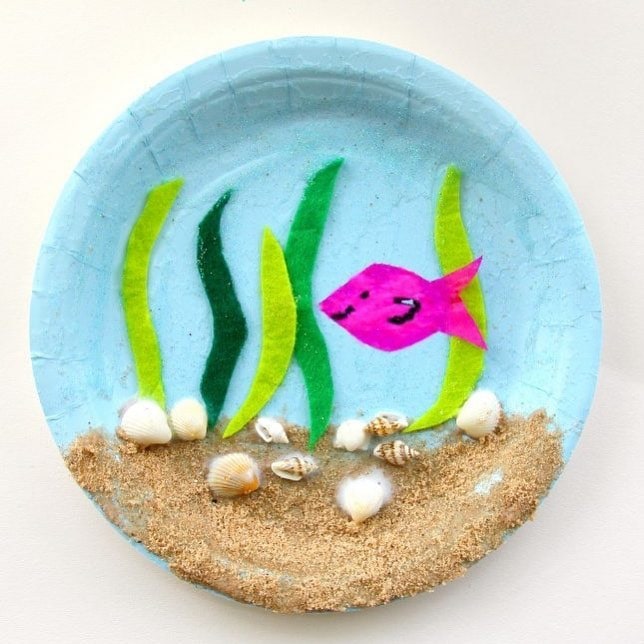 Source : riseandshine213
This one has a surreal aquarium paper plate craft. You will need a paper plate, paint, craft paper, sawdust, seashells, scissors, and glue for this craftwork.
There you go, people. I have assembled these ideas with some interesting and creative options. Your kids will have a gala time with these paper plate crafts ideas. It will certainly get their creativity flowing and boost their motor skills. Let us know your favorite one in the comment section below. You can check out some more craft ideas for your kids here- 25+ Cute Paper Crafts For Kids For Fun. TimeHappy crafting, people!
If you loved these ideas, you can use the Pin image below and save this article on your 'Paper Crafts For Kids' Pinterest board.