Although they share similar names, Square Online and Squarespace are distinct ecommerce platforms that offer different features and capabilities. In this comprehensive comparison, we will draw upon extensive testing and research to analyze these platforms side by side.
Also read –
Squarespace vs GoDaddy – Which Website Builder Is Better?
Format Vs Squarespace – Which One Is Better?
Squarespace vs Shopify – Which E-Commerce Website Builder Is Best?
What Is SquareSpace?
Squarespace is a versatile website builder that allows you to create websites and online stores using pre-built templates and hosting. It offers features for online transactions, eCommerce, and integration with payment systems like Square, Stripe, and PayPal. With powerful built-in tools for SEO, marketing, and analytics, Squarespace is suitable for any type of website.
Squarespace, established in 2004, has evolved from a blog hosting service to a comprehensive website building software used by millions worldwide. Squarespace websites provide users with their own domain, SSL certificate, and the ability to optimize their site for search engines.
What Is Square?
Square (or SquareUp) is an eCommerce website builder and payment processing service offered by Block Inc, built on top of the Weebly platform (that it acquired in 2018). It allows businesses to create online stores with features like inventory management, responsive site design, and detailed analytics.

With Square, you can accept credit card payments directly from your mobile device and integrate with other Square tools. It's an affordable option for small and mid-sized businesses, offering a flat transaction fee structure and no monthly fees for the basic plan.
SquareSpace Pros and Cons
| Pros | Cons |
| --- | --- |
| Professionally designed templates for polished website design | Learning curve for advanced customization |
| Advanced marketing features in Business Plan | No phone support, only live chat available |
| Great value for money, you get what you pay for | No auto saving of your work |
| Advanced blogging features and SEO capabilities | Low page speed – low ratings by Google's Page Speed Tool |
Read – Squarespace Review – Pros & Cons of the Website Builder
Square Pros and Cons
| Pros | Cons |
| --- | --- |
| Easy-to-use interface with intuitive website builder | Limited payment processor options |
| Affordable pricing, including a free plan and transparent transaction fee structure | Mediocre template designs |
| Advanced Inventory management and syncing for efficient product control | Limited customization options |
| Supports multiple third party integrations | Low page speed – low ratings by Google's Page Speed Tool |
Square vs Squarespace – Pricing and Value For Money
When comparing the pricing options of Squarespace and Square, it's essential to consider the features and value they offer in relation to their costs. Both platforms offer free accounts, but the free versions have limitations and lack premium features. Let's analyze the pricing plans and determine a winner based on their offerings.
SquareSpace
Squarespace provides a range of pricing plans for its users. The cheapest ecommerce plan is the Business plan, priced at $23 per month. This plan is suitable for beginners who want to start selling online with a few products. However, it does charge a 3% transaction fee on each purchase, making it less ideal for businesses with higher sales volumes.
In such cases, the Basic Commerce plan at $27 per month is recommended, as it offers powerful built-in features and no transaction fees.
In addition to the transaction fee, SquareSpace also charges a processing fee (for all plans) which depends on the method of payment.
Square
On the other hand, Square offers a rare advantage by allowing users to sell on its free plan. Square doesn't charge any transaction fee, only a processing fee.
Square processing fee varies between 2.6% + 10¢ per transaction to 3.3% + 30¢ per transaction (depending on the type of transaction).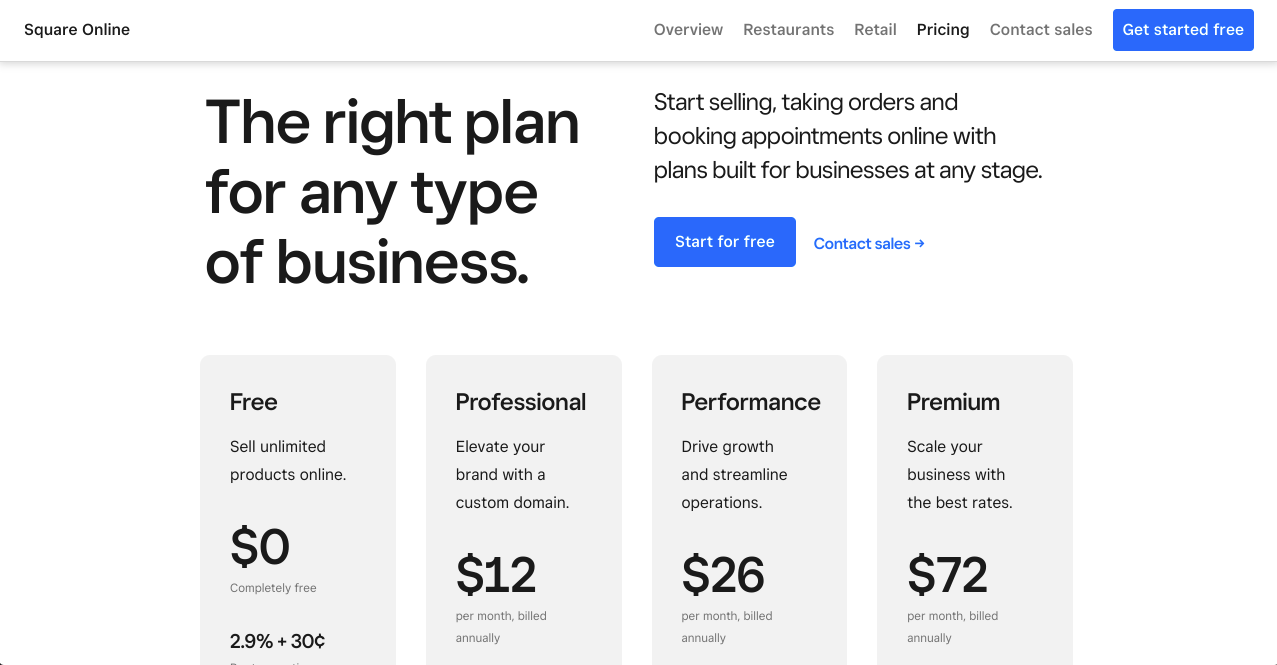 While the free plan is an attractive option for those on a tight budget, it should not be considered a long-term solution due to the presence of ads on the website and the inability to use a custom domain without upgrading to a paid plan.

Square offers three paid plans ranging from $12 to $72 per month. The Performance plan, priced at $26 per month, is the most comparable to Squarespace in terms of features, with the ability to send abandoned cart emails and display customer reviews.
Our Verdict – SquareSpace Is The Winner
In terms of cost, Square is generally cheaper than Squarespace, making it a better option for those adhering to strict budget constraints. However, Squarespace offers better value for money due to the higher quality and more comprehensive built-in features provided in their ecommerce plans.
Square's affordability and free plan can be appealing for those starting out or with simpler requirements, but it may not be the best long-term solution for establishing a strong brand presence.
In conclusion, Squarespace emerges as the winner in terms of pricing, considering the overall value and quality of its built-in features, even though Square offers a more budget-friendly option for those with limited resources. It's important to carefully evaluate your business needs, growth potential, and long-term goals when making a decision between the two platforms.
Square vs Squarespace – Ease Of Use
When it comes to how easy it is to use Squarespace and Square, we need to look at the user experience and how intuitive the platforms are. Let's explore their user-friendliness and determine which drag and drop editor is the winner in this aspect.
SquareSpace
When it comes to Squarespace, the platform offers a user-friendly experience with its intuitive interface and helpful features. They provide a tutorial and checklist to assist users in navigating the platform right from the start.
Squarespace follows a section-by-section approach, which may have a slightly steeper learning curve compared to other drag-and-drop builders. However, this approach ensures a structured and organized site design, which can be beneficial for maintaining a clear and visually appealing website.
The Squarespace building tool allows users to see real-time changes in the backend and how they affect the front-end, ensuring a smooth user experience. Additionally, Squarespace offers an intuitive mobile app that allows users to manage their website and products from any device.
Moreover, Squarespace provides an easy migration process for those with existing websites, simplifying the transition to their platform. With their Assistant feature, Squarespace offers introductory videos and FAQs to guide users through the site-building process, making it easier for beginners to get started.
Square
Square is known for its simplicity and user-friendly interface, making it easy for users to set up an online store. The platform offers a clean and straightforward dashboard that allows users to manage various aspects of their store, including inventory management and email marketing.

Square's dashboard also provides valuable insights through product details and analytics, empowering business owners with essential information.
However, transferring an existing website to Square can be a bit challenging, as it requires a manual process of downloading the site and uploading .csv files to the Square account.

Nevertheless, Square Online store is designed to be easy to use, supporting the sale of various products, including digital goods, physical products, donations, and event tickets.

They offer a range of professional-looking templates that are responsive for mobile users. While customization options may be limited, the Square online builder simplifies the setup process and allows users to edit templates to match their branding.
Our Verdict – It's a draw
Both Squarespace and Square provide user-friendly experiences with their respective interfaces and tools. You can use either of the platforms to build a website even if you are not a web developer.

Squarespace offers a structured approach, intuitive editing options, and seamless migration process, making it a solid choice for beginners. Square, on the other hand, excels in simplicity, with a user-friendly dashboard and easy setup for online stores.
Square vs Squarespace – Website Design, Themes & Templates
Let's compare which online store builder offers better design customization options.
SquareSpace
Squarespace shines in website design with its stunning template designs. The platform offers a wide selection of templates, making it easier to find one that suits your brand.
Squarespace's templates are highly professional and cater to different industries and preferences. The editor may take a bit more time to get used to compared to Square, but once familiar, you'll have more flexibility and creative control over your website.
Each template provides deep customization options, allowing you to customize pages, layouts, fonts, colors, buttons, and even fine-tune details like page margins.
Square
Square provides a basic starting point for website design. After signing up, you can customize your storefront by entering your business details. Square offers a customized setup experience based on your industry, the type of products you sell, and shipping preferences.
However, Square templates library is small, and there isn't much variation among the options. While the templates are clean and easy to navigate, they lack uniqueness and may not help your website stand out from competitors. The upside is that making minor edits like changing colors and fonts is straightforward on Square, allowing you to add a personal touch to your site.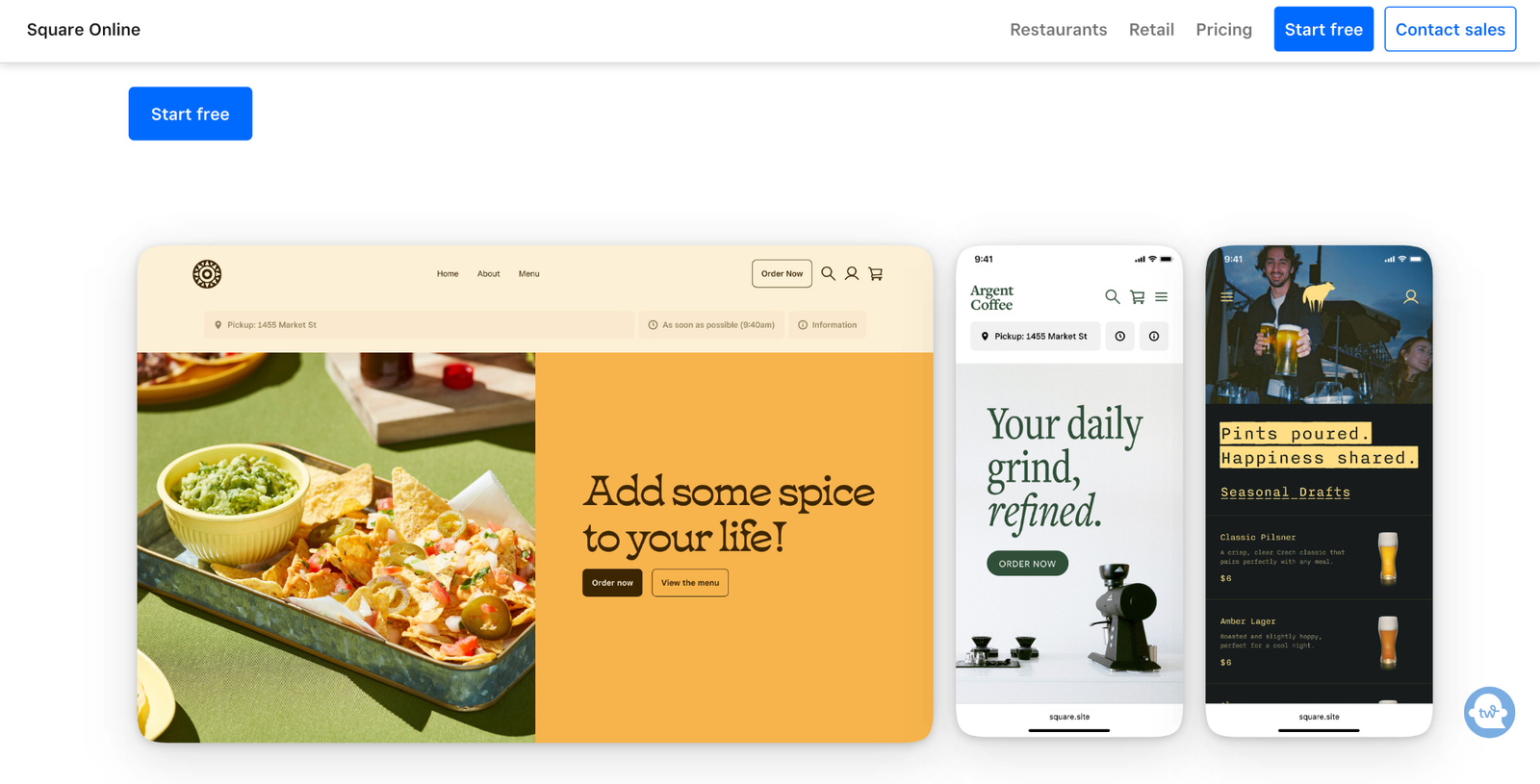 Our Verdict – SquareSpace is the winner
Squarespace takes the lead in website design and templates. Its vast selection of stunning designs, along with extensive customization options, allows you to create a visually appealing and unique website.
While Square provides basic templates that are easy to customize, they lack variety and may not offer the same level of design flexibility. If you prioritize aesthetics, creativity, and branding, Squarespace is the clear winner in this category.
Square vs Squarespace – ECommerce Features
Square
Square covers all the basics really well. One standout feature is its inventory management system. It allows you to easily update your stock for various changes like receiving new stock, recounting inventory, restocking returns, or dealing with lost items due to damage or theft.

While inventory management may not sound exciting, it's a crucial tool for any ecommerce store and contributes to Square's impressive ease of use.
Another advantage of Square is that you can sell products and services online even on their cheapest plan, which is great for beginners. However, the free plan comes with unprofessional ads and a domain ending in ".square.site," which may not be suitable for most businesses as they grow.
SquareSpace
Squarespace offers more powerful built-in features. Although their starting plans are more expensive, they provide excellent value for money. The Basic Commerce plan is recommended for most businesses as it is scalable and includes essential features.
Squarespace stands out with its professional templates that showcase products and give your storefront a stylish look. It offers classic ecommerce features like creating discounts and promotional pop-ups. Squarespace also provides multi-channel integrations and quick access to revenue and traffic insights, making it a strong choice for online businesses.
Our Verdict – It's a draw
In terms of ecommerce features, both Squarespace and Square offer valuable tools. Square excels in inventory management and allows selling on their cheapest plan. Squarespace, on the other hand, offers a range of powerful built-in features and stylish templates.

If you prioritize a strong inventory management system and selling on a budget-friendly plan, Square is the winner for you. On the other hand, if you value stylish storefronts, a range of ecommerce features, and in-depth insights, Squarespace is the recommended choice.
Square vs Squarespace – Customer Service
Square
Square provides a live-chat feature on their website, but it's important to note that this is a chatbot designed to guide you through their documentation and FAQs. For direct assistance from a real person, you'll need to fill out Square's Contact Us form or connect with their customer service team via email.

Square also offers phone support during business hours, which can be helpful for urgent matters. However, it's worth noting that their phone lines are only open during specific times. Fortunately, Square provides additional resources like a regularly updated blog and an informative YouTube channel with tutorials to support users.
SquareSpace
Squarespace primarily offers support through live chat. While phone support is not available, their live chat is staffed by real people and operates 24/7, ensuring assistance is accessible at any time. Users can also reach out to Squarespace via email or consult their help center for further guidance.


Additionally, due to Squarespace's wide user base, there are online forums where users support each other and share solutions to common issues, which can be a valuable resource.
Our Verdict – Square Wins
Square outshines Squarespace with its phone support, providing a direct line for assistance. Additionally, Square compensates for the absence of live chat by offering a 24/7 chatbot assistant to help users navigate their platform effectively.
Square vs Squarespace – Security
When it comes to security, both Square and Squarespace have you covered. They understand the importance of keeping your ecommerce store and customers' information safe, which is why they provide robust security measures.
Both platforms offer Secure Sockets Layer (SSL) certificates, which encrypt the data transmitted between your server and your customers' web browsers. This ensures that payment information remains confidential and protected.
In addition, Square and Squarespace are both PCI-DSS compliant, meaning they adhere to the Payment Card Industry Data Security Standard. This standard ensures that organizations handling credit card information maintain the highest level of security. By using either Square or Squarespace, your website automatically becomes PCI compliant.
Website security is a crucial aspect of any online business, and both Square and Squarespace understand this well. They invest in advanced payment and security technology to ensure the safety of your transactions and data. Square, in particular, prioritizes payment security as it originated as a point-of-sale system. They hold ISO 27001 certification, further demonstrating their commitment to data security.
Both Square and Squarespace offer additional security features such as HSTS encryption, SSL certificates, and 2-Factor Authentication to provide an extra layer of protection.
Our Verdict – It's a draw
When it comes to security, both Square and Squarespace are on par with each other. They prioritize the protection of your online store and customers' information, giving you peace of mind.
Square vs Squarespace – SEO Optimization
When it comes to SEO optimization, Square and Squarespace take different approaches. Square offers effortless integration with built-in guidance, while Squarespace provides more advanced tools.
Square
Square makes it easy to implement SEO best practices into your store. With user-friendly tools and guidance, you can optimize meta tags, titles, and descriptions for better search engine visibility. It's a great choice for small businesses seeking a straightforward SEO solution.
SquareSpace
Squarespace offers more advanced SEO features. It automatically converts image descriptions to alt text, improving accessibility and SEO performance. You can also customize page titles, meta descriptions, and URLs for better optimization. Squarespace is ideal for users willing to invest time in learning and utilizing advanced SEO tools.
Our Verdict – It's a draw
Choosing between Square and Squarespace for SEO depends on your expertise and the level of customization you require. If you prefer simplicity, Square is a solid option. For more advanced capabilities, Squarespace's SEO tools are more powerful.
Square vs Squarespace – Payment Options & Transaction Fees
Square
When it comes to selling online, Square provides an effective payment solution. You can accept major credit cards, Google Pay, and Apple Pay through Square. Additionally, you have the option to integrate PayPal into your Square online store.
For transactions processed through Square, expect to pay transaction fees of at least 2.9% + $0.30. These fees may vary for domestic and international cards.
SquareSpace
In comparison, Squarespace accepts payments primarily through Stripe and PayPal. Stripe lets you accept credit card payments, including Apple Pay. Stripe's transaction fees are 1.4% + $0.20 for domestic cards and 2.9% + $0.20 for international cards.
Considering the lower transaction fees offered by Stripe and the flexibility to use PayPal as an additional payment option, Squarespace may be the preferred choice for cost-conscious users.
Our Verdict – SquareSpace
Considering the lower transaction fees offered by Stripe and the flexibility to use PayPal as an additional payment option, Squarespace may be the preferred choice to accept payments from cost-conscious users.
Square vs Squarespace – Product Management
Square
If you're already using Square for your point-of-sale systems, Square will automatically sync your offline and online inventory. This means that when you sell a product in your physical store, the available quantity will be adjusted online and vice versa. It's a convenient feature for businesses selling both online and offline.
Square's user-friendly interface allows you to import products, add modifiers (like colors and sizes), and include extras with purchases. You can also categorize your products for better organization and utilize advanced options like visibility control based on launch readiness.
Additional inventory management features include bulk upload options, low stock alerts, inventory tracking, and automatic syncing.
SquareSpace
Squarespace mobile app allows you to manage your inventory from anywhere. The inventory panel provides information on product prices and availability. Setting up product pages is straightforward, whether you're using the iOS app or a computer. You can easily add product details, images, and adjust stock levels individually or in bulk.
Squarespace's inventory management features include editing, uploading, and organizing product details, setting up subscriptions, enabling limited availability labels, receiving low-stock notifications, and setting limits for service products.
Our Verdict – Square
In terms of product management and inventory, Square emerges as the winner due to its comprehensive features. The seamless syncing between offline and online inventory, advanced options, and tools like bulk uploads and low stock alerts make it a robust choice for businesses selling both online and offline.
While Squarespace offers mobile-friendly inventory management and useful features like subscriptions and limited availability labels, it falls slightly short in comparison to Square's extensive inventory management capabilities.
Square vs Squarespace – Store Management
SquareSpace
Squarespace provides a comprehensive account dashboard where you can manage all your Squarespace sites, domains, and subscriptions from one centralized location. This is particularly useful if you contribute to multiple websites, as it offers a convenient resource for accessing and managing them effectively.
The dashboard offers an overview of your account, including subscriptions, domains, and sites, allowing you to easily log in to specific sites for content updates or billing adjustments.
Editing product information in Squarespace is also seamless, as you can make changes directly within the template editor.
Square
Square impressed us with its straightforward dashboard during our own testing. The sidebar menu on the left provides easy access to important sections such as products, product categories, and key sales and performance metrics. It offers a clean and organized interface, making it simple to navigate and keep track of your store's activities.
Square allows you to edit basic product information within the template editor but requires you to go back to the dashboard for most modifications.
Our Verdict – Draw
If you value a straightforward and organized interface, Square's dashboard may be the ideal choice for you. However, if you prefer a more advanced platform with the ability to manage multiple sites and domains seamlessly, Squarespace's comprehensive account dashboard will be a valuable asset.
Square vs Squarespace – Marketing Features
When it comes to marketing, the comparison between Square and Squarespace revolves around pricing and user-friendliness. The majority of marketing features offered by these platforms are included in their paid plans.
SquareSpace
Squarespace offers a range of marketing tools to support your online store. With features like promotional pop-ups, banners, social media ads, SEO content, and product descriptions, Squarespace equips you with the necessary tools to enhance your marketing efforts.
These tools allow you to create eye-catching promotions, engage with your audience on various platforms, and optimize your website's content for search engines.
In addition to these features, Squarespace's Business plan, priced at $23 per month, includes advanced marketing tools such as website analytics.
These detailed analytics provide valuable insights into your marketing performance, enabling you to track key metrics, monitor customer behavior, and make data-driven decisions to improve your marketing strategies.
Square
Square also provides a range of marketing tools to help you promote your online store. With features such as website pop-ups, discount promo codes, and order information emails, Square allows you to engage with your customers and drive conversions. These tools enable you to create enticing offers, communicate important information, and foster customer loyalty.
Square's Professional plan, priced at $12 per month, includes marketing features like website pop-ups, discount promo codes, and order information emails. While Square's marketing tools are effective for basic marketing needs, they may not offer the same level of advanced features and analytics as Squarespace.
Our Verdict – SquareSpace
When it comes to marketing tools, Squarespace's Business plan stands out with its advanced features, including website analytics, which provide deeper insights into your marketing performance.
Final Verdict – SquareSpace
Squarespace emerges as our top choice overall. With its impressive designs and robust features, it is well-suited for individuals and businesses looking to expand their online presence and establish a distinctive brand. However, it's important to note that Squarespace may not cater to everyone's needs.
Specifically, we highly recommend Squarespace for growing stores and those focused on building a unique brand. On the other hand, Square is more suitable for existing brick-and-mortar stores venturing into online sales or individuals who simply want to sell a few products online without a formal store setup.
Who should use Squarespace?
Creators seeking to establish a unique brand identity
Individuals who desire a visually striking website to showcase and sell their own products
Businesses aiming to expand their customer base gradually over time
Who should consider Square Online?
Businesses that are new to the world of online selling
Brick-and-mortar establishments transitioning to online sales
Beginners who require a quick and easy setup to start selling online