It is said that with every sunrise comes new hope, likewise with every year comes new opportunities and a new vision. The start of the year is very important since everyone is very enthusiastic and pumped up about their goals and their new year's resolutions. A good way to showcase your enthusiasm for your new year is by creating a 'Bullet Journal Year At A Glance' page.
If you use a bullet journal to track your goals, tasks and habits, adding a Year At A Glance spread will make the planning a lot easier for you. You won't need to refer to a calendar app every time you create your monthly or weekly spreads. You'll have your mini bullet journal calendar right there.
If you're just getting started with bullet journaling, check out our guide on how to bullet journal to know more about other important pages.
What is Bullet Journal Year At A Glance Page?
Bullet Journal Year At A Glance (sometimes also combined with bullet journal future log) is basically a single page where you have all the months and days together which helps to plan the year roughly at a glance. It is very easy to use and manage, since you see all the months together, it becomes easy to plan things.
You can let this page be in your bullet journal or stick it near your workspace or on a wall or even on your refrigerator, basically anywhere, where you will tend to spend more time so that you can see it constantly.
Why Do You Need A Year At A Glance Spread In Your Bullet Journal?
Planning and managing are the key elements of goal setting. Seeing a yearly plan everyday makes you feel relaxed and motivates you to do the daily planned things or tasks.
Bullet journal year at a glance can be used for various different purposes like:
1. Goal setting
You can set yearly goals and targets to accomplish on this page of your bullet journal. It will also help you to stay motivated throughout the year.
Related Post – 23 Bullet Journal Goals Page For Inspiration
2. Remembering Birthdays and Anniversary
You can note all the special days like birthdays and anniversaries to keep a record of them. Also, it will make sure that you don't forget the important dates while bullet journaling.
3. Social Media Planning
You can easily plan your social media for business or personal use. You can spread out your target over the year and plan accordingly for what goes up when.
4. Financial planning
This page will also help you to plan your whole year financially. You can divide the expenses depending upon the months. For example, where you see there are lots of festivals, you can cut down on the other expenses whereas when there are none you can buy some luxury items.
Related Post – 25 Bullet Journal Finance Layout For Your Inspiration
5. Holiday planning
Holiday planning becomes easiest when you have a year at a glance because you can easily see the suitable time or month to plan a beautiful holiday.
6. Habit planning :
New year brings new changes in everyone's life. It also inspires people to work towards building a new habit. Most people are consistent with their habits only during the starting few months. This page can help them to mark these habits regularly and motivate them to be consistent throughout the year.
Related Post – 25 Habit Tracker Bullet Journal Ideas For You
Ideas For Bullet Journal Year At A Glance
Here are 25 Bullet Journal Year At A Glance Ideas that you can take inspiration from to create your own yearly spread. You can also get creative and decorate your year at a glance with doodles. (I've created a special e-book to help you do that).
1. Shades Of Read
This is a very feminine bullet journal calendar page by miloe.joanne. It includes intricate design at the top with beautiful quotes/messages on the other side of the page. The months are properly placed on the page making it easy to understand.
2. Word of the year
This bullet future log by hayleys.bujo has a special element in it. With all the months spread throughout the page there is word of the year written at the end. This helps the person to have good vibes throughout the year and remember the year's motto.
3. Galaxy Year At A Glance Spread
Galaxy themed calendar page by nics.nook is very simple yet elegant. It has a beautiful quote on one side and a yearly calendar page on the other.
4. Black and White Floral
Black and white floral yearly spread idea by bujo_squad gives some major vintage vibes. It is also very spacious to use.
5. Floral Year At A Glance
This is a very basic one by illustratedexpressions with just a catchy font and a floral design on the other side. It also has a quote to motivate and inspire oneself while bullet journaling.
For more such amazing quotes, refer- 100 Never Give Up Quotes To Keep You Going
6. Pink Year At A Glance
This is a plain pink year at a glance by bujogin which has all 12 months spread over two pages. This yearly spread makes it super easy to mark important dates while bullet journaling.
7. Pastel Year At A Glance
A cute pastel color yearly spread by planfullypippa is all you need to have in your bullet journal. I love the floral washi tape used at the bottom which makes the entire yearly spread appear lively.
8. Artistic Year At A Glance Page
Yearly spread by creativ.adi is very simple yet attractive as it has a beautiful floral art work on the other side. A must try one for all art lovers. As you start the new year, let yourself be inspired with your favourite artwork and quote.
9. 2020 At A Glance
This future log is by bookofbujo. It is minimalist and a very good option for people who like to have detailed information. It has a table where the rows have been numbered from 1-12 indicating the months of the year and the columns have days of the week in repeat.
Dates are written in front of each row according to the day it lies on. At the bottom is a key which indicates holidays, birthdays, travel, daylight saving that can be used to mark the whole year.
10. Black and White Theme
This is a very unique black and white themed year at a glance by ani.journals where we see a black and white drawing in each tile revealing the month of the year. Isn't doodling a unique creative block for each month an amazing way to get started with the new year?
11. Vintage floral
A very pretty vintage looking floral design year in a glance spread is always a big yes. This one is by elzdoodles. One side of it has a positive note written with cute floral illustration whereas the other side has an appealing 12 month calendar that is easy to use.
12. All Black Year At A Glance Spread
This is by far the prettiest one by savannah scribbles if you are a night person and love seeing the stars and moon. It also has cute moon doodling all over the page that adds to its beauty.
13. Colorful Year At A Glance
It is a very cute and colorful bullet journal page which looks neat and clean. At the top there are some cute doodles.
14. Floral Black And White Yearly Spread
It is very spacious and includes only 2 months on a page. At the bottom there are lines to write any important detail or information. On the top there are black and white big floral designs. The overall feel is spacious and light. This kind of year spread makes for a perfect future log page.
15. Yellow mellow
It is a sweet yellow year at a glance having cute yellow highlights every month. The other side of the page has flowers and leaves with a quote in between.
16. Simple minimalistic year at a glance
A very simple yet easy to use year at a glance is all you need to have. If you are someone who prefers things less artistic or colorful then this one is especially for you.
17. Simple Bullet Journal Future Log Page
This one is very straightforward and a plain one having 3 months on a page with space to write important dates or birth dates.
18. Green Bullet Journal Year At A Glance
It has a combination of green and black which looks very elegant. It also gives motivation since it has a quote nicely written on it. There are 6 months on each page having proper space.
19. Girly Year At A Glance
This is an extremely feminine and girly year at a glance. One can see a lot of elements which resonate with females. Also it is quite dramatic and over the top.
20. Simple and sweet
It is a simple and plain one having all 12 months on a single sheet. The fonts used are also very plain and simple.
21. Blue Flowers Themed Year At A Glance
A very pretty and calming year at a glance is a must buy. Cool color scheme is used for this one which makes it different from others. It also has little floral designs.
22. Minimalist Year At A Glance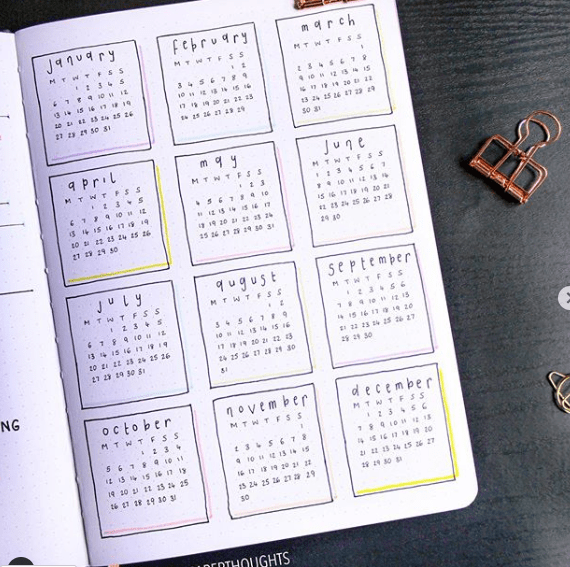 This is a very plain year at a glance but the only element that adds a charm are the color strokes/boxes made near the monthly boxes. It's one of the simplest ways to create a stylish yet minimal yearly spread.
23. Blue With A Clue
This one is a single colored crystal theme yearly spread. It has only blue color used for all designs and months. It also has a section to write important dates so that one has a clue about it while planning the year.
So there you go! That was the list of bullet journal year at a glance ideas and layouts for your inspiration. You can customize these pages according to your taste. Do let us know which theme you liked the best. 
If you loved these ideas, you can use the Pin image below and save this article on your 'Bullet Journaling' Pinterest board.