A website builder is a platform that helps you create a website without using any of our coding skills. Today, millions of individuals, bloggers, and small business owners are creating their websites using website builders. 
Want to build a website for yourself too? Don't worry! I will help you in choosing the best platform for you. The last two options I was left with after all the research I have done while choosing the best website builder are – Wix and Squarespace.
Table of Contents
So, What Are Wix And Squarespace?
Wix and Squarespace are the website building tools or software that allow you to build a beautiful and aesthetic website you have ever dreamed of. They mainly target people who want to make a website with zero coding skills.
Both the platforms are SaaS (Software as a service) tools, (i.e.), you have to pay an annual or monthly fee to use them. As a part of this Plan, you will be getting a free domain, a content management system, classy templates, e-commerce features, hosting, etc.…
Squarespace was launched in 2003 by Anthony Cansalena. Whereas, Wix was founded in 2006. Compared to Squarespace, Wix has a more massive user base. According to Builtwith.com, over 3.8 million live websites are created using Wix, and just 1.8 million users use Squarespace. Also, Wix is a larger company with more than 3000 employees than Squarespace, with around 800 employees. 
The more massive user base and the big company size of Wix will make it a bit less likely to go out of business and take your site. Therefore, Wix is a safer bet to build your website. 
But, Squarespace, too, is a well-established company with a large number of clients. So, this shouldn't influence you with your decision.
Wix Vs Squarespace
What do you choose between the two platforms that offer the same sleek, fresh, and stylish templates? Both Wix and Squarespace give great attention to design and templates. So, it is tough to pick a winner based on just the features alone. This is why, to sway the undecided users,  the two platforms spend vast amounts on ads.
Also read – Weebly Vs SquareSpace
Let us discuss and measure all the pros and cons of both Wix and Squarespace side by side.
Ease Of Use
Ease of use is one of the main things every user looks for in a website builder. There is no use of those fantastic features the platforms offer if we can't use them to their potential best. 
Both Wix and Squarespace offer the best features. They both are easy to use with drag and drop functionality. You simply select the element (text boxes, images, social sharing widgets, and much more) you want, drag it, and drop it wherever you want.  
But, if it is between Wix and Squarespace, I would say, Wix's drag and drop functionality is well built than Squarespace's. With Wix, you can drag anything and drop them wherever you want, but on the other hand, Squarespace is only a semi drag and drop website builder. That means you are allowed to drag everything, and also, it might take some time to get used to the platform's navigation.
Wix Ease Of Use
Building a website using Wix is extremely easy. The way the elements move in the website builder is very creative, fun, and agile. It has a fantastic drag and drop functionality. If you are not a big fan of Drag and Drop, you can use Wix's unique option called Artificial Design Interface (ADI).
ADI is where you can enter the details on how you wanted your website should look. These details include the website's name, the purpose of the site, elements you like to add on the website, themes you want, and much more. Based on these details, ADI will automatically create a website that is similar to your preferences.
Squarespace Ease Of Use
Though Squarespace is designed for beginners, it is more technical than other websites like Wix and Weebly. Squarespace has a steep learning curve, but once you get used to it and its interface, everything falls into one place, and things get more comfortable.
One best thing about Squarespace is that it lets us use multiple templates for one website at once. Adding content too in Squarespace is straightforward, you can click anywhere on the site and start writing.
Winner: While both the platforms are well established and easy to use, Wix wins the race as it is more beginner-friendly with complete drag and drop functionality.
Design Flexibility – Wix Vs SquareSpace
Everyone's dream is to attract the audience with their super classy website layout. Building an excellent website is a lot easier than you think when you use a website builder with more design flexibility and has more layout options. Let us see which of the two platforms in more design flexible by comparing all the factors, including how easily you can switch from one theme to another theme, whether the models are pleasing to the eyes, etc.…
Wix Design Flexibility
Wix has over 500 different templates listed in various categories, including business and services, store, creative, and blog. Therefore, you aren't confined to just a few models. All these templates are very professional looking and aesthetic.
Two of the main drawbacks of Wix's templates are – 
The templates aren't fully responsive, and you need to perform some minor tweaks to make them mobile-friendly.
Also, you cannot make significant changes to the existing templates. Making changes may revamp your website content. You can just make minor changes like fonts, color, etc.. You need to build the site all over again for significant changes.
Squarespace Design Templates
With Squarespace, you are not given as many template options as in Wix. There are over 100 themes to choose from.  Even the templates aren't that easy to move around. However, when it comes to switching your template, Squarespace is more flexible.
The good thing is that the templates are entirely responsive. They are highly adjustable to any screen size ( mobile phones, tablets, etc.). You can also switch templates whenever you want without having to worry about any content loss.
Templates and Designs – When it comes to templates and designs, Wix is an unmatchable winner. It has an extensive collection of unique and gorgeous templates. However, if you look at the designing of the templates, Squarespace beats Wix. Squarespace, too, has stunning websites with minimalistic fonts and colors; each and every model is designed with extreme care. Therefore, in case of quality over quantity, Squarespace takes up the first place.
Customizations – Wix is designed especially for beginners, so the customization is effortless. You can replace anything, including text, logo, images, etc.. with just a few clicks. The sad part is you cannot switch to a different template one you have chosen one. So, it very important to select the template carefully. Squarespace, on the other hand, is a semi drag and drop website builder. But it is still a great one as you can easily switch to a different template without any hassle down the line.
Winner – It is undoubtedly Squarespace. Professional-looking websites, ability to switch to different templates whenever you want, fully responsive themes, mobile editor, Squarespace has everything one wants in a website builder.
Tools And Features
It's true that to attract more visitors, and you need to have a beautiful looking website. To make them stay and further explore, you need to provide them with great options and features. This is why you need to opt for a website builder that provides more attractive functions and tools.  
If you are an absolute beginner and have zero knowledge in coding, then go for Wix. It provides the ultimate tools to create websites that include e-commerce, corporate websites, etc..…. Most of these tools can be directly accessed right away from the control. You don't have to incorporate any additional tools or features. However, Wix offers an App market where you can install many more third-party tools and options.
The only downside is that you need to shell out some extra bucks to access these apps. However, there are still some essential tools you can use for free.
On the other side of the coin, Squarespace doesn't have any App market; its tools and features are in the control panel itself. 
Both platforms have great features and tools in Ecommerce, blogging, and marketing functions. Let us now discuss these three different functions in Wix and Squarespace in detail.   
Ecommerce Tools
Wix Ecommerce
If you aim to build an ecommerce store, you need to decide whether you want to sell a few or infinite products. Wix provides a wide range of e-commerce template options. All these features come with great built-in tools. Some of the fantastic features Wix offers are Google Analytics to track the website performance, no commission fee, unlimited bandwidth, no adverts, up to 50GB storage, and many more.
Wix is well suited for small and medium ecommerce stores.
Squarespace Ecommerce
Squarespace also offers the same primary ecommerce features as Wix. The initial plan offers basic product merchandising and selling a few products. All other higher plans offer rich user experiences.
Just like Wix, Squarespace also offers features like unlimited bandwidth, email marketing, cart recovery, enhanced, etc…
Blogging Tools
Blogging isn't just about publishing blocks of text. It is much more than that. So, to scale up your blog, you need some additional blogging tools and features.
Wix Blogging Tools
Wix provides many gorgeous layouts to create a blog right away. It comes with amazing features like galleries, feeds, email campaigns, and built-in templates to help grow your blog to greeted heights. For additional tools and features, you can always add the Wix Blog app from the Wix App Market.
Squarespace Blogging Tools
Squarespace also provides excellent blogging tools. All these are built into the WYSIWYG editor itself. Squarespace is almost a contender to WordPress (the best blogging platform out there). Considering its beautiful and classy website templates, Squarespace is great for high-quality photography and graphic design blogs. Multiple author contributors, social sharing, category support, and whatnot, Squarespace provides everything you need for blogging. If you are thinking of starting a podcast, welcome! Squarespace offers an integrated hosting for your podcast.
The only drawback Squarespace has is the blog editor isn't very intuitive. Editing screen being a few clicks away from the preview is a bit abstract.
Marketing Tools
Your website doesn't grow by itself, and you need to promote it and increase the outreach. For this, you need some useful marketing tools. Both Squarespace and Wix are no less in providing the best marketing tools and features.
Wix Marketing Tools
Wix's marketing tools help you kickstart your email marketing campaign to send out beautiful newsletters. These tools also assist you with social media marketing, track your success rate, and much more. 
Squarespace Marketing Tools
Squarespace also allows you to run great email campaigns to send out beautiful and customizable email newsletters. It also provides built-in analytics, integration with social media platforms, and more. 
Winner: Its a draw between Wix and Squarespace. Both offer a package of really amazing features and tools you need to build the website of your dreams. Though Wix has an app store full of amazing tools, Squarespace makes it even by offering the same tools in the control panel itself.
SEO Features
The more traffic you drive into the website, the more successful your site is going to be. This driving traffic will be easy if the website builder is incorporated with a winning Search Engine Optimization strategy. Because it is the SEO that helps you rank higher in the search engine result pages. 
Both Wix and Squarespace are best in this regard. Both the platforms cover every aspect of SEO, including optimization, suggesting high-ranking keywords, etc..…. Other features include free SSL certificate, optimization for headings, adding alt-text for images, and more.
Wix SEO
Wix offers an SEO guide that helps beginners who are new to the world os SEO. It also provides a personalized setup that helps novice bloggers called "Wix SEO Wiz." Here in this setup, you have to add the information like the web site's purpose, some keywords that are relevant to your industry. That's it! Wix will do everything else for you.
Other built-in features provided by Wix are – 
Rapid page load time
Instant google indexing
Automated mobile optimization
XML sitemap
Default meta tags
Squarespace SEO

On the other hand, Squarespace also provides some prominent SEO techniques to the website. Many strategies were incorporated to help your site rank higher in the Google search engines. Some of them are listed below.
Offer free SSL certificates
Clean HTML Markup
Google search keyword analytics
Automatic image tagging
Automatic generation of a proper sitemap
Clean up URL to index it easily
Creation of a lightweight version of webpages. This is to ensure faster load speed on different screen sizes.
Squarespace's SEO guide also assist absolute beginners by providing some SEO strategy. However, it doesn't offer a personalized SEO setup like Wix SEO Wiz.
Winner: The winner in SEO is Wix. This is because of Wix's personalized step-by-step SEO setup. Also, people claim to have issues with the Squarespace sitemap. They say the sitemap was pulling both the non-trailing slash "/" version and the trailing slash "/" version of the website URL. This could impact the rankings because of the duplicate content. This makes Wix a winner here.
Pricing – Wix Vs SquareSpace
Both Wix and Squarespace are famous for their attractive plans and pricing. These plans are designed by keeping different audiences in mind. Be it individual sites, small or mid-sized businesses, or large organizations (with more than 30 webpages), both the platforms have plans for everyone. Let's get deep into the plans and pricing they offer.
Squarespace Plans and Pricing
Squarespace offers four premium plans – personal, business, essential, and advanced. While the first two are for basic websites, the latter two are for ecommerce websites.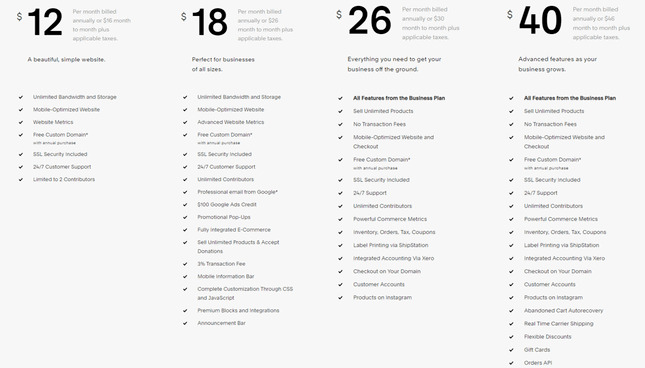 Personal Plan – The own Plan costs $12 a month when billed annually or $16 a month. This plan is for the people who are looking for an essential yet classy looking website. This plan offers unlimited bandwidth, unlimited storage, website metrics. Mobile-optimization, free domain, free SSL certificate, etc.…
Business Plan – The Business plan is priced at $18 a month when billed annually or $26 a month if billed monthly. This plan is excellent for businesses from small to large. Along with the features available on a personal plan, the business plan also offers some additional features like promotional pop-ups, professional email from Google, $100 Google Ads credit, etc.
Basic Plan – The Basic Plan is for the people who plan for an online store on their websites and get their business off the ground. This plan costs you $26 a month when billed annually, or $30 per month when billed monthly. This plan offers all the business plan features plus integrated accounting via Xero, robust commerce metrics, label printing via ShipStation, checkout on your domain, and many more. Therefore, this plan is for those who like to build their new ecommerce store.
Advanced Plan – This Plan is priced at $40 a month when billed annually, or $46 when paid month to month. An advanced plan is best suited for growing ecommerce business. This plan provides all of Squarespace's features, including abandoned cart auto-recovery, flexible discounts, incorporate gift cards with your marketing campaigns, and so forth.
Wix Pricing
Wix offers only one premium plan – $29 a month when billed annually. With this plan, you get a free domain, connect your domain, remove Wix ads, unlimited bandwidth, 10 Gb storage, google analytics, accept online payments, unlimited video hours, online store, etc. You will also get 24/7 priority support, enjoy fast and secure web hosting, and 14-day money-back guarantee.
Winner – Its a draw between Wix and Squarespace. Though Wix doesn't offer many plans, it provides a free program forever to build a website without losing a single penny. Of course, you are confined to only a few tools and features.
Support
Imagine you had an issue and got stuck on your website. It can be anything – can't connect to your domain, design issue, etc.… You will need excellent customer service to resolve the issue. Therefore, it is essential to choose a website builder that has the best customer support.
Both Wix and Squarespace offer excellent customer services to solve the problems. They both provide support forums, articles, tutorials, and step-by-step guides.
Wix Customer Support
When it comes to giving support, Wix offers various means of help to its customers. It provides support through – 
Email
A dedicated support center
Forums
Tutorials
Over the phone
Informative articles and blogs
Social media channels
On page support
Wix also has on-page support. So, wherever you have an issue and got stuck, you don't need to exit the page, you can click on the help button present on the page and get support.
Squarespace Customer Support
Squarespace too offers diversified support channels to help its customers just like Wix. They offer help through – 
24/7 email response
Video workshops
Webinars
Community forums
Online tutorials
Live chat
Articles and blogs
Apart from step-by-step guides, tutorials, and other common functions, Squarespace also offers Live Chat support. On top of this, this platform also has a policy where they have to reply back to the client's emails within an hour.
Winner – It is again a draw between Wix and Squarespace. This is because both have their advantages. While Wix has on-page support, Squarespace has live chat support.
Add Ons
Once you are done with creating your website, you might what to take your site one step further by adding creative widgets like live chat, shopping carts, etc.. That's when add-ons come into action—Add-ons help in improving your website's usability.
Wix has a fantastic suite of more than 200 apps in its App Market. You can find tons of tools, add-ons, features, etc.… to enhance, optimize, expand, and manage your site's functionality. These apps are both free and paid. Though Wix can't vouch for all these third-party developers' support quality, it still a great thing to know that we can get more than what's possible.
Wix also has Wix Corvid, where you can create databases, connect to APIs, and create dynamic pages.
On the other hand, Squarespace doesn't have an app market. All of the necessary features are designed in the control panel itself. For functions that are not in the in-house, you can check in Squarespace Extensions.
Another way to get additional features is through Zapier Squarespace Integrations. These integrations help you to connect your site with more than 2000 apps. MailChimp, Slack, Hubspot, etc…are some of the popular features Zapier Squarespace integrations provide us. However, to get this service, you need to pay some additional fees every month to Zapier.
Winner – Wix is the winner here. It has tons of apps in its App Market.
Final Verdict – Wix Vs SquareSpace
Let us go back and take a brief look at which website builder won which category.
Ease Of Use – Wix
Design flexibility – Squarespace
Tools and features – draw
SEO features – Wix
Pricing – Draw
Support – Draw
Add ons – Wix
After carefully evaluating all these features, we can safely say that Wix is the winner. It is a small margin. But, this doesn't mean we need to avoid Squarespace at all costs. If you are a dedicated and full-time blogger, I recommend you to go for Squarespace. This is because they have great looking designs which are highly responsive at the same time. 
In the end, everything depends on your requirements and preferences. If you value your money, go for Wix. But, if you like aesthetic and gorgeous template designs, opt for Squarespace.