Whether you're hosting a Spider-Man-themed party, looking for imaginative playtime activities, or searching for the perfect gift for a Spider-Man enthusiast, our crafts have got you covered. You'll be able to create unique and memorable pieces that capture the spirit of the beloved superhero.
Join us on an adventure as we explore the thrilling world of Spider-Man crafts, where creativity and imagination know no bounds.
Also read –
40 Stunning And Creative DIY Cardboard Crafts Ideas
20 Super Fun Paper Plate Crafts For Kids in 2023
24 DIY Pencil Holder and Stands For An Organized Desk
1. Cardboard Tube Spiderman
Image and tutorial by craftsbyamanda
Looking for a fun and creative DIY project that will bring out the superhero in your kids? Introducing Cardboard Tube Spiderman, the perfect way to ignite their imagination! Inspired by the upcoming Spiderman movie, this easy-to-make craft allows your little ones to become their own web-slinging heroes.
2. Spiderman Gingerbread Man Craft For Kids
Image and tutorial by simpleeverydaymom
Get ready for a thrilling combination of Christmas cheer and superhero excitement with our Spiderman Gingerbread Man Craft! Kids can unleash their creativity and transform the classic Gingerbread Man into everyone's favorite web-slinger.
3. Spider-man Tortilla Sandwich Lunch
Image and tutorial by brainpowerboy
Calling all superhero fans! Get ready to create a super-powered lunch for your little ones with our Spider-man Tortilla Sandwich Craft.Transform lunchtime into a superhero spectacle with our Fun Food Spider-man Lunch Craft!
4. Paper Plate Spider-Man Mask
Image and tutorial by kidsactivitiesblog
Get ready to swing into action with this delightful Paper Plate Spider-Man Mask! With just a few supplies and a sprinkle of imagination, your child can become the friendly neighborhood superhero in no time.
5. Spiderman Planter Craft
Image and tutorial by easy-crafts-for-kids
Introduce your little superheroes to the world of gardening with the adorable Spiderman Planter Craft! Combining their love for superheroes and painting, this craft is perfect for boys who enjoy getting their hands dirty.
6. Spiderman Handprint
Image and tutorial by mamato5blessings
Capture a precious moment and create a Spiderman masterpiece with this handprint craft! Display it proudly and cherish the memory as your little one's handprint becomes the symbol of their growing journey through time.
7. DIY Superhero Capes
Image and tutorial by handmadebyjt
Unleash your little superheroes' imaginations with these DIY Superhero Capes! Designed to perfection, these capes are not only longer and more comfortable but also reversible for double the fun.
8. No-Carve Spider-Man Pumpkin Design
Image and tutorial by funmoneymom
Get ready for some spooktacular fun with the No-Carve Spider-Man Pumpkin Design! Perfect for Halloween crafts, this kid-friendly activity allows little ones to transform an ordinary pumpkin into their favorite superhero.
9. Superhero Handprints
Image and tutorial by thebestideasforkids
Unleash your child's inner superhero with the delightful Superhero Handprints craft! This easy and fun activity is a guaranteed hit for superhero enthusiasts. Turn these handprints into cards, perfect for special occasions like Valentine's Day, birthdays, or Mother's/Father's Day.
10. Spider-Man Sugar Cookies
Image and tutorial by hanielas
Get ready to swing into sweetness with Spider-Man Sugar Cookies! These beautifully decorated superhero cookies are the perfect treat for birthday parties or any celebration. These delectable treats are sure to satisfy your sweet tooth and add a touch of superhero excitement to any occasion.
11. Spiderman Cake In A Jar
Image and tutorial by messylittlemonster
Indulge in a delightful superhero treat with the Spiderman Cake in a Jar craft! Kids and Spiderman fans alike will be thrilled to make this microwaveable cake activity using recycled baby food jars. Whether you're looking for a fun craft for boys or a unique party food idea, this Spiderman Cake in a Jar is sure to impress and delight.
12. Spiderman Candy Apples
Image and tutorial by thepartypeople
Experience the ultimate superhero treat with Spiderman Candy Apples! These DIY sweet sensations are a perfect addition to any Spiderman-themed party. With a sticky toffee coating and web-like designs, these delicious apples are sure to impress both kids and adults alike.
13. Spiderman Craft Pencil Holder Idea
Image and tutorial by theinspirationedit
Get organized in superhero style with this Spiderman Craft Pencil Holder Idea! Perfect for Spiderman fans, this adorable milk bottle-turned-pencil holder adds a touch of Marvel magic to your desk. Join in the fun of creating your own superhero-inspired craft and enjoy the satisfaction of a well-organized workspace.
14. Spiderman Pillow
Image and tutorial by thecreativeimperative
Create your very own Spider-Man pillow with just a few materials! Using red fleece, white fabric, and black thread, you can bring this iconic superhero to life. With careful measurements, cutting, and stitching, you'll have a cozy and web-slinging pillow to enjoy.
15. Split pin Spider Man craft
Image and tutorial by messylittlemonster
Get ready for some superhero fun with this Split pin Spider-Man craft! Using thick card, split pins, paint, and a black marker pen, you can create your very own Spider-Man character. Let your creativity shine as you bring this iconic superhero to life with movable limbs and vibrant colors.
16. Spiderman Bookmark Activity Craft
Image and tutorial by brooklynactivemama
Discover the joy of reading with this Spiderman bookmark activity craft! Create your own personalized bookmark as a reminder of your favorite superhero adventures while diving into exciting books. Let Spiderman inspire you to explore new worlds and embark on thrilling reading journeys.
17. Spiderman Lunch Bag
Image and tutorial by craftwhack
Let your child's love for Spiderman shine with this DIY Spiderman lunch bag! Personalize their lunchtime experience by creating a custom Spiderman-themed bag that will impress their friends and make every mealtime feel like an adventure. Perfect for school, parties, or special surprises!
18. Felt Superhero Mask
Image and tutorial by cutesycrafts
Get ready to unleash your inner superhero with these DIY felt superhero masks! Cut, sew, and personalize your own unique mask design .These masks are perfect for imaginative play and costume parties. Let your creativity soar!
19. Paper Spider Web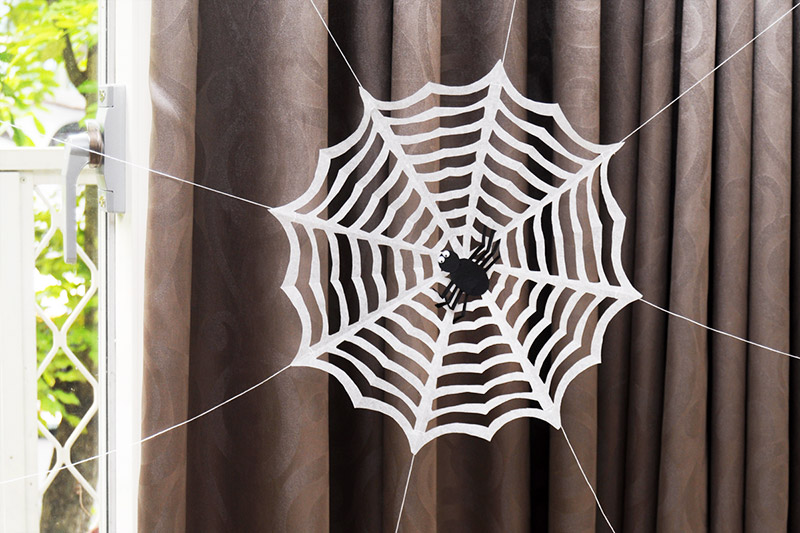 Image and tutorial byfirstpalette
Get tangled in the spooky spirit with this simple paper spider web craft. Fold and cut paper to create intricate spider webs that can be used for Halloween decorations or as a fun activity for spider enthusiasts.
20. Popsicle Stick Spider-Man
Image and tutorial by gluedtomycraftsblog
Unleash your child's creativity with this engaging popsicle stick Spider-Man craft! Using simple materials like popsicle sticks, paint, and cardstock, they can bring their own Spider-Man masterpiece to life.It's a fun and artistic DIY activity that will keep them entertained for hours.
21. Super Spider Cuffs
Image and tutorial by laughingkidslearn
Let your child's imagination soar with these Super Spider Cuffs! They offer a creative and eco-friendly way for kids to embrace their inner superhero while participating in book week or dress-up parties, making them a perfect DIY accessory for any young adventurer.
22. Letter Craft with Spider-Man Comics
Image and tutorial by blog.birdsparty
Add a touch of superhero flair to your space with these comic book letters featuring Spider-Man! Whether for a themed party or bedroom decor, this cost-effective craft uses printed comic images to create eye-catching accents that can be customized using wooden or chipboard letters for a bold and vibrant display.
23. Spider Man Mask
Transform into the amazing Spider-Man with a red spandex Morph Mask and stylish sunglasses, perfecting the iconic superhero look. Personalize your mask with window tint or black Sharpie/fabric paint to create the distinctive web design, adding a touch of customization to your superhero ensemble.
24. Spiderman Valentine Box
Image and tutorial by funmoneymom
Let your little superhero's creativity soar with this Spiderman Valentine Box, crafted from a cereal box and adorned with craft foam and other supplies. This unique valentine card box will make them the center of attention among their friends, showcasing their love for Spiderman in style.
25. DIY Superhero Craft- Avengers Bookmarks
Image and tutorial by bigfamilyblessings
Feed your kids' superhero obsession with this engaging DIY craft activity. Creating Avengers bookmarks will not only keep them entertained but also inspire them to delve into superhero-themed books, fueling their love for superheroes in a creative and educational way.