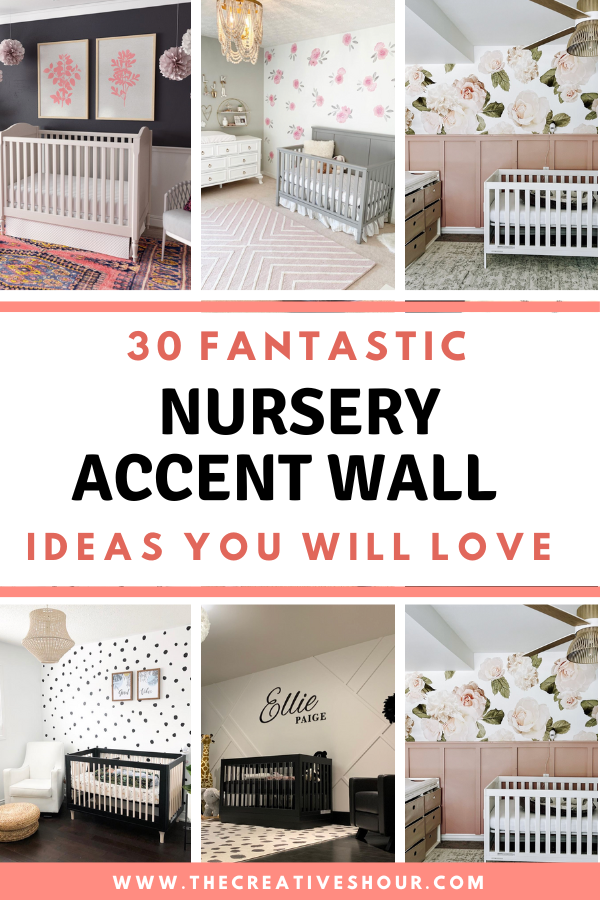 Welcome to the cuteness overload zone! In this article, we've gathered 30 brilliantly adorable nursery accent wall ideas that'll make your baby's room the envy of the entire nursery gang.
An accent wall serves as a focal point in the room, drawing attention and creating a sense of visual interest. In a nursery, this can be particularly effective in capturing the baby's attention and stimulating their senses as they begin to explore their surroundings.
Get ready for giggles, "aww"s, and plenty of design inspiration to make your little one's space genuinely magical. Let's dive in and paint those walls with laughter and love!
Related Articles –
White Board And Batten Nursery Accent Wall
Image and tutorial by christine holder
With its clean lines and crisp white finish, the board and batten technique effortlessly complements any nursery theme, from whimsical woodland wonders to delightful dreamscapes. Plus, it's a breeze to customize with a pop of pastel or a splash of your favorite colors.
2. Half Wall Board And batten With Wooden Accents
Image and tutorial by Brepurposed
Looking for a nursery design that's both modern and timeless? We've got you covered! The half-wall board and batten add a touch of sophistication, while the wooden accents bring in a cozy, rustic feel. The combination of white and natural wood tones creates a soothing ambiance perfect for those precious moments with your baby.
Read – 40 Brilliant Green Accent Wall Ideas For Every Room
3. Orange Nursery Wall For A Boho Theme Room
Image and tutorial by Mikyla Creates
Embrace the Boho vibes with a burst of vibrant orange! An orange accent wall is a perfect canvas for creating a bohemian haven in your room. This warm and spirited hue brings a touch of wanderlust and creativity to your space. Pair it with earthy tones, dreamcatchers, and macramé for an authentic Boho feel.
4. Blue Accent Wall With Cloudy Wall Mural
Image and tutorial by Mint Candy
Prepare to be whisked away to a dreamy sky inside your baby's nursery! A blue accent wall with a delightful cloudy mural is perfect for a whimsical and serene space.
The calming blue hues will create a tranquil ambiance, while the playful clouds add a touch of imagination and wonder to the room. Whether you opt for a hand-painted mural or a peel-and-stick decal, this design will surely capture the heart of both children and adults alike.
Read – 30 Amazing Dark Green Accent Wall Ideas For A Modern Look
5. Black And White Patterned Wallpaper
Image and tutorial by Project nursery
Who said nurseries have to be all pastels and teddy bears? It's time to take a stylish leap into the world of monochrome magic with black and white patterned wallpaper! Embrace the power of contrast and sophistication as you transform your baby's haven into a space that's equal parts playful and elegant.
6. Blue Board And Battten For A Grey Room
Image by babyletto
The classic charm of board and batten wainscoting meets the soothing allure of soft grey walls, creating an ambiance that's both elegant and child-friendly. The zig-zag lines of the blue paneling add height to the room, making it feel spacious and inviting. Plus, the subtle hint of blue adds a pop of color without overwhelming the calming grey backdrop.
Expert tip by TCH: Feel free to add a touch of whimsy to the accent wall with personalized wall art. Display framed prints, cute animal illustrations, or custom name plaques to make the space uniquely theirs. These customized touches enhance the room's charm while creating a sense of identity and belonging for your baby as he/ she grows.
7. White Accent Wall For A Black Wood Flooring
Image by dynamicconceptsgta
Not only does this combination look stunning, but it also provides a stimulating environment for your baby's early developmental stages. The bold contrast aids in visual perception, while the warm embrace of the black wood flooring offers a sense of comfort and security.
8. Floral Wall Mural
Image by katiewykrysh
Transform your baby's nursery into a whimsical garden of delight with a stunning floral mural!
Not only do these botanical masterpieces ignite creativity and imagination, but they also provide an ideal backdrop for capturing precious memories as your little bud blossoms.
9. Green Wall With Nature Theme Art Display
Image by mikaelaheirigis
Get ready to bring the great outdoors inside with our captivating 'Green Wall With Nature Theme Art Display'! Embrace the beauty of nature and artfully blend them into an enchanting living masterpiece.
10. Woodland Animal Themed Nursery Accent Wall
Image by jmorrisdesigner
Embrace the magic of nature as adorable foxes, wise owls, and cuddly bears frolic amidst the trees. This whimsical design brings warmth and charm to your baby's room, creating a cozy haven for sweet dreams and endless adventures.
11. Floral wallpaper For A Half Board And Batten Pink Wall
Image by urbanwalls
Are you looking to infuse your living space with a touch of floral finesse? Say no more! We have the perfect recipe to elevate your home decor game: a beautiful half board and batten pink wall adorned with enchanting floral wallpaper.
The halfboard and batten pink wall sets the stage for a charming canvas, while the floral wallpaper adds a burst of nature's colors and patterns. It's the ideal fusion of sophistication and playfulness, creating an inviting and visually striking space.
Read – 40 Amazing Halfwall Paneling Ideas For Your Home
12. Black Accent Wall For Nursery Room
Image by decor_for_kids
Who says nurseries have to be all pastels and pinks? It's time to break the mold and introduce a touch of sophistication and style with a black accent wall! While it might sound unconventional for a baby's room, it's a game-changer.
A black accent wall sets the perfect backdrop for dreamy constellations, whimsical forest creatures, or adorable animal silhouettes.
13. Reclaimed Wooden Accent Wall Ideas
Image by ldsshoppe
Embrace rustic charm and eco-friendly flair with a reclaimed wooden accent wall for your nursery room! This sustainable design idea not only adds a touch of warmth and character to your baby's space but also showcases your commitment to Mother Nature.
14. Polka Dot Wallpaper
Image by montedesign
Polka dots are the perfect whimsical touch to create an enchanting and cheerful space for your little bundle of joy. Whether your interior designers prefer classic monochrome dots or a burst of vibrant colors, this timeless pattern adds an element of fun that sparks imagination and curiosity.
15. Green Shiplap Wood on Wall Ideas
Image by asuiteidea
Looking to create a nursery that's as fresh as a daisy and cozy as a forest cabin? Say hello to the Green Shiplap Wall – a delightful touch of nature that transforms your baby's room into a serene sanctuary.
Why choose green? Well, it's the color of growth, harmony, and all things natural. With shiplap, you get that charming rustic feel, making your nursery an enchanting haven for your little one.
Expert tip by TCH- To engage your baby's curious mind, incorporate stimulating patterns and textures into the accent wall design. Geometric shapes, subtle stripes, or playful polka dots can add visual interest and encourage cognitive development. Mixing smooth and textured elements, such as wood accents or tactile wallpapers, can provide both a visually appealing and tactile experience for your little one.
16. Half Black And Half White Accent Wall Nursery
Image by thecrownprints
This gorgeous backdrop brings balance, sophistication, and a touch of modern artistry to your baby's space. The contrasting colors create a bold statement while providing a soothing environment for your little one.
17. Simple And Subtle Animal Theme Wall Paper With Black Crib
Image by ourfamilymaison
Whether it's mischievous monkeys, majestic elephants, hot air balloons or curious giraffes, these sweet animal motifs will spark your child's imagination and curiosity. Embrace the harmony of nature and contemporary design, and watch as your baby's room transforms into a sanctuary of wonder and comfort.
18. Pallet wood Accent Wall
Image by carouseldesigns
Nurseries are a place of dreams, where giggles and coos fill the air, and little ones explore the world's wonders. Create a cozy haven for your bundle of joy with a touch of rustic charm! A Pallet Wood Accent Wall is the perfect way to infuse warmth and character into your baby's room.
19. Pink Grid Board And Batten Accent Wall
Image by michaelaforaker
Get ready to bask in the soothing vibes and swoon-worthy aesthetics this wood slats accent wall brings to your home. It's the perfect canvas for showcasing artwork, shelves, or even hanging plants to accentuate the charm further.
20. Terrazzo Wall Mural
Image by projectjunior
With its colorful speckles and artistic flair, Terrazzo brings excitement to any space. But why limit this fabulous trend to floors when you can take it to new heights with a Terrazzo Wall Mural? Not only does it add a unique focal point to the room, but it also sets the stage for a creative wonderland that sparks the imagination.
21. Green Nature And Animal Inspired Wall Mural For Nursery
Image by littlecrowninteriors
Let your gorgeous nursery room become a window to the wilderness, where they can explore the beauty of nature and embark on imaginary journeys with furry friends. So, gear up for a delightful decorating experience and embrace the magic of nature with these awe-inspiring wall murals for your nursery.
22. White Grid Board And Batten Feature Wall
Image by asuiteidea
Looking to add classic elegance to your space? Look no further than the timeless beauty of a White Grid Board and Batten Wall. This architectural wonder not only elevates the aesthetics of any room but also adds a sense of depth and texture.
The clean lines and crisp white color create a versatile canvas, perfect for complementing any interior designer.
23. Rustic And Modern Accent Wall
Image by nest.in.birdland
Bringing a touch of rustic coziness and contemporary chic to your baby's nursery is a design match made in heaven. A rustic and modern accent wall is ideal for creating a warm, inviting ambiance while adding a trendy twist to the space.
24. Geometric Shapes Black And White Wallpaper
Image by byronrisdon
Geometric patterns uniquely engage a baby's curious mind while also pleasing the eye of grown-ups. The contrasting black and white hues provide visual stimulation and can easily complement any nursery theme or color scheme you have in mind.
25. White Floral Wall Mural Accent wall With Wooden Crib
Image by stouijer
Embrace the beauty of blooms and bring the essence of a whimsical garden into your baby's nursery with our white floral mural accent wall paired with a charming wooden crib. The soft, elegant flowers dance across the wall, creating a serene and enchanting atmosphere perfect for your little one's slumber.
26. Arch Shaped Floral wallpaper
Image by crateandkids
From charming nurseries to cozy living spaces, this unique wallpaper instantly becomes the focal point of any room, captivating guests with its mesmerizing appeal. So, why settle for ordinary walls when you have a floral haven that breathes life into your space?
Infuse your home with the beauty of nature, and let the arch-shaped floral wallpaper be the canvas for your imagination.
27. Minimalist Patterned Wall Paper For Nursery Room
Image by jordanmillerhome
Less is more, and minimalism is making a big statement in the world of nursery decor! Say hello to the charming world of minimalist patterned wallpaper for your little one's haven. Embrace simplicity with subtle geometric shapes, soft pastel hues, or delicate nature-inspired patterns that soothe and inspire.
Expert tip by TCH- When choosing the color scheme for your nursery accent wall, opt for soft and calming hues. Pastel shades like mint green, blush pink, or serene sky blue can create a soothing ambiance for your baby's room. These colors promote relaxation and help create a peaceful environment, perfect for naptime and bedtime routines.
28. Black Shiplap Accent Wall With White Crib
Image by littlecrowninteriors
Imagine your little bundle of joy dozing off in this cozy haven, surrounded by the elegant simplicity of the black shiplap backdrop. The dark hues of this timeless nursery exude a sense of sophistication, while the white crib offers a sense of purity and tranquility.
This design choice elevates the nursery's aesthetic while providing the perfect canvas for further creative touches. Add pops of color, playful decor, or soft textures to customize the space and make it uniquely yours.
29. Black And White Checkered Wall Paper With Green Crib
Image by carouseldesign
Are you looking to jazz up your baby's nursery with a touch of timeless elegance? Say hello to the perfect combo: black and white checkered wallpaper paired with a refreshing green crib!
The bold monochrome wallpaper pattern adds drama to the room, while the vibrant green nursery furniture brings fresh air and a pop of color. It's a match made in nursery heaven!
30. Beige Floral Wall Paper Nursery Accent Wall
Image by ashleymatheson_
If you dream of a nursery that exudes timeless elegance with a touch of whimsy, look no further than our Beige Floral Wallpaper Accent Wall. This enchanting design combines the beauty of blooming flowers and soothing beige tones, creating a serene haven for your little bundle of joy.
FAQS
Q: What is a nursery accent wall, and why should I consider one for my baby's room?
A: A nursery accent wall is a single wall in your baby's room creatively designed to stand out and add a focal point. It's an excellent way to infuse personality and charm into the space without overwhelming it. By choosing a captivating design, you can create a cozy and visually appealing environment that stimulates your baby's senses and fosters a nurturing atmosphere.
Q: Are nursery accent walls only suitable for certain themes or color schemes?
A: Not at all! Nursery accent walls are incredibly versatile and can complement various themes and color palettes. Whether you prefer a whimsical woodland theme or a calming ocean-inspired oasis, the accent wall can adapt to your chosen décor. The design possibilities are endless, from soft pastel hues to bold and bright hues, making it easy to tailor the accent wall to match your nursery's overall style.
Q: I'm not a DIY expert. Can I still create a stunning nursery accent wall?
A: Absolutely! You don't need to be a DIY pro to create a fabulous nursery accent wall. There are various options to suit your comfort level and expertise. From simple peel-and-stick decals and wallpapers to easily achievable painting techniques like stenciling or geometric patterns, you can achieve a striking accent wall without advanced skills. Additionally, online tutorials and design inspiration are readily available to guide you through the process and make it an enjoyable and rewarding project.
If you love these ideas, don't forget to pin the above image to your "Home and Garden" board.