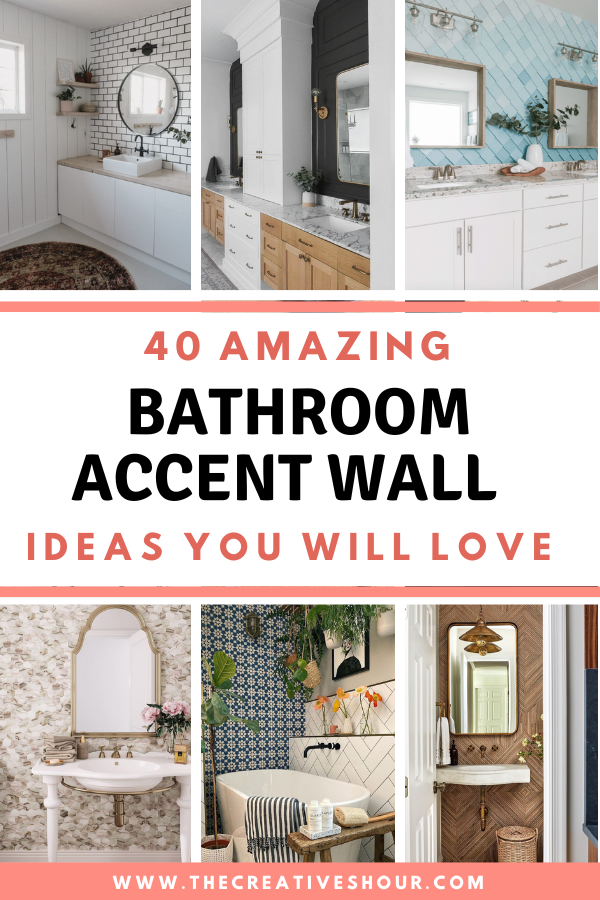 Welcome to a world of bathroom brilliance! Wave goodbye to bland and boring walls and hello to 40 ridiculously awesome accent wall ideas that will make your bathroom the talk of the town. We've scoured the realms of design to bring you daring patterns, dazzling colors, and funky textures that will tickle your funny bone and awaken your inner bathroom artist. So, buckle up and prepare for a wild ride through the most lovable bathroom accent walls you've ever seen. Get ready to fall in love, chuckle, and unleash your creative genius!
Let's dive in!
Related Articles –
1. Floral Accent Wall Over Half Wall Paneling Bathroom Walls
Image and tutorial by Hanas Happy Home
Embrace the perfect harmony of nature and sophistication with a stunning Floral Accent Wall over Half Wall Paneling. Elevate your space with the delicate beauty of flowers blooming against the timeless charm of classic paneling. Watch as your room comes alive with a blend of modern flair and vintage elegance, creating a captivating focal point that will leave everyone in awe.
2. Subway Tile Accent wall
Image and tutorial by Jeffrey Court
Looking for a simple yet sophisticated way to elevate your bathroom's aesthetic? Look no further than the timeless allure of a subway tile accent wall. Classic and versatile, subway tiles bring a touch of elegance and character to any space. Their clean lines and smooth surfaces create a visually appealing backdrop that complements any bathroom style, from vintage chic to modern minimalism.
3. Black Bathroom Accent Wall With Wooden Cabinets
Image and tutorial by Start At Home
The allure of a black accent wall lies in its ability to create a bold focal point without overwhelming the space. It sets the stage for stylish contrasts, allowing your wooden cabinets to shine with their unique textures and earthy tones.
4. Blue Ombre Tiles Wall
Image and tutorial by Pine + Poplar
Imagine stepping into your bathroom and being instantly mesmerized by the seamless blend of deep ocean blues fading into soft, soothing sky hues. The ombre effect on this bathroom wall will create a sense of depth and serenity, transporting you to a peaceful coastal retreat. Revamp your bathroom with this timeless design trend, and prepare to be spellbound by the tranquil beauty of the blue ombre tiles!
5. White And Brown Hexagonal Small Tiled Bathroom
Image by bathrooms_of_insta
Step into this cozy sanctuary, where the meticulous arrangement of the hexagonal tiles creates a mesmerizing visual feast. The combination of white and brown brings a sense of balance and serenity to the space, making it the perfect oasis for relaxation.
6. Wooden Paneling For Bathroom
Image by Ripplesbathroom
Why go for wooden paneling, you ask? Well, besides the undeniable aesthetic appeal, it also brings practical benefits. Wood is durable, resistant to moisture, and offers excellent insulation, keeping your bathroom cozy in the colder months.
Expert tip by TCH: Lighting plays a crucial role in accentuating your bathroom's accent wall. Install well-placed light fixtures like sconces or pendant lights to highlight the wall's design and create an inviting atmosphere. Experiment with warm- or cool-toned lighting to set the desired mood. Proper illumination will enhance the accent wall's beauty and make your bathroom a cozy sanctuary you'll love to spend time in.
7. Blue Floral Tile Accent Wall Bathroom
Image by Housebeautifuluk
If you've been yearning for a bathroom that whispers elegance and exudes charm, look no further than our Blue Floral Tile Accent Wall Bathroom. This exquisite design celebrates nature's beauty, with mesmerizing floral patterns adorning the wall like art.
8. Pink Herringbone Accent Wall For Bathroom
Image by Housebeautifuluk
This delightful design choice will surely add a playful yet sophisticated touch to your space. The combination of subtle elegance and eye-catching flair will have you swooning every time you step in.
9. Faux Wood Accent Wall Bathroom Ideas
Image by mwconstruction
Wooden accents bring warmth and charm to any space, but let's face it—natural wood doesn't always play nice with moisture. That's where faux wooden tiles come to the rescue! Transform your bathroom with these ingenious tiles that mimic the look and feel of natural wood without worrying about warping or water damage.
10. Floral Wall Mural Over Wooden Panelling
Image by groen_wallpaper
Whether you're soaking in the tub or brushing your teeth, the blue floral accent wall will envelop you in peace and rejuvenation. So, bid farewell to ordinary bathrooms and say hello to a floral-infused haven that will leave you spellbound with its timeless charm.
11. Neutral Color Wall Mural Accent Wall In Bathroom Space
Image by westonebathrooms
With a neutral color mural, you can effortlessly blend simplicity and sophistication, allowing other elements in your bathroom to shine. Whether you prefer soft beige, subtle greys, or warm taupe, these murals complement any style, making them versatile for modern, minimalist, or even traditional bathrooms.
12. Wooden Bathroom Wall And Ceiling
Image by Housebeautifuluk
From sleek Scandinavian-inspired designs to rugged cabin aesthetics, wooden walls and ceilings infuse your bathroom with a welcoming ambiance, offering a spa-like escape every day. So, unleash your creativity, mix-and-match textures, and let nature embrace you as you unwind in your wooden wonderland.
13. Green Floral Wallpaper Over Half Tiled wall In Bathroom
Image by bohome_uk_
The lush green hues of the floral wallpaper breathe life into the space, creating a calming oasis where you can unwind after a long day. Paired with sleek half-tiled walls, the look achieves a perfect balance between modern and organic, elevating the entire ambiance.
14. Nature-Inspired Tiles
Image by houseandhomesenegal
Bringing the great outdoors inside, these tiles infuse your bathing space with a breath of fresh air and a touch of tranquility. Whether you prefer the calming hues of a coastal retreat, the rustic charm of wood-grain patterns, or the zen-like aura of leafy greens, nature-inspired tiles offer endless possibilities.
15. DIY Painted Accent Wall In Bathroom
Images by wallpaper_swoon
A DIY-painted accent wall is the perfect way to add character and charm to your oasis. Armed with a paintbrush and imagination, you can turn a plain bathroom into a design marvel that reflects your unique style.
Choose from bold geometric patterns, serene oceanic hues, or playful polka dots—endless options!
16. Natural Stone Bathroom Accent Wall
Image by manchadricofloors
Turn your bathroom into a luxurious oasis with a natural stone stunning accent wall. Whether you prefer the rustic charm of stacked stone or the sleek elegance of marble, a natural stone accent wall adds timeless beauty and a touch of nature to your space.
17. Black And White Patterned Wallpaper
Images by the.fashionable.home
Are you looking to add a touch of sophistication and style to your living space? Look no further than black and white patterned wallpaper!
The beauty of black and white walls lies in their versatility. Whether you prefer intricate damask designs, bold geometric shapes, or delicate floral motifs, there's a pattern that speaks to your unique taste.
18. Small Pink Tiles For Powder Room
Image by kamurphyinteriors
Nothing does the job quite like small pink tiles when it comes to adding a touch of charm and elegance to these small spaces. These adorable tiles may be tiny, but they pack a powerful punch of personality, turning your powder room into a delightful sanctuary.
19. Green Patterned Tiles
Image by cementtileshop
Are you tired of your bland bathroom design? It's time to add a splash of color and a touch of nature to your space with green patterned tiles! These vibrant tiles bring life, energy, and a fresh feel to your bathroom like no other. Whether you prefer bold emerald patterns or subtle leaf motifs, green tiles offer a wide range of options to suit your style.
20. Modern Wooden Subway panelling Bathroom
Image by eldoradostone
Not only does this modern wooden subway paneling bring sophistication to your bathroom, but it also offers practicality. The panels are very easy to clean, resistant to moisture, and can even help with sound insulation – a win-win for any bustling household.
Expert tip by TCH: Incorporate texture to add depth and intrigue to your bathroom accent wall. Consider using materials like textured tiles, reclaimed wood, or stone veneers. These elements add visual interest and create a tactile experience that elevates the ambiance of your bathroom. The interplay of light and shadows on textured surfaces can make your accent wall even more captivating.
21. Neutral Color Herringbone Tiled Bathroom Accent Wall
Image by whitepinesbuildinggroup
Gone are the days of dull walls. Embrace the artistry of the herringbone design, where each tile weaves seamlessly with the next, creating a mesmerizing visual effect. Whether you prefer soft beige, warm greige, or cool taupe, these neutral hues will effortlessly complement any decor style.
22. White And Grey Accent wall With Wooden Accents
Image by momoandcodesign
If you want to transform your living space into a serene sanctuary, the white and grey accent wall with wooden and gold accents is your ticket to interior bliss. This divine combination effortlessly blends modern minimalism with rustic charm, creating a captivating ambiance that soothes the soul.
So, let your imagination run wild as you embark on this decor adventure.
23. Grey Hexagonal Mosaic Tile
Image by tilebar
Grey hexagonal tiles have taken the interior world by storm, and it's no surprise why. These mesmerizing tiles effortlessly blend elegance and modernity, adding sophistication to any bathroom.
Their unique hexagonal shape creates a stunning visual effect, transforming your bathroom into a stylish oasis.
24. White Shiplap Wall Bathroom
Image by royal ceramics
Easy to install and maintain, the shiplap wall is aesthetically pleasing and practical for bathroom settings. So, say goodbye to mundane walls and hello to a refreshing bathroom transformation with the timeless appeal of a white shiplap wall.
25. Green And Black Tiles Bathroom Wall With Marble Sink
Image by bedrosiantile
The deep and mysterious allure of black tiles perfectly complements green tiles' fresh and invigorating vibes, creating a harmonious balance that exudes tranquility. And when you add a marble sink to the mix, you elevate the space to a new level of luxury.
26. Wooden Panelling Accent wall
Image by ivdesign.interiors
With the wooden paneling accent wall, you'll find yourself lingering in the tub, enjoying the earthy vibes and basking in the natural beauty of your bathroom sanctuary. Get ready to indulge in the cozy and timeless charm of this extraordinary design – it's time to immerse yourself in the wooden wonderland of your dreams!
27. Natural Stone Wall In Bathroom
Image by our.europeanfarmhouse
It's not just about aesthetics. Natural stone is incredibly durable and requires minimal maintenance, making it a perfect choice for style and practicality.
So, why not take a leap into the embrace of nature with a natural stone wall in your bathroom? Unveil the wonders of organic elegance and transform your daily routine into a delightful escape!
28. Blue Mermaid Inspired Tiles
Image by thewelltravelledstillettos
These mesmerizing tiles bring the allure of the ocean into your home, transforming any space into a magical underwater escape. With hues of deep blues and shimmering iridescence, these tiles capture the essence of mermaid scales, creating a captivating and dreamy ambiance.
Expert tip by TCH: When designing your bathroom accent wall, strike a balance between boldness and restraint. Opt for a visually striking material, pattern, or color, but ensure it complements the bathroom design. Avoid overwhelming the space with too many busy elements. A well-thought-out accent wall should enhance the room's aesthetics without dominating or clashing with other design elements.
29. Plain Concrete Accent Wall Bathroom
Image by modern_nest
With its minimalist charm and versatile appeal, a concrete accent wall effortlessly complements various bathroom styles. Whether you're aiming for a modern, industrial, or even a boho-inspired oasis, the plain factual backdrop is the perfect canvas for your creativity.
30. Classic Chevron Patterned Tiles
Image by nextgendesignbuild
Not only do the Chevron patterned tiles add a dash of elegance, but they also infuse your space with a sense of movement and energy. Arrange them horizontally or vertically, and watch as they work their magic, transforming your bathroom into a stunning sanctuary.
31. Orange Tiled Bathroom With Blue Sink
Image by tileflair
This fusion of orange and blue creates an enchanting harmony, making your daily routine a fun and uplifting experience. So, if you're ready to break free from the mundane and dive into a realm of vibrant colors, this orange-tiled bathroom with a blue sink is the ultimate inspiration you've been waiting for. Prepare to be wowed!
32. Floral Tiled Wall With Wooden Cabinetry In Bathroom
Image by mir.mosaic
The floral tiles infuse the room with colors and patterns, instantly lifting your spirits whenever you step in. Complementing this floral paradise, the wooden cabinetry adds a natural elegance, providing ample storage to keep your space clutter-free.
33. Marble Accent Wall In bathroom
Image by xdesign.london
Marble, renowned for its luxury and sophistication, brings a touch of grandeur to any space. With a marble accent wall, your bathroom gains an instant focal point that exudes elegance and class. Whether your style is modern or classic, this stunning addition complements any decor, elevating the overall ambiance.
34. Sea Green Mermaid Tiles In Shower Room
Image by mercurymosaics
Indulge in a luxurious shower experience in the calming aura of sea greens and blue tiles. If you crave a coastal charm, these tiles are the one for you. So take the plunge and let these green mermaid tiles work wonders in your bathroom.
35. White Horizontal Shiplap Accent Wall Bathroom
Image by barrington_homes
Horizontal shiplap walls add visual appeal and give your bathroom a welcoming ambiance. The best part? They are very effortless to install. So, embrace the DIY spirit and install the panels that cast a calming aura to make every visit a blissful experience.
36. Distressed Wooden Grid Board And Batten walls
Image by northernwasatchparade
This unique wall treatment effortlessly blends vintage elegance with modern flair, turning your bathroom into a captivating sanctuary.
Crafted from reclaimed wood or distressed panels, this style creates a visually stunning grid pattern that adds texture and depth to your space.
37. Floor To Ceiling Wooden Panelling In Bathroom
Image by conceptvirtualdesign
Embrace the timeless charm of floor-to-ceiling wooden paneling! This design trend brings warmth, texture, and a touch of rustic elegance to your bathing space.
From rich mahogany to reclaimed barnwood, the endless options allow you to customize the look to fit your style.
38. Green Small Square Tiles With Wooden Flooring
Image by tileamerica
Embrace the calming vibes of nature as you step into this serene space, where the fusion of lush green tiles and natural wood creates a harmonious sanctuary. The small square tiles add a touch of playfulness, while the wooden flooring brings a cozy and organic feel.
39. Green Shiplap wall With Wooden Sink For Bathroom
Image by oliveandlinen
The lush green shiplap wall brings the beauty of the outdoors inside, creating a calming ambiance perfect for unwinding after a long day. Paired with the earthy tones of the wooden sink, it's a match made in sustainable heaven.
40. Wooden Accent Wall In Powder Room
Image by lightingconnection
Wooden accent walls add a touch of timeless beauty, infusing your powder room with earthy textures and organic vibes. The possibilities are endless, whether you opt for reclaimed barnwood for a vintage feel or sleek, dark mahogany for a modern twist.
FAQS
Q: What is a bathroom accent wall, and why should I consider having one?
A: A bathroom accent wall is a single wall in your bathroom that stands out from the rest, usually through unique materials, bold colors, or eye-catching patterns. It adds character and personality to your bathroom, transforming it from a mundane space to a captivating oasis. Choosing the right accent wall can elevate your bathroom's style and create a focal point that leaves a lasting impression.
Q: Can I have an accent wall in a small bathroom without overwhelming the space?
A: Absolutely! Even in a small bathroom, an accent wall can work wonders. Opt for lighter or softer colors to avoid making the space feel cramped. Vertical patterns or sleek tiles can create the illusion of height, making the room appear more spacious. Additionally, consider using mirrors strategically to reflect light and open up the area. With a thoughtful approach to design, your small bathroom can embrace the charm of an accent wall without feeling overwhelming.
Q: How do I choose the perfect accent wall for my bathroom?
A: Selecting the right accent wall for your bathroom depends on your style and the existing décor. Consider your bathroom's overall theme and color scheme, and choose a complementary accent wall that enhances the space. Experiment with different materials like mosaic tiles, shiplap, or wallpaper to find the one that resonates with your vision. Remember, the accent wall should harmonize with the rest of the bathroom while adding a flair that sets it apart. Trust your instincts and have fun exploring various options until you discover the perfect match!
If you love these ideas, don't forget to pin the above image to your "Home and Garden" board