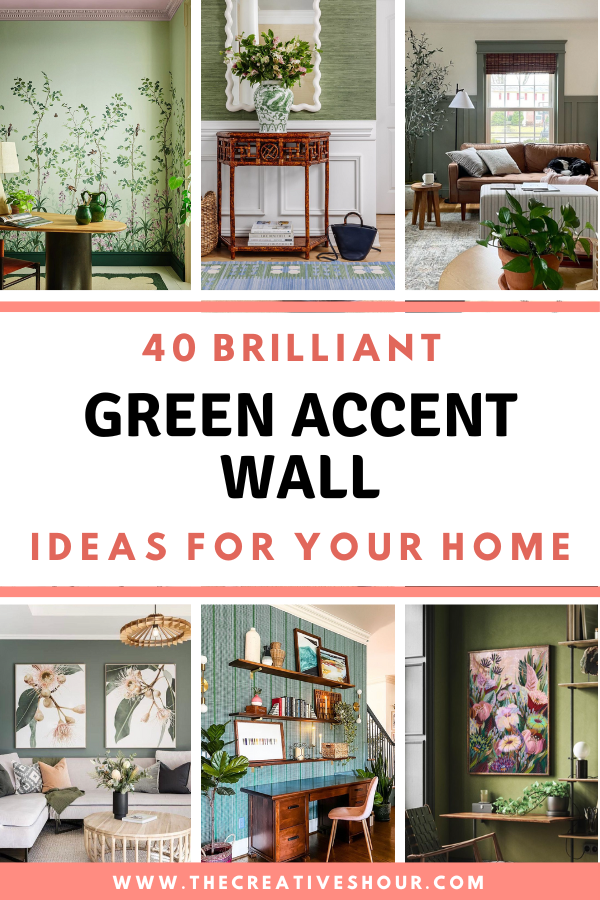 We're about to dive into the wild world of green accent walls! Forget about playing it safe with neutral colors; it's time to unleash your inner color rebel. We've rounded up 40 brilliant green accent walls that will make your guests and friends green with envy (pun intended!).
An accent wall adds visual interest and breaks up the monotony of a room. By choosing green as your accent color, you introduce a pop of color that draws attention and creates a focal point. It can be especially effective in rooms with neutral or muted color schemes.
So, whether you want a jungle-inspired paradise or a cozy forest nook, buckle up and prepare to paint the town green, quite literally!
Related articles –
1. Nature-Inspired Green Wall paper

Image by littlegreenepaintcompany
Immerse yourself in a serene oasis with our Nature-Inspired Green Wallpaper. This enchanting masterpiece brings the beauty of the outdoors into your living space. Delicate vines, lush foliage, and vibrant botanicals dance across the walls, creating a calming and refreshing atmosphere.
2. Bright Green Accent wall Entryway
Image by societysocial
This enchanting space sets the tone for your home with a daring pop of vibrant green. As soon as you step inside, you're transported to a world where mundane entryways don't exist. The lush green hue creates an instant sense of freshness and vitality while adding a touch of sophistication.
3. Living Room With Green Walls
Image by stylebypaulofficial
Green is often associated with nature, growth, and renewal, making it an excellent choice for a living room. This color can evoke tranquility and relaxation, contributing to a peaceful and inviting atmosphere. Additionally, incorporating natural elements, such as indoor plants or natural wood tones, can enhance the connection to nature and amplify the positive effects of green.
4. Checkered Green Accent Wall
Image by hyggeandwest
Checkered patterns can add visual interest and dynamism to a space. They can create a focal point and draw attention to the wall. When combined with a green color and dark wood tones, the checkered pattern can offer a playful and energetic aesthetic.
5. Green Half Board And Batten Walls

Image by comfortandgracewall
Green Half Board And Batten Walls bring a touch of rustic charm and a splash of vibrant green to any space. This trendy design technique combines the classic board, and batten look with a refreshing twist. By covering only half of the wall with green vertical wooden panels, and leaving the upper portion painted white, these walls create a delightful visual contrast.
Read – 25 Amazing Fireplace Accent Wall Ideas That Stands Out
6. Tropical Vibe Green Accent Wall

Image by studiocoverdale
This bold and luscious shade of green will transport you straight to a sun-drenched paradise, even if you're stuck in the concrete jungle. With its exotic charm and leafy allure, this accent wall is the perfect backdrop for your indoor getaway.
7. Green Wallpaper For Dining Room
Image by phillipjeffriesltd
A green tile accent wall can add a refreshing and vibrant touch to a dining room. It creates a sense of nature and freshness, which can be especially beneficial if your dining room lacks natural light or views of the outdoors. Green is also known to have a calming effect, making it an excellent choice for creating a relaxed atmosphere during meals.
8. White And Green Half Board And BAtten Wall With Large Window
Image by benjaminmoore
Step into a world of fresh tranquility with our white and green half-board and batten wall, perfectly complemented by a large window. This stunning combination brings a breath of fresh air to any space, effortlessly blending natural elements with modern design. The crisp white backdrop sets the stage, allowing the vibrant green accents to pop with invigorating energy.
Expert tip by TCH – When selecting a green shade for your accent wall, consider the room's function and the amount of natural light it receives. For a calming bedroom, opt for softer greens like pastel or sage. In a vibrant living room, bolder shades like emerald or olive can make a statement. Ensure the green hue complements the room's existing color palette and enhances the lighting conditions.
9. Floral Wallpaper Over Board And Batten Walls

Image by athomeontheboulevard
The floral wallpaper adds a touch of elegance and charm, while the vibrant green half-board and batten wall brings a refreshing pop of color. Together, they create a perfect harmony of nature-inspired beauty and contemporary design.
10. Green Shiplap Wall For Bedroom
Image by lizpasini
This playful design choice combines the timeless charm of shiplap with the refreshing vibrancy of green. The textured panels create a rustic backdrop that adds depth and character to your sleeping sanctuary. Whether you opt for a serene mint shade or go bold with a rich emerald hue, this green shiplap wall will breathe new life into your bedroom.
11. Nature-Inspired Wallpaper For Bedroom

Image by bannerdayinteriors
The use of nature-inspired wallpaper in the bedroom will have an amzing impact on your mood and well-being. Green, for example, is associated with nature, balance, and harmony, and it can create a sense of tranquility. Soft blues and earthy tones are also commonly found in nature and can evoke a calming and peaceful atmosphere. Incorporating these colors through nature-inspired wallpaper can help create a visually appealing and emotionally comforting space.
12. Green Accent Walls For A Traditional Built Home
Image by schumachar1889
Step into the timeless charm of a traditionally built home with the enchanting allure of green accent walls. Green accent walls provide an opportunity to merge traditional design elements with nature's soothing and vibrant qualities. The color green can evoke a sense of tranquility, harmony, and rejuvenation, creating a balanced and inviting atmosphere within a traditional home.
13. Green Beadboard Wall For Living Room

Image by lauramnormanton
Transform your living room into a lush oasis with a Green Beadboard Wall! This delightful addition combines the timeless charm of beadboard paneling with a vibrant green hue, creating a space that exudes freshness and tranquility. The textured surface adds depth and character, while the green color breathes life into the room, making it feel like a peaceful retreat amidst nature.
14. Green Wallpaper Mural

Image by surfaceview
Whether you're looking to add a touch of tropical paradise to your living room or create an invigorating backdrop for your workspace, this Green Wallpaper Mural is sure to inspire and captivate. Embrace the beauty of nature and immerse yourself in a world of greenery with this enchanting mural.
15. Full Wall Board And Batten

Image by ipainter_by_lirex
This architectural technique involves applying vertical boards to the entire wall, creating a stunning visual effect that adds depth and character to any room. The combination of sturdy boards and delicate battens creates a perfect balance between rustic and refined. Whether you opt for a traditional white or experiment with bold colors, Full Wall Board and Batten instantly elevate your space to a new level of sophistication.
16. Green Bedroom Accent Wall

Image by iconic_lights
Transform your bedroom into a serene oasis with a Green Bedroom Accent Wall. Many experts believe that green promotes a sense of calmness, relaxation, and harmony. As a result, incorporating green into your bedroom through an accent wall can create a soothing environment conducive to restful sleep and relaxation.
17. Industrial Style Bedroom With Light Green Walls

Image by betterhomesandgardens
Step into a dreamy retreat where industrial meets serene with this stunning bedroom. The light green walls set the perfect backdrop, infusing the space with a soothing ambiance and a touch of nature. The industrial style elements take center stage, showcasing metal accents and minimalistic furniture.
Expert tip by TCH –To avoid overwhelming the space, balance the impact of a green accent wall with neutral elements. Choose furniture, curtains, and accessories in neutral tones like white, beige, or gray. This allows the green wall to be the focal point while maintaining a harmonious and balanced overall look.
18. Colorful Living Room With Green Walls

Image by houseofdencourt
The rich, verdant hue of the walls creates a refreshing and energizing atmosphere, instantly uplifting your mood. Paired with pops of complementary colors and playful accents, this living room becomes a visual feast for the eyes.
19. Olive Green Accent Wall In Living Room

Image by farrowandball
The olive green accent wall is a stunning backdrop for your treasured artwork or family photos, allowing them to take center stage. Its understated charm effortlessly blends with various decor styles, from modern to rustic, making it a versatile choice.
Read – 50 Shiplap Fireplace Ideas You Will Instantly Fall In Love With
20. Green Accent Wall With Wooden Floating Shelf For Bedroom

Image by _inspiruj_se_official
Transform your bedroom into a serene oasis with our Green Accent Wall With Wooden Floating Shelf. This stunning combination combines the natural beauty of wood and the refreshing allure of green.
21. Panel Wall In Gorgeous Green Hue

Image by rockettstgeorge
Whether you want to create a nature-inspired haven or add a pop of refreshing color, this panel wall is the perfect choice. Its seamless integration with any room will leave you awestruck, making it the envy of all who look at it.
22. Wooden paneled Sage Green Accent Wall For Dining Area

Image by gunterandco
Transport yourself to a rustic countryside getaway right in your own dining area with a stunning wooden paneled wall. This exquisite feature combines natural beauty and timeless elegance, adding warmth and character to your space. The textured wooden panels create a sense of depth and dimension, making your dining area feel cozy and inviting.
23. Mountain Accent Wall For Bedroom

Image by rehab2fabdesigns
Transform your bedroom into a tranquil mountain retreat with a mesmerizing green accent wall. This nature-inspired masterpiece brings the serene beauty of lush greenery into your sleep sanctuary.
24. Blue And Green Floral Wallpaper Mural

Image by margertofyork
This captivating mural is a botanical dream come true, featuring an exquisite fusion of vibrant blue and refreshing green hues. The intricate floral patterns weave together, creating a tapestry of elegance and tranquility that will transform any space into a peaceful oasis.
25. Green Hue For Fireplace Wall

Image by onekingslane
When selecting a green hue for your fireplace wall, it's crucial to consider the surrounding elements and the room's overall color scheme. Design experts recommend opting for complementary tones that work well with green. For example, pairing a muted sage green with warm neutrals like beige or taupe can create a cozy and inviting atmosphere.
26. Green Bedroom With Brown Accents

Image by yourhomeandgarden
The contrast between green and brown can add visual interest to the bedroom. The richness of brown can complement the freshness of green, creating a dynamic and visually appealing space. The balance between these colors can be achieved by using different shades and tones, such as lighter greens with darker browns or vice versa.
27. Textured Walls For Living Room

Image by allenjameshome
Textured walls in green can serve as a striking focal point in the living room. The combination of texture and color adds visual interest and helps to create a unique and memorable ambiance. It can be particularly effective in contemporary or modern living spaces, where the textured walls can add an element of sophistication and style.
Expert tip by TCH – To add visual interest and depth to your green accent wall, consider incorporating different textures. Hang woven baskets, install textured wall panels, or add a botanical-themed wallpaper to enhance the natural vibe. Mixing textures creates a dynamic backdrop and elevates the overall design of the room.
28. Dark Green walls

Image by vivirdesign
Step into the mysterious embrace of the Dark Green Accent Wall. Its deep, velvety tones create a sense of depth and drama, beckoning you to explore its hidden depths. Whether adorning a living room, bedroom, or study, this moody masterpiece sets the stage for relaxation and contemplation.
29. Shiplap Walls For Bedroom

Image by homeonnativetrail
This rustic-meets-refreshing design choice adds a touch of nature's elegance to your personal sanctuary. The soothing green hues create a calming atmosphere, perfect for unwinding after a long day. Whether you opt for a muted sage or a bold emerald, the textured shiplap brings depth and character to your bedroom walls. Let the natural beauty of green shiplap walls transport you to a tranquil hideaway where relaxation and style intertwine.
30. Green Gallery Wall

Image by Ballard Design
Welcome to the Green Gallery Wall, where nature meets art in a burst of vibrant foliage! This curated collection of botanical masterpieces will captivate your senses and breathe life into any space.
31. Green Shiplap Wall With Wooden Accents

Image by happy_the bus
The use of green shiplap walls with wooden accents can be an effective way to bring an element of biophilic design into an interior space. The natural texture of shiplap, coupled with the earthy tones of wood, creates a sense of authenticity and brings the outdoors inside. This design choice not only adds visual interest but also promotes a connection with nature, which has been shown to positively affect occupants' well-being.
32. Wooden Paneling For Green Accent Wall Color Bathroom
Image by estilo_living
Transform your bathroom into an eco-friendly oasis with exquisite wooden paneling. Crafted from sustainable materials, our panels infuse warmth and natural beauty, creating a serene ambiance in your green bathroom.
Read – 40 Brilliant Bathroom Accent Wall Ideas You Will Love
33. Scandinavian Living Room With Light Green Accent Wall Ideas

Image by shelterness
Step into a world of tranquility with a Scandinavian living room adorned with light green walls. The green accent wall's soothing hue effortlessly captures the essence of nature, bringing a refreshing and serene ambiance to your space. The minimalist design principles of the Scandinavian style blend harmoniously with the softness of the green walls, creating an inviting and cozy atmosphere.
34. Green Wall And Pallet Wood Bed

Image by annabruceblog
In the world of interior design, sustainability is a growing trend, and what better way to embrace it than with a green wall and a pallet wood bed? This dynamic duo not only adds a touch of natural beauty to your bedroom but also promotes eco-conscious living.
35. Beadboard Deep Green Accent Wall For Living Area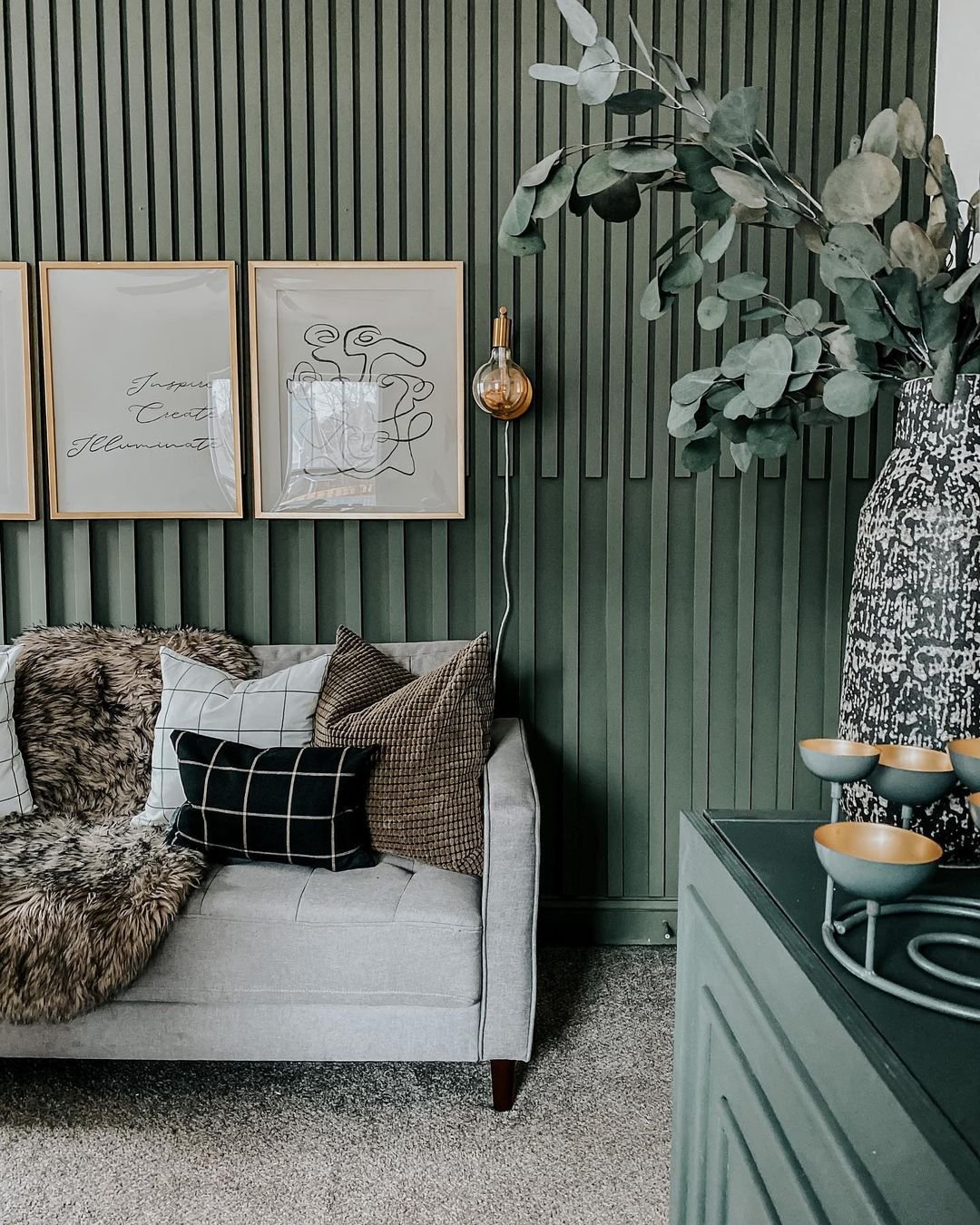 Image by liveandgatherco
This classic architectural feature consists of narrow wooden planks lined up vertically and separated by small grooves, creating a distinctive texture and visual appeal. Beadboard walls bring a touch of traditional elegance and a sense of coziness to any space.
36. Light Green Accent Wall Bedroom
Image by Anita Yokota
A light green accent wall can instantly transform your bedroom into a serene oasis. Opt for shades like mint green or soft sage or any favorite green paint colors, which evoke a sense of calmness and harmony. Pair it with neutral-colored bedding, natural textures, and minimalistic decor to complete the Scandinavian-inspired look.
37. Green Accent Wall With Black And White Striped Carpet For Bedroom

Image by seventhandoak
A green accent wall with a black and white striped carpet can add a stylish and contemporary touch to your bedroom. The green wall brings a sense of freshness and tranquility, creating a serene, relaxed atmosphere. Pairing it with a bold black and white striped carpet adds a striking visual contrast, making a statement in the room.
38. Green-painted Accent wall

Image by bkaydesigns
Green can be a refreshing and versatile choice when opting a color for your accent wall. A green-painted accent wall can instantly breathe life into a room, creating a vibrant focal point.
Expert tip by TCH – Extend the green theme beyond the accent wall by incorporating green elements throughout the room. Introduce green through plants, artwork, cushions, or rugs. This cohesive approach ties the space together, creating a harmonious and inviting atmosphere. Select shades of green that complement the accent wall to maintain a cohesive color scheme and enhance the overall aesthetic.
39. Shiplap Walls For Home Office

Image by Karagriderdesign
To create a calming and stylish atmosphere in your home office, consider incorporating green shiplap walls. With its characteristic horizontal paneling, Shiplap adds a touch of rustic charm to any space. By choosing a soothing green color, you can bring tranquility and connection to nature into your workspace.
Read – 30 Amazing Office Accent Wall Ideas For Your WFH Setup
40. Double Paneled Dark Green Accent Walls

Image by paynesgreyhome
A double-paneled wall can instantly transform the ambiance of your bedroom, adding depth, texture, and a touch of elegance. This architectural feature involves creating two layers of wall panels, often with a contrasting color or material. The result is a visually striking backdrop that enhances the room's overall aesthetic.
FAQS
Q: Why should I consider adding a green accent wall to my room?
A: A green accent wall can bring a refreshing and calming element to your space. Green is associated with nature, growth, and harmony, making it an ideal choice for creating a soothing atmosphere. Additionally, it adds visual interest and can complement a wide range of design styles, from modern to traditional.
Q: How do I choose the right shade of green for my accent wall?
A: When selecting a shade of green for your accent wall, consider the overall mood you want to create. Lighter shades like mint or sage green offer a subtle and airy feel, while darker shades like a forest or emerald green can create a more dramatic and cozy ambiance. Consider the natural light in your room and consider testing sample swatches on the wall to see how they look in different lighting conditions.
Q: How can I incorporate decor and furniture with a green accent wall?
A: Choose decor and furniture that complement the green accent wall to create a harmonious look. Neutral colors like white, gray, or beige work well as a backdrop and allow the green wall to stand out. Through throw pillows, artwork, or accessories, you can introduce pops of complementary colors, such as blush pink or mustard yellow. Additionally, natural materials like light-colored wood or rattan can enhance the organic feel of the green wall, creating a cohesive and inviting space.
If you love these ideas, don't forget to pin the above image to your "Home and Garden" board.