Are you tired of your kitchen feeling like a bland, flavorless soup? Well, spice things up with a sizzling accent wall that will tingle your taste buds! In this mouthwatering article, we're serving up 40 kitchen accent wall ideas that are so deliciously delightful that you'll want to take a bite out of them.
The accent wall serves as a canvas to express your personal style and the overall theme of your kitchen. Whether you prefer a rustic, industrial, modern, or traditional look, the accent wall can reflect your chosen style and make a statement about the overall design direction.
So grab your apron and get ready to whip up some serious style because these accent walls are the secret ingredient you've been missing!
Related articles –
1. Gray Accent Wall For Kitchen
Image by schumacher1889
This stunning gray masterpiece serves up a generous portion of elegance and charm. The gray accent wall adds a touch of modernity while maintaining a calming ambiance, perfect for whipping up gourmet meals or sipping your morning coffee.
2. Exposed Faux Brick Accent Wall
Image by the.frei.team
Whether you're going for a farmhouse-inspired vibe or an industrial loft feel, this kitchen accent wall will make a bold statement. So roll up your sleeves and get ready to serve up style with an exposed faux brick accent wall that will leave your guests brick-ing with envy!
Read – 35 Best Brick Backsplash Ideas For Your Perfect Kitchen
3. Floral Tiled Accet Wall In Kitchen
Image by julie.thedesigntwins
A floral tiled accent wall in the kitchen can add natural beauty and a pop of color to the space. It creates a focal point and brings a sense of freshness and liveliness to the kitchen.
4. Glass Yellow And Brown Kitchen Accent Wall

Image by architessa
Yellow is often associated with energy, optimism, and creativity. It can infuse the kitchen space with a lively and inviting atmosphere when used as an accent color. Brown, on the other hand, brings a sense of stability, earthiness, and warmth. The combination of these colors can create a harmonious balance between liveliness and groundedness.
5. Grey Shiplap Accent wall
Image by homewithnicole
An accent wall serves as a focal point in a room, drawing attention and adding a unique touch to the space. A grey shiplap accent wall can create a visually appealing feature that captures the eye and elevates the overall design. By choosing the right shade of grey and considering the lighting in the room, you can achieve the desired ambiance and atmosphere.
6. Exposed Natural Stone Accent wall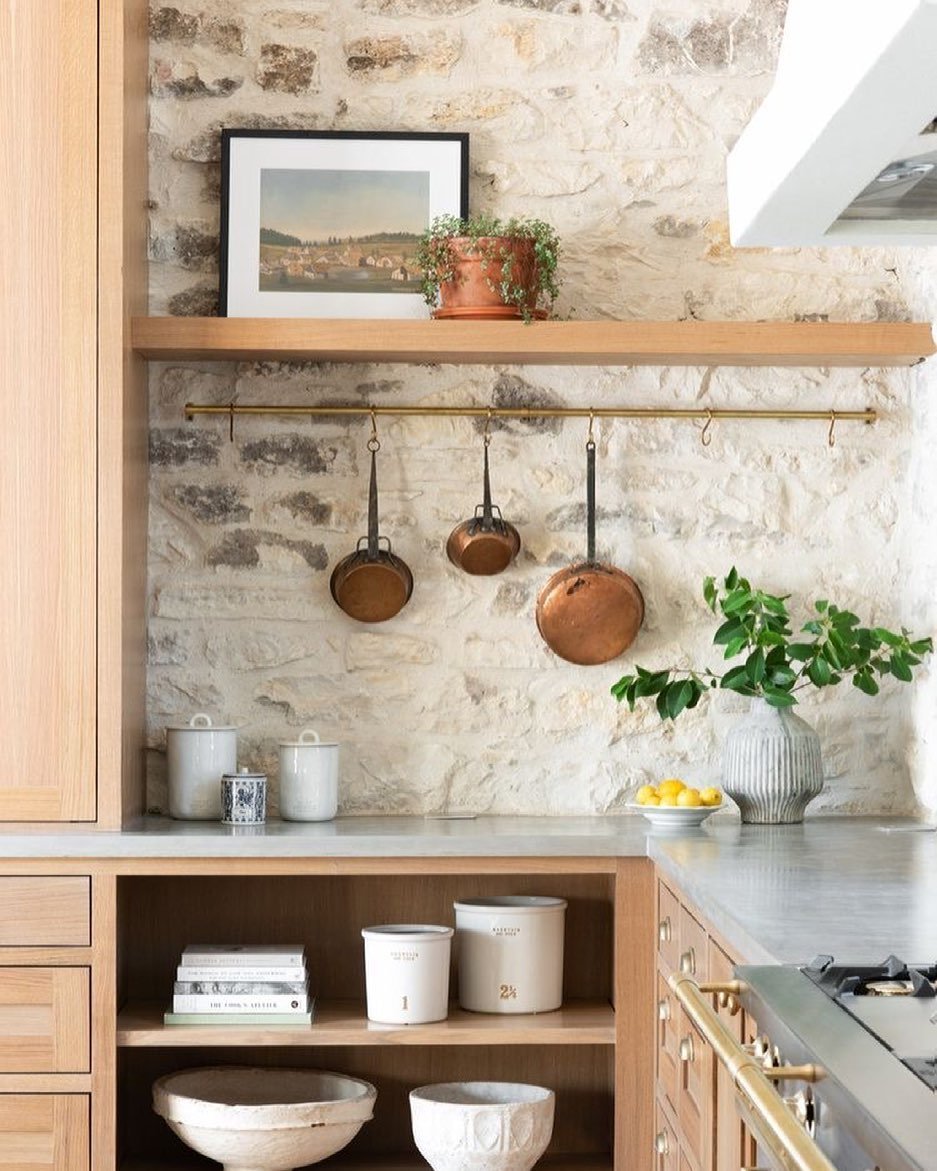 Image by buchananinteriors
Natural stone is known for its durability, making it a practical choice for a kitchen accent wall. It can withstand heat, moisture, and daily wear and tear, ensuring that it remains in good condition for years. Additionally, the natural aging process of stone can add to its charm, creating a unique patina over time. You can also try cement accent wall.
7. White Tiled Backsplash And Wooden Beams In Kitchen
Image by kitchenscience
Step into a kitchen that effortlessly blends rustic charm with contemporary elegance. The combination of a white tiled backsplash and warm wooden beams creates a striking, inviting, stylish visual contrast. The glossy white tiles are a clean canvas, reflecting light and giving the space an airy feel.
8. Patterned Tile Backsplash Feature Wall
Image by cementtileshop
Wave goodbye to your boring walls and hello to a feast for the eyes. This stunning addition brings personality and visual intrigue to your cooking space. Whether you opt for geometric shapes, intricate designs, or vibrant colors, a patterned tile backsplash adds a touch of elegance and creativity to your kitchen.
9. Green Floral Wallpaper For Kitchen Wall
Image by _ktchn_
Indulge your senses and bring fresh air into your kitchen with our vibrant Green Floral Wallpaper. This delightful design combines the tranquility of lush greenery with the timeless beauty of delicate flowers, creating a captivating visual feast for your walls.
Read – 30 Amazing Dark Green Accent Wall Ideas For A Modern Look
10. Exposed Brick Kitchen Accent Wall
Image by thekimcochran
This trendsetter is about embracing exposed bricks' raw beauty, transforming your kitchen into a cozy and inviting haven. Whether you're a culinary connoisseur or a casual cook, this accent wall will whisk you away to a charming countryside cottage. And look at the windows and doors, they provide so much of natural light.
Expert tip by TCH – When choosing an accent wall for your kitchen, consider the focal point of the space. Is it the cooking area, the sink, or perhaps a central island? Selecting the wall that naturally draws the most attention will help maximize the impact of your accent wall and create a visually striking focal point.
11. White And Grey Herringbone Tile Backsplash
Image by thewhitehomeimprovements
The diagonal arrangement of the tiles creates a dynamic and eye-catching design element that can enhance the space's overall appeal. It breaks the monotony of a plain wall and adds a subtle focal point.
12. White Shiplap Wall With Floating Shelves
Image by thepaintedcaterpillar
White shiplap walls bring a touch of rustic charm and a sense of coziness to any space. When combined with floating shelves in the kitchen, it adds a modern twist to the traditional farmhouse aesthetic. The clean lines of the floating shelves create a sleek and minimalistic look while providing functional storage for displaying cookbooks, spices, or decorative items.
13. Natural Stone Walls In Kitchen
Image by amynolenrealtor
Natural stone walls in the kitchen can create a visually stunning focal point. According to interior design experts, natural stone's texture, patterns, and colors can add depth and character to the kitchen, making it more inviting and warm.
14. Gray Shiplap Wall With Wooden Accents For Kitchen
Image by millhousemanor Transform your kitchen into a rustic paradise with our Gray Shiplap Wall with Wooden Accents. The gray shiplap serves as a neutral backdrop, allowing the rich wooden accents to take center stage.
15. Blue Accent Wall With Darkwood Accents
Image by livspace
Step into a kitchen that's as cool as a refreshing ocean breeze with our Blue Accent Wall with Darkwood Accents. This culinary masterpiece combines the calming allure of a rich blue hue with the sophistication of dark wood elements, creating a feast for the eyes.
16. Floral Tiled Backsplash
Image by pattersoncustomhomes
The floral tiled backsplash brings a refreshing burst of color and charm, turning your kitchen into a garden-inspired oasis. Whether you prefer a subtle bouquet or a bold floral arrangement, this stunning addition will make your kitchen bloom with personality and create a captivating focal point.
17. Faux Brick Accent wall Kitchen
Image by troylighting
Get ready to serve up some rustic charm in your kitchen with a faux brick accent wall! It adds a touch of warmth and character to your culinary space, creating a cozy atmosphere that will make you feel like you're whipping up gourmet delights in a trendy urban loft.
18. Distressed Pallet Wood Accent Wall In Kitchen
Image by nicoleforresterrealestatebroker
Reclaimed wood accent wall can be versatile in terms of design and style. It can be left in its natural, weathered state for a more rugged look or sanded and stained to match your desired aesthetic. You can also experiment with different finishes or paint colors to complement your kitchen's overall design theme.
Expert tip by TCH – Consider the existing color scheme of your kitchen when selecting an accent wall. If your kitchen features neutral tones, consider a bold and vibrant accent color to create a captivating contrast. Conversely, if your kitchen already has a vibrant color palette, opt for a more subtle accent wall that complements the existing colors without overpowering them.
19. Eye-Catching Accent Wall For White Kitchen
Image by southernvalleyhome
Green is known to evoke feelings of freshness, renewal, and tranquility. Incorporating a green accent wall into a white kitchen can create a harmonious and inviting atmosphere. This combination can promote balance and serenity while adding a touch of nature to the room.
20. Red Brick Modern Kitchen Accent Wall
Image by tiledesignlab
Who says red bricks are only for the outdoors? Bring the rustic charm and urban vibes into your kitchen with a red brick wall that adds warmth and character to your culinary space. This unconventional design choice brings a touch of nostalgia and a hint of industrial chic, creating a unique backdrop for your cooking adventures.
21. White Floral Tiled Wall with Floating Shelves And Window
Image by stoneimpressions
This exquisite design features delicate flowers in pristine white, gracefully adorning your kitchen walls. The floral tiles create a stunning focal point, infusing your space with elegance and serenity.
22. Distressed Brick Wall With Green Cabinetry In Kitchen
Image by therussellshome
This unique combination brings a touch of vintage character and a splash of modern style to your culinary haven. The weathered texture of the brick adds warmth and history, while the bold green cabinets inject lively energy into the space. It's like stepping into a cozy countryside cottage with a playful twist.
23. Wooden Paneling With White cabinetsIn Kitchen
Image by theranchuncommon
Whether you opt for rich mahogany or light pine, the natural grains and textures of wooden paneling in the kitchen create a cozy ambiance that's hard to resist. Embrace the organic beauty as it effortlessly blends with various kitchen styles, from farmhouse chic to modern elegance.
24. Beige Shiplap Walls For Kitchen
Image by jimlawrencemade
Embrace the warm and inviting charm of beige shiplap walls in your kitchen. The soft beige hue adds subtle warmth and creates a cozy ambiance perfect for family gatherings and intimate meals.
25. Pallet Wood Accent Wall In Kitchen
Image by weaberlumber
Pallet wood paneling is popular among DIY enthusiasts due to its relatively easy installation process. With proper tools and basic woodworking skills, you can create your pallet wood paneling and customize it to fit your kitchen's dimensions and style. However, it's essential to ensure that the pallet wood is properly prepared, sanded, and treated to minimize any potential health or safety risks.
26. White Marble Walls for Kitchen
Image by owsiflooringanddesign
White marble walls can seamlessly blend with various design styles, from traditional to contemporary. The neutral color and smooth texture of white marble provide a versatile backdrop that allows for diverse design choices. So, whether you prefer a modern minimalist look or a more ornate traditional style, white marble can accommodate a range of design preferences.
Expert tip by TCH – Don't limit yourself to just paint when it comes to accent walls. Explore different textures and materials to add depth and visual interest. Textured wallpapers, reclaimed wood panels, or even exposed brick can bring a unique and captivating element to your kitchen's accent wall.
27. Subway Tile Backsplash
Image by mozzaico
The Subway Tile Backsplash is a timeless classic that brings a touch of vintage charm to any kitchen. Inspired by the iconic subway stations, this backsplash style features rectangular tiles neatly arranged horizontally, creating a clean and sleek look.
28. Marble Wall And Countertops In Kitchen
Image by lighting_design_company
Step into a world of elegance and sophistication with a marble wall and countertop in your kitchen. This luxurious combination brings a touch of luxury to your culinary haven. The smooth, veined patterns of marble create a stunning visual feast that elevates the space's overall aesthetic.
29. White Herringbone Tile Backsplash
Image by maginterior.design
The white herringbone tile backsplash in the kitchen is the epitome of elegance and sophistication. With its meticulously arranged tiles forming a mesmerizing zigzag pattern, this backsplash adds a touch of timeless charm to any culinary space.
30. Small Grey Tiles For Kitchen
Image by interior_arts_sharing
Small tiles can create visual interest and add texture to the kitchen walls or floors. The mosaic-like appearance of small grey tiles can add depth to the space, making it visually appealing. The grout lines between the tiles also contribute to the overall texture and can be customized to complement the design scheme.
31. White Kitchen With Marble Accent wall Wooden Cabinets
Image by msisurfaces
The natural veins and patterns of the marble bring an element of artistic allure to the space, making it a true visual masterpiece. Complemented by the warm tones of the wooden cabinets, this kitchen effortlessly combines modern aesthetics with classic charm.
32. Grey Subway Tile Backsplash
Image by ginaekrik
With its clean lines, understated elegance, and stainless steel appliances, this timeless design choice adds a touch of modernity to any culinary space. The soft grey hue beautifully complements a variety of color palettes, making it a versatile option for both contemporary and traditional kitchens.
33. Green Accent Wall With Faux Wooden Backsplash
Image by fadedcharm_livin
Its time to bring the beauty of nature into your kitchen with our Green Accent Wall with Faux Wooden Backsplash! The vibrant green hue adds a refreshing pop of color that instantly revitalizes the space, while the faux wooden backsplash adds a rustic charm.
34. White Doodle Accent Wall In Kitchen
Image by jenniferrizzodesignc
Get ready to doodle your way to kitchen perfection with a whimsical twist! Our White Doodle Accent Wall in the kitchen is the epitome of artistic charm. This creative masterpiece brings a playful touch to your culinary sanctuary, transforming it into a canvas of inspiration.
Expert tip by TCH – The accent wall is an excellent opportunity to showcase your personality and style. Don't be afraid to take risks and embrace bold patterns, intricate designs, or unconventional color choices. It's your chance to make a statement and infuse your kitchen with your individuality.
35. Grey Kitchen Accent Wall
Image by simplyscandikatie
Many interior designers appreciate the grey kitchen accent wall for its ability to create a sense of balance and contrast within the kitchen. Grey is a versatile color that can complement a variety of other colors and materials, making it easy to coordinate with different kitchen styles and finishes.
36. Dessert Doodle Wallpaper in Kitchen
Image by s.w.e.athome
Indulge your sweet tooth and satisfy your sweet cravings with the delightful Dessert Doodle Wallpaper in your kitchen. Adorned with scrumptious cupcakes, and delectable macarons, this wallpaper adds a pop of color and a dash of sweetness to your kitchen walls.
37. Stunning Black Accent wall
Image by lilyanncabinets
Prepare to be mesmerized by the captivating allure of a stunning black accent wall in the kitchen. This daring design choice adds a touch of drama and sophistication to your culinary sanctuary.
38. Subway Tiles With Reclaimed Wood Floating Shelves
Image by wilder_eden_design_company
Our Subway Tiles with Reclaimed Wood Floating Shelves combo is a match made in interior design heaven. The timeless elegance of subway tiles brings a classic touch to your walls, while the reclaimed wood floating shelves add a dash of warmth and character.
39. Blue Patterned Wallpaper For Small Kitchen
Image by 7twentyrowland
This stunning wall covering effortlessly transforms even the tiniest culinary spaces into havens of style and personality. The delicate blue hues add a soothing ambiance, while the intricate patterns create an illusion of depth, making your kitchen feel more spacious than ever.
40. Beige Patterned Wallpaper For Kitchen
Image by stileishelpaso
Add a touch of elegance and sophistication to your kitchen with our Beige Patterned Wallpaper. This stylish and versatile design is the perfect ingredient to transform your cooking space into a culinary oasis. The soft beige tones create a warm and inviting atmosphere, while the intricate patterns add a dash of personality and charm.
FAQS
Q. How to choose an accent wall in the kitchen?
When selecting the perfect accent wall for your kitchen, it's all about finding the right balance between style and functionality. First, look at your kitchen's overall theme and aesthetic. Is it modern and sleek or rustic and cozy? Choose an accent wall that complements this existing vibe. Consider walls that naturally draw attention, like those behind your stove or sink. Consider incorporating unique materials like reclaimed wood or patterned tiles to add texture and visual interest. Don't shy away from bold patterns or vibrant colors; they can inject playful energy into the space. Get creative and experiment until you find the accent wall that truly makes your kitchen pop!
Q. What color should I paint an accent wall if my kitchen has dark cabinets?
If you're dealing with dark cabinets in your kitchen and want to create an accent wall that stands out, a few color options can work wonders. For a striking contrast, opt for light and bright colors. Crisp whites, soft grays, or pastel shades can create a visually pleasing juxtaposition against dark cabinetry. These lighter tones can also help make your kitchen appear more spacious and airy. On the other hand, if you prefer a more cohesive look, consider colors that complement the dark cabinets. Warm neutrals like beige or taupe can add a touch of elegance and create a harmonious balance.
If you love these ideas, don't forget to pin the above image to your "Home and Garden" board.