DIY chair projects have become increasingly popular in recent years and for a good reason. Crafting your DIY chair not only allows you to express your creativity and showcase your woodworking skills but also gives you a sense of accomplishment as you sit back and relax in your homemade creation.
Whether you're a seasoned DIY enthusiast or a beginner looking for your first project, there are endless options for creating your DIY chairs. 
In this article, we have listed the 30 best DIY chair plans to help you start your next project. From rustic and farmhouse-inspired designs to sleek and modern styles, there is a DIY chair plan out there for everyone.
Related articles – 
1. DIY Outdoor Lounge Chair 
Image and plan by Hoseful Of Handmade.
This DIY outdoor lounge chair is perfect for any backyard or patio. It is designed for relaxation and comfort, with a reclined backrest and a supportive seat. You will only need basic woodworking skills and this step-by-step tutorial. So why late? Grab everything you need and start with this perfect summertime project.
2. DIY Faux Leather Stool
Image and plan by Sugar And Cloth
This DIY faux leather stool chair is an excellent addition to any modern or contemporary home. It is stylish, versatile, and can be used as a stool or a chair, making it perfect for small spaces. Why faux leather? Because it is easy to clean, durable, and adds a touch of sophistication to your design. To match your style, you can experiment with seat sizes, shapes, and colors. The base can also be made from metal or any other steady material. 
You can use it as extra seating in your living room, as a vanity stool in your bedroom, or as a stylish accent piece. 
3. DIY Rustic Dining Chair
Image and plan by Addicted 2 DIY 
Want a classic and timeless addition to your dining room? Say no more! This high-quality piece of furniture is not only functional but also adds a touch of charm to your dining area. Moreover, this DIY project is relatively easy to complete and can be customized to fit your preferences. You can get creative with the color of the wood, the shape and thickness of the seat, and the fabric for the cushioning.
4. Minimalistic Modern DIY Outdoor Chair
Love minimalism? This sleek and modern chair is perfect for you. Typically focused on functionality over ornate details, this durable chair will definitely impress your guests and elevate the overall look of your outdoor living area.
5. Modern Adirondack Chair
A solid wood Adirondack chair is always a great option to enjoy the great outdoors. It is not only a practical seating option but also a statement piece that will become the focal point of your outdoor living area. The green color adds fun and personality to the design while blending in with the natural surroundings. 
6. DIY Simple Outdoor Bar Stools
Image and plan by Rogue Engineer
There is nothing that can beat an outdoor bar to spend the summer. If you love hosting parties, then it is time to make the best set of bar stools. They are not only budget-friendly, but you can also quickly build them with just a few essential tools like pocket hole screws, wood glue, and basic woodworking skills. So check out the tutorial and pin it for your next DIY project. 
7. DIY Kids Chair
Image and plan by Jen Wood House
Are you looking for a little chair for your little ones? You have come to the right place. This DIY kid's chair is super cheap and easy to build. You can paint it (or have the kid's help) any color they like. 
8. DIY Convertable Toddler Table And Chair Set
Image and plan by Anika's Diy Life
Steal your kid's heart by gifting them this convertible DIY table and chair set. The best part is you can easily convert them into a bench or a stool in the spur of the moment. 
Moreover, it also has a storage space. Finally, you can paint them any color for a more fun vibe.  
9. DIY Wooden Dowel Chair
Image and plan by Vintage revivals
Give your room a boho touch with this simple yet stylish wooden dowel leather chair. You can customize the pillows and throw as per your personal taste and style. Check out the tutorial and pin it on your save-for-later wall. 
Click here for standing desk plans.
10. DIY Outdoor Lounge Chair
One of the essentials to create the perfect outdoor setup that allows you to relax and rewind is a reclining lounge chair like the above. 
Add some cushioning, and you are all ready for your summer. 
11. Simple DIY Hanging Lounge Chair
Image and plan by Francoisetmoi  
Want to spend your summer sitting on the front porch with some cold lemonade and a good book? Then, this hanging lounge chair is just for you. 
All you need are some oak dowels, a sturdy rope, a canvas drop cloth, a support hook, a good breeze, and a free afternoon. You can build this in no time. 
12. Lounge Chair From Upcycled Cardboard Boxes
Summer is calling! Hit the beach or a park with these lightweight, easy-to-carry, and assemble cardboard furniture. 
Made of cardboard and duct tape, this chair is very budget-friendly and easy to build and use. Did you know the chair weighs less than 3 pounds?
13. DIY Hammock Chair
Image and plan by Raising Teens Today 
You might have seen plenty of DIY chair options by now, by if you are looking for something that is out of the norm, then this DIY hammock chair is perfect for you. 
Plus, you don't need any advanced tools or woodworking skills to make it. So check out the tutorial and get started with it already. 
14. Simple DIY Modern Outdoor Chair
Image and plan by Cherished Bliss
There is nothing more soothing than having your Sunday morning coffee outdoors. I love how this modern DIY outdoor chair complimented the redwood with blue cushions. 
Check out the tutorial; it is very straightforward. 
15. DIY Old Metal Sign Chair
Who would know that an old metal sign and wooden stakes would create something that is surprisingly comfortable? An excellent idea for an amazingly creative artist. 
16. DIY Macrame Chair
Image and plan by Fish And Bull 
A DIY macrame chair is a fun and creative way to repurpose an old piece of furniture. You only need an old chair frame, macrame cord, and pattern. 
This chair is not only a sustainable seating option but also a statement piece that will impress your guests and showcase your creativity.
17. Upcycle Old Tyres Into A Beautiful Stool
Did you know only a quarter of the old car tires are recycled, and the rest end up in substantial illegal dumps or landfills? 
Your next DIY project will not only add unique and durable furniture to your home but also reduce waste. 
18. Classy Modern Outdoor Chair
If there are some 2*4's piled up in your garage, and you want to make something out of them? Then this DIY modern outdoor chair will be your next DIY project. 
Get creative with the colors & cushions and create beautiful statement pieces to decorate your room.
19. Hemp Seat Chair
Image and plan by Reading My Tea Leaves 
Is your grandma about to throw old chairs? Why not give it a new life by weaving a rope seat instead? Upcycling old things is a great way to reduce waste, exercise creativity, and breathe new life into tired furniture. The best part? It is straightforward and quick to do! 
Also check out our DIY Coffee Table ideas to pair this chair with.
20. DIY Extra Tall Stool
Image and plan by Rachel Schultz 
Finding a comfortable chair at the perfect height is nearly impossible to find. So why waste your time and energy finding one when you can build cool DIY chair designs on your own? 
What makes this stool a great add-on to your furniture is that it is extra wide and has good back support. Plus, it can easily slide into your standing desk. 
21. Classy Corner Chair
Image and plan by Shanty 2 Chic 
This DIY corner chair is a simple and affordable project that involves repurposing wooden pallets into stylish and functional chairs. The chair is designed to fit neatly into a corner, making it a great space-saving option for small rooms. 
The project typically involves disassembling pallets, cutting the wood to size, and assembling the pieces into the desired shape. With a bit of time, effort, and energy, you can create a unique and practical piece of furniture for your home that is both eco-friendly and budget-friendly.
22. Comfy Pallet Sofa
Image and plan by Engineering Discoveries 
Having some unused pallets at home? Then you should make this DIY Pallet sofa. It is not only functional and stylish, but you are also recycling waste into more valuable things. 
You can also create pallet chairs, coffee tables, stools, and beds, and make them comfy with cushions, mattresses, throw pillows, etc.  
23. Beginner-Friendly Bench
Image and plan by Family Handyman 
This simple and beginner-friendly bench is a quick and easy project that can be completed with just a few essential tools and materials. It typically consists of a few wooden boards cut to size and assembled into a sturdy and functional seating option. 
If you are new to DIY or have limited experience with woodworking, this project is perfect for you. With clear instructions and a little guidance, you can create a beautiful and functional bench for your home, garden, or patio that will be a great addition to any space.
Also, check out our DIY Side table article for more inspiration.
24. Rustic DIY Backyard Chairs
Image and plan by Not Just A Housewife
Backyards and patios are the best places for deep conversations and telling stories. Sitting under the sky and enjoying good company also needs cozy outdoor chairs. This chair is definitely giving us those vibes. 
So why late? Let's DIY this project and create a cozy living area with a fire pit. 
25. DIY Modern Front Patio Chair
Image and plan by Wood shop diaries
Need one, two, or an entire set of modern chairs for your front porch but are out of budget? Don't worry! We are here with a great DIY plan that will help you create your chairs without breaking the bank. 
26. Quick And Easy DIY Bar Stool
If you have a large kitchen counter or just need some stools for the garage, these quick and easy DIY bar stools are what you are looking for. They are easy to build, look good and add a personal touch to your space. So check out the tutorial and start making one. 
27. Sleek And Classic Outdoor Chair
Image and plan by Angela Marie Made 
Here is another excellent simple chair option for those sweater weather afternoons wrapped in a cozy blanket. 
I like these; they are easy to make, seem wider, and look super comfy. 
Check out our DIY Desk Plans, you will love them!
28. Rustic Outdoor Adirondack Chair
Image and plan by Shanty 2 Chic
Is there anything better than spending the summer evenings on a cozy outdoor chair? This rustic Adirondack chair design is perfect for lounging on a lazy summer evening. 
29. A Simple Plank Chair
Image and plan by Instructables  
The simpler the chair structure, the easier it is to create them. This chair is nothing more than two planks of wood connected using an effortless technique. This also makes it very easy to disassemble whenever needed. It is undoubtedly an exciting and unique way to up your DIY skills. 
30. DIY Fur-Covered Stool
This DIY fur-covered stool is a fun and stylish project that involves transforming an ordinary chair into a cozy and fashionable piece of furniture. 
The project typically involves covering the stool's seat with faux fur material, using a staple gun or adhesive. You can complete the project in just a few hours, and it is a fantastic way to add luxury and glamour to your home decor.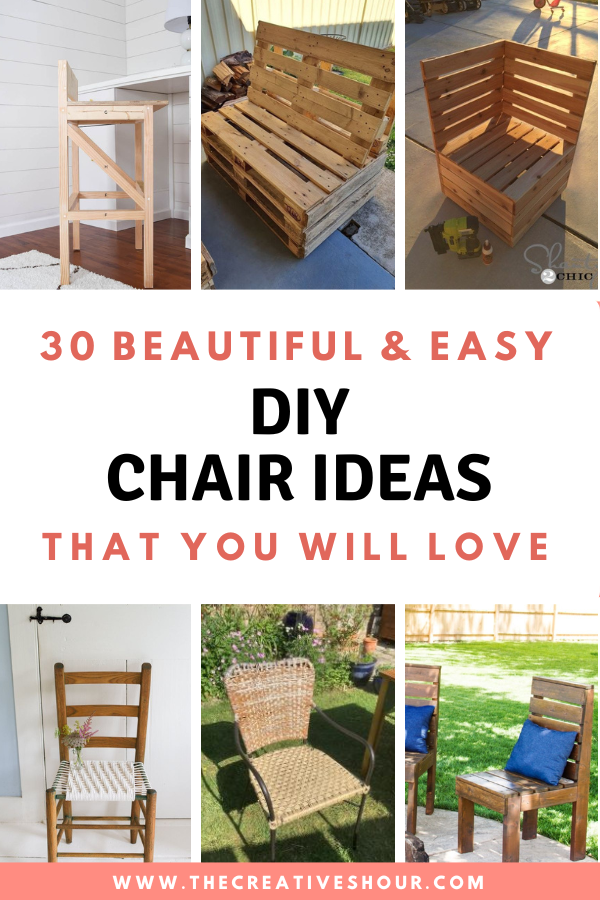 If you love these ideas, you can use the Pin image above and save this article on your 'DIY & Crafts' Pinterest board.