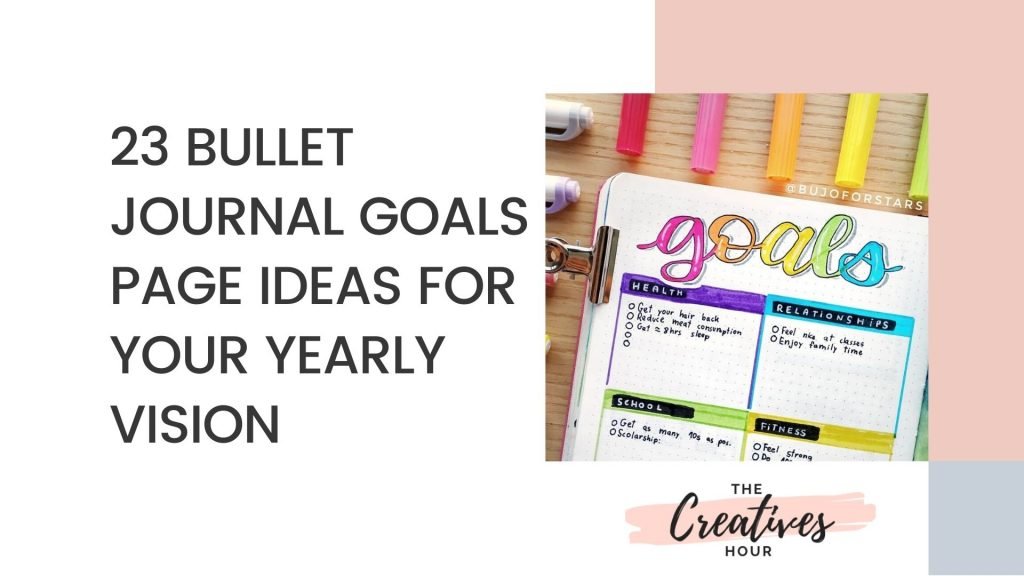 Feature Image Source: bujoforstars
How often do you start a new resolution with excitement, and it fades away by the end of a few weeks? A bullet journal goals page is an essential part of your journal, and it will definitely encourage you to work for more and successfully achieve the targets you set for yourself! It is a great way to keep track of your progress and fulfill the promises you made to yourself at the beginning of the year/month. This goals page in your BuJo would ensure that none of the set goals are left unfinished. Trust me; it is an effortless way to keep you motivated in the long run.  
Here is a complete guide for creating your bullet journal goals layout and some fantastic and unique ideas to inspire your creativity!  
While you are at it, here are some other pages that are a must add to your bullet journal: Bullet Journal Period Tracker, Mood Tracker, and Habit Tracker Ideas. 
Reasons to Make your Bullet Journal Goals Page Today

Here is a quick list of the reasons you need to add the goals page in your bullet journal. 
Time-Limit: A goals page allows you to dedicate a particular time for each goal. You can edit and revise these if you feel the goals would take longer or lesser to finish. If you set a start and finish to your goals, you would be tempted to reach the end rather than leave it midway.  
Measure Progress: The best reason to have a goals page is that you are able to measure the progress and how close you are to accomplish that goal. It allows you to check the areas that need more improvement and boosts your motivation to fulfill your aims. 
Accountability: Another primary reason for writing your goals down is because it keeps you accountable. It is a daily reminder for you to continue pursuing your goals and updating your progress. 
Bullet Journal Goals Page Ideas
Here is our list of some of the most unique, creative, and truly inspiring bullet journal goals page ideas to add to your BuJo. 
1. Colorful Highlights Bullet Journal Goals Tracker

Source: marbledclouds
This goals dump idea by marbledclouds and unique, colorful, and requires minimal effort. It is divided into multiple categories, and the headings of each are highlighted in different colors. The spread has different fonts for the headers and the text, which makes it very unique. Another essential feature of this idea is that it has a miscellaneous box in the bottom to log in any goals that do not fall in the previous categories. 
2. Mind, Body, Soul Goals Page Layout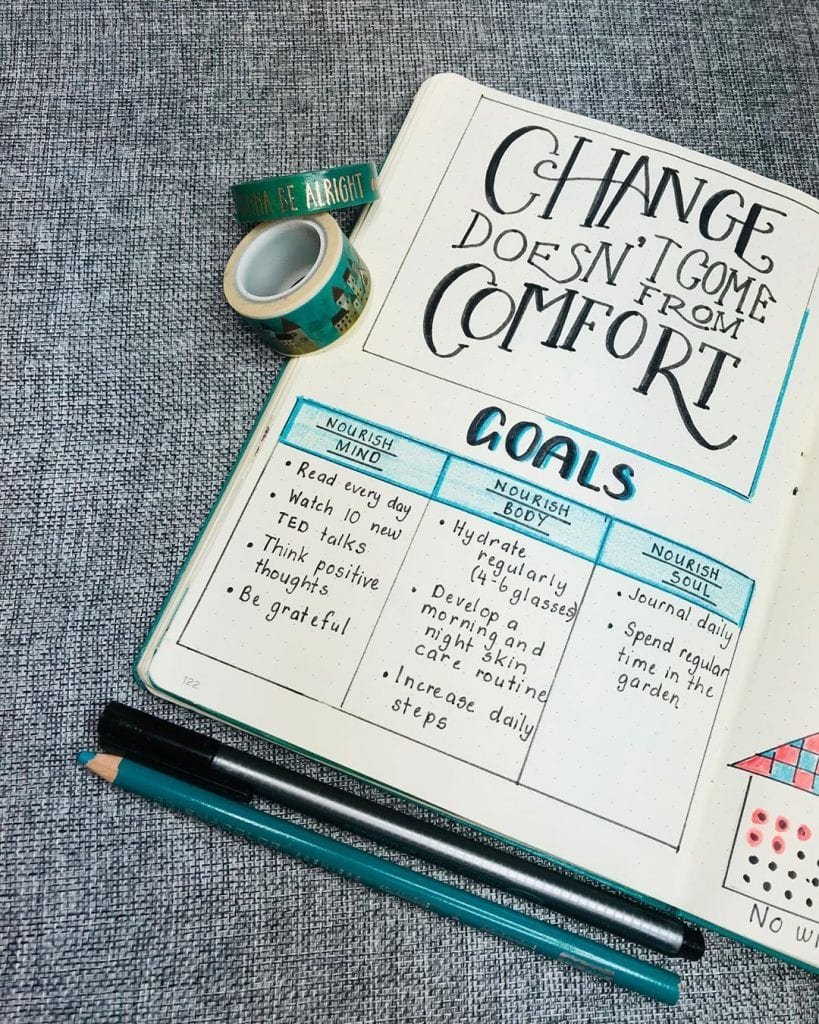 Source: jodie_journals
Here is a beautiful take to the bullet journal goals page by jodie_journals. The layout is simple, with an inspiring quote on top and the goals written in a tabular format. It is lovely how each section of the table focuses on specific personal goals like nourish mind, soul, and body. The theme is blue and black; you can customize it to your liking. 
3. Pink Strawberry & Candy BuJo Goals Page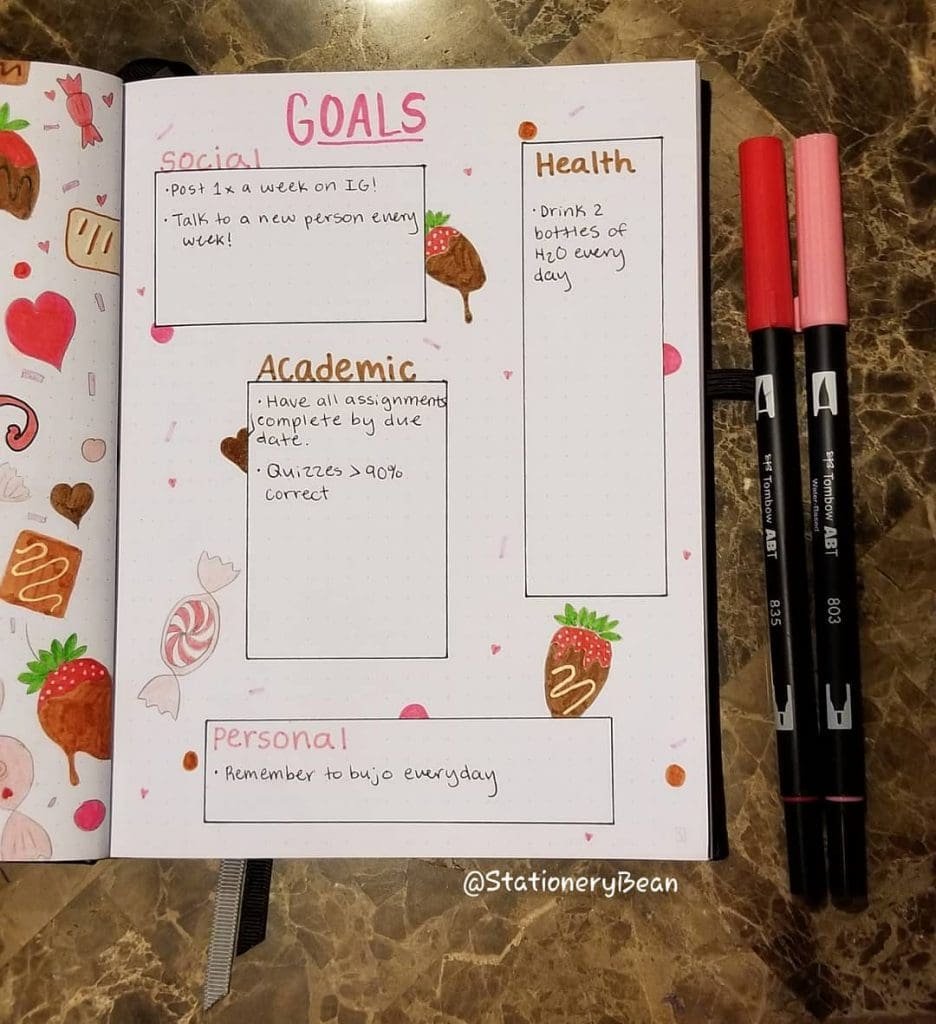 Source: stationerybean
Here is a candylicious bullet journal goals page by stationerybean. It is categorized into social, health, academic, and personal goals. Each category is surrounded by chocolate-coated strawberries and candies floating all over in the background. It is a simple, adorable, and 'sweet' journal spread!  
4. Scribbled, Motivational Goals Page for Your BuJo

Source:  girlmeetsplannerworld
I love how adorable this bullet journal goals page by girlmeetsplannerworld looks with an elegant font and purple and blue hints. The goals are not explicitly categorized but organized in list format. Each goal is sectioned using boxes. This is an excellent idea if you have random goals or specific goals that cannot be categorized. It is a simple but strong reminder of the importance of each goal you have listed. 
5. Goals Wheel Bullet Journal Layout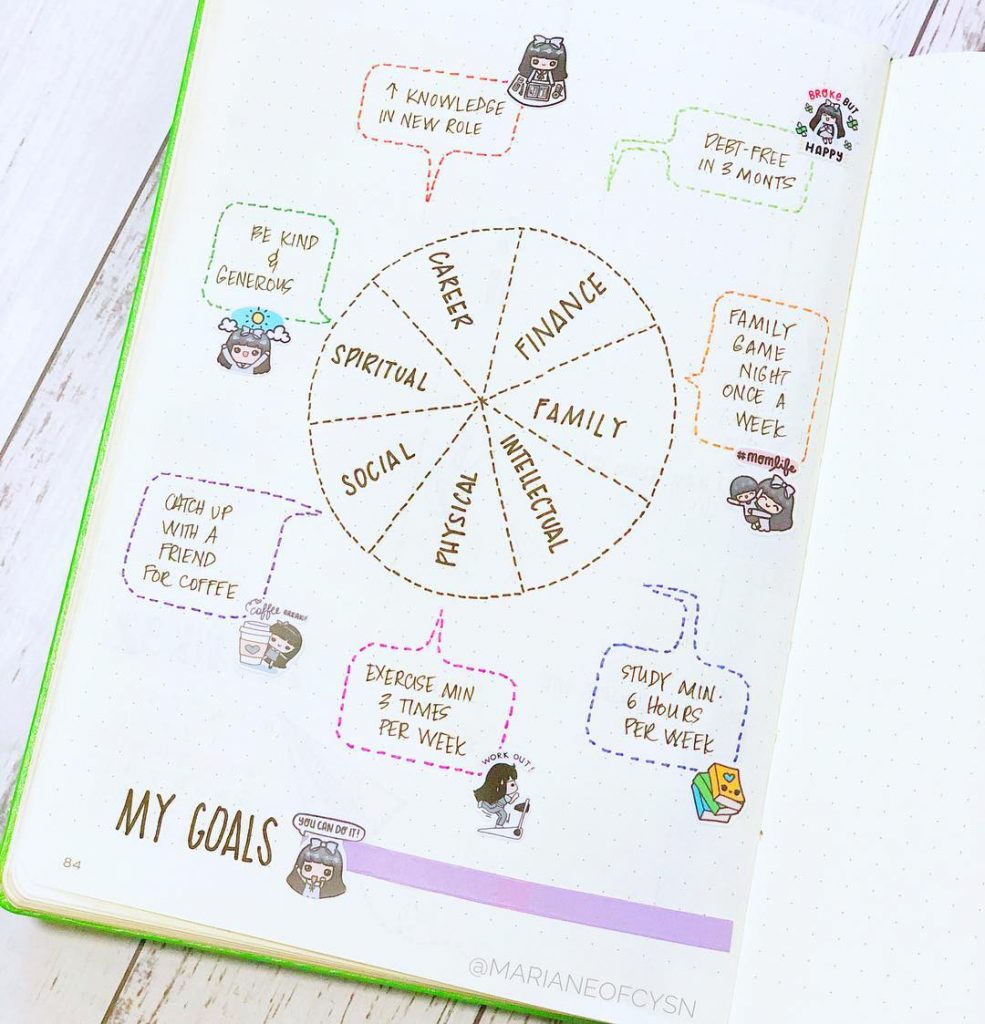 Source: marianeofcysn
I find this goals page bullet journal idea by marianeofcysn very unique and adorable. The idea uses a wheel in the middle of the page with each category written in it. Next, the goals are written in tiny dialogue boxes popping out of the wheel. The borders are in different colors, and each text box has a tiny doodle relevant to the category. This is a fun twist to the classic goals page. 
6. Family and Personal Goals Page BuJo Layout

Source: quitecollections
This green and black themed bullet journal goals page by quitecollections is a must-try. It is divided into two pages, one for personal goals and the other for family goals. This goals page allows you to plan and track the goals for you and your loved ones. You can have specific goals for each family member too! The idea has a tree vibe going on; however, feel free to customize it your way!
7. Bright, Doodled Bullet Journal Goals Page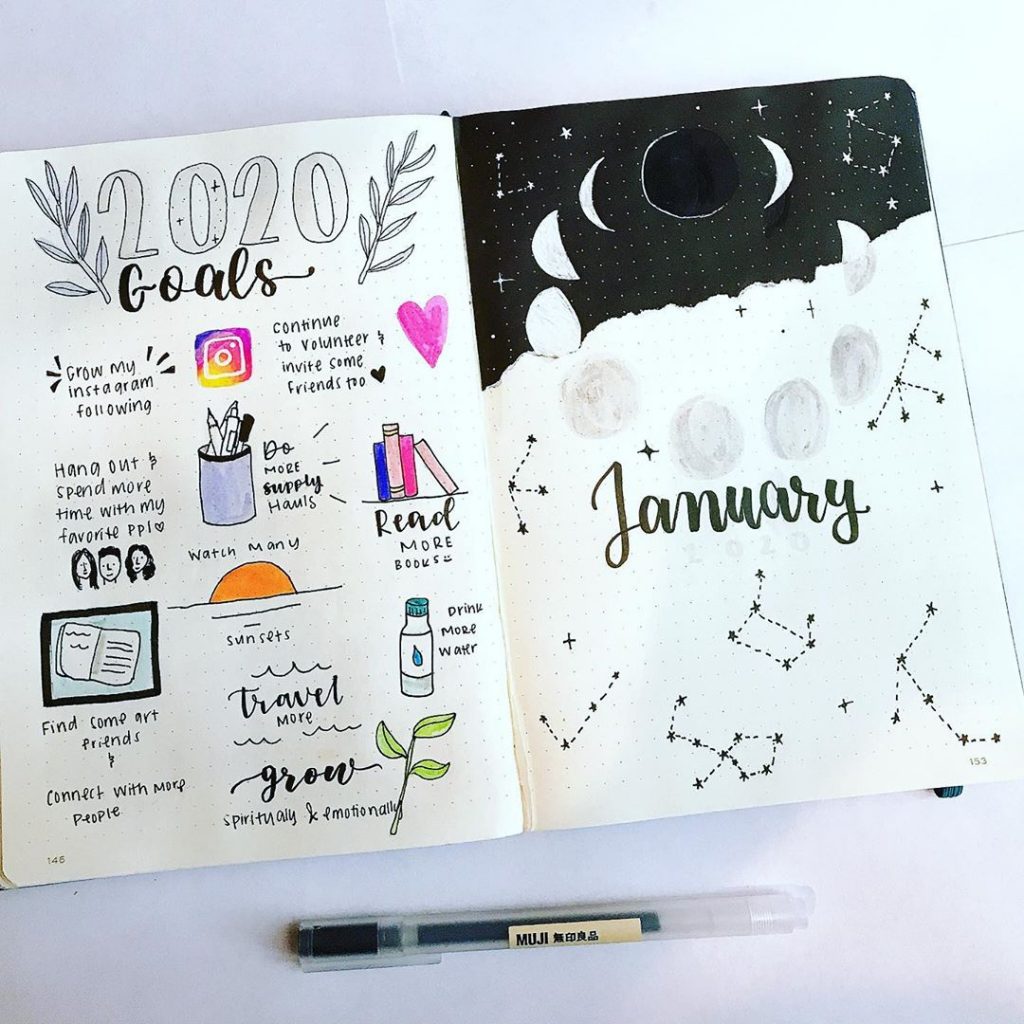 Source: pens.plans.letters
Here is a quirky and colorful bullet journal goals page by pens.plans.letters with tons of tiny doodles and an abstract appeal. The goals are scattered all across the page with no specific categories. Each goal has a detailed, colorful doodle accompanying it. The text is written in black but multiple fonts. This idea allows you to list as many goals as you like and keep adding to it as time goes by. 
8. Categorized, Rainbow Bullet Journal Goals Page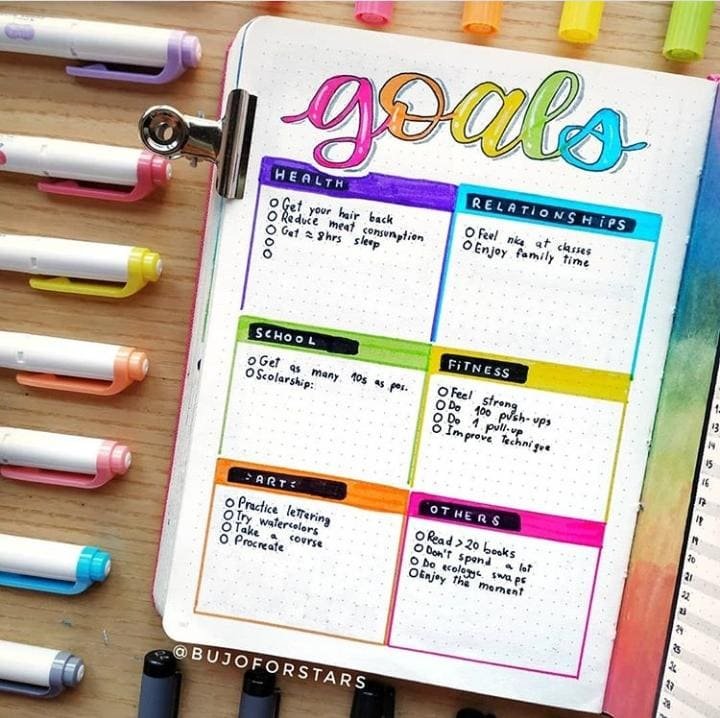 Source: bujoforstars
Doesn't this bullet journal goals page look so appealing? Well, you can recreate this idea by bujoforstars too. The page has a rainbow theme going all the way from pink to yellow to blue. It is a categorized layout with each box having one color of the rainbow. Overall, it is a compact, bright, and fun way to design your goals page. 
9. Abstract & Colorful Bullet Journal Goals Page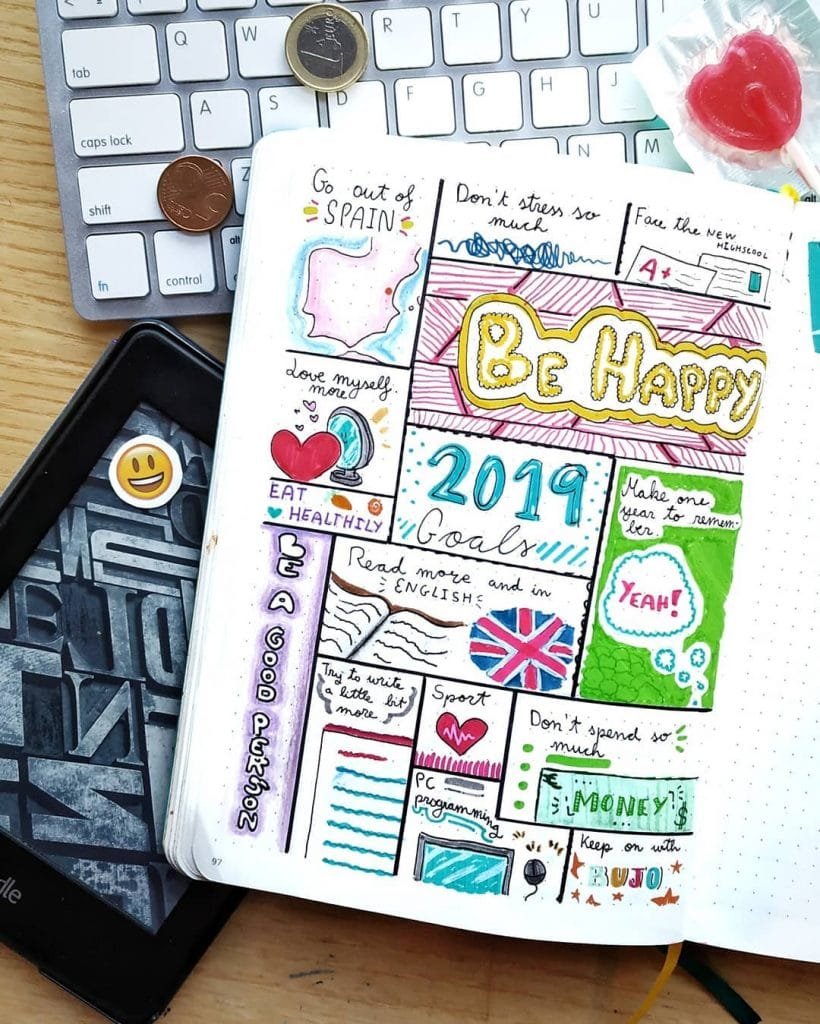 Source: bujoforstars
I love how each section of this layout by bujoforstars is personalized according to the goal. It inspires you to put in the same effort to achieve the goals that you did while making them. This bullet journal goals page is divided into sections, and each part is designed differently. It is a super creative and colorful way to give an image to your goals. 
10. Goals, Obstacles, & Action Plan Bullet Journal Spread

Source: archerandolive.community
Adding some extra details to your bullet journal goals page can add to the motivation you have while working towards them. This idea by archerandolive.community has a tabular layout with not just the goals but also the purpose, obstacles, and the plan of action written for each goal. Along with this, the layout also has a page for "20 before 2020," which has a checklist of goals you need to finish by year-end. This deadline would surely keep you motivated!
11. Quirky Icons, Calligraphic Goals Page Idea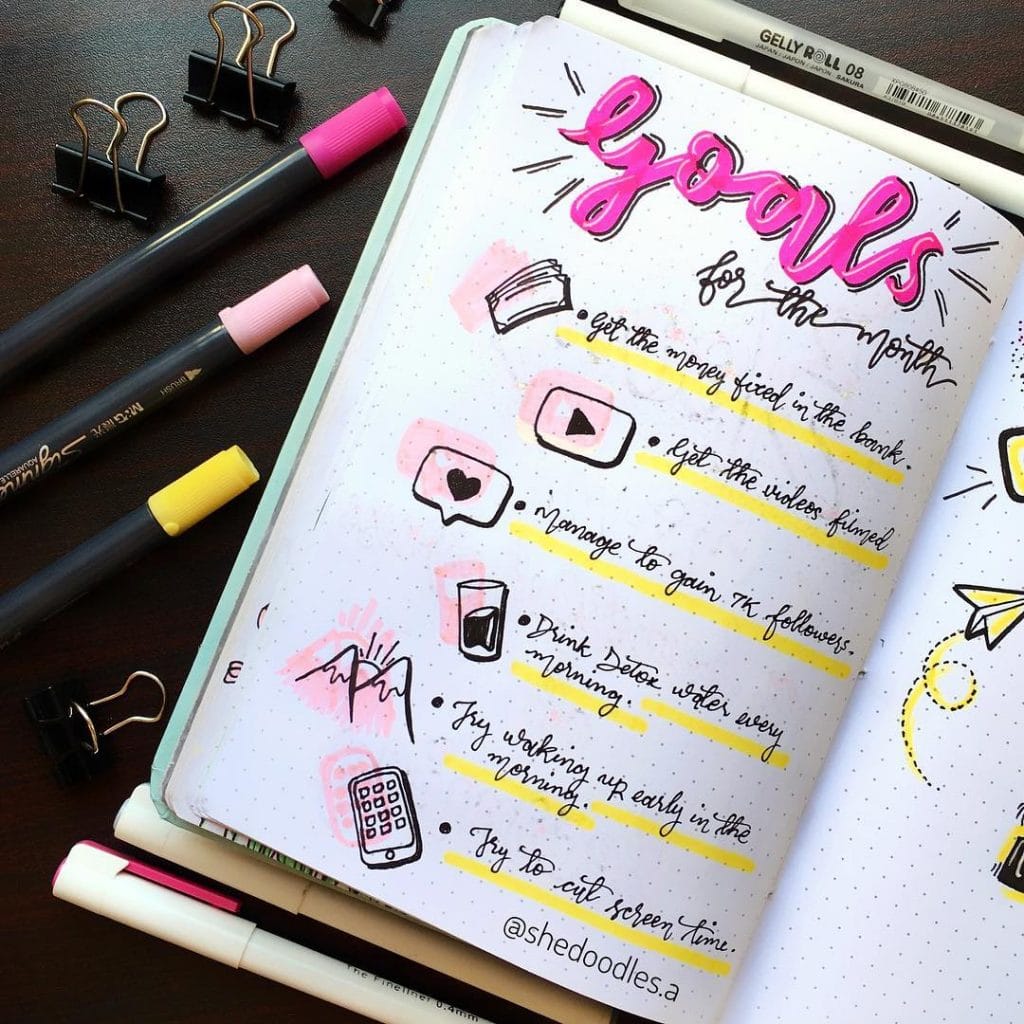 Source:  shedoodles.a
This bullet journal goals page idea by  shedoodles.a looks straight out of a printed journal, and you can create one too! Start by writing the page heading in a relaxed and bright colored font. To write the goals, start by drawing a tiny doodle related to the goal, followed by writing it. The doodles are drawn in black. Also, underline each goal with a bold yellow marker for an additional touch of brightness.  
12. Crush them Goals Bullet Journal Spread

Source: theinkybrush
Here is a bullet journal goals page by theinkybrush, which allows you to set some goals and fulfill them. The page has a black and white theme and a checklist layout to tick each goal as you go along the list. Adding a starry night background and a motivational quote on top is a beautiful touch to your goal page. 
13. Sub-Headed Yearly Goals Page Idea

Source:  brainstormwithteri
This bullet journal goals page by brainstormwithteri has horizontal sections for each goal. List your goals in a numbered manner, with each goal having subheadings playing the role of categories. Draw some bright yellow borders around the page for some patterns and details to the layout. It is simple, effortless, and looks perfect!
14. Black and White Goals Checklist Page

Source: onepageofselfcareaday
Here is a black and white themed bullet journal goals tracker by onepageofselfcareaday. The idea is straightforward with categories in black headings, followed by checklists. It is a quirky but simple layout that can be recreated by anyone. Do add this one to your BuJo to smash those goals. 
Bullet Journal Goals Page Layout Ideas
15. The Color Pop Bullet Journal Goals Page

Source: journalingforjerks
This color-pop goals page layout is easy to make and brightens up your BuJo spread instantly. It is categorized, and each category has a colored text box for it. You can use any colors of your choice or any shapes for the text boxes in this bullet journal goals page by journalingforjerks. This is a simple and clear way to organize your goals and stay motivated to fulfill them. 
16. Neatly Minimal BuJo Goals Layout

Source: bujoescape
Here is a bullet journal goals page layout by bujoescape, which uses a black marker for designing. This layout is categorized with neatly spaced sections. For the text area, highlighted lines are drawn under each category for extra detail. Overall, the minimal design of this layout makes it stand out. You are free to add some color too!
17. Popping with Motivation, Goals Page Layout

Source: rimletters
It is undoubtedly going to be a celebration when you fulfill your goals! So why not design that goals page with equal excitement? Try this bullet journal goals page layout by rimletters to pop open those goals. The categories are scattered around the page created from the splash of the champagne! It is a cool twist to the basic goals page layout. 
18. Bee-utifully Bright Goals Page Spread

Source: nerdyjunkie
Here is a bright yellow bee-themed BuJo goals page layout by nerdyjunkie. The layout has a beehive design at the bottom of the page with bees flying around all over. Add tiny text boxes with a yellow border for each category. Use black to write the text in the spread, and voila! Do add this to your BuJo for a bee-utiful touch!
19. Sleek & Elegant Bullet Journal Goals Page

Source: wordzofwhimzy
I love the black and white theme on this goals page layout by wordzofwhimzy, along with sleek details. Add a black lace border at the bottom of the page and divide the sheet into four sections. Use the center for drawing a geometric design in tones of grey, black, and white. You can add further style by writing in different calligraphic fonts. 
20. Categorized Goals Board Layout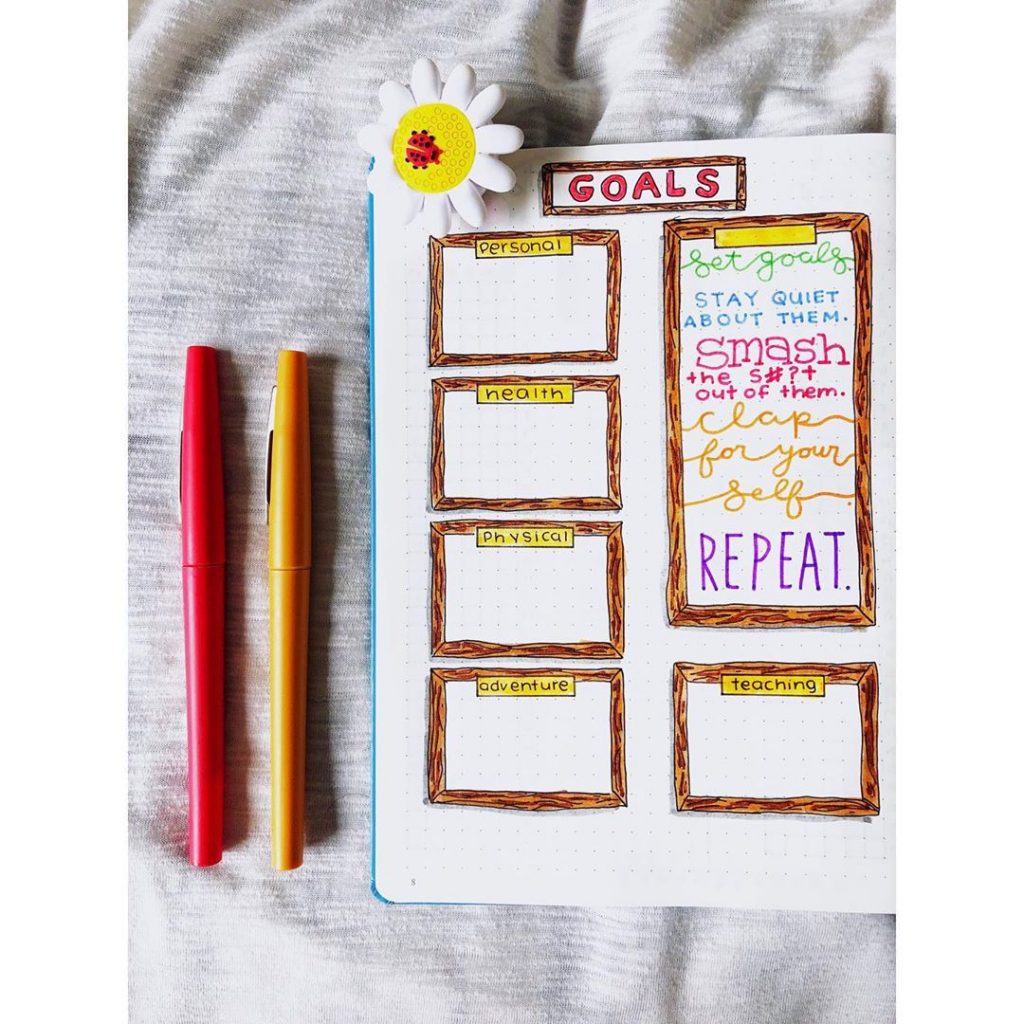 Source: sun.wave.journal
Draw multiple whiteboards to recreate this colorful bullet journal goals page layout by sun.wave.journal. Add a wooden border to each whiteboard and categorize them depending on your goals. Use one of the boards for some inspirational phrases, and voila! It is simple, quirky, and a must add to your bullet journal.  
21. Floral Borders Goals Page Layout

Source: whatmelread
I love the tiny floral detailing around the personal, professional, and financial categories. This layout by whatmelread is basic, effortless, and a tiny detail makes it very unique. The headings of each category are highlighted in different colors like blue, pink, and yellow. Customize it your way and get blooming! 
22. Cool-Toned Aesthetic Goals Layout

Source: bujowithtash
This cool-toned, blue-themed simplistic goals layout by bujowithtash is a must add to your bullet journal. The layout is categorized with a light blue border around each box. There is an elegant leafy detail around the boxes. You can change the colors to match the theme of your bullet journal.  
23. Classy Vintage Bullet Journal Goals Page

Source: bujomely
The use of vintage font with complimenting details makes this layout by bujomely the final one on our list. This bullet journal goals page is black and white with multiple fonts and slight hints of a travel theme. There is an earth, arrow, and feather doodle drawn around the layout. It is a subtle and elegant twist to your bullet journal. 
We hope you were inspired by our list of bullet journal goals page ideas and will surely add this spread to your BuJo. Trust me; it will help you keep track of short and long term goals without much hustle. So, it is time to start listing those goals and promising yourself to fulfill them. 
If you loved these ideas, you can use the Pin image below and save this article on your 'Bullet Journalling' Pinterest board.