When it comes to professional desktop publishing software, two names stand out: Adobe InDesign and Scribus.

These design tools are used by graphic designers, publishers, and marketing professionals worldwide to create stunning layouts and publications.
In this article, we will delve into a detailed comparison of Adobe InDesign and Scribus, exploring their features, usability, collaboration capabilities, compatibility, customer support, and more.
Join us as we unravel the strengths and weaknesses of these design powerhouses, helping you make an informed decision about which software suits your needs best.

Also read –
14 Best Graphic Design Softwares For Creatives
22 Best Paid And Free Indesign Alternatives in 2023
34 Best Drawing & Design Apps For iPad In 2023 (Free & Paid)
Scribus vs Indesign – Comparison At a Glance
Cost: Winner – Scribus

Scribus: Free and open-source software.
InDesign: Commercial software, available through a subscription to Adobe Creative Cloud.

User Interface: Winner – Indesign

Scribus: Intuitive interface but may have a steeper learning curve for beginners.
InDesign: Well-designed and user-friendly interface with a familiar Adobe software experience.

Features and Tools: Winner – Indesign

Scribus: Offers a comprehensive set of design tools for layout creation, typography control, color management, and PDF support. It lacks some advanced features compared to InDesign.
InDesign: Provides a vast array of advanced features, including seamless integration with other Adobe software, extensive typographic controls, interactive document creation, preflighting, and packaging.

Industry Acceptance: Winner – Indesign

Scribus: Widely used in the open-source and non-profit sectors, suitable for small businesses and individuals with limited budgets.
InDesign: Considered an industry standard, extensively used in professional publishing, design agencies, and large-scale production workflows.

Platforms Supported: Winner – Scribus

Scribus: Available for Windows, macOS, and Linux, ensuring cross-platform accessibility.
InDesign: Available for Windows and macOS only.

Collaboration: Winner – Indesign

Scribus: Supports basic collaboration features like sharing project files and collaborating on designs
InDesign: Takes the lead in collaboration with its built-in Share for Review feature. This tool allows contributors to provide feedback and markups directly within the application, streamlining the collaboration process.

Compatibility: Winner – Tie

Scribus: Can import some file types but cannot import from InDesign or QuarkExpress.
InDesign: Can easily manage files within the Adobe ecosystem, ensuring smooth integration with other Adobe applications and formats. But, Indesign's file format (.indd) is proprietary and can NOT be read/opened/imported by Scribus.

Support and Community: Winner – Indesign

Scribus: Supported by an active community of users and developers, providing forums, documentation, and user-contributed resources.
InDesign: Offers extensive support resources, including official documentation, tutorials, and a large community of users. Also offers in-app lessons and online chat support, providing users with ample support and assistance.
Scribus vs. InDesign: The Verdict
In summary, Scribus is a cost-effective option with a learning curve, suitable for basic to intermediate design needs. InDesign is an industry-standard software with advanced features, seamless collaboration, and extensive support. Consider your budget, design requirements, and desired level of functionality to make the best choice between the two.
Cost
When it comes to cost, Scribus and Adobe InDesign present starkly different options. Scribus takes the lead with its irresistible price tag of free. Yes, you heard it right – Scribus won't cost you a dime.

The developers behind Scribus aimed to create an accessible program that caters to everyone's needs without burdening their wallets. In this regard, they succeeded brilliantly. And if you find yourself falling in love with Scribus, you always have the option to show your support through donations.
On the flip side, Adobe InDesign leans towards the pricier side. The cheapest plan for standalone InDesign starts at $20.99 per month with an annual subscription, or $31.49 per month on a monthly basis.

If you're looking for the full suite bundle, which includes a range of Adobe applications, you'll be looking at $52.99 per month with an annual subscription or $79.49 per month on a monthly basis. These costs can quickly add up, resulting in a substantial yearly investment.
Fortunately, Adobe does offer discounted rates for students and teachers, with the full suite bundle available for $19.99 per month on an annual plan. This provides a more affordable option for those in the education sector.
For those on a tight budget, Scribus emerges as the clear winner. After all, who can resist the allure of a free application? It's worth giving Scribus a try, especially when cost is a significant consideration.
Winner – Scribus
User Interface
When it comes to user interface (UI) and user experience (UX), a smooth and intuitive design is crucial for an efficient workflow. Adobe has consistently excelled in this aspect, and InDesign is no exception. With the improvements made in the Adobe Suite CC 2019, using and learning Adobe apps has become remarkably easy.
InDesign's default dark theme is a standout feature, providing a visually pleasing experience. Managing master pages and adjusting styles is seamless, making tasks more convenient. In contrast, Scribus lacks certain essential text styling options and suffers from a less user-friendly interface.
One area where InDesign shines is its ability to manage master pages effortlessly, which can be quite challenging in Scribus, especially in the stable version. The difference lies not just in what the software can do but in how easily and quickly tasks can be accomplished. Struggling with an intuitive UX can be a frustrating experience, and this is where InDesign holds a significant advantage over Scribus.
Another notable feature in InDesign is the Snap tool, which allows precise alignment of elements. While Scribus's Snap tool is suitable for aligning items with grid guides, it falls short when it comes to aligning elements with each other in a specific manner. Adobe, on the other hand, has mastered this aspect, offering excellent alignment tools in recent versions of their products.
InDesign also offers a valuable feature called Workspace, allowing for customizable window design layouts. You can choose from preset layouts like Essentials, Book, and Typography, or create a custom workspace tailored to your needs. This enhances layout organization and helps streamline your design process.
On the other hand, Scribus takes a minimalist approach to UI design. When you open Scribus, you're greeted with a simple page, ready for your designs. However, the interface lacks the sleekness and integration of additional windows seen in InDesign, making it feel somewhat outdated.
Scribus's tool control can be cumbersome, requiring multiple steps for simple tasks like changing the color of an object. You need to create the new color and add it to the palette before finally applying the new color to the object.
For these reasons, the user interface layout in Scribus has drawn criticism from users, with many suggesting changes to improve its organization and functionality. However, some loyal users prefer to keep the layout as it is, which may hinder the program's potential for improvement.
Installation process is also worth considering. Adobe programs, including InDesign, are easily installed through Creative Cloud, with a straightforward process of downloading and logging in. On the other hand, Scribus requires the download of two separate files, the Scribus application and Ghostscript. Although the initial startup of Scribus may take some time due to font downloads, subsequent usage is typically smooth.
Winner – Adobe Indesign
Features and Tools
Top Adobe InDesign features:
Adobe InDesign provides designers with a comprehensive toolset to create visually stunning and professionally crafted designs.
Master Pages: Easily apply default pages and copy objects across multiple pages.
Presets and Templates: Extensive selection for different print, web, and mobile projects.
Vector Shapes: Create basic shapes like rectangles, ovals, and polygons.
Color Modes: Support for CMYK and RGB color spaces.
Share for Review: Collaborate and receive feedback with version submission and commenting.
Smart Conversion: Automatic measurement conversion for different units.
Snap Tool: Precise alignment by snapping objects to guides or grids.
Typekit: Access thousands of fonts online for typography customization.
Adobe Stock: Online library with a wide range of assets for creative projects.
Adobe Experience Manager Integration: Seamlessly manage web content and marketing assets.
Cloud Storage: Access projects and documents online and work across devices.
Brochure, Magazine, Poster, Book, and Digital Media creation.
Customizable Workspaces: Save and customize window layouts.
Managing Text Styling: Manipulate and style text blocks easily.
Object Styles: Apply consistent formatting and styles to objects.
Interactive PDFs: Create engaging PDF documents with interactive elements.
Shareable and Exportable Files: Easily share, export, and publish designs.
Extensive Output Options: Print-ready formats, digital media, and more.
UI/UX: Intuitive interface and improved user experience.
Top Scribus features:
Scribus caters to diverse design needs, offering professional-grade features and customization. It suits small businesses, non-profits, and individuals seeking cost-effective solutions for high-quality designs.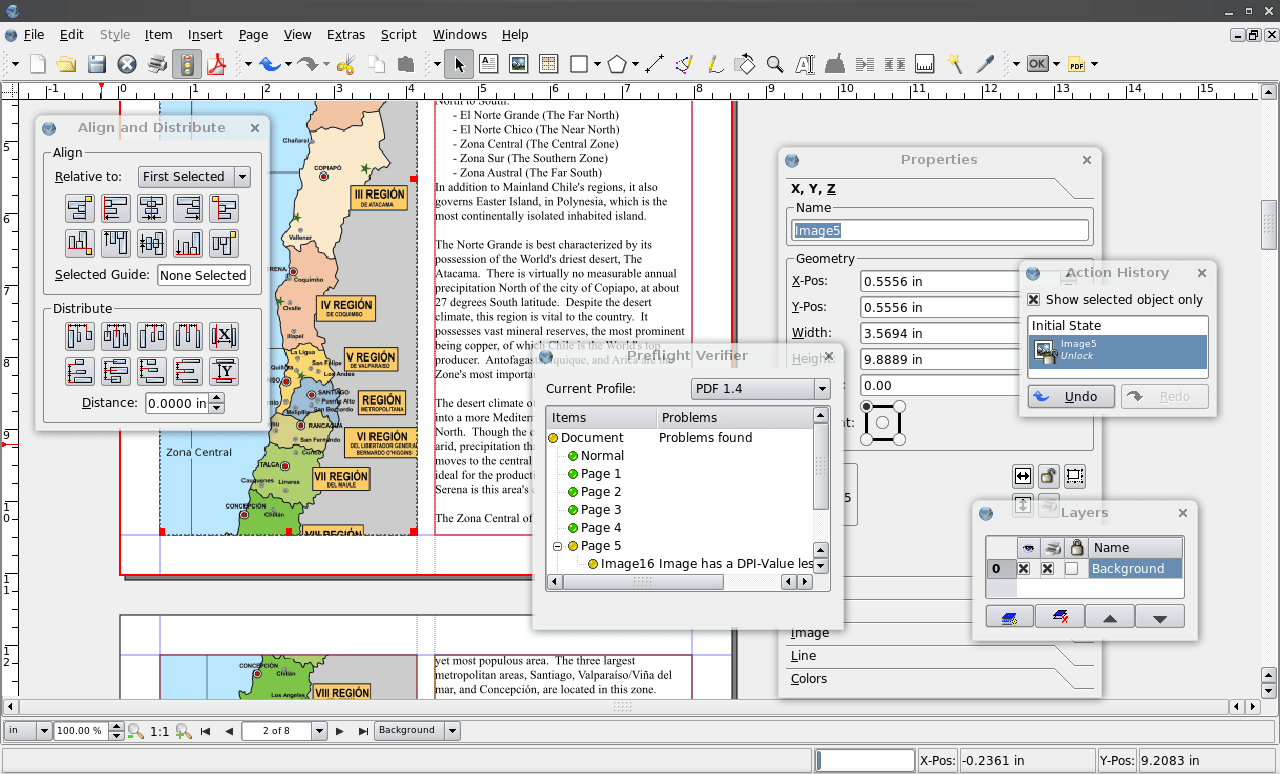 Versatile Publication Types: Scribus creates a wide range of publications, including print advertisements, calendars, brochures, newsletters, PDFs, and magazines.
Color Mode Support: Scribus handles both RGB and CMYK color modes, ensuring accurate color representation.
Preset Templates: Scribus offers templates for business cards, newsletters, brochures, and more, providing a convenient starting point for designs.
Customizable Pages: Scribus allows users to adjust bleeds and margins, customizing page layouts according to their needs.
Image and Vector Graphics Integration: Scribus integrates vector graphics and photos seamlessly, offering precise adjustments using the Bezier curves tool.
Text Manipulation: Scribus enables text attachment to paths and inside shapes, enhancing design creativity.
User-Friendly Rotation Tool: Scribus provides an intuitive rotation tool adjustable via arrow keys.
Frame Creation and Editing: Scribus allows users to create and edit frames, offering customization options like rounded corners and scaling.
Import Compatibility: Scribus supports Illustrator, EPS, and SVG files import, facilitating seamless integration with other software.
Right-to-Left Language Support: Scribus offers a workaround RTL support for languages like Arabic, Hebrew, Urdu, and Persian, enhancing layout capabilities.
Master Pages: Scribus incorporates master pages, simplifying tasks like page numbering across multiple pages.
Prepress Tools: Scribus includes prepress features, ensuring print readiness and PDF/X-1a format compatibility.
Export Options: Scribus provides various export formats, including PDF, for easy sharing and distribution.
Extensibility and Community Support: As an open-source tool, Scribus benefits from a vibrant community, offering resources, tutorials, and support.
Winner – Adobe Indesign
Industry Acceptance and Longevity
When comparing the industry acceptance and longevity of Scribus and Adobe InDesign, it becomes evident that InDesign holds a stronger position. Adobe, as a renowned industry leader, consistently updates and enhances its software, fixing bugs and introducing new features on a regular basis.

In contrast, Scribus' latest stable release was back in March of 2019, with a newer developmental version currently available. Adobe's continuous updates and upgrades contribute to its reputation as a reliable and evolving software provider.
In terms of professional usage, InDesign outshines Scribus. It is the preferred choice for collaboration within the corporate design world, where standardization on the same program is crucial. To align with industry norms and effectively work with others, proficiency in widely used programs like InDesign is essential.
Furthermore, Adobe's extensive suite of programs, catering to various creative needs such as video editing and photo manipulation, enjoys a vast user base. This broad user audience and the comprehensive range of applications offered by Adobe contribute to the long-term sustainability and relevance of InDesign.
Nevertheless, it is worth acknowledging that Scribus has its dedicated users and continues to receive updates and improvements. While it currently falls short of InDesign in terms of industry acceptance, if it undergoes a significant user interface revamp and incorporates more advanced features, it has the potential to emerge as a strong competitor to Adobe InDesign in the future.
Winner – Adobe Indesign
Platform Support
When it comes to platform support, Scribus and Adobe InDesign offer different options. Scribus is an open-source software available for Windows, macOS, and Linux operating systems. This cross-platform compatibility allows users to work on their preferred operating system.
On the other hand, Adobe InDesign is a commercial software widely available for both Windows and macOS. While it does not natively support Linux, users can utilize virtualization or compatibility layers to run InDesign on Linux machines.
In terms of platform availability, Scribus offers broader compatibility due to its Linux support. However, Adobe InDesign's popularity and widespread usage on Windows and macOS make it the go-to choice for most professional designers and organizations.
Winner – Scribus
Collaboration
When it comes to collaboration, Adobe InDesign surpasses Scribus with its advanced features designed to streamline teamwork. InDesign offers a powerful collaboration tool called Share to Review, eliminating the need to exit the application for feedback and issue resolution.
With Share to Review, InDesign allows you to share your editable document with others while retaining control. You can send a public link or private invitation, enabling reviewers to provide feedback and comments directly within the document. The chatbox facilitates communication, and annotations can be linked to specific comments for clarity. The review panel helps manage comments, allowing you to hide or show them and easily resolve any issues.
In contrast, Scribus lacks a built-in collaboration system. To collaborate using Scribus, users are recommended to export their designs as PDF files for others to review, as PDF is universally accessible.
Compatibility
When it comes to compatibility, both Scribus and InDesign have their strengths and limitations. Scribus supports a range of file formats such as PDF, EPS, and PNG, making it suitable for importing graphics and images.

However, it lacks the ability to import files from InDesign or QuarkXPress, which can be a limitation when working with older projects or files from other design software. Additionally, Scribus does not have a dedicated mobile application for iPad or iOS devices.
In contrast, InDesign offers more comprehensive compatibility options. It supports importing vector files and graphics from Illustrator and Photoshop files, allowing for seamless integration with other Adobe Creative Cloud applications.

While InDesign does not have a direct iPad or iOS application, Adobe Comp serves as a valuable companion app that enables layout creation and seamless transfer to Illustrator, InDesign, Muse, and Photoshop for finalizing projects.
But when the .eps file is created using Adobe Illustrator and Photoshop, and the embedded bitmap file is in .psd format, Scribus may encounter problem importing the bitmap section of the eps files. This issue arises not due to any problem with Scribus itself, but rather because Adobe has not provided detailed information about its file formats in certain situations.
In terms of compatibility with industry-standard file formats and integration with other Adobe software, InDesign provides a more robust solution (it even supports exporting as epub files). However, Scribus may be suitable for users who prioritize cross-platform compatibility and open-source file formats.
Winner – Tie
Customer Support and Community
When it comes to customer support and community engagement, Adobe InDesign surpasses Scribus with its comprehensive and organized support system.
InDesign offers various resources to help users, including a dedicated chat support available during weekdays, extensive in-app and online tutorials, and a vibrant community forum. Users can find step-by-step instructions, video tutorials, and downloadable documentation to assist in learning the tool effectively.
Scribus also provides online resources, including a wiki, forums, and discussions, to support users in learning and troubleshooting the software.
However, these resources are scattered across different platforms, making it more challenging to find specific answers or solutions. Additionally, Scribus lacks direct contact options like phone support, and its chat feature for connecting with other users is not as seamless.
Winner – Adobe Indesign
FAQ: Scribus vs Indesign
Q: What is Scribus good for?
A: Scribus is a powerful desktop publishing software that is particularly suitable for creating various types of written publications such as print advertisements, calendars, brochures, newsletters, PDFs, and magazines. It offers extensive control over layout design, typography, and graphic integration, making it a valuable tool for designing visually appealing publications.
Q: Is Scribus compatible with InDesign?
A: Scribus and InDesign have limited compatibility. While Scribus can import certain file formats like psd file, .eps, and PNG, it cannot directly import files from InDesign or QuarkXPress. This lack of compatibility can pose challenges if you need to work on older projects created in InDesign and switch to using Scribus.
Q: Is Scribus a good program?
A: Scribus is a capable open-source desktop publishing software that offers a range of features for designing publications. While it may not have the same level of industry acceptance as Adobe InDesign, many people use and appreciate Scribus for its functionality and affordability.
Q: Do designers still use InDesign?
A: Yes, InDesign remains one of the leading software choices for professional designers. Its robust feature set, seamless integration with other Adobe Creative Cloud applications, and extensive industry acceptance make it a preferred tool for designing complex layouts, handling large amounts of text, and creating interactive digital publications.