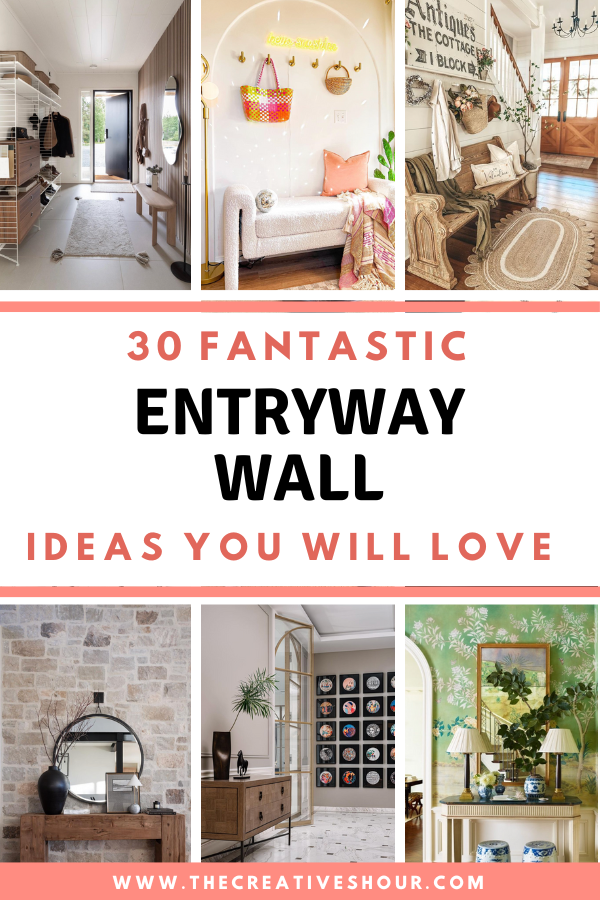 They say first impressions count, so why settle for a bland entrance? In this article, we've gathered 30 entryway wall ideas to turn your "meh" entry into an awe-inspiring "wow!" From quirky gallery walls featuring your pet's portraits to a "Welcome" sign written in bold neon lights, unleash your creativity. Hang up funky mirrors to check your hair before the paparazzi arrive. And why not a wallpaper that screams, "I'm fabulous, darling!" So, ditch the mundane, embrace the laughter, and let your entryway rock the house!
Related Articles –
40 Brilliant Green Accent Wall Ideas For Every Room
35 Best Shiplap Wall Ideas To Match Any Decor Style
47 Beautiful Family Picture Wall Ideas For Your Home
1. Rustic Wood Paneling Entryway Accent Wall Ideas

Image by mmarj00
Want to make a lasting impression the moment guests step into your black front door? A rustic wood paneling entryway wall is the best way to create a warm and welcoming ambiance. The natural charm of weathered wood adds a touch of rustic elegance, setting the tone for your entire interior.
Read – 40 Amazing Halfwall Paneling Ideas For Your Home
2. Barbie-Inspired Entryway Wall Decor Cozy Lounge Spot

Image by jordynhadwin
Step into the world of Barbie with a whimsical entryway cozy lounge spot that'll transport you back to your childhood dreams. This enchanting lounge spot promises to welcome you with a dose of nostalgia and a sprinkle of Barbie's timeless charm.
3. Farmhouse Entryway Bench And Decor

Image by nearlynaturalfloral
The farmhouse entryway bench takes center stage, offering a perfect spot to kick off muddy boots or drop your bags after a long day. Adorned with plush throw pillows, soft blankets, and glass panels door, it becomes a cozy nook to warm welcome guests.
Expert tip by TCH: Illuminate your entryway decor wall with the right lighting to create a warm and inviting ambiance. Consider installing sconces or wall-mounted fixtures that cast a soft and flattering glow. Incorporate subtle LED lighting behind wall decor items to add a touch of drama and accentuate key features. Lighting can transform your foyer accent wall into a captivating focal point that leaves a lasting impression on everyone who steps through your door.
4. Natural Stone Wall And Distressed Wooden Bench For Entrance Wall Ideas
Image by killowenconstructions
Your entrance deserves a warm and welcoming embrace, and what better way to achieve that than with a natural stone wall and a distressed wooden bench? This dynamic duo combines the rugged beauty of natural stone with the rustic charm of distressed wood, creating an enchanting entry point for your home.
5. Green Floral Mural wall – Foyer Wall Decor Ideas

Image by charishbydesign
This enchanting mural adds a touch of elegance and a burst of color, setting the perfect tone for your home. The intricately painted florals and the table lamp breathe life into the space, infusing it with serenity and charm.
Read – 30 Amazing Dark Green Accent Wall Ideas For A Modern Look
6. Vintage Song Album Gallery Wall – Home Entrance Wall Design

Image by livinggetcind
Step into nostalgia with a Vintage Song Album Gallery Wall, turning your entrance into a harmonious time machine. Dust off those vinyl records and transform them into captivating wall art. Arrange album covers in a symphony of colors and eras, creating a visual ode to the music that defined generations. Let the music speak through your decor, whether it's classic rock, soulful jazz, or groovy disco.
7. Board And Batten Hallway Accent Wall Ideas

Image by protejstroneilustra
Say goodbye to messy entrances and welcome a clutter-free white walls mudroom that embraces functionality and style. This classic and versatile wall treatment adds a touch of farmhouse charm to your entryway white, providing intelligent storage solutions for all your outdoor essentials. Hang coats, scarves, and bags on sturdy hooks, while the lower batten serves as a seat and shoe storage.
8. Farmhouse Decor Ideas For Entrance Wall

Image by decorsteals
Transform your entryway into a rustic haven with farmhouse decor for your entrance wall. Embrace the warmth of weathered wood, vintage-inspired signs, and galvanized metal accents. Hang a distressed wooden shelf adorned with mason jars with fresh blooms for a touch of country elegance. Add a charming farmhouse clock that ticks away like time standing still on the farm.
9. White Board And Batten With Bench For Foyer Wall

Image by emilyfritschinteriors
This classic wall treatment adds a touch of architectural interest to your entryway, creating a warm and inviting ambiance for your guests. The crisp white backdrop serves as a blank canvas to showcase your favorite decor pieces and artwork. At the same time, the board and batten design adds a subtle texture and character. With the addition of a stylish bench, you provide a practical seating option for putting on shoes or simply taking a moment to unwind.
10. Natural Stone Wall With Large Mirror For And Amazing Large Entryway wall Ideas

Image by sherinegridesign
A natural stone wall adorned with a large, ornate mirror welcomes you with its captivating charm. The rough texture of the stone exudes rustic elegance. At the same time, the mirror amplifies the space, making it feel grand and inviting. This seamless fusion of nature and sophistication adds a touch of timelessness to your home's entrance.
11. White And Blue Nature-Inspired Wall Mural

Image by jonna.annastasia_
Whether you choose a subtle, abstract nature scene or a vivid depiction of lush forests and calming waters, this mural will infuse your space with a touch of natural beauty. Let the soothing colors and picturesque imagery transport you to a world of peace and serenity every time you step into the room.
12. Bold Wallpaper And Dark Wood Door For Entryway

Image by dualconceptdesign
Your entryway is the gateway to your home's personality, and making a lasting impression is vital. Embrace the power of design with bold wallpaper and a dark wood door combo that speaks volumes about your style. Opt for eye-catching patterns or vibrant colors that showcase your unique taste when guests enter. Paired with a dark wood door, this duo creates a striking contrast, adding depth and sophistication.
13. Blue Walls Entryway With Built-In Bench

Image by gidemendesign
Consider embracing the captivating allure of blue walls to create a striking and welcoming ambiance. Whether you opt for a serene pastel blue or a bold navy hue, blue walls exude timeless elegance and evoke a sense of tranquility.
Expert tip by TCH: Get creative with a mix of wall decor items to add depth and visual interest to your entryway. Combine framed artworks, vintage signs, and decorative shelves to curate a captivating gallery wall. Mix textures and styles to achieve a personalized and eclectic look that showcases your personality and welcomes guests with a sense of charm.
14. Large Mirror And Black Furniture For Entryway Wall Decor Ideas

Image by decorbythelma
The large mirror adds depth and light to your wall space while giving you a final glance before stepping out. You will get a winning combination of elegance and sophistication when paired with sleek black furniture pieces like a console table or a bench. The contrast of the dark furniture against the mirror's reflection and lush plants creates a captivating visual impact.
Read – 35 Best Front Steps Ideas To Enhance Your Home's Curb Appeal
15. Floral Wall Mural With And Arched Window And Light Wood Flooring

Image by tdchinges
The floral mural infuses the room with a burst of color and a sense of serenity, transporting you to a secret garden. The arched window adds architectural interest, giving the illusion of a picturesque escape. And the light wood flooring ties everything together, creating a seamless flow that enhances the room's inviting ambiance.
This delightful combination of a floral mural, an arched window, and light wood flooring turns your space into a captivating retreat that soothes the senses and leaves a lasting impression on all who enter.
16. Narrow Entry Wall With Green Wallpaper And Half Board And Batten Walls

Image by chairishco
Who says a narrow entryway can't be a showstopper? You can turn even the smallest space into a stunning focal point with the right entryway decorating ideas. Add character and depth with half board and batten walls, showcasing your artistic flair. This combination creates a harmonious blend of sophistication and warmth, making your entrance feel welcoming and stylish.
17. Amazing Modern Entryway With Mirrors And Bench

Image by michellemillerdesignfl
Adorned with sleek mirrors and a stylish bench, this space exudes sophistication and functionality. The mirrors amplify the natural light, making the area appear more spacious and allowing you one last glance before stepping out. The chic bench serves as a statement piece and a practical spot to sit while putting on your shoes.
18. Traditional Sage Green Wooden Paneling Entryway Wall

Image by chairshco
This classic design choice exudes warmth and elegance, setting the perfect tone for your home's ambiance. The sage green hue, reminiscent of nature's tranquility, brings a sense of calmness and balance to your entryway, making it a welcoming haven for both residents and guests. The wooden paneling and the entryway photo wall adds texture and character, infusing a touch of rustic charm.
19. Cute Entry Way Decor Ideas

Image by yasminnnie
Transform your entryway into a delightful and welcoming space with cute decor elements. Embrace the magic of a large round mirror that adds a touch of elegance and reflects light, making your room appear brighter and more inviting. Pair it with white furniture to create a clean and fresh ambiance that exudes warmth and charm. Add a cozy rug and decorative accents like potted plants or framed art to complete the look.
20. White Half Board And Batten Walld With Black Bench And Dark Wood Flooring

Image by cozycanedesign
A white half-board and batten wall exude timeless charm, adding texture and depth to your space. Against this elegant backdrop, a sleek black bench is a statement piece, offering style and functionality for a quick shoe change. Complementing the white and black duo, dark wood flooring grounds the entire look, bringing warmth and richness to the setting. The result? A harmonious blend of contrasts that elevates your entryway to a level of chic refinement, welcoming guests with an air of elegance.
21. Beige Wall Entry way Decor

Image by house_to_heaven
Your entryway is the gateway to your home's style, and a beige wall can be the perfect canvas to set the tone. Beige, often overlooked for bolder colors, exudes sophistication and timeless charm. Its neutral nature allows for endless creative possibilities.
22. Black Family Gallery Wall For Entryway

Image by jerrysartaramatempe
Embrace the timeless elegance of a Black Family Gallery Wall that captures your cherished memories and milestones. Mix and match black frames of different sizes to create a visually stunning display. Add candid snapshots, moments, and heartfelt quotes that define your family's unique bond.
23. Bohemian Theme Enntry Way Decor

Image by the_blended_home
Step into a world of artistic expression and free-spirited charm with Bohemian-themed entryway decor. Infuse your entrance with a vibrant tapestry of colors, textures, and patterns that reflect your individuality. Hang dreamcatchers or macrame wall hangings to channel boho vibes. Don't shy away from mixing bold patterns in rugs and cushions, creating a cozy nook that invites you to linger.
Expert tip by TCH: Mirrors are a secret weapon for making small entryways appear larger and brighter. Choose a statement mirror with an ornate frame to add a touch of glamour, or opt for a collection of small mirrors for a unique and eclectic look. Mirrors reflect light while creating the illusion of more space, making them an invaluable addition to your entryway wall.
24. White Shiplap Walls With Wooden Floating Shelves

Image by bethany.swanson_
This timeless combination combines natural wood's warmth and the crispness of white shiplap, creating a stunning backdrop for any room. The shiplap's clean lines and wooden shelves' organic beauty complement each other flawlessly, providing the perfect display for your favorite decor pieces or books.
25. Wainscoting Wall Idea For Entryway Ideas

Image by thosedecorideas
Enter wainscoting, the ultimate game-changer for your entrance. This timeless and elegant wall treatment adds a touch of sophistication that instantly captivates your guests. From classic raised panel designs to modern shiplap styles, wainscoting offers versatile options to match your décor vibe.
26. Black Shiplap Walls For Entrance

Image by annavynguyen
The dark hue exudes a sense of mystery and sophistication, while the shiplap texture brings rustic charm. Whether your style is modern or farmhouse, black shiplap complements various aesthetics, creating a versatile backdrop for decorative accents. And look at those wall baskets, amazing, right?
27. Rustic Wooden Mirror As A Focal Point

Image by modernhistoryfurniture
Transform your entryway into a cozy haven with a rustic wooden mirror set against a charming board and batten wall. This delightful combination adds a touch of warmth and character that welcomes you home with open arms. The rustic wooden mirror exudes timeless elegance while reflecting natural light to create a sense of spaciousness.
Read – 30 Stunning Hallway Light Fixtures For A Luxury Touch
28. Traditional Inviting Entryway With Unique Collection For Art And Family Heirloom

Image by spacesbyjohnross
Step into our traditional entryway, where history and art intertwine, creating a warm and welcoming ambiance. The harmonious blend of art and family heritage creates a captivating atmosphere, inviting guests to explore the rich tapestry of our past.
29. White Board And Batten Wall With Wooden Accents

Image by graceinmyspace
Are you looking to add character and sophistication to your home decor? This classic wall treatment brings a touch of farmhouse elegance and rustic charm to any room. The crisp white backdrop creates a fresh and airy ambiance, while the wooden accents add warmth and texture.
30. Simple Beige Wall With Classic Rug For Entryway

Image by our.1st.humble.abode
Embrace the charm of simplicity with a timeless beige wall paired with a classic rug for your entryway. The muted beige hue sets a soothing tone, instantly creating a warm and inviting atmosphere for your guests.
FAQs
Q. What do you put on the wall of an entryway?
The wall of an entryway is a fantastic opportunity to make a solid first impression on guests. Consider placing a stylish and functional console table against the wall with a mirror or artwork above it. A decorative wall clock or a gallery of framed family photos can also add a personal touch. Additionally, floating shelves with decorative items like plants, candles, or small sculptures can infuse the space with personality and warmth.
Q. How do you make a small entryway look nice?
To make a small entryway look nice, maximize the available space while maintaining a clutter-free and organized appearance. Opt for a slim console table with open legs, which creates an airy feel and makes the area appear larger. A strategically placed mirror can reflect light and visually expand the space. Use wall-mounted hooks or a small coat rack to keep outerwear tidy and out of the way. Incorporate a small rug or runner to add texture and create a welcoming feel as visitors enter.
Q. How do you style a long entryway wall?
Styling a long entryway wall offers the chance to get creative and design a visually captivating focal point. Consider a gallery wall with different-sized frames and art pieces. This arrangement can draw attention and break up the monotony of a long wall. Alternatively, a series of large mirrors or a collection of wall sconces can add a sense of symmetry and elegance. To make the most of the vertical space, consider tall potted plants or decorative wall panels to add visual interest and height.
Q. What to do with a weird entryway?
Dealing with a weird entryway requires thinking outside the box and embracing its unique quirks. Emphasize the distinctive features by using bold colors or patterns on the walls. If the space allows, create a cozy reading nook or a mini mudroom by incorporating a small bench with storage and wall-mounted shelves for shoes and accessories. If the ceiling is high, consider installing a statement light fixture that draws attention upward. Play with different decor elements to turn the weird entryway into an intriguing conversation starter that reflects your style and creativity.
If you love these ideas, don't forget to pin the above image to your "Home and Garden" board.