Feature Image Source: cukrinisavinelis 
Christmas is a celebration filled with exchanging lovely presents. Whatever presents you decide on gifting would surely be thoughtful, but there is another way of making the gesture even more meaningful, and that is through these Christmas gift wrapping ideas. We think that this Christmas is perfect for ditching the store-bought gift bags and switching to one of the following Christmas gift wrapping ideas. After reading this post, you'll realize that these gift-wrapping DIYs are lovely and super easy to do and add a personalized touch. It not only makes gift opening way more exciting but also adds to the beauty of the gift. It really makes your Christmas celebration memorable and adds enthusiasm to the festivities. 
We've rounded up some of the easiest yet fancy ways to gift wrap your sentimental Christmas gifts in a budget. If you love these ideas and are in a creative zone, check out these DIY Christmas Cards and DIY Candles and Tea Light Decorations.
1. The Rosy Black Gift Wrap Idea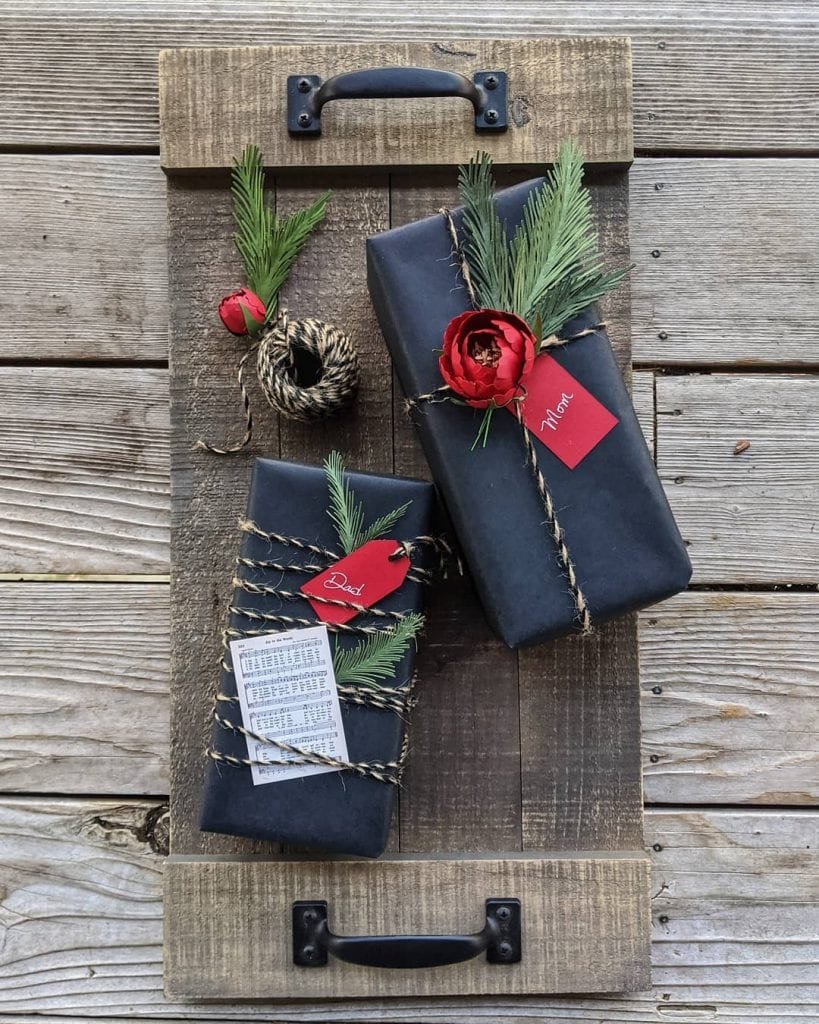 This elegant gift-wrapping idea by windblownideas is a unique twist to the traditional Christmas gift wrap. It is effortless and quick to make and requires very few things like black paper, some string, fake flowers (preferably red), some greeneries, and name tags. Wrap your gifts using the black paper and tie some twine around the wrapped gift. Add the fake flower over the string intersection and tuck some greeneries into the string. Add a name tag or a wish tag, and your beautiful gift is ready to send out!  
2. The Oh-So-Christmasy Gift Wrap Idea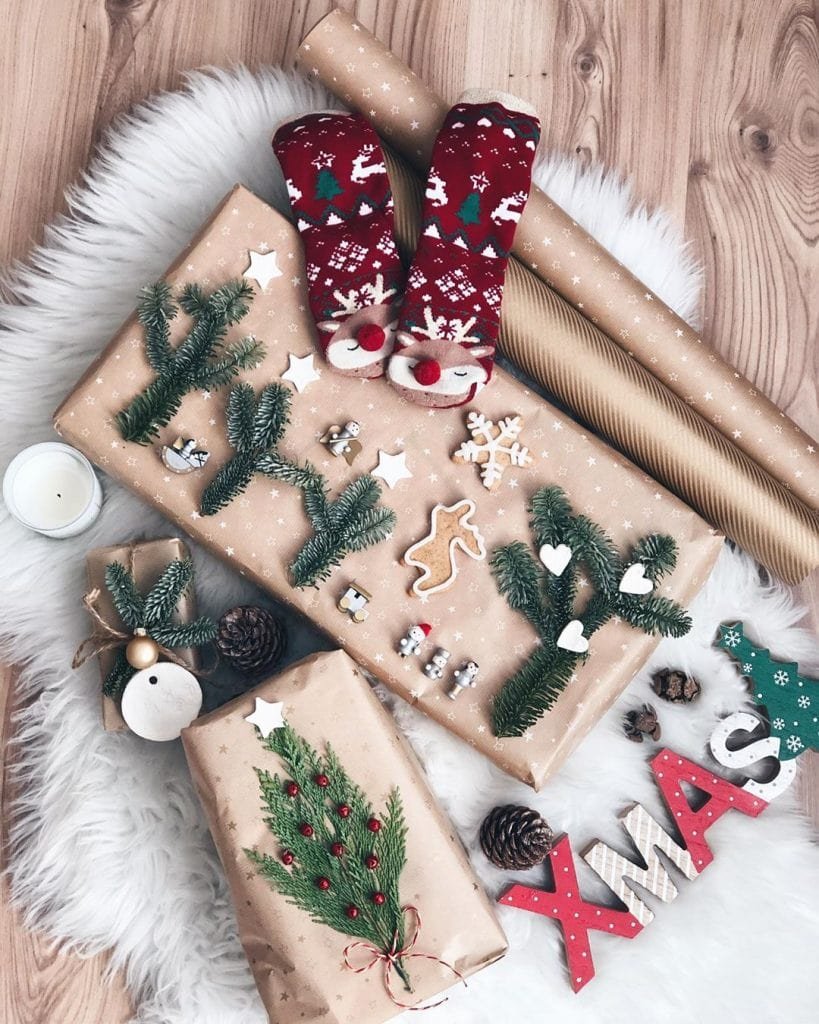 Adding gift toppers is another fantastic way of wrapping those heartfelt gifts. Use a classic kraft paper (brown paper) to wrap your gifts. Add some gift toppers like some fake greeneries, snowflakes, and other small embellishments, and it is ready! This Christmas gift wrapping idea by la.petite_mademoiselle takes two minutes to make, and just sticking some decorations makes your gift wrap way more appealing than just a simple kraft paper. So, while shopping for your pine tree's decorations, buy some more for your gift wraps this Christmas season.
3. The Printed Christmas Gift Wrapping Idea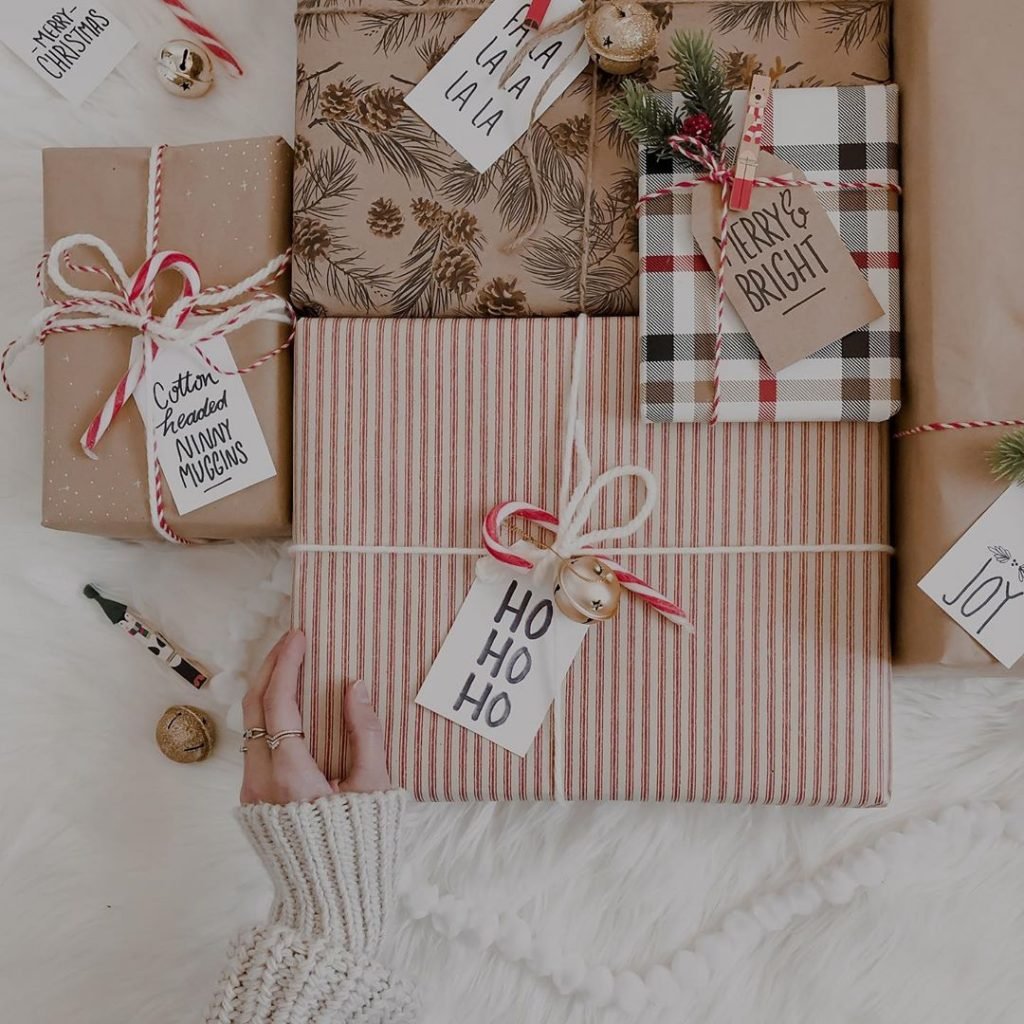 Using printed gift wrapping paper rather than plain colored paper instantly makes your gifts elegant and expensive looking. You can choose from the wide variety of printed papers ranging from striped, floral to plaid patterns. Wrap some string around the gifts in a bow. Add some handmade tags with Christmasy captions. For final touches, add some Christmas ornaments like candy canes, Christmas bells, or greeneries. Finally, you have created this stylish Christmas gift wrapping idea by oo1kristen1oo.
4. The Tiny Bear Christmas Gift Wrapping Idea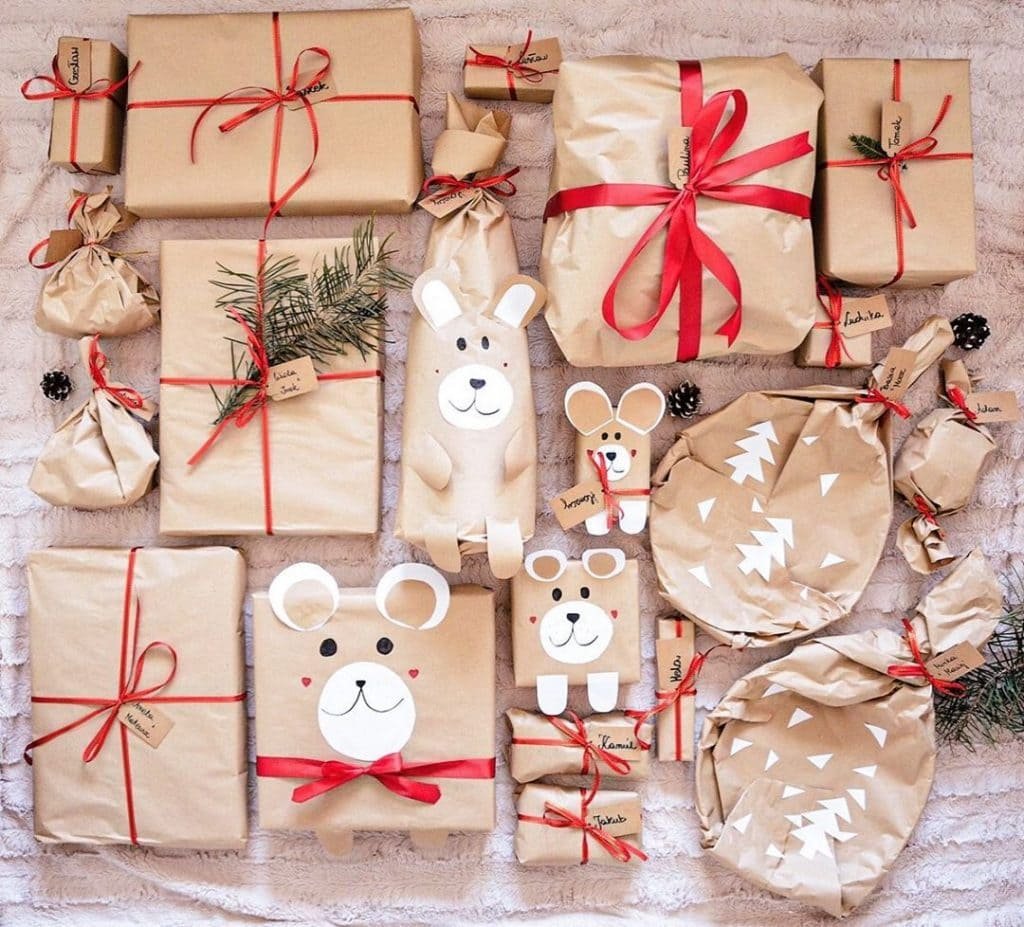 How about adding an adorable touch to your gift wraps this Christmas? This Christmas gift wrapping idea by kasmatka turns your gifts into tiny, cute bears. Wrap your gifts using classic kraft paper and add a red ribbon as a bow for the bear. Use some white circular paper and scribble a bear mouth on it. Cut out two ears using the same white paper. Stick these over the wrapped gift and add extra cuteness by drawing red dots on the cheeks. Your little bear gifts are ready to hear "awww" from the recipients.
5. Paper Animals Christmas Gift Wrap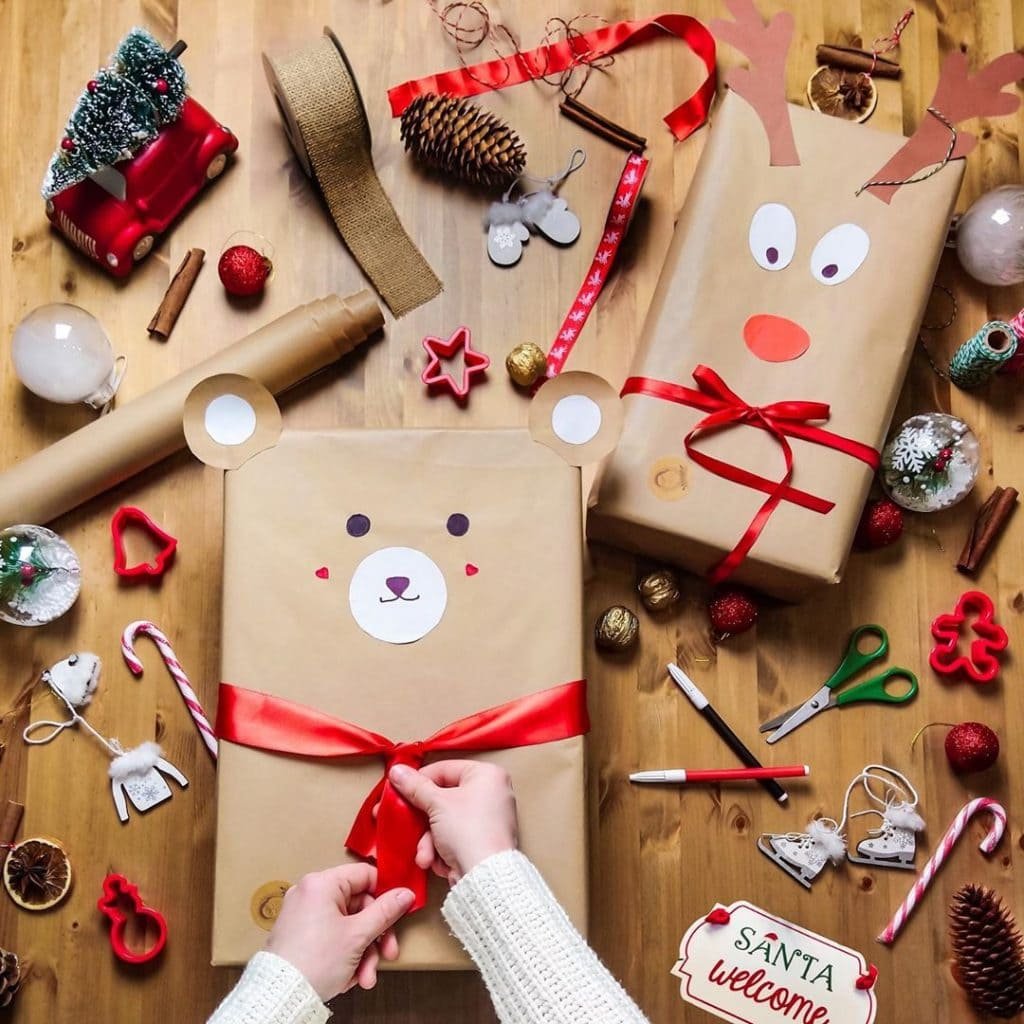 How about greeting your loved ones with cute reindeers, polar bears, or penguins? Turn some boring kraft paper into this pretty Christmas gift wrapping idea by natalia_kaklewska. This idea is universal and can be gifted to anyone from little children to adults. Simply snip some mouth and ears from white and red paper, and add bows to these small animals. Send it out and make your gifts super memorable. 
6. The Faux Natural Gift Wrapping Idea
This minimal idea by windblownideas uses monochromatic succulents on top of black wrapping paper. It is straightforward and quick to make but has a very classy look to it. All you need are some black paper, string, tags, and some succulents. You can buy these readymade decorations, or make them yourself using paper, foam, or felt. Try using succulents of different tones of a single color for a luxurious feel. Wrap some string around the gift and put on a tag with a lovely Christmas wish.
7. The Last Minute Christmas Gift Wrapping Idea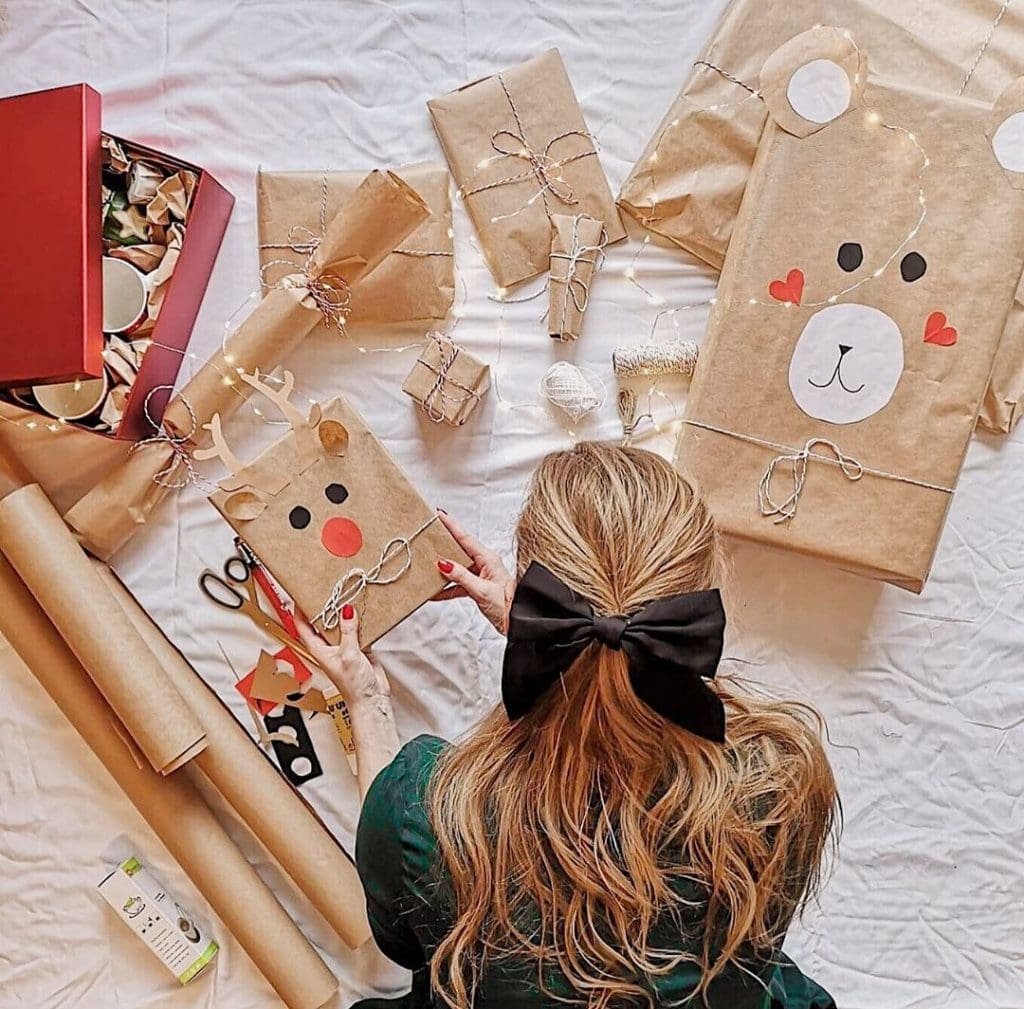 This Christmas gift wrapping idea by sew.what.now is an excellent way to wrap those presents when you are on time and budget crunch. All you have to do is wrap your gifts with the classic kraft paper and some string. What makes this Christmas gift wrapping idea unique is the shape that you pack these gifts in. While you can draw some bears on the gifts for a cute look, you can also wrap your gifts in the shape of toffees to make them appealing. Adding a string bow is a creative way to decorate your gifts.
8. The Natural Toppers Christmas Gift Wrapping Idea
Ditch the traditional gift bows and opt for something a lot more seasonal, like fir leaves, pine branches, rosemary, pinecones, holly sprigs, or anything else available. These natural gift toppers pop against the plain brown kraft paper and add a fresh fragrance as well. For some extra detailing, draw some Christmas designs on the kraft paper or write some wishes using a white marker. Finish it off with some string of the same color as the topper, put on a name tag, and send it to your loved ones.
9. Recycled Christmas Gift Wrapping Idea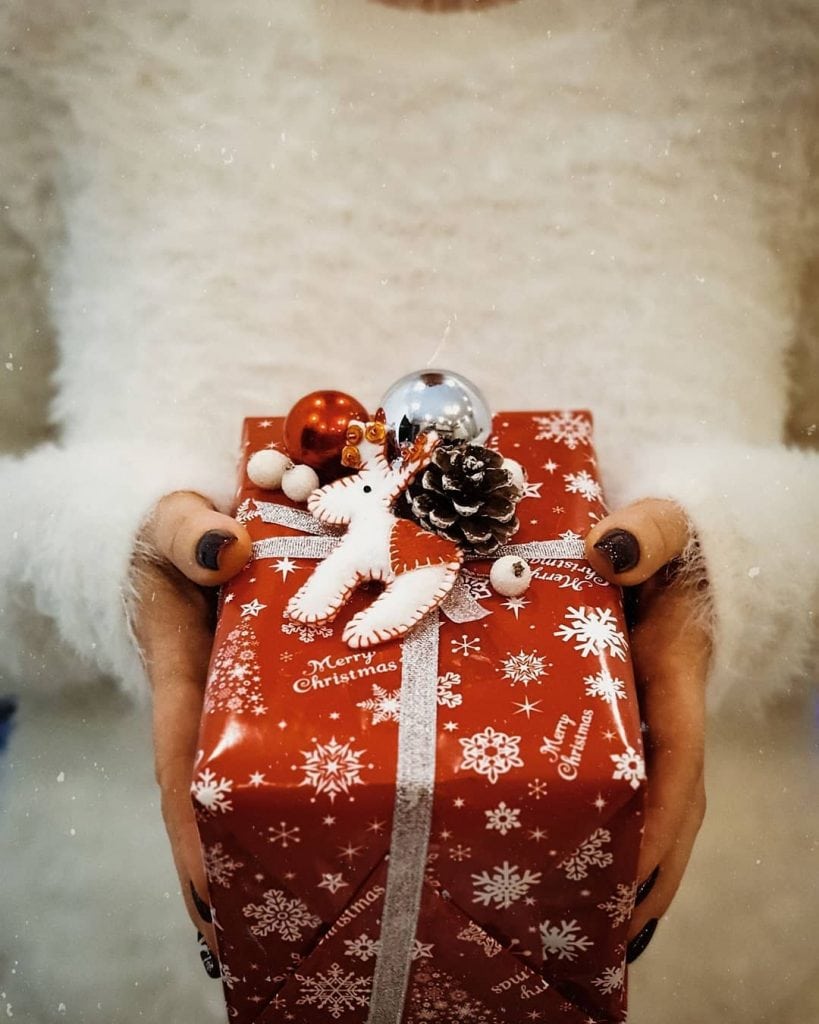 Wrap smaller gifts using the leftover wrapping paper from larger gifts. You can make this idea by uchilka_eng, using any Christmas themed gift-wrapping paper that is leftover from other gifts or the previous Christmas. Wrap a matching ribbon over the wrapped gift and finish it off with some embellishments like pine cones, jingle bells, deers, etc. This Christmas gift wrapping idea takes only a few minutes to make, is very budget-friendly, but looks equally beautiful.
10. The Effortless Christmas Gift Wrapping Idea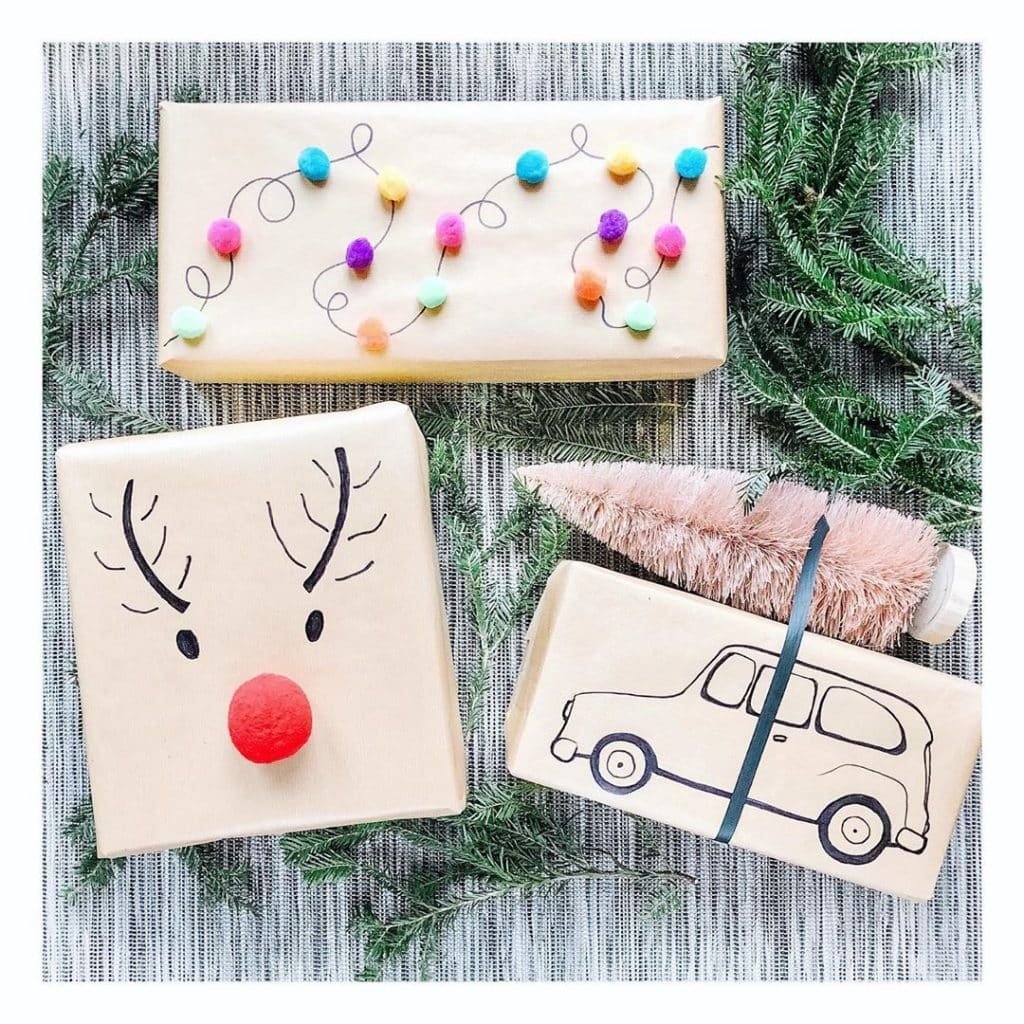 These effortless, colorful, and super adorable Christmas gift wrapping ideas by ritavations are an excellent option if you are not an artistic person. All of these ideas are an innovation on the classic kraft paper. Add some colorful pompoms on a wavy line drawn across the gift, to achieve the first design. For the second design, draw reindeer ears and eyes using a black marker and add a red pompom for the nose. For the final idea, draw a vintage car on the kraft paper using a black pen and tie a bottlebrush tree over it. You can recreate these using easy to find supplies. So get started now!
11. The Dried-Orange Gift Wrap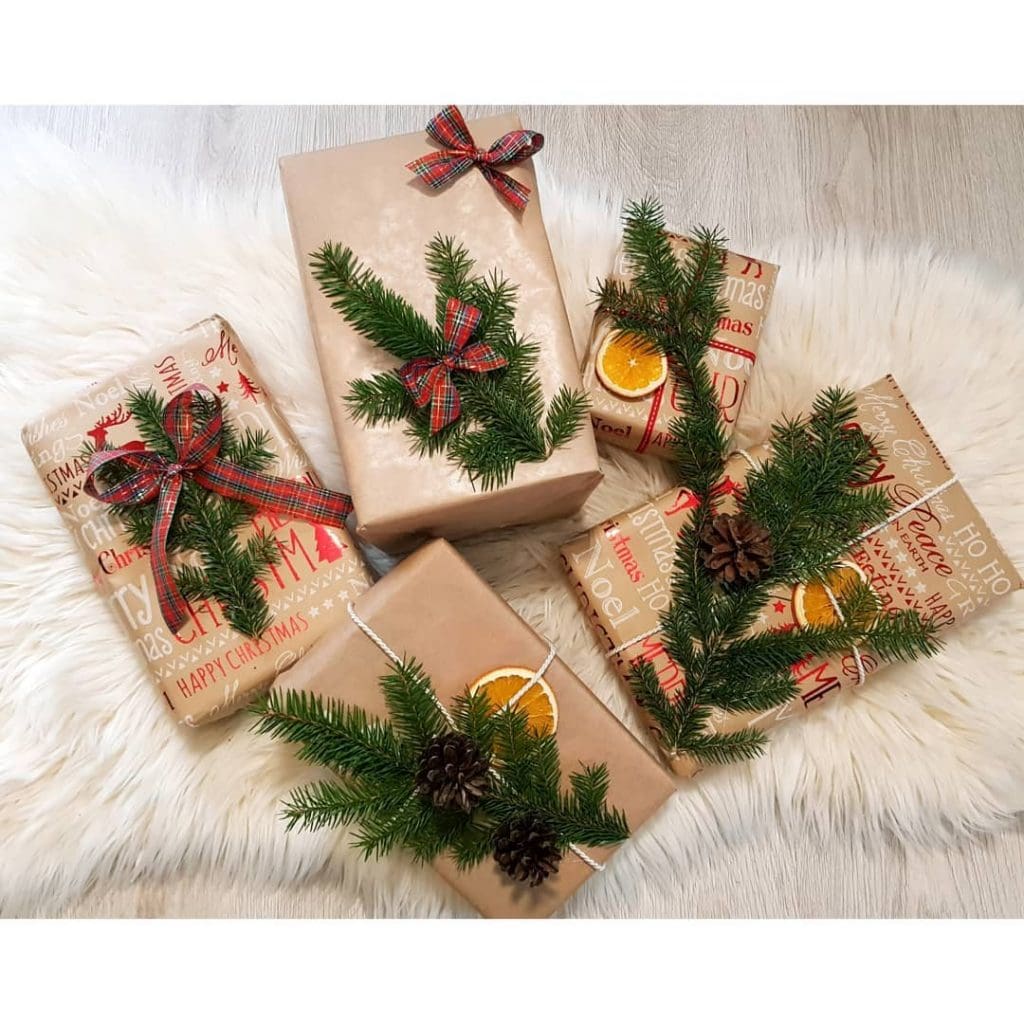 This unique Christmas gift wrapping idea by zmalowanaaa_ not only adds a pop of color to your gift wrap but also adds a refreshing scent. Wrap your gifts using plain/printed kraft paper and add some greeneries (preferably blue spruce). Use some twine and add a slice of dried orange on the gift wrap. Finish it off with some bows, pine cones, or other decorations, and your presents are all dressed up.
12. The Eco-Friendly Gift Wrapping Idea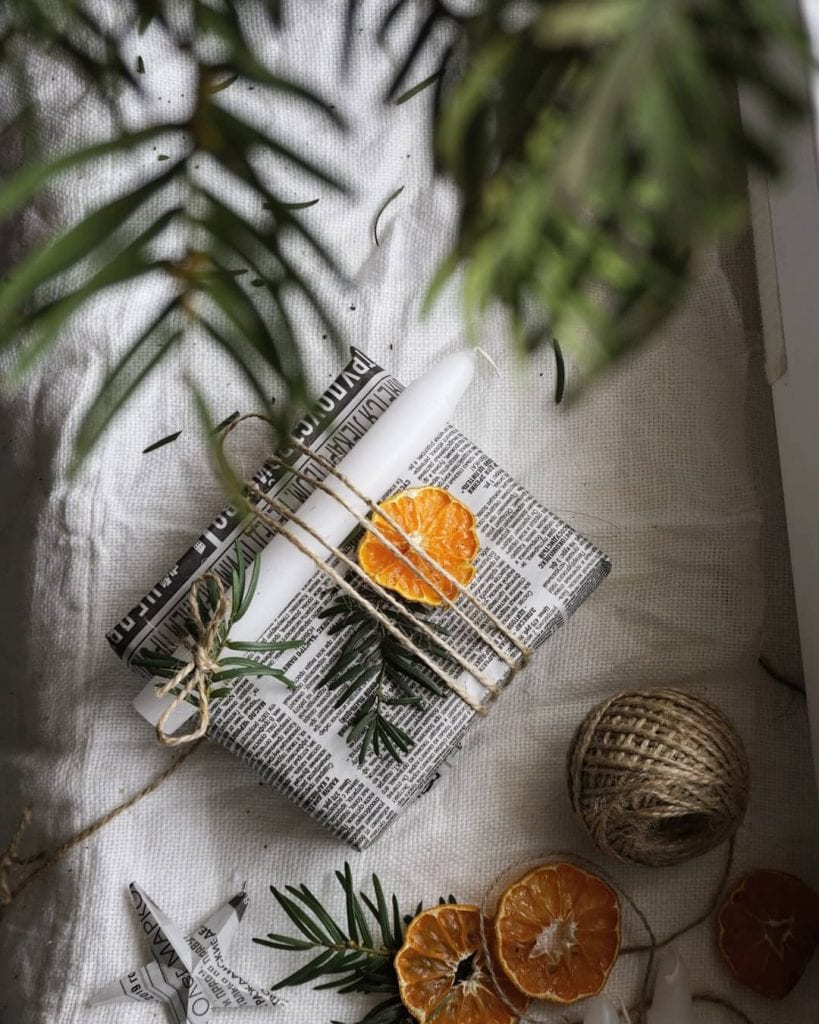 This environment-friendly Christmas gift wrapping idea by nalexafana uses newspapers to wrap the gifts instead of new wrapping paper. It is a great way to add a vintage look to your presents while giving back to nature. All you have to do is wrap your gifts using newspapers. Tie some dried oranges along with greeneries using twine for a pop of color. For blessing brightness into your loved ones' lives, this Christmas, tie a candle with the present as well, and it is ready!
13. Polka Dot Gift Wrapping Idea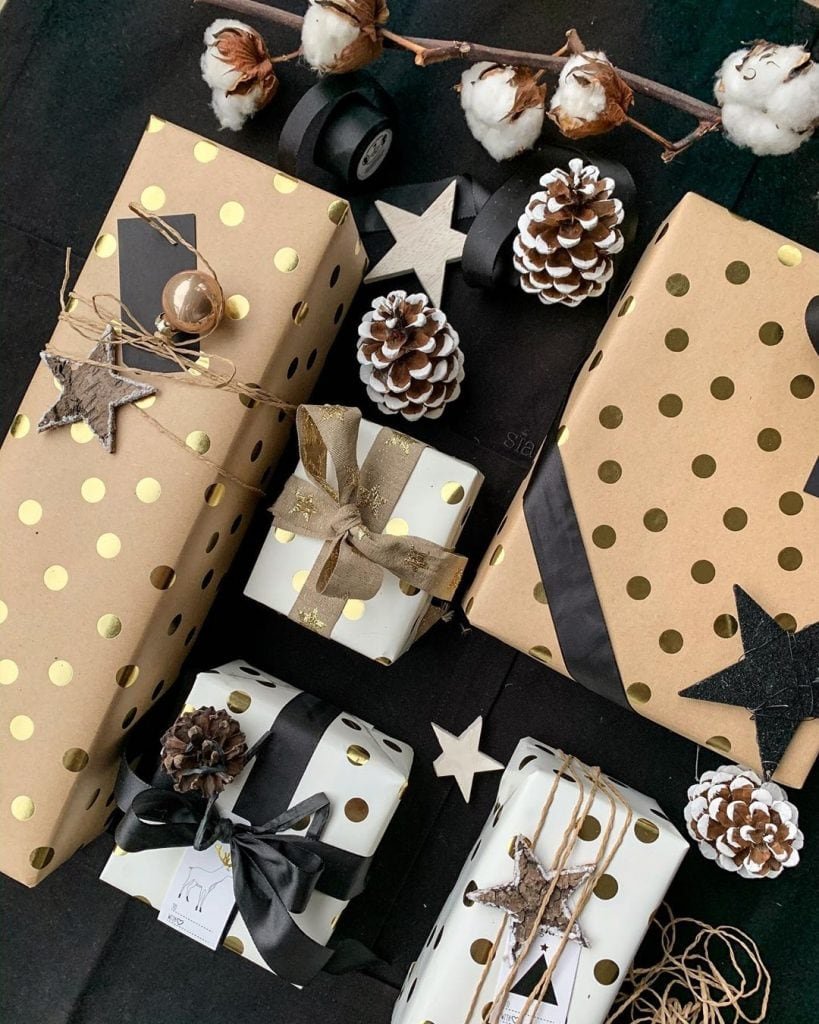 Polka dots instantly add a luxurious yet funky touch to anything. So why not add them to your gift wraps as well? Take any polka-dotted paper; it doesn't have to be green or red. No matter which color, polka dot patterns look great paired with some embellishments or ribbons. If you can't find polka dot paper, you can also take plain kraft paper and add circular stickers or dots using paints over it to get a similar look. So, amp it up by using this Christmas gift wrapping idea by monika1777.
14. The Black and White Gift Wrapping Idea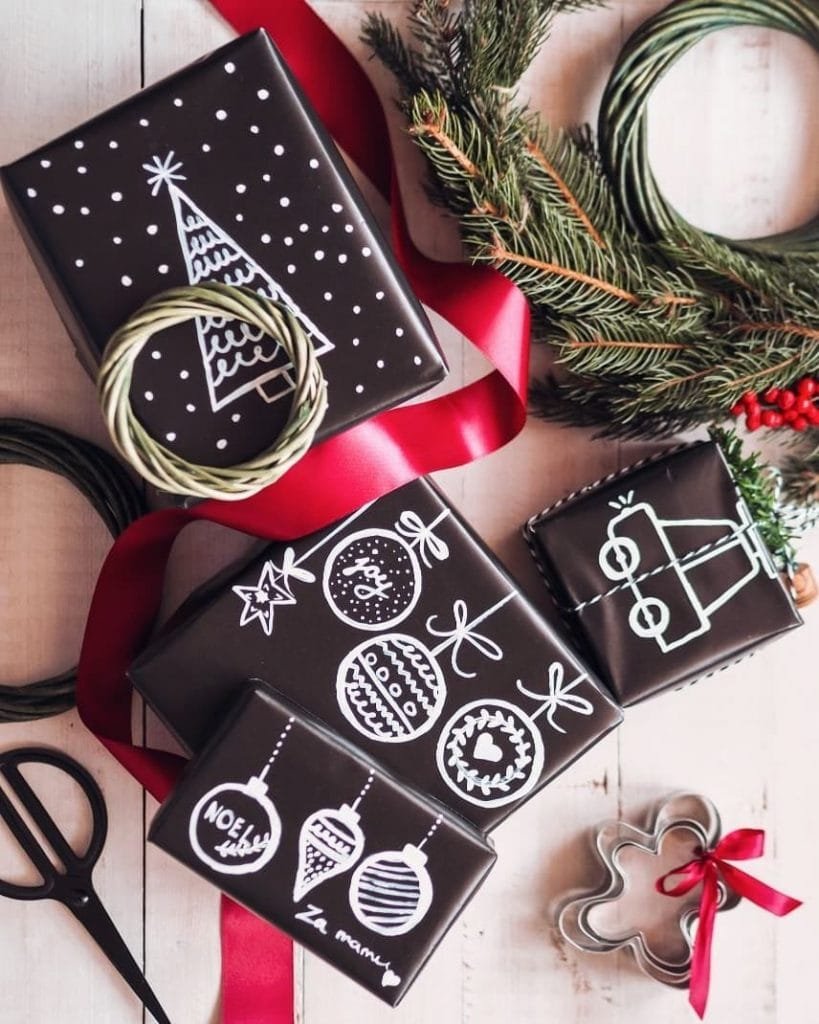 A classic and chic way of gift wrapping your presents is to go for the black and white theme. You can never go wrong with this and can choose from a lot of variety. Either buy similar looking printed paper as used in this Christmas gift wrapping idea by matea_halilovic, or use plain black or dark-colored paper and paint or scribble these drawings/designs using white paint or marker. Add a bow or twine if you feel like, and that is it!
15. The Best Out of Waste Gift Wrap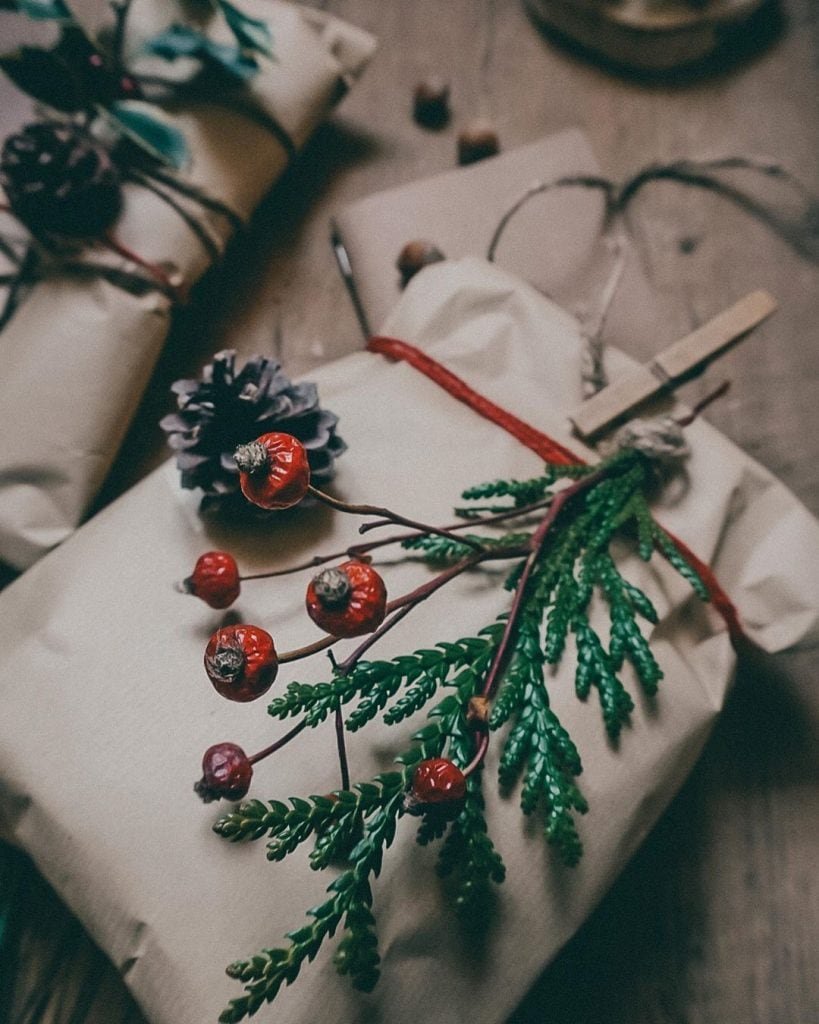 This lovely idea by press_liz not only looks store-bought but is also recycled using supplies lying around the house. The paper used to wrap the present is filler paper preserved from courier packages. The branches and greeneries are from the forest. The cords are reused from the last Christmas. This idea is a sustainable way of packaging Christmas presents this year. The money that you save can be spent on buying some delicious Christmas treats!
16. The Christmas Moose Gift Wrap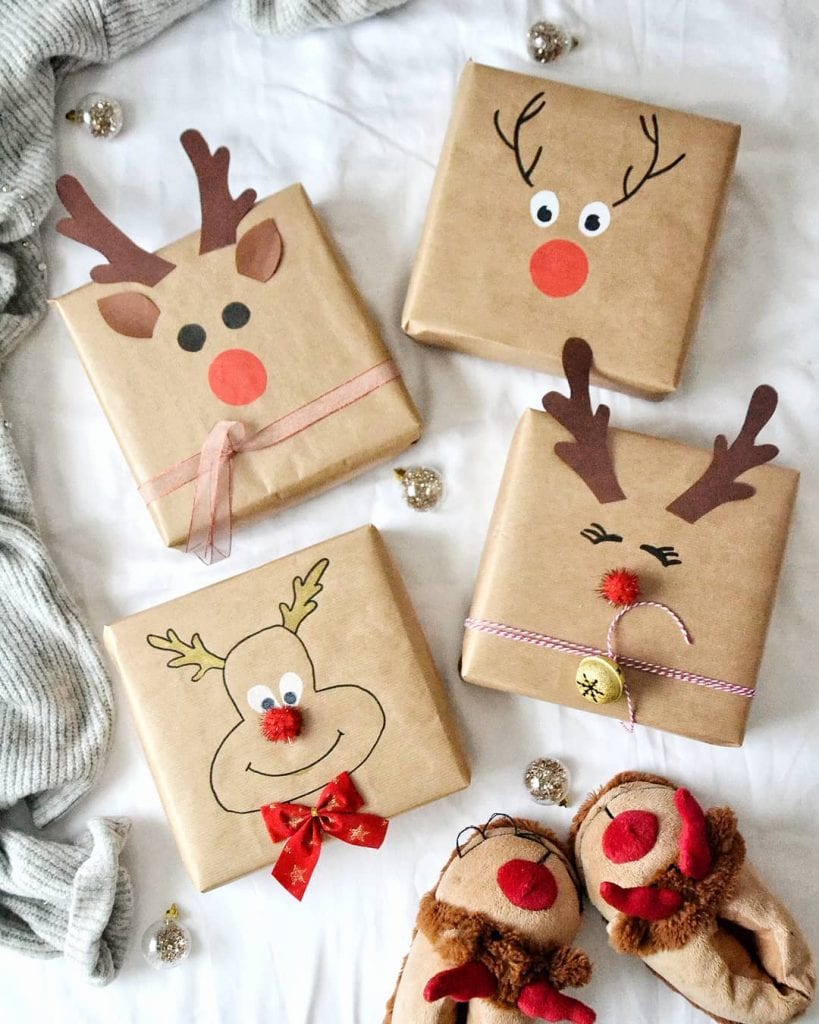 This playful Christmas gift wrapping idea by cukrinisavinelis is a smart idea that anyone could receive. It is also versatile as the kraft paper is a blank canvas to get creative. You can make any desired design that you like. Some of the above moose gift wraps are inspiring enough to get started. You can create similar designs using some colored paper, colored pens, some red pompoms, and tiny embellishments,
17. The Fluffy Topper Christmas Gift Wrap
Add some fluffy colors to your Christmas gift wraps this holiday season. This quick Christmas gift wrapping idea by matea_halilovic needs only two things to replicate: kraft paper and pompoms. You can make pompoms of any size or color that you like and simply stick them onto the presents wrapped in kraft paper. Add other embellishments if you feel like going all out. That is it! Just a few minutes, and your gift is all wrapped up.
18. Beyond the Red+Green Gift Wrap

Swap those traditional red and green wrapping paper with beautiful purples and magical blues. They are a unique touch to the overwhelming Christmas green and red theme. Wrap your presents in purple, and they are sure to stand out! Add some ribbon bows, along with leaf cutouts of bright contrasting colors, and your out of the box present (well, not really) is ready. 
19. The Photo Gift Tag Idea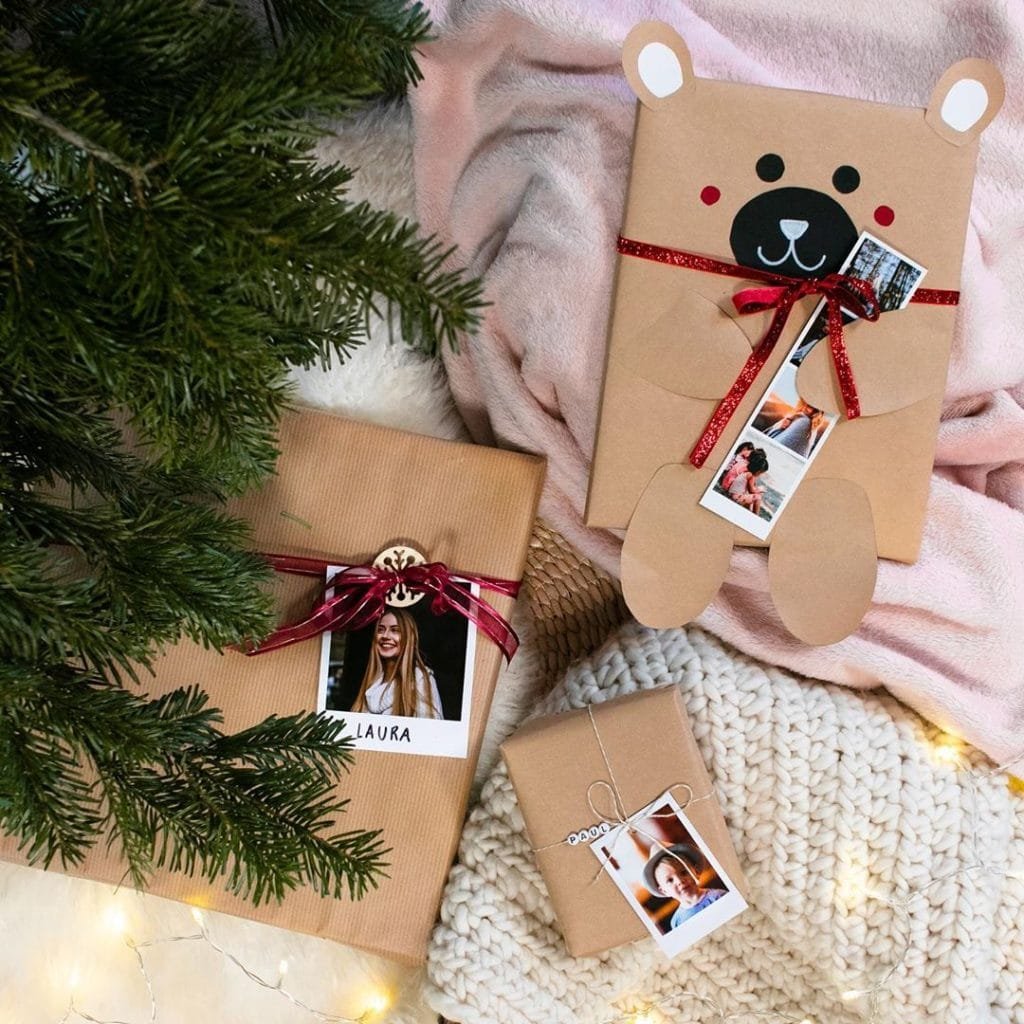 Receiving a gift with your picture on it, really makes you feel special. So, why not give some of these photo tag gifts this Christmas? Wrap your gifts in any way you like using any wrapping paper. Stick a photo of the receiver or a photo of you both on the wrapped present. Add a bow using ribbon or twine, and your Christmas celebrations have become way more personalized! For a detailed tutorial, check out this idea by lalalab. 
20. The Rustic Elegance Christmas Gift Wrapping Idea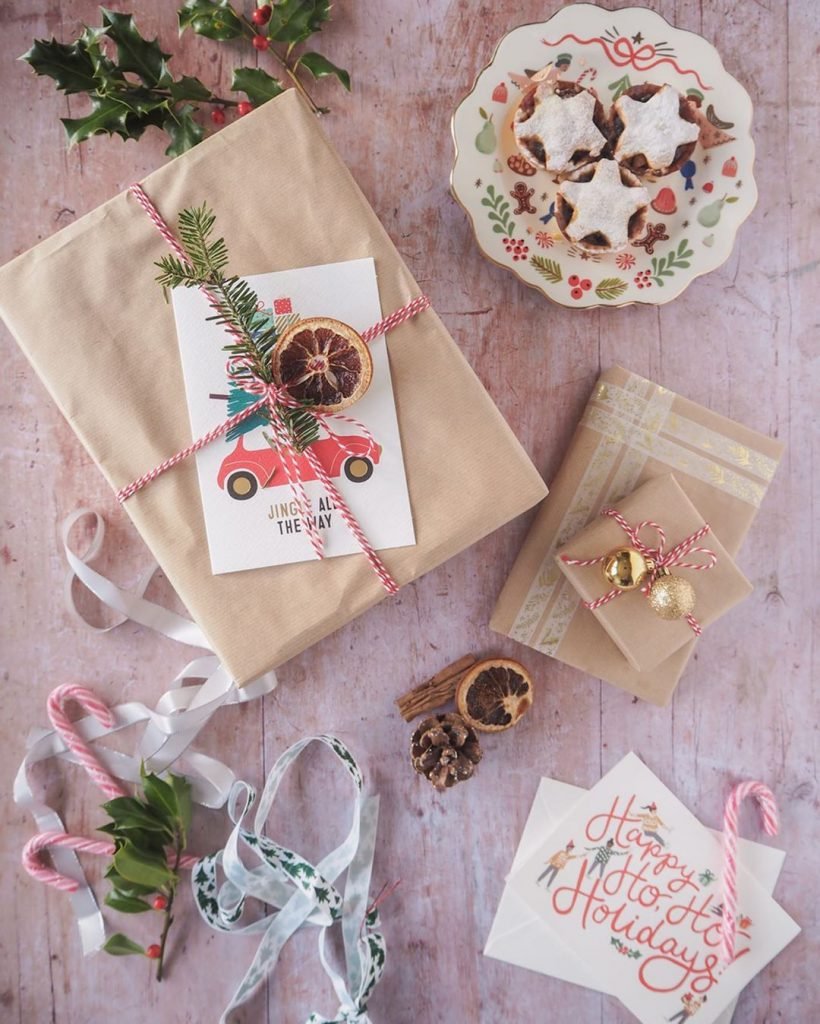 This idea by ghenetactually is a combination of elegance and simplicity. It combines all of the Christmas gift wrapping ideas together and uses elements from each. Start by wrapping your gifts using kraft paper and tying string or twine around it. Stick some greeneries in the twine along with a slice of dried orange. You could add any other embellishment of your choice. Slide a Christmas card in the twine and send it off to your loved ones.
21. Pretty Poofs Christmas Gift Wrapping Idea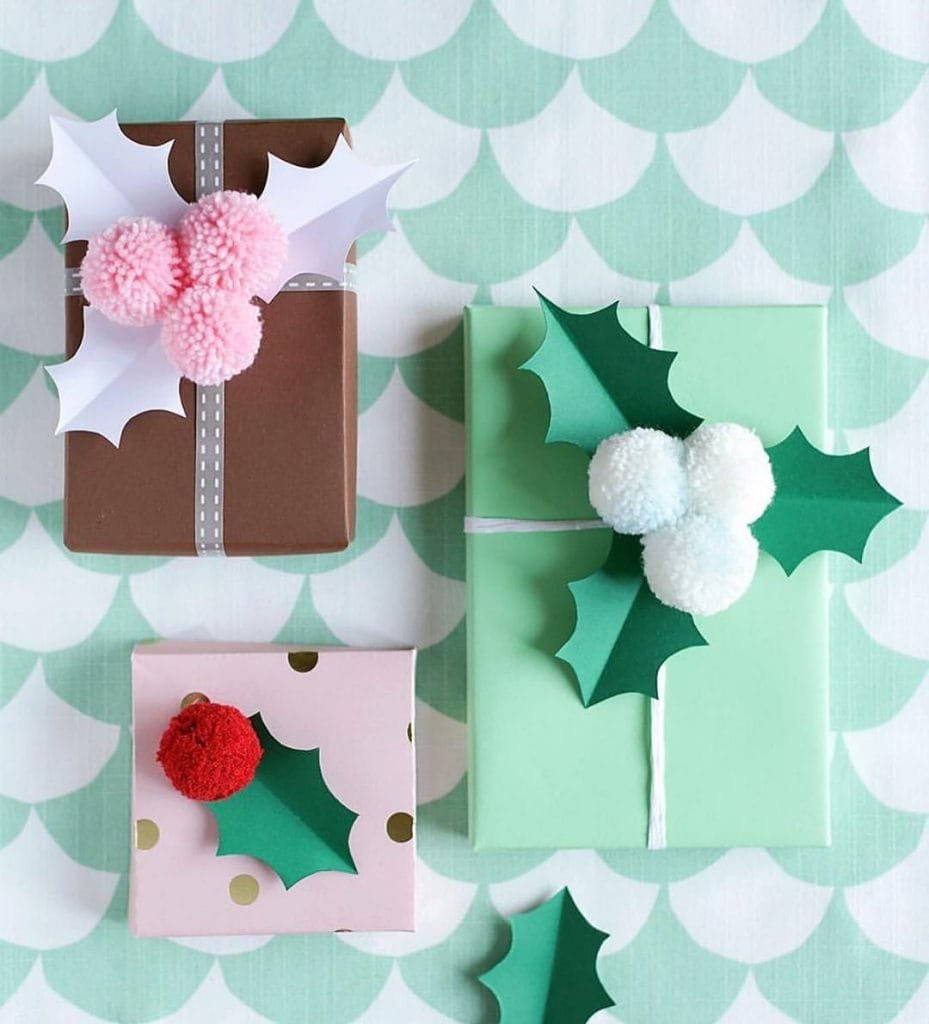 Got some leftover yarn? Start making some fluffy pompoms to decorate your gift wraps. You could group a trio or use a single giant poof. Add some paper leaves, and your decorations are all ready. Stick these over some colorful gift wrapping paper. Wrap ribbon or twine around the present. This minimal yet festive Christmas gift wrapping idea by pinjacolada is already.
22. The Metallic Gift Wrapping Idea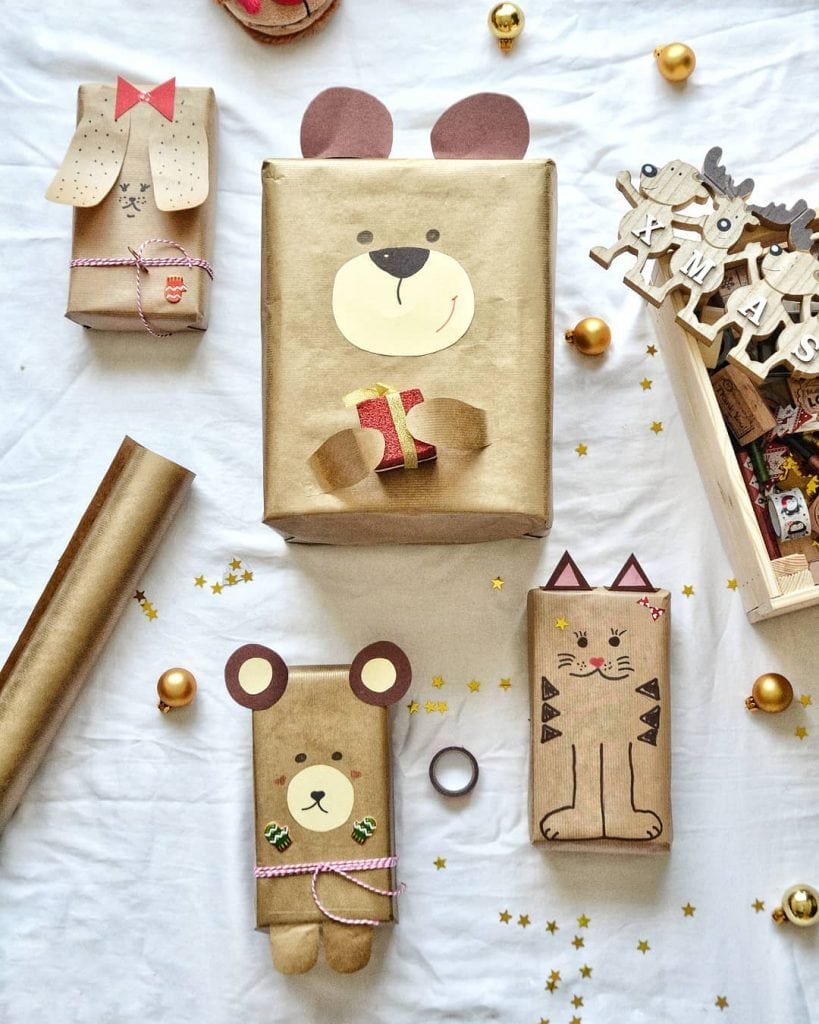 Instead of using kraft paper for creating adorable animal designs, use some metallic wrapping paper for an aesthetic appeal. You could use shades like gold, silver, rose gold, etc. After wrapping up your gifts, draw on cute animals from bears to kittens to penguins. This Christmas gift wrapping idea by cukrinisavinelis would surely melt the hearts of your loved ones. 
23. The Ribboned Christmas Gift Wrapping Idea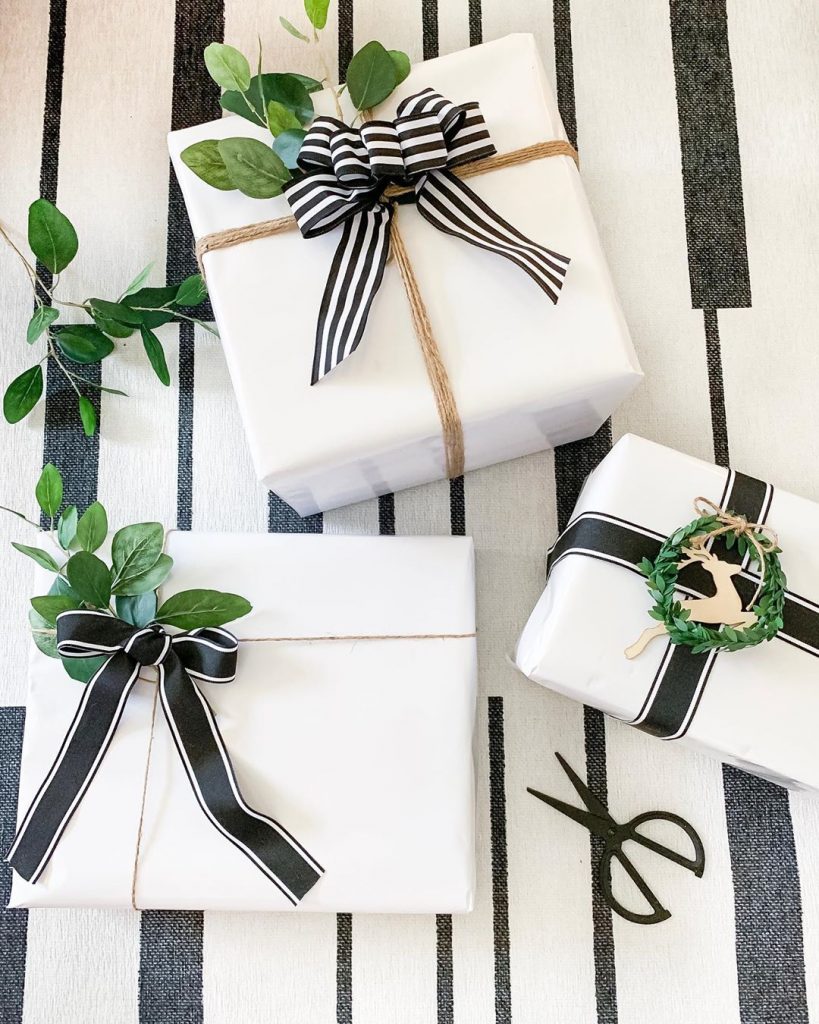 Ribbons are a fun way of adding any desired mood to your gift wraps. Want it to be elegant or luxurious use dark-colored ribbons. Want it to be fun and poppy, use bright colored ribbons, You can adjust the silhouettes of the ribbons according to the gift or the receiver. You can match ribbons to the scheme of your wrapping paper, like the above by clairelynnhome. Finally, ribbons are super cheap and instantly take your gift wrapping skills up a notch! Either wrap the ribbon around the package or add a ribbon bow on the wrapped present. 
24. The Earthy Christmas Gift Wrapping Idea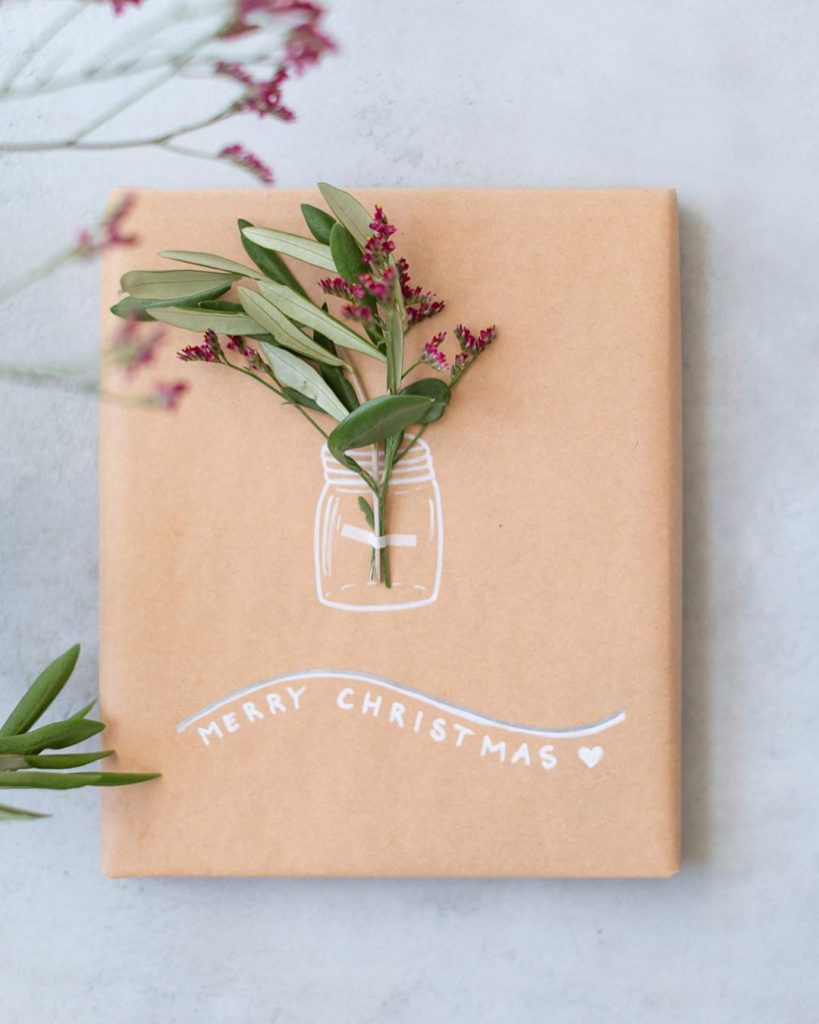 Go back to the "roots" with this earthy Christmas gift wrapping idea by frischverliebt. It is simple, swift, and won't cost you a penny. Wrap your presents using kraft paper, scribble a Christmas message over it using a white marker. Draw a small jar, using the same marker. Tape some greeneries with tiny flowers on the jar, and you have wrapped your gift for the celebrations! 
We hope these ideas inspired you to begin dressing up your Christmas presents in a personalized and unique fashion this year. You don't need a high budget, high craft knowledge, or a lot of time to recreate these ideas. So gather some supplies from around the house and start creating! 
If you loved these ideas, you can use the Pin image below and save this article on your 'Christmas Decor Ideas' Pinterest board.