The weather is changing and so is our mood. Mother earth is prettying up with all the freshly blooming flowers. And we too are ready for some freshness. So freshen your mood and feel the warmth with these April bullet journal ideas. While March is like the prologue of the spring, April is the beginning of the summer days. With the new warmth of the new season, I am sure you are ready to warm up a little. April bullet journal will certainly enable you to keep your schedule on track. 
Like every month has a new theme, a new beginning, new weather, your bullet journal too should have a new beginning just to keep the mood going. So here we are with fresh April bullet journal ideas to keep you motivated. The new themes will not only motivate you but will also cheer you up!
These April bullet journal ideas are gorgeous and perfect for the celebrations of Spring!
Here are some other bullet journal inspirations for you to explore-  20+ March Bullet Journal Ideas To Get Creative This Spring
April Bullet Journal Cover Page Ideas To Welcome The Spring
I love bullet journal cover pages. It sets me in the mood! It certainly sets the mood of the season or rather the month. And this gives the bullet journal a character. A cover page is a great way to cheer you up when you wake up in the morning to see the day's routine. So here are some brilliant and gorgeous cover ideas for your April Bullet Journal.
1. Floral wreath

This cover page idea for the April bullet journal by reddit is just so pleasing. The floral pattern is so true to the month of April. With this beautiful multi-colored floral wreath let the ambitions bloom in your April. This bullet journal cover page is so extravagant with all the somber colors that you will enjoy the whole journaling process.
2. Under the Rain

If a cover page could become romantic then this would be it. Reddit has used a perfect theme for the April bullet journal. With this cover page, you will be reminded of the romantic monsoon that is just around the corner. The pink umbrella is just so romantic, so it will certainly tickle your heart a little this April every time you pick up your journal.
3. Waves of April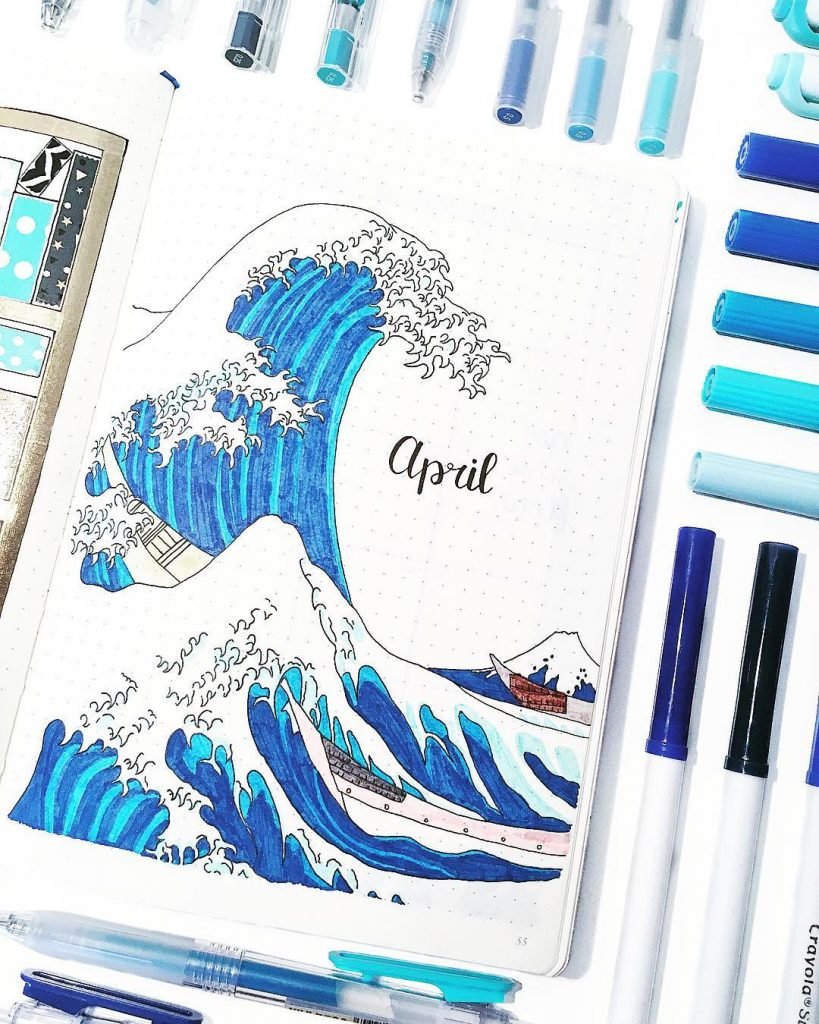 If a cover page could prepare you for a month, then this one is just apt in doing that! This cover page by bulletbycait makes me nostalgic. March has gone by just like the wave of time, and the very next wave has brought in April. With itself, it has brought in new goals, new ambitions, and new targets. So go ahead get those targets and let this April bullet journal cover page motivate you to do just that!
4. Hello April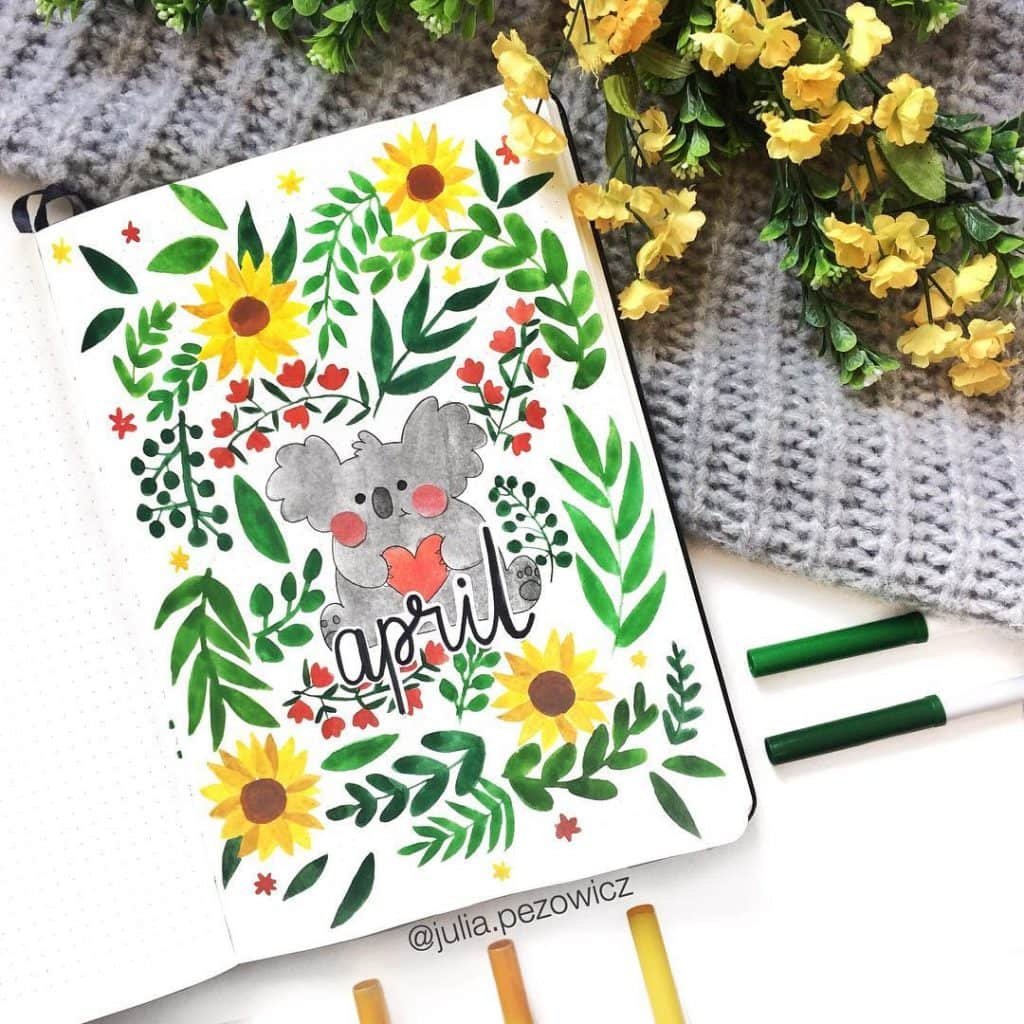 Cover pages are meant to lighten you up, wouldn't you agree with that? And I think this April bullet journal cover page will do exactly that. If you like vibrant colors then you will be delighted by this one by julia.pezowicz. I love how extra this cover page is. And how can one ignore that cutie in the midst of all the contrasting floral doodles? The use of bright yellow color and the dark pastel green makes everything so beautiful!
5. Lavender Love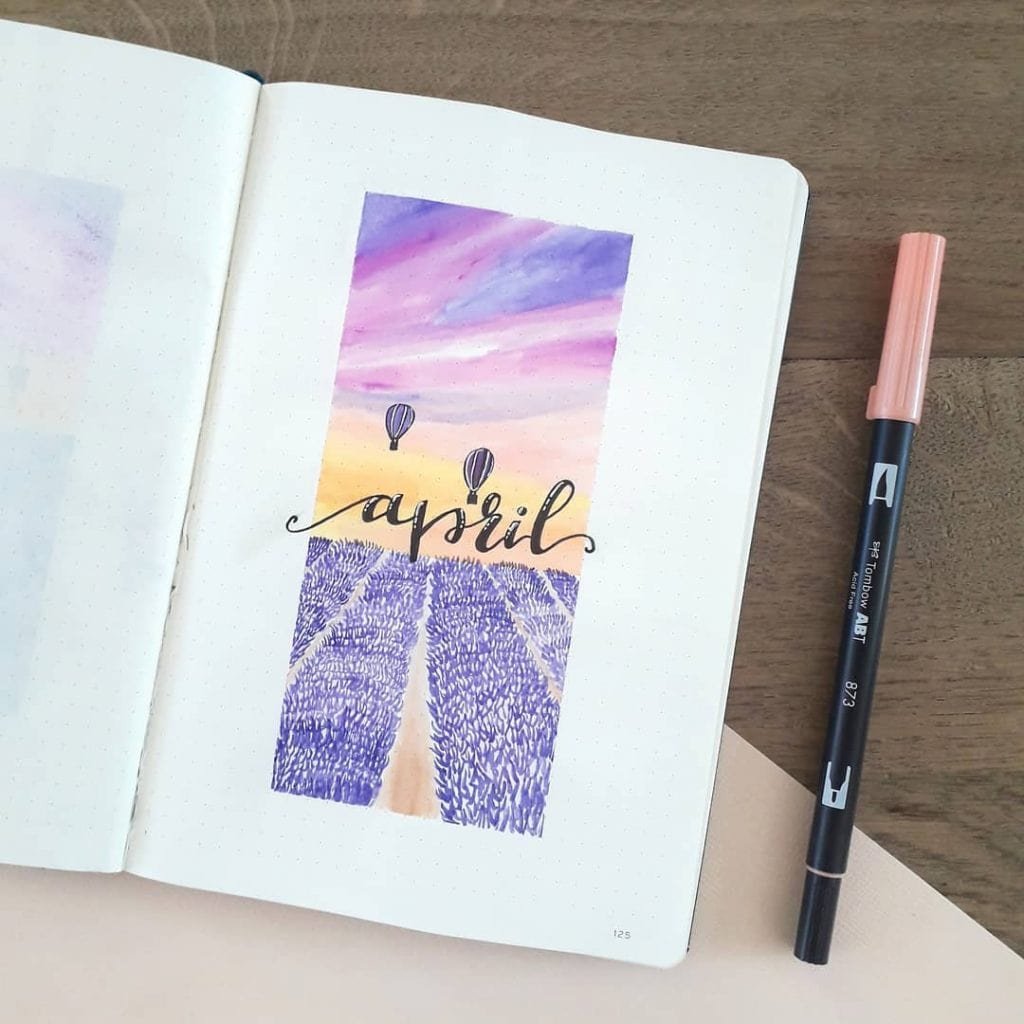 If there is something that is both romantic and dream-like is certainly it is this April bullet journal cover page. Myrthesbujo has created a perfect romantic scene. The addition of the hot air balloon is just amazing, the whole scene looks nothing less than a frame from a movie! The purple lavender has in fact created a lovely atmosphere and has certainly given it a theme.
6. Happiness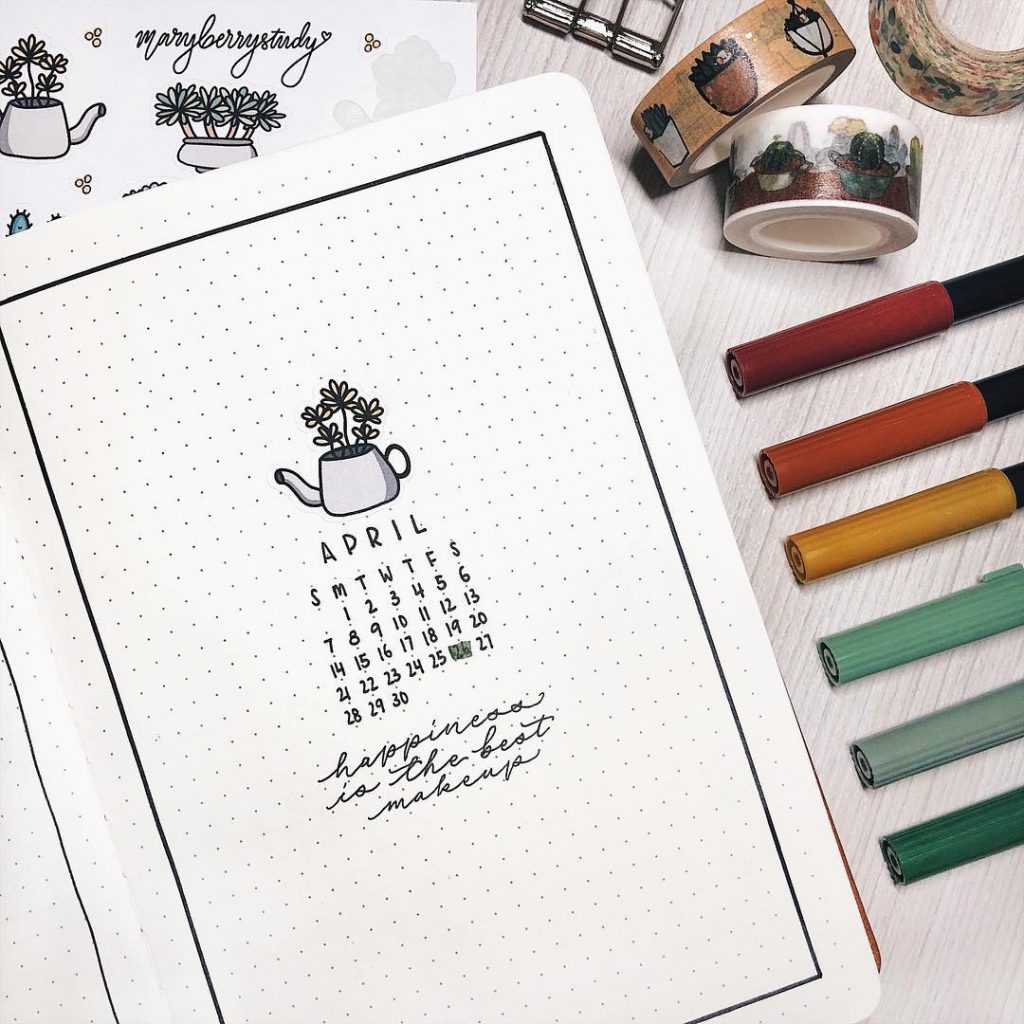 I love it when there is a quote added to the cover page of my bullet journal. For instance, this April bullet journal cover page by dulcetjournals has a beautiful quote that will remind you every day that happiness is the key to unlock life. The inclusion of the calendar takes the whole cover page to the next level. It gives you an overview of the whole month at a glance, and this makes it very convenient. And that miniature flower pot is just the perfect embodiment of Spring.
7. Galaxy of April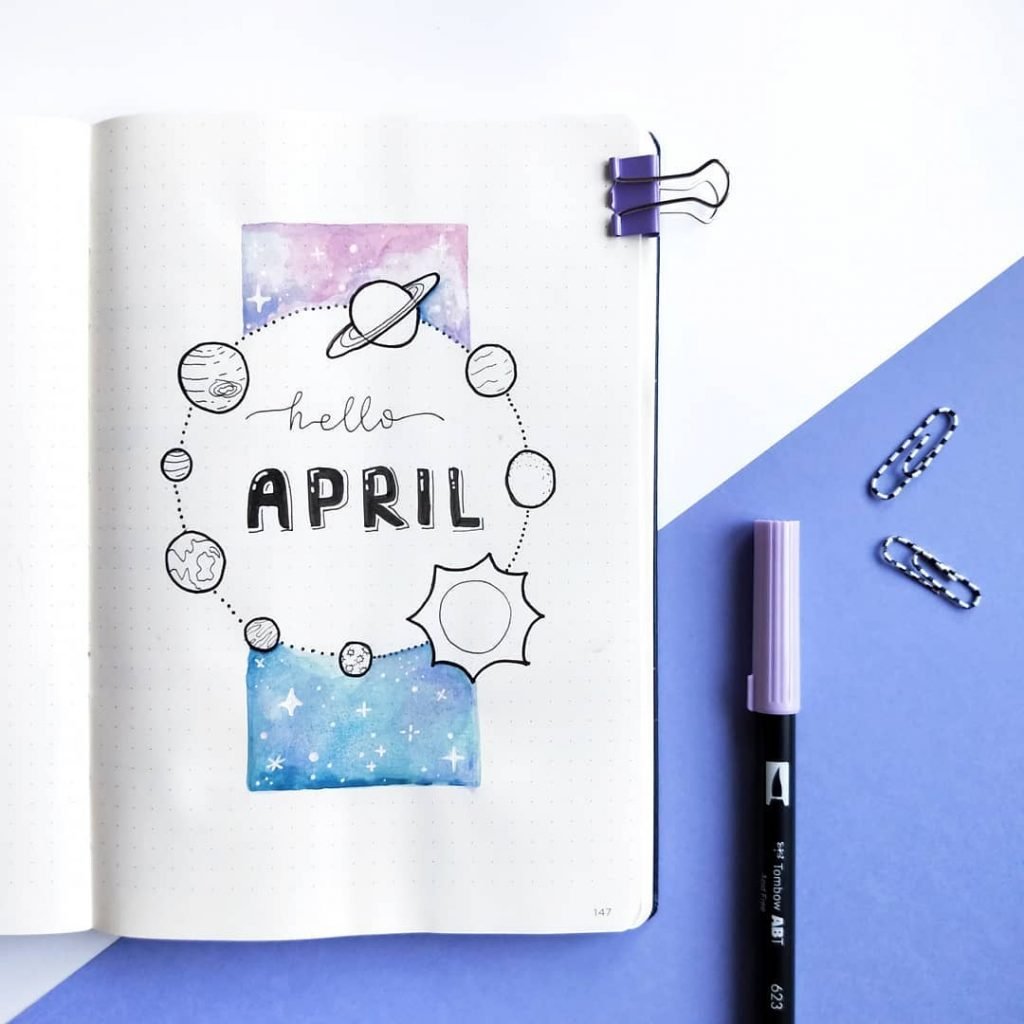 How about some interesting concept like the galaxy for your April bullet journal cover page? Well, if that intrigues you then this one by jade_journals will certainly please your eyes. If you have some handy watercolors then this is the time to play around with some vibrant blue hues. With this journal pick a nebula-like theme for your Spring journal.
8. In the Midst of April Bullet Journal Cover Page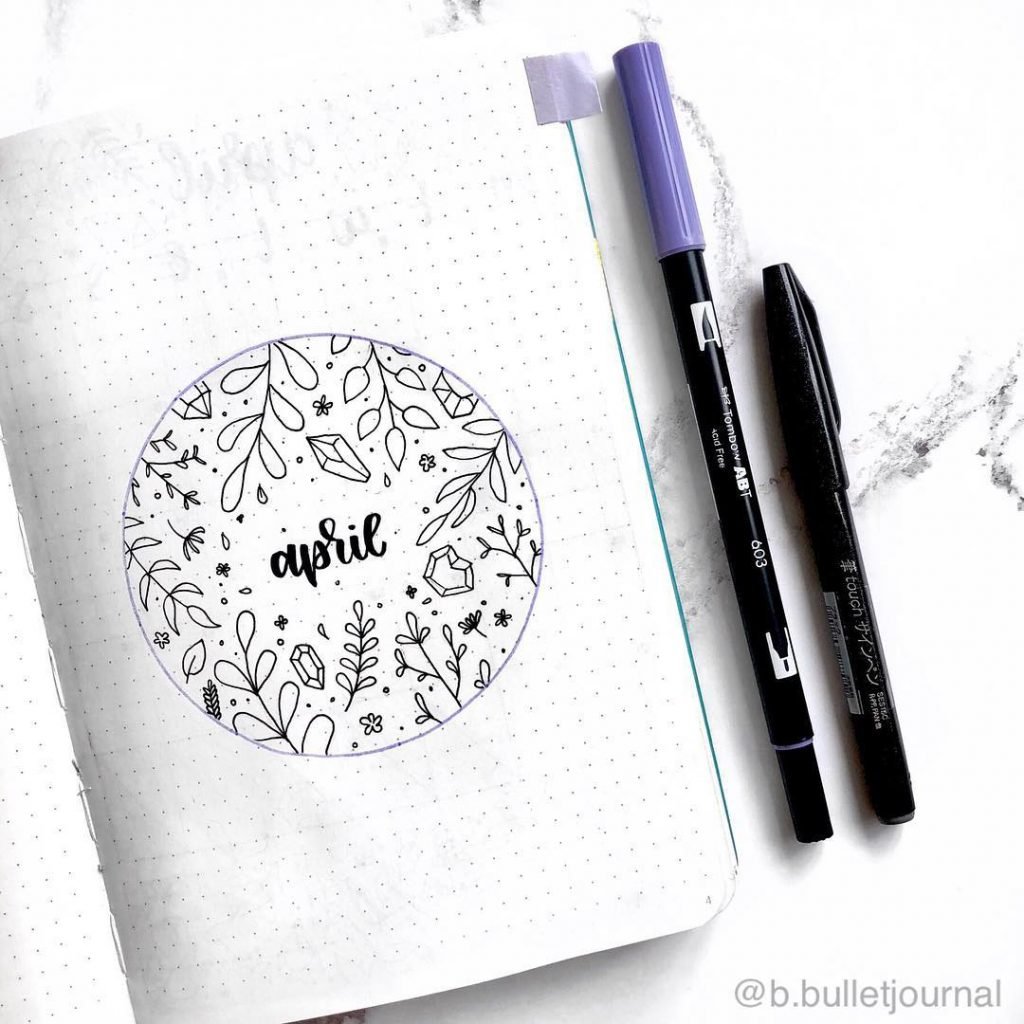 This April bullet journal cover page by b.bulletjournal is so unique. I like the simple lettering of 'April'. The theme is strictly leaves and gems. And as you can see she has chosen the color to be purple that will certainly remind you of the warmth of the Summer sun.
9. Easter Theme for April Bullet Journal Cover Page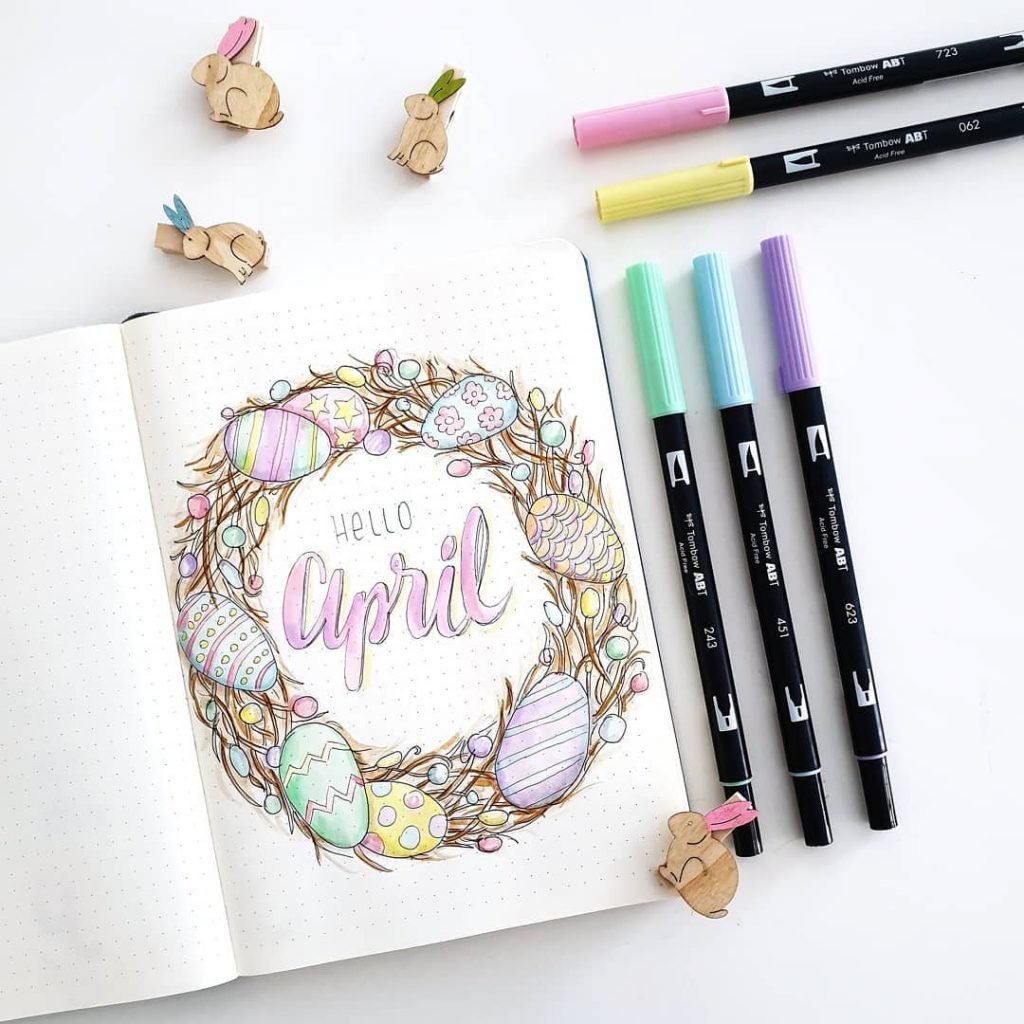 Mint.and.mont.bujo has got my eyes with this vibrant April bullet journal cover page. She has indeed chosen a unique theme for the month of April. The wreath has got its own twist thanks to the colorful easter eggs. I love the patterned eggs, gives an anemic vibe.
10. Origami Cranes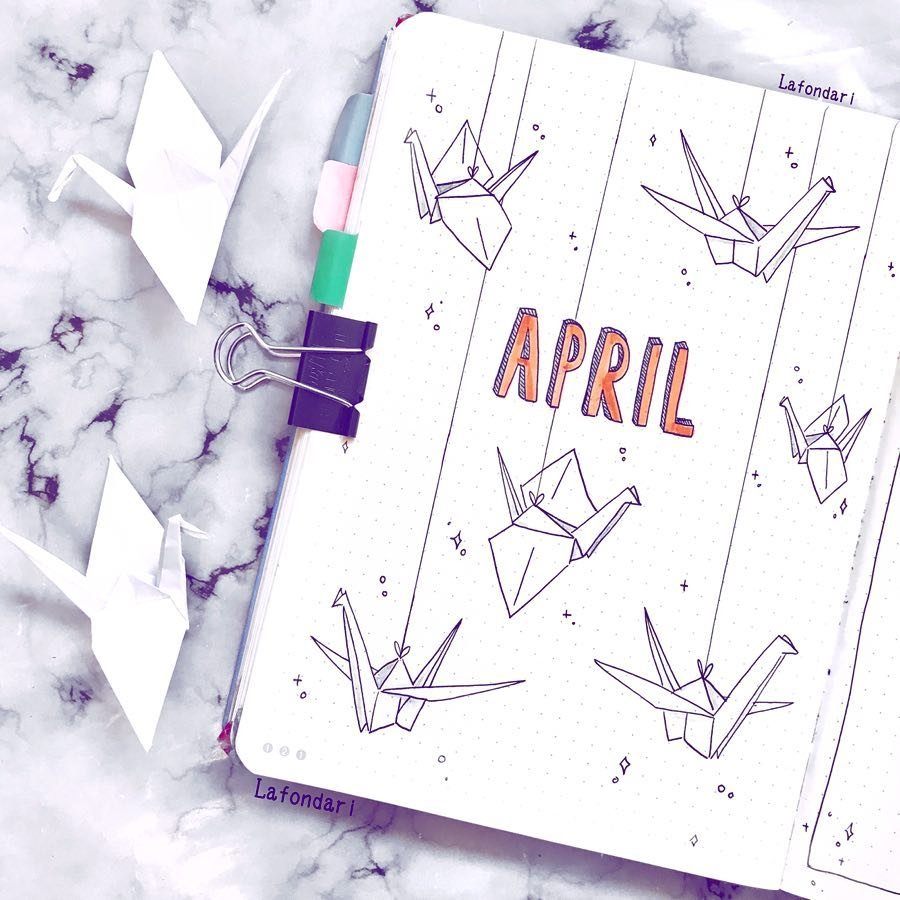 Origami is a Japanese art that I will never get over. From the school days till today, origami has always fascinated me. Lafondari has sketched these amazing origami cranes hanging softly. And the April nustled in the midst is has a subtle presence that has a lasting impact.
11. April's Feed

April is a lovely month of Spring. With the breeze all around and flowers blooming, feel the essence of Spring with this April bullet journal cover page by valeriesbujo. She has used lovely violet freesias on the cover page that will remind you of the fun that this month brings with itself.
12. Doodle this April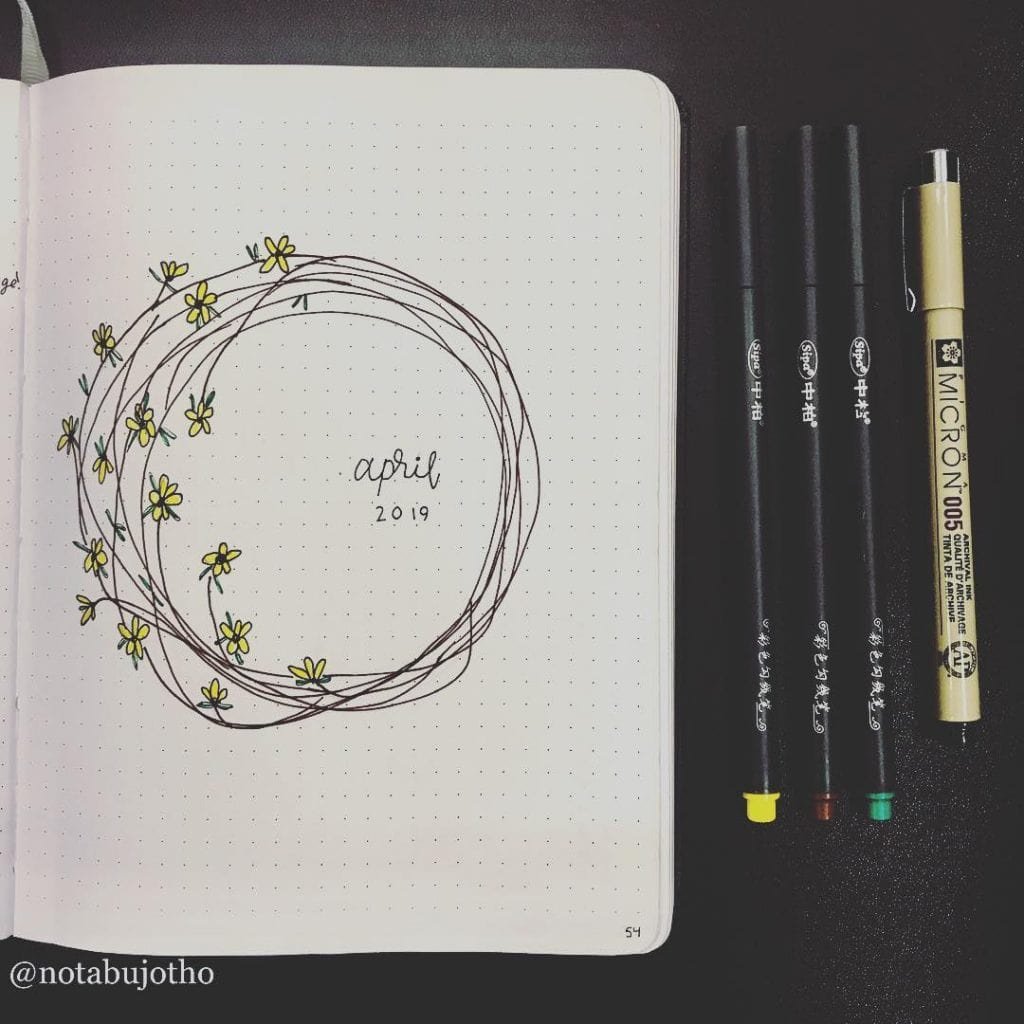 Notabujotho has a solution for you if you want to doodle but not so much! This elite April bullet journal cover page screams April. With the tiny miniature yellow flowers and simple lettering, this one here is certainly my favorite pick from the list.
14. Celebrate with Pizza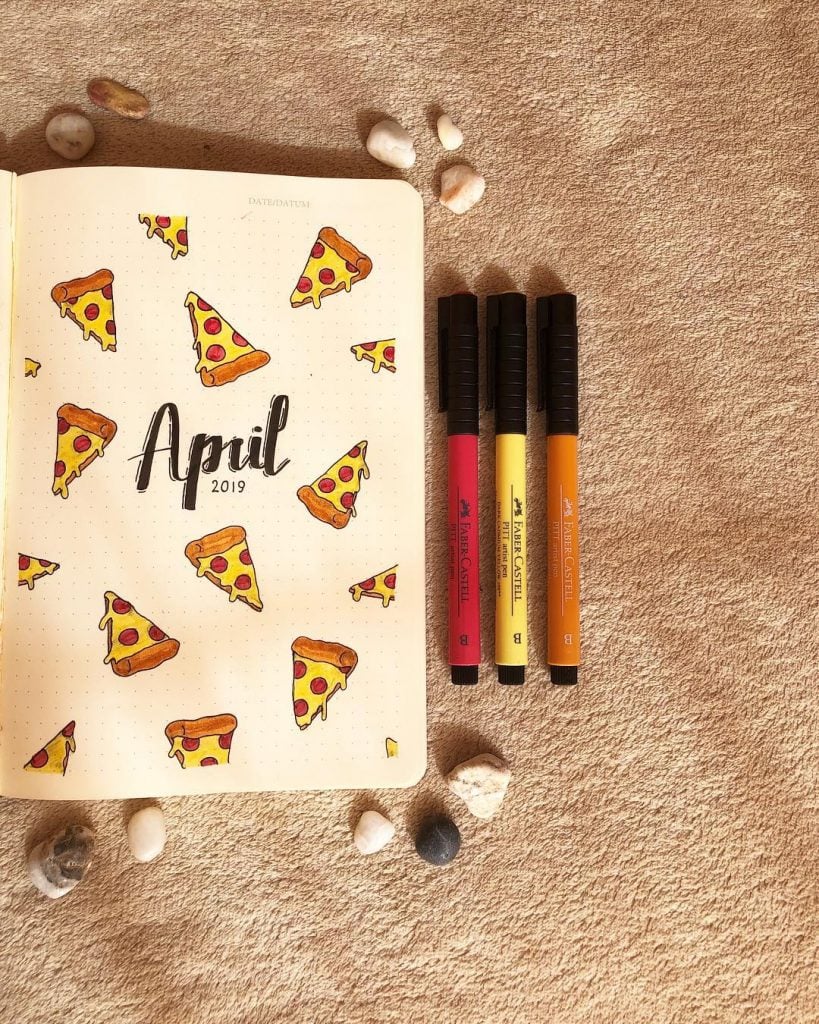 I think happiness comes in the shape of triangles! From pizzas to mad angles, everything that makes me happy comes in triangles! And this April bullet journal cover page is for all the Pizza lovers out there. Bujoandbee has chosen a pizza theme for this month and nothing else can win my Pizza biased heart more than this one. The famous yellow-red combination used to doodle the pizza and that extra touch of dripping cheesy is just too realistic to not appreciate.
15. Little Treehouse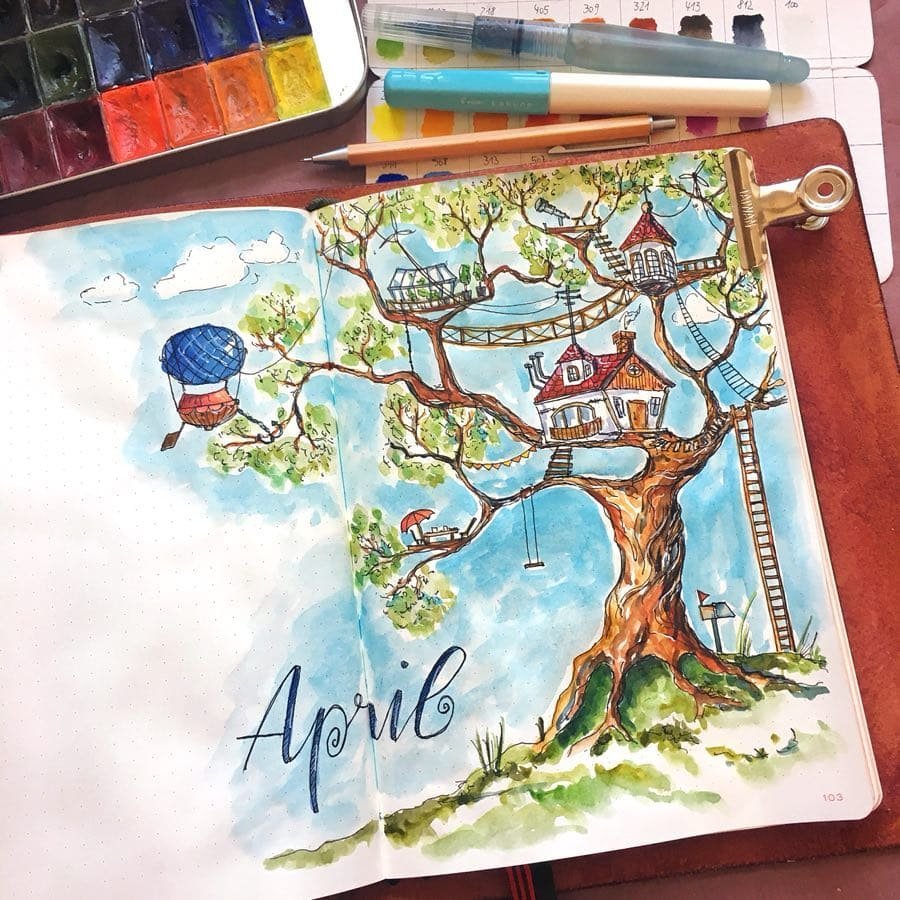 Have you ever seen one of those feel-good movies that make you dream of having a treehouse? This one by mydearsputnik reminds me of just that. The treehouse is so elaborate. There is a glasshouse, a terrace, and even a telescope to see what's coming your way this April. And how can one even miss the blue hot air balloon? That is one is the star of the whole setup!
April Bullet Journal Themes
Bullet journals are very personalized and can always be improvised according to the mood. But I like it more when the bullet journal has a theme that reflects the essence of the month or reflects the personality of the owner. These themes for the April bullet journal are versatile enough to set the mood of the journal itself. So here are some unique options for you to choose from for your April bullet journal.
1. Abstract Swirl Pattern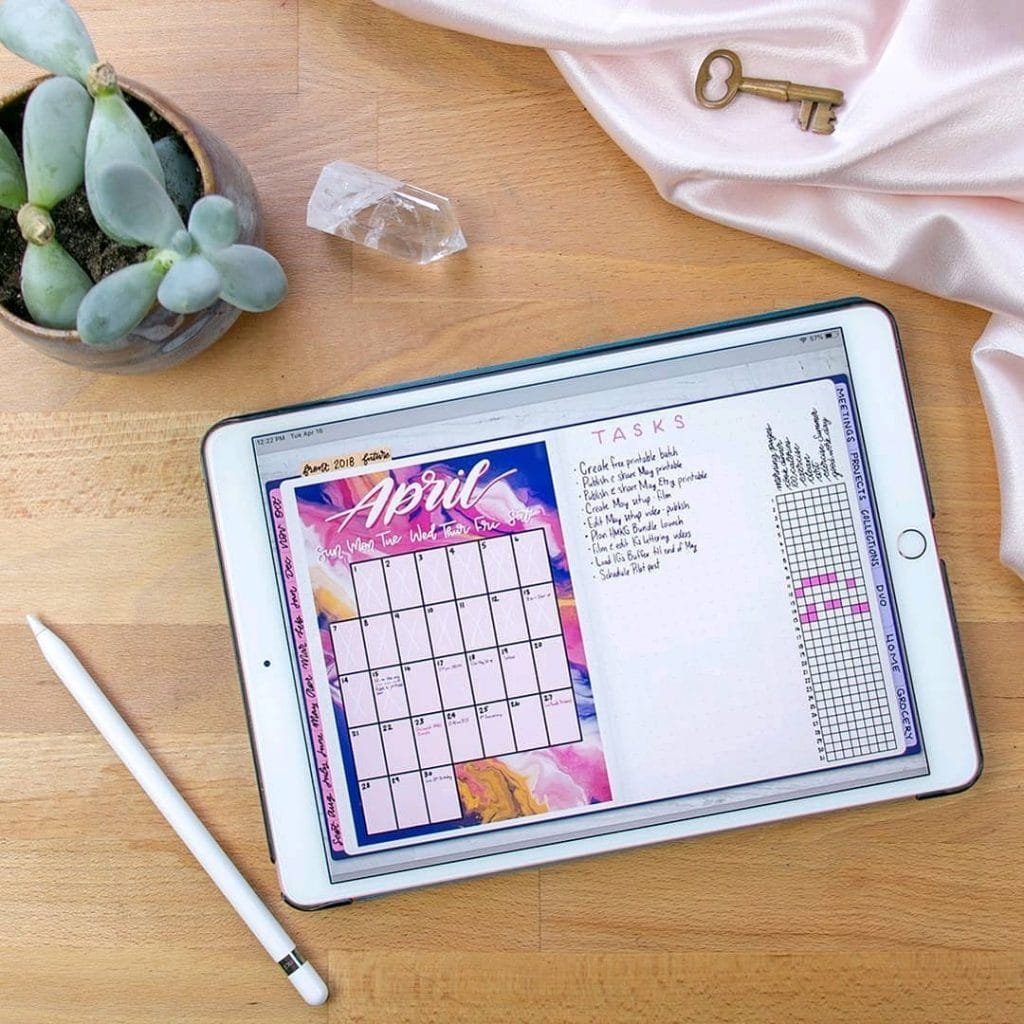 In this world of digital love, this April bullet journal by little_coffee_fox is gold! I like the whole euphoric pattern in this one. The blue and pink have come together to create a blast of swirl pattern that is delightful. The layout is pretty simple. The extra space allotted for registering your tasks of the month is just what we need!
2. Flower Boom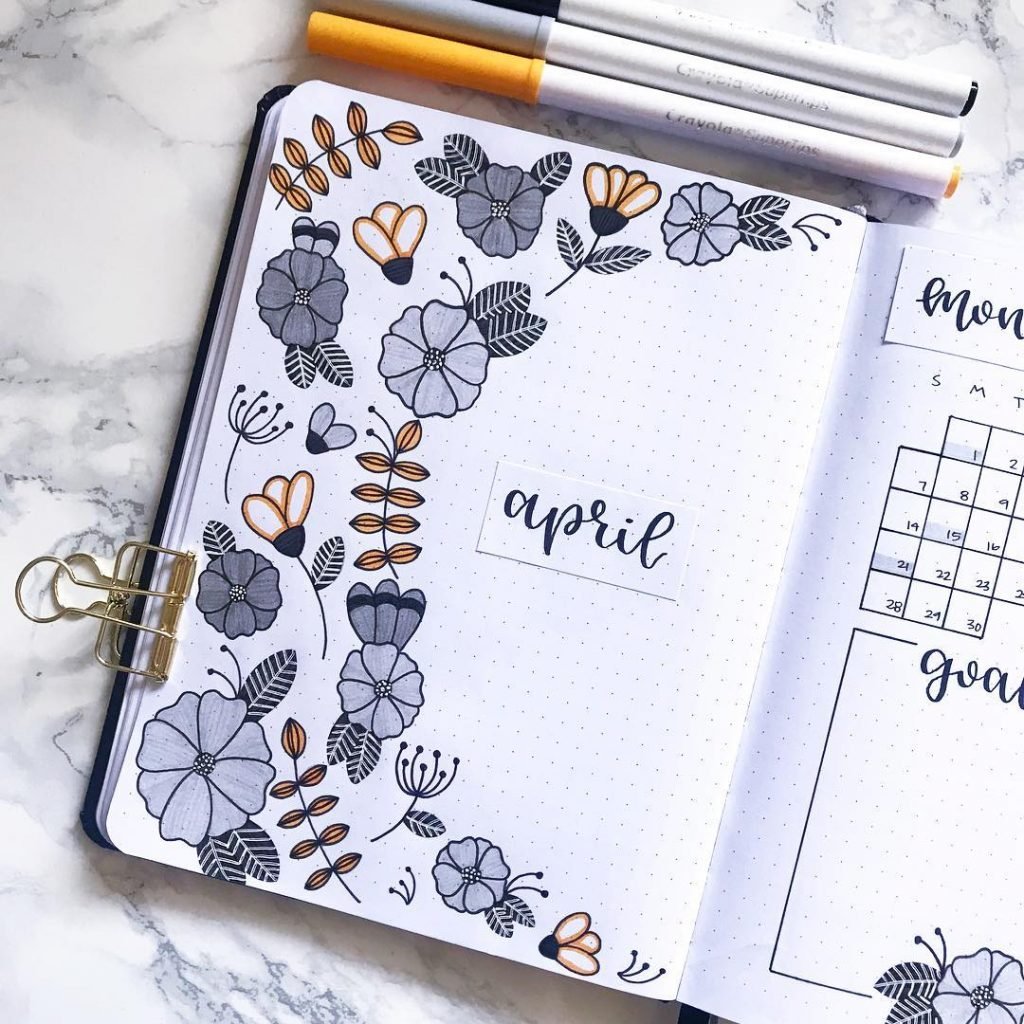 We just can't wait for Spring to bloom to its peak. But let your April bullet journal feel the beginning of Spring with this flower doodle. Wildeyesbujo has used simple flower patterns just like the old days. The little hint of soft orange is the perfect sign of the warmth of Spring.
3. Hot Air Balloon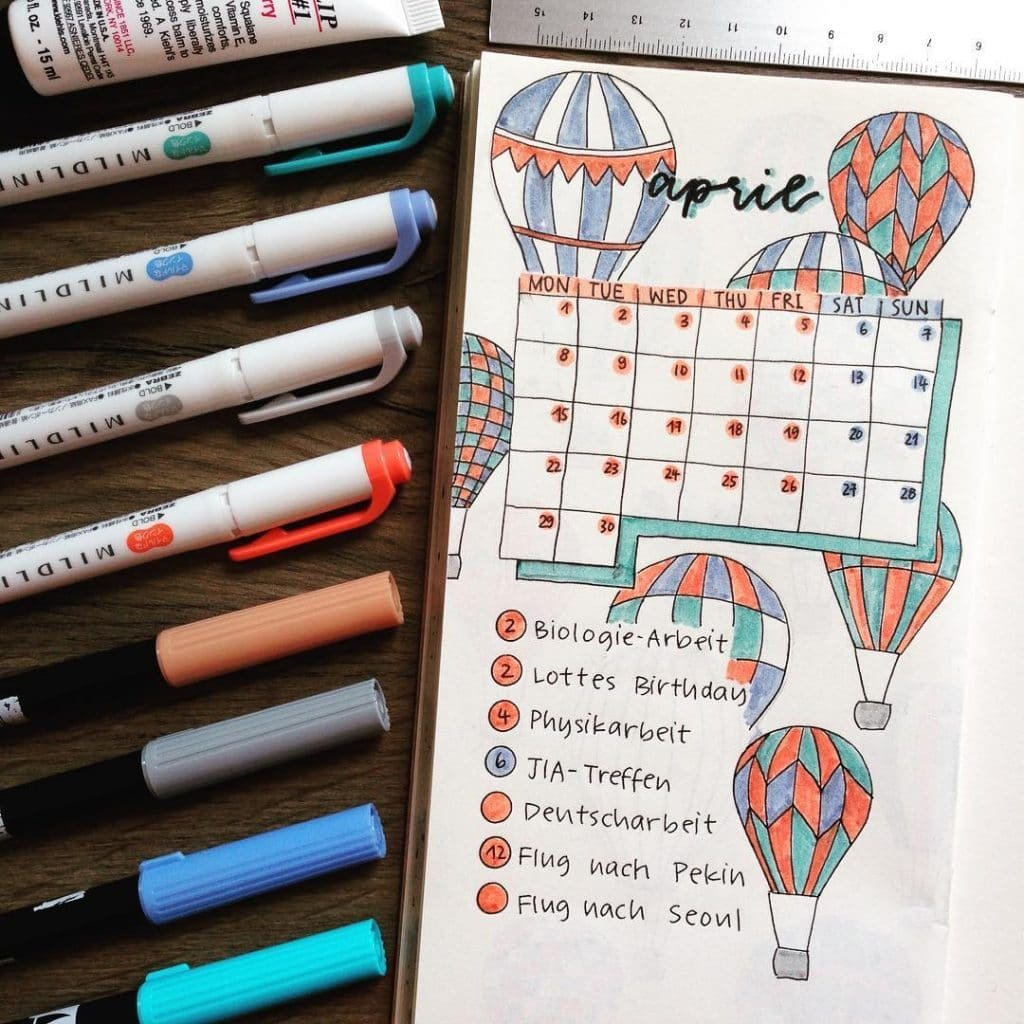 Hot air balloons always remind me of the Spring sky- soft and warm. That is what this April overview by studyandstuffx94 has incorporated. The soft pastel colors used in this one are lovely. Hues of blue and orange have created the essence of the Spring sky. The monthly spread allows you to get an overview of what the month has in store for you. This one is certainly a theme that is eye-pleasing.
4. Happy Easter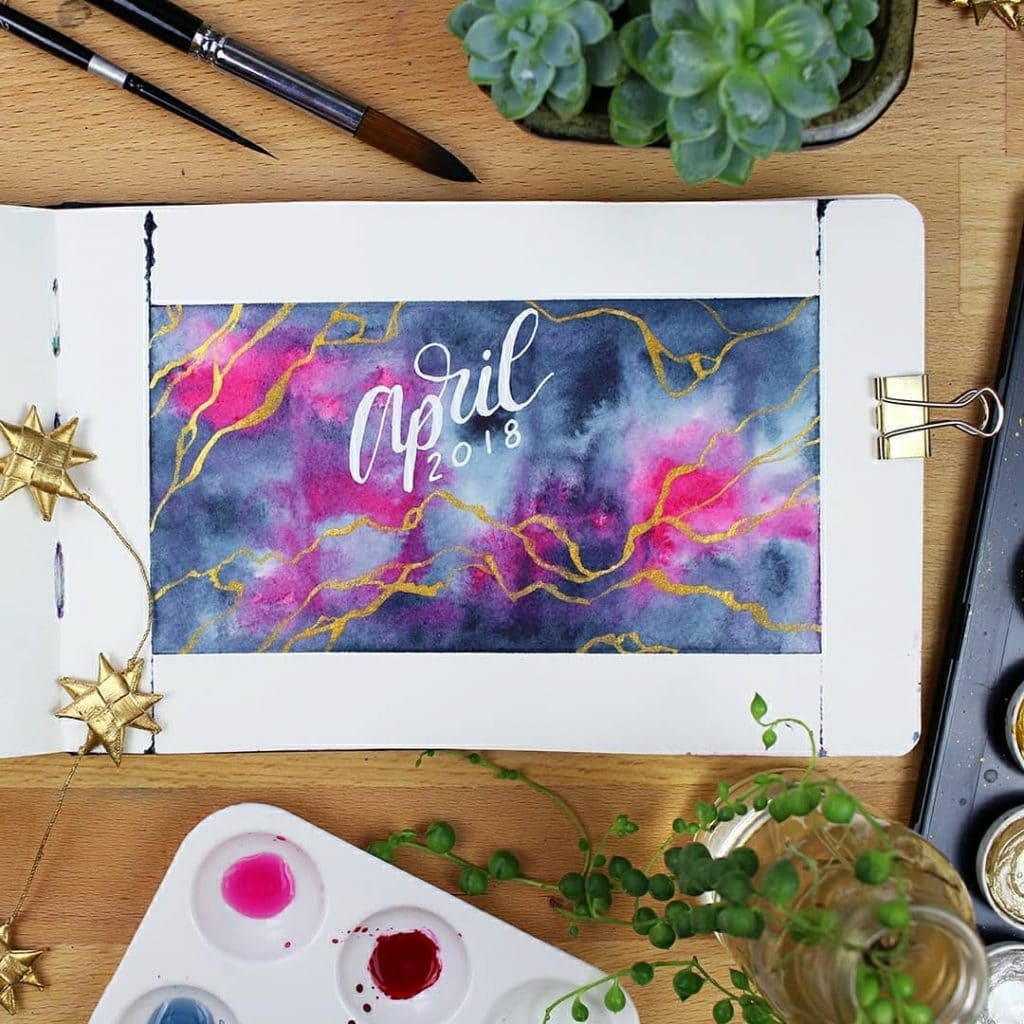 How about an Easter theme for this April? If you are looking for something interesting for your April bullet journal then this one by little_coffee_fox is too good to ignore. It is simple yet so elaborately detailed. Blue and pink have always been a great combo for the night sky. But the touch of gold in this abstract pattern is what makes this one so unique.
5. Hello April!
I think this one is just too beautiful! I like everything about this one. The simple doodle is so extravagant that it will certainly light up your mood this April. This one honestly reminds me of cherry blossoms. Bujotrulla has chosen such a theme for April BuJo pages that will bring a smile to your face every time you open them.
6. Visit the Jungle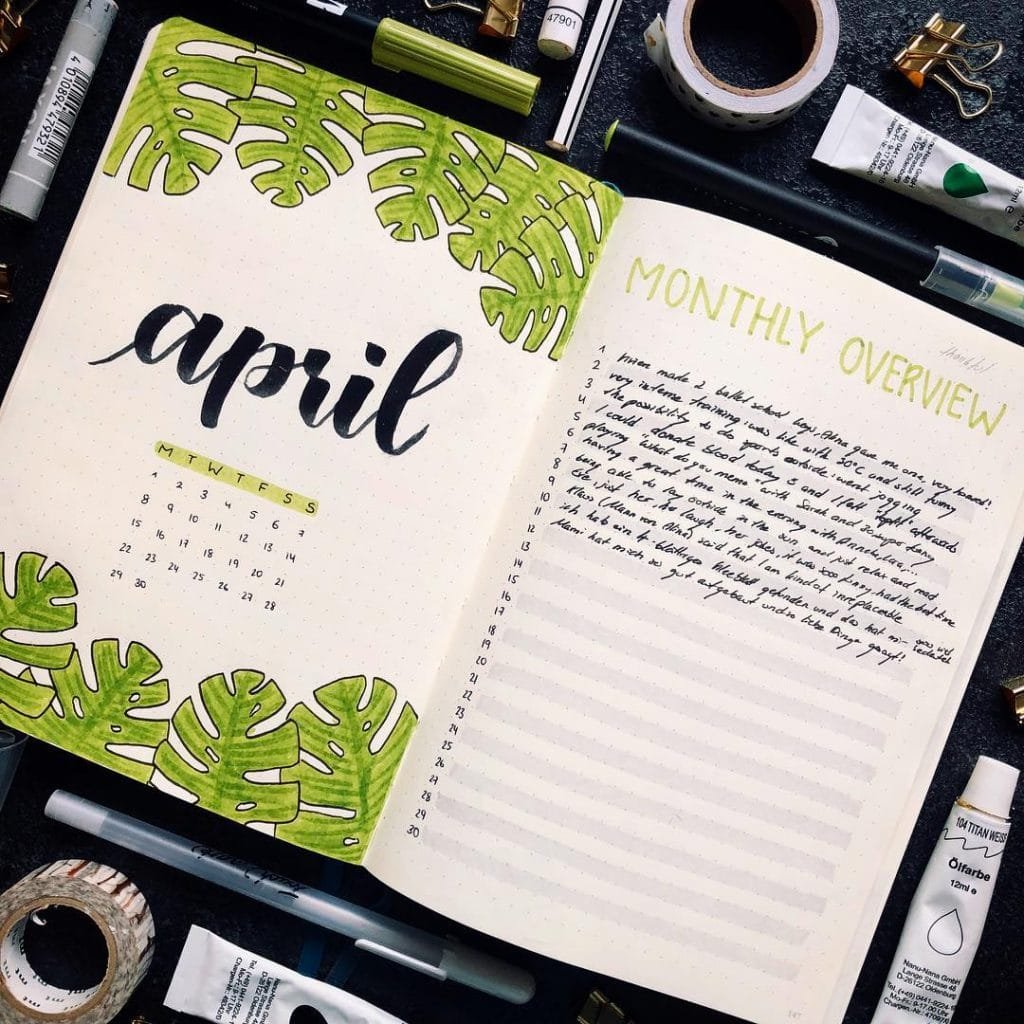 This April get ready for the adventure that the month has in store for you! January._journal has created a happening overview for your April bullet journal. I like the green leaves, it has given a very lively vibe to the spread. She has included the monthly overview section that is nothing less than a blessing. BuJo pages should always have some extra space!
April Bullet Journal Monthly Log
Monthly logs are everyone's favorite. And why not? It gives you an overview of what the month will look like. These April bullet journal monthly spreads are interesting and unique in their own ways. So if you are looking for a layout that will give you an air view tour of what the month has in store for you then read on!
1. Plants All-Around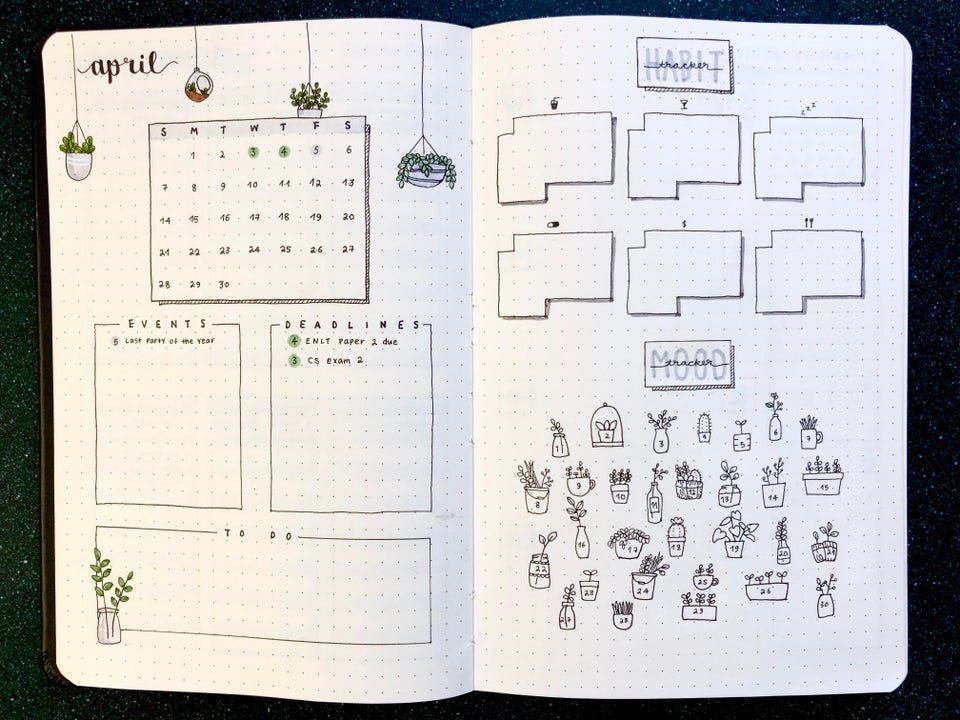 This April bullet journal monthly layout is an example of minimalism. The spread is so simple and chic. Reddit has beautifully included even a habit and a fancy mood tracker along with it. This makes things much more convenient; on one hand, you have your monthly spread, and on the other hand, you get to keep a track of your mental health.
2. Bubbly April
Monthly spreads are always the best. But this monthly spread for your April bullet journal by caholoh.design is one of a kind. This one is one of the most innovative monthly layouts that I have ever come across. The concept is pretty interesting. The layout is so simple that it will hardly take any time to recreate this one.
3. April in Yellow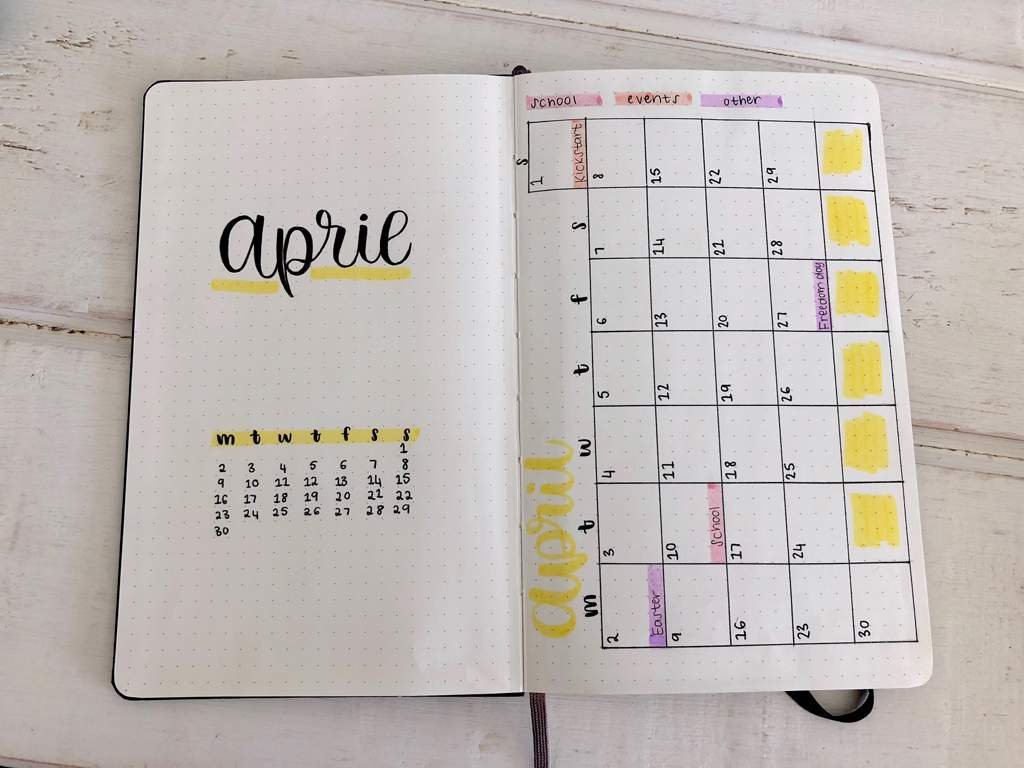 This one is a definition of simplicity. Aminoapps has come up with a clean look. This monthly layout for the April bullet journal also comes with a calendar for the month that gives a nice overview. What I like most about this one is the color coordinators used that helps to designate special dates and days.
4. Go Green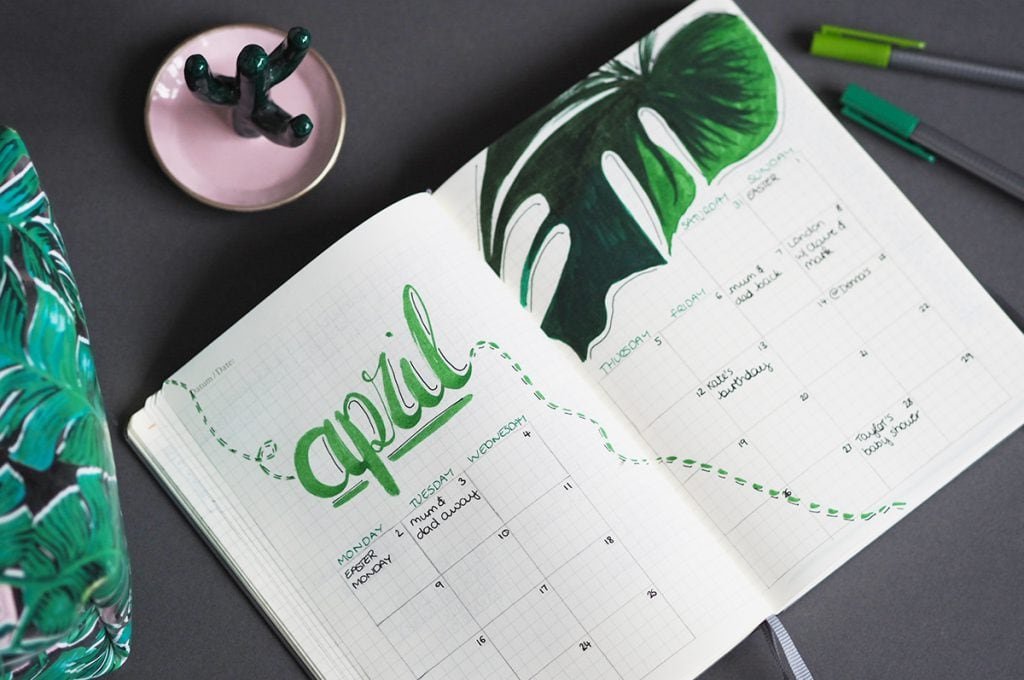 Go green with this April bullet journal monthly theme! A monthly layout like this one by lazythoughts is my favorite kind. It has ample space to write down some details about the days. This helps to remember the schedule and the important upcoming events of the month.
5. Float Away

This monthly spread for the April bullet journal is so light and airy. Bulletsandconfetti has used hot air balloons to set the mood of the month. Pastel-colored hot air balloons against the light blue clear sky set the perfect mood for this Spring.
6. Grey Skies

Contrary to conventional believes, grey skies are majestic. And bujokelly has utilized that to set the theme of this monthly log. The little quote at the bottom of the page has further enhanced the essence of the layout.
7. Life Bloom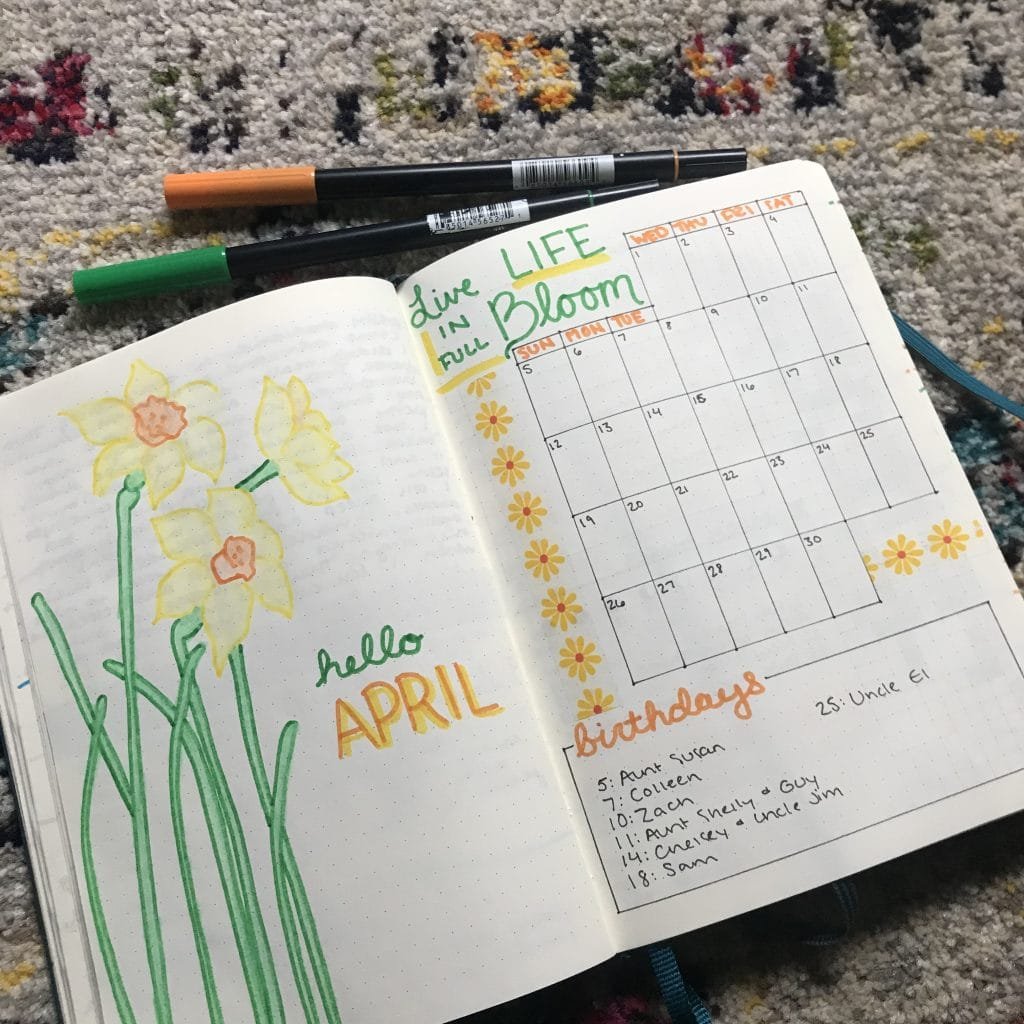 Kaylacropper has created one of the most simple monthly layouts for the April bullet journal. The doodling in this one is pretty easy to recreate. But I like how colorful this layout turned out. With bright yellow and orange, this layout is popping.
8. April and Spring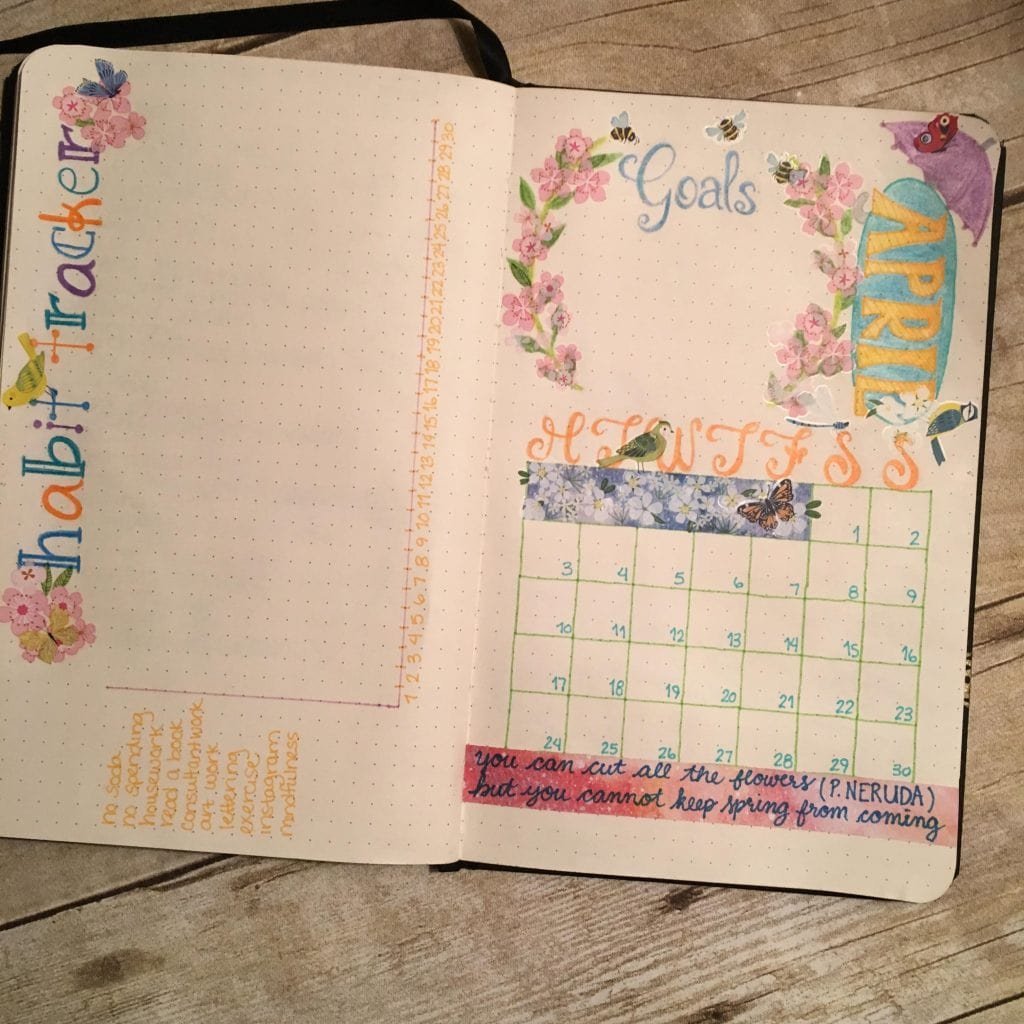 Imgur has added a beautiful quote by Neruda at the bottom of the page. Quotes are my favorite part of any bullet journal page. It keeps me motivated, and the best part is you can always personalize them. The rest of this layout is easy. If you are someone who has no intention of doodling then all you need for this one is some beautiful floral stickers. And voila! You have your April bullet journal monthly log.
April Bullet Journal Weekly Log
Weekly logs for the bullet journals are nothing less than a blessing for the busy life that we lead. It gives you ample space to fit in the details of every week. This makes managing the schedule easier. So if you are someone who is always hustling then you can opt for one of these fun weekly logs for your April bullet journal.
1. April Blues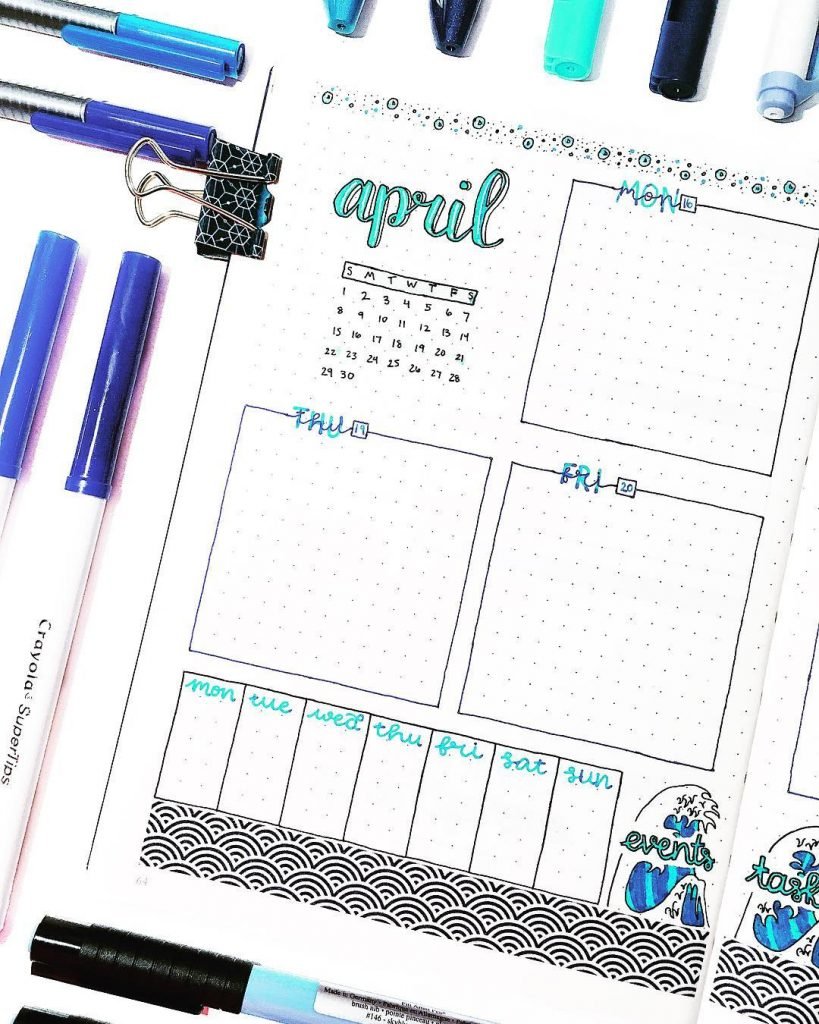 Bulletbycait has come up with an interesting way in this layout. As you can see, she has also included a tiny calendar for the month just to help you keep track of the day and the number of days left. She also has kept ample space for each day of the week, this is actually a big help. Weekly logs are often chosen as they allow us to register even the tiny details of the week, and this weekly spread does exactly that.
2. Star Gazing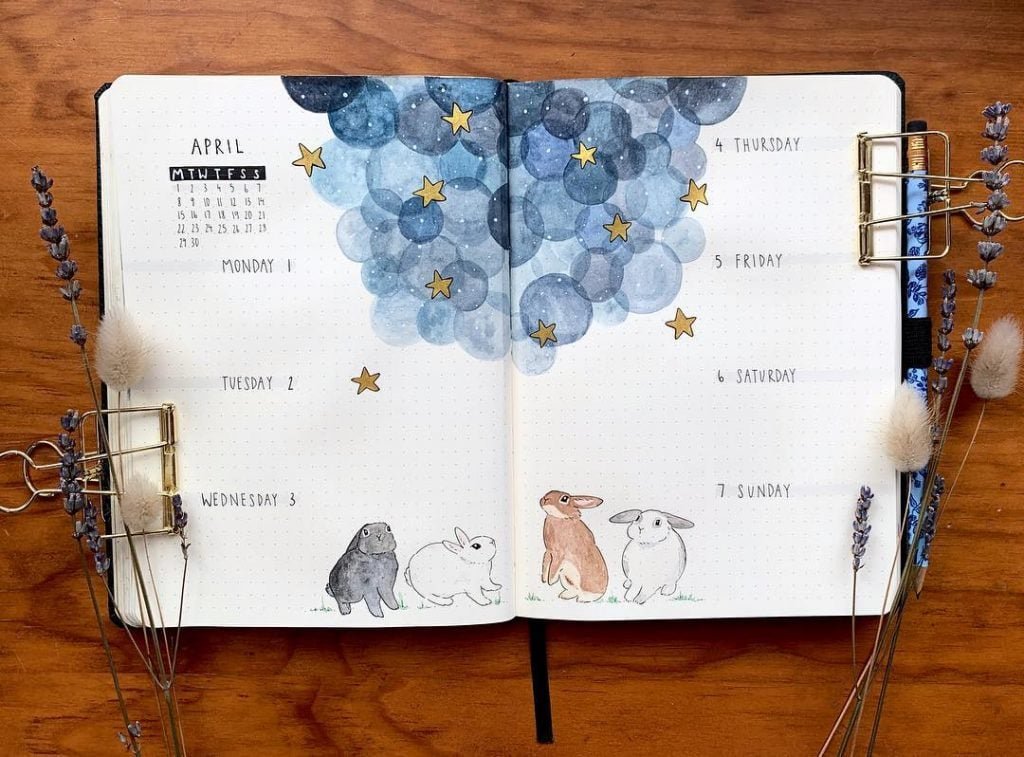 Who doesn't like to gaze at the star-lit night sky? Cypscribbles has beautifully created a night theme for this weekly log spread. How dreamy does this whole thing look like! The rabbits lost in the night, the yellow stars in the night sky, I love every tiny detail about this one. And of course, that calendar at the left top corner ties everything today.
3. Into the Jungle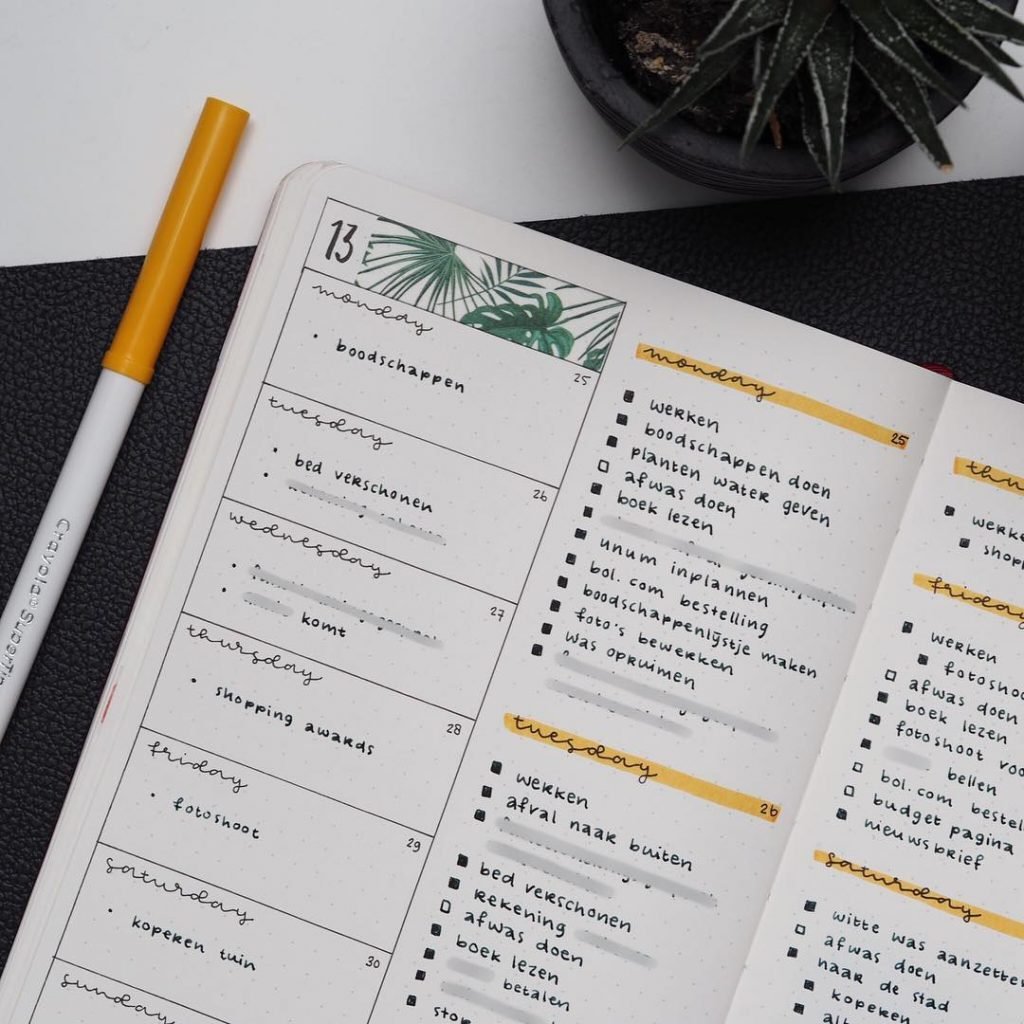 This jungle theme is so Amazonian. With little hints of green and yellow here and there lilian.letters has created this go-green layout. But my favorite part is how she has segregated the space. On one hand, there is space for an everyday schedule, and on the other hand, there is also a dedicated column for the days where you can write the chill time schedule.
4. Heroes of April

Okay! I love the Marvel universe. So when I saw this weekly journal by blackandwhitejournal I just had to include it in the list. The drawing of Captain America and Captain Marvel is just impeccable. But the star of the layout is the free space given to the week.
5. Daisies April Bullet Journal Weekly Log
That one tiny flower pot with the delicate daisies has made this otherwise simple weekly log so sophisticated. Bujoandcookies has prepared a simple weekly layout that is not only easy to recreate but also super easy to maintain. And of course, the tiny calendar is a great way to keep track of the date.
6. April Weekly Spread

I found this weekly layout for your April bullet journal quite interesting. Floral patterns and doodles for bullet journals are common but dunyasbujo has chosen a unique floral doodle for this weekly log. The touch of yellow around the doodle has given an extra edge to this layout.
7. Bubble Tea April Bullet Journal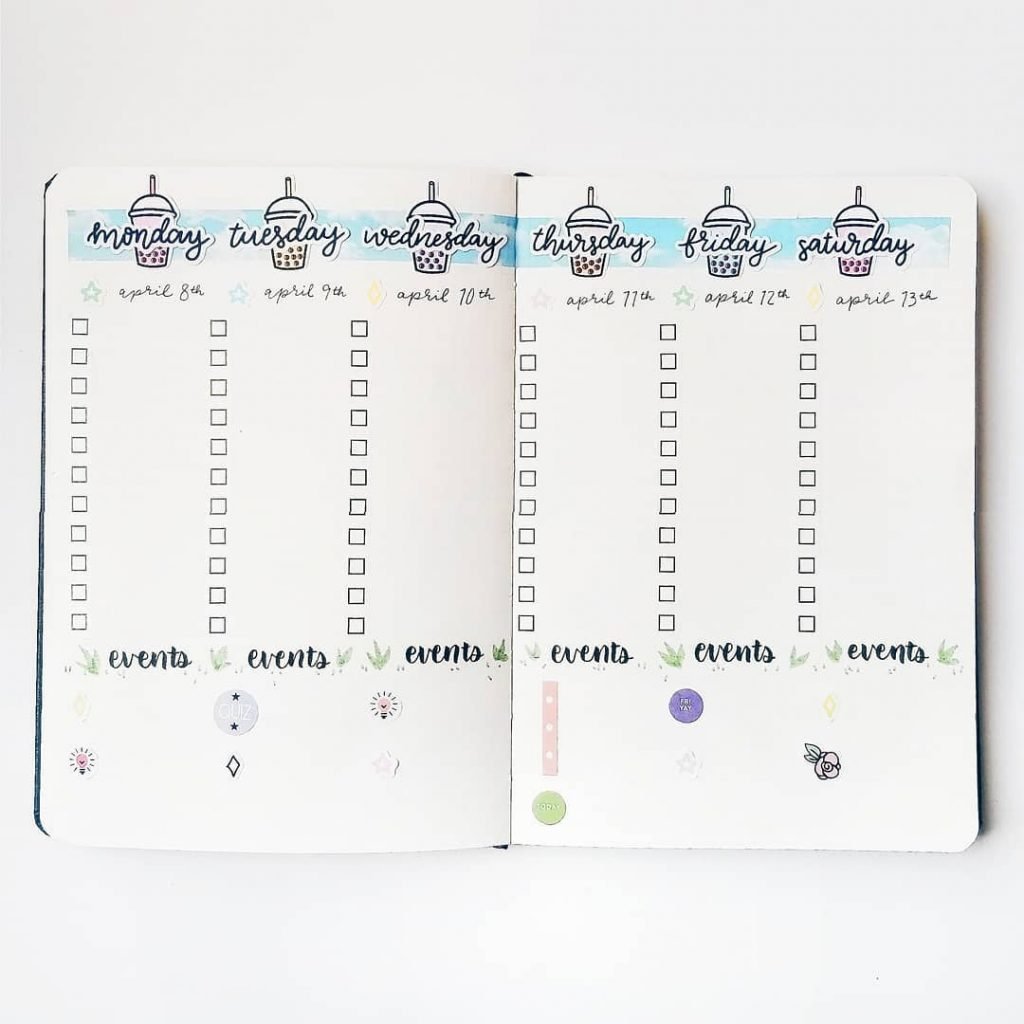 April summer and bubble tea are such a relaxing combination. Elzdoodles has taken that as a theme for this weekly spread. The layout is simple and so is the doodling part. But the best part is the extra space at the bottom. A weekly spread can always use some extra space for those extra events and occasions that are not part of your everyday schedule.
8. Astrological Believes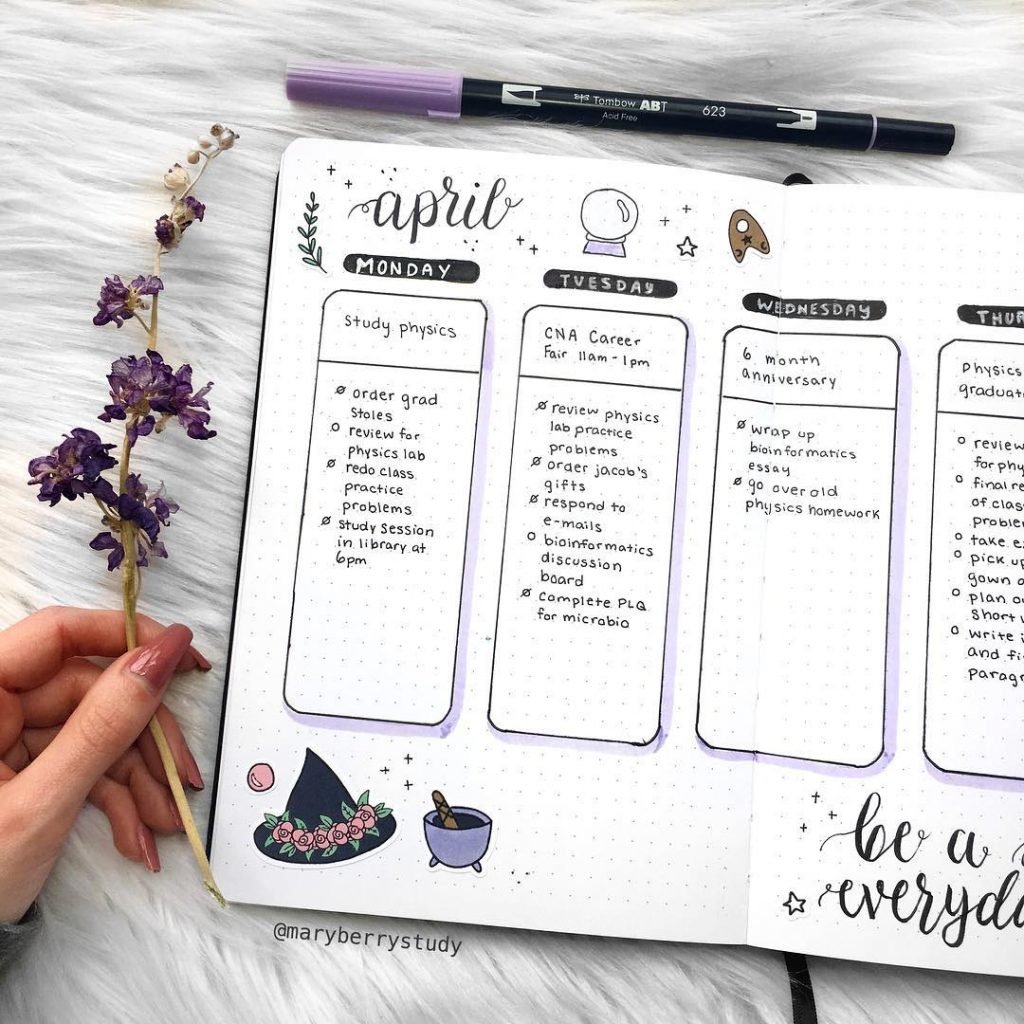 Witchy stickers and cute doodles have made this weekly spread so adorable. This weekly layout by maryberrystudio makes your April bullet journal interesting and mystic.
9. Colorful Weekly Spread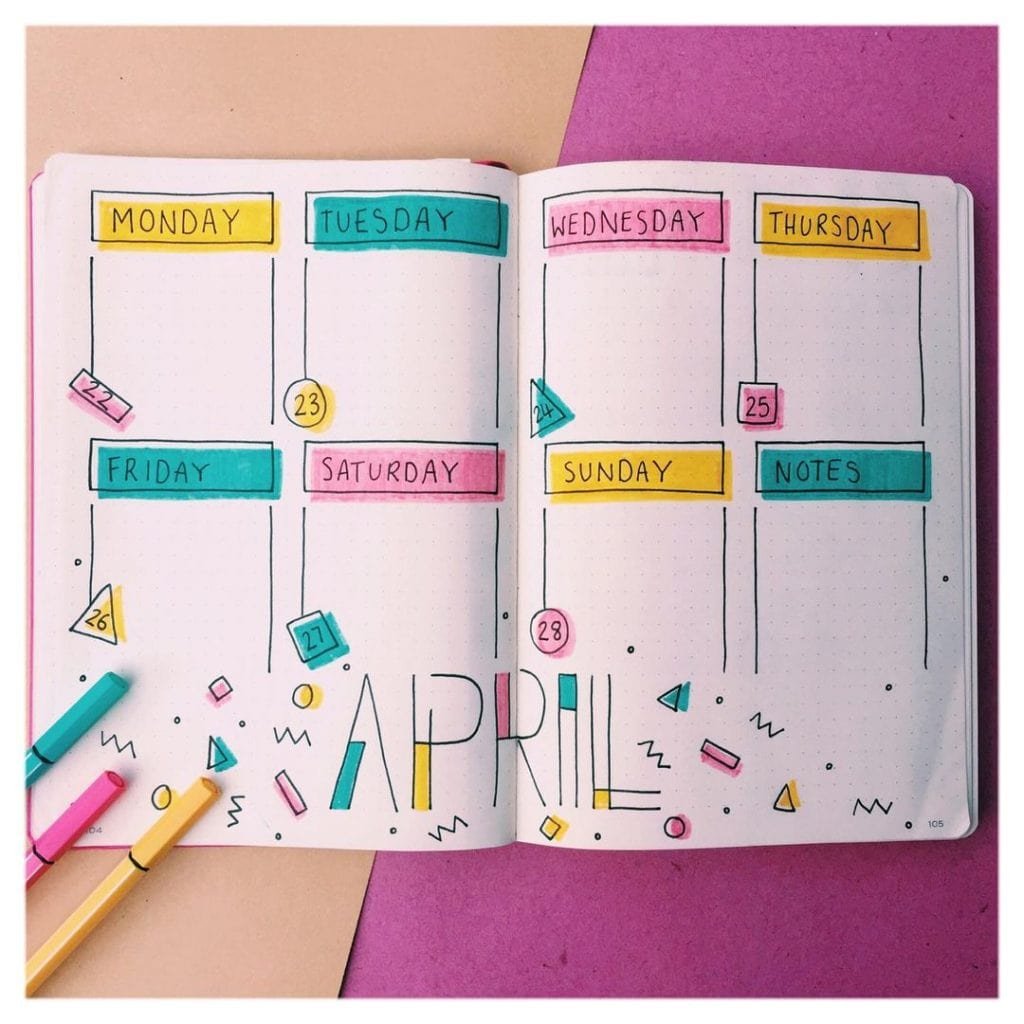 Iwannacreatestuff has kept this simple and sorted. The only thing that makes this simple layout interesting is the color patterns. So if you are looking for something where you can keep things decluttered then this one is an apt option for you.
10. Yellow Flowers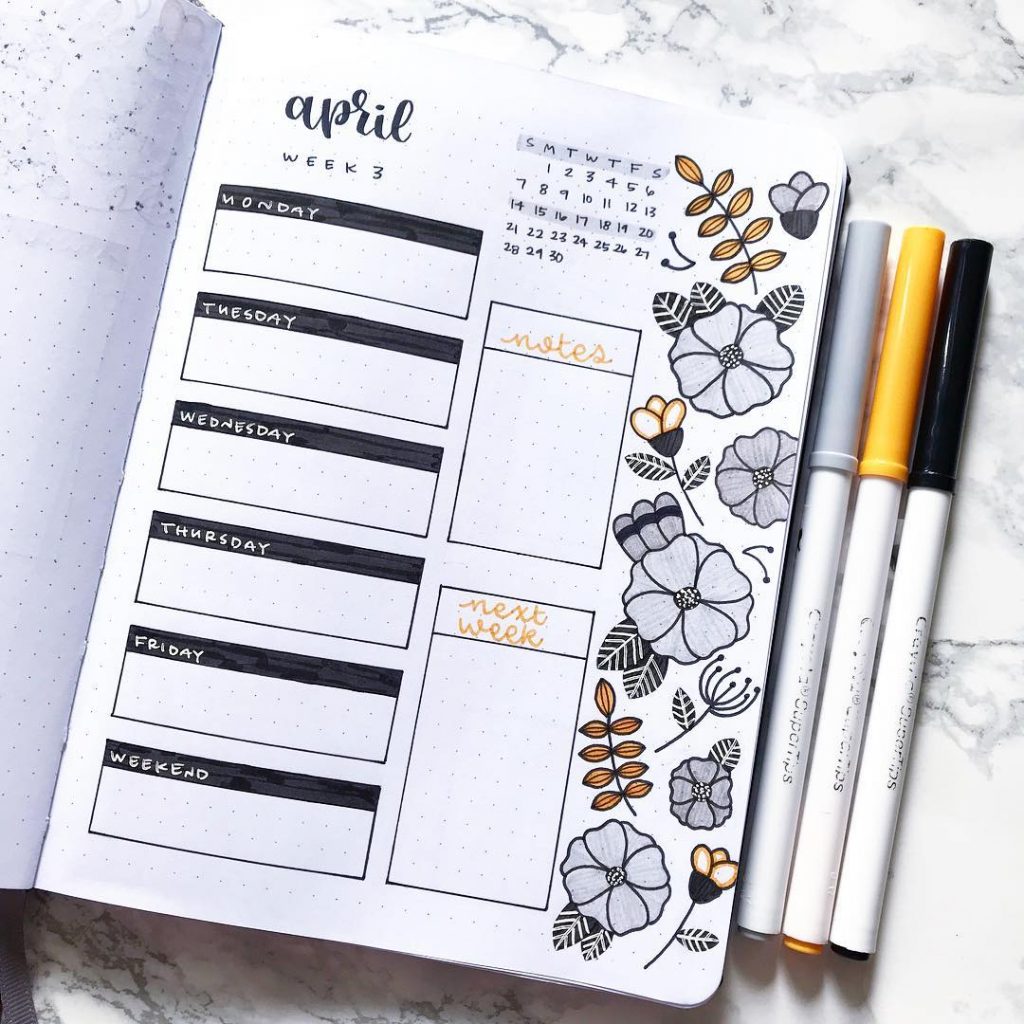 Wildyesbujo has chosen a simple layout. The flower doodle is lovely with a slight hint of color has made this flower doodle too adorable. Space is not even an issue in this layout. But what I like the most is the next week's section, where you can have a short preview of what the following week is going to look like.
Tracker Ideas For April Bullet Journal
Trackers, for me, are the best thing about any bullet journal. It helps me to maintain and track anything that I want. But for me, it is the sleep tracker and the mood tracker, that is a must. With these, you can keep track of your sleep cycle and with the mood trackers, you can improve your mental health.
1. Twinkle Stars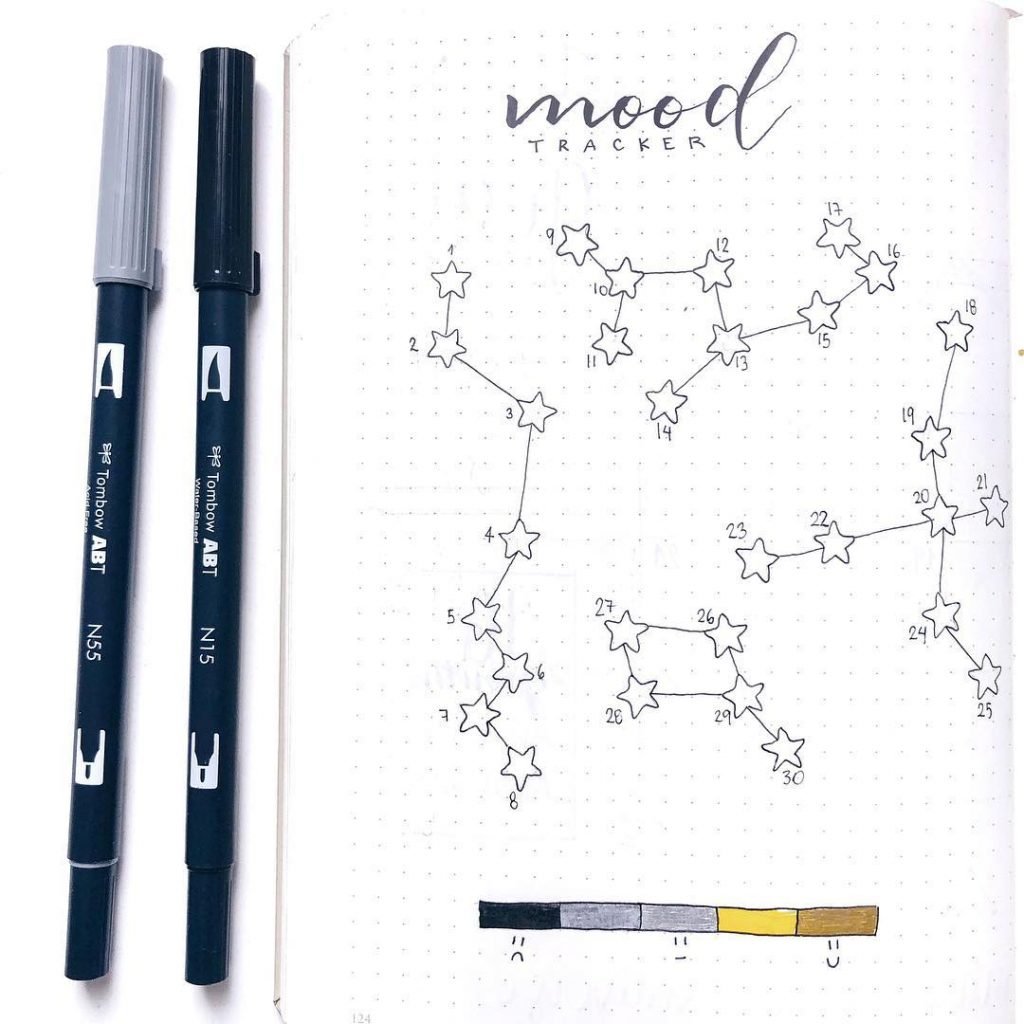 Color the stars with your mood in this mood tracker by honeyblissjournals. With this mood, tracker paint the constellation of your mood this April.
2. Mood Blossoms

Yellow is such a bright color that lightens up the mood. It is a happy color denoting a happy mood and a happy place. Nicole.josephine has chosen the color very tactfully. With this mood tracker water your mood every day and let yourself grow whatever you go through!
3. Bunch of Flowers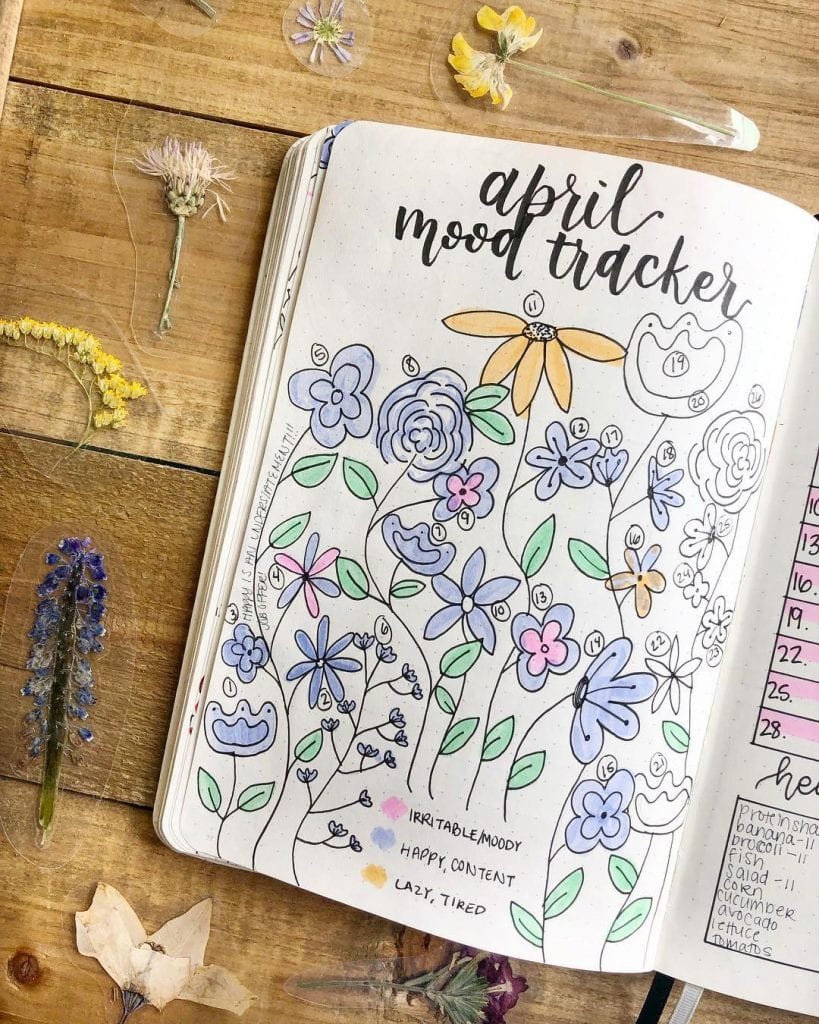 The concept of this one is pretty interesting. Color each flower according to your mood every day in this mood tracker by juliajournal.
There you go! We have come to the end of the curated list of April bullet journal ideas. So this Spring you can choose an interesting and unique theme and layout for your April bullet journal pages. Do let us know your favorite idea in the comment section. Happy Spring!
Also if you have liked this article then you can pin it to your Pinterest board by clicking on the image below.