What is a website builder? According to Wikipedia, "Website builders are tools that allow the construction of websites without manual coding."
In other words, a website builder is a software, a program, or a tool that helps you build a website of your choice without using much technical knowledge. Website builders are an excellent option for individuals, bloggers, and small businesses to build a website without hiring a developer. 
However, with the world full of website builders and eCommerce platforms, choosing the best website builder for your website might be tricky, especially when you are a beginner. 
Whether you want to start an eCommerce store or just need to launch a decent website for your blog or business, after a lot of hunting, you might be left with only two choices – Weebly or Squarespace.
What are Weebly and Squarespace? Let's have a quick view.
Table of Contents
What Is Weebly?

Weebly, founded in 2007, is a San Francisco based global platform that helps people build a unique website, eCommerce store, or blog quickly and easily. Today over 40 million people are using Weebly to start their small business, showcase their achievements, build an online store, and communicate with visitors in a meaningful and thoughtful way.
With drag and drop interface, high-end features, and low-cost prices, Weebly gives everyone the freedom to build a high-quality website that works amazingly across any device and screen size.
What Is Squarespace?

On the other hand, Squarespace was launched in 2003 by Anthony Cansalena, in his dorm room at the University of Maryland.  Squarespace provides many of the same tools provided by Weebly for an audience of over a million.
Squarespace offers great designs, and ooze class templates with unique aesthetics and brilliant functionality.
So, which is the better one? Squarespace or Weebly? 
A single look at the websites created using these two website builders will tell how flexible, functional, and feature-rich these platforms are. It is nearly impossible to conclude which one is better and you will be left scratching your head to choose one. And this is why the following comparison will come in handy for many people worldwide looking for a decent website builder.
Weebly Vs. Squarespace
This article lets us compare Weebly and Squarespace on seven key criterion – 
1. Ease of use, 
2. Design and flexibility, 
3. Tools and features,
4. SEO
5. Prices, 
6. Support, 
7. Apps and plugins
Ease Of Use
Why is the iPhone so popular? Because it is effortless to use. Apple's software is so easy to use that anyone could use it. People love it because they didn't feel like they have to learn the interface to use it. Having a website builder that anyone can easily use and built a website of their dreams is arguably the most critical aspect of choosing an eCommerce platform.
Weebly and Squarespace are designed for beginners with no coding background. Hosting is included for both of them, so you can easily link your custom domain and add a professional email address with the help of G Suite. 
Both website builders can help you build great quality professional websites, and both are easy to use. But, which is easier to use and intuitive? Let's have a look at different aspects.
Learning Curve
Weebly has a shallow learning curve. You just have to drag the element you want from the sidebar and drop it where you want on the website. 
Squarespace has a steep learning curve. You have to double-click or click on a specific button to see more options. The minimalistic looks that Squarespace provides give the impression of a sophisticated platform. This can hinder beginners.
Editor
Weebly's editor is well organized; you don't have to struggle with weird icons or little hidden buttons. Whereas Squarespace sometimes shows some strange text like "URL Slug: The unique location slug for this page,"
Weebly is by far considered as the most natural website builder by many users. Squarespace, since it is a mix of WordPress and Drag and Drop interfaces, can feel overwhelming for some beginners.
Conclusion – Since Weebly is more intuitive, and Squarespace's minimalistic design makes beginners work hard to learn the basics, Weebly is easier to use than Squarespace.
Design And Flexibility
How your website looks matters a lot. Your site's flexibility and the design will make someone either interact with your website or simply log off it. So, let us discuss which platform gives you more options when it comes to flexibility and designs.
Weebly has nearly 40 different templates to choose from. These templates are broken into different categories – featured, online store, business, portfolio, personal, event, and blog. Once you found the excellent template for your website, you can preview it to test before you begin customizing and editing.
There are two things here Weebly could improve – 
There is no search option to search for templates. For example, if you want to create a traveling website, you need to scroll down in the business section before finding a suitable model. 
There is no way to preview the themes on mobile and tablet screen sizes. You have to wait until you pick one. Though all of Weebly's themes are mobile responsive, it would be good to preview since more people are browning on mobiles than ever before.
Squarespace is known for its gorgeous and professional-looking website themes. It has around 100 themes to choose from, and each one is different from the rest. The makers put a lot of time and effort into making each template. They are also a wide range of styling options that ensure your template just doesn't look like any other Squarespace website.
Unlike Weebly, Squarespace has a search bar to search for a particular website template. We can also preview the designs on different screen sizes.
Both Squarespace and Weebly has a drag and drop functionality. You can also change designs later without losing the information.
Tip: Try to keep the design layout as simple as possible to avoid any issues, as you may not be having a 100% control with the mobile view. 
Let's compare different aspects of design and flexibility.
Quality Of The Templates
Squarespace's templates are super sleek, modern, and stylish. Weebly's templates are of good quality, but they are not as impressive as Squarespace themes.
Editing Templates
Squarespace's editing is very flexible. You can edit every single element, including header font, navigation spacing, social media icons, etc. But remember, the more you customize the website (moving further away from the original professional theme), the more likely the site will look less flashy.
Coming to Weebly, editing templates is relatively rigid. It means you won't be messing up things too bad.
Custom Code
You can add your own CSS in Squarespace (business and pro plans only). In Weebly, professionals can edit the HTML/ CSS.
Conclusion – Weebly has an excellent range of beautiful and consistent templates. Still, they are not as impressive as Squarespace classy and modern templates. So, we can say Squarespace is more design-friendly than Weebly.
Tools And Features
Tools and features are fundamental to any website builder. They are what allow you to do certain things and, at the same time, restrict you from doing others. 
Weebly has a massive range of built-in features that help you give so much variety while creating the website. It has a large app store that is packed with loads of useful add-ons. You can integrate these add-ons into your site. 
Squarespace, on the other side, may not have as many features as Weebly, but it does provide some real quality features. There is no app market in Squarespace. So, what you see is what you get.
Now, let us take a look and compare some key features Weebly and Squarespace are offering us.
Ecommerce
If you are thinking of turning your website into an online store that can sell, this section will come in handy. Here are some key eCommerce features, both the website builders offer.
Integrating an online store is very easy and effortless in both Weebly and Squarespace. And of course, the features they offer depends on the plan you pick, the more you pay, the more you get.
Item Of Sale
You can sell both physical and digital products, vouchers, and services in both Weebly and Squarespace.
User Login
Squarespace offers customer accounts, and it is advantageous if you expect regular orders from returning customers. Weebly doesn't provide customers accounts yet. Currently, they are working on it.
Tax Calculator
Weebly offers automatic tax calculators of US stores. Whereas, in Squarespace, there is no tax calculator, even for the highest plan.
Item Management
Weebly offers import and export files via .csv file. Squarespace also provides import and export files via .csv file. In addition to this, Squarespace also allows importing from Etsy, Shopify, and Big Cartel.
Payment Gateways
Weebly allows PayPal, Stripe, Authorize.net, and Square (square provides credit card payments online or in-person) payment transactions. On the other hand, Squarespace only allows PayPal and Stripe (credit cards and Apple Pay) payment transactions.
Adding A Blog
Both the website builders offer a great blogging engine that is highly customizable with layout controls, comment management, social bookmarking, etc. You can create and publish blog posts with just a few clicks. One of the classic and cool feature both the platforms offer is an app for Android and IOS, so you can reply and post comments on the go.
Blog Editing
Blog editing is a piece of cake in Weebly. There is no learning curve; you can easily create a blog, include images, videos, etc. and post it. 
Squarespace's blog editor is quite similar to the standard editor (which isn't ideal), which is easy enough to add posts that include media. You can even include podcasts. Also, Squarespace supports AMP for faster loading on mobile devices. 
SEO
SEO is impressive in both the platforms – Weebly and Squarespace.
User management
User management is where Weebly falls behind Squarespace. Only the author can access Weebly, but you can run your blog with multiple users in Squarespace.
Email Marketing
Both Weebly and Squarespace let you create custom email addresses through G Suite. With these email addresses, you can start marketing by sending out campaigns to your site's visitors.
Weebly offers "Weebly Promote," a service that helps you build campaigns using email marketing. There is a free trial, but to start this campaign, it costs $10 a month. This service helps you in crafting enticing copy, providing email templates, and scheduling send-out times. You can also create RSVP lists, forms, and surveys to gather information about your audience.
Just like Weebly, Squarespace too has an email marketing feature but at no additional cost. It also offers some built-in tools to share social media posts from your account's dashboard directly.
Analytics
Weebly or Squarespace, you will get the same analytics features. They have built-in onsite analytical tracking that helps you in monitoring the page views, sales, bounce rates, etc. Both platforms are integrated with Google Analytics.
Squarespace has created an application, Analytics only to track page views, audience, sales, website statistics, email marketing performance, and much more. In the same way, Weebly also provides users with an analytics dashboard. 
Custom Domain
You will get a custom domain for every paid plan in both Weebly and Squarespace.
Conclusion – Setting up and maintaining a store in Weebly is seamless and smooth, but Squarespace offers customer logins. So it is a draw between Weebly and Squarespace in terms of the Ecommerce store.
However, when it comes to an overall comparison, Squarespace beats Weebly as it provides some cool pro features in the blogging engine.
SEO
Search Engine Optimization (SEO) is a practice of increasing the quality and quantity of traffic to your website by making subtle changes to your site. So, the better your website's SEO is, the high chances your website ranks on Google.
SEO is no picnic for beginners; you have put in a lot of effort into your website to make it SEO optimized.
Don't worry! The good news is, both platforms allow you to edit things that can improve your website's SEO. Both Weebly and Squarespace let you manage Meta titles/ descriptions, URL Slugs, Image ALT text, etc. In case you wonder, Meta titles are the text that appears in Google, URL slugs are the text that comes after domain and Image ALT text is something you type in to describe an image on your site.
SEO Flexibility
Both Weebly and Squarespace offer excellent SEO flexibility. The title descriptions, URL slugs, etc. are straightforward to edit.
Extra Help
Weebly provides an ultimate guide that will help you learn more about keyword support, SEO analytics, and coding. Squarespace, too, offers a series of videos for a better understanding of SEO.
Conclusion – It's a draw. Both Weebly and Squarespace provide decent SEO functionality.
Prices
One of the main reasons people opt for a website builder than to hire an app designer is prices. Who would want to pay an arm or a leg to a designer when you can make it at much lower prices? 
Weebly offers the cheapest price plans when compared to other website builders. You don't have to sacrifice the quality either. It comes with four premium plans – Connect, Pro, Business, Business Plus. 
Connect – $5 a month when paid annually. This plan connects the custom domain, free SSL security, 500 MB storage, SEO, lead capture and contact forms, community forum, chat, and email support. 
Pro – Pro plan is for groups and organizations. It costs you $12 a month when paid annually. This plan offers free SSL security, unlimited storage, custom domain, site search, remove Weebly ads, shopping cart, and accept payments square and third-party providers, SEO, phone support, etc.
Business – The business plan is excellent for small businesses and stores. It costs you $25 a month when paid annually. Along with all the Pro features, the Business plan offers item badges, item options, inventory management, automatic tax collectors, coupon codes, item reviews, pop-up notifications, Advanced eCommerce Statistics, etc.
Business Plus – This plan is for power sellers. It costs you $38 a month when paid annually. The extra features Business Plus plan provides abandoned cart emails and real-time shipping.
If you want to build an online store, you will have to upgrade to a pro or even higher plan. 
Weebly also has an entirely free plan forever. This plan lets you build a website with all the site, marketing, and support features provided by the website. But you will not get a custom domain, and your domain will have a tacky ".weebly" attachment to it. There will be Weebly adverts on your site too. Still, this free plan is an excellent way to test the website, and you can always upgrade before you hit publish.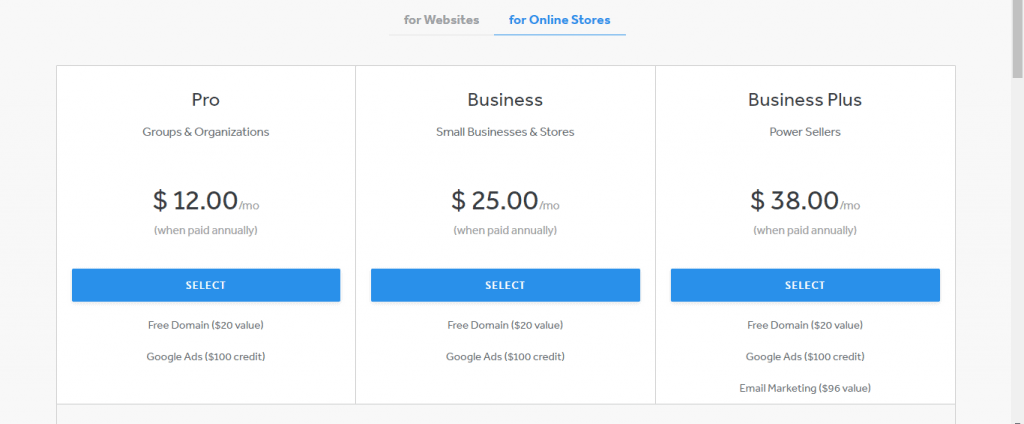 Squarespace also offers four premium plans – Personal, business, basic, advanced. These are a bit pricier than Weebly, ranging from $12 to $40 a month when billed annually. Ecommerce functionality is provided only by the two most expensive plans.
Personal plan – $12 a month when billed annually
Business Plan – $18 a month when billed annually
Basic – $26 a month when billed annually
Advanced – $40 a month when billed annually
Squarespace doesn't have a free plan. There is a 14-day free trial, and I think it is more than sufficient to review the website and decide whether it is worth upgrading or not. Squarespace doesn't want to compromise its classy and modern templates with tacky advertising. It prides itself on design.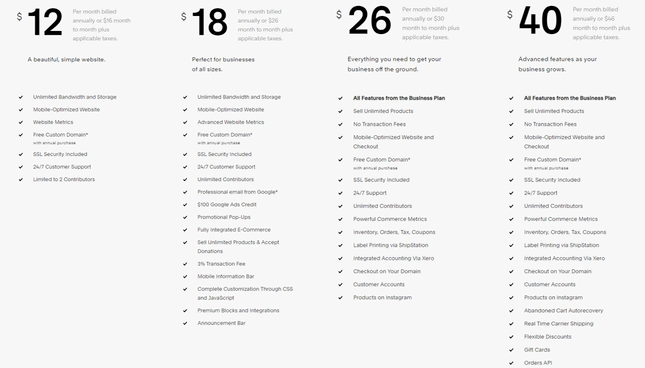 Both Squarespace and Weebly can be tested without entering the payment information. A free domain is included every year, and email is always optional. Monthly pricing plans are flexible, but they are more expensive when compared to annual plans. To save even more, Weebly also provides a two-year subscription plan. But this plan is only recommended when you are confident that you will stick with them for an extended period.
Conclusion – The winner is Weebly. It is because Weebly has a free plan, and the subscription prices are also lower than Squarespace.
Support
Everyone wants to get help and support in different ways. So, it is very important for website builders to offer assistance in a variety of ways. 
It becomes interesting to compare the support systems in Weebly and Squarespace as both offer 24/7 support but in loads of different ways. So, what works for you is what matters here.
Squarespace has email support and lives chat available 24/7 on weekdays and from 4 am to 8 pm EST. Squarespace is not offering phone services currently.
On the other hand, Weebly has email support, live chat, and phone services. Still, they are available only between 6 am to 6 pm on weekdays, and 8 am to 5 pm on weekends.
However, the primary support is Weebly's and Squarespace's help centers. You can treat these help centers as a little search engine. When you type in some basic queries like "How can I connect my domain?", "Is email included?", a list of results that link to help guides appears.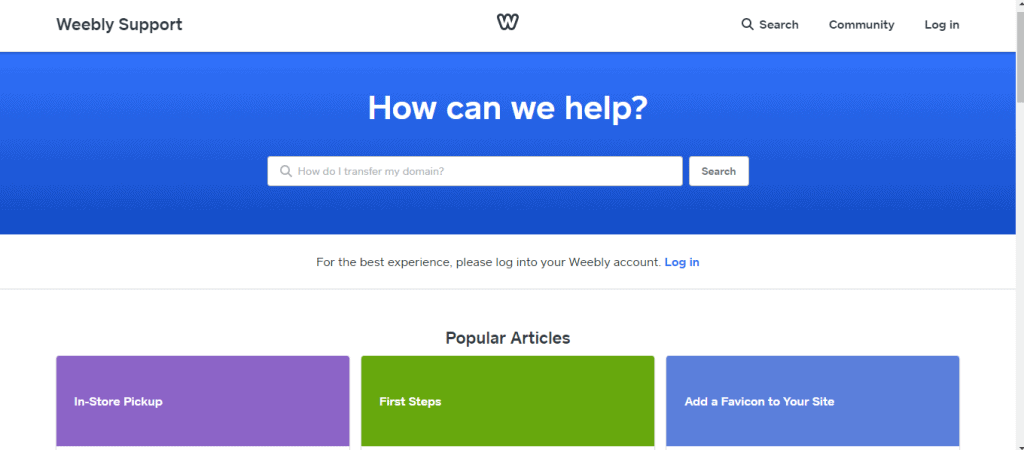 Support Channels
As discussed above, Weebly offers FAQ, email, chat, and telephone support. Squarespace doesn't provide telephone services, and it only offers FAQ, email, and chat.
Resources
An open community forum is available in both Weebly and Squarespace.
Training
Squarespace conducts regular workshops on topics like how to get started with Squarespace, launching your online store, etc. for groups in New York. Squarespace also provides webinars. Whereas Weebly just provides a beginner guide in the help center. Nothing else.
Conclusion – Though Weebly provides telephone services, Squarespace offers more ways to learn the tool, 24/7 intuitive personal support. So, the winner is Squarespace.
Apps And Plugins
Apps and plugins enhance your website with great features. With just one-click install and not touching any code, you can incorporate many amazing features into your website.
Apps Available
Weebly possesses a great app center with 250+ applications and plugins, both free and premium. These apps include Quick polls, Live Chat, Countdowns, etc.
Squarespace has some third-party tools included in their editor. These tools let you add widgets via code injection. Squarespace extensions are also available, and these features a limited collection of mostly e-commerce add-ons.
Marketing Features
Weebly provides an app called "Weebly Promote" that lets you send subscriber news, product info, exclusive deals, etc. to the subscribers. Adding products from your store is very easy with this plugin.
Squarespace has integration with Mailchimp. Recently, it also released a beta version of their own email marketing solution called "Squarespace Email Campaign."
Conclusion – The winner here is Weebly. Weebly has apps on its own, which tend to be of higher quality. Whereas, Squarespace has a minimal app selection, and they are all third-party extensions.
Weebly Or Squarespace? Which is better?
Lets recap and take a look at which website builder won each category.
Ease of use – Weebly
Design and flexibility – Squarespace
Ecommerce – draw
Adding a blog – Squarespace
Email marketing, analytics, custom domain – draw
SEO – draw
Prices – Weebly
Apps and Plugins – Weebly
As you can see, Weebly is just a bit more beginner-friendly than Squarespace. However, this doesn't say Weebly is better than Squarespace. Both have their strengths and weaknesses.
However,
If you are an absolute beginner, go for Weebly.
But if you want an artsy and classy website, go for Squarespace.
If you're going to create a blogging site, go for Squarespace as they are putting much more effort into their blog.
But, if you want a website at affordable prices, choose Weebly.
Therefore, Weebly is for the people who are price conscious small business owners looking for some online presence. It is cheaper and has tons of fantastic features that can do a bit of everything, from blogging to ecommerce.
Squarespace is for creative artists, musicians, and photographers looking for classic design templates to showcase their artworks. Squarespace offers a website that looks like it has been knocked up by a pro.