When it comes to building the right website for your business or your professional life, it is a mammoth task to choose amongst the best website builders that provide you with a catchy website, that is feature-rich and does not cost a fortune to keep your website up and running on the platform.
But there are some names that have consistently delivered on these fronts and have provided their customers with the best in almost every front, from templates to support to plugins and integrations, and customizability. Three of these names, that we are also pitting against one another in this review of ours are :

Suffice it to say that these are the top players in the game of website building and each of them offers a different kind of approach to building a website, so let's take an in-depth look at all three of these and see how they fare against each other and emerges as the winner in this fiery Mapsetition.
You might be wondering, though, if all of these are website builders doing the same thing, i.e. letting people make a website for themselves, what sets them apart from each other and what is it that makes them unique. So let's quickly take a look at that first:
Key Differences
All of these website builders are different from each other in more than one and if we list out each and every individual difference, it could take a long while. So we are instead going to take a look at their different approach towards building a website which is actually the main thing setting the difference here.
Squarespace, for example, is a little niche in terms of what it offers and while its Website Editor is pretty easy to use, some people who have never worked on a website builder before might feel a little overwhelmed by it. But a little time into it can let you get a hang of it and from there, things only get better.

Almost everything is integrated into the Editor itself which leaves little room for plugins and other app integrations that you might have to do manually and this is where Squarespace really shines as it does not much too much weight on your website, and lets you create one with ease and class.
Wix on the other hand is actually a website builder that is for everyone out there, meaning that it is so easy to use that even if someone has never seen a website editor before, they will be able to work easily on Wix. Coupled with that is Wix ADI or Artificial Design Intelligence is there to help you even if you don't really feel like using the editor as well.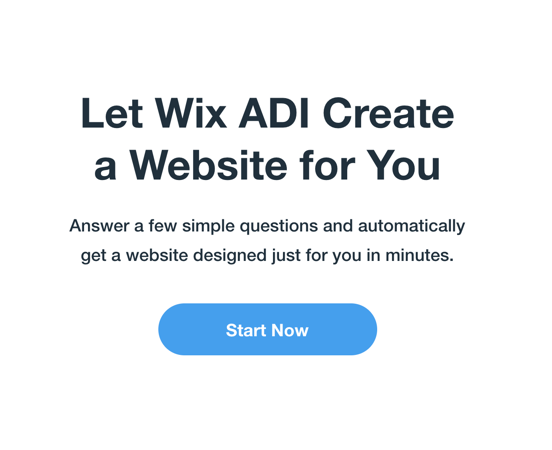 The great thing about Wix ADI is that it takes only a little time to get started with it, you do not really have to spend too much time and it takes matters completely into its own hands related to your website, be it text creation, choosing the right layout, adding pictures, or anything else that it deems necessary for your website.
All you have to do is answer some questions that the platform will ask you and by the time you are done answering them, it will have started on the quest of finding the right website for you and personalizing it according to your answers.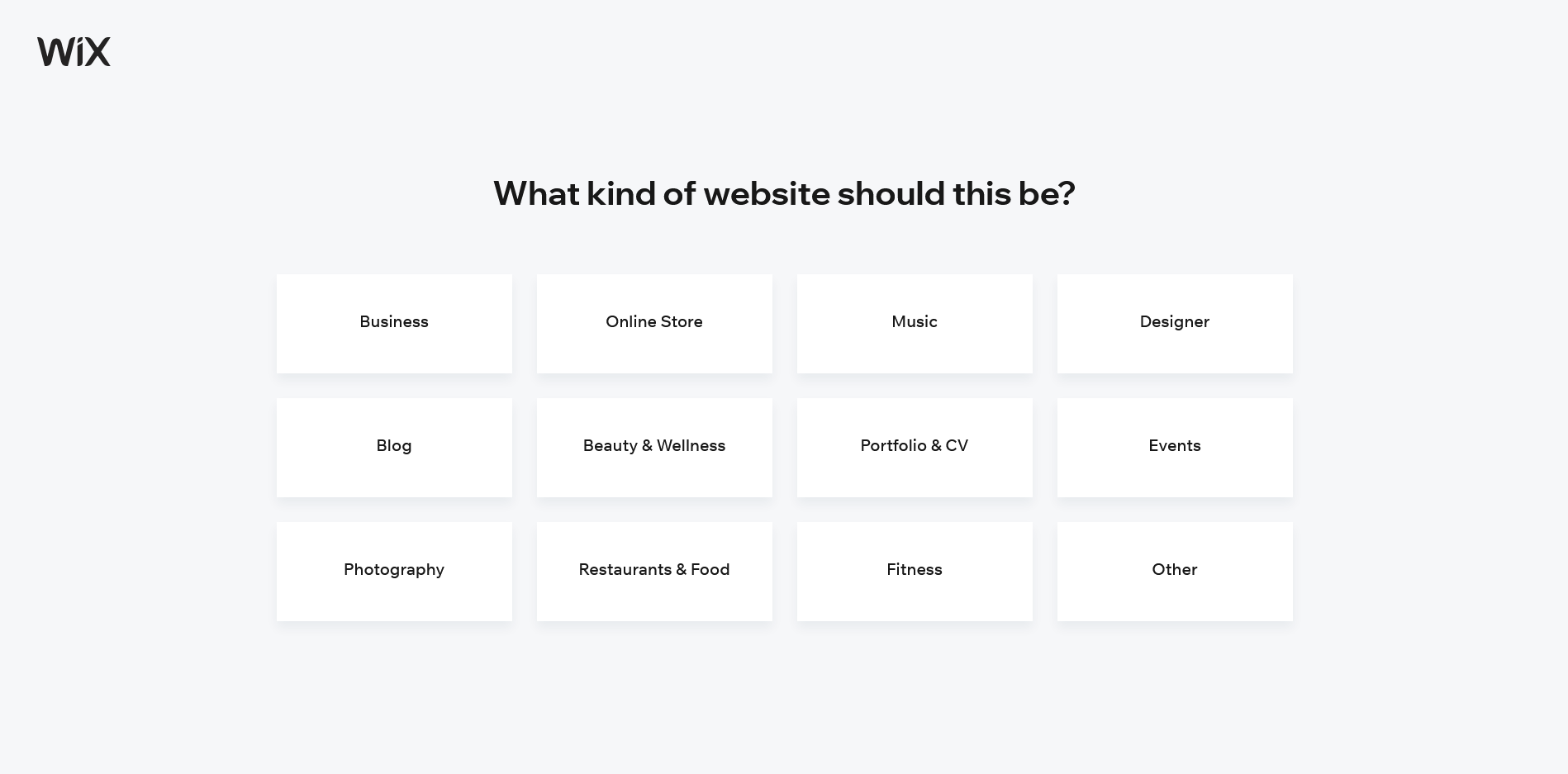 Now, coming to WordPress, it is simply the best in terms of blogging and it could be a while until someone snatches that throne away from it. But I don't believe the same can be said about its website building process which is a tad complex and requires a pretty steep learning curve. Don't get me wrong, this in no way means that the platform is not good or the websites made on it are not at par with the other platforms. In fact, all the websites created on WordPress have the potential to be way better than websites made on any other platform.
This is because WordPress only completely works in your favour if you have a technical background and is exceptional if you can code. For those who have the mentioned skills, WordPress is so easy that one could probably make a feature-rich website without having to pay as much money as he or she would on Squarespace and Wix. But those who are completely new to this will either have to skip over the platform or just use its resources to learn all about it, which might take a fair amount of your time.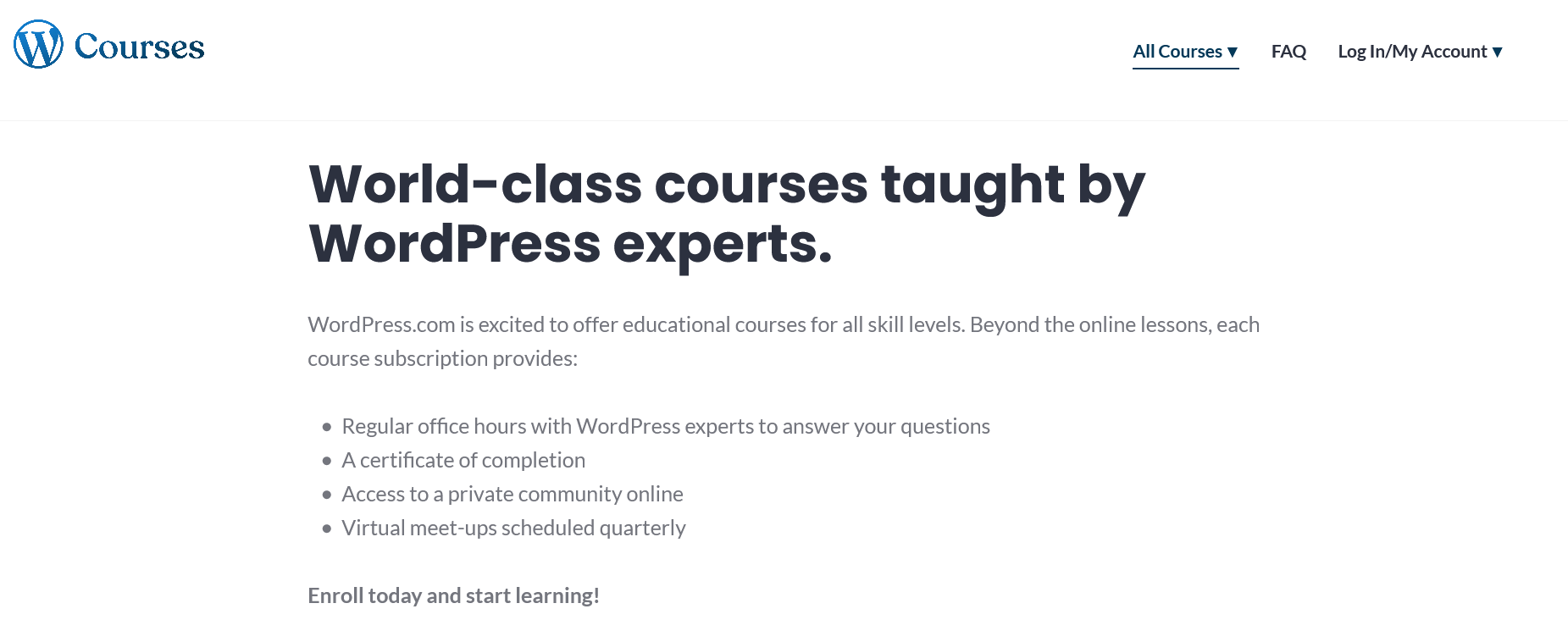 So as you can see all of these platforms are great and appeal to different kinds of people. While all of them come with great features, it is not a surprise that they fall short in some places. So, let's take a look at the Pros and Cons of all of these platforms so we can talk about the basic elements of a website builder and how these 3 websites score on those aspects:
Squarespace: Pros and Cons
PROS

CONS

Templates – If aesthetics matter to you, we would recommend you to go with Squarespace simply because of its 100+ templates, and each better than the last.
Built-in Apps – Squarespace has so much to offer that you need not look elsewhere if you have made a website on it. Google maps, LinkedIn, Facebook, Instagram, these are all coming to you without any third-party plugins

App Store – Agreed that Squarespace has plenty of inbuilt apps which are enough to get a website going, but that puts limitations on the extensions that Squarespace offers which can be limiting for some.
Site Crashes – Probably the worst thing about the platform is its lack of ability to keep a backup of your website. Which means if the site ever goes down, you will have to talk to customer support or worse, work on it from scratch.
Wix: Pros and Cons
PROS

CONS

Range of Templates – While there is no denying the fact that Squarespace offers the best design, Wix makes up for that by giving you more and more options on the templates front with over 500 templates to choose from.
User-Friendly – Wix is easy to get started with, probably the easiest but that doesn't mean that you get limited customization or control over your website. Wix ADI is a great add-on for anyone who does not want to build a website from scratch but wants certain control and customization

Cannot Change Themes – This is probably a letdown for a platform as diverse as Wix. If you have settled down on a theme and your site is live there is no way that you can change the template without starting the website from scratch
Variety – While Wix has a massive number of templates, there is not much option in the design and layout that these templates offer. They do have the option of changing layouts, but that does nothing for how similar a lot of these templates are.
WordPress: Pros and Cons
PROS

CONS

Blogging – As we mentioned earlier, in terms of blogging there is rarely any other website builder that can match everything that the platform has to offer. On top of that, the majority of bloggers start with WordPress and stick with it due to its amazing features like RSS Feed, Visitors Comments etc.
Unlimited Customization – Because it requires a bit of coding to get the most out of it, WordPress offers the level of customization that is unmatched. While others compensate for this by giving flexible templates, there is no competition to WordPress in terms of what you can add to the website and give it a personal touch.

Not for Beginners – Since it requires a lot of time to get used to and demands more effort from you than other website builders, it is certainly not for everyone out there, especially keeping in mind that Wix ADI lets you create a website in much less time and would suit the beginners more.
Hosting – WordPress gives you the option of shared hosting which can significantly cut down your hosting charges and you wouldn't have to spend as much money for it as on other platforms, but this has more negative effects for new users as not all of them know all about hosting. On top of that, if you go for WordPress' own hosting, it would cost you a little extra, ultimately burdening your wallet.
While there are a lot of other pros and cons of these website builders, these are the major ones that might have an effect on your decision of choosing the right website builders amongst these three, but let's make things a little clearer by taking a look at which website builder gets the throne in which of these aspects:
Ease-of-use
This is the most important and thus the primary factor in deciding whether or not a website builder is right for you and fits your needs. The platform needs to not over-complicate things and should feel like it comes naturally to the users.
Wix
Hands down, Wix is just amazingly easy to use. Even if we keep the ADI aside for a minute and just talk about the editor, we can just see how convenient it is the first time we use it. It is highly responsive, and you will find almost all the things on the main navigation and the toolbars. The submenus are also there to allow further customization, and the easy drag-and-drop feature makes building a website light and breezy.
Squarespace
Squarespace is exceptional for all that it brings to the table and ease of use is not one of those things. That doesn't mean it isn't user-friendly or feels too hard to wrap your head around, but working on it can be a little annoying at times, especially when the Editor starts to glitch out of nowhere.

Even keeping that aside, I wouldn't say it is too easy to start with as it does require a bit of patience to get a hang of and it could take a few hours of wandering here and there until you finally start to make sense of how the Editor works. Once that happens, it is pretty easy to use and you will find almost all the things present in the limited navigation menus there.
WordPress
In terms of Ease-of-use, WordPress is way behind both of the other platforms, simply because it demands a lot of understanding and learning from you, and we are not really sure if you would be up for it keeping in mind that there are many other options out there even if we keep Wix and Squarespace aside.

The platform is gradually coming to terms with the fact that the users want it to be a lot less complicated and it is working on that, ever since the last few updates on the site, but it is still nowhere as easy as Squarespace even, which itself requires a bit of getting around.
While this approach of WordPress has kept the existing customers satisfied, it is not nearly enough to garner more and more new people who have such a wide range of options. Hence, we don't feel WordPress is a worthy contender as far as ease-of-use goes.
Winner
Out of the three platforms, Wix emerges as the clear winner in terms of user-friendliness and the fact that you can go live in less than an hour using Wix while others take that amount of time just to get used to it. It is amazing to see how intuitive Wix's Editor and ADI is, and on top of that giving people the option to be able to embed code on their website is just cherry on the icing.
Templates and Customization
While it is necessary that the platform is easy to use, we simply cannot overlook the fact that websites also need to appeal to the visitors in the very first look, and for that, all of these platforms have a rather unique approach.
Wix
Wix has great-looking templates, and the best part about it is that there are just too many of them to choose from. 500+ templates divided over 16 categories is actually more than what we can ask for from a website builder that is so easy to use.
While these many choices can certainly overwhelm some people, we believe that as far as website building goes, having more options certainly helps.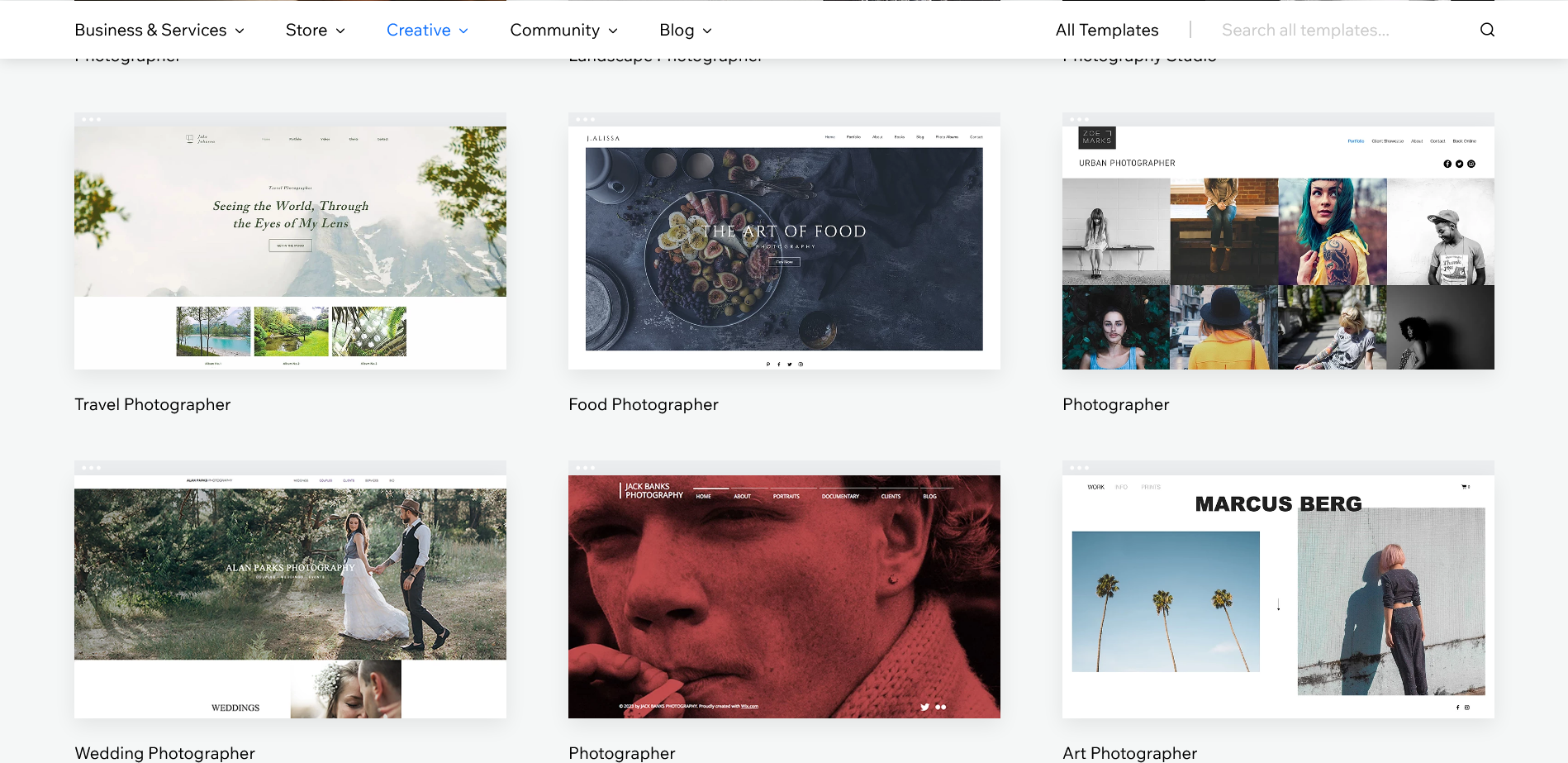 Having said that, we cannot ignore the lack of the option of changing the template once the site has been made live, so it is better that you are completely sure of the look and feel of your website since once you hit the publish button, there is no turning back.
Squarespace
It is hard to undermine the fact that Squarespace offers the best-looking templates out there of any website we know of, which is why it is no wonder that so many people have chosen to stick with Squarespace overlooking its shortcomings when it comes to design flexibility.
Unlike Wix and WordPress, Squarespace does not let you throw your content in whichever way you want and you have to stick to the boxed layout that is impossible to change but it certainly makes up for that with the visual appeal of the templates.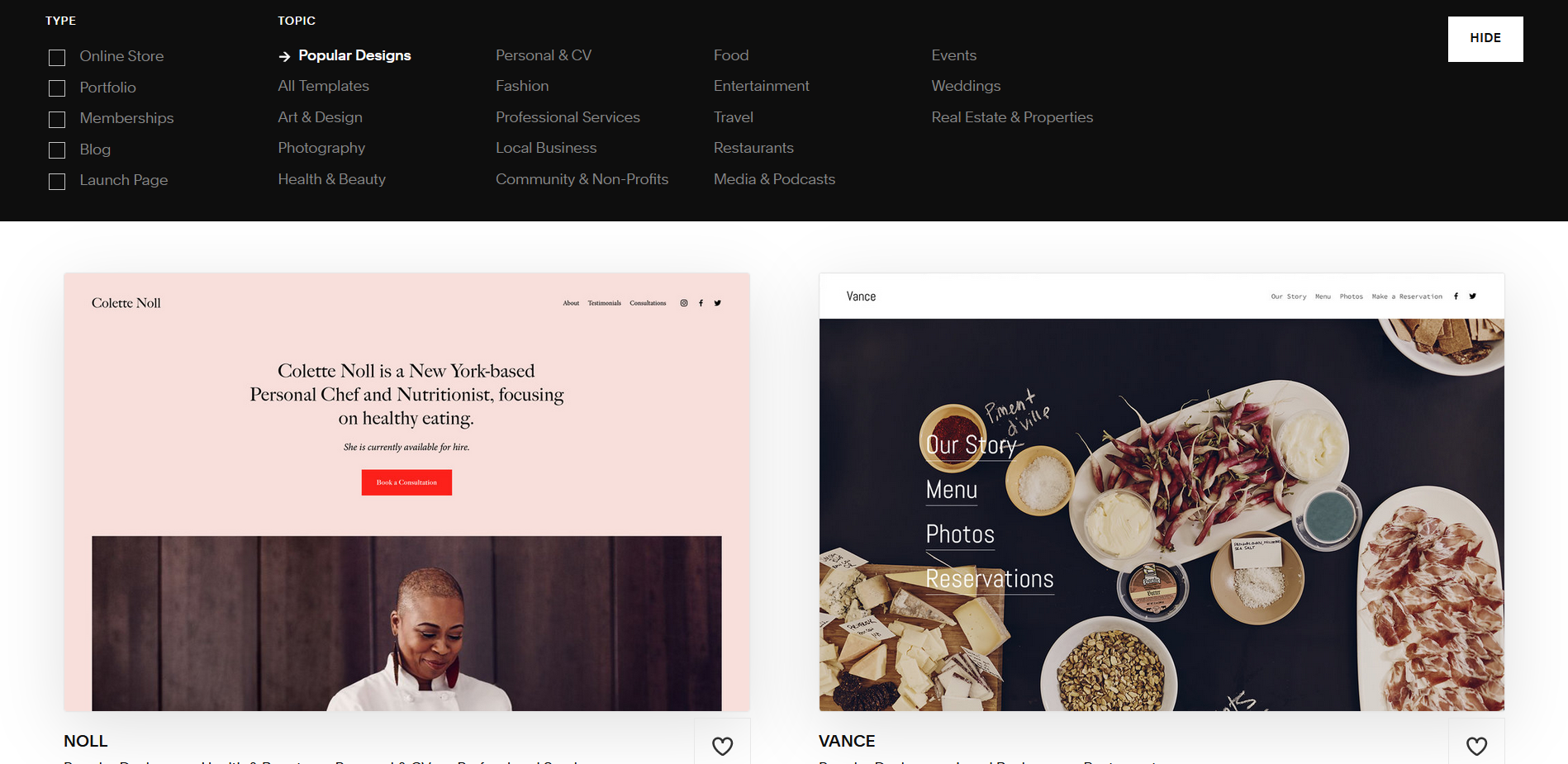 It is also worthy to note that out of all these 3 website builders, Squarespace has the least amount of options to choose from but it does not mean that there aren't many. Moreover, you get the liberty to change the theme of your website whenever you wish to, even after the site is live.
The only major drawback with the design of Squarespace is that it is too visual-heavy, and thus gives little room to you if your site depends a lot on text.
WordPress
Lastly, WordPress has a league of its own when it comes to design since it gives you full control and customizability of your website. You can change whatever you want to and there are thousands of templates to choose from, and that is no exaggeration.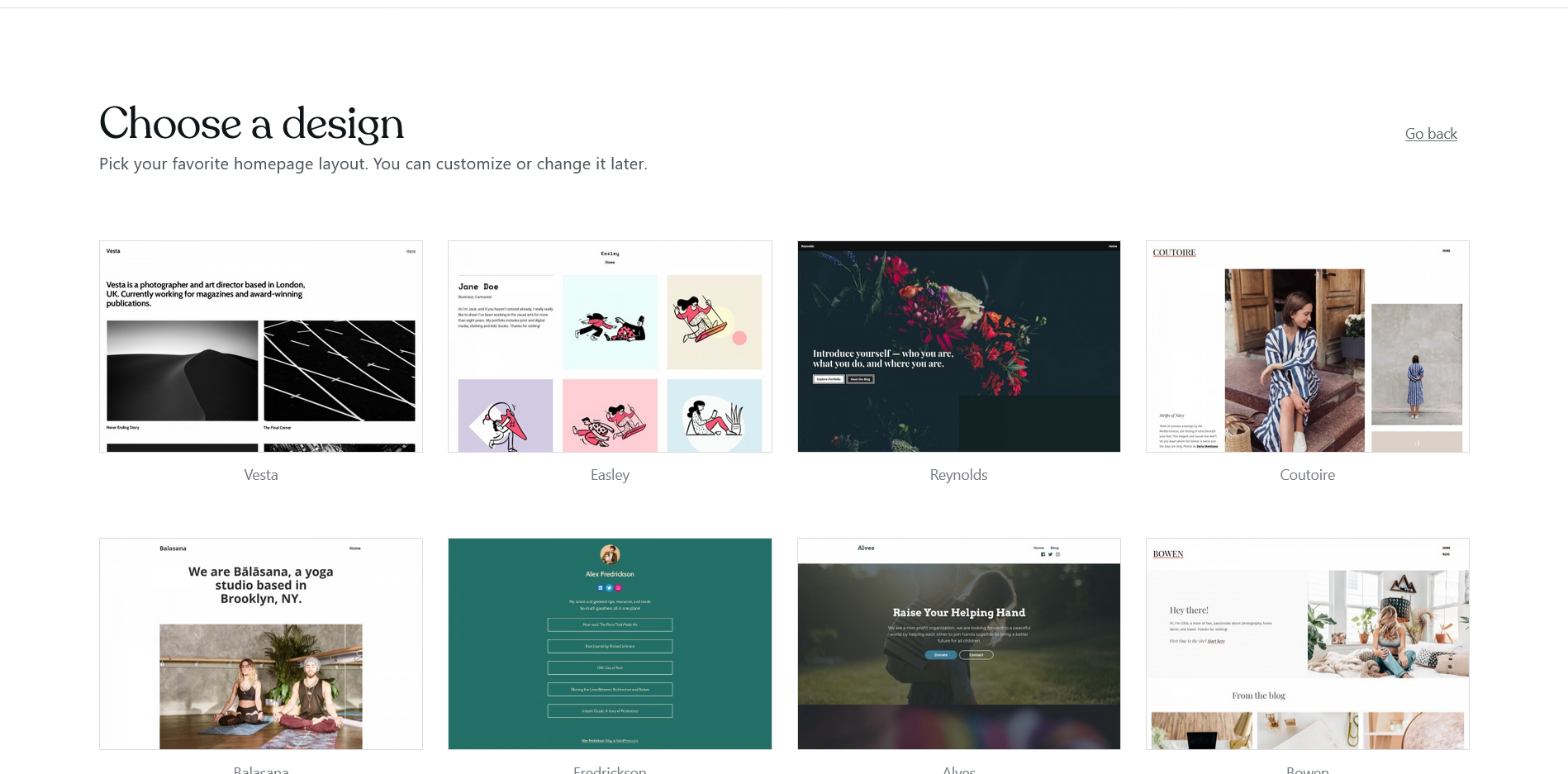 By default, WordPress themes are not as good in terms of design as Squarespace's but you are compensated with the elements of customization from the ground up to the brim and that is something no other website builder can offer you.
A big letdown is the fact that a lot of these themes need to be purchased but you get all of them for free on a higher price plan so if the design is what you are after in WordPress, you will have to shell some extra bucks to get all the designs available.
Winner
As far as templates and themes are considered, we would certainly call the competition a tie as all of these website builders deliver on something the other ones don't. With Wix, you get easily customizable templates, with Squarespace you get unique and attractive designs and with WordPress, you get complete control of your website.
However, if we do have to pick one winner here, it would be Squarespace only by a small margin since the templates do not require a lot of workarounds and can be used as it is with only your information entered. Considering the designs and aesthetics they are easier to use than Squarespace and give more variety than Wix along with being highly responsive and compatible across all devices.
Compatibility
In today's world where mobile and tablets have become the primary option to access the internet along with their handy usage and availability at all times, it is necessary that the platforms have support for your website to be functional and compatible with every kind of device out there.
Wix
Wix claims that all its templates are optimized for all the devices and for the most part it is true. You can seamlessly access a website across all of your devices, be it your laptop browser, your phone browser or one on a tablet, Wix leaves little room for complaint.
But if you are to add too much on your website and don't put a little effort to check whether or not your site is mobile-ready, it can be a not-so-good result in some cases and although it is definitely very rare, we have come across sites that have had trouble in adapting.
Having said that, it shouldn't be something that should take Wix out of the competition at all. The compatibility is still pretty seamless and you cannot expect more from a platform so diverse and user-friendly.
Squarespace
Hands down, it is surprising to see the level of compatibility that comes with the templates on Squarespace especially considering the fact that they do not look like they would be so easily accessible on all of the devices just because of the sheer beauty of these templates.
We did not expect that these sites would do so well across all the devices without losing out on quality or resolution but we certainly stand corrected and pleasantly stunned by this factor where Squarespace has managed to come out as definitely a strong contender.
WordPress
Keeping in mind that WordPress is a platform where the aim is to be more self-reliant, we cannot expect the same kind of delivery on mobile platforms as with the other two website builders.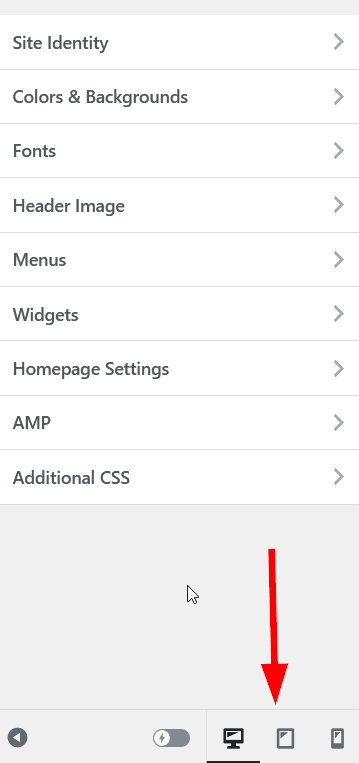 Here compatibility and how seamless it really works is more of a task that is dependent on you rather than the platform itself, but once you have managed to do that you will realize how a completely personalized website can have a different touch on all the devices when the option of doing that is left to the user.
While WordPress wins in customizability even in the aspect of compatibility, it can be a bit of a tedious job to do so. Another reason why beginners would want to keep away from this platform.
Winner
Squarespace, once again, emerges as the clear winner here with Wix lagging only a little behind. And while this can be a personal opinion, by all means, we just found Squarespace to be a little smoother while accessing websites made on it. But it must be kept in mind that Wix is not any less and one major update to the site could completely turn the tides for Squarespace.
Here also, WordPress is entirely different and we would definitely recommend it to anyone with technical knowledge or the know-how of WordPress as that can give you an upper hand over Wix and Squarespace both by a huge margin.
Pricing
While on different aspects, different platforms might have won you over, pricing is what it all boils down to before you make the final selection. It remains true as well that for great features, people are ready to pay the price and what's now to be seen is how well worth the money are all these website builders
Wix
Free – $0 always
Tons of features with tons of ads.
Combo – $18/month (or $14/month billed annually)
No ads with a free domain for a year
Unlimited– $23/month (or $16/month billed annually)
Free access to Site Booster App for a year
Pro – $26/month (or $29/month billed annually)
Get a Professional Logo made for your brand
VIP – $18/month (or $14/month billed annually)
Priority Customer Service with 35 GB of Storage Space.
Business Basic – $28/month (or $23/month billed annually)
Secure Online Payments with 20 GB storage space
Business Unlimited– $33/month (or $27/month billed annually)
10 Video hours with an option to offer subscriptions
Business VIP– $43/month (or $39/month billed annually)
Customized reports and add unlimited products
Enterprise – $500+ /month
Completely personalized plans to promote your brand.
Squarespace
Personal – $16/month (or $12/month billed annually)
Great for a basic website, unlimited pages but no option for E-commerce
Business – $26/month (or $18/month billed annually)
Add unlimited contributors along with a store
E-commerce Basic – $30/month (or $26/month billed annually)
Add gift cards for your customer along with the option to create customer accounts
Ecommerce Advanced – $46/month (or $40/month billed annually)
Advanced integrations to third-party apps along with advanced shipping
WordPress
Free plan: $0!WordPress
Basic SEO with ads
Personal Plan: $4/mo, billed annually ($7 monthly)
Remove ads and connect to a custom domain
Premium Plan: $8/mo, billed annually ($14 monthly)
Choose from Premium Themes with full-fledged SEO options
Business Plan: $25/mo, billed annually ($33 monthly)
Complete theme customization and 200 GB of space
E-commerce Plan: $45/mo, billed annually ($59 monthly)
Get a functional store and integrate shipping and payments.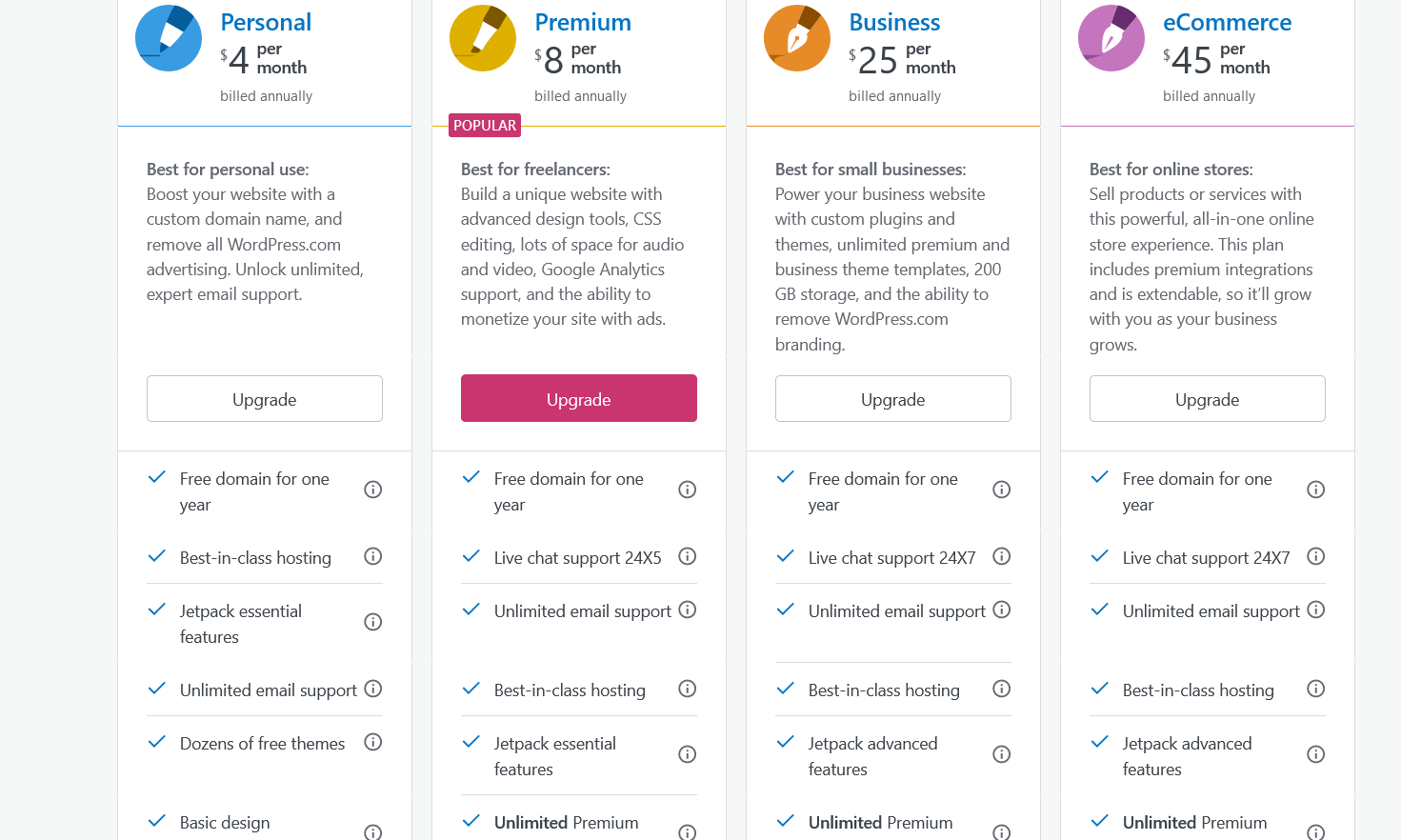 Winner
In terms of being light on the pocket, we think WordPress is the way to go as it saves you a lot of money while giving the option of getting started for free which is great if you want to learn the platform before pitching your money in. Additionally, you save more if you can find yourself a good hosting website or if you have a website that you can run on a shared hosting plan.
While Wix also offers you the option of getting started for free, its basic upgrade is a major one when compared to WordPress which is one reason why it doesn't impress us. And while Squarespace has no free plan but a trial for 14 days in which you can explore the site but will have to pay before taking it live.
Support
It is inherent to every customer that proper help is provided to them especially when they are just starting out to build a website. Sure there are tons of videos and guides to walk you through but sometimes an unforeseen error could turn things sideways for you.
Wix
Wix is believed to have unparalleled customer service that is almost always available which is a major reason why people just don't want to switch over the platform. Help is almost always there if you are stuck on something and you get solutions that can be relied upon.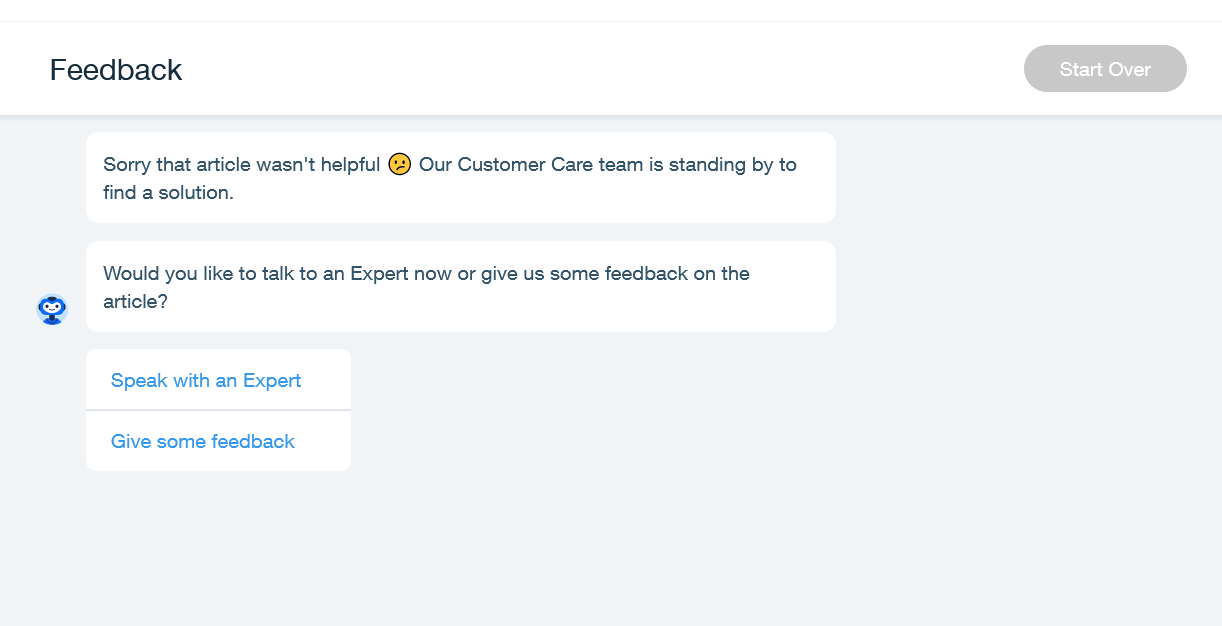 Through these methods you can get in touch with Wix for almost any kind of assistance that you might need:
Phone and email (Monday to Thursday, 5 am – 5 pm PST)
Social media support
Wix Help Center
Squarespace
If Wix is paving the way for great customer service, Squarespace is not behind it by any means, instead, it takes a huge leap forward and providing its customers with 24 hours email support and an option to have a live chat with a representative so in this case, you might not have to wait at all.

Following are the methods through which you can reach the support staff of Squarespace to get solutions to your problems:
24/7 email support
Live chat (Monday to Friday, 4 am – 8 pm ET)
Squarespace Blog and Resources
WordPress
WordPress is way behind the other two websites when it comes to Customer Support as there is no support at all, so it is clear that this one is not going to WordPress' lap. What you get here is a community forum where you can post your questions and other people of the community, which is fairly large, to be honest, will help you to get through.
More often than not you will be able to get your query resolved but it mostly depends on how well aware the community members are of your issue.
Winner
Squarespace is the clear winner here. The support team is award-winning for a reason and while Wix offers almost the same amount of support, we believe that the chat feature gives Squarespace an added advantage and you are surely going to get through your roadblock pretty quickly and conveniently.
Other Tools and Features
While all the above aspects are necessary to be kept in mind while selecting a website builder that works for you and delivers on all the fronts, none of these platforms really feel complete without a bunch of tools that make you get recognised on the internet be it E-commerce, SEO (Search Engine Optimization) or plugins and apps that can be integrated onto the website
Wix
There is easily no way that any other drag-and-drop website builder can match the flexibility of Wix when it comes to the range of tools that it has to offer. It has a dedicated app market that allows you to scout through 200+ apps and plugins and accommodate them into your site in a matter of minutes which is really exceptional and works like a charm.
The SEO tools are also top-notch and the SEO wizard guides you step by step to what you can do to be more visible over the internet which is great for anyone, be it a starter or a professional. SEO is inherent to any website and Wix allows you to get a hold of that so your website can get the most of it.
It also has a major advantage in terms of E-commerce as well and we feel like the options it provides are simply unbeatable keeping in mind that Wix is really for everyone and the functionalities that come with your online store are just too good to be real.

The marketing and sales boost are of high quality and if you are an artist, Wix has a dedicated plugin for you called the Wix Art Store where you can sell digital products making it really easy to sell your product without complicating things too much for you.
If that isn't enough you can even go global with the option to create a multilingual website that can be accessed by people from around the world in their native language without hampering your business even a bit.
Squarespace
Squarespace is behind by a lot here when it comes to other tools and features that a website builder can provide. Taking, for instance, its app store that only has 25 extensions at the time of writing this that are only spread across 4 categories.

Granted the platform has almost everything that is needed to start a website and you won't face many hiccups but not having that extra amount of customizability certainly hurts if your business is growing and reliant on your website.

The SEO as well is no match for Wix, as it doesn't do as much as the former's SEO Wizard, and in Squarespace's case is actually non-existent meaning you won't be guided through the steps that can really make your website appear on the top of search engines if you do not already know about it.
E-commerce on the other hand is handled pretty decently and leaves little room for any extra plugins but surprisingly most of the apps on Squarespace's extension page are related to E-commerce only and won't be of much use in a normal website.
WordPress
Like in every other aspect, every tool on WordPress is handled differently and it would be really tough to set up these plugins and apps in minutes, and will definitely take much longer but you get full control over how these apps behave or appear or interact on your website.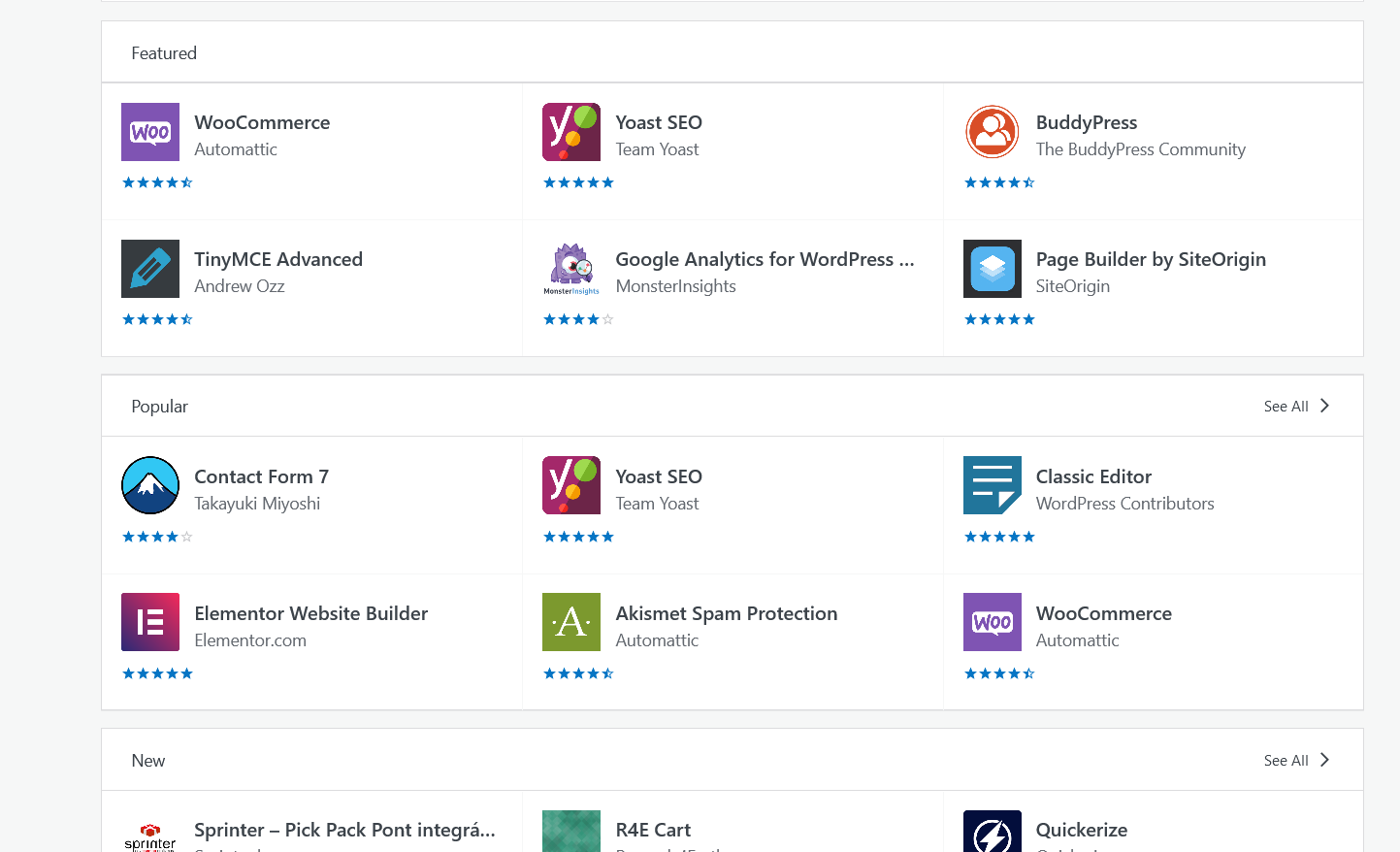 The best thing about WordPress is that you get to choose from a list of over 50K+ apps and plugins for your website, so you are never out of options and you would not even be able to scout through all of them.
SEO works amazingly well with WordPress websites but that also demands that the user have prior knowledge of both, the workings of a website and SEO, so while it may offer tons of customizability when it comes to tools and features it is not as easy to deal with as Squarespace.
Winner
By a massive margin, Wix is the evident winner here because of how much it offers and how easily all the things that it does offer can be integrated into your website. E-commerce is great and the price plans also cater to every kind of audience out there. Any business, big or small can work with Wix but that is not the case with the other two contenders here.
Final Verdict
It is really hard to choose who the clear winner is since all of these sites are completely different in terms of what they offer but Wix appears to be the overall winner here if you can ignore the aesthetic designs of Squarespace and the endless customization that you get with WordPress. It just seems like a good choice for anyone starting out in the world of websites and is a well-rounded performer that delivers on almost all the fronts and is really easy to use. On top of that, the free option makes it win majorly along with excellent support, E-commerce functionality, and tons of plugins that will really make your website way more interesting and interactive.